BlackBerry Porsche Design P'9981 unboxed
When a Porsche designed BlackBerry started doing the rounds, we were skeptical about ever seeing the real thing. Fast forward a few months later and look what we've got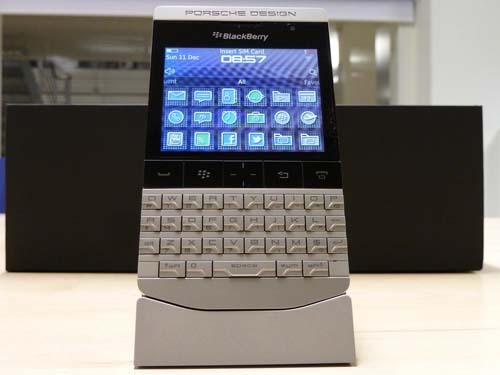 And so the extravagance begins with the box. It's larger than your average BlackBerry container. Maybe there's a toy model of a Porsche in here?
No sign of a toy Porsche, but there sits the Porsche Design P'9981 in all its boxy metallic glory. It is, however, joined by what appears to be some kind of dedicated dock. Our guess is that's a charging dock.
This is definitely going to be one of those love it or hate it handsets and we can see a lot of BlackBerry loyalists hating its alternative design. While its sleek silver stylings – crafted from a single piece of brushed stainless steel – and futuristic-looking QWERTY keyboard scream premium goods, it's angular design is a far cry from what we're used to when it comes to the king of QWERTY and its smartphones line.
We have to admit, we're a bit taken with its non-conformist nature, as the result is a slick-looking smartphone with retro appeal, that feels suitably solid and hefty in the hand. At 155g and 11.3mm thick, it's slimmer than its Bold 9790 sibling and while it's carries a bit more weight compared to the majority of high-end smartphones, it certainly won't  put any strain on your wrists.
You can't tell by just looking at it our photos, but the bottom edge of the phone is crafted from plastic to aid with phone reception. But because it rocks the same metallic hue as the rest of the phone, this is nicely disguised.
It's real leather backside accentuates its slick charm and continues the P'9981 on its high-end journey, not to mention it will keep the phone firmly placed in even the most slippery palms.
While the design is a joint effort between Porsche and RIM, we're surprised Porsche's branding has been limited to name only, with no startled horse in sight. Sporting the company's logo may have pushed the handset into tackyville, so maybe this is a good thing.
Despite opting for a drastically different QWERTY keyboard design that's flat and funky, we're pleased to say it doesn't let the side down and is as comfortable to type on as any phone from the BlackBerry bunch. Its unique keyboard is complimented by a row of glass buttons and a four-way navigational pad.
On the inside you're faced with familiar OS 7 territory on its 2.8in screen. But Porsche has given the icons and typeface a once-over, to ensure they're very much in line with the premium nature of the phone. So while it may sport the same familiar drawer-like layout we're used to seeing on handsets like the Bold 9900, it's different enough to stand out from the crowd.
In case you're wondering the BlackBerry Porsche Design P'9981 rocks a 1.2GHz processor under the hood, 768MB of RAM, 8GB of internal storage and a 5MP snapper 'round the back. There's also NFC functionality and the usual trio of connectivity – Wi-Fi, Bluetooth and 3G.
And this is is what sits in the depths of the box – your charging adapters and cables. Still no sign of that toy, though. Hmph.
Whatever your thoughts, the BlackBerry Porsche Design P'9981 is still inherently BlackBerry, combing stylish looks and business for those with loaded wallets. We say loaded, as this outlandish BlackBerry has an equally outlandish price tag. So while you may like it, at £1,275 it's safe to say you've got to really like it.
Apple patent outlines plans for a universal touchscreen remote
Netflix predicts a future free of linear TV channels
Next Big Thing – folding cars