Bang & Olufsen's wireless BeoLab 17, 18 and 19 speakers are all kinds of auralsome
B&O is promising to deliver "Immaculate Wireless Sound" with its trio of tasty speakers and sub – and yes, they look as bonkers as ever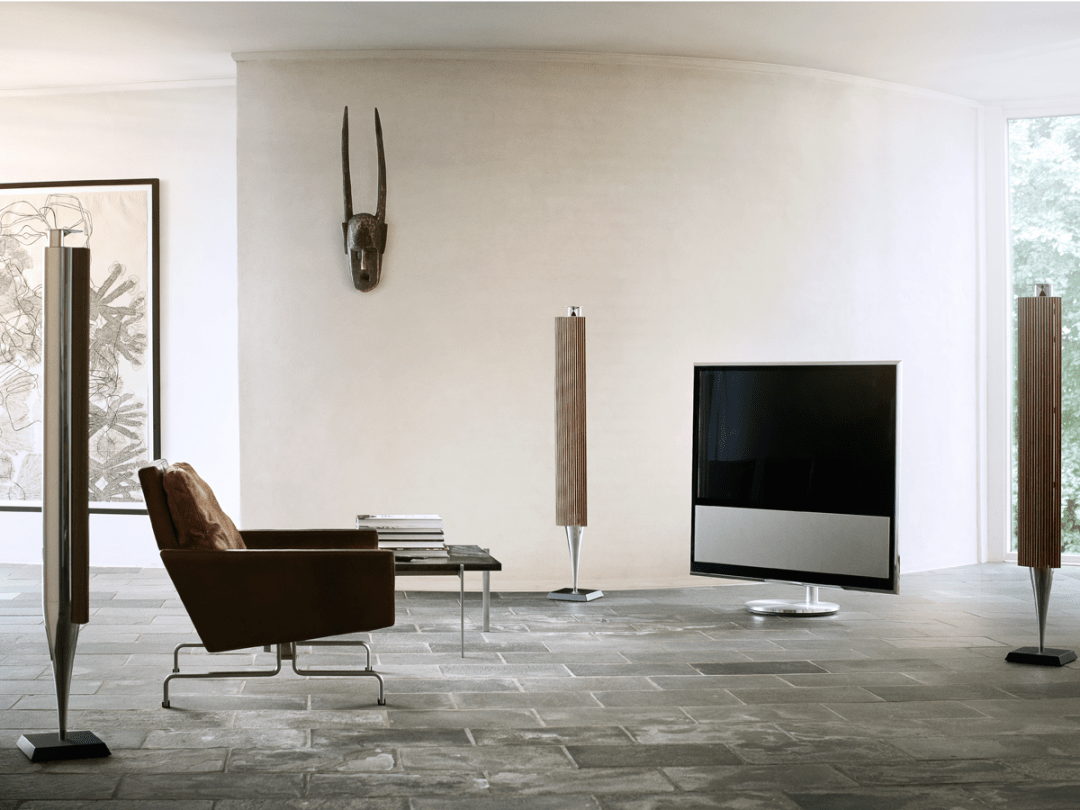 Climb aboard our hippie spaceship lounge, we've got new audio treats to show you.
Bang & Olufsen has just launched a new range of active wireless speakers that should have Sonos and Pure Jongo systems quivering. B&O has waited to jump headfirst into wireless audio and it looks like it's being very particular indeed. All three use the 5.2-5.8 GHz wireless range, shunning the busier 2.4GHz range and are the first speakers with the WISA wireless standard which supports hi-res 24-bit, 96KHz audio. 
Being Bang & Olufsen, hi-res music won't be the only talking point with the new Beolabs. The Beolab 18, a redesigned Beolab 8000, adds an acoustic lens tweeter up top and eye-catching 21 lamella front (in oak with maple and walnut coming soon) to the iconic floorstanding column of its muse.
Like the bookshelf-friendly, all-aluminium Beolab 17, the Beolab 18 houses four antennas to ensure the wireless signal carries through the metal build. Inside, there's two 4in midrange drivers and 160W amplification whereas the smaller Beolab 17 rocks a two-way 6in driver and a 3/4in tweeter plus two 160W amps.
The Beolab 19 sub completes the trio with a 12-sided dodecahedron-inspired build housing two 8in drivers and 160W amps. The anodised metal grille on the front looks darn sexy up close and B&O reckon it's like having an Aston Martin in your living room as it used expertise from working for car manufacturers in the Beolab 19.
Buff Woofer
B&O also announced that new BeoVision 11 TVs will ship with a wireless module as standard. And it will be flogging a standalone transmitter box for both existing Bang & Olufsen telly owners and mere mortals who settle for flatscreens from other manufacturers to jump in on the Beolab wireless action. We saw a quick demo of Spotify running on a BeoVision and playing through a 7.1 system of Beolab 17s dotted around the room and everything connected smoothly.
Get those tiny tear-buckets ready though as Immaculate Wireless Sound apparently doesn't come cheap. Per set, the Beolab 17s come in at £2590, a pair of BeoLab 18s with floor bases or wall brackets are £3990 and a Beolab 19 sub is a snip £2195. Oh and if that solid oak lamella front on the all-new Beolab 18 tickles your fancy it'll require roughly the same number of notes as an entire Sonos system – £790.
All three new wireless Beolab speakers go on sale in November in swanky Bang & Olufsen stores. Catch Stuff loitering around the Kinightsbridge branch hoping for another listen.