5 things you need to know about Acer's bold new ConceptD PC line
Striking, powerful, and pricey desktops, laptops, and more
With rare exception, new desktops and laptops tend not to deviate much from the established norms… which is why it's nice to see what Acer's cooked up with its new ConceptD line.
Built for creators, ConceptD spans an array of laptops, desktops, monitors, and even a mixed-reality headset, all with a bit of fresh flourish and packing a serious amount of power within. Granted, some of these devices are pretty pricey, but they collectively seem like Acer's ploy to try and steal a little thunder back from Apple in the creative space.
Acer just took the wraps off of everything at its big event in New York City, and here's what you need to know about this striking new line.
1) The ConceptD 900 is an absolute monster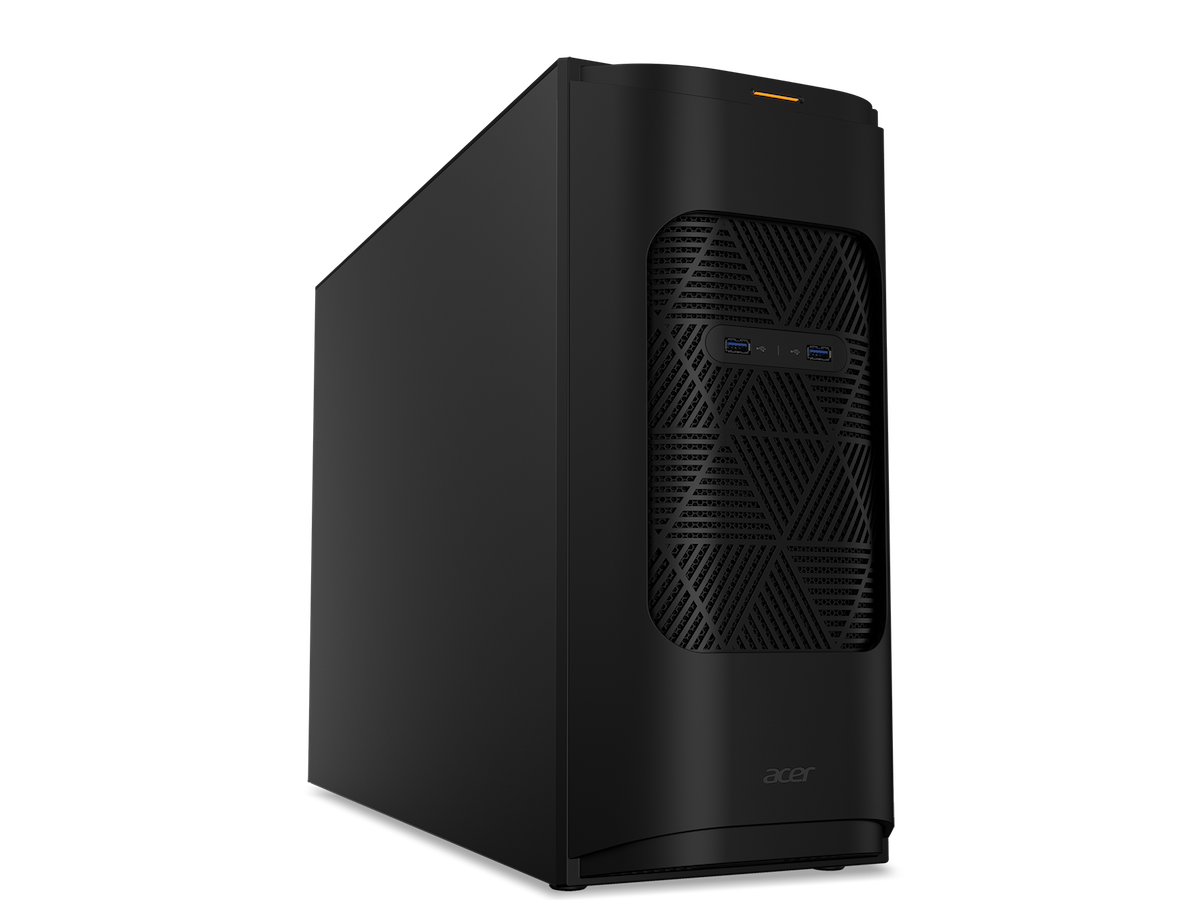 How much does €17,999 get you with a desktop PC? Quite a bit, unsurprisingly! The ConceptD 900 is the powerhouse pick of the whole bunch, and clearly designed for professional studios rather than the corner of your bedroom on a dingy old desk (your call, however).
It packs in dual Intel Xeon Gold 6148 processors with up to 40 cores and 80 threads, an NVIDIA Quadro RTX 6000 GPU, and up to 192GB of ECC memory. In other words, it's absolutely nuts, while the minimal matte-black metal finish is sure to have its fans. Did we mention that it's €17,999? It's €17,999 – and out in June.
2) The stylish ConceptD 500 is not €17,999
Now here's the ConceptD desktop that'll appeal much more broadly, thanks to the wallet-friendlier starting price. It's still plenty powerful, although much less so: it runs 9th-Gen Intel Core i9-9900K processors with 8 cores and 16 threads, with GPUs up to the Quadro RTX 4000 and up to 64GB RAM. Even with all of that power, the fans are designed to stay at just 40dB of sound, so it won't get horrendously loud and distracting.
Better yet, the woodgrain-like paneling makes this modern computer seem like a blast from the past, and it even has a built-in Qi wireless charging pad. Sadly, your smartphone and PC can't combine into a Voltron-like combination of ultimate computing power, but at least you can easily top up your handset when sitting in front of the monitor. The ConceptD 500 starts at €2,799 and hits Europe in July.
3) The ConceptD 9 laptop is flexible (and powerful)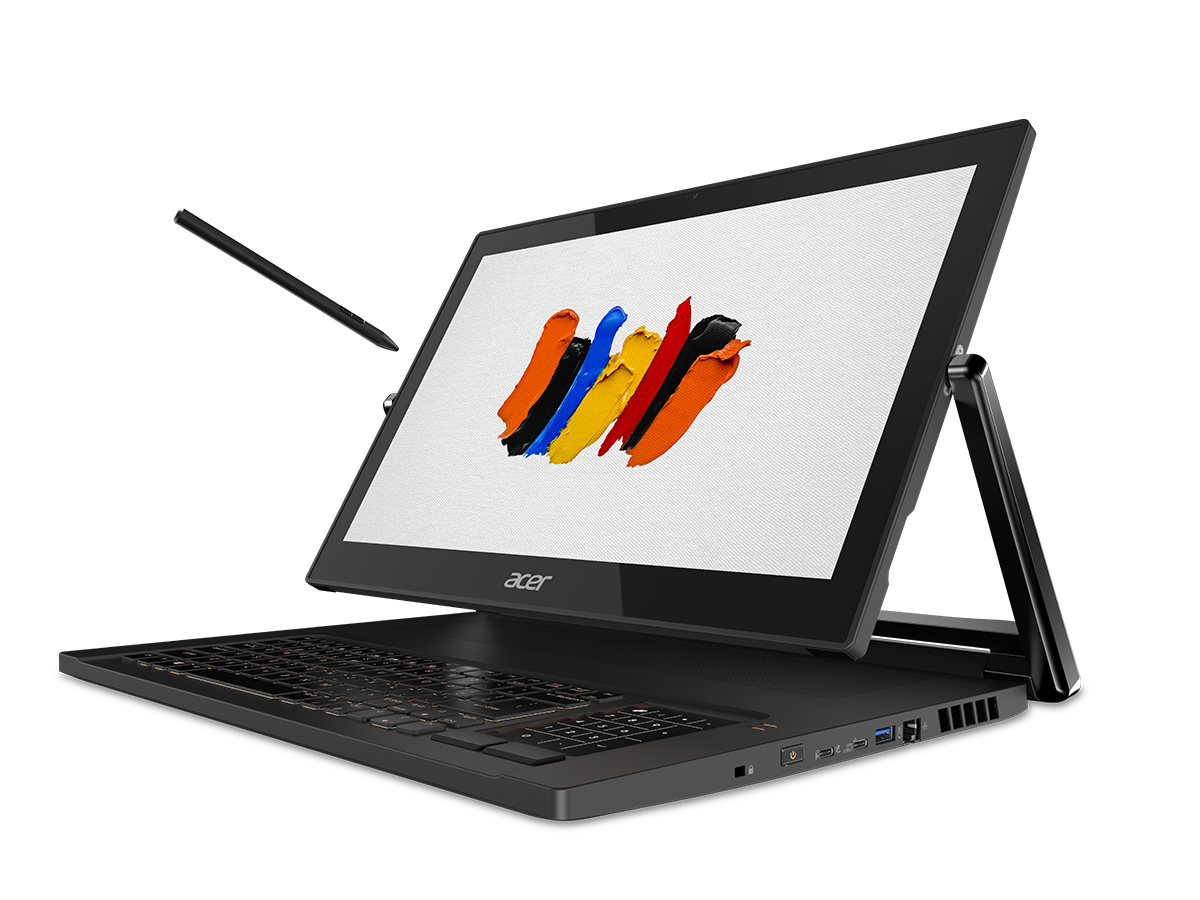 Just as the ConceptD 900 was the desktop flagship of the line, the ConceptD 9 does much the same on the laptop side of things. This monster of a notebook has a 17.3in Ultra HD display that features a slick Ezel Aero Hinge to let you flip, extend, and recline the thing for drawing and other activities. It even comes with a Wacom EMR stylus for sketching, notes, and more.
You can get it with a 9th-Gen Intel Core i9 mobile processor and NVIDIA GeForce RTX 2080 graphics, making it capable enough to render footage, handle video editing, and let you experience accelerated ray tracing. Starting at €4,999, however, it's a serious spend for a laptop. It releases in Europe in August.
The ConceptD 7 trims down the specs a bit to a Core i7 and ditches that cool hinge and stylus, but it still gives you plenty of power along with a 15.6in UHD PANTONE-validated display. And the ConceptD 5 gets smaller and comparatively weaker still, but is better suited for the amateur creators out there. The ConceptD 7 starts at €2,299 while the ConceptD 5 begins at €1,699. Both hit Europe in July.
4) Wood you like a new monitor?
The ConceptD line also includes a couple of sleek monitors to go along with those desktops above. Both the CM7321K and CP7271K are PANTONE-validated Ultra HD LED monitors with impressive colour accuracy.
The CM7321K is a 32in model meant for 2D content creators, while the 27in CP7271K is aimed more towards 3D media creation. In both cases, you get a wood-patterned base to help the monitor stand out – not that either needs any help with those eye-popping specs. The 32in edition weighs in at €3,199 and releases in September, while the 27in model sells for €2,099 and arrives in July.
5) There's a headset too
Acer's ConceptD OJO Windows Mixed Reality Headset is built for virtual and augmented reality shenanigans, with a 4,320×2,160 display, a strap that you can detach and swap, and a sleek white finish on the visor.
With inside-out tracking and integrated audio, you can just pop the headset on and not worry too much about lengthy setup or loads of extraneous cables. Unfortunately, we don't have a price or release target for this part of the ConceptD lineup – but if you've decided to collect 'em all, this ought to complete the set.