Onyx Boox Tab X is an A4-sized ePaper tablet with muscle
New internals and skinnier dimensions, same price
Doodle-friendly e-book readers are proving so popular even Amazon has got in on the act, but the shopping giant is a relative newcomer to the tech compared to e-paper specialist Onyx. The firm is back at it with the A4-sized Onyx Boox Tab X, a slim Android-powered slate that promises unrivalled productivity – without an accompanying price bump.
It replaces the Max Lumi2 in the Onyx line-up, keeping the same £880/$880/€950 starting price but swapping its internals for ones first seen in the altogether more modern Boox Tab Ultra. That means an octa-core Qualcomm CPU, 6GB of RAM and 128GB of on-board storage, powered by a 6300mAh battery.
The 13.3in, front-lit e-paper display has a 50% thinner touch layer this time around, which Onyx says gives a more paper-like appearance. It also uses the firm's Super Refresh tech, which has four different display modes for reading, note-taking, and using apps with minimal ghosting. There's also an accelerometer on-board for automatic display rotation.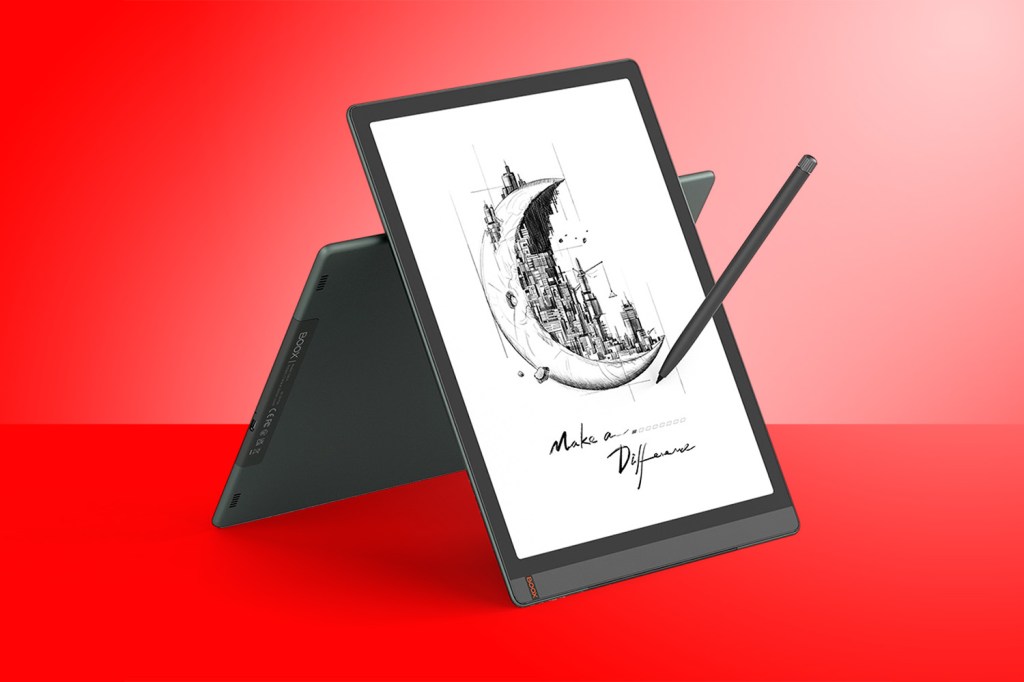 The UI has been carried over from the Tab Ultra, with the NeoReader and Notes apps making an appearance as well as access to the Google Play Store for installing third party apps. It runs Android 11 underneath, and with Bluetooth keyboard support can quickly go from ebook reader to digital typewriter.
Onyx includes a Pen2 Pro stylus in the box, which it says gives a pen-to-paper feel. It has a digital eraser in the top for convenient corrections. Anyone picking up a Tab X directly from the Boox online store will also get a bundle of spare nibs, plus a tri-fold carry case that doubles as a stand.
The Onyx Boox Tab X is on sale now, directly from the Boox website, or from Amazon UK and Amazon US.