We've used iOS 11 – these are our 8 favourite new features
One of the biggest iOS overhauls for years is crammed with great new ideas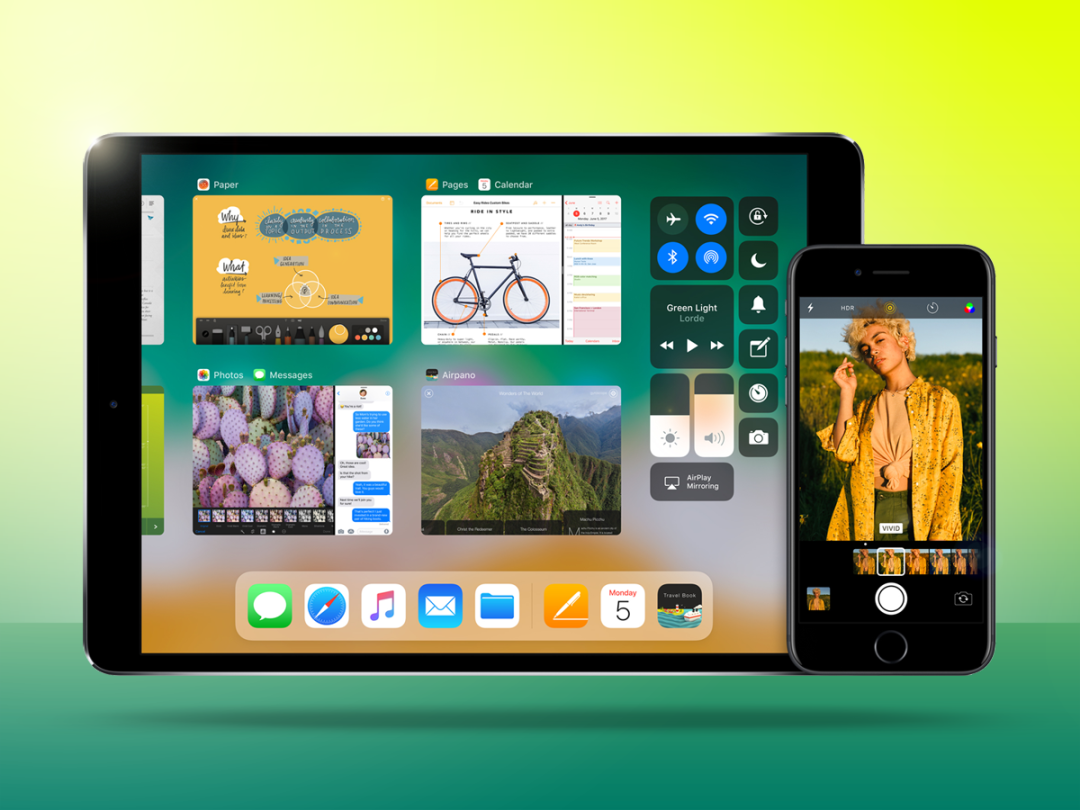 WWDC has come and gone, introducing a slew of new MacBooks, iMac desktops and iPads – but it's the software they'll be running on that took centre stage.
iOS 11 is due to arrive later in the year, and while a developer preview is available right now, it's exactly that. Only registered developers can get their hands on it, so they can give feedback on the operating system and make sure their apps will work right out of the gate.
That doesn't mean we didn't get the chance to try it out ahead of time, though. Apple invited us to its London HQ to show off iOS 11 before it drops in Q3 2017, potentially alongside a new phone (or three) in September.
Here's what you've got to look forward to.
Swipe up on an iPad running iOS 10, and you'll see the control centre. But in iOS 11, you get a dock that's much like the one you get on a MacBook.
There's room for a whopping 13 apps in the dock, which resizes to fit as you add more, and leaves room for three more icons that take you to the last three apps you used.
You can pull it up at any time, whether you're in an app or on the home screen, and some icons even have their own pop-up menus, so you don't need to open 'em to get the files you need.
As the iPad line, particularly the iPad Pro, becomes more and more intended as a desktop replacement, this makes it much easier to let go of your Mac in favour of the iPad.
Remember the first version of iOS, where Cut and Paste wasn't even included? We're a long, long way from that now. iOS 11 is getting even better at inter-app operability, so you can long-press on an image or bit of text to drag-and-drop it. Press the Home button with your other hand and you can drop it into a different app.
It works REALLY well – making it very easy to share content you like with other people or clip it for later.
3) The customisable Control Center
Android fans are always banging on to their iOS counterparts about how customisable it is (or they are in this office, at any rate). And OK, traditionally speaking, it's been much easier to bend Android to your will than iOS.
However, Apple is making concessions to the tweaking crowd with the new customisable Control Center, which is still accessed by swiping up from the bottom of the screen. As before, you get the familiar buttons to turn off Wi-Fi and Bluetooth and to lock screen orientation, but you'll also now see buttons to create a new Note, or change text size, among many, many other things.
They work with 3D touch, too, letting you make more changes from the Control Center without having to jump into different Settings screens and away from the apps you're using.
Got a Mac? It's easy enough to record your iOS device – just plug it in and boot up QuickTime. iOS 11 lets you do the same thing, only without the Mac.
Dive into Settings -> Control Center and turn on the feature, so it's just a tap away whenever you swipe up from the bottom of the screen. Now, if you want to show off a cool app you've just downloaded, or ask for help in a game you're stuck in, you can capture a clip and send it to your friend.
Siri has had some tough competition ever since Amazon's Alexa showed up, but iOS 11 is where Apple intends to redress the balance and prove it's still the best AI assistant on the block.
You won't need to pick up a Siri-powered HomePod to receive these improvements, either. When you press the Home button on any iOS 11 device, or shout "Hey Siri", if you're that way inclined, the voice assistant will spring to life far more quickly than before, and will provide answers more speedily too.
You can also now go into requests and edit them using the keyboard. So if you've asked "What's the capital of France?", you can go in and change "France" to "Italy" quickly and easily. Useful if, y'know, you get confused between France and Italy.
6) The major multi-tasking overhaul
Split View was a godsend for iPad owners who use their devices for work, but iOS 11 goes a lot further.
Drag an app up from the new Dock and it'll appear as a floating window, drawn over the top of whatever app you've got open full-screen. Fling it to one side and it'll open in Split View, where you can adjust it to a 50/50 split, or 25/75 in either direction.
Better yet, iOS remembers your split-screen setup when you switch between apps. Imagine you're looking at webpages in Safari and making notes about them in the Notes app, and you have them in split screen. If you double-tap the home button to get your Facebook fix, iOS will remember you had the other apps in split screen, and return to that format when you double-tap again.
Both apps are live at the same time, too – you don't have to tap between them to get them to refresh any more.
7) The comprehensive keyboard
Selecting numbers and special characters on Apple's default on-screen keyboard is actually pretty fiddly, because you have to press the "123" button in the corner to switch the keyboard from letters to numbers and special characters.
In iOS 11, each key now has a secondary character. Just swipe down on each relevant key, and it'll add the relevant number or symbol. No more flicking between multiple pages of icons – it's much faster and more convenient. Expect every third-party keyboard app to follow suit just about as soon as iOS 11 arrives.
Keeping track of all your files and folders wasn't very easy on iOS 10 – on indeed on iOS 1-9 – but the new version changes that with a dedicated Files app. It looks and acts a lot like the MacOS Finder, with icons for each file you've saved directly to the iPad. You can select individual or multiple files, then drag 'em out of the app and into any other one to open them.
It adds links to all your cloud storage accounts, too, so you can have Dropbox, Box and iCloud Drive all in one place. Microsoft and Google are working on OneDrive and Google Drive support, but there's no fixed date for them to arrive just yet.
In case iOS 11 wasn't already looking like a multi-tasking dream, the Files app could be the missing link that'll let you work as well as you can on a MacBook.
The full version of iOS 11 is due in the Autumn, most likely around the same time as the next iPhone drops – we're guessing early September. Expect a public Beta in the next few weeks, though, where you'll be able to try it out for yourself.