Upvoted: the best tech organisers for clutter-free carrying
Take your cables from tangled to tidy with these nifty kit bags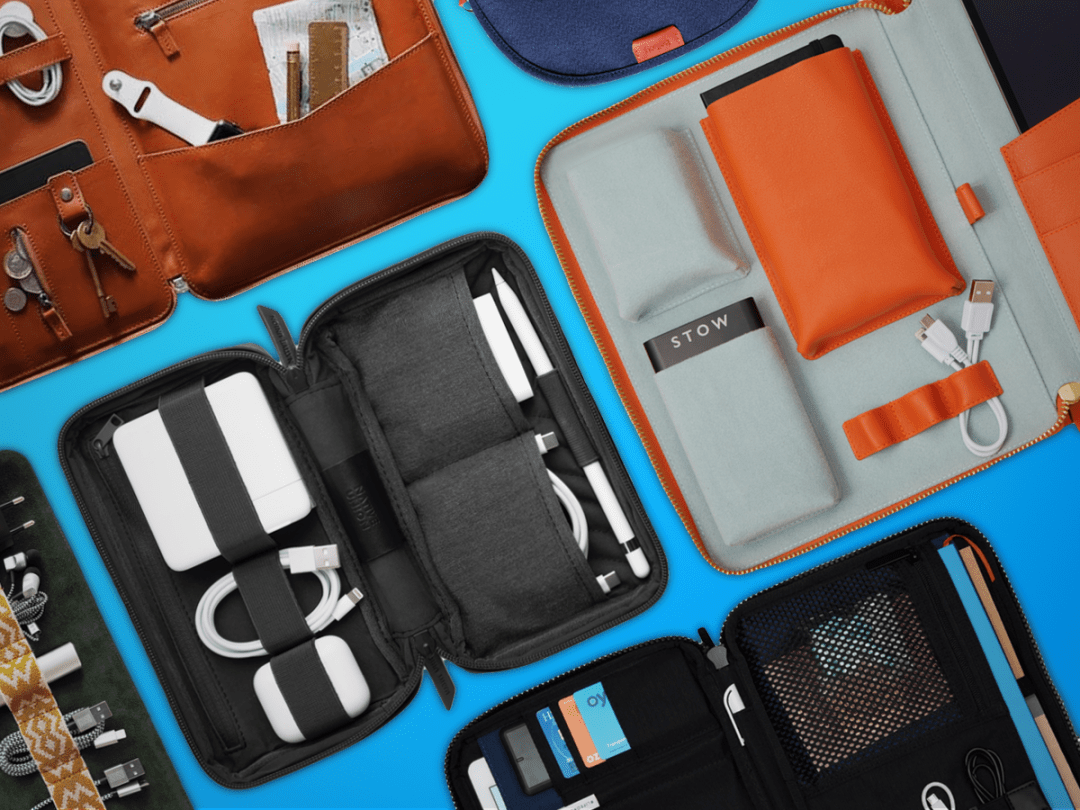 When Radiohead's Thom Yorke sang about "everything in its right place", he probably didn't mean memory cards and microUSB cables.
Those five words, though, are only too relevant when it comes to your everyday carry: without organisation, any arsenal of tech accessories will quickly become a torrid tangle of wires and woe.
Quit rummaging around in your rucksack and bring order to your daily haul with these clever sleeves and pouches – all designed to keep every cord, cell and charger exactly where it should be.
Buying tips
Inside matters
A good organiser should match your lifestyle, so assess your daily haul before hitting the mall. For plugs and peripherals, try a compact pouch. If your laptop is never left behind, go for a folio.
Order in nature
Keeping neat in the wilderness is no mean feat. While those leather organisers might look the business in the boardroom, stick to hardier nylon canvas numbers if you're taking your tech out into the elements.
Elastic fantastic
Satchel too small for an organiser? Add instant order with a Grid-It panel. Available in sizes to suit every sac and fronted by a flexible web of elastic straps, this slimline insert can secure all manner of miscellany.
That's a wrap
Knotted cords are the bane of every backpack, so use leather cable wraps to keep leads tangle-free. Wind your wire around the pop-shut loop, then thread in the ends for a bonny bobbin.
The bang-tidy burrito: Mantidy Gaucho TechRoll (£59)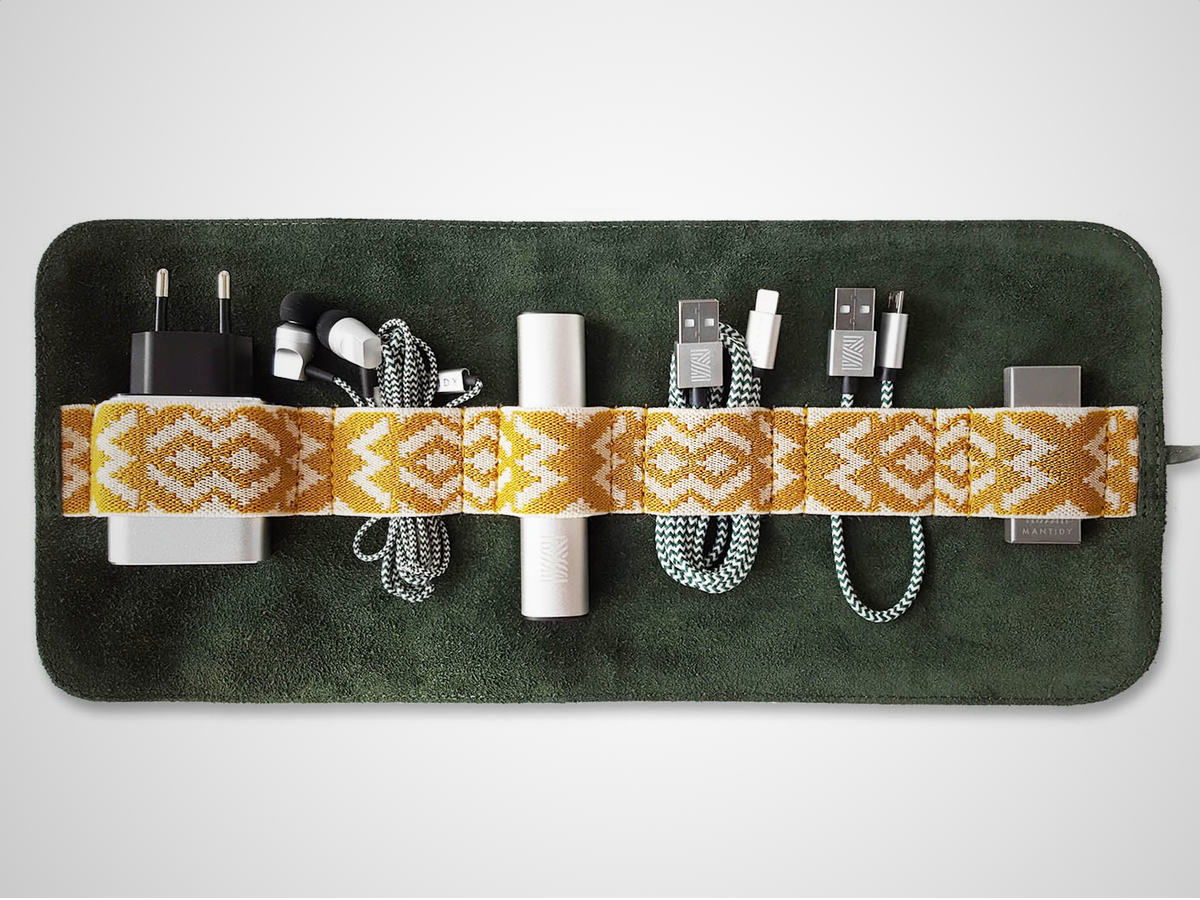 The day will come when we can roll up smartphones like they're slices of salami. Until then, we'll make do with this fetching cord roll.
Styled like a polo player's trouser strap, slip six of your roundest accessories into its patterned elastic belt, before bundling it up like a taco of tech – minus the melted cheese.
The classy clutch: Bellroy Classic Pouch (£39)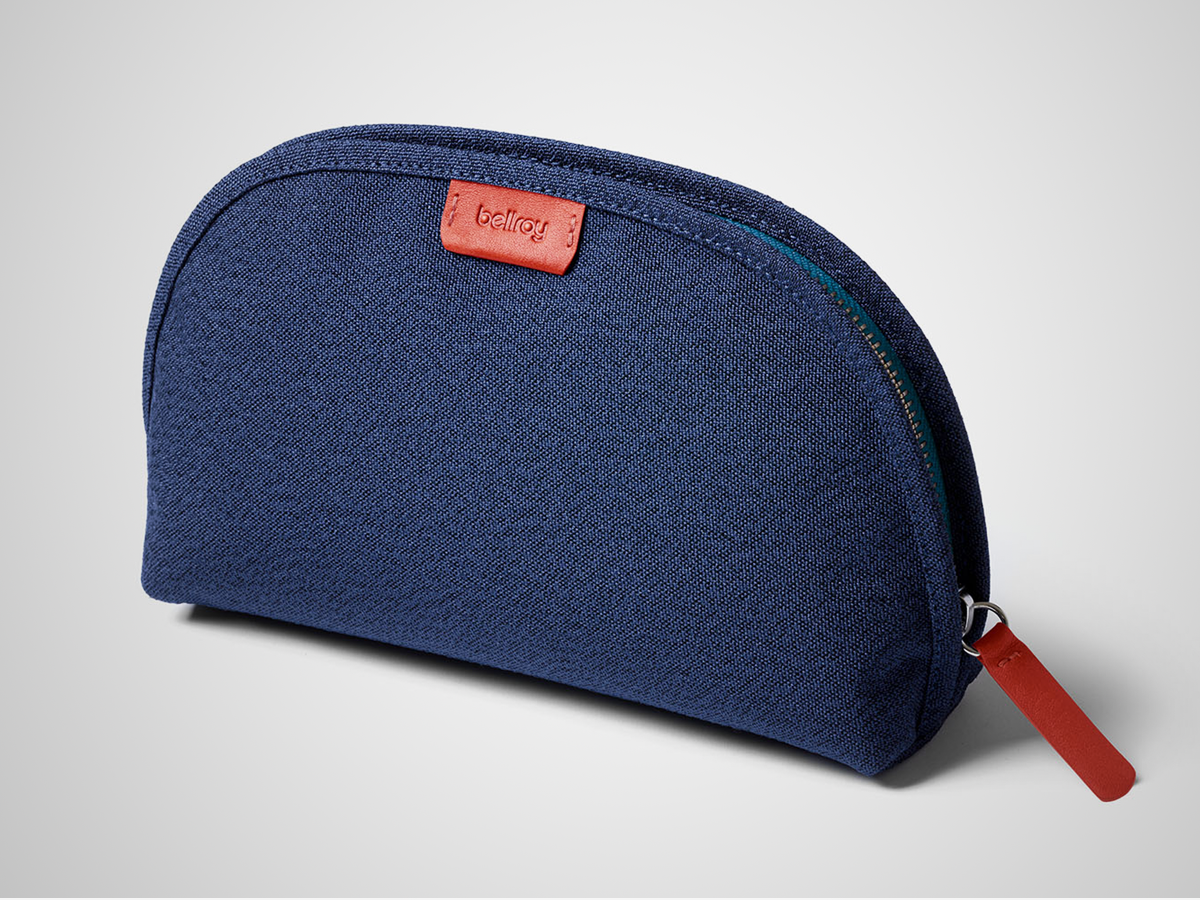 Small, stylish and sorted, Bellroy's bijou blue number is the most versatile pouch this side of a young marsupial's snoozing place.
Made from sustainably sourced fabric and ethically certified leather, there's space inside to stash your most important daily essentials – from pencils and plasters to plugs and pen drives – and, like a baby 'roo, it'll go anywhere with you, too.
The hardy holder: Trakke Laggan Travel Accessory Pouch (£50)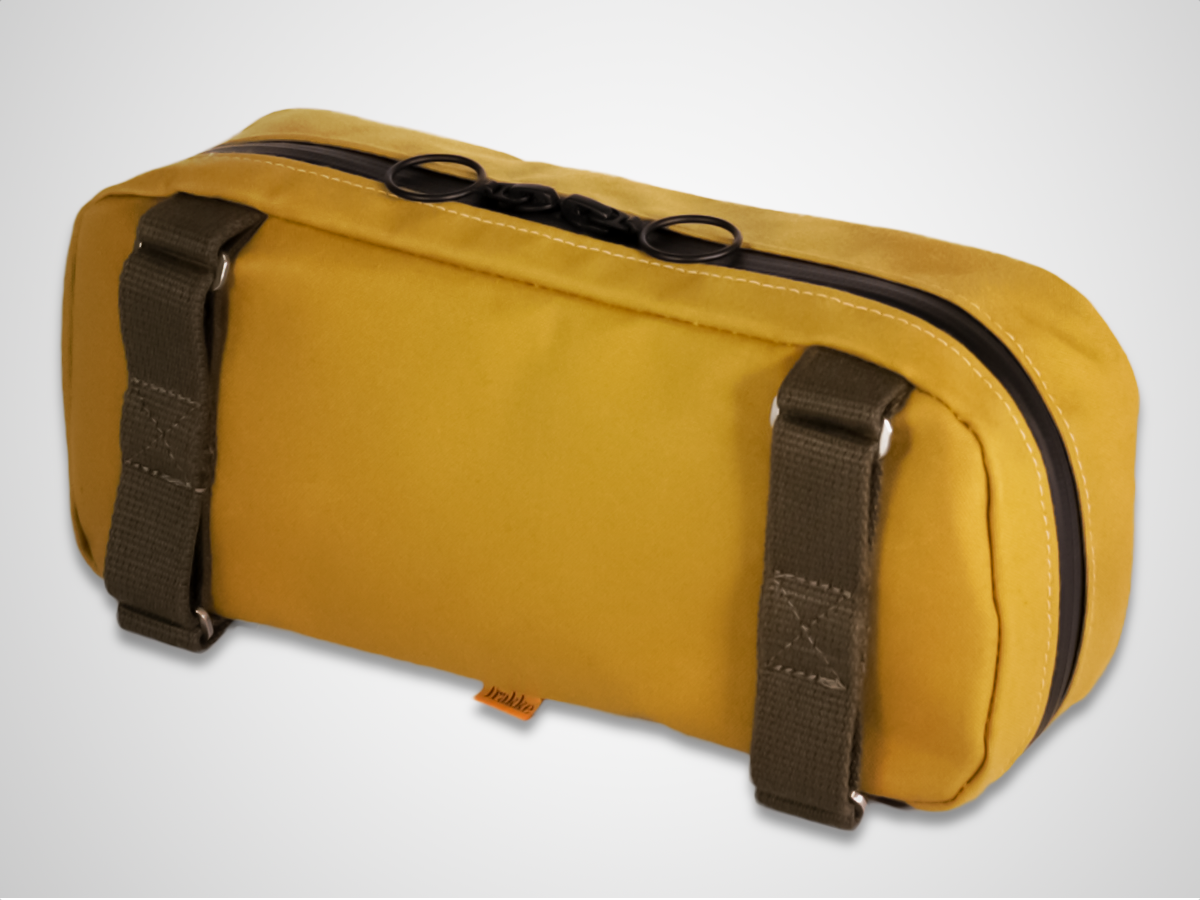 Cresting Ben Nevis should be achievement enough, but your ascent won't be worth the mud on your boots if you can't post from the peak to prove it. Luckily, this rugged pocket can buckle onto your backpack – courtesy of stainless steel loops – to keep your walkie talkie safe until the top.
Rugged and versatile, the Laggan can attach to your pack both vertically and horizontally, while the waxed canvas construction should keep your mountain stash safe until you're ready to FaceTime Nan from the summit.
The premium sleeve: Harber Nomad (£299)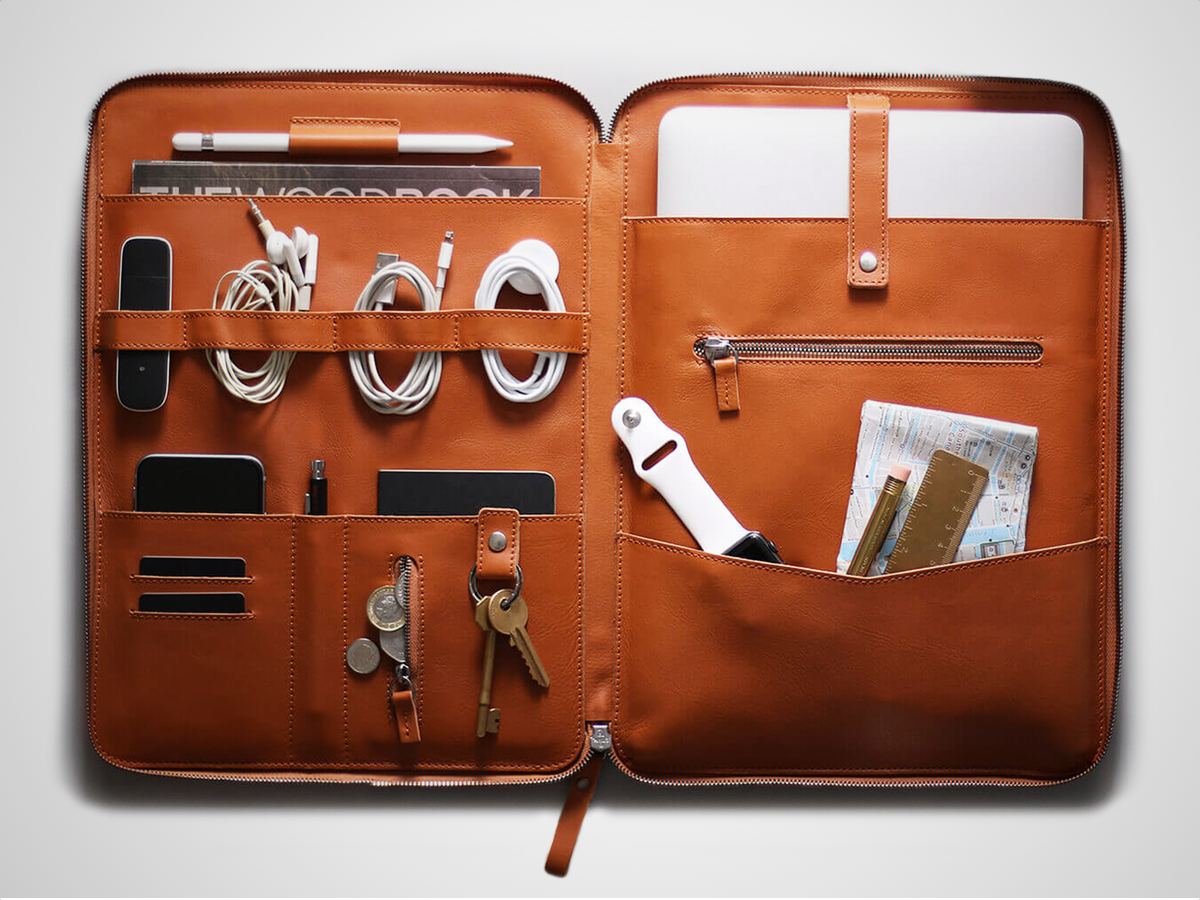 A briefcase disguised as a sleeve, this tan planner is the ultimate boardroom organiser. Sure, you're only in there to fix the projector, but once Steve the CEO clocks your fine taste in leather accessories, you'll be a shoo-in for promotion to chief technician.
Equipped with a measured selection of loops, slots and pockets, there's room enough inside for a 13in laptop and a quartet of cables, as well as cards, keys, coins and a notebook. Better yet, attach the bundled carry strap and you've got yourself a satchel.
The in-flight upgrade: Stow World Class Tech Case (£435)
Storing your mile-high ensemble in a folio hewn from sumptuous Spanish leather and Alcantara, complete with perfectly formed pockets, a slew of sleeves and a 4000mAh power bank? £435.
Not having to stick your hand in the dark and dusty depths of the seat pocket to find your iPhone charger? Priceless.
The neon neat freak: KNOMO Thames Knomad (£50)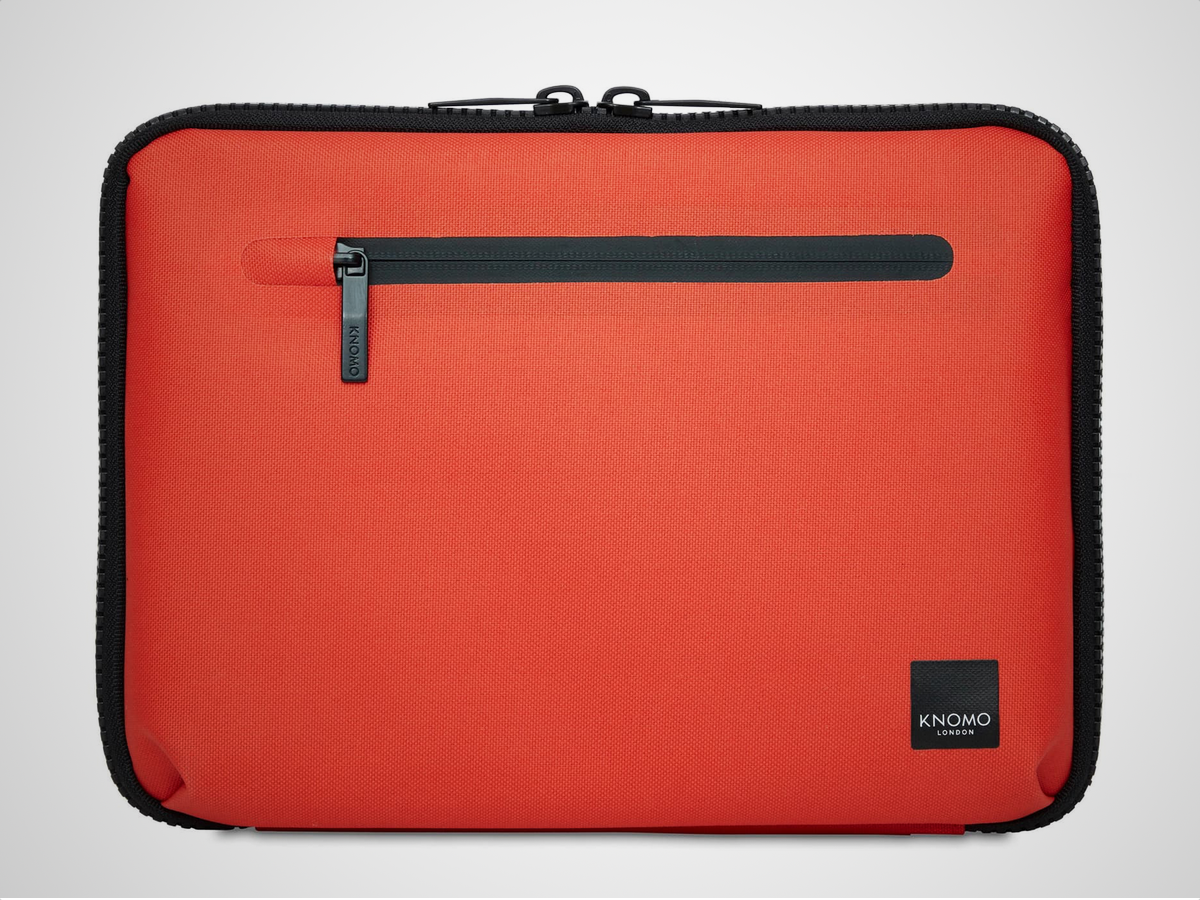 Want the compartmentalised order of a classic organiser in a shell bold enough to get you noticed? You need the Thames Knomad: slim but spacious, this zip-up sleeve from Knomo has dedicated sections for credit cards, cables, passports, power banks and more. There's even a padded slot for 10.5in tablets. Oh, and it's bright orange.
The handheld holdall: Peak Design Tech Pouch (£50)
For an instant answer to accessory overload, you can fold yourself an origami organiser. For an answer that won't collapse at the first sign of moisture, try this sturdier storage solution.
Also inspired by the ancient Japanese paper practice, Peak Design's Tech Pouch packs dividers that keep your tech separate without sapping space, while the recycled nylon canvas shell is properly weatherproof.
The Shoreditch store-all: Waterfield Developer's Case ($129)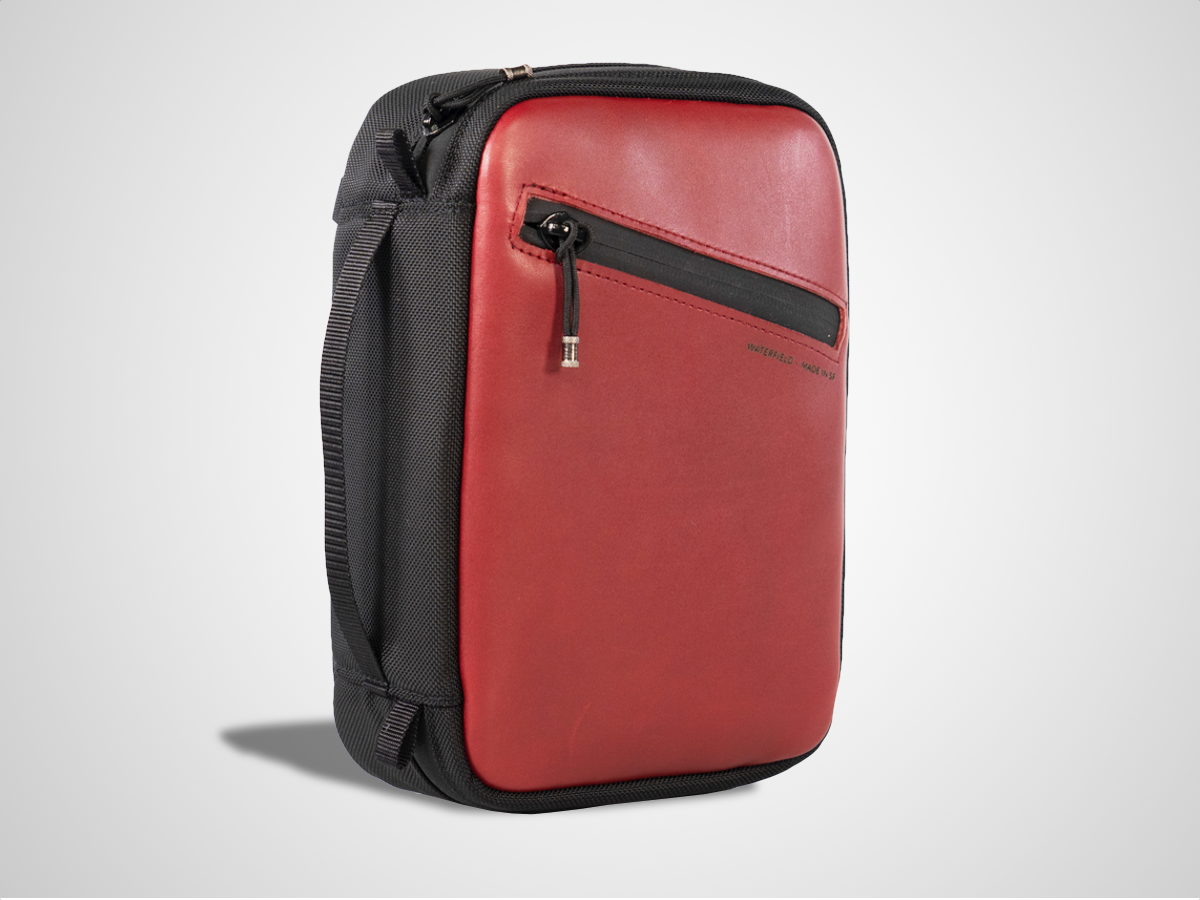 Become a digital nomad, they said. You just need a laptop and a taste for matcha lattes, they said. Now you're knee-deep in dongles and can't find your headphones for all those braided cables.
Find freelance freedom with this capacious case: divided inside and shipped with a mouse pad, it's big enough for all the bits and bobs that make up your mobile office, while the ballistic nylon finish should survive any coffee shop spillages.
The compact clutter-buster: Native Union Stow (£50)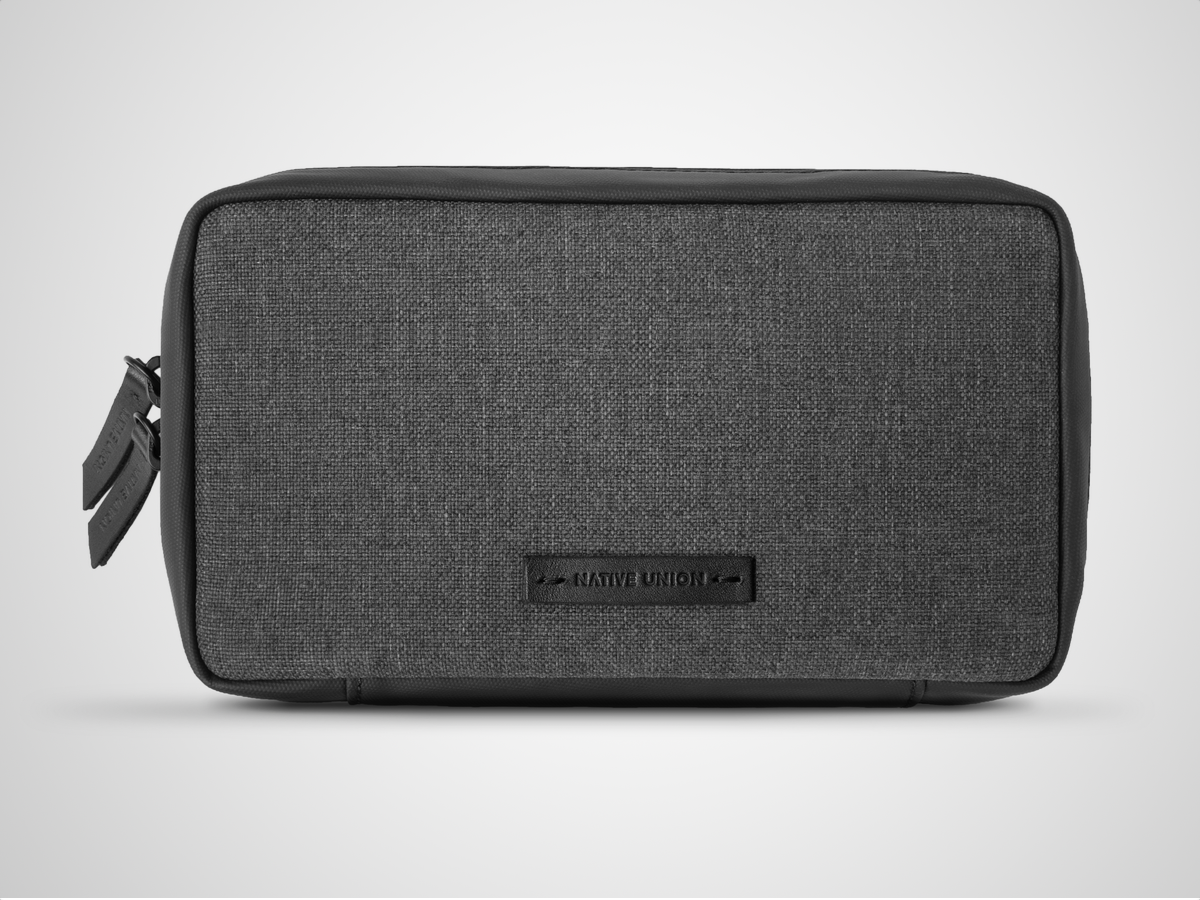 Just because you can cram your entire collection of accessories into your satchel, doesn't mean you should. After all, when was the last time you needed that trackball mouse on the train to work?
Travel tidy and light with this coated canvas pack: it won't take every appendage in your collection, but its neat array of loops and pockets will cut the clutter while holding your necessities with textured finesse.