Upvoted: the best backpacks for smarter carrying
In search of a rucksack to have and to haul, we saddled up to find nine with carriage potential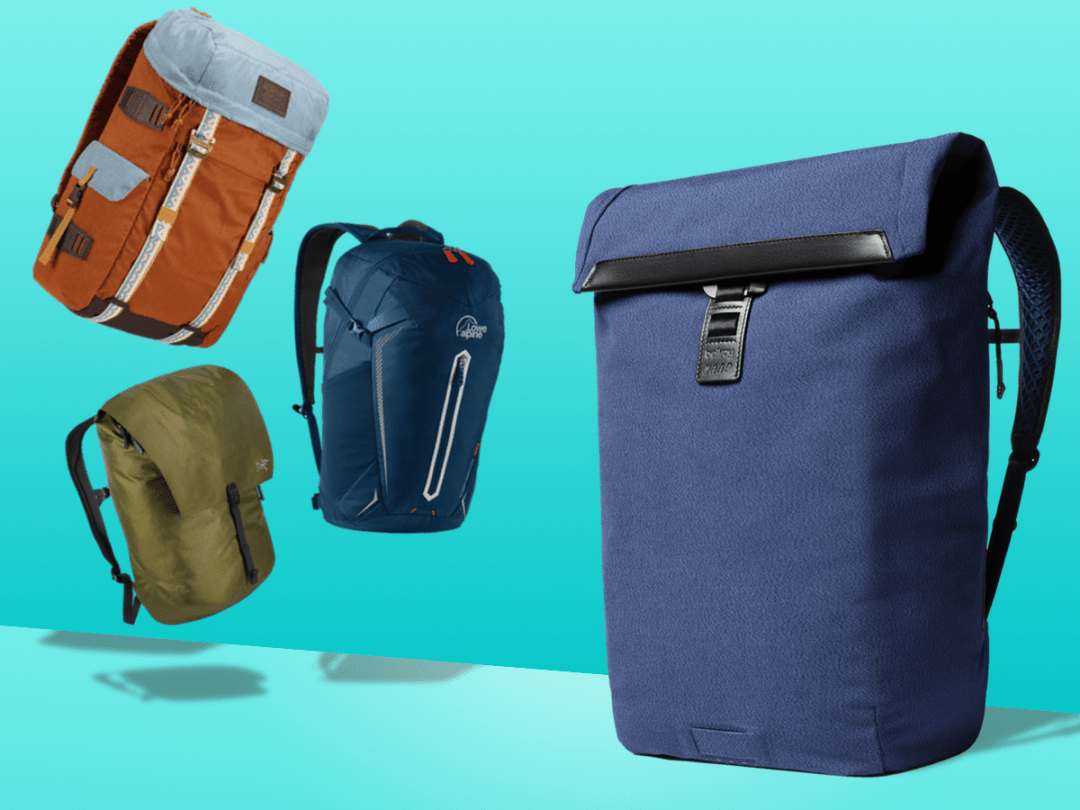 Forget diaries, dogs and dear friends: your humble backpack is the ultimate travel companion.
From those Barcelona business trips to that fateful Bognor Regis bus ride, your trusty two-strap has been on your shoulders through thick, thin and all sorts of torrential weather.
Sure, the bottom's wearing out and there are unexplained stains aplenty, but no new hauler, however nice, can possibly match up to the memories you've made with your faithful pack.
That said, if its straps are close to snapping, it might be time to retire your rucksack and start a fresh story with something new. Such as, perhaps, one of the fine and functional numbers below. 
Buying tips
Packs capacity
Think you know how many litres you need? Be sure to check the setup inside: volume figures can include all the pockets, so the main compartment might not be quite as spacious as you think.
Weather or not
Mountain climb or daily grind, just one strong shower can soak a sack. A weather-resistant shell is essential, but go for a properly waterproof pack if you're based somewhere that's prone to apocalyptic downpours.
Check your baggage
A capacious carry-on might seem like a win, but you'll soon regret your rucksack if it's too massive for the cabin. Measure every dimension to make sure airlines will accept your bag on-board.
Heavy on the hips
Shoulders alone are fine for lighter hauls, but hip straps are a must if you're lugging heavy loads. Some lightweight sacks have simple webbing belts, while proper hiking packs will go cushioned for extra comfort.
The woven wonder: Samsonite Neoknit M (£129)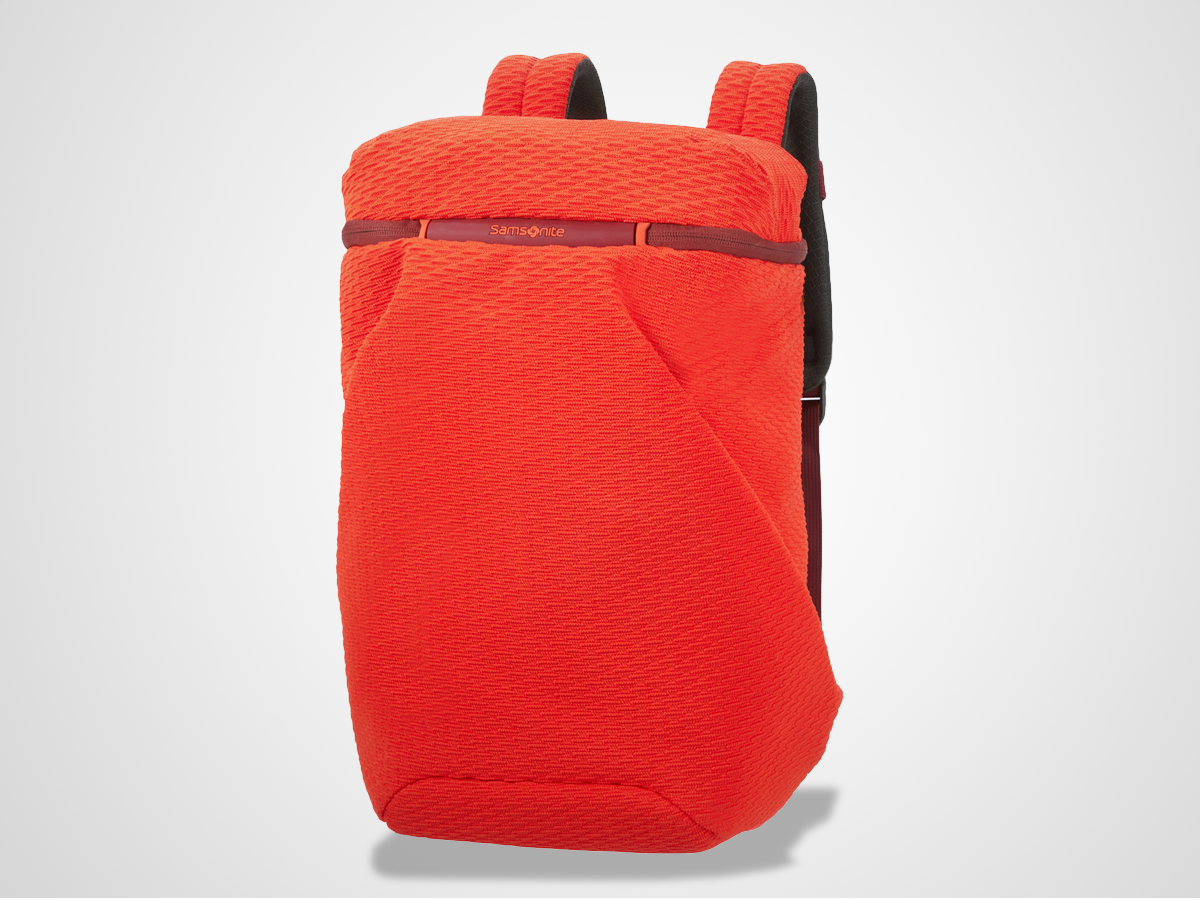 Get your gran to knit you a backpack and, while it might have that rustic woven charm, her crocheted carrier is unlikely to hold your laptop safe from harm. Or rain.
Bung your gear in this Samsonite number for better tech protection: crafted entirely from recycled plastic bottles, it packs all sorts of organised pockets inside, a secure smart sleeve on the rear and an integrated cover to keep the weather off your yarn. Which beats that cross-stitch umbrella she made you for Christmas.
The ochre cocoon: côte&ciel Isar (€305)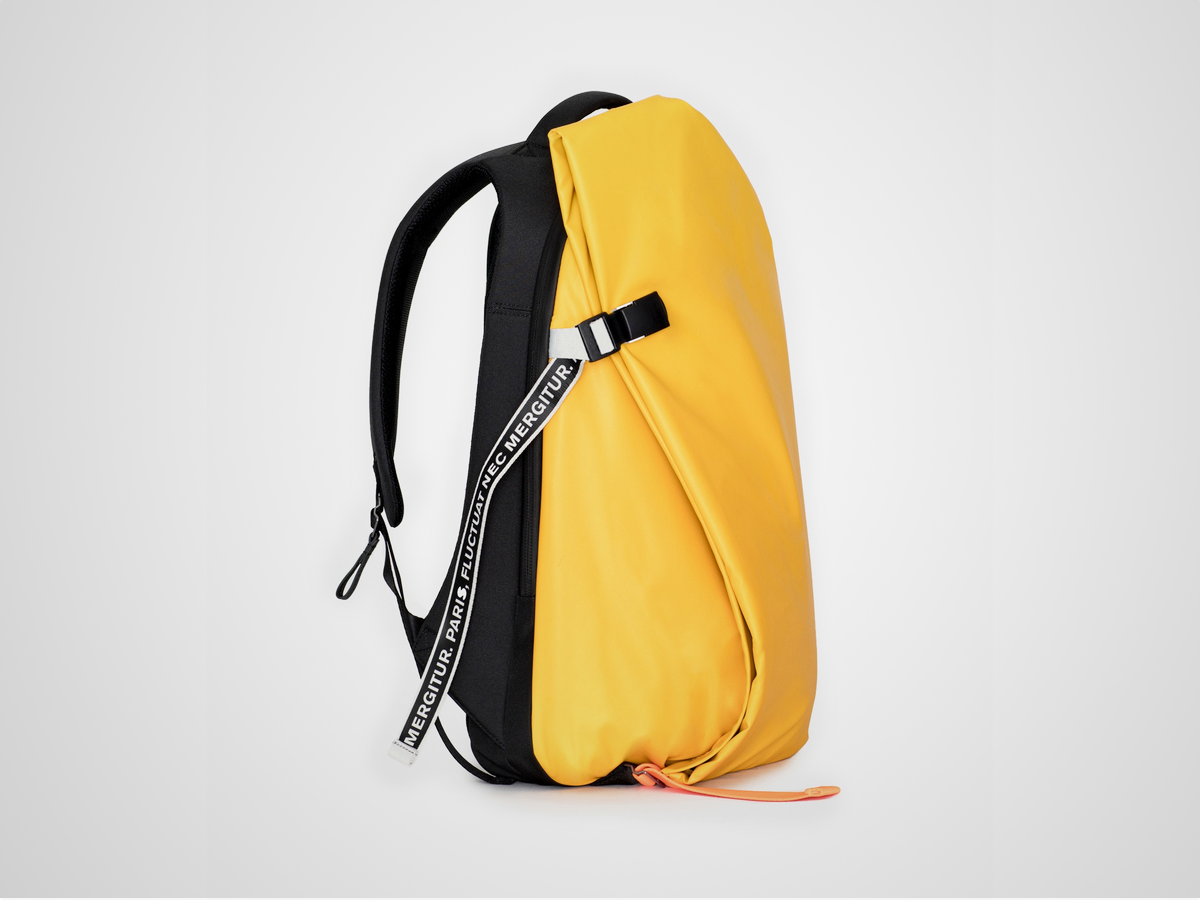 Want a kit bag to match your gumboots? Stash your captain's hat in this off-centre sack and the whole harbour will see you coming.
Inspired by the sort of stuff a sailor would wear, the asymmetric Isar is as versatile as a reef knot and just as reliable. A standard pack at the back – complete with comfortable padded straps – its distinctive front opening unclips to reveal a duffel-like space for stuffing full of your favourite deckwear. It's water-resistant, too, so you can still slay in the spray.
The hillside hauler: Burton Annex 28L (£80)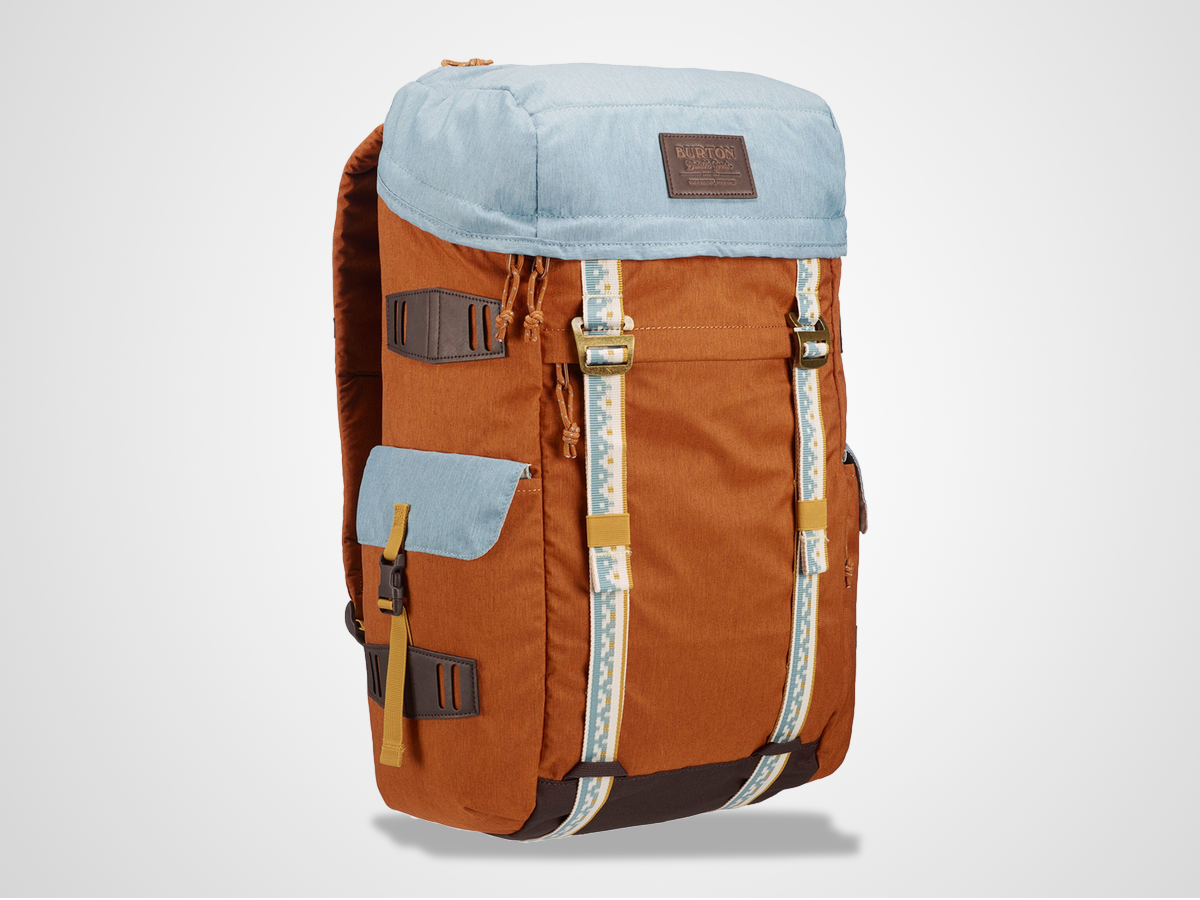 No hiking pack, however stylish, can save you from the wrath of a malevolent mountain goat. This Burton number, though, might at least bring some two-strap fashion to the foothills.
Besides its bonny shell and throwback patterns, the 28-litre load-lugger is a lesson in alpine practicality. Sleeves inside ensure laptops and tablets are safely stowed, while accessory pockets and adjustable webbing mean your whole hillside haul should be easy to access. Unless, of course, you're being accosted by that aforementioned angry bleater.
The featherweight trekker: Lowe Alpine Tensor 20 (£55)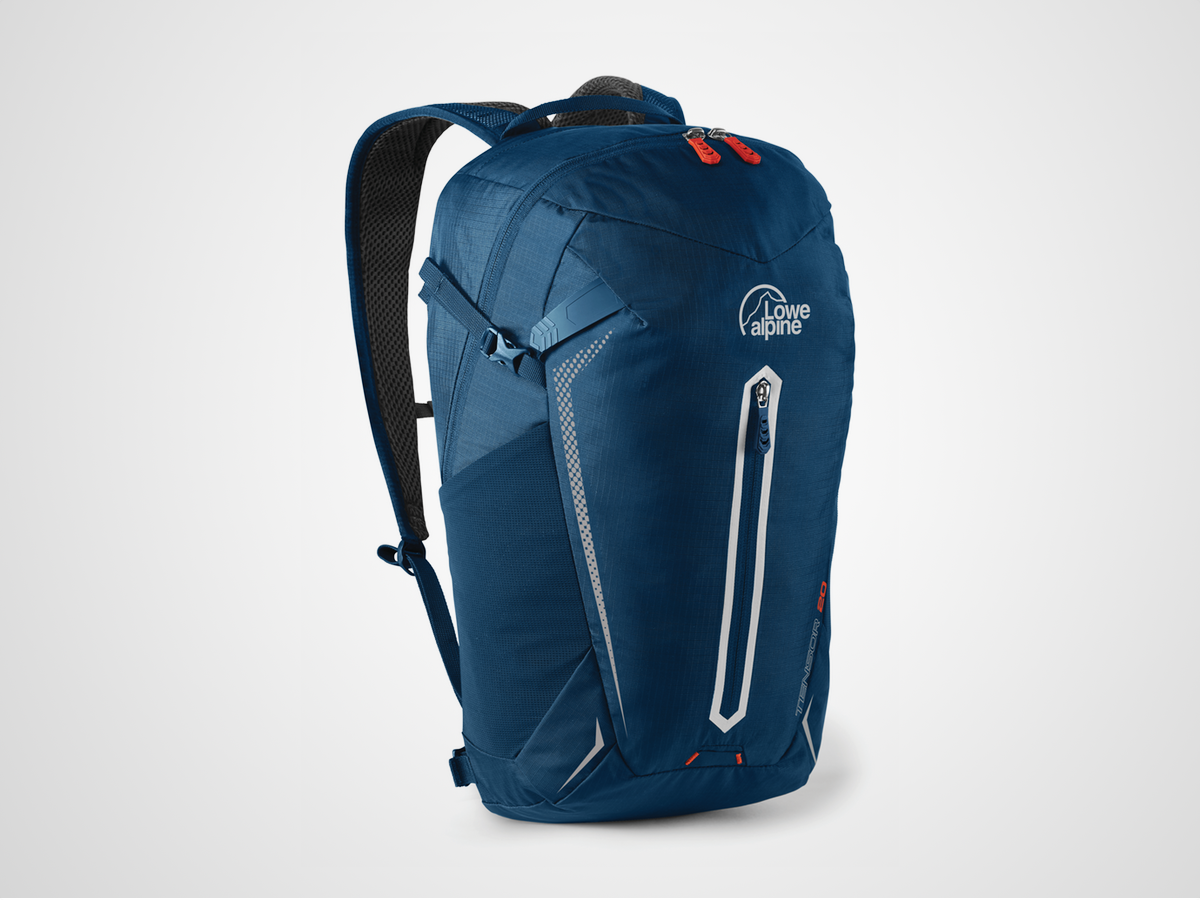 Unless you're a geologist gathering samples in a hurry, there's no reason to sprint in the hills with a lardy pack on your back. Ditch the ballast but keep the utility with Lowe Alpine's versatile Tensor.
Hitting the scales at a scant 520g, its mass won't add to any aches as you tread the trails, while pole lashes, a pre-curved back panel and support for a hydration system mean this 20-litre number is no lightweight in the wild.
The rush-hour runner: Motionlab Active Commute (£189)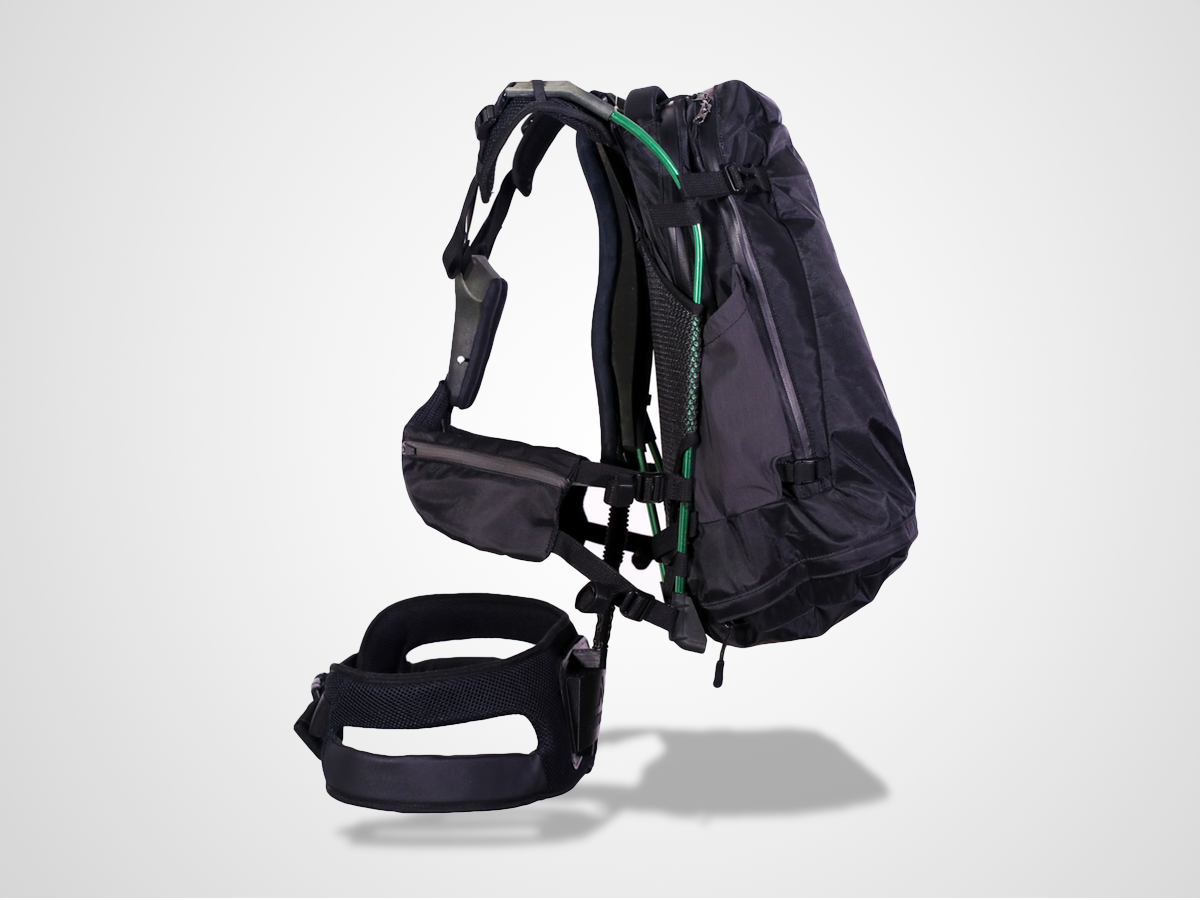 Jogging to work might mean smug satisfaction when you beat your colleagues on the bus, but a bouncing backpack will soon cause sore shoulders and a sour attitude.
Keep the spring in your step with this supportive running pack: with a 20-litre capacity and a raft of pockets to harbour your office ensemble, its chest and belt straps are designed to shift the weight of your daily haul onto your hips for smoother sprinting.
The saddle bag: MAAP X Bellroy Shift (€240)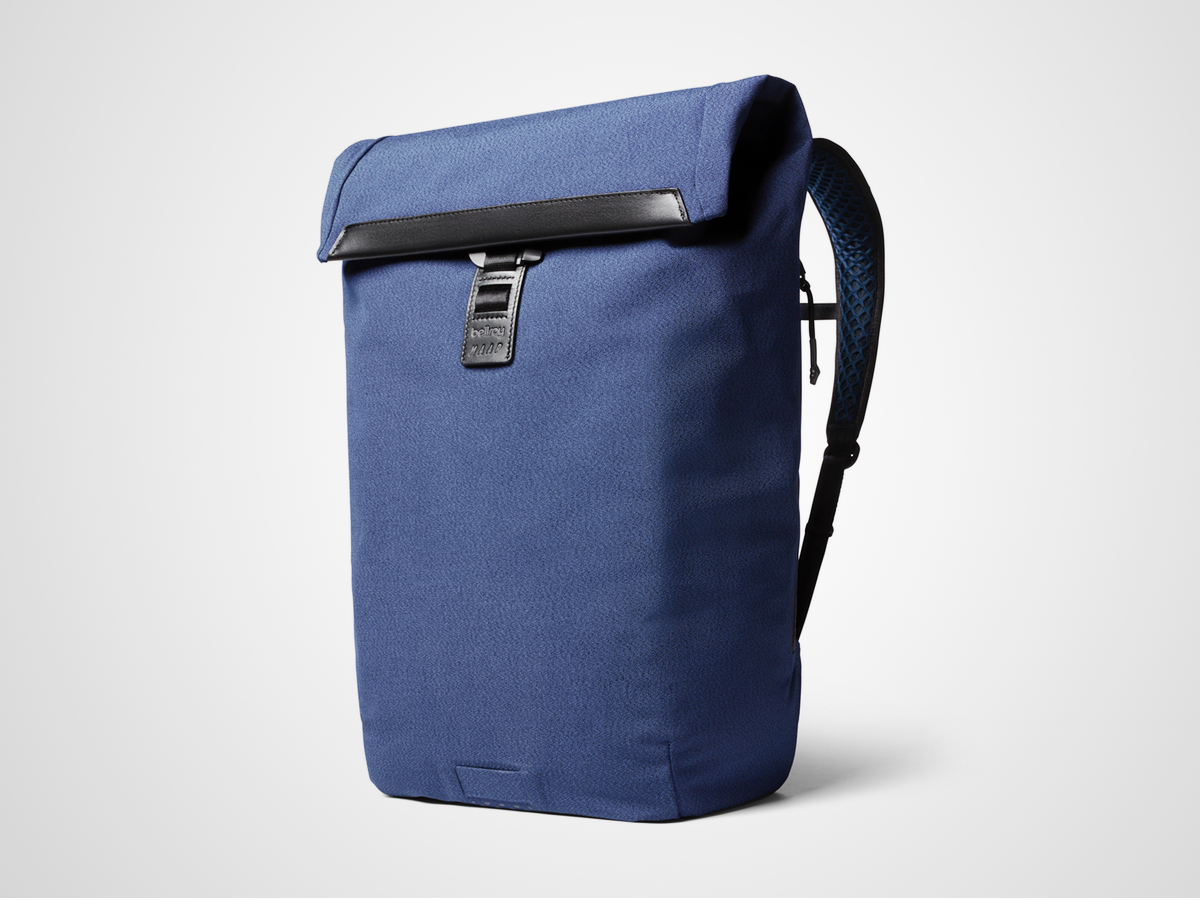 Strapping a pannier on your back might scream cycle mad, but a little subtlety goes a long way when you're head-to-toe in high-vis lycra.
Cut a dash without the neon flash by slinging the Shift over your shoulders. With contoured and breathable back support, weather-protected stash pockets and a light clip and reflective strip – plus a padded laptop slot inside – this rain-proof roll-top is a classier way to courier. Now ditch that yellow jersey.
The power pack: Solgaard Lifepack Solar 2.0 ($165)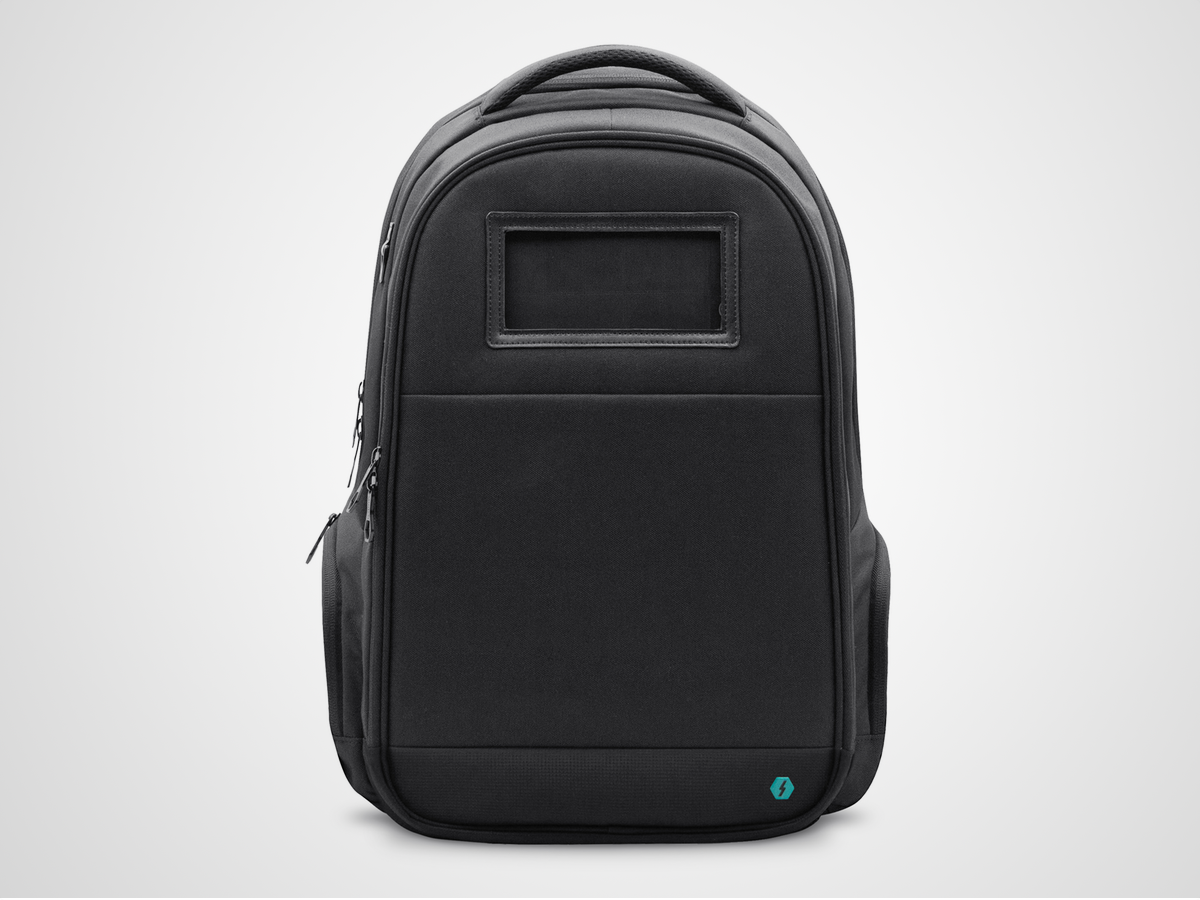 Short of sticking your kit in an autonomous car and having it trail you around town, this rucksack is the ultimate in connected carrying.
Besides a built-in USB port, an anti-theft lock, countless organiser pockets inside and a slew of secret sleeves on the back and straps, it ships with an integrated solar power bank that recharges as you stride. Sure, it won't ferry you to your next meeting, but it's also a darn sight easier to park.
The pick-proof pocket: PacSafe Venturesafe G3 25L (£100)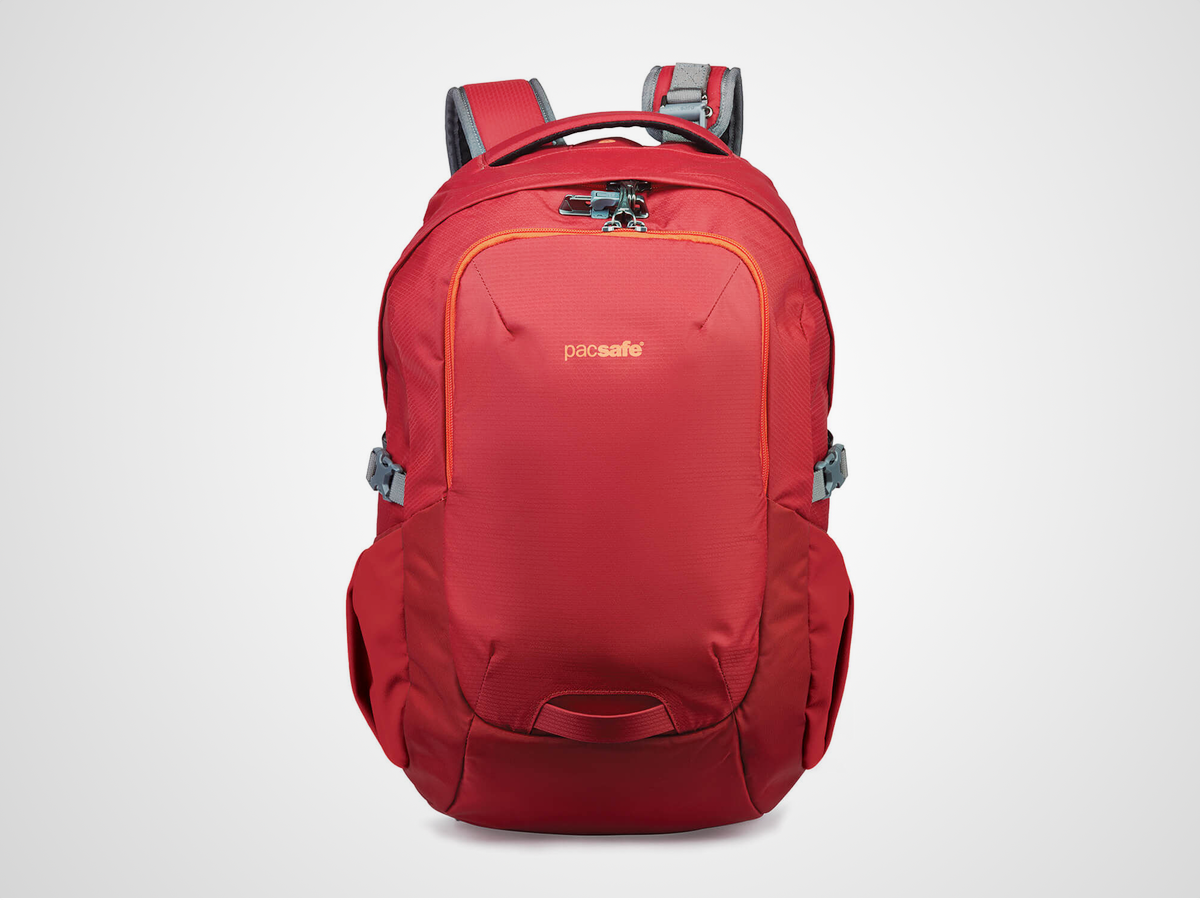 Hitting the city with your tech in tow? Artful Dodgers might abound downtown, but even the nimble fingers of a practiced Fagin will be foiled by the slash-proof skin and clip-lock zips of this theft-proof daypack.
Pop your wallet in the RFID-blocking pocket to keep your identity safe from ne'er do wells, then loop its locking strap around part of the furniture to consider yourself secure.
The urban warrior: Arc'Teryx Granville 20 (£150)
Protection from snow might seem superfluous in the summer months, but one weekend in Edinburgh and you'll soon see otherwise.
Taking a sojourn in fair Scotia? This hardy pack from Arc'Teryx will harbour your gear whether you're halfway up Arthur's Seat or getting blown about on Bruntsfield Links.
Built light and tough from composite materials, its structured compartment – complete with padded laptop sleeve – can shelter 20 litres of stuff from the worst of Scotland's weather.