The best spatial audio albums to hear today: space is the place
Immerse yourself in a truly unique audio experience with the best spatial audio albums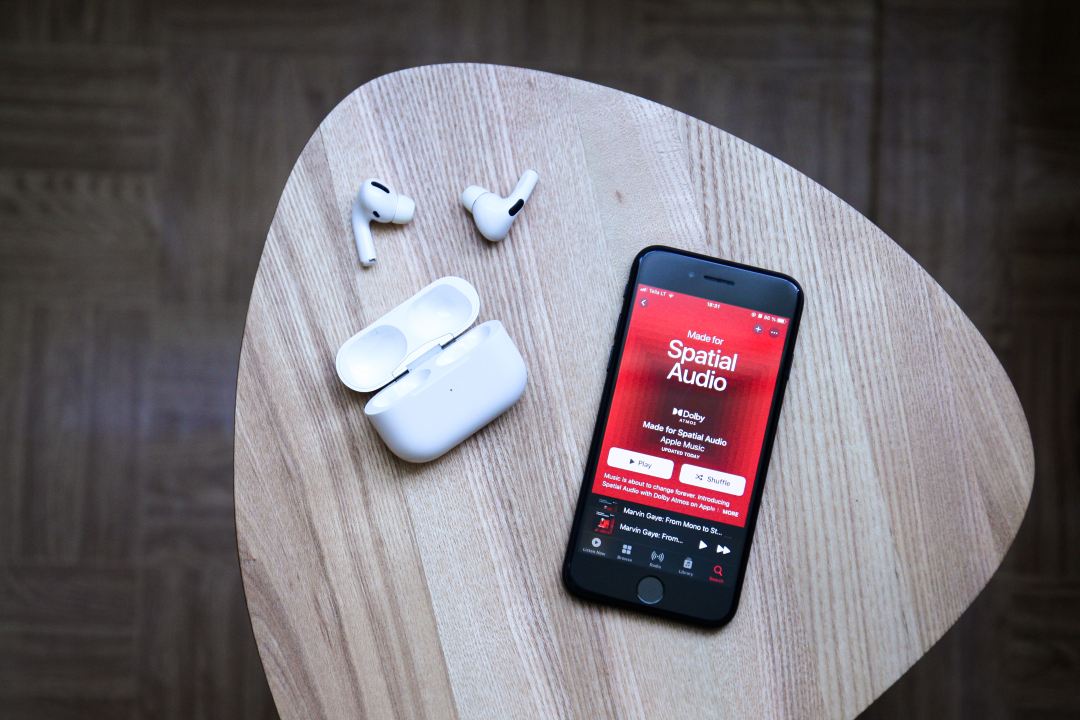 Spatial audio albums enable you to immerse yourself in audio with 360-degree sound, available on compatible headphones and wireless speakers.
With advanced audio technology like Dolby Atmos, you can enjoy a dynamic sound experience that tracks your head movements and adjusts accordingly. Spatial audio technology is compatible with various forms of media, from video to gaming. Currently, music is the most popular application for spatial audio, particularly on Apple Music. Since mid-2021, the second-largest music streaming service in the world has provided Dolby Atmos spatial audio. But while all albums can benefit from spatial audio, some sound even better than others.
First, you should check if your equipment and service support spatial audio for music streaming. It's currently available on platforms like Apple Music, Amazon Music, and Tidal and is now supported by more equipment than ever. The AirPods Pro (1st or 2nd generation), AirPods Max, AirPods (3rd generation), and Beats Fit Pro support it, as well as the 2023 HomePod (2nd generation) and Sonos Era 300. Samsung's latest Galaxy Buds 2 Pro has a 360 Audio feature, and Google has made spatial sound available on Pixel 6 and 6 Pro.
Best playlists to listen to spatial audio and a great app
Apple Music offers a nice mix of playlists that feature tracks that support spatial audio. The Made for Spatial Audio playlist is a great starting point, updated every Wednesday. Updated every Friday is the Hits in Spacial Audio playlist. You can also find spatial audio playlists featuring hip-hop and pop music, which are also updated at the end of every week.
Not all songs on an album are converted to Spatial Audio/Dolby Atmos simultaneously. The Music Library Tracker app ($3.99/£3.99) by Dodo Apps solves this problem by monitoring your music library and keeping track of additions, deletions, changes, and upgrades to Spatial Audio. The app is well worth the price of admission and will always let you know when something in your library changes.
Spatial audio and Dolby Atmos are making listening to music better than ever. Although streaming services like Spotify Audio have yet to embrace the technologies, others have.
Best albums to listen to in spatial audio
Olivia Rodrigo – Sour (2021)
Olivia Rodrigo's debut album, Sour, is a fantastic mix of genres that will satisfy any music lover. Released in 2021, it features a captivating blend of punk, alternative, and bedroom pop, with elements of synth-pop, dream-pop, alternative rock, pop rock, and folk-pop. The album's themes revolve around adolescent struggles, failed relationships, and heartbreak, which we think most can relate to.
If you're looking for an immersive audio experience, start with the lead single Drivers License, which topped the charts in over 20 countries. This song showcases Olivia's incredible vocals and emotional depth, and it's sure to leave you feeling moved. You can also check out other popular singles, such as Good 4 U, Deja Vu, and Traitor, which all offer a unique perspective on love and loss.
Ben Gernon, London Philharmonic Orchestra – The Immersive Experience (2020)
The Immersive Experience is a remarkable collection of 35 classical tracks recorded in Dolby Atmos surround sound by the London Philharmonic Orchestra and Choir under conductor Ben Gernon. These impressive recordings were made at the legendary Abbey Road Studios, where some of the most iconic music ever has been produced.
With their unparalleled musicianship and technical expertise, the London Philharmonic Orchestra and Choir have created a truly immersive listening experience that will transport you to another world. Whether you're a music lover or simply someone who appreciates the beauty of classical music, you won't want to miss this incredible collection.
Listen to The Immersive Experience on Apple Music
Rush – Chronicles (Remastered) (1990, 2015)
Initially released in 1990, Chronicles is a double complication album by the Canadian rock band Rush. The remastered version, released in 2015, includes songs from the band's first 15 studio albums, plus two live tracks.
For spatial audio, consider the Limelight track, which debuted on the band's 1981 album, Moving Pictures. Guitarist Alex Lifeson says the song is about "being under the microscopic scrutiny and the need for privacy—trying to separate the two and not always being successful at it."
Listen to Chronicles (Remastered) on Apple Music
SZA – SOS (2020)
In 2022, American singer-songwriter SZA released her second studio album, SOS. The album has 23 tracks and includes collaborations with Don Toliver, Phoebe Bridgers, Travis Scott, and the late Ol' Dirty Bastard. It was produced by renowned industry names such as Babyface, Jeff Bhasker, Benny Blanco, Rodney Jerkins, DJ Dahi, Gabriel Harman, Ant Clemons, and Lizzo. The album features a mix of hip-hop, R&B, and pop music, with stories about love, heartbreak, self-discovery, and anxiety woven into its fabric.
Listen to SOS on Apple Music
Lady Gaga – Chromatica (2020)
Lady Gaga released her sixth studio album, Chromatica, in 2020. The album features the return to her dance-pop roots and is a concept album named after the color spectrum.
To promote her album Chromatica, Lady Gaga embarked on the Chromatica Ball tour, which was postponed several times due to the pandemic and ultimately took place in the summer of 2022. The album was supported by four singles, including Rain on Me featuring Ariana Grande, Stupid Love, 911, and Free Women.
Listen to Chromatica on Apple Music
The Beatles – 1 (2000, various reissues)
Fans of The Beatles have been raving about their 2000 album 1, which features the band's number-one singles in the U.K. or U.S. from 1962 to 1970. Released on the 30th anniversary of the band's break-up, this album has been reissued and remixed multiple times since then.
The latest version, 1+, is a three-disc set that includes the band's top hits and a collection of their promotional films. It's no wonder this album continues to be popular among long-time fans and new listeners. With its timeless music and captivating visuals, 1 is a must-have for any true Beatles enthusiast.
Pink Floyd – The Dark Side of the Moon (1973, remastered in 2023)
Celebrating the iconic album's half-century, this special edition version is the first to feature Dolby Atmos. The remaster also includes improved sound quality overall.
The Dark Side of the Moon is a classic album that Pink Floyd released in 1973. The eighth studio album by the English rock band, it's a must-have for any music lover. The concept album explores contemporary themes, such as madness, conflict, greed, time, death, and mental illness.
Listen to The Dark Side of the Moon on Apple Music
Fleetwood Mac – Rumours (1977)
Fleetwood Mac's Rumours album, released in 1977, is a true classic in rock music. With a perfect blend of electric and acoustic instrumentation, the album features a range of instruments, including guitars, keyboards, and rhythms.
It's no wonder that Rumours was Fleetwood Mac's first album to reach the top of the charts in the U.K. – the hit singles alone are enough to make anyone a fan. This album truly has everything from the iconic Go Your Own Way to the blissful Dreams, the energetic Don't Stop, and the playful You Make Loving Fun.
Whether you're a long-time fan or just discovering Fleetwood Mac for the first time, Rumours is a must-listen.
Listen to Rumours on Apple Music
R.E.M. – Automatic for the People (1992, remastered in 2017)
R.E.M.'s eighth studio album, Automatic for the People, is a timeless masterpiece that has captivated music lovers for decades. With its addictive sounds and poignant lyrics, the album explores themes of mortality, loss, mourning, and nostalgia, resonating with listeners deeply and personally.
Featuring iconic singles like Drive and Everybody Hurts, Automatic for the People showcases R.E.M.'s impressive range and versatility as a band. From the hauntingly beautiful melodies of Nightswimming to the upbeat, rock-infused energy of Man on the Moon, this album offers something for everyone. R.E.M. remastered the album in 2017.
Listen to Automatic for the People on Apple Music
Grateful Dead – American Beauty (1970)
American Beauty, the Grateful Dead's fifth studio album, is a classic that was released in 1970. It offers a beautiful blend of folk rock, country, and psychedelic rock that explores themes of love, loss, and the stunning beauty of the American landscape.
The album features some of their most popular tracks, such as Trucking', Friend of the Devil, Ripple, and Sugar Magnolia. With its captivating melodies, thought-provoking lyrics, and unique sound, American Beauty is a true masterpiece that has stood the test of time and continues to be loved by fans of all ages.
Listen to American Beauty on Apple Music
The Weeknd – After Hours (2020)
The Weeknd's fourth studio album, After Hours, was an absolute sensation in 2020. The album delves into a range of deep and complex topics, including loneliness, self-loathing, and the yearning for escape. One of the standout tracks from the album, Blinding Lights, achieved immense popularity and topped the charts in over 30 countries. In fact, it holds the record for the longest-running number-one song on the Billboard Hot 100 chart, an incredible achievement that saw it stay at the top for a total of 90 weeks.
There are different editions of After Hours available, some of which feature collaborations with artists like Chromatics and Lil Uzi Vert.
After Hours was a huge success and cemented The Weeknd's status as one of the biggest artists in the music industry today.
Listen to After Hours (Deluxe Video Album) on Apple Music
Queen – A Night at the Opera (1975, various remixes)
Released in 1975, A Night at the Opera is the fourth studio album by the British rock band Queen. It has since become known as a classic album due to its eclectic mix of styles, ranging from hard rock to opera.
The album features several notable tracks, including the six-minute epic Bohemian Rhapsody. Other standout tracks on the album include You're My Best Friend, '39, Love of My Life, and Good Company.
Interestingly, not every A Night at the Opera track is available in Dolby Atmos. Those that are include Bohemian Rhapsody, You're My Best Friend, '39, and Love of My Life. The Prophet's Song, Good Company, and God Save the Queen also use Dolby Atmos.
Listen to A Night at the Opera on Apple Music
Oliver Nelson – The Blues and the Abstract Truth (1961)
The album The Blues and the Abstract Truth is an iconic piece of jazz history, recorded by the legendary saxophonist Oliver Nelson in 1961. The album features some of that era's most notable jazz musicians, such as Freddie Hubbard, Eric Dolphy, Bill Evans, Paul Chambers, and Roy Haynes.
This album is a classic example of the hard bop genre, characterized by strong rhythms, bluesy melodies, and improvisational solos. One of the most remarkable things about this album is its use of modal harmony, a popular jazz technique.
Listen to The Blues and the Abstract Truth on Apple Music
The Beatles – Abbey Road (2019 Mix)
Abbey Road (2019 Mix) is a remastered version of the 1969 classic Beatles album. It's produced by Giles Martin, son of the original producer, George Martin. The popular mix uses the original master tapes and features several improvements over the original mix, including the introduction of Dolby Atmos.
The new mix breathes new life into the iconic album and allows listeners to experience the music in a whole new way. The introduction of Dolby Atmos adds a new dimension to the sound, creating a more immersive listening experience. The remastering process has brought out new details in the music, making it sound clearer and more vibrant. Overall, Abbey Road (2019 Mix) is a must-have for any Beatles fan, offering a fresh take on a beloved classic.
Listen to Abbey Road (2019 Mix) on Apple Music
Recommended: 60 best hi-fi audiophile albums ever