Sony Xperia Z5 vs Samsung Galaxy S6
Can Sony's glass-wrapped offering buck the Xperia trend and break Samsung's Galaxy domination?
The furore over the Z5 Premium's eye-watering 4K screen might have stolen the spotlight at IFA last month, but Sony's standard Z5 is nothing to be sniffed at – and it might just take the fight to Samsung's Galaxy S6.
Can the resolutely-rectangular Xperia land a punch on its round-edged rival? Now that we've had chance to put the brushed-metal bodies of the Z5 and S6 through their paces in our full reviews, we can deliver the verdict on which truly justifies the palm-sweating anticipation.
Dainty devices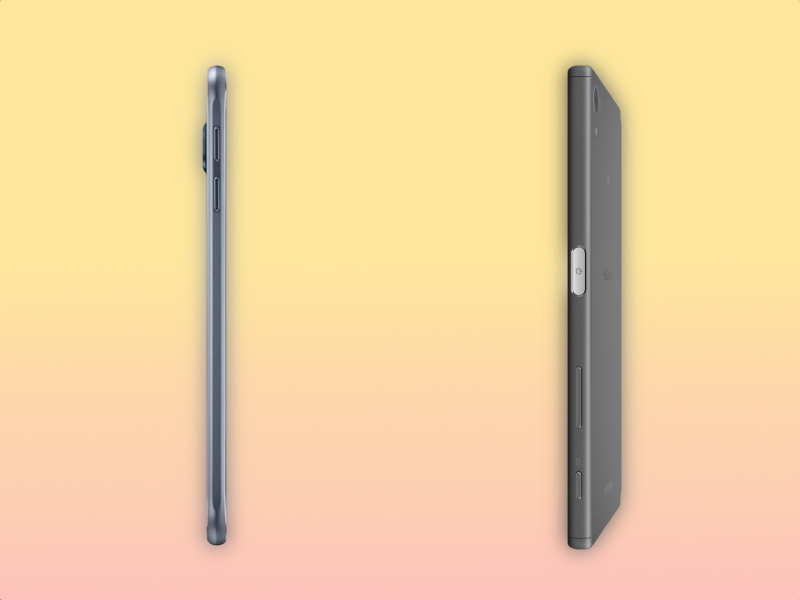 Sony's hoping its new glass-backed mobile offering will be sleek enough to tempt fans of Samsung's shiny flagship away from the S6.
The Xperia design hasn't changed much through the various Z-iterations, with Sony's get-up gurus stubbornly sticking to right-angles – but the addition of frosted-finish glass does add a distinguishing flourish to the Z5.
Frosting that rear makes for both a refined and scratch-resistant handset – perfect for clumsy-pawed stylistas. That said, in our review we found the Z5 to feel almost sharp in the palm and undoubtedly lacking the ultra-classy metal and glass construction of the S6.
Indeed, when we first got our mitts on the Galaxy phone, it blew our socks off: the plastic of previous iterations is no more, banished in favour of soft curves, smooth aluminium lines and a Gorilla Glass frontage.
It's a lovely phone to both hold and look at, and slimmer than the Z5 too: just 6.8mm to its rival's 7.3mm frame.
As ever, the great weighing scales of the hands-on masses will truly decide which design conquers, but, for us, the S6 takes the crown.
Winner: Samsung Galaxy S6
Show and tell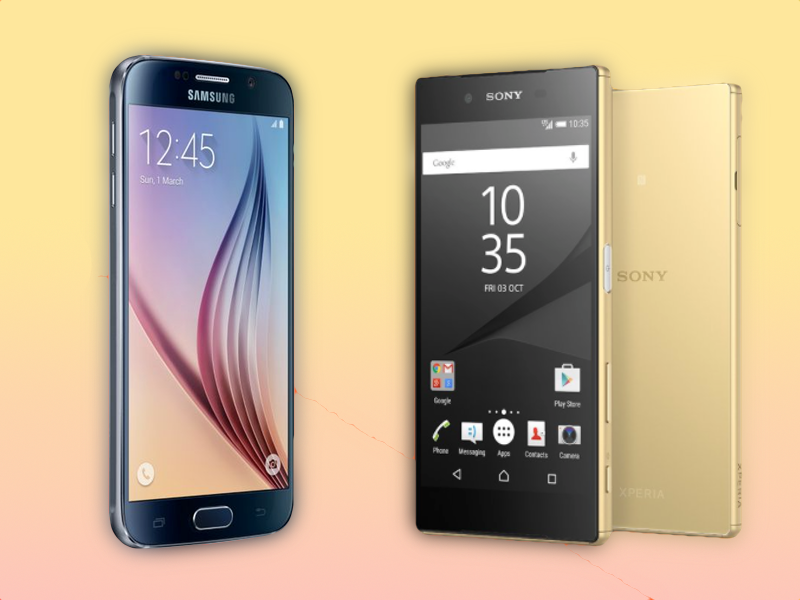 Despite eschewing its Xperia Z5 Premium sibling's fabled 4K whopper of screen (even if it only joins the 4K party part of the time), the Z5 still packs a punch with its 5.2in 1080p display.
In fact, much like the Xperia Z3+, the 'ordinary' Z5 benefits from Sony's display smarts, which deliver vivid colour performance without the 'pop' tones of some AMOLED offerings.
Unfortunately, the latest Xperia's pixel pusher is just a little too similar to previous Sony showings, with little advancement in the face of the Galaxy S6's whopping 577ppi.
Sure, it's still plenty sharp enough to leave pixels invisible, but it lacks the accuracy of definition that's guaranteed by the Galaxy: the Xperia is all about punch, not precision.
If sharpness is what matters to you most and you don't want to shell out for the Z5 Premium (not that it's available to buy yet anyway), the S6 is the next-best bet. Its 5.1in Super AMOLED display is a standout performer, delivering ultra-vivid colours and brightness – and its speakers are pretty beefy, too.
Outside or inside, light or dark, the S6 renders images with such unrivalled excellence that it begs the question, where next?
Yes, both handsets have different display modes which could even out certain differences in certain usage environments, but there's no doubt that on overall performance the Galaxy walks away with the pixel prize.
Winner: Samsung Galaxy S6
Speed demons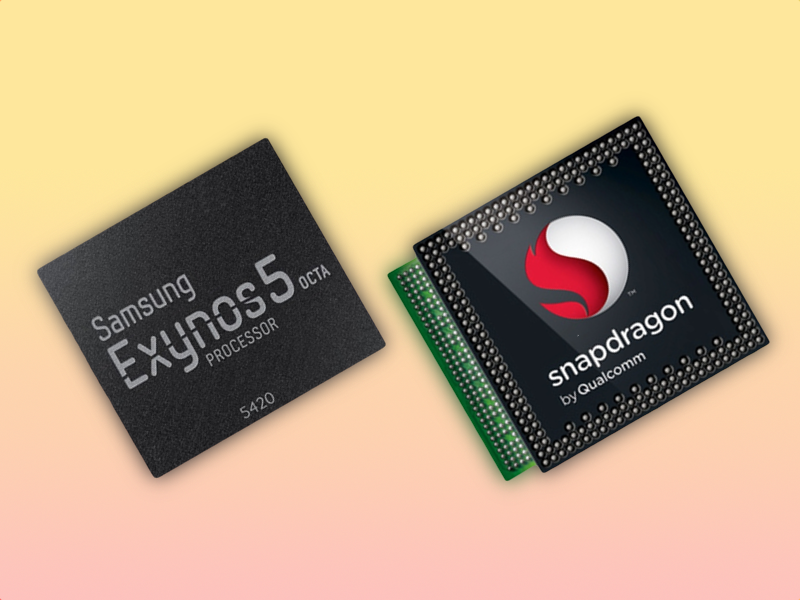 As for what's under the hood, the Japanese manufacturer has stuck with Snapdragon's 810 chip for the Z5, which is plenty fast enough alongside its 3GB of RAM to run Sony-skinned Android 5.0 Lollipop (and Android Marshmallow, when it arrives).
OK, so there's a little lag when waking the Sony from sleep and firing up its intense camera modes, but it's got enough gears to deal with anything that most standard smartphone surfers will throw at it.
Unfortunately, it seems Sony hasn't managed to fully eradicate the overheating woes infamously associated with the 810 processor, despite some clever heating dispersal kit in the case of the Z5. Put it through even minor processes and it'll go all toaster on you: run it for a few minutes and you'll have a pretty warm palm. Worse still, browsing the web or, god forbid, charging it sends the mercury even higher.
What that goes to show is that Samsung dodged a bullet with its chip choice for the S6. The Korean manufacturer rejected the Snapdragon 810 in favour of its own Exynos octa-core beast of a chip – and it's anything but a layabout.
In our full review of the S6, we found the Galaxy's processor to be a huge 20% faster than rival flagships packing Snapdragon 810 kit and, best of all, there's no sign of it doubling-up as a microwave. Sure, it heats a little under pressure, but it's way off being oven spec tech – not least because of its smaller, more efficient transistors.
The Samsung handset also packs 3GB of RAM, but it's the DDR4 grade, rather than the Xperia's DDR3 – and that's good for a full 2000MB more per second in the speed stakes. So, in terms of both specs and real-world performance, the S6 lords it over the Z5.
Winner: Samsung Galaxy S6
Who's in charge?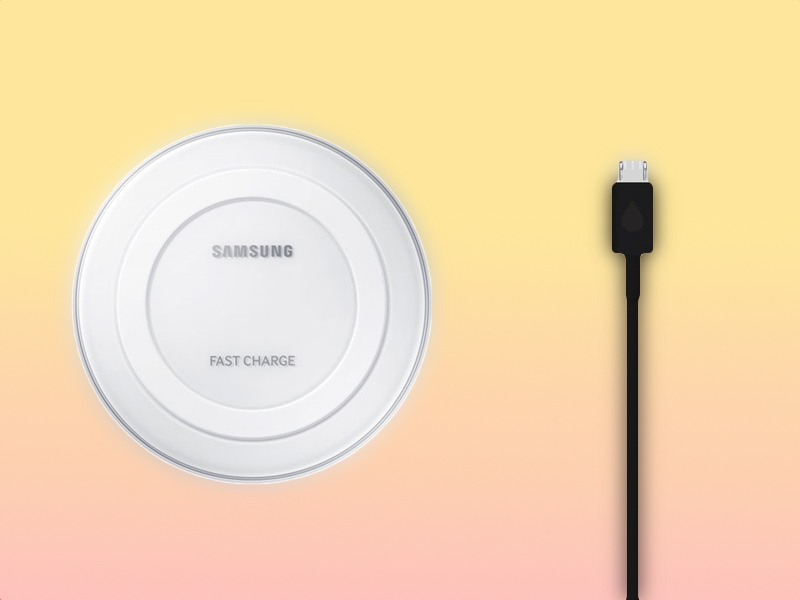 But what use are NASA-rivalling chipsets if your juice is all out before the bus even gets you to the shops?
The S6 contains a 2550mAh battery, which might not seem game-changing but which showed pretty solid stamina in our review. You'll get 14 hours of video from a single juicing session, which is decent enough in itself, but where the Galaxy really excels is in its insanely fast charging smarts: plug it into the wall and you can fill up 70% of its capacity in just 30 minutes.
With the Z5 drinking from a larger 2900mAh pack and Sony's claims that the trend of two-day Xperia battery life was set to continue, putting your money on it for power pack victory might have seemed a safe bet.
Sadly, that Snapdragon 810 seems to have soured its staying power: it managed just shy of 12 hours with video on loop – a full two hours short of what the S6 achieved with its smaller cell. Embarrassingly for Sony, the old Xperia Z3 delivered more than its latest flagship, suggesting the Z5 really has bitten the battery bullet.
Stamina-management is key with the Sony. Like the LG G4, start streaming or snapping and you'll see the percentages drop like it's hot – literally. Power Saving mode might help stretch things out until sundown, but it's hardly a high-capacity hitter.
Sure, Man's Greatest Invention, the plug, is rarely far away but it's pretty disappointing that flagships this day and age still push performance over power duration. Couple that with the S6's charging smarts (the Z5 has eschewed USB type-C's equivalent capabilities) and the contest is a bit of a knockout.
Winner: Samsung Galaxy S6
Snaptacular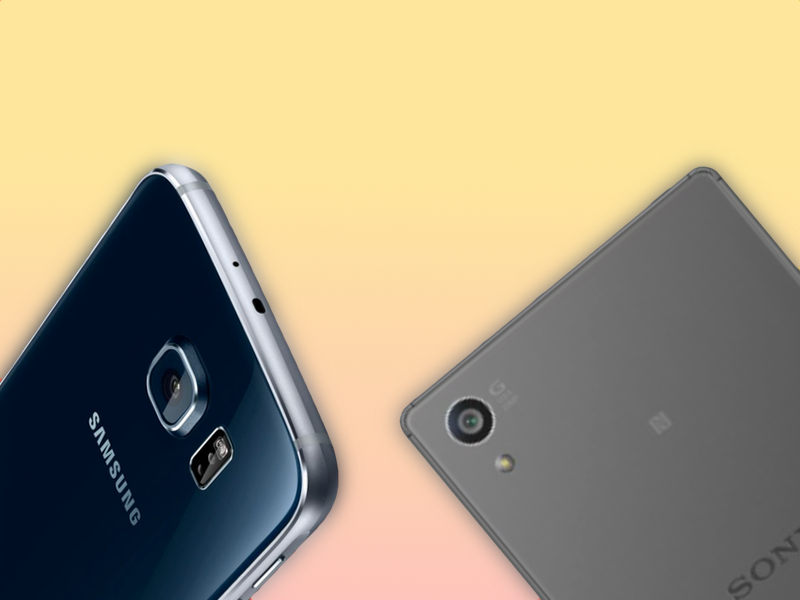 Can the Z5 edge the S6 in the snapper stakes? If megapixels meant results (they don't), then sure it can: Sony has somehow crammed 23 of them on to the Z5's Exmoor sensor – walloping the S6's lowly 16MP front shooter.
But hi-def shots in a low-light wobbly world are no good to anyone. Hence, Sony promised the world's fastest autofocus (it locks on in just 0.03s) and Clear Image Zoom smarts on its new mobile masterpiece.
Does it deliver? Well, partly.
The lightning-fast autofocus is worth shouting about: it uses the same phase-detection tech as most DSLRs and really is very snappy. Sadly, that's where the good news ends. It may be a 23MP sensor, but the Z5's camera is designed to shoot at 8-megapixels. Its 23MP raw shooting looks scratchy at pixel-level, whereas, at lower resolutions, the Xperia uses oversampling to cut down on fuzz.
For whatever reason, the Z5 is downright noisier, even in daylight, than its headline handset rivals – including the S6. Sure, Sony has an impressive bank of camera modes in its shooting suite, but the manufacturer has to be hoping most people are happy to stick with Superior Auto: anything else can suffer from serious lag.
The lack of optical image stabilisation is equally telling. In combination with a relatively slow 1/16 of a second exposure as its maximum, low-light snaps aren't bad, but nor are they incredible.
In contrast, while the S6 may have fewer megapixels, it really hits the mark on quality. It's particularly good in dusky scenes – largely thanks to its ultra-quick f/1.9 lens and Samsung's HDR wizardry.
Add to that the impressively sharp detailing you get from its 16MP kit and you can see why we reckoned it was one the best smartphone cameras, ever.
For smartphone photography power users, the Z5's high-end functionality might just be worth looking into – but so much of it is buried in menus and difficult to use to best effect that we much prefer the S6's lens. In day-to-day usage, it's just that much more impressive – and there's a Pro mode.
Winner: Samsung Galaxy S6
Android at home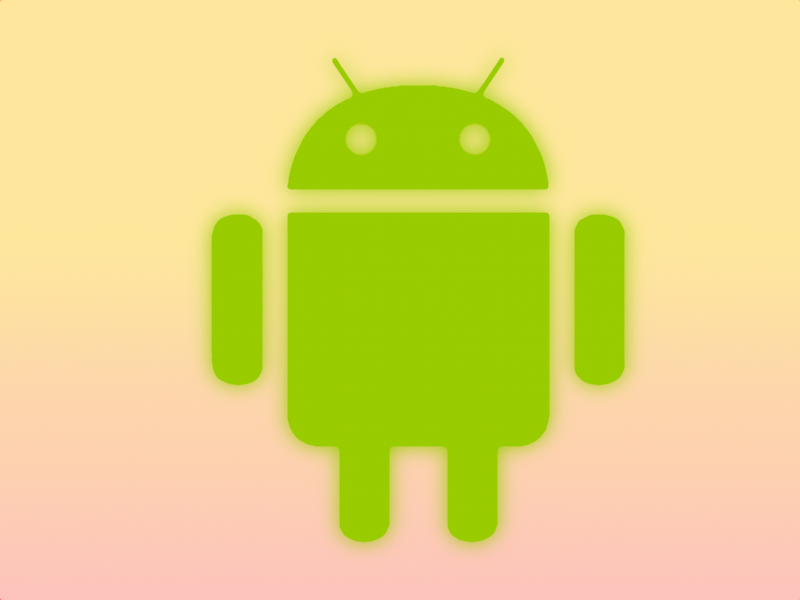 On the software side, both devices run Android-based interfaces. Samsung's TouchWiz is these days a slick, quick software offering, replete with far less bloatware than in years past. It feels neatly organic and relatively glitch-free here, and even has a couple of neat new touches such as a funky parallax effect that'll be familiar to iOS users.
Sony, similarly, has given its interface a minimalist makeover, cleaning up the app interface to deliver a far more subtle, understated take on Android. It's almost bloat-free and pleasingly simple, albeit a bit stiff next to Android 6.0.
Preference is personal, but with Android Marshmallow right around the corner, it might just be worth waiting to see whether there are any mallow-y surprises in store before making your mind up – because we can't, yet.
Winner: Draw
Best of the rest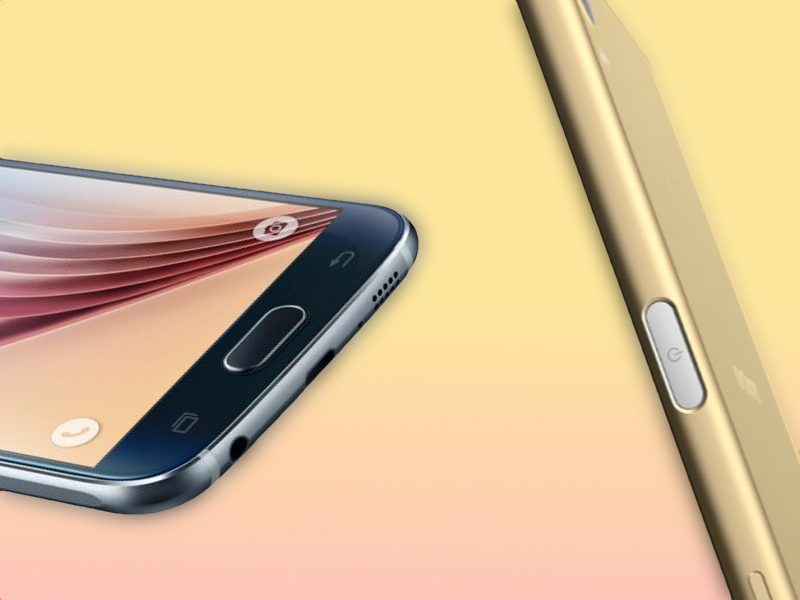 Surely, we hear you ask, there must be some redeeming quality to save the Xperia Z5 from being consigned to the great Samsung-defeated dustbin of tech?
Well, both pack fingerprint scanners, but Sony has taken an entirely different approach on the Z5. While most phones have one on the front (iPhone, Galaxy phones) or back (LG, Huawei), Sony's stuck it on the side here and also given it a dual-function as the power button.
Sounds interesting in theory, but in practice a lot less useful, particularly when the phone is lying flat on a table.
Still, both scanners work exactly as they should, which is particularly good news given the enhanced biometric security elements of Android Marshmallow, in light of the impending launch of Google Pay.
Anything else? Well, the Z5 has retained the water- and dustproof design smarts of previous Xperia iterations, meaning a dip in the desert should be no problem at all.
As for how they sound, well audio-lovers will get an earful from both: the Z5 packs nifty little front-facers which, while not as beefy as the best, kick out fantastic quality; as for the S6, it has a whopping great grill on its bottom that's meaty and oh-so-loud. Neither are HTC BoomSound-rivalling ravers, but they're decent.
Winner: Draw
The Final Verdict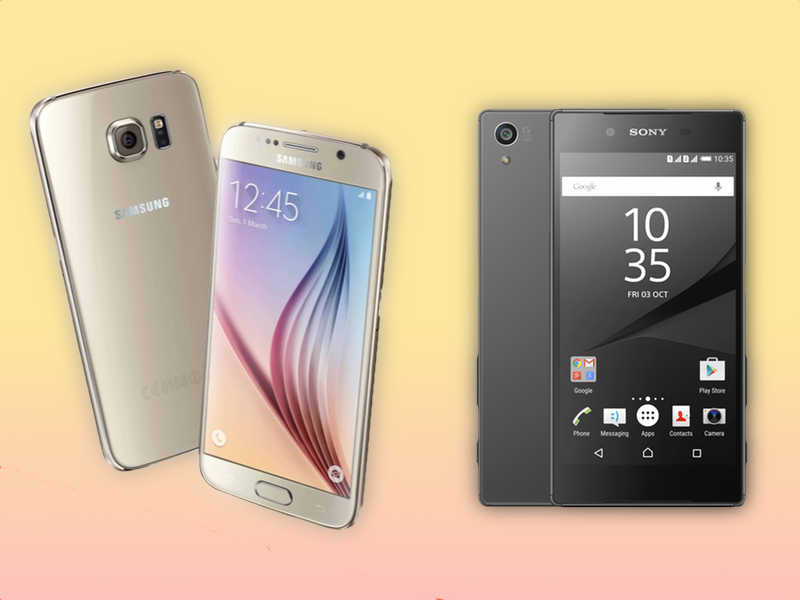 It shouldn't take much maths to reveal where this head-to-head is going. While Sony's latest offering seemed the full package on paper, in the real world it's got several flaws which prevent it from achieving true greatness.
We already knew the S6 was a corker. In its shiny shell, Samsung managed to just about nail the peak equilibrium of power and performance, style and stamina. It's not perfect, but it's a darn sight close – much closer than Sony's flagship.
That's not to say the Z5 isn't a good phone: it's a well-styled, above-average performer that will suit those who can't bear to side with Samsung. It just isn't an S6 killer, not even close.
Winner: Samsung Galaxy S6