Samsung Galaxy S6 vs HTC One M9: which is better?
The first superphones of 2015 are here, and they both look amazing. Now, which to buy?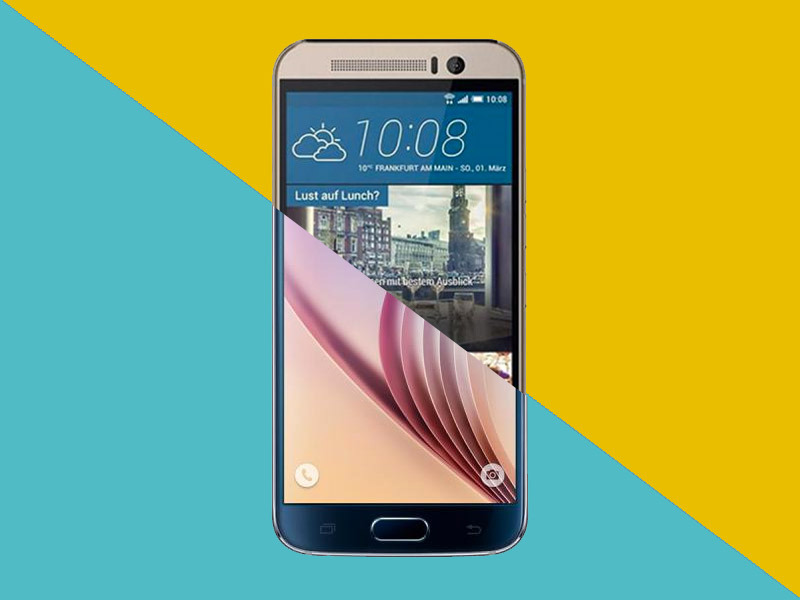 In the space of a year, Samsung has changed its whole approach to smartphones. 
It might be because the S5 performed disappointingly in sales. It might be because the company received near-constant ribbing from smartphone enthusiasts about the superior build and looks of rivals. It might be because we tired of gimmicks in place of meaningful innovation. It might just be a crazy whim that took JK Shin one day (no, it's probably not that).
In any case, Samsung has never made a more HTC One-like device than the Samsung Galaxy S6. Design is top of the agenda, followed by some new functionality that looks genuinely useful. And that's why the ding-dong between the S6 and the brand new HTC One (M9), two gadgets that  launched on the very same day at MWC 2015 in Barcelona, will go down as one of history's greats.
We've fully reviewed and compared the pair in meticulous detail. So without further ado…
Model material
Last year, we would have wasted few words explaining why the HTC One (M8) was the better device than the Samsung Galaxy S5 when it came to looks and build. But there has never been a more beautiful Samsung smartphone than the S6.
Gone is the flexy-backed polycarbonate of its predecessors, replaced with shiny Gorilla Glass 4 on the front and back, and a hardened aluminium bezel with a finely drilled speaker grille and beautifully machined buttons. It's gorgeous, particularly in the white and charcoal versions, and it feels lovely and premium in the hands, though their are subtle notes of Xperia-like sharpness filtering through.

Because of Samsung's newfound appreciation of posh design, the S6's back isn't removable, and there's no space for a memory card. That means you're limited to the 32GB, 64GB or 128GB your phone is born with, while the HTC's 32GB can be supplemented with up to 128GB of sweet, sweet microSD memory. The latter sounds appealing, but opt for the 64GB or 128GB Samsung and you should have space to spare anyway.
Meanwhile, the HTC One (M9)'s design sits somewhere between that of the original One and last year's (M8). It's still a finely made aluminium unibody, but the front's stark and industrial like the One's, and it steps out to a rear that's organic and sinuous like the (M8)'s. While it sounds like it could be a bit disjointed compared to its near-flawless predecessors, in reality it looks fantastic (especially from behind), and the finishing process has resulted in a device that feels great to use.
However, while the HTC's a substantial beast measuring 9.6mm at the waist – actually a little thicker than last year's model – the Samsung is just 6.8mm thick (not including a millimetre of two for the prodruding lens). In fact, for a 5.1in device, the S6 is pretty svelte top to toe, and its sleekness makes it a little easier to hold.
This is a very close round. Appearances are subjective, and both devices are appealing in their own special way.
Winner: Draw
2K vs 1080p
The S6 is the first Samsung flagship to join the 2K club. (For the purposes of today, the Note 4 is not a flagship, OK?) That means it packs 2560×1440 pixels into its 5.1in diagonal expanse, which results in an amazing, no-you-can't-see-the-pixel-grid-you're-imagining-it resolution of 577ppi. It uses Super AMOLED tech, and it positively glows with bright, vivid (adjustable) colours, and the deep blacks that only an AMOLED screen can provide.
Meanwhile the HTC One (M9) uses a 5in, 1080p LCD with a decent 441ppi resolution. That might sound a bit 2014, but it's still more than the iPhone 6's 326 pixels per inch, and you're not going to notice the M9's pixels unless you go nose-to-screen. Past HTC screens have been best in class in terms of their colour accuracy, and the M9 has kept up the tradition.
Another (theoretical) benefit to the HTC's lower resolution is battery life – fewer pixels mean less power draw – though we'll see later that it's not provided the edge we expected.
Both great, then, but we're giving this round to the Galaxy S6. It's the best smartphone display we've ever laid eyes on.
Winner: Samsung Galaxy S6
Cameras: 20MP trumps UltraPixel
Ding, dong, UltraPixel's not quite dead, but HTC's definitely not pushing the 'big pixel' technology like it used to. The rear camera on the One (M9) now uses a more traditional 20MP BSI sensor with a sapphire crystal lens cover, 4K video recording and an f/2.2 aperture. It's capable of shooting real-time HDR too.
In practice, the M9 takes much better shots in most conditions than its predecessor, and it offers bags of detail – but it over-exposes photos on occasion.
The 16MP, 4K-recording rear snapper on the S6 has a wider (and therefore faster) f/1.9 aperture lens and optical image stabilisation (OIS), which offers extremely impressive low light photos. Shots taken with the Galaxy S6 in decent lighting look even better, and its HDR photos are captured almost as snappily as regular shots taken with rival phones.
We can confidently say that the Galaxy S6 packs in one of the best smartphone cameras we've ever had the pleasure of using.
The battle round the front is just as interesting. A 4MP f/2.0 UltraPixel number (see, it's still alive) adorns the HTC, while a 5MP f/1.9 graces the Samsung's face. They're both excellent selfie shooters, but the M9 comes out on top, thanks to its upscaled sensor size.
Unless you live for selfies, however, the Galaxy S6 is the better of the two.
Winner: Samsung Galaxy S6
Power: both beasts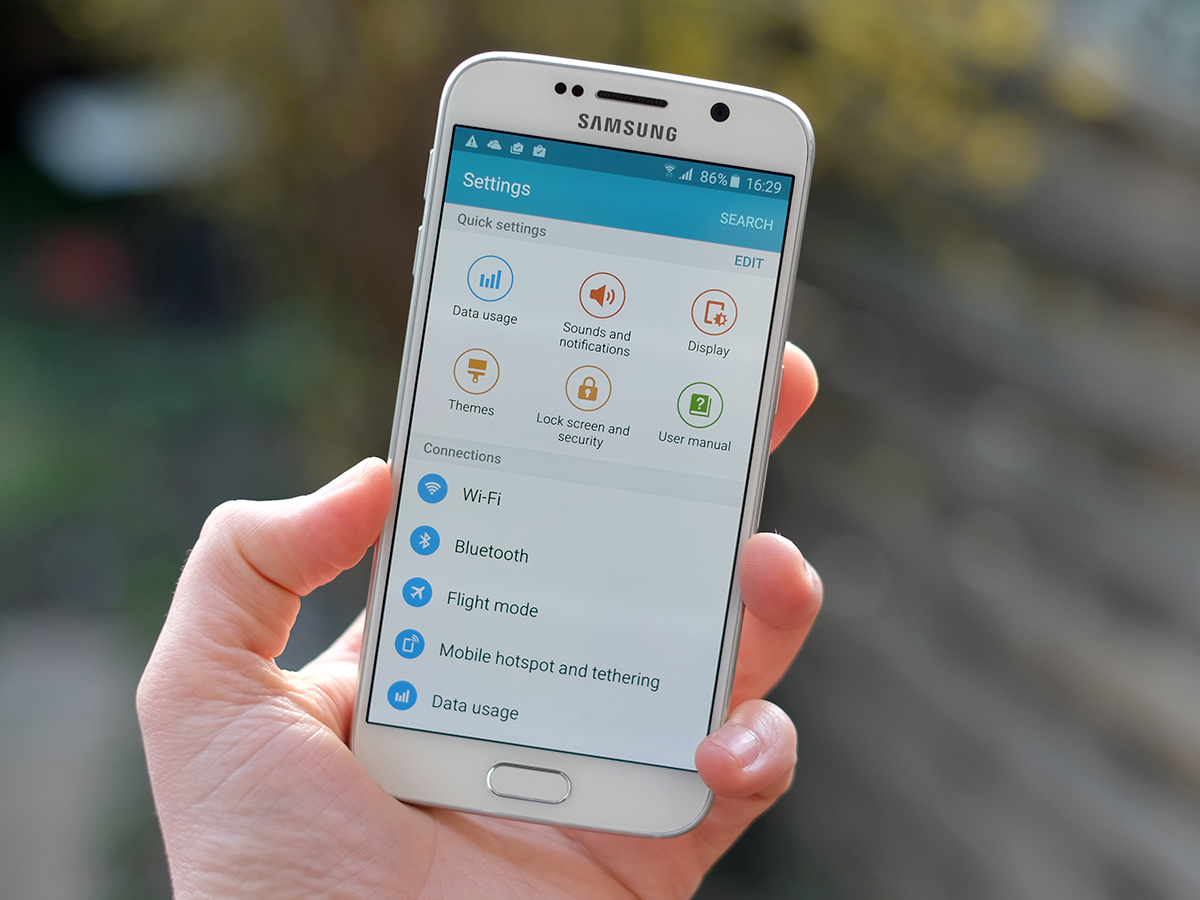 The HTC One (M9) has a 64-bit, 8-core Qualcomm Snapdragon 810 (4 x 2GHz, 4 x 1.5GHz) running the show, supplemented by 3GB of RAM. The S6 has a 64-bit, 8-core Exynos chip (4 x 2.1GHz, 4 x 1.5GHz) at its heart, supplemented by 3GB of swanky new DDR4 RAM. In theory the S6 has the edge performance-wise, and in practice, that's definitely the case.
Our tests show the Galaxy S6 is an impressive 20% faster than the M9 when it comes to crunching benchmarks. Not only that, but Samsung's 14nnm chip seems more efficient than Qualcomm's 20nm Snapdragon 810 processor, which means the device runs cooler.
That Exynos processor provides a convincing win for the Samsung.
Winner: Samsung Galaxy S6
Features: Samsung pays, HTC booms
No-one trumps Samsung for features, and though many things about the S6 are stripped back, it still has toys, including a fingerprint-scanning home button and a heart-rate sensor on its back.
The new tech on the block is improved wireless charging technology. This supports the Qi (PMA) and PowerMat (WPC) standards, so it'll work wherever you're lucky enough to find a charging pad.
Better still is a new payment technology courtesy of recent Samsung acquisition LoopPay. In combination with the S6's new Samsung Pay app, this allows it to make purchases using just about any card machine by magnetically spoofing your card details. It's unique, and in theory it's more versatile than the NFC-only Apple Pay.
The fingerprint scanner is impressive too, and equals Apple's Touch ID home button for ease of use. It now requires a simple tap rather than the hit-and-miss swipe method of its predecessor.
HTC's keeping things relatively stripped back, although the (M9) has some neat features, including Dolby audio, a 24-bit, hi-res audio-capable DAC and BoomSound front-facing speakers. While the S6's speaker's are a smidgen louder, the M9 has it beat for depth and clarity. HTC has produced the best mobile device speakers for three years running now, and they only get better each year.
For throwing more useful tricks into the S6, though, Samsung walks away with another round.
Winner: Samsung Galaxy S6
Battery: size doesn't matter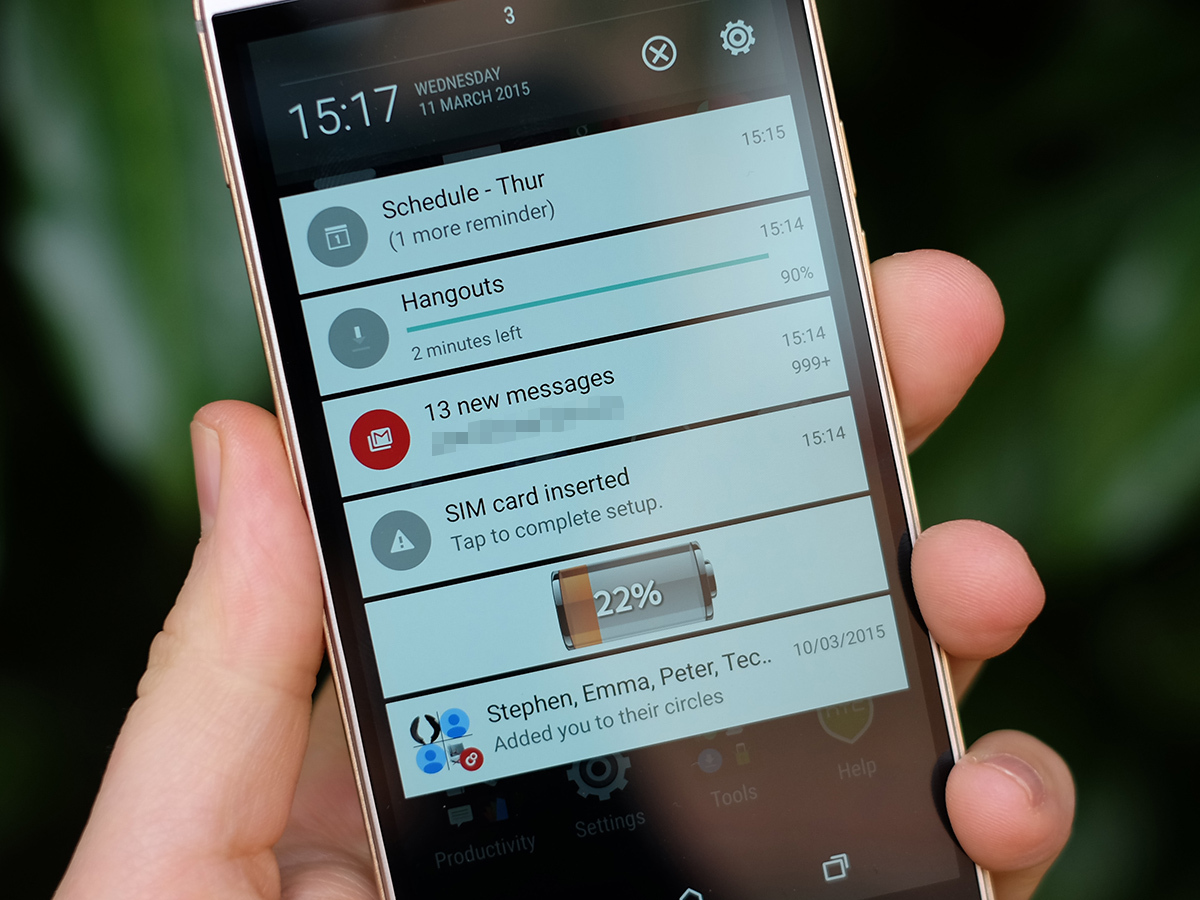 It's a battle between the Samsung Galaxy S6's 2K display and 2550mAh battery versus the HTC's 1080p screen and 2840mAh battery. And, despite the odds, the Galaxy S6 wins. Comfortably.
Samsung's champ lasted an impressive 14 hours in our video playback test, while the M9 nodded off to sleep after 9.5 hours. That's a very substantial difference, especially as the S6 has all those extra pixels to push. It's good evidence for the efficiency of that Exynos processor – we can't wait to see what crazy stamina the Samsung Galaxy Note 5 throws at us later on this year.
There's an added bonus too; Samsung's fast-charge tech can get the battery to 70% in just 30 minutes.
Winner: Samsung Galaxy S6
Operating System: sweet lollipop
Both the HTC One (M9) and Samsung Galaxy S6 offer customised versions of Android 5.0 (Lollipop), and while HTC's Sense interface looks more refined and less gaudy than Samsung's TouchWiz in the past, the balance has now shifted.
Samsung's put a great deal of effort into taking the unnecessary detail and skeuomorphism out of its OS skin, and it's resulted in something that's easier to navigate and slicker in use. The bloatware (which you can mercifully now uninstall) is now tucked away, but there's still some neat inclusions, such as 115GB of free cloud storage from Microsoft OneDrive (an app for which it has preloaded).
Meanwhile, HTC's Sense interface still looks cool, and still packs in handy features. Sense Home offers contextually useful information (a bit like Google Now), so if you cycled to work, it'll warn you an hour before sunset in case you need to charge your lights. The Themes app also allows you to easily customise the look of every aspect of the UX.
It's a far closer call than it used to be, but Sense's sophistication and ingenious features mean this round goes to the M9.
Winner: HTC One M9
Winner: Samsung Galaxy S6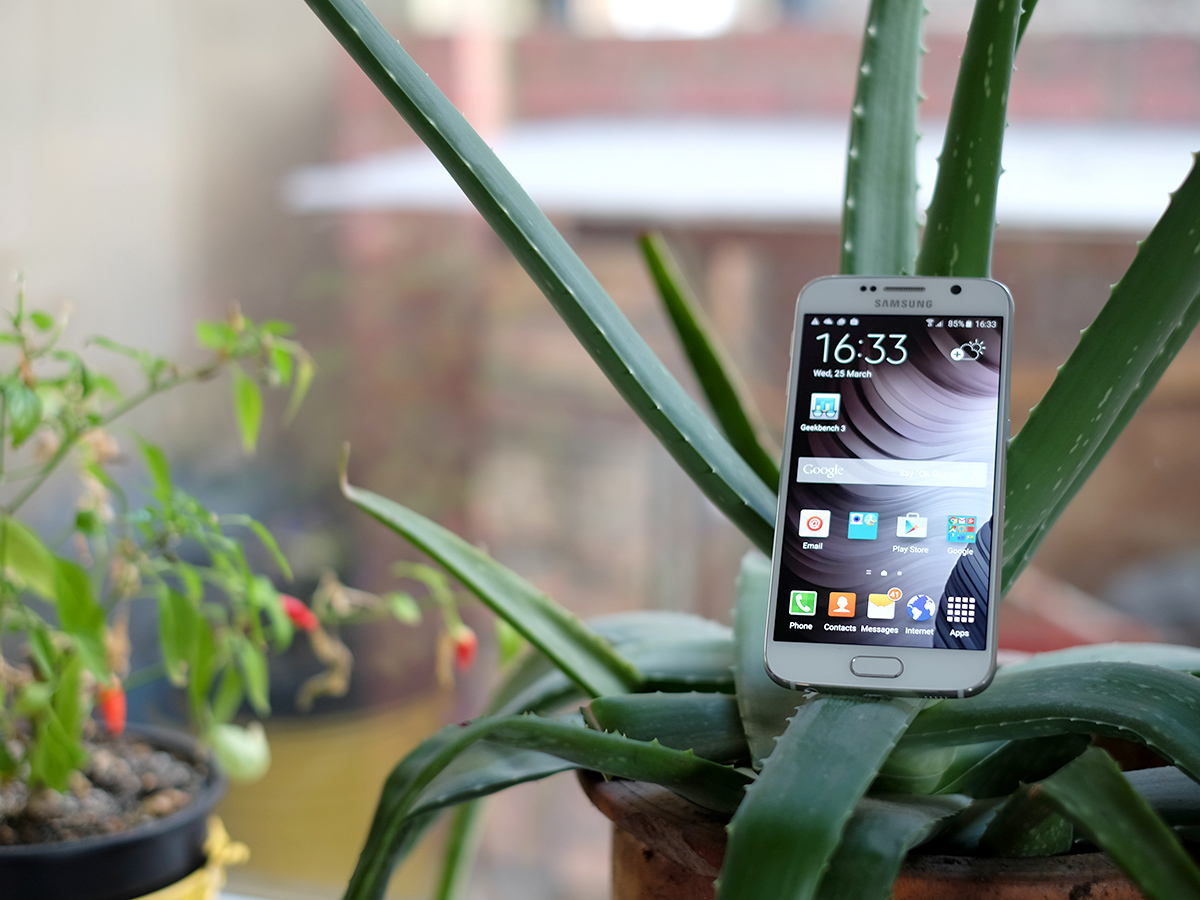 The HTC One M9 is a stunning device. There's lots to love about it. But Samsung has smashed it.
The Galaxy S6 comes out on top in almost every category, which is why it has usurped HTC's champion in our list of the best smartphones in the world.
It has the best screen we've ever seen on a smartphone, an excellent camera, ludicrous power and an impressive battery life, and it wraps it all up in a lickable aluminium and glass chassis. You can't expand the memory or swap the battery, but these are sacrifices worth making.
Simply put, the Galaxy S6 is as close to smartphone perfection as you can get right now.