Promoted: 4 ways to extend a phone's battery life (that don't work) and one that does
Short-lived batteries are the bane of modern smartphone users as you hold back usage as the battery creeps closer to oblivion…
But let us take you on a journey, though: one that starts with you taking your phone off the charger as you spring out of bed and ends with you watching last night's TV on the train home in the evening. Here are our fool-proof battery saving tips – even if they don't enhance your existence…
Develop a perpetual motion machine for unlimited power Sure, the rules of thermodynamics are tricky little things, but you look like a smart type. How hard can building a tiny self-generating power-station really be?
Take advantage of others' kindness "Excuse me, mate, can I borrow your phone?" Let this become your war cry in the pub and your phone's battery will barely budge. Half an hour later and you've signed out of your chum's email, Twitter and Facebook and the hostile takeover is complete. Feel free to let out an evil chuckle where appropriate.
Become very good at smoke signals If it was good enough for earlier civilisations, it's good enough for you. Why waste your phone's battery sending texts and emails when all you need is a small pile of kindling, some matches and a pair of bellows? And a bit of understanding from your fellow commuters.
Use your imagination "You don't need toys, all you need is a good imagination." That was our gran's battle-cry to us when we were kids, and it holds true today. Streaming video is exhausting for a phone, so put your head back, close your eyes and simply imagine what happened on yesterday's Coronation Street instead of watching it. Get home and award yourself points if you managed to come close.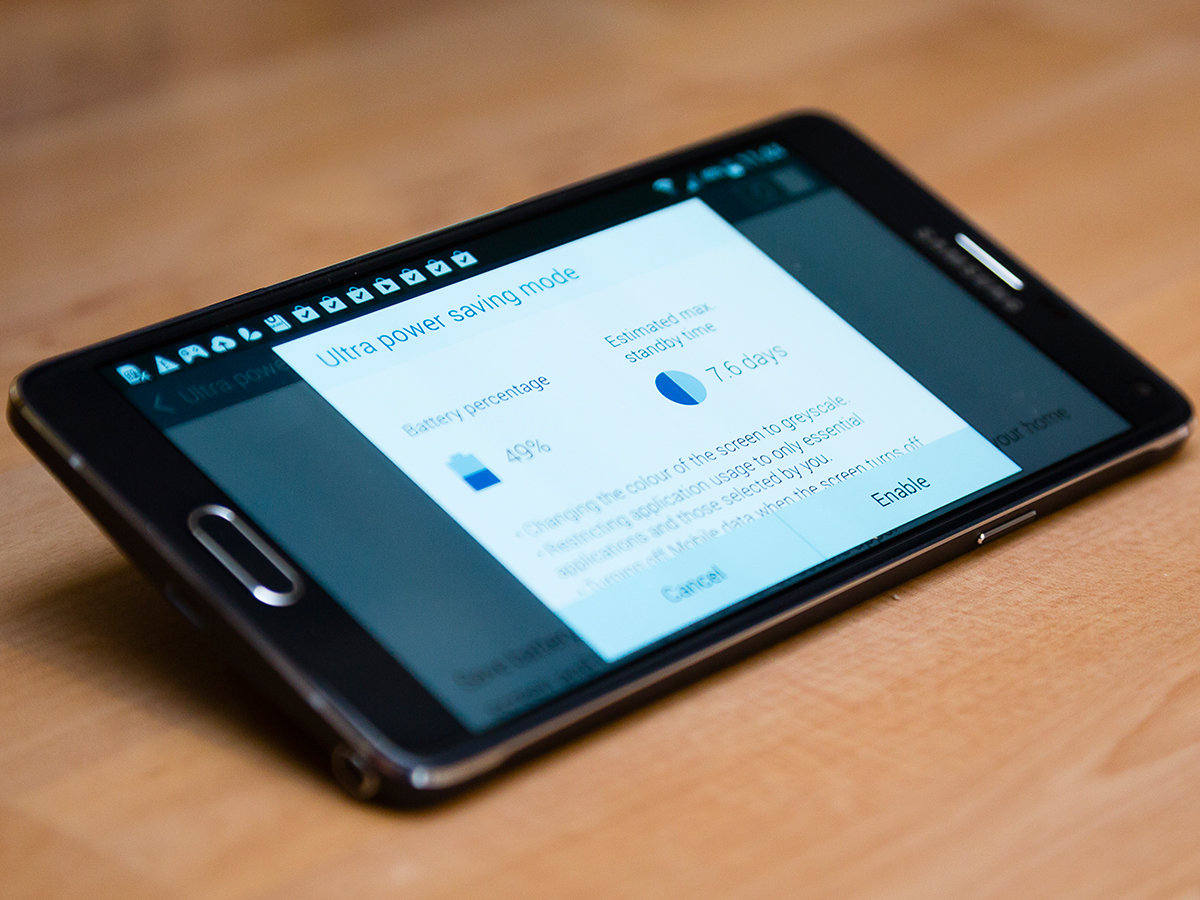 Bag the Samsung Galaxy Note 4
There is another way: forget smoke signals and stealing phones, the way to amazing battery life is the Samsung Galaxy Note 4.
That big frame isn't just a container for the awesome 5.7in Quad HD AMOLED display; it's holding a huge 3,220mAh battery that will give you hours of connectivity, entertainment, messaging or anything else you want.
It's also got the innovative Ultra Power Saving Mode, where the phone turns off background app updates and dims the screen, allowing you to get amazing battery life when your back's against the wall: think up to 24 hours more life from the last 10% of the charge.
Read more… why the Samsung Galaxy Note 4 is the perfect road-trip companion >>>