LG G4 vs Apple iPhone 6: the weigh-in
LG's latest pride and joy stands out, but does it lose some of its lustre when compared to the crowd-pleasing iPhone 6?
LG is clearly aiming to differentiate itself from the other smartphones with the G4.
The G4 comes in an unusual choice of material – leather – and offers interesting UI tweaks through its new features. The most significant changes, however, come in the build quality and camera departments.
And guess which other smartphone is also well-known for performing in those areas? That's right: the Apple iPhone 6.
We pit the two against each other in an epic showdown of specs, to find out once and for all whose numbers add up to be the best.
Material world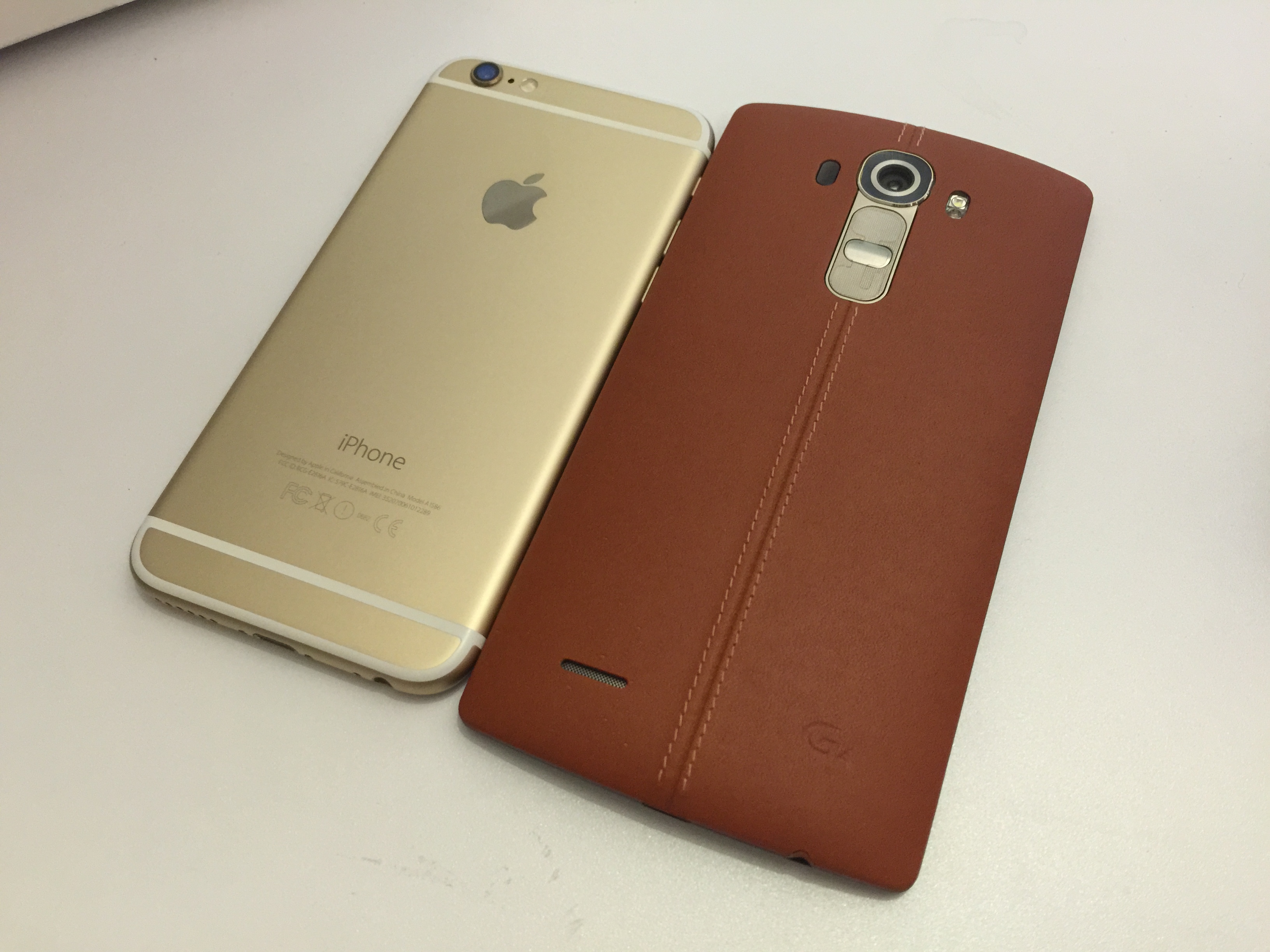 The LG G4 has gone with the curious choice of leather. Not that fake-feel pleather mind you – we're talking real leather for its back. Unusual it might be, but unfashionable it definitely isn't. The hand-stitched leather lends a distinguished feel to the phone.
And it's not all cosmetic either; leather gives a good grip, unlike the all too smooth aluminium body of the iPhone 6 – which you'll want to clad in a case for fear of scarring its good looks.
But given that leather has the habit of developing a patina thanks to the elements and the natural oils on your fingertips, only time will tell if choosing a leather back over a polycarbonate metallic shell was a smart choice. Fortunately for you, the leather back is easily removable should you change your mind after some time.
Plastic by any other name is still plastic. Even when you gloss things over with a metallic coat and a dimpled texture. So while the leather-backed G4 wins over the aluminium-clad iPhone 6, the other option of the G4 in metallic polycarbonate definitely loses out to Apple's phone.
The LG G4 also has a slight curve running through its body. The Slim Arc, so named by LG, is more of a gentle bend than a sharp turn and what it does is apparently prevent the G4's screen from shattering should it do a faceplant onto a pavement. The iPhone 6, as we all know from Bendgate, can't boast the same.
Winner: LG G4 in leather
Exponentially experiential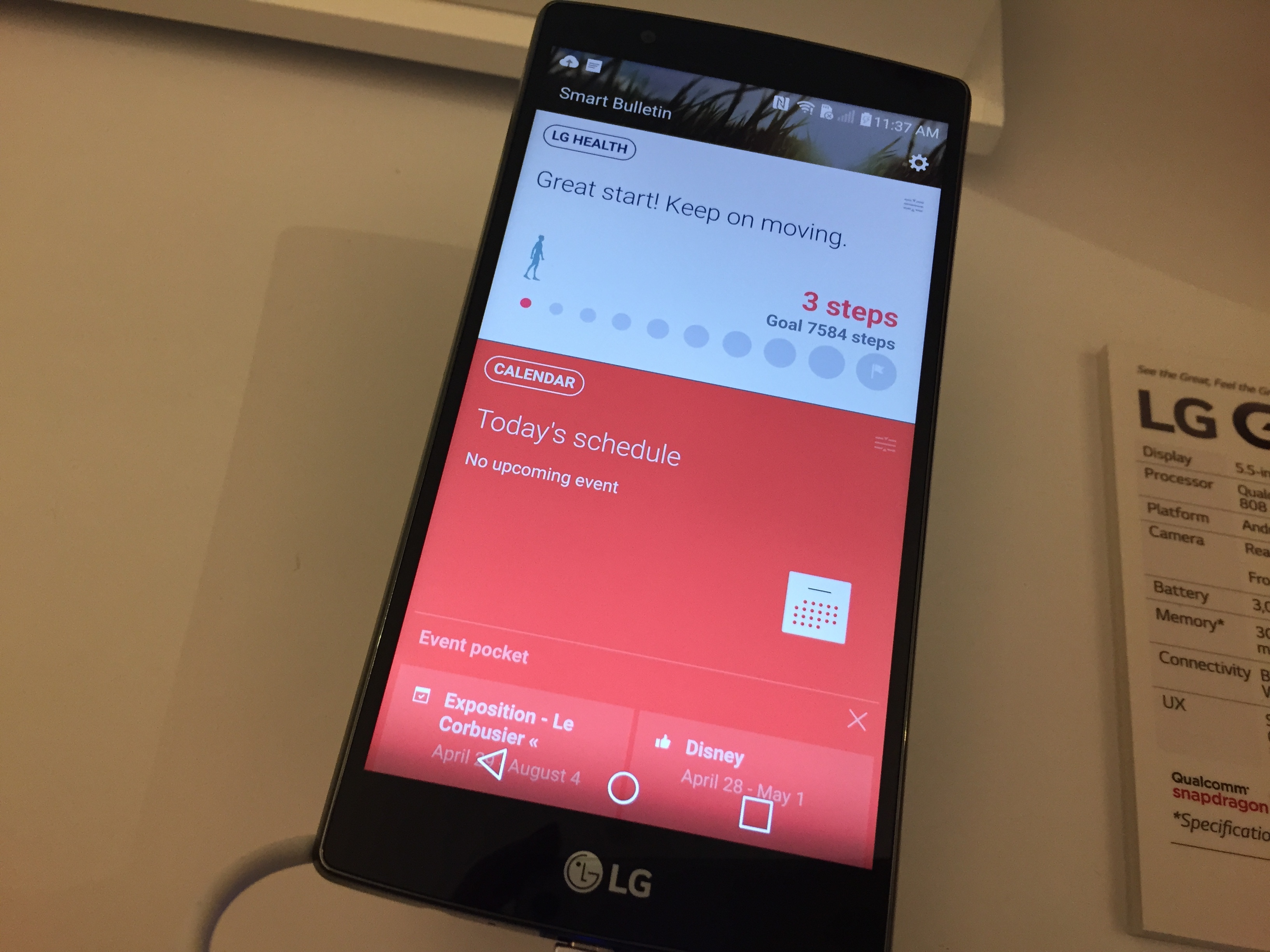 LG's "human-centric" UX 4.0 is just Android Lollipop 5.1 with an LG twist. Just to name a couple of new features they're adding: Event Pocket will let you drag and drop events into your calendar, while Smart Notice becomes a lot more human-seeming than the automated system that it actually is.
Swipe to the left of your home screen and you get a personal feed called Smart Bulletin that will give you all your activity tracking data from apps, your schedule for the day, and other information you deem significant to you in one smooth feed.
But when it comes to the sheer variety of apps and simplicity in operation, iOS 8 still sets the standard for all operating systems to aspire to. The opening of the system to incorporate third-party apps is an indication of Apple's growing willingness to play nice and offers customisation without complicating it.
Plus, the timeline feature that the G4 just added into its gallery to sort its photos according to days, months and years, looks more than a little familiar. Now, where have we seen this before…? (*cough*iOS8*cough*)
Winner: Apple iPhone 6
Screen time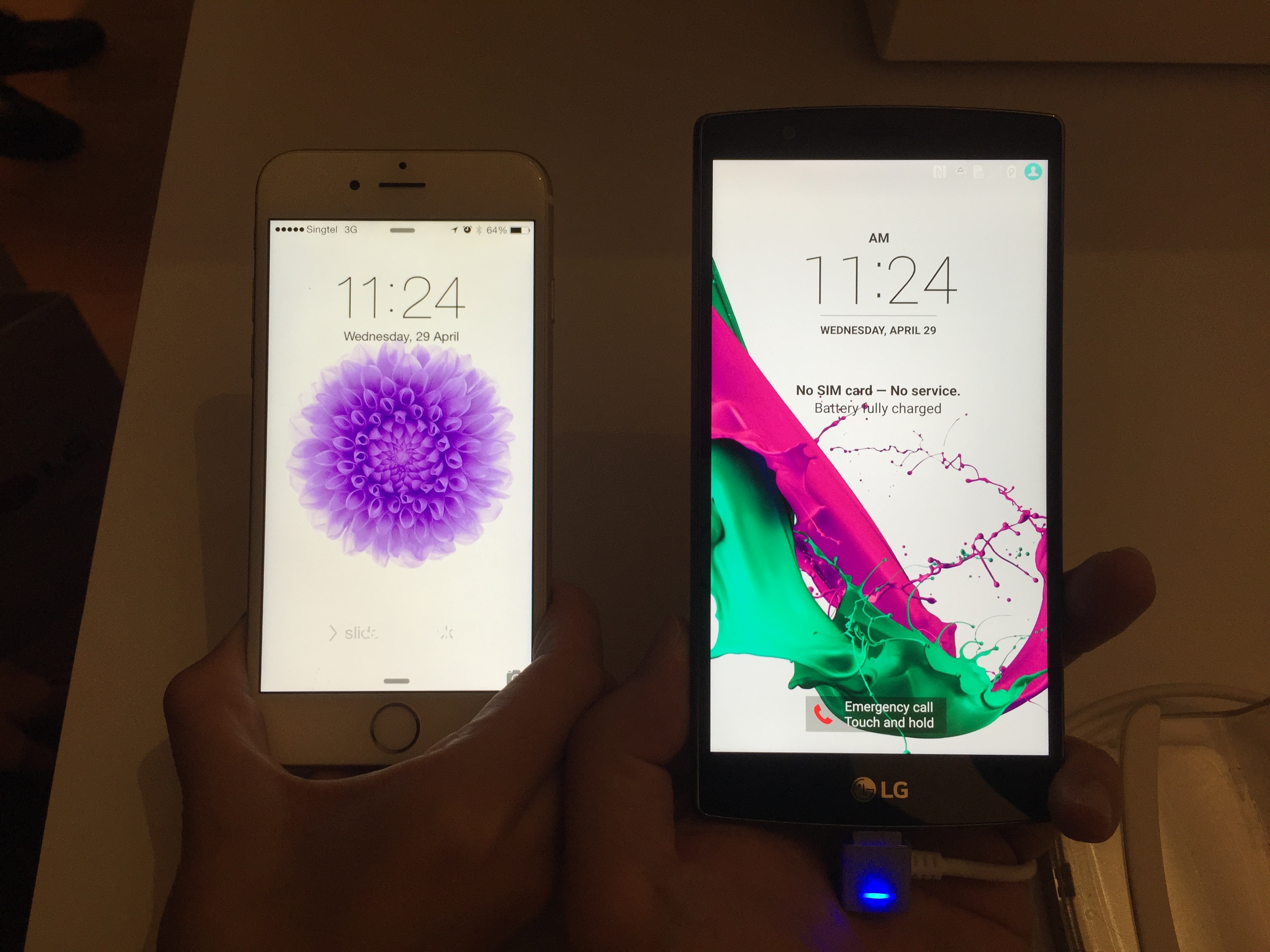 Display is smartphone makers' way of fluffing their feathers and strutting around. It's everything you see on a smartphone these days. Compared to the iPhone 6's 4.7in of screen space, the G4's 5.5in display is quite an eyeful.
When you look at the numbers, the G4's IPS Quantum display is a razor sharp 538ppi, shredding the iPhone 6's Retina HD's 326ppi to bits. At face value, the G4's display also appears brighter and clearer, with colours popping right off its screen.
Winner: LG G4
Snappy happy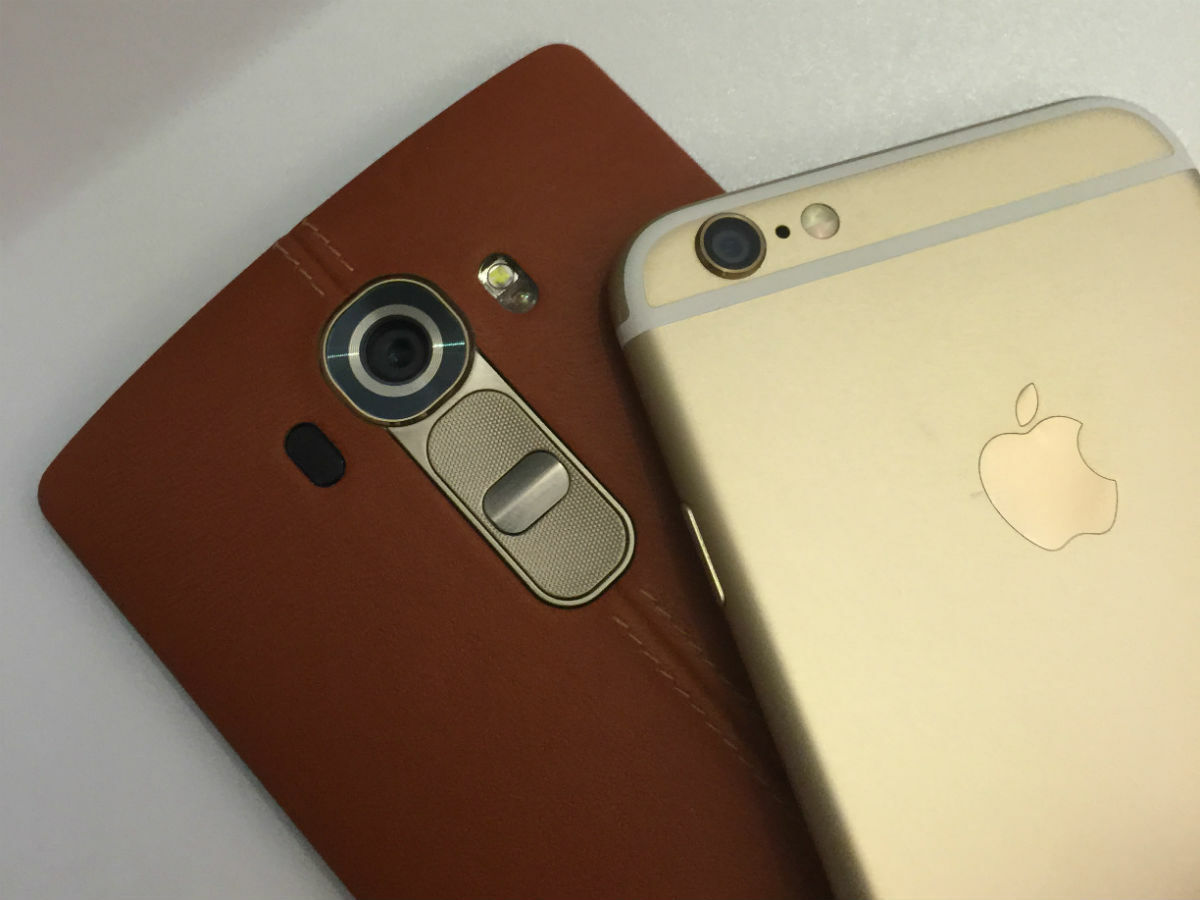 The iPhone 6's 8MP camera is one of the best around, churning out shot after shot of great colour and detail at spectacular speed.
However, the G4's 16MP camera boasts one of the smallest aperture sizes in smartphone cameras at just f/1.8, significantly lower than the iPhone 6's f/2.2. This means that it allows in more light for better shots in light-deprived situations like candlelit dinners and the like.
If that still doesn't cut it, the G4 offers up an all new manual mode to tweak the settings in real time before you shoot.
If your shot still looks a little dark, feel free to adjust exposure, ISO and shutter speed to get the magical combination you need to turn darkened blurs into brightened clarity. After which, you can save your images as RAW files to turn up the tweaky magic on the comfort of your desktop.
The LG G4's front-facing camera is also an impressive 8MP as compared to the iPhone 6's paltry 1.2MP, so you can get detailed selfies when your face feels up to it.
Winner: LG G4
All juiced up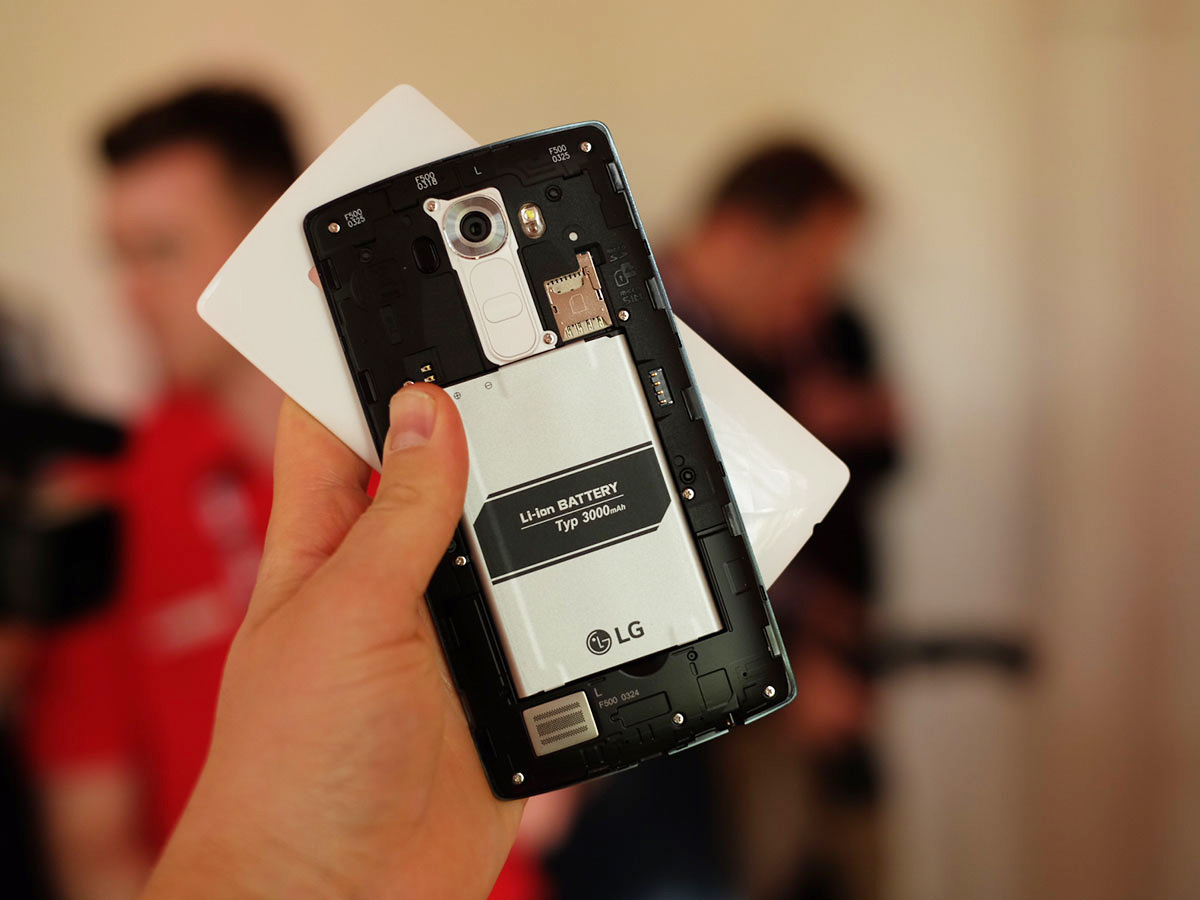 The iPhone 6 runs on the A8 chip while the G4 is powered by a Qualcomm Snapdragon 808 processor. The latter is not the latest, but the team at LG has taken great care to optimise it for the best performance (possibly signficant, given reports of the 810's overheating issues). It's hard to tell which one goes faster and works harder until we have a review unit on hand.
Aside from that, the G4's 3000mAh battery clearly beats the iPhone 6's 1810mAh battery. But if you think about the different screen sizes, both phones might end up lasting the same amount of time. That said, given that the G4's battery is removable, it makes a lot more sense to the user who's planning to use it for more than a couple of years, as you can switch out malfunctioning parts without having to replace the whole phone.
Plus, the G4 comes with expandable storage. A sorely lacking feature not just in Apple's smartphone, but another South Korean company's flagship model. It can support microSD cards of up to 2TB, although only 200GB ones are in existence at the moment. Great for mobile photographers looking to make use of its manual controls and shoot in RAW.
Winner: LG G4
Verdict
Based on the results here, the LG G4 is the clear winner. But there's always more to the story, namely personal experience.
If you like not having to slap a cover on your phone, the G4 is the way to go. Plus it offers a lot more control in terms of its more open OS and expandable storage, so it's likely to last you more than a couple of years.
But if you're looking for simplicity, the Apple iPhone 6 is still the smartphone for you.