Gadget Doctor: Help! I want a multi-room setup
Need a house-wide music system? The doctor will see you now...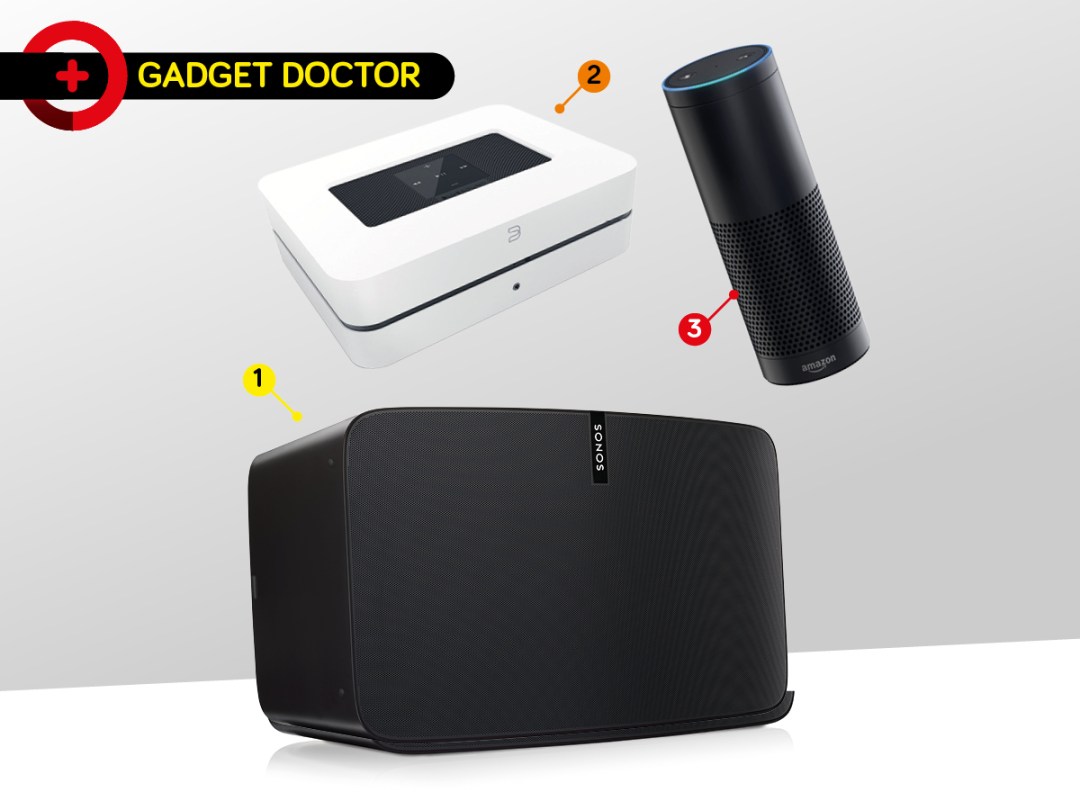 Welcome to the first in our series of Gadget Doctors, where we answer the exasperated cries of a long-suffering tech fan.
Today, our reader in need is Sophie Ridyard, who wrote to us asking:
"Stuff, I used to have a fancy speaker array at home – everywhere you looked there was an iPhone dock. Then I went round my mate's place and he could play 'Living on a Prayer' in perfect sync in his living room and on the loo. Surely there must be a way to attain multiroom nirvana without spending a bomb?"
Indeed there is, Sophie – here's Stuff editor Rob Leedham's prescription…
1) Download these apps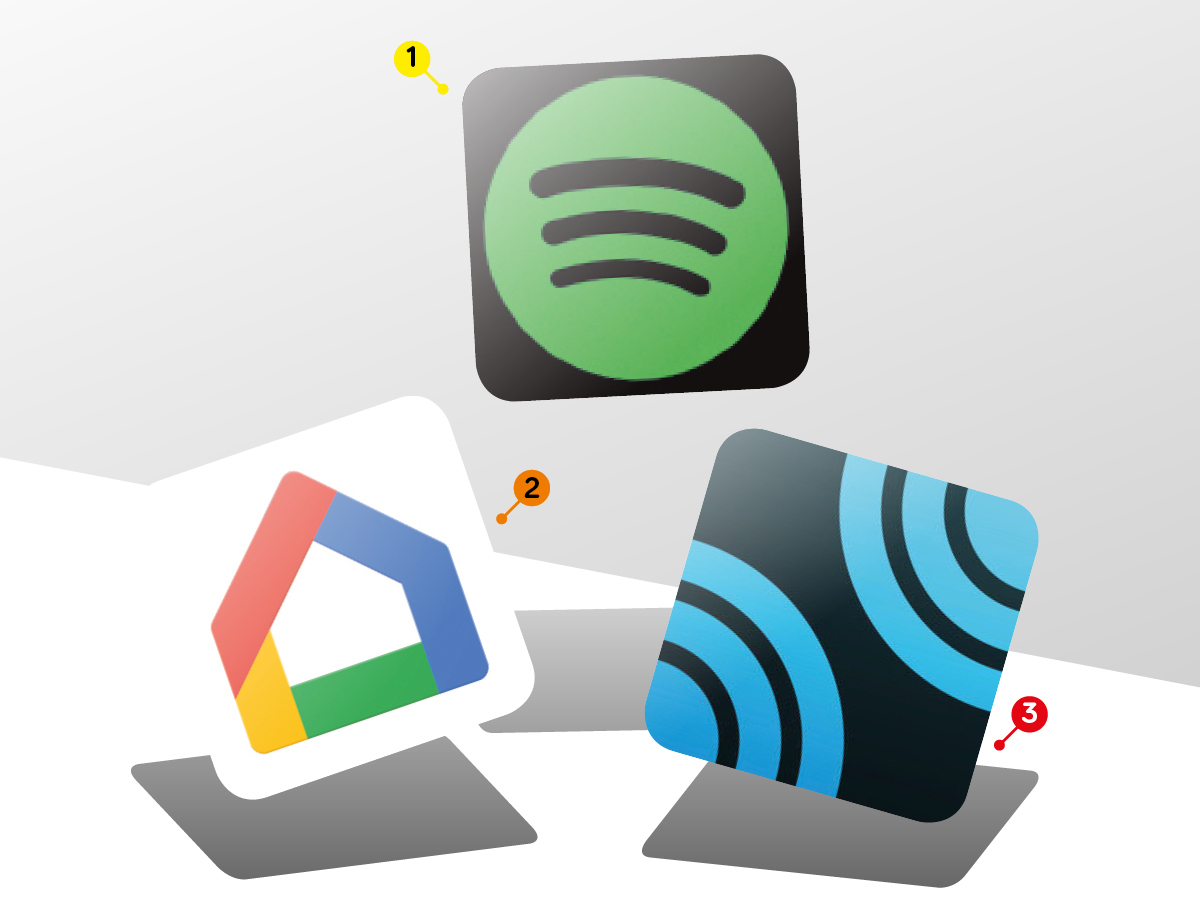 1) Dig into Spotify
Our favourite music streaming service's most awesome feature, Spotify Connect, is by far the easiest way to do multiroom.
Just select any Wi-Fi-enabled speaker from the 'Devices Available' menu and Spotify will stream straight to it.
Better still, an absolute raft of tech is supported, from the Amazon Echo to Tesla's Model S.
Download Spotify for iOS / Download Spotify for Android
2) Or give Google Cast a go
Google's answer to Spotify Connect isn't as widely supported, so there's less chance that you'll just happen to have a device that will work with it.
That said, recent Sony headphones, TVs and speakers all allow you to cast your tunes to them – just press the Cast button (which is a cross between the Wi-Fi symbol and a screen) in your browser or app.
Unsurprisingly, the same goes for any Chromecasts you have hanging round your home. Expect more devices to convert to Google Cast in the future.
3) And if that fails, try Airfoil Satellite
While Spotify Connect and Google Cast work over Wi-Fi, Airfoil allows you to broadcast that new Stormzy banger over Bluetooth as well.
A free download for iPhone, Android, PC and Mac, it works the same way as a Sonos setup with support for thousands of devices.
The only downside? It's a little pernickety at times.
2) Get these on the cheap
1) Pick up a Chromecast Audio
Got a perfectly good speaker hanging around that can't connect to Wi-Fi? Chromecast Audio is the answer, mainly because it's dirt cheap and supports both Spotify Connect and Google Cast.
Just plug it into the speaker's analogue output, link it to the Google Home app and you're all sorted.
Buy the Chromecast Audio here from Maplin (UK) | Best Buy (USA)
2) Or check out Logitech's Bluetooth rival
A simpler, less polished alternative to the Chromecast Audio, the Logitech Bluetooth Audio Receiver basically adds wireless smarts to any speaker.
Then you simply pair that speaker with your phone, tablet or laptop. So long as you're OK with flitting between speakers in a settings menu, this does the job just fine.
Buy the Logitech Bluetooth Audio Receiver here from Amazon (UK) | Amazon (USA)
3) Don't forget about Apple TV
This is only really an option if at least a couple of your existing speakers are compatible with Apple's wireless AirPlay standard – so you've essentially got half a multiroom setup in place already.
Add an Apple TV to this equation and your telly's soundbar can join the party.
3) Invest in these speakers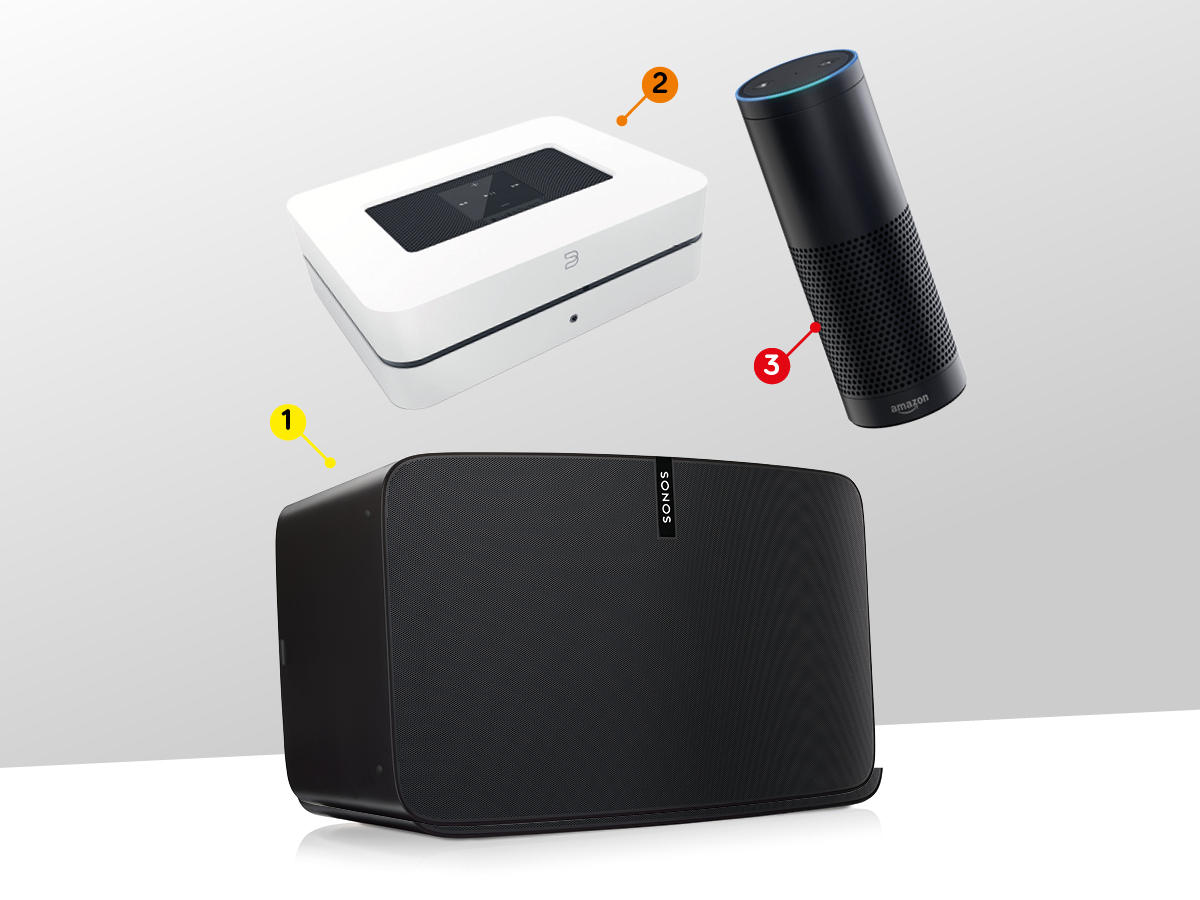 1) Hail Sonos, king of multiroom
There's a reason why most people think of Sonos when they want to transform their home into a musical cornucopia.
From the diddy Play:1 to the new Playbase, its speakers are easy to use and sound great. The Play:5 is an awesome main speaker for your living room.
Buy Sonos speakers here from Sonos (UK) | Sonos (USA)
2) Go hi-res with Bluesound Generation 2
Also known as the 'nuclear option', Bluesound's speakers are seriously expensive but they're the absolute business for hi-res audio – something that even Sonos doesn't offer.
Once you're all set up, everything works simply through an app, while music can be pulled in through any NAS drives on your home network.
Buy Bluesound Generation 2 here from Bluesound (UK) | Bluesound (USA)
3) Add an Amazon Echo to your system
If you're fine with having a multiroom setup of several speakers from different brands, then Amazon's Echo is absolutely essential.
As well as sounding surprisingly good, you can of course converse with it to find out breaking news, train times and Nicolas Cage trivia.
Later this year, you'll be able to use it to voice control your Sonos speakers too.
Buy the Amazon Echo here from Amazon (UK) | Amazon (USA)
How should you stream?
Spotify's our streaming service of choice, but the alternatives aren't too shabby.
Apple Music's featured artist pages are a slick mix of curated playlists and video that serve as a handy intro to your new favourite acts; Tidal is still the only major streamer to do hi-res audio; and Amazon's Prime Music has over 2m free tracks for Prime subscribers.
Read our in-depth comparison at 'The best music streaming services of 2017 – reviewed'