Feet of engineering: inside the making of your next marathon trainers
We travel to Asics' new lab in Japan to see how robot legs and motion capture are taking your running kicks to new techy heights…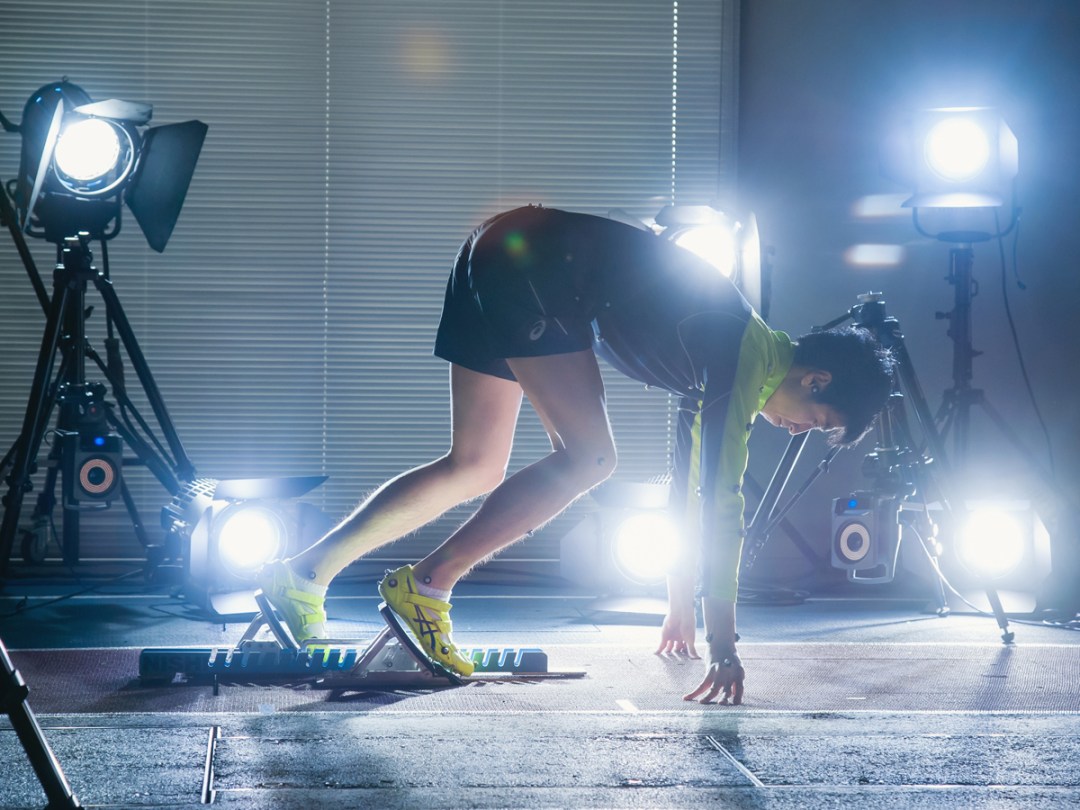 There's only one bit of wearable tech that London Marathon runners will be truly banking on this weekend, and it won't be gait-analysing fitness socks. It'll be their trusty trainers.
Choosing the right footwear to escort your feet over 26 miles of asphalt is a big call. So it's something of a surprise that the most popular ones among marathoners are made by a Japanese company that many non-runners have barely heard of.  
In the Paris Marathon two weeks ago, Asics topped the trainer chart with 40% of runners lacing up its trainers for the race. It's likely to be a similar story in London this weekend.
So what is this mysterious brand's secret trainer formula? We headed to Asics' new lab in Japan to discover the satisfyingly techy answer.
Area Fifty Run
For runners, visiting Asics' Institute of Sports Science (which has previously never been opened to media) is like getting to snoop around Apple's R&D lab.
We start our tour in what appears to be a level from Zelda. A stark hallway leads to the 'blue sword', a sculpture which symbolises 'sound mind' (and here's why, fact fans: Asics is an acronym for a latin phrase which means 'sound mind in a sound body').
As we move into the lab, things turn less Zelda and more Drago's training camp from Rocky IV. This is where a mixture of scientists, pro athletes, amateur runners and piles of tech combine in the pursuit of something akin to what Team Sky calls 'marginal gains'.
Rather than pump out new trainer models from scratch, Asics' approach is more like operating system iteration, with each of its existing shoes fine-tuned in the various zones of its revamped lab. And the most techy of these is the motion-capture track.
Avatar for runners
Looping around the Institute of Sports Science (ISS) building is a 350m running track with three lanes, two of which are the professional surfaces used in the Olympics and World Championship athletics, with the third being the asphalt used by pavement plodders like us.
This continues into the building to create a 50m straight where Asics captures mind-boggling amounts of biomechanical data about new versions of its trainers to see if they are up to scratch.
It's here that we find an athlete surrounded by motion capture cameras from Vicon, which supplies similar systems to special effects gurus such as Framestore (they of Gravity, Skyfall and World War Z).
By tracking the 'markers' (or 'blobs', as we like to call them) as she runs, the cameras capture data of everything from knee angles to foot strikes on all three surfaces.
It's not just the runners who are modelled in real-time – force plates underneath the tracks combine with markers on the trainers and 3D Aramis software to let Asics' scientists see on a heat map which parts of the shoes' upper are distorting or stretching excessively. It's the kind of attention to detail of which a certain Apple CEO would have approved.
The hills have mocap eyes
Elsewhere on the ISS Enterprise, stranger things are happening in the name of trainer refinement.
Up on the roof, a man (who we initially mistake as Boston Dynamics' Petman) is chained to a safety harness and is running up and down a mechanically adjustable ramp. A sensor in his shoes apparently helps Asics measure how runner motions differ on slopes, so it can design trainers specifically for hill and trail runners.
In another lab, a scientist uses a high-performance microscope to make sure all of the sole's pores are aligned and have a uniform wall thickness. And next door a man in a silver hat (well, this is a science lab) is ushered into a chamber in order to have his body 3D scanned.
Asics tells us it's scanned over a thousand people (both pros and amateur runners) here in order to tweak its running apparel. Sadly, it hasn't yet 3D-printed them all to make a new Terracotta Army.
Trainer torture
Despite all of this craziness, our favourite zone (and perhaps the most reassuring if you've owned a pair of Asics) is the 'material testing lab'.
Looking like a kind of afterlife for unrepentant shoes, this is where trainer durability is tested. In one corner, a pair of robot feet do continuous step-ups to test the flex of the upper. Across the room, another robotic leg moonwalks across a puddle to make sure the grip is all in order.
And around the corner a row of tiny maces (charmingly called the 'snag tester') bobble up and down on a spinning wheel of fabric to make sure threads aren't coming loose.
Let's see your (foot) ID
There's no doubt about it – Asics is pretty nerdy about trainers. And the good news for us injury-prone amateurs is that this lab tech is now spreading on to the high street.
Like other 'gait analysis' systems found in trainer stores like Runner's Need, Asics Foot ID films you running on a treadmill to find out your degree of 'pronation' (the way your foot rolls when you run).
It also goes one step further by taking a full 3D scan of your foot to find out which trainers are your match.
So whether or not you make the start line of that marathon in the end, you'll at least have some snug trainers and the measurements needed to give your in-laws a 3D print of your foot for their mantelpiece.