DJI Osmo Action vs GoPro Hero7 Black: The weigh-in
More features for less cash – can DJI dethrone GoPro?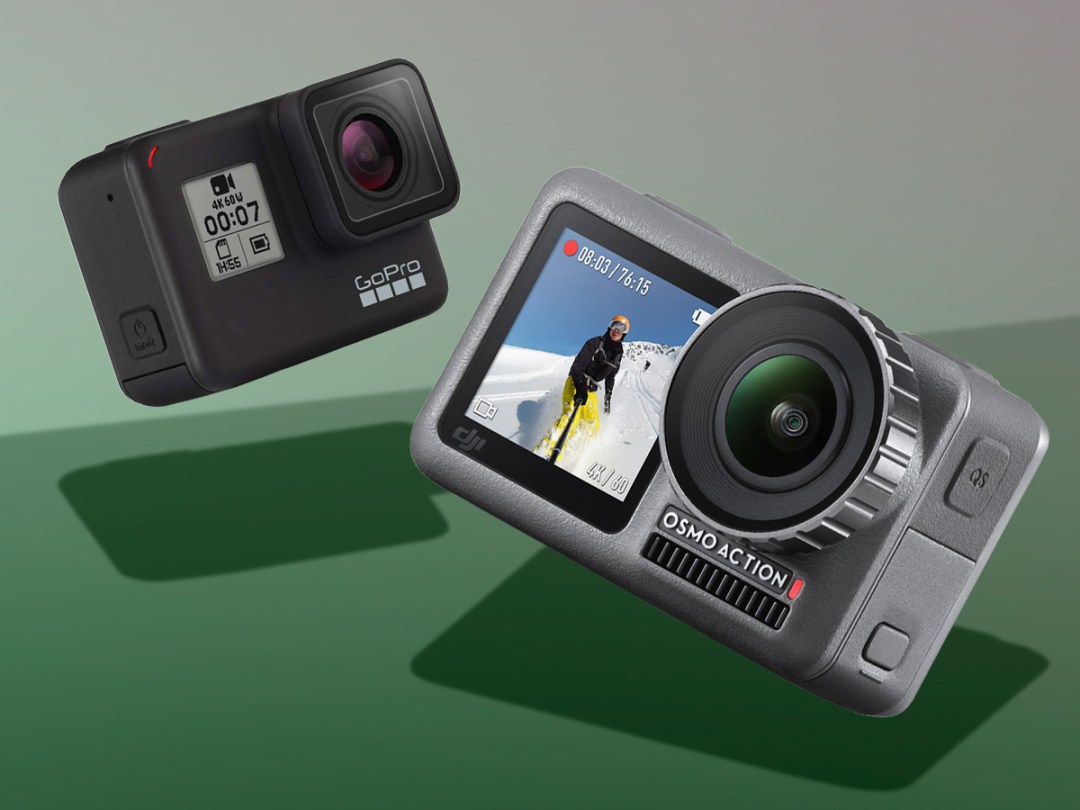 GoPro has been the de facto action cam leader for ages now, with no challengers really able to dethrone the king. But maybe the drone wizards at DJI can complete that ambitious feat.
The DJI Osmo Action is the company's first dedicated action cam, and as you'll notice from the images on this page, it doesn't have any spinny things attached (seriously, it won't fly). You might also notice this: it looks a lot like a GoPro. We imagine that's not accidental.
Last year's Hero7 Black was GoPro's most exciting camera in quite some time, but the DJI Osmo Action has some compelling features onboard not to mention a solid price advantage. Will it be enough for DJI to soar into the action cam lead? Let's take a look at this showdown.
Design: Déjà vu
To the untrained eye, the DJI Osmo Action sure does look a lot like the familiar GoPro design. It's got the same rounded rectangular shape with a large eye on the right, and with similar dimensions it's built to fit in your hand – or easily attach to a helmet, bike, or whatever other contraption you might wish to record from.
The Osmo Action is waterproof up to 11m, which feels like a very intentionally chosen figure given that the GoPro Hero7 Black maxes out at 10m, plus it's also built for extreme cold. It's a bit shorter than the Hero7 Black, however, and the lens shape varies. Oh, and what's this on the front?
Screen: Double up
It's a screen! Yes, the DJI Osmo Action has two screens, and it's the one on the front (1.4in) that commands the most attention because it's something you won't find on a GoPro. Putting a screen on the front of the action cam means you can see yourself while shooting whatever extreme stunts you have planned… or just vlog a lot more easily.
Instead of a proper colour screen, the Hero7 Black has a little monochrome LCD display that shows key specs like recording quality and battery life. Helpful, but the Osmo Action's screen can do so much more.
Of course, there's a larger 2.25in screen on the back that's your primary view into your footage, and it's also a smidge larger than the 2in screen on the GoPro Hero7 Black.
Features: About even
With a couple of key exceptions and some slight spec differences, you'll find that these cameras are actually pretty even across the board when it comes to features and recording levels.
Both have 1/2.3in CMOS 12-megapixel sensors and can capture 4K footage at 60 frames per second, with various settings below that cap. Both offer 240fps slow-mo recording at 1080p, as well, and can take 12MP still photos. The Osmo Action does have the advantage of HDR video recording, however, which the GoPro lacks.
The DJI Osmo Action and GoPro Hero7 Black also both offer voice control and removable batteries, but there is one notable feature that only the GoPro has here: livestreaming capabilities, letting you broadcast your antics to the world in real time.
Both also have electronic video stabilisation, which we know is great in the form of the GoPro's HyperSmooth and which looks pretty darn strong with DJI's RockSteady feature.
Initial verdict: A new champion?
No doubt, the Osmo Action is DJI's direct shot at GoPro's action cam dominance, delivering a similar overall package with a couple of key perks – and a lower price, at that. We haven't gone hands-on just yet, so we can't speak to performance, but the footage we've seen all looks pretty convincing so far.
You'll gain a helpful front screen with the DJI Osmo Action, which is ideal for vlogging and seeing your shots as they happen, but you lose the livestreaming feature that's only found on the GoPro Hero7 Black in this particular comparison. And at the end of the day, the £329 DJI Osmo Action is a solid £50 cheaper than the £379 GoPro Hero7 Black, which could sway you in DJI's direction if you're otherwise torn between them.
We'll know for sure once we put the DJI Osmo Action through our full review gauntlet, but this looks like a very promising new entrant in the action cam space, and perhaps the strongest challenger to date to GoPro's enduring (and hard-earned) dominance.