Can e-bikes handle the toughest terrain? An amateur's guide
All you need are some mudguards, and a very expensive e-bike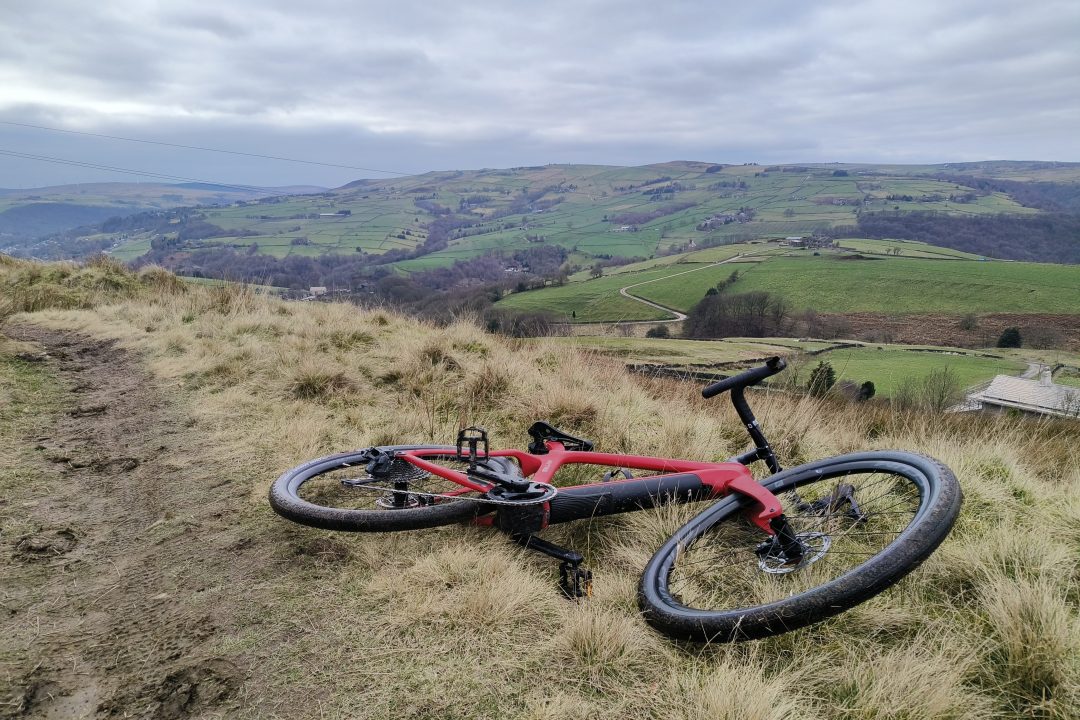 E-bikes are often billed as a perfect vessel for commuters and casual cyclists. These motorised two-wheelers zip through traffic with minimal effort. They glide down canal paths with barely any leg work required. Charge up the battery, then explore without breaking a sweat.
E-bikes have gained something of a tawdry reputation amongst cycling enthusiasts, though. Or, at least they do amongst certain cyclist cliques. I've been told by more times than I can remember that using an e-bike is cheating. They're not for real cyclists, according to those who need only the very best gear just as long as it doesn't come with a battery attached.
It's natural to think, then, that biking can be an exclusionary pursuit. Admittedly, this may be a much stronger peeve in the area of Calderdale, West Yorkshire, where I live. It's valleys, moorland, cobbled streets and rocky descents make it a hotspot for cyclists and mountain bikers. Sections of it challenge pro riders in the Tour de Yorkshire race. Want to feel humiliated in Calderdale? Cycle a popular common as fast as you can, check Strava, and weep as your best efforts have been decimated by hundreds, maybe thousands, of other riders.
But beyond gatekeepers, roaming the countryside is off-limits for a myriad of factors. Fitness levels, mobility and age are barrier to exploring what's right on your doorstep. You're forbidden from accessing swathes of land owned by hereditary aristocrats, determined to keep you off the land their great-great-great-great-Grandfather was gifted in the age of feudalism for squashing a peasant's revolt.
E-bikes promise to bypass some of those problems. Press a button, and the bike revs up steep inclines like a hiker would if given a pair of robotic legs. But can they handle the toughest terrain?
I'm loaned a 2022 model Pinarello Nytro Gravel by UK-based bike retailer Sigma Sports. It's a top-tier bike, one that's far above my pay grade when it comes to my own personal riding abilities. It weighs just 13kg, most of it in the FAZUA battery. I look at the 12-speed cassette and a T700 carbon fibre frame that shares its DNA with the Tour-de-France-winning Dogma F8, and immediately worry about breaking it. After reading the bike is powered by a Fazua Evation 400 watt motor, I worry that the extra torque could break me.
When I showed it to my friend, a man who regularly rides over 100 kilometres in a day just for the fun of it, he was flabbergasted. "You have never spoken about cycling," he said to me with more than an air of confusion. "It feels majorly like you've signed up for something you're not qualified for." He might have a point, and as the Pinarello Nytro Gravel starts at £5000, pushing it to its limits is a potentially very expensive experiment. But if e-bikes really are suitable for the same challenging routes ridden by pro cyclists, it must be done by a complete amateur.
To the hills
I plan a gravel route that takes advantage of the Vittoria Terrano tires, designed for hard-packed but wet surfaces. This leads me into the hills of Calderdale. It's a lovely part of the world, defined by roaming farmland and quaint villages. It's more recently become known as the setting for the TV show Happy Valley. In reality, the local scandals here are usually reserved for unreliable bin collections.
It takes about half an hour to put the bike together, which was really a case of attaching the front wheel, connecting the quite hefty charger to the bike and tweaking the seat height. Everything pretty much clicks into place.
E-bikes, I very quickly discovered, really fly on flat roads. With the added energy boost, one crank of the pedal sends me rolling at least twice the distance as it normally would. It takes a little getting used to, and on a few occasions the extra power makes me pull an unplanned wheelie.
We quickly reach our first hill, a pretty gnarly 3.5km climb to an elevation of around 300 metres. I've cycled this route once before, an experience of stop-starts, empty lungs and wobbly legs that I vowed never to attempt again. But on this occasion, as my thighs begin to burn, the FAZUA drive system kicks in. The battery works in three modes – Breeze, River and Rocket. Breeze delivers a gentle, tailwind-like ride with a default power of 100 watts. River reacts to your own power input; pedal harder, greater support. Rocket is really as it sounds, a turbo-boost mode for people with a death wish.
As the hill hits a gradient of 10%, then quickly reaching 25%, I turn to Breeze mode to get me over the peak. The impact is immediate, and I'm jolted forward with the force of a can of spinach in Popeye's grip. I'm still putting in some work to climb, but the bike is doing the majority of the heavy lifting. I reached the peak within around 20 minutes, at one point breezing past another cyclist with the smugness of, well, someone talking a giant hill on an electric bike. "Hard part over," I tell myself.
For a while, I was right. Few things beat cycling high above the world, drifting along gravelled paths and past bleating sheep. But then, what I thought would be a leisurely ride quickly turned into a much more technical, rocky ramble that could easily be a mountain bike track. The climb to reach a peak of 335 metres above sea level was fraught with hidden rocks and holes littering the way. There were bogs of ankle deep mud mixed with indiscriminate sheep and cow mess. Steep, wooded climbs lead to cliff edges and staggeringly sharp descents. This is where the USP of e-bikes takes a backseat to skill, or simply holding on and hoping for the best.
Still, the bike handled the rocky road incredibly well. A strong handlebar with pro-grade Sram Force brakes kept me stable and, importantly, stuck to the bike. Its lightweight, well-balanced frame made it incredibly easy to manoeuvre quintessentially narrow, muddy and overgrown countryside paths. I tackle harsh descents with no nervousness.
Up The Buttress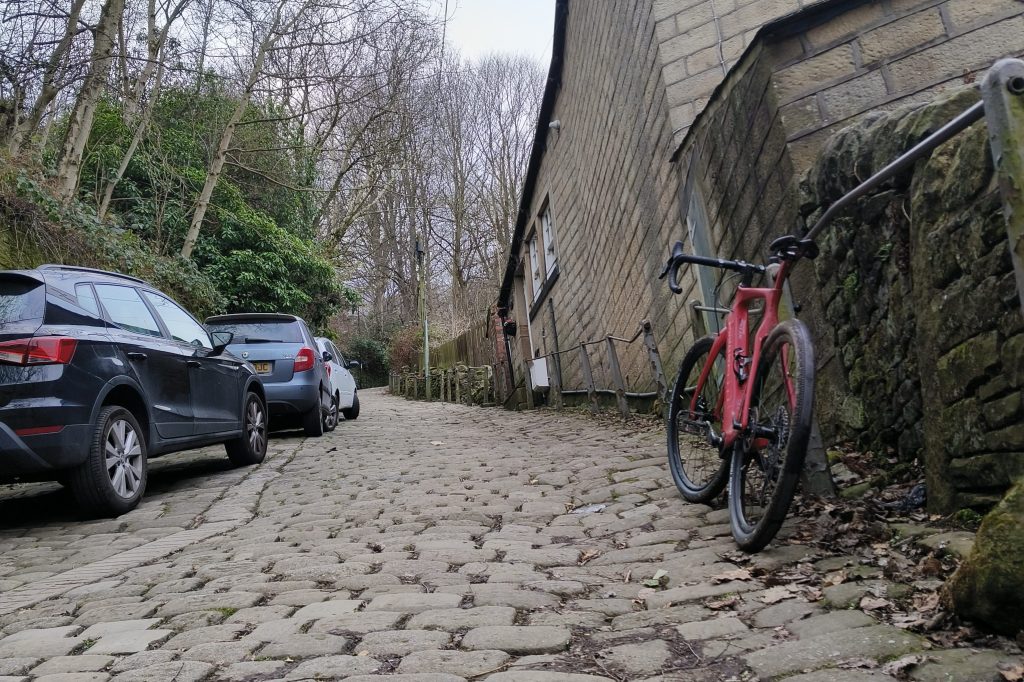 I finish the ride at an old packhorse route known as The Buttress. It's a short ride, around 300 metres or so of cobbled streets. But those 300 metres have an average gradient of 24%, sometimes peaking at slightly above 30% – 30% of a right-angle, in technical terms. Events take place in its name that mostly exist to publicly shame cyclists like a modern day flogging.
Some have reached its peak. Many have failed, but they didn't have a Rocket-mode enabled super bike. Could I succeed where they failed?
The short answer is no. I barely make it ten metres before the steepness of the hill almost throws me backwards, like a cowboy being ejected from a bucking bronco. I try again and fail a little better, but give up having conquered about 10 metres. E-bikes may not be miracle workers, but it's a start.
Starting at £5000, the Pinarello Nytro Gravel is reserved for those able to part with that amount of money. Cheaper models are available. A decent e-mountain bike like the E-Trends Trekker can be picked up for around £1000, and gadgets like the Universal eBike Conversion Kit can electrify most two-wheelers from around £380. Still, the expense makes an e-bike not exactly the ultimate democratiser of the great outdoors. What it does offer, though, is much greater access to it.