Best waterproof action cameras 2015 – reviewed
To test the toughest action cams you need the toughest of tests...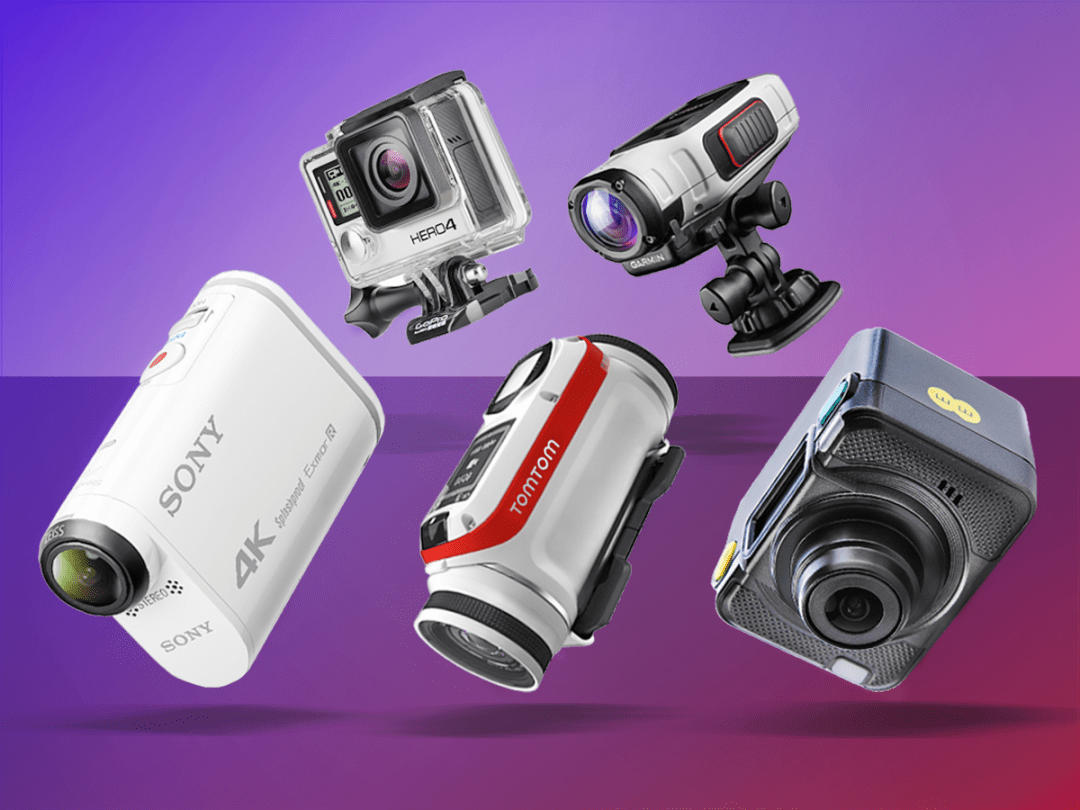 There's no point taking the world's toughest action cameras on a family orienteering trip. That's why we subjected them to two super-rigorous tests.
The first took place at Lee Valley White Water Centre, the course where Team GB struck canoeing gold in London 2012. Four of the centre's most experienced kayakers each took an action cam for several wild rides through the course's rapids, drops, holes and eddies. You can see our behind the scenes video below, or check out the raw footage from each action cam on its dedicated test page.
After their thorough dunking in the frothy stuff, we mounted the cameras in a variety of positions from helmets to handlebars and chest mounts while out riding bikes. This helped to test their capabilities in fast-­moving situations and in quickly changing light conditions. Each one was tested at 1080p at various frame rates, and at up to 4K where available.
After tucking our exhausted action cams into bed, we analysed their footage and editing software before crowning our champion…
GoPro Hero 4 Black (£410)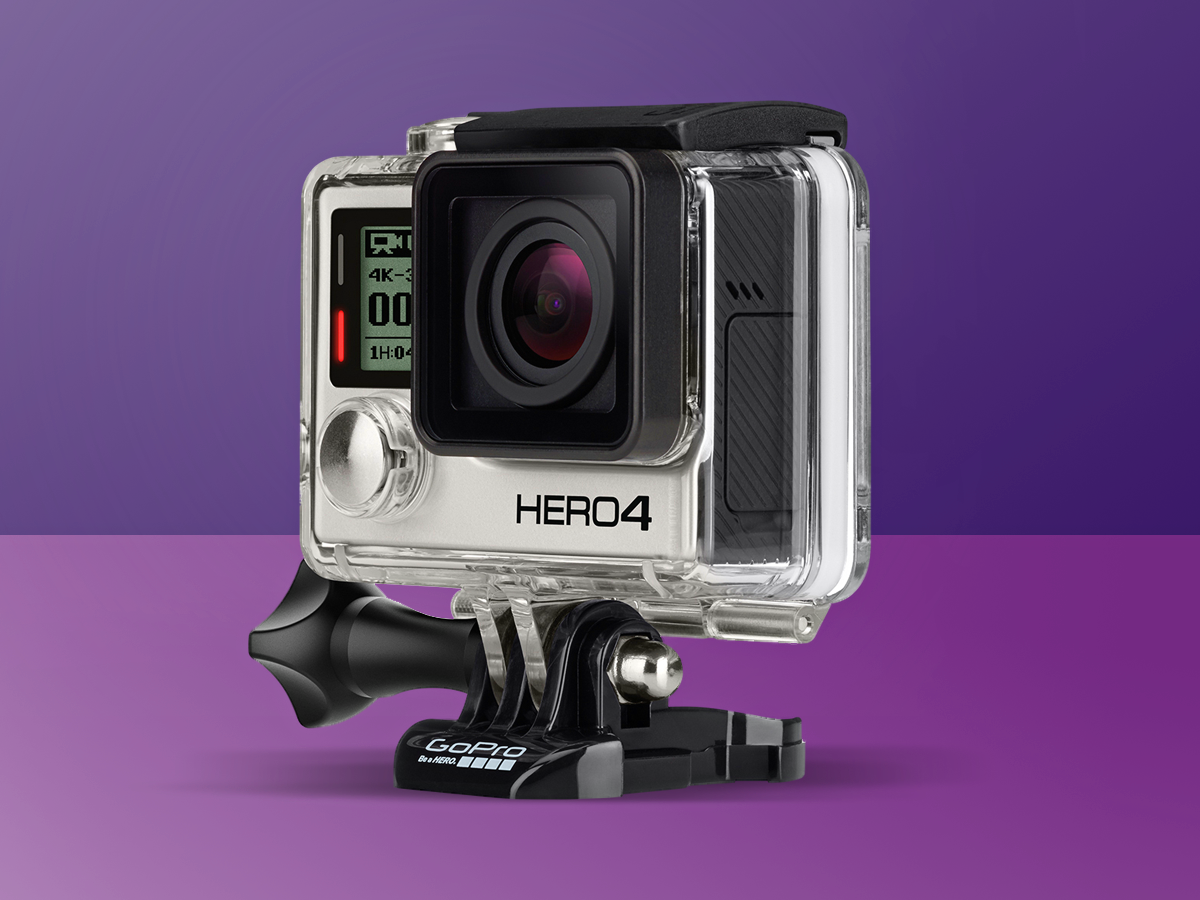 "Hold on, that isn't the new super­dinky GoPro", you may be thinking. And you'd be right – here we've tested the Hero4 Black rather than its new baby brother, the Hero4 Session. We just felt that this flagship, 4K­capable GoPro was the one for this heavyweight test.
It comes with the familiar polycarbonate waterproof housing and enough shooting options to make it a bona­fide professional filming device.
Mount Pleasant
Like most of the other cams here, the GoPro comes with just basic sticky mounts – one curved and one flat – plus a couple of short pivot­arm sections to give a bit of adjustment.
Because GoPro is so well established, you'll be able to find mounts that fit on anything from your guitar to your dog. The TomTom and the 4GEE even come with GoPro­-compatible mounts that take advantage of their competitor's ubiquity.
Unlike some of its cheaper variants such as the Hero4 Silver (£330), there's no touchscreen viewfinder on the Hero4 Black, so if you want to see what you're pointing at you'll have to use the app. Still, the small monochrome LCD on the front is surprisingly useful. It shows main settings at a glance, and the system of three buttons – power/mode on the front, record/enter on top and a Wi­Fi/settings button on the side – is surprisingly quick to use.
Appy partner
Changing deeper settings will always be quicker on the app, though. It's a brilliant companion to the camera and having all the settings on one page lets you check everything is just how you like it before you start shooting.
This is especially useful when you start delving into the GoPro's wealth of options including its new night mode, which allows longer exposures on photos as well as perfecting the setups for your latest timelapse. On the live view mode there's a bit more lag than the very quick TomTom, but it's a very reasonable two seconds or so.
Serious performance
The Hero 4 Black has by far the largest price tag of all the cameras on test, so you'd hope it would deliver the best image quality. It does. This is the only camera on test that shoots proper 4K at 30fps, and it shows: the action is smooth and the GoPro's great dynamic range captures more detail in the shadows and highlights as well as delivering more natural colours.
While its rivals do basic timelapse videos, the GoPro has a potentially bamboozling number of options from video timelapses in 4K to video and timelapse at the same time in 1080p.
There's even night lapse mode, which adjusts shutter speed to allow it to capture impressive shots of the night sky, or lights from passing traffic snaking along dark roads.
Yes, the GoPro is expensive, but it isn't a camera you'll get bored with quickly.
Editing sweet
You can't do any editing in the GoPro app, so while out and about you can only share video clips. But its desktop editing software (Mac, PC) is surprisingly powerful. The intuitive layout and step-­by-step process helps you get editing quickly, while there are plenty of powerful tools for changing the look and feel of your video.
You can apply different looks with presets, slow down footage, then get it out there for your friends to see. There are even editing templates with music based upon a handful of popular GoPro videos so you can slot your own footage straight in.
This software alone is responsible for the proliferation of GoPro-­shot videos, and now third party apps such as Antix are even bringing auto-editing powers like those seen on the TomTom Bandit.
GoPro Hero4 Black in figures Resolution: 4K at 30fps, 1080p at 120fs, 16MP stills • Connectivity: Wi­Fi • Water resistance: Waterproof to 50m with bundled case • Dimensions: 41x59x30mm, 152g
Garmin Virb Elite (£210)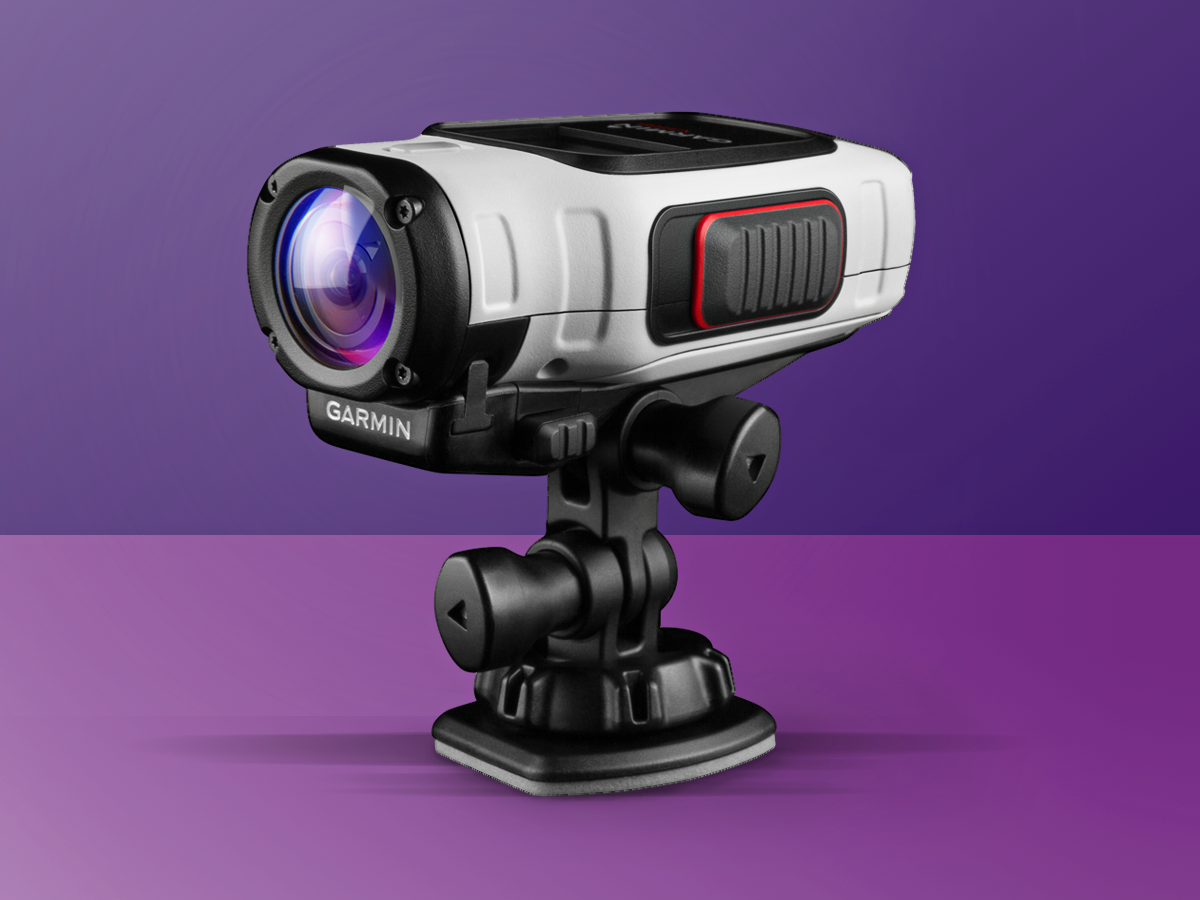 Garmin might be relatively new to action cams, but it's got a wealth of tough, outdoor electronics experience behind it from sailing to cycling and much in between.
Long, flat, and in a rubbery black and white casing, the Garmin Virb Elite's styling can be traced back to some of the company's handheld GPS units.
King of controls
The Virb Elite's display is a 1.4in reflective LCD that is designed specifically for use in bright light. It works well, using ambient light instead of a backlight, giving it good visibility outdoors and low power consumption. You're not going to want to watch whole movies on it, but for framing and information purposes it does an admirable job.
The Virb is the only camera here with a slider switch instead of a button to start recording. It's our favourite method of controlling an action cam; you know absolutely when it's recording or not, and you can use it to start recording from powered off. No holding buttons or accidentally double-pressing. Perfect for when it's helmet-­mounted and you can't see what you're doing.
Auto­-recording smarts
As with its bike­-computer cousins, you can set it to use its GPS to start and stop when you do, so it doesn't use up all its memory (and battery) unnecessarily. If you're out on the mountain you can also set it to record when you start heading downhill – again, great for cutting out the lift runs on your skiing or mountain biking session.
The camera itself is a little ungainly, and it isn't helped by the rather bulky mounting system, which leaves the camera sitting high off its mounting point. It comes with a pair of sticky mounts – one curved and one flat. It was dunked a number of times in our kayaking session without its waterproof dive housing, so is clearly more than a little splashproof.
A video natural
This quality extends to the video itself – footage from the Virb Elite has bags of detail and lovely, natural colours, easily beating the 4GEE and, to a lesser degree, the TomTom.
Like the TomTom, the Virb Elite is a master of data collection. It uses its inbuilt GPS, accelerometers and gyroscope to measure g-force, distances and speed. It will even display these as you move (only really useful when mounted to bike or motorbike handlebars) and save them to overlay on top of your footage when editing.
You have the option of attaching ANT+ accessories to the Virb Elite to further add to your growing pile of data. So if you've already got a heart-­rate belt, cadence sensor or power meter lying around, you can get those in on the act.
Mind the app
We had a lot of trouble with the Android remote app. Whenever we tried to start recording from the app it didn't work, even causing the camera to freeze a couple of times.
It's a far cry from the TomTom's stellar mobile effort. From the intro screens on the app it appears that Garmin has focused its mobile support on its newer Virb XE camera, leaving the Virb and Virb Elite out in the cold somewhat.
Garmin prefers you to plug the Virb Elite straight into your computer when downloading footage, rather than pulling out the memory card, which is located in a fiddly bay underneath the battery. It's best done this way anyway as the Virb Edit software can then download your footage and your G­-Metrix data together.
Statty professor
Garmin's free Virb Edit software (Mac, PC) is on hand to help you slot together your GPS-­logged masterpiece. It makes good use of the Virb Elite's many sensors, allowing you to overlay your footage with G-­Metrix – stats such as speed, acceleration, position and even g-­force.
Our favourite of these is one we've only seen in Formula One TV coverage before, with a dot in a circle that shows lateral ­forces as you accelerate, slow down and corner.
There is a wide range of G-­Metrix layout choices, and you can even customise your own. As an editing package it's pretty basic, but its simplicity helps keep you focused on getting the edit done. MP4 is the only export format option, so if you want to squash the file down a bit you'll have to use a secondary editing package or compressor.
Garmin Virb Elite in figures Resolution: 1080 at 30fps, 16MP stills • Connectivity: Wi­Fi, ANT+, GPS • Water resistance: Splashproof, or waterproof to 50m in optional dive case • Dimensions: 32x53x111mm, 177g
TomTom Bandit (£300)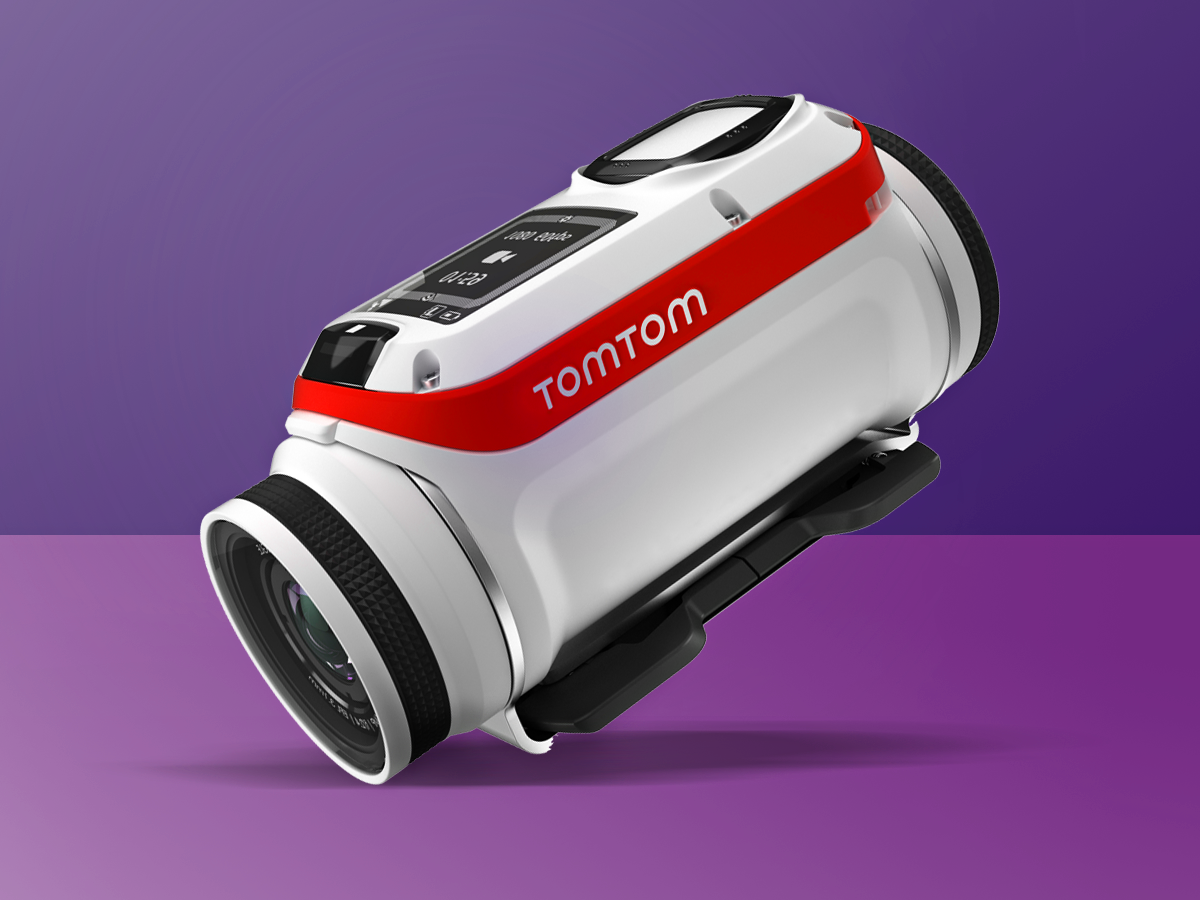 TomToms might be slowly disappearing from car dashboards thanks to powerful sat­-nav apps, but we're starting to see more of them on helmets instead.
The company's first action cam shows plenty of promise, with video resolution up to 4K, a host of sensors to extract the statistical goodness from your action­-packed exploits, plus GPS and an interface inspired by its running watches.
Bullet on your head
The Bandit's compact bulletcam form is a welcome change from the GoPro's familiar boxiness, and its low­-profile mounting system and size mean you can wear it on your head without looking like the human equivalent of a Google Street View car.
For kayaking duties we had to add the optional waterproof lens cover. This screws on in place of the standard white­-edged cover and makes it waterproof to 50m as opposed to just splashproof. Unfortunately it also closely covers the mic, almost completely blocking the audio as a result.
Noisy at night
The Bandit's video quality is reasonable but struggles in low light, with speckles of digital 'noise' appearing in the footage. Its maximum video resolution of 4K only works at 15fps, so isn't particularly useful for anything but static shots. It manages a more useful 60fps at 1080p for capturing fast motion, or 30fps at 2.7K.
There are also timelapse and slo­w-mo modes available. You can film timelapses in camera up to a resolution of 4K – resulting in a 30fps 4K video – but the quality of both is a little disappointing, showing a loss of detail and smearing in places.
Stats entertainment
The onboard display will look extremely familiar to users of TomTom's fitness watches. If you want to check how your shot is framed, you'll need to switch on the Bandit's Wi­Fi to hook up to TomTom's Android or iOS app, which provides the most lag­-free remote viewfinder experience we've had from an action cam.
It's also where you can get busy editing and sharing. It's possible to overlay video with GPS and sensor metrics on the iOS app, but sadly not on Android.
The Bandit's neat quick-­release mounting plates are a useful innovation. Pinching opposite sides together releases the sprung mounting clip quickly and easily, despite being reassuringly secure during use.
The basic kit comes with three mounts: one curved sticky helmet mount, one flat sticky mount and a mount for using with widely available GoPro mounting hardware – a commendable addition that recognises how important having a number of different mounting options is to getting good shots.
You can pair the Bandit with TomTom's Bluetooth heart­rate strap for more stats linked to your video, and also operate it via a little button remote that can be worn on your wrist, rucksack strap, handlebars or pretty much anywhere else.
Speedy sharing
The Bandit's headline feature is its focus on editing and sharing your footage straight from your smartphone.
As with the GoPro, you can tag highlights manually – by hitting the record button while already recording – but the TomTom's built­-in sensors will automatically tag your vids too. Check out the timeline of your clips and you'll see different icons where you've hit your top speed, taken a tumble (top g-­force), caught some air (vertical speed) as well as max acceleration and deceleration. It's surprisingly effective and immediately gives you a great starting point for your edit.
The automatic 'shake to edit' is well-­intentioned and serves up a string of short highlights, but you'll still have to spend a bit of time removing clips from earlier sessions, picking data overlays and uploading to YouTube. It's not seamless, but it's the best option we've seen for getting your footage out into the world quickly.
TomTom Bandit in figures Resolution: 1080p at 60fps, 4K at 15fps, 16MP stills • Connectivity: Wi­Fi, Bluetooth • Water resistance: Splashproof, or waterproof to 50m with optional waterproof lens cover • Dimensions: 94x38x52mm, 190g
Sony FDR-X1000V (£280)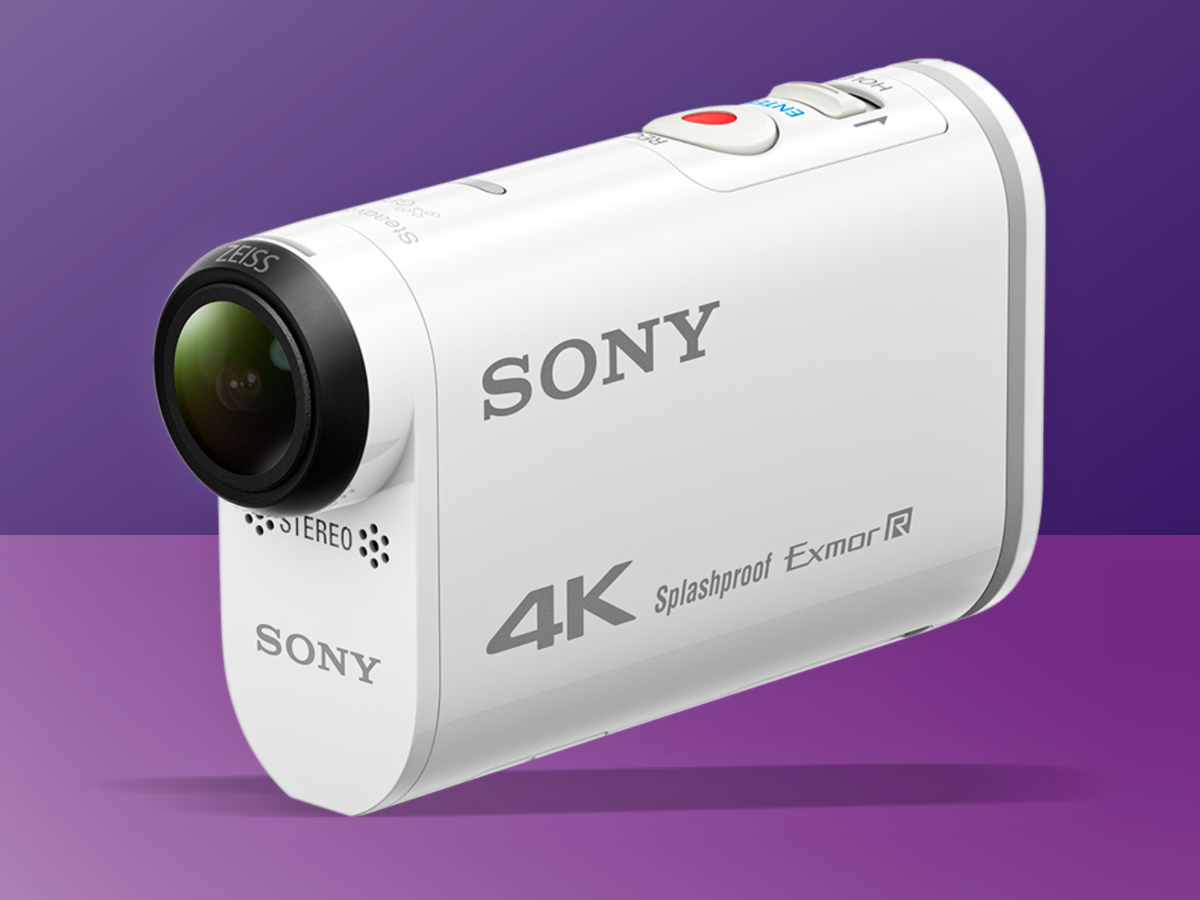 We haven't seen many Sony action cams out in the wild, but the company's range is bigger than you might think, starting with the HDR-AS20 (£135) which goes up to 1080p @ 60fps. Right at the top is this, the FDR-X1000V (£280) which shoots in full 4k @ 30fps but looks virtually identical from the outside.
The X1000V is all business; it doesn't deal in gimmicks such as 'shake to edit', mobile apps or 4G livestreaming. It's focused on top image quality. An admirable goal, but we get the feeling that all the thought might have been put into the image and cramming [email protected] into an action camera, rather than the overall package and the user experience.
Mounting issues
The camera's flat, upright form makes it good for attaching to helmets, but the placement of the display on its side means that it'll end up upside-­down if mounted on the left side.
Mounting systems are important – they're how you get your action cam where it needs to be for a great shot. The Sony seems unnecessarily bulky and the attachments lack the thought and finesse of those for the TomTom and Garmin.
The waterproof housing adds a lot of bulk to the camera too. It's not essential – you can screw the mounts directly into the tripod screw thread in the camera's base, but for rough and tumble you're best to give the protruding Zeiss lens a bit of protection.
Going steady
SteadyShot digital image stabilisation does a good job of evening out the shakes in footage, though it's not available in 4k and tends to produce a bit of warping at the edges of the frame. This is most noticeable in scenes with straight lines – edges of buildings as you cycle down the street, for instance – but not really a problem if you're out in nature.
Its 170-degree field of view is the same as the GoPro's, but it produces a much more pronounced fisheye effect. Still overall video quality is second only to the Hero4 Black. The GoPro wins out with slightly more detail, dynamic range and neutrality to colours, but it's a close run thing. If image quality is everything to you but you can't afford our overall test winner, this Sony is your best bet.
The 'appening
The PlayMemories mobile app (free on Android and iOS) is actually one of the more disappointing here, too.
We had a lot of trouble connecting the app to the camera to use as a remote viewfinder, and even then most of the advanced functionality such as highlight movie maker – which is supposed to work in a similar way to TomTom's app, picking out automatically selected highlights to quickly bash into a video – weren't available.
It feels as though all aspects of using this camera are hampered by this kind of difficulty. The X1000V doesn't allow you to add highlights manually, either, so you have to hope that it picks some good bits for you. The X1000V is one of the top performers in image quality stakes, but it doesn't make getting the best out of it easy.
Next-level editing
There is, though, also a dedicated computer-based editing suite, called Sony Action Cam Movie Creator. But while it has some advanced features such as the ability to import four different clips and show them in splitscreen – useful for if you've got a number of action cams capturing different angles – it's disappointingly simplistic in other areas.
The editing tools for cutting up footage are rudimentary, there aren't any controls to tweak colours, exposure or contrast. That splitscreen movie view is also, strangely, the only one that will allow you to add GPS data such as speed and route outline to your finished videos.
Sony FDR-X1000V in figures Resolution: [email protected], [email protected] • Connectivity: Wi­Fi • Water resistance: splashproof, or waterproof to 50m with optional dive case • Dimensions: 24x52x89mm, 114g
EE 4G camera (from £300)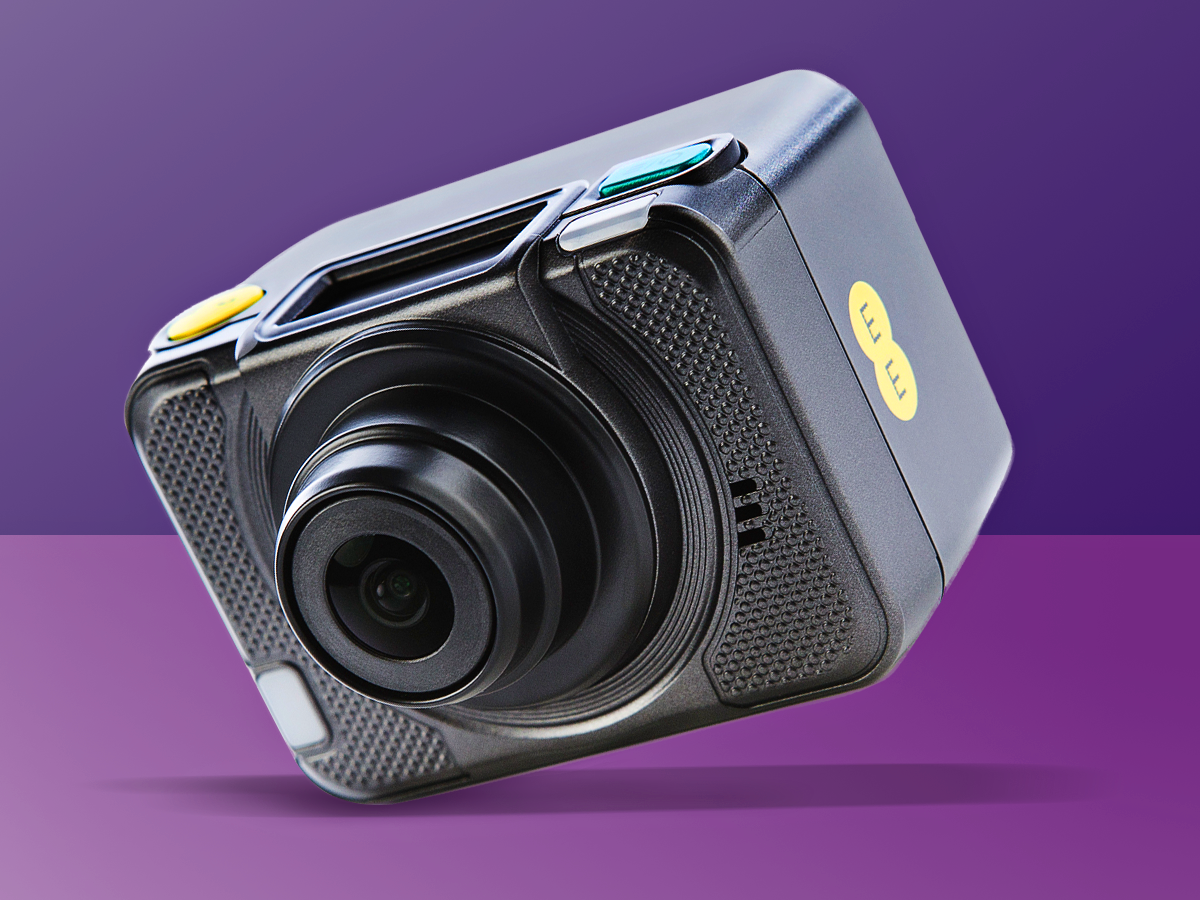 Mobile networks aren't known for their love of extreme sports, but that hasn't stopped EE from being the first to make an action cam. Its headline feature (naturally) is a SIM card slot so you can livestream adventures over EE's 4G network.
It's the least refined-looking of the bunch – distinctly boxy and reminiscent of a much older, bulkier GoPro in its clear polycarbonate waterproof housing. Open up the back and you'll find a BenQ battery inside – that's because EE's camera is essentially a rebranded BenQ QC1 4G Action Camera.
Problems mounting up
The only controls are two buttons on top – a green, square one for power/menu and a yellow, round one for recording/enter. On the side is a micro USB port and a microSD slot.
The mounting system seems a bit half-­baked – a feeling reinforced when our test unit disappeared from the kayaker's GoPro chest mount on the first run. In doing so it passed a tough old test, though: when we found it, it had survived being dragged through the mighty pumps that turn the Lee Valley White Water Centre's course into a raging torrent. Apart from a few drops of water inside and some light scuffs, it emerged unscathed.
Short on detail
The 4GEE Action Camera's video quality certainly can't compete with the GoPro or Sony, but it also falls behind the Garmin and TomTom (though the latter not by much).
There's a distinct absence of detail, especially in the highs and lows, with heavy sharpening and oversaturated colours producing a very artificial feel to the footage. When compared to the lovely picture from the cheaper Garmin Virb Elite, you'll realise you're paying a hefty price for that SIM card slot.
To be completely honest, we're not sure when being able to livestream your action cam footage will actually be useful. It seems to be offering the opposite of TomTom's smart editing system. Anyone who's ever watched back their best run down a snowy mountain or muddy trail will know that ninety per cent of what you capture isn't worth keeping.
And while those whose exploits are a shade more radical might want to broadcast in real­-time to their loyal fanbases, they'll only be able to do so if their loyal fanbases are using EE's proprietary Skeegle app: the open (and let's face it, much more popular) Meercat and Periscope apps are sadly left out.
Delaying tactics
In practice, setting up the camera to work with Skeegle was quite a hassle, as you're forced to to-­and-­fro between the 4G EE Action Camera app and Skeegle via Facebook login. Then you have to find a friend to stream to using Skeegle.
Once up and running, the stream was about what you'd expect from a smartphone streaming over mobile: there was about a 12­ second delay on the footage, and quality varied wildly depending upon signal strength. With a strong signal it was actually quite watchable, delivering up to 720p at 30fps, but sadly some of the most interesting places for filming on an action cam aren't likely to have perfect 4G reception.
The other unusual feature of this setup is its companion watch. It's big, brash and rubbery and acts as a wrist-­mounted remote and viewfinder for the camera.
While it's not exactly premium, it's fun, and being able to check your shot on your wrist and hit record is actually quite useful. You'll need to switch off live view if you want the battery to last, though – our watch ran out of juice before the camera did when we first used it. And weirdly, the watch has a separate, proprietary charging cable. Why it doesn't use microUSB like the camera is a mystery.
Missing post
EE's Action Cam doesn't have any associated editing software, so you're on your own when it comes to slicing up your best vids.
Our first stop would be using GoPro's editing software, which is free and lets you edit MP4 files using Mac or Windows.
The lack of editing is presumably due to the focus on live streaming, which comes at quite a premium. On pay as you go the camera costs £300, including 2GB of data for 30 days. On contract, EE is offering it as part of a shared 24­-month plan for either £10 per month with a £100 up­-front cost (the sweet spot) or £15 per month with no up-front cost.
EE 4GEE Action Cam in figures Resolution: 1080p at 30fps, 13MP stills • Connectivity: Wi­Fi, 4G • Water resistance: Waterproof to 60m with bundled case • Dimensions: 59x43x51mm, 128g
The Verdict
It's exciting to see new competition in the action cameras arena.
It's especially exciting to see some useful new features such as the GPS and handy sensor data used by the TomTom Bandit and Garmin Virb Elite, as they introduce new possibilities. Then there are other innovations, such as EE's 4G streaming, that we're not so sure about.
But GoPro has been doing this, and only this, for a long time – and it shows.
The Hero4 has abundant mounting options and a focus on image quality and versatility that means it's still the one to beat. Its free editing software is just as powerful, helping you to get carefully ­crafted action vids up in double­quick time.
Having said that, £410 is a lot to spend, so we'd recommend looking at its cheaper cousin the Hero4 Silver (£330) to see if your needs can be satisfied for less of an outlay. It can only record 4K video at 15fps rather than 30fps, but does have a built­-in live-view screen.
And if you don't need 4K videos, the smaller Hero4 Session could yet prove to be your best bet.
After that we'd consider the Garmin Virb Elite. Its video quality and editing package with G­-Metrix overlays are just brilliant, but most attractive of all is the price – it's practically half the price of the Hero4 Black.
It's the TomTom that comes in third – it's overall design is really well thought out, and while it's automatic video editing isn't perfect, the innovation is to be applauded.
And then there's the Sony FDR-X1000V – it comes second on the video quality front, but the usability is just a little too compromised.
Finally, while novel and unique, the 4GEE's focus on standalone streaming feels like a slightly misguided concept to us.