Best TVs of CES 2019
And we might even throw in a projector or two if you're lucky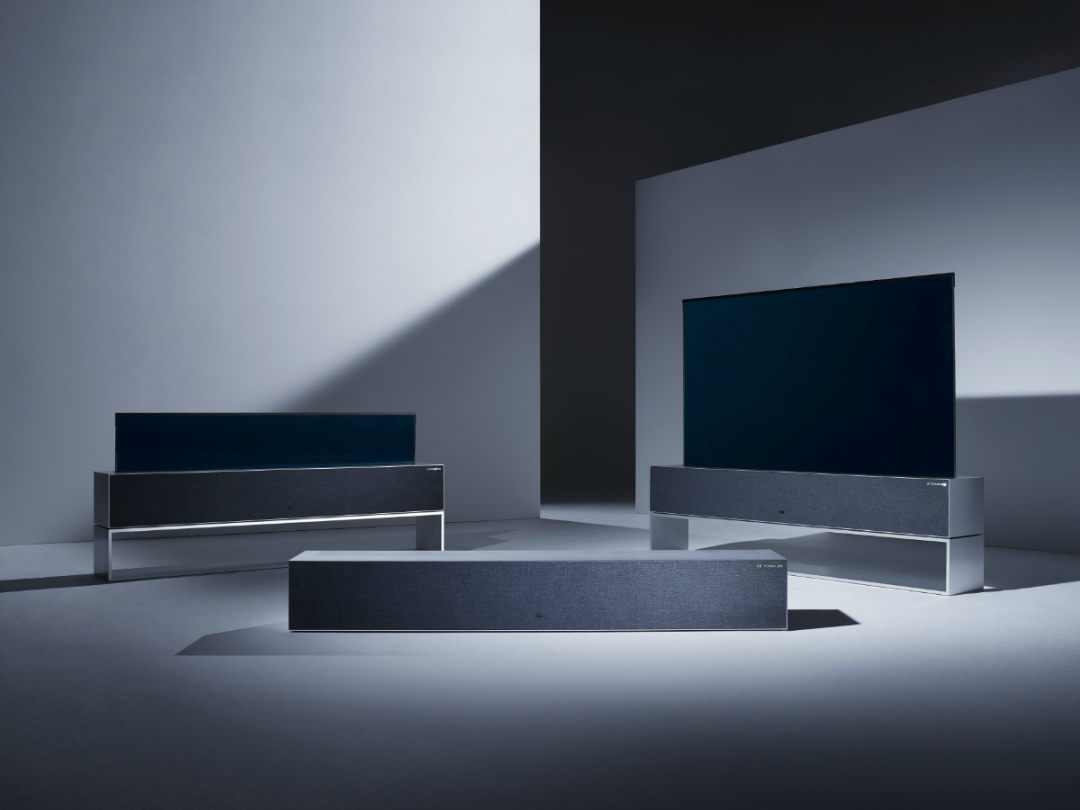 At CES, the biggest tech show on the planet, you're never more than a phone's throw away from a bloody massive telly.
Put side-by-side they all look pretty much the same, particularly in this age of barely there bezels, so we've trawled through the spec sheets and picked out the TVs you need to know about from this year's show.
Panasonic GZ2000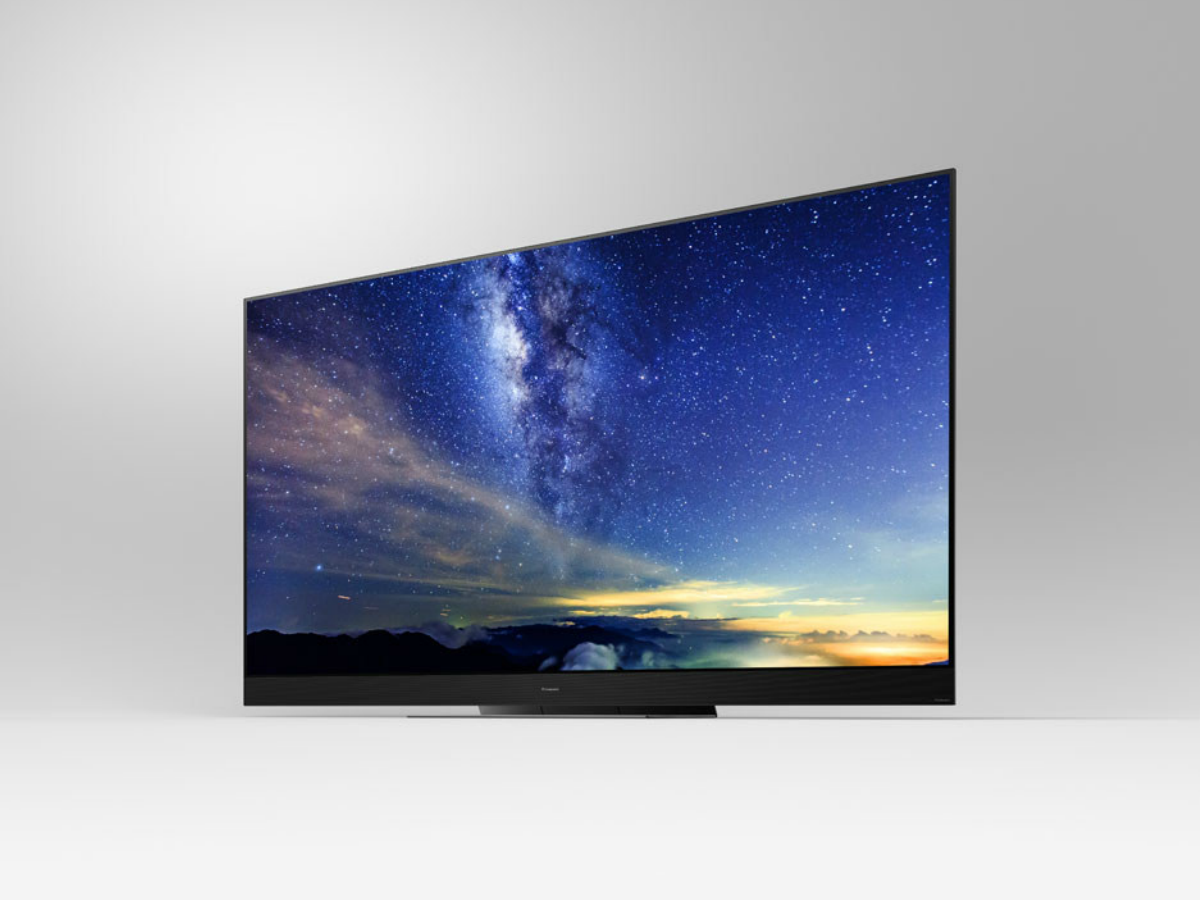 It's pretty much a given these days that if you buy a fancy new TV you'll need to add a soundbar if you don't want it to sound flimsier than a thinly sliced atom. But Panasonic doesn't think it should be this way. Its new GZ2000 OLED, which comes in either 55in or 65in flavours, has upfiring Dolby Atmos speakers built in to provide proper room-filling, Technics-tuned audio without any extra help. It's also the first TV to support HDR10+, Dolby Vision, and HLG Photo format, plus it supports both Alexa and Google Assistant, so you can control it with your voice.
LG Signature OLED TV R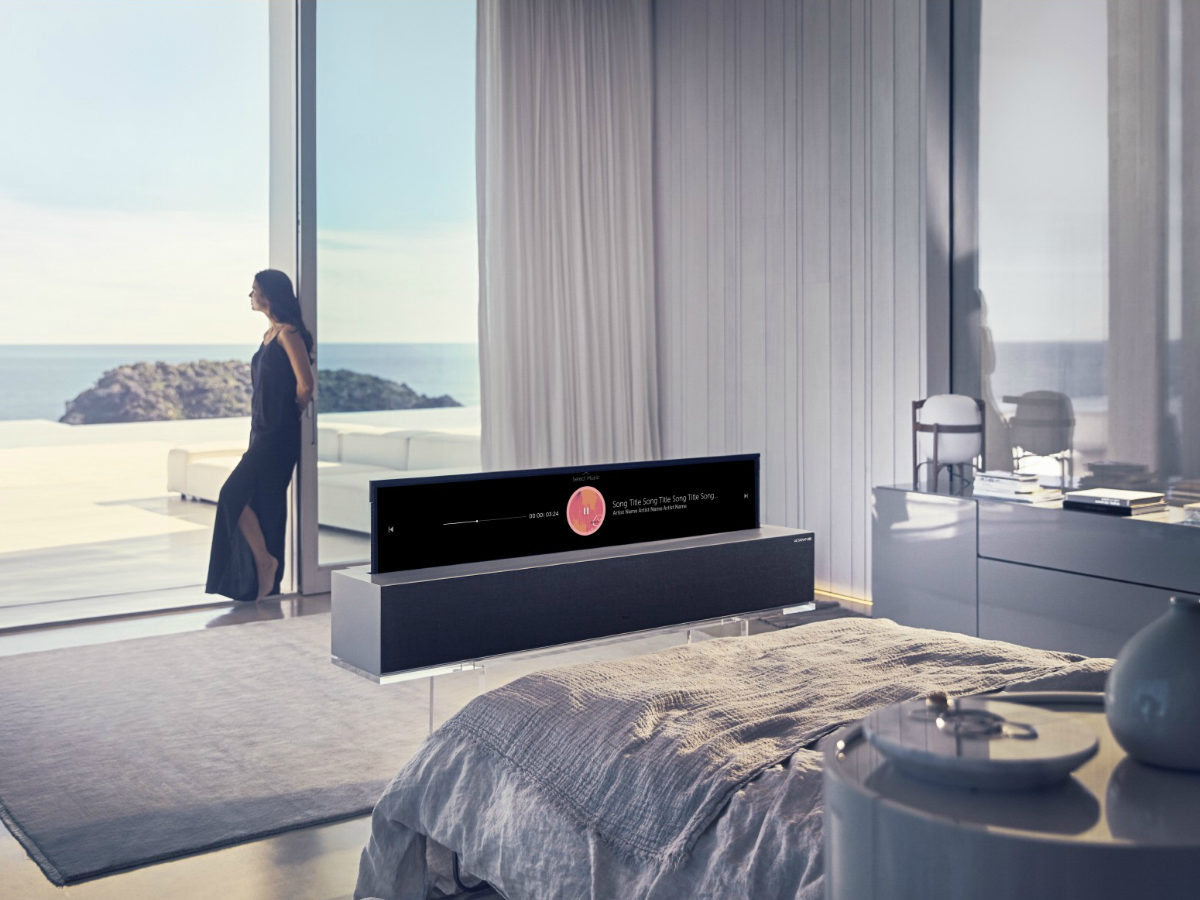 Where do you keep your TV when you're not watching it? Behind the sofa? In the shed? Or in exactly the same place as it lives when you are catching up on Luther? That could all change in the future thanks to LG's new 65in Signature OLED TV R, which rolls up into its aluminium base when not in use. That's not its only party trick either. It has an inbetween mode that displays a thin slither of screen for music playback, plus the base unit doubles as a 4.2-channel, 100W Dolby Atmos soundbar. Expect a high-end price tag to match.
Samsung 75in Micro LED TV
With no official model name, price or release date, Samsung's 75in Micro LED TV is unlikely to be on its way to your living room until 2020 at the earliest, but it uses a new type of screen tech that's worth a look. Much like 2018's The Wall – a new 219in version of which Samsung has on show this year – the 75in model on display is made up of multiple individual modules that use three LEDs per pixel. That means they offer similarly breathtaking contrast as OLED screens but with extra brightness and a longer lifespan. One to keep an eye one.
Sony Master Series ZG9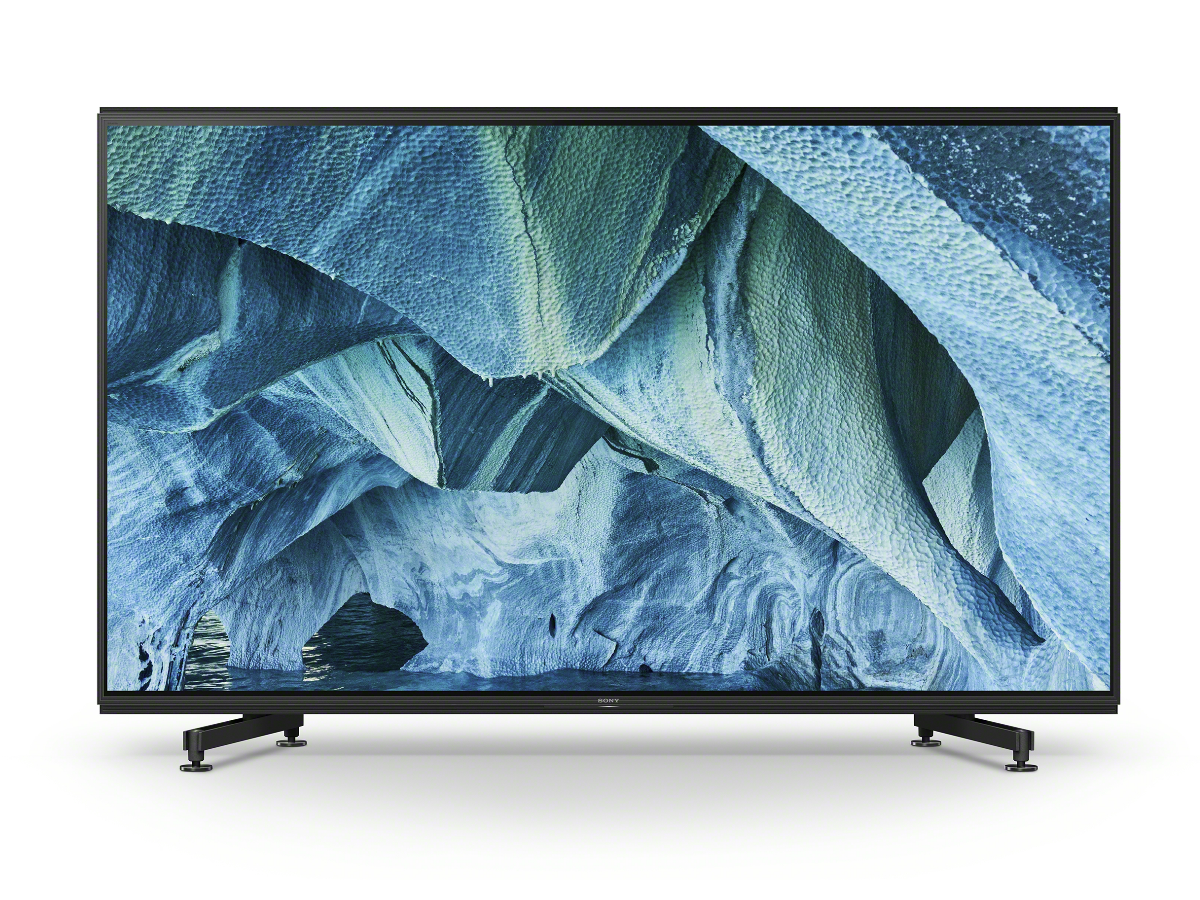 Got a big gap to fill in your lounge? Sony's latest OLED telly comes in 85in and 98in iterations, with support for 8K images and new X-Reality Pro upscaling tech that'll fill in the gaps with any content that doesn't quite have enough pixels to do the job on its own. Not ready for an 8K TV just yet but don't want to compromise on specs? There's also the AG9 – an LCD version with LED backlighting and Sony's clever Acoustic Surface Audio+ technology, which turns the whole screen into an Atmos-compatible speaker. It'll be available in 55in, 65in and 77in sizes.
LG Z9
Not all of LG's new TVs can disguise themselves as furniture, but that doesn't make them any less exciting. The Z9 is the company's first 8K TV and with 88 inches of pixel-packed OLED screen to fill it can call on a clever new 'deep learning' algorithm to adjust the picture processing in real time and make sure things look as stonking as possible. There's also a 75in 8K LCD called the SM99, which is powered by NanoCell tech and promises to improve colour accuracy and viewing angles. LG's new models also get AirPlay 2 support, so Apple fans can stream straight to them from their iThings.
TCL X10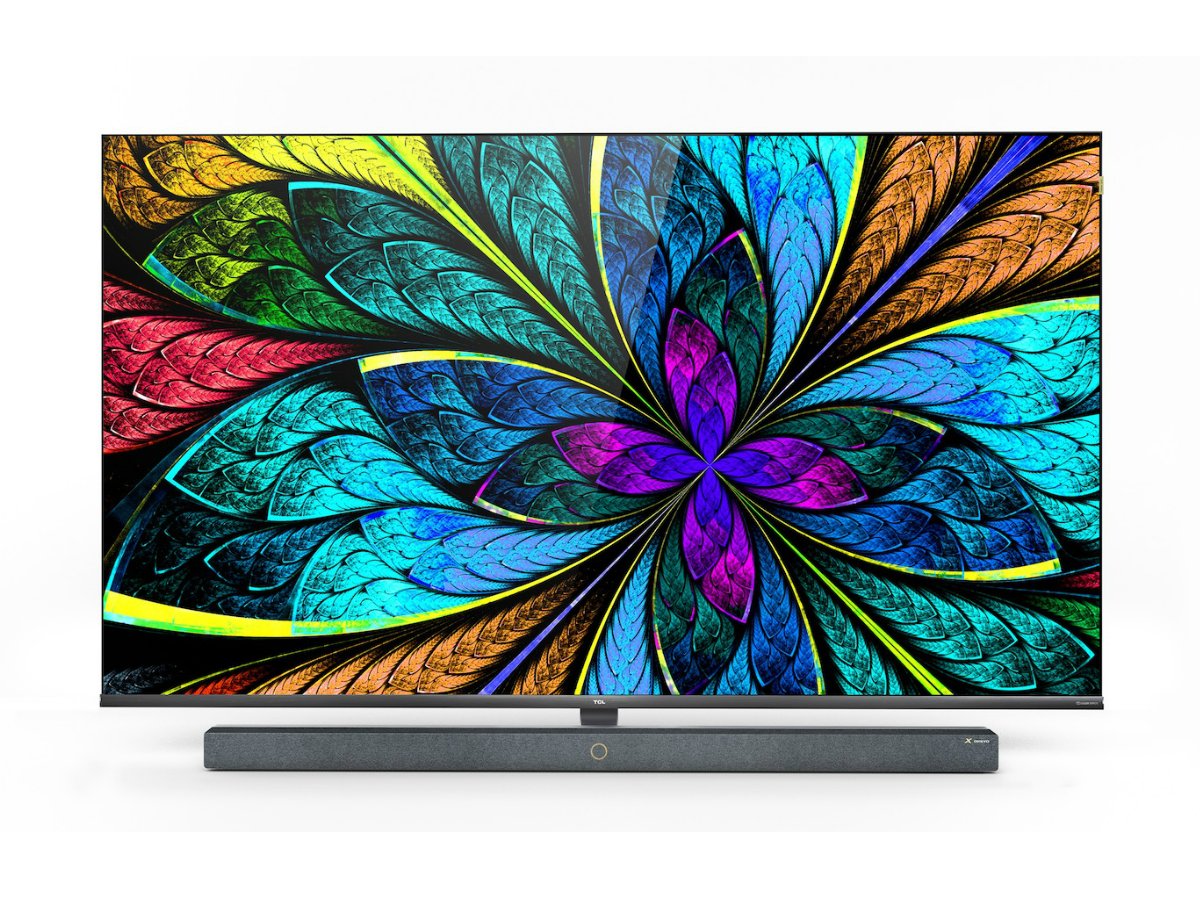 TCL might sound like a courier company but it's actually been churning out TVs for over 15 years now. Its latest is this 75in whopper, which uses Quantum Dot tech like you'd find on Samsung's flagships. TCL's not messing around when it comes to picture quality, with enough pixels to display any 8K sources you can find, Dolby Vision support, plus a built-in Onkyo soundbar that works with Dolby Atmos. The X10 is powered by Android TV, so you also get Google Assistant onboard.
LG HU85L CineBeam Laser 4K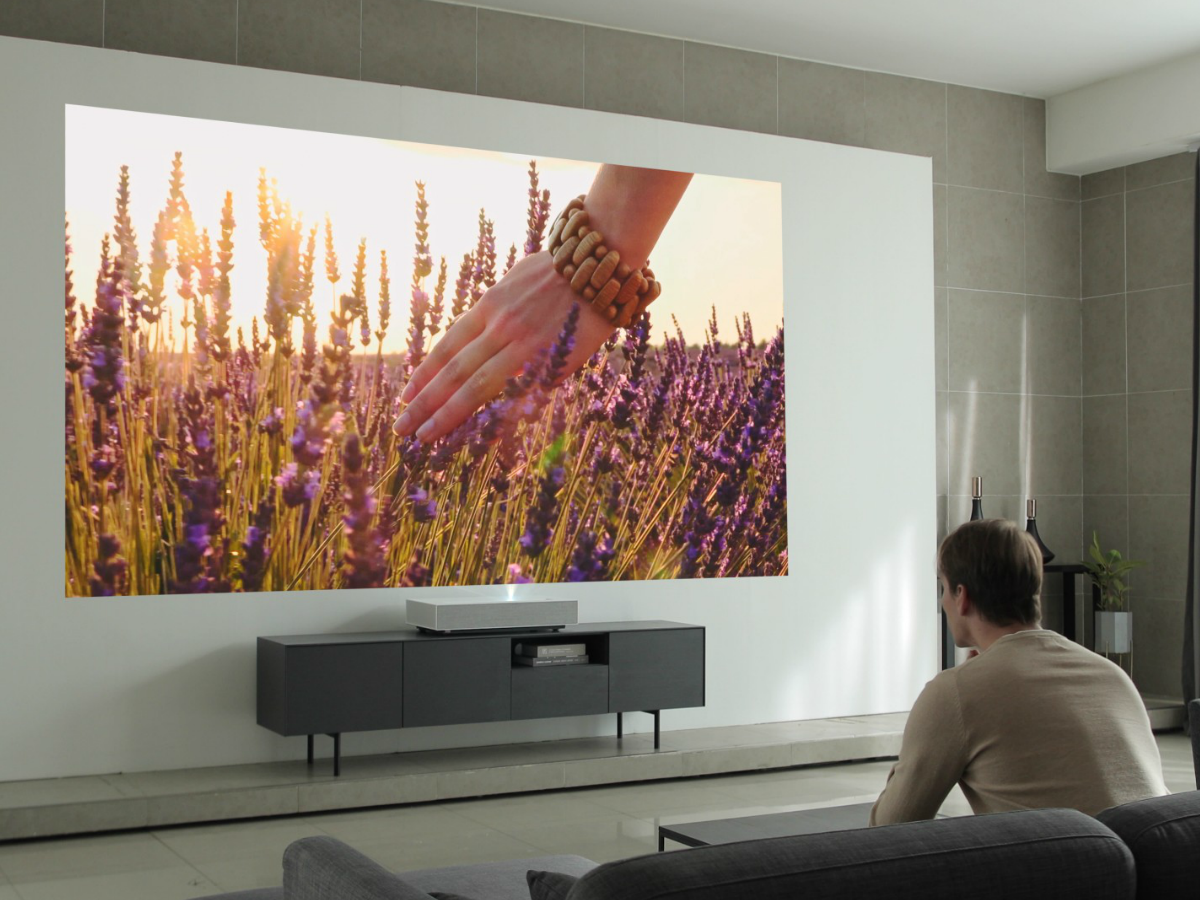 Right then, here's the first of those projectors we promised earlier – and it really is a doozy. The CineBeam Laser 4K projector can be placed just two inches from the wall and still project a 90in 4K image, or, if you've got a bit more room to play with, move it back another five inches and you can blow things up to a whopping 120 inches. It has LG's ThinQ AI tech onboard, plus its Magic Remote enables voice control, meaning you don't even have to get up to switch it off when the credits roll.
Hisense 100L7T 4K TriChroma Laser TV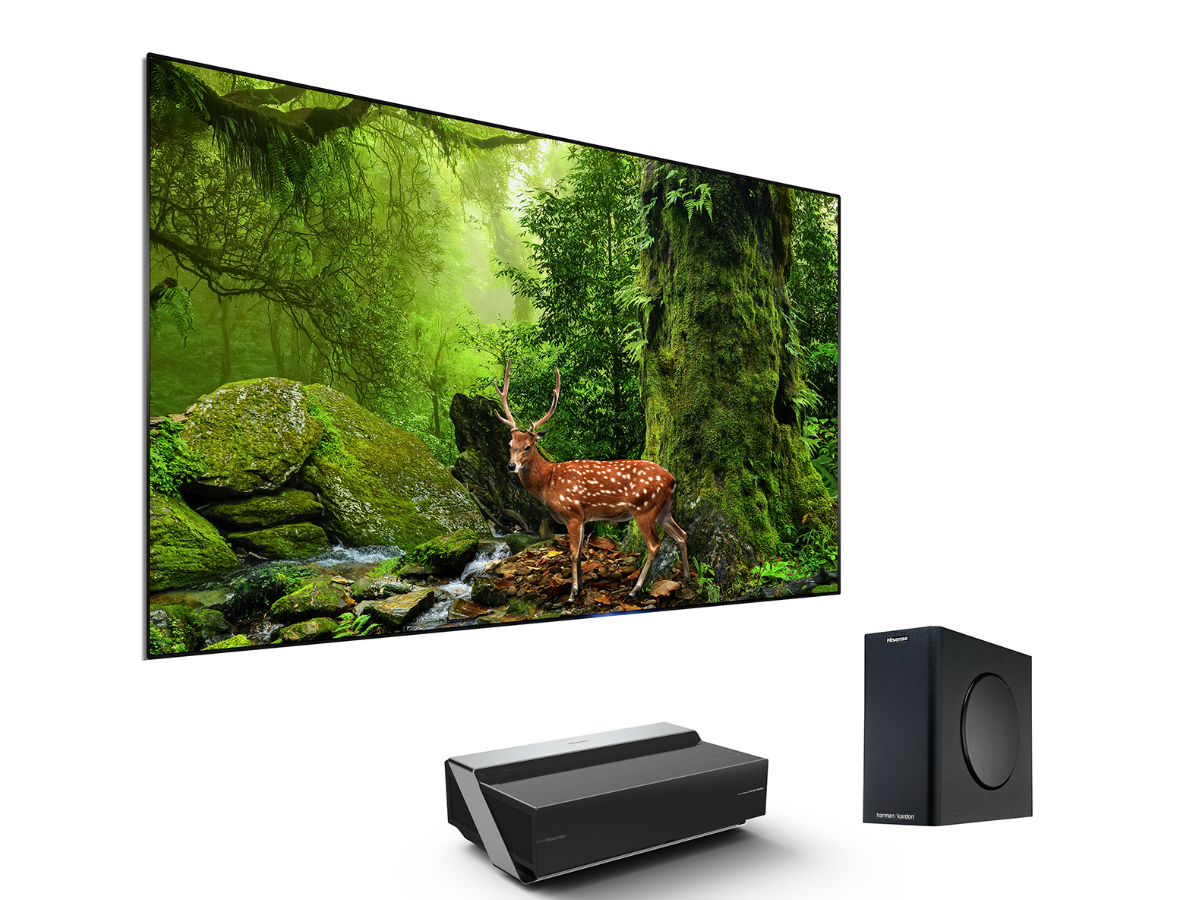 Similar to LG's short-throw projector, Hisense's new Laser TV uses a trio of red, blue and newly added green lasers to beam a 100in image onto an anti-reflective screen above. That means you don't need to sit quite so far away to get the full benefit, plus it also comes with a 100-watt Harman Kardon sound system built in. The last model was priced at around £11,000, though, so don't expect it to come as cheap as Hisense's more traditional tellies.