MWC 2016: all the latest news and impressions
Everything you need to know about the world's biggest mobile show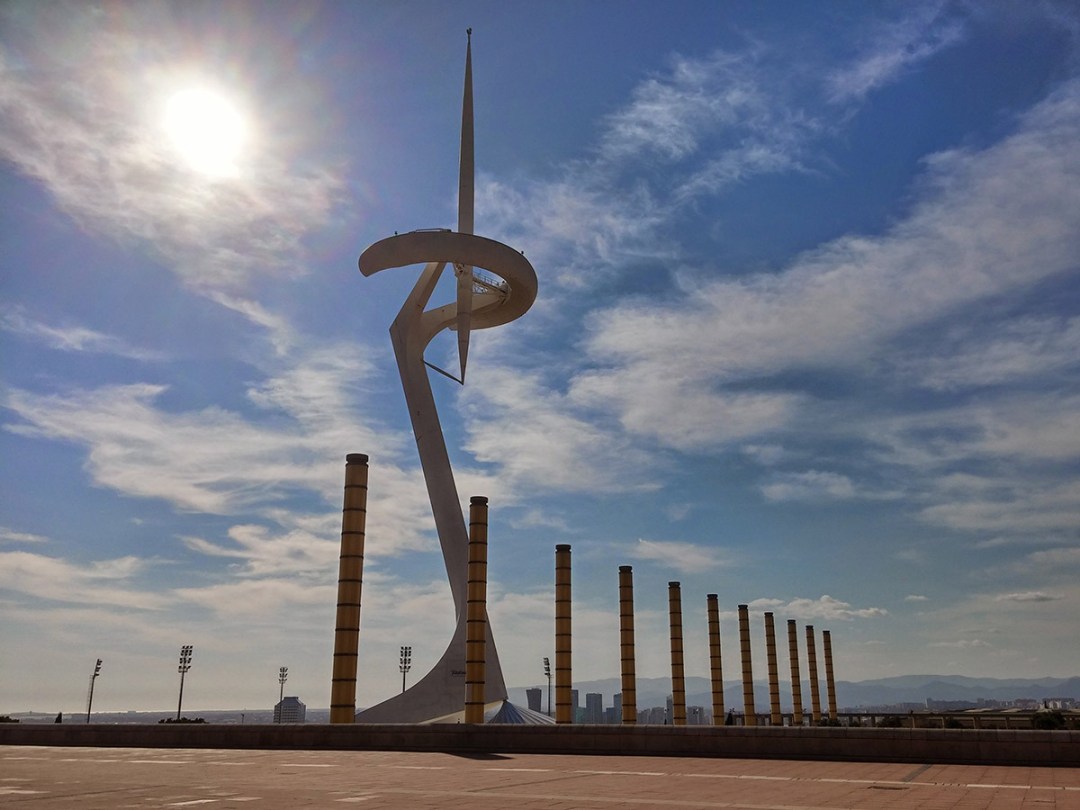 It's Mobile World Congress again, and we are knee deep in new smartphones of all shapes and sizes. Surprise, right?
Actually, the surprises have been few: we already knew loads about the Samsung Galaxy S7 and S7 Edge and the LG G5 before the show started, thanks to rampant leaks, and those are the headliners of the show. But at least the G5 in particular has impressed us even more than anticipated, while the Galaxy S7 looks like another sure thing.
And there's much, more more, of course. More phones, more VR devices: more, more, more. Haven't been keeping tabs on all of our coverage so far this week? Catch up quickly with our MWC 2016 hub, which has been freshly updated with all of the show's highlights to date.
Samsung at MWC 2016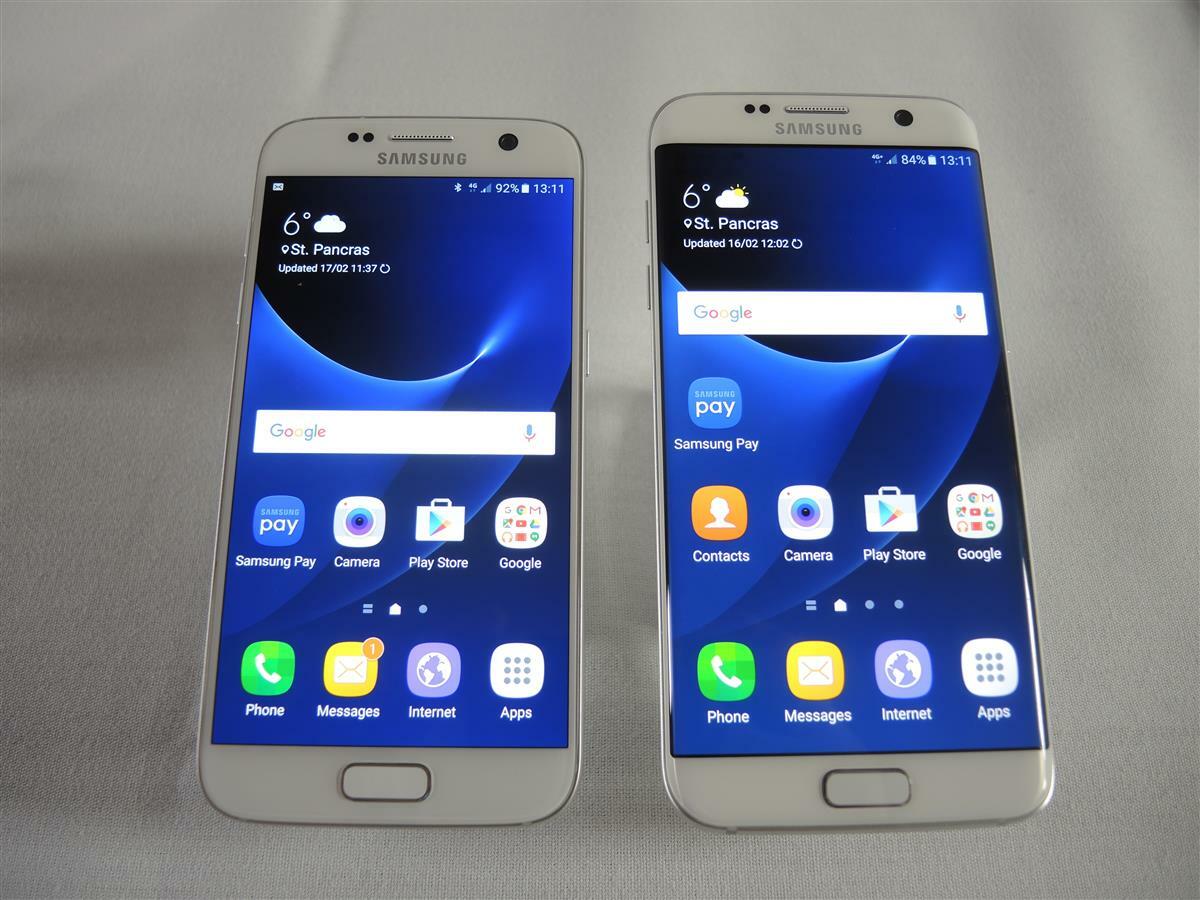 Galaxy S7
Design-wise, things haven't changed too drastically with the Samsung Galaxy S7, although there's a curvier rear for improved grip and a camera lens that juts out far less. The S6's superb 5.1in 2K Super AMOLED display also returns, as does the microUSB port (sorry USB Type-C fans). The screen itself can be set to 'always-on' mode, which lets you select from a range of clock and calendar widgets that are constantly displayed on the screen, even when you're not using the handset itself.
More importantly, the microSD slot has returned (huzzah!), and the Galaxy S7 is also IP68-rated for waterproof and dust resistance. Aside from more powerful innards and 4GB of RAM (which were always a given), what we're most excited about is the S7's camera. While it's dropped down from 16MP to 12MP, the pixel size has increased, along with the aperture, which means that the sensor is able to absorb more than 50% of the light the Galaxy S6 can currently manage. Samsung has also packed the world's first dual-pixel smartphone autofocus into the S7's sensor.
Samsung's demos are impressive of course, but we're waiting to pass full judgement in our final review. All that, rounded off with a larger 3,000mAh battery and news of Samsung Pay hitting the UK at some point this year, makes Samsung's main announcement here at MWC a rather meaty one. But of course, there's more.
Galaxy S7 Edge
Samsung also revealed the Galaxy S7 Edge, which returns once again with a striking curved display that adds enough design flair to tempt users into paying a premium. Interestingly, the screen size has increased to 5.5 inches, putting the S7 Edge firmly into phablet territory, and essentially killing off the Edge+ line.
The Edge app shortcuts which can be swiped in from the side of the display have also improved: there are now two rows of apps to choose from, thanks to the extra screen size, which means you can have more useful widgets such as sports and weather information available at the flick of a thumb. Everything else from the camera to the processor remain the same as the standard Galaxy S7, but the S7 Edge has an even beefier 3600mAh battery.
Gear 360
Samsung also unveiled the Gear 360 camera, which as you've probably guessed records 360-degree photos and videos. Obviously, this is a way for Samsung to push users to adopting the Gear VR (and, in tandem, its smartphones), but it could potentially spark mass adoption of VR from the masses who would otherwise balk at the costlier options such as the Oculus Rift.
Recorded videos can be uploaded to YouTube and Facebook too, so it's only a matter of time before the whole world is treated to one of Kanye's insane rants in full virtual reality. Yay.
LG at MWC 2016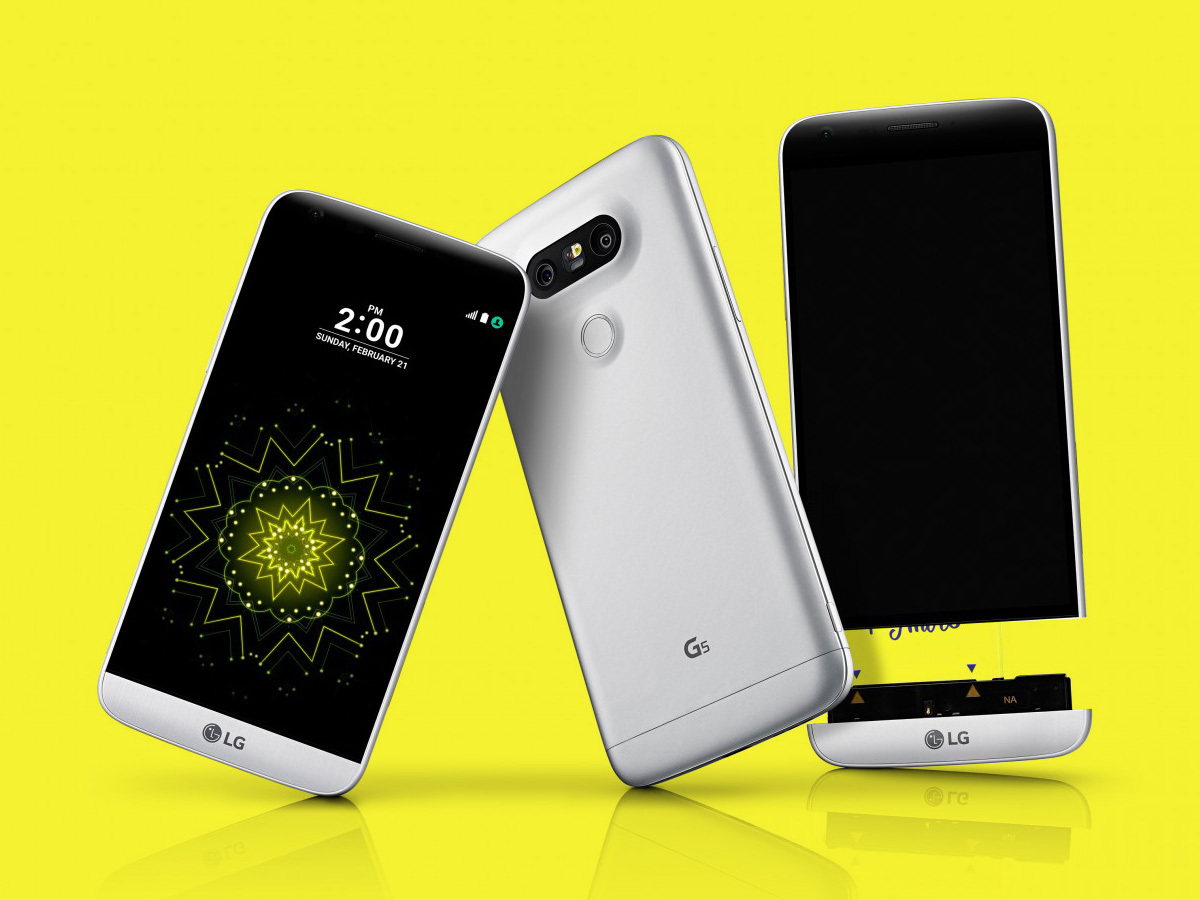 G5
LG's got an absolutely killer phone that could end up being the star of the show. Built from metal, a first for an LG flagship, and with no unsightly antenna slits anywhere to be seen, the G5 is a stunning bit of design. It looks streamlined, with a front that's almost all screen and a back that's just as minimal. The 5.3in display is a little smaller and a little more manageable in the hand than the 5.5in G4.
As for cameras, the pixel count has been bumped up on the back compared to the G4, but not how you might think; that's because the G5 gets twin rear sensors: a 16MP snapper with a standard 75° FOV, and also a 8MP secondary sensor has an ultra-wide 135° FOV. Focusing too much on specs would almost miss the point with the G5, but that's not to say it isn't a speed demon. A Snapdragon 820 CPU and 4GB of RAM should help it fly through Android 6 Marshmallow, even with LG's custom skin on top.
The LG G5 gets almost everything right when it comes to looks, specs and speed, but it's the genius upgradability that gives it the edge over anything else out there right now. Whip the bottom off your spangly new G5 and you'll be able to swap in upgrade modules, accessories, and other plug-ins that give the phone a feature overhaul. Expect them close behind when the G5 goes on sale in April.
360 CAM
Like Samsung, LG has its own 360-degree camera called… well, the 360 CAM. Easy enough! LG reckons it's the size of a tube of lipstick, but unless they've been going to clown college, that comparison's a little off. It's still small enough to slip in a pocket though. The point-and-click cam has twin 13MP cameras with 180° lenses, and if LG gets the price right it could be a seriously cheap way to get into VR video.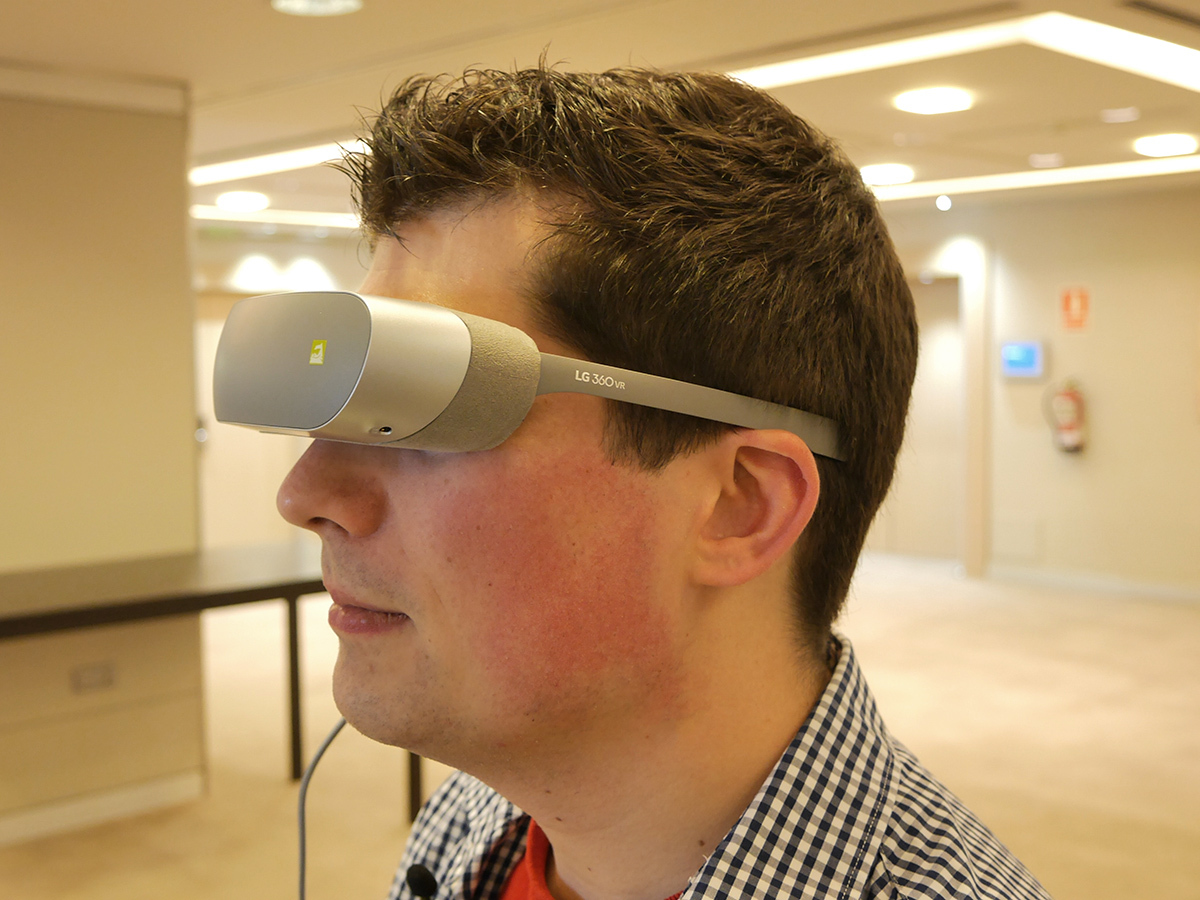 360 VR
LG's 360 VR is the lightest mobile headset around, and it's crazy compact too. You don't dock your phone inside like the Gear VR; instead, it connects to a G5 with a USB Type-C cable. The phone then turns into a controller for interacting with what's onscreen. The idea isn't to go after the gaming crowd, but rather to take VR out of the house and on the move. Planes were suggested as the ideal place to get sucked into virtual reality – but please, please don't use it for digital smut.
Rolling Bot
LG has a Sphero BB-8 Droid of its very own – except the Rolling Bot can do lot more than just look adorable. It can control your TV, keep an eye on the house when you aren't in thanks to a built-in camera, and maybe even entertain your cat with its laser pointer. You can drive it around using your phone, with the live video feed pumped back over Wi-Fi. No news on whether you can set it into patrol mode and give intruders 20 seconds to comply, though.
X Screen
LG's X Screen phone is essentially the low-end counterpart to the LG V10: it has the second ticker screen above the main display, but here it's a 4.93in primary screen at just 720p. That's a big drop. Add in a plastic build and quad-core processor and this seems like a phone meant for anyone who loves the dual-screen approach but wants it cheap. How cheap? Well, that could make a world of difference once the price is announced.
Stylus 2
Rather than try to compete with Samsung's Galaxy Note 5 on the high-end, stylus-driven phablet front, LG's Stylus 2 phone aims its sights squarely on the mid-range – although a 720p panel for a 5.7in screen is baffling in this day and age. Likewise, the processor, RAM, and battery life all seem a bit too trimmed down for a productivity-minded phone, but at least it has a delightfully unique flip cover. Hopefully the price is low enough to justify some of the meager components here.
Sony at MWC 2016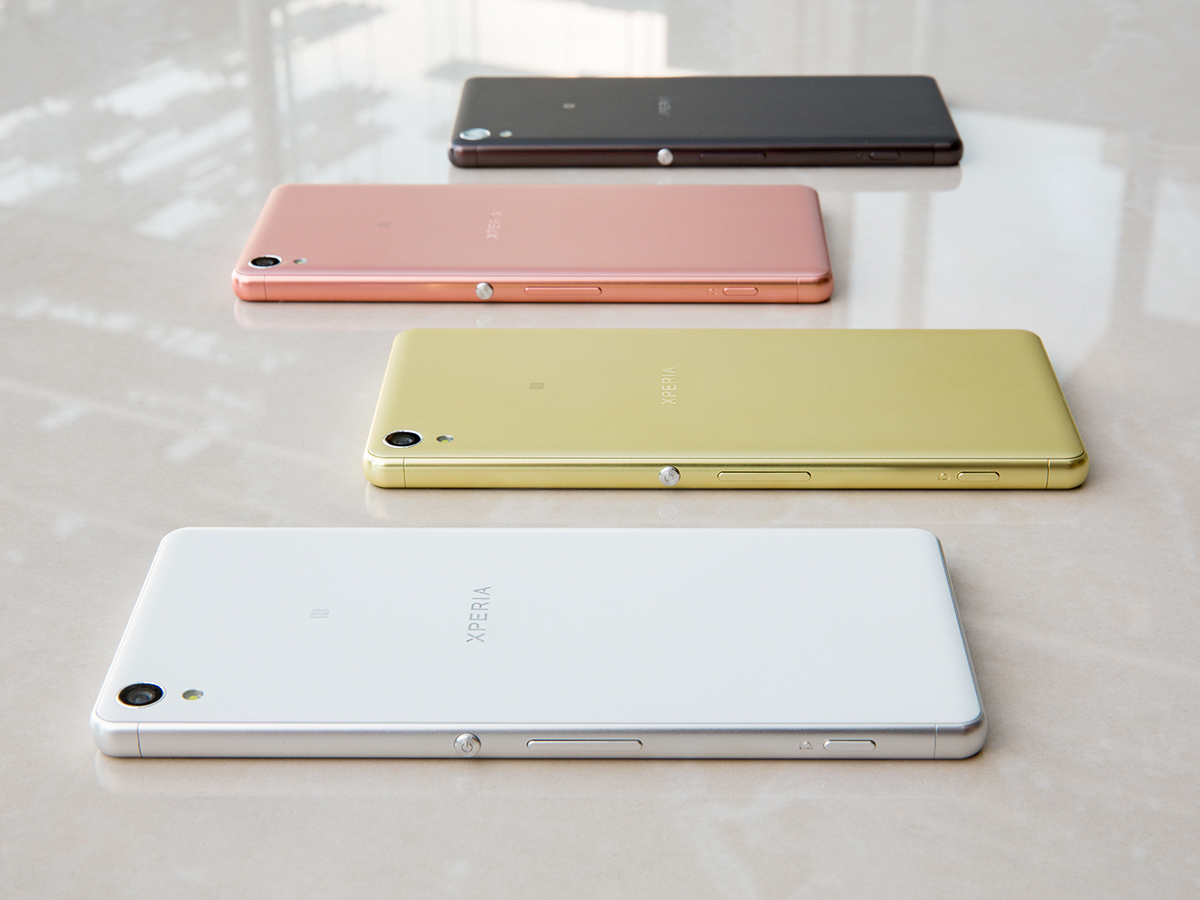 Xperia X line
It's too early for the Xperia Z6, but Sony did launch the Snapdragon 820-toting Xperia X Performance. It has a 5in 1080p display, waterproofing, and a recognisable metal finish, although it's only confirmed for Asia so far. At least the trimmed-down options are confirmed for the UK.
The standard Xperia X drops down to a Snapdragon 650 and loses the waterproofing, but it offers a 23-megapixel back camera with Predictive Hybrid Autofocus, which claims to predict where your subject will be to ensure it grabs a perfectly sharp shot. Meanwhile, the lower-end Xperia XA (shown) offers lesser specs: a MediaTek processor, 13MP back camera, and no predictive shooting. Overall, the X line aims to showcase camera and battery life above other specs, which might help set it apart from the pack (depending on price, of course).
Xperia Ear + more
Sony appears to be getting a bit ambitious in its old age, and used its MWC 2016 press conference to show off a number of more unusual products and prototypes. The only one with an actual launch date is the Xperia Ear, a little Bluetooth earpiece that essentially delivers Google Now-like info directly to your lugholes. The idea is that it can help you take your eyes off your phone so you can engage that little bit more with the world and the people around you. You can read more about the Xperia Ear here.
Then there are the more concept-y devices: the Xperia Eye, Xperia Projector and Xperia Agent. The first is an Autographer-like wearable camcorder that automatically captures video and photo using a 360-degree, spherical lens. The Xperia Projector looks cool, effectively projecting an interactive smartphone-like display onto a wall or table, although it seems highly superfluous. And the Xperia Agent appears to be a device that's very much along the lines of the Amazon Echo. That could be great, but its success depends very much on how smart it is.
HTC at MWC 2016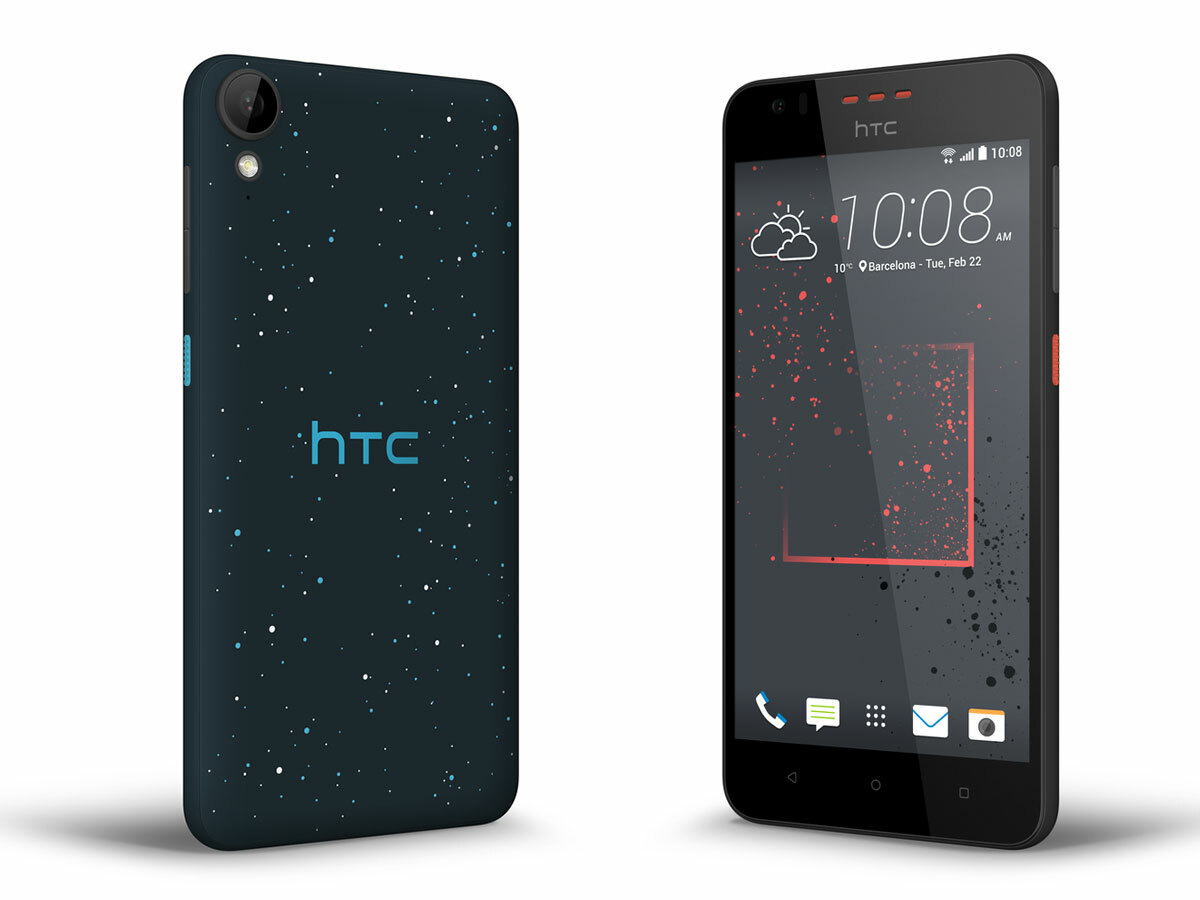 Desire 825, 630, 530
No HTC One M10 at MWC this year – that will supposedly launch a little later this spring. However, HTC did have an array of mid-range phones on display, including some eye-catching new Desire options that live up to their branding.
Every single phone in the Desire 825, 630 and 530 lines will look unique, thanks to a clever manufacturing process which sprays each one with paint from a continuously changing nozzle. The result is that the phones' polycarbonate shells all get splattered in a one-of-a-kind way, while further customisation options come in a choice of colour schemes. Truth be told, the designs aren't exactly wildly different from each other – no, they're not be identical, but all will still look like phones you've flicked paint at.
Otherwise, the specs won't hold your attention quite as long: all three sport 720p displays (5.5in on the 825; 5in on the others), with Snapdragon 400 chips on the two higher-numbered models and a meager Snapdragon 200 on the 530. All three are due next month, although the 630 may not hit the UK.
One X9
The HTC One X9 is clad in metal, and its nicely rounded form and near-bezel-less front mark it out as a premium handset. Despite being a 'One' phone though, the X9 doesn't have the specs to truly belong at the top table. The screen, for instance, is a 5.5in Super LCD effort at a 1080p resolution – perfectly acceptable for 2014 and not bad for 2015 but falling a bit short these days.
The camera has a 13MP sensor and f/2.0 lens, plus OIS and 4K video recording capabilities; pretty good, but not top of the class. It's the same deal with the processor, made by MediaTek rather than Qualcomm, although it has 3GB RAM to help stay speedy. Add in BoomSound speakers and microSD support, and like HTC's One A9, it's all very nice but not quite the absolute best around.
Vive
Last year, HTC showed off the amazing Vive VR headset for the first time… and this year, the company finalised the release details. It will sell for US$799 – that's $200 more than Oculus Rift – but come with everything you need from day one. That means motion controllers, base stations, and even a couple of games: Job Simulator 2050 and Fantastic Contraptions. Plus, you can link up your phone over Bluetooth to take calls and see notifications without leaving the headset.
Pre-orders open up on 29 February before the PC-driven headset is officially available in early April.
Alcatel at MWC 2016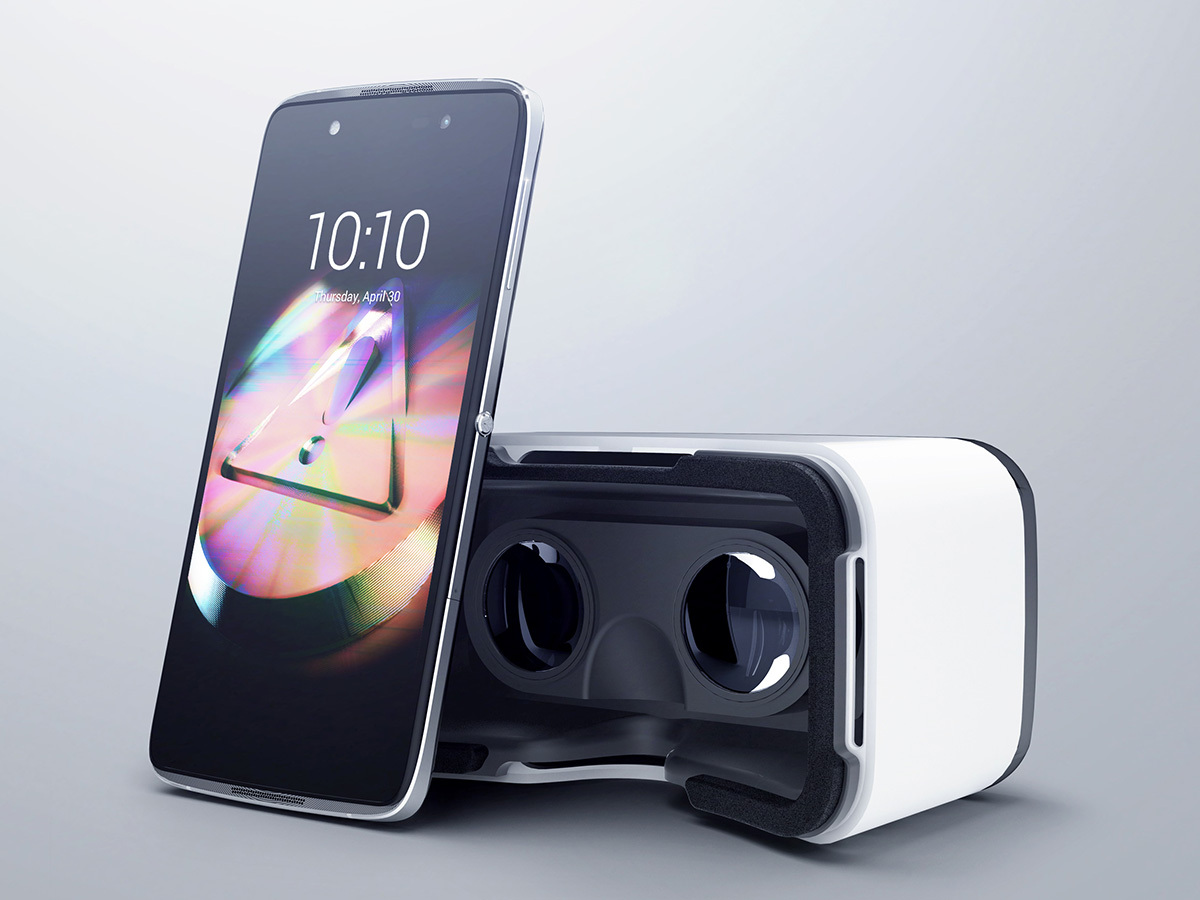 Idol 4 and 4S
Alcatel used MWC to launch a flagship effort to sway VR-eager phone buyers: the Idol 4S and the lower-specced Idol 4. In fact, both are packaged with a Cardboard-compatible viewer to get you started right away. The 5.5-inch Idol 4S features a QHD AMOLED display with a 1440 x 2560 resolution, while the smaller 5.2in Idol 4 has a Full HD model with a 1080 x 1920 resolution.
Both phones are powered by variants of the new Qualcomm Snapdragon 820 processor, paired with 3GB RAM for speedy multitasking. If you do pick up an Idol for its VR capabilities, you'll want to go for the 4S with its 3000 mAh battery, as the 4 has a smaller 2610 mAh capacity. Smitten by either Idol? You'll be able to buy the Idol 4 for €299 and the Idol 4S for €449 from May onwards.
PLUS 10
Think Alcatel, think phones, phablets, and maybe a smartwatch or two. Hybrid laptops though? You'd better add that to the list, because the French phone company just announced the PLUS 10 2-in-1 tablet. It's a 10-incher running the full version of Windows 10, and will ship with a detachable keyboard. A reversible docking system lets you work in laptop mode, or spin the tablet around for watching videos in dock mode.
With an Intel Cherry Trail Atom at the helm, you shouldn't expect blazing speeds. A 5MP rear camera won't win any prizes for picture quality, and the 1280×800 resolution panel will look a little blocky stretched over 10.1in as well, but Alcatel's devices are rarely about speed or specs – it's more about getting the price right. Expect the PLUS 10 on sale across Europe in June.
Huawei at MWC 2016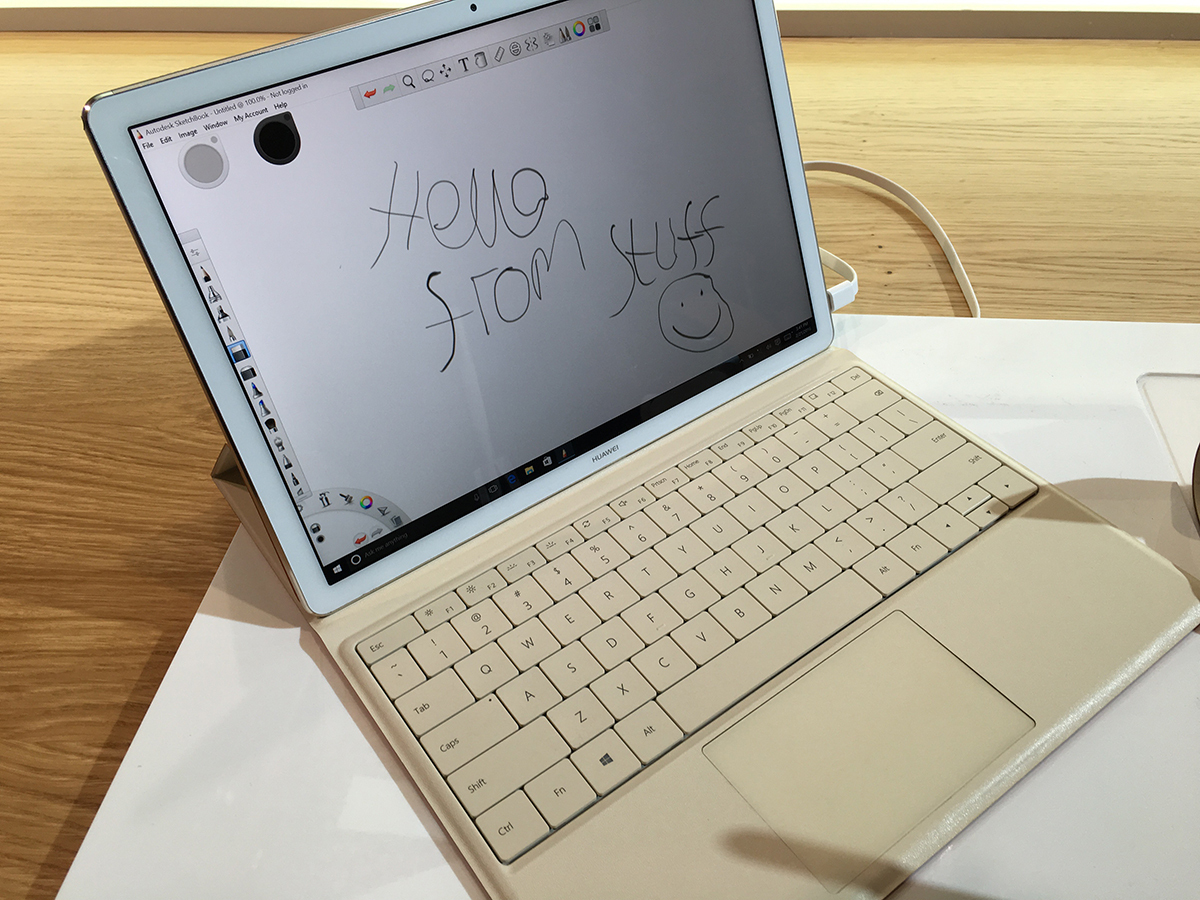 MateBook
The MateBook is a slick-looking Windows 10 tablet that works best with its ultrathin keyboard cover accompaniment and MatePen stylus. It's a pretty similar device to Microsoft's Surface Pro 4 from last year. That means it's not as powerful as your average laptop, but a lot more portable. Huawei's phones always look desirable, and the same applies to the svelte, aluminium MateBook. At just 6.9mm thin and 640g, it's built to squeeze into a satchel without weighing you down.
Its screen is pretty tasty too. A 12-inch IPS number with a 2160 x 1440 resolution (that's about 216 pixels per inch), text should be easy to read on the MateBook and you'll have little trouble kicking back with Netflix either. Dig underneath its display and you'll find the MateBook features an Intel Core M3 processor and 4GB RAM in its base model. The keyboard seems a bit flimsy, but at least it's stock Windows 10 – no Huawei "enhancements," thankfully, given the company's Emotion UI for phones.
Lenovo at MWC 2016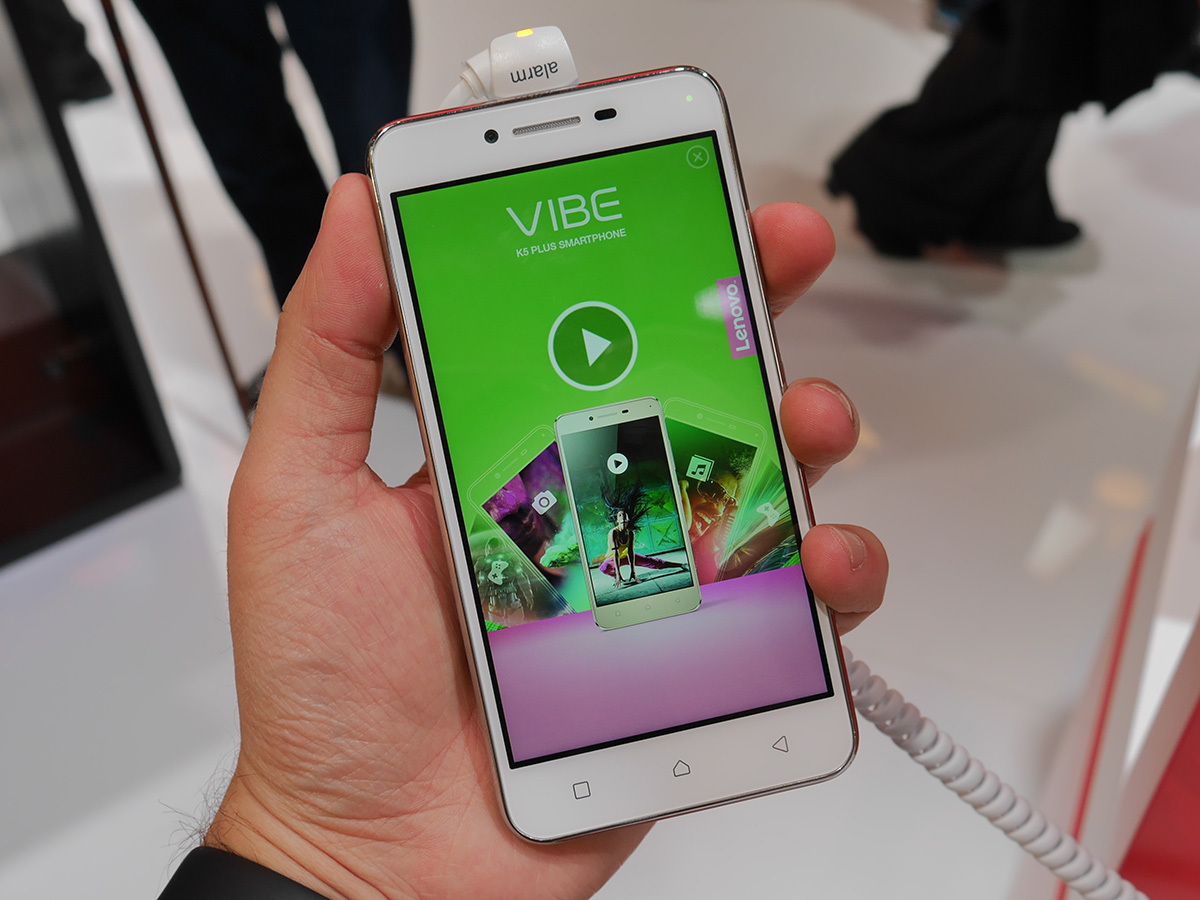 Vibe K5 Plus and K5
We're getting plenty of good vibes from Lenovo's latest mid-range phone. With a metal body and a price that's even lower than the Moto G, what's not to like? It's an iPhone-alike in look, but for a mid-ranger, the K5 Plus is surprisingly potent. You've got a 5in, 1080p screen on the front, a 13MP camera sensor on the back, and a Snapdragon 615 running the show with 2GB of RAM. 16GB of storage is fairly standard for a phone so cheap, but at least you can slap in a microSD card for extra capacity when you need it.
Like a lot of so-called premium mid-range phones, the Vibe K5 Plus is built to a price. That means the metal doesn't feel quite as nice as on a real flagship phone, the screen isn't as sharp and it's not quite as snappy as we'd like. It's still got good looks, though, and the 13MP camera could be quite solid in the daylight. Also, there's a standard Vibe K5 with a weaker screen and processor for less cash.
CAT at MWC 2016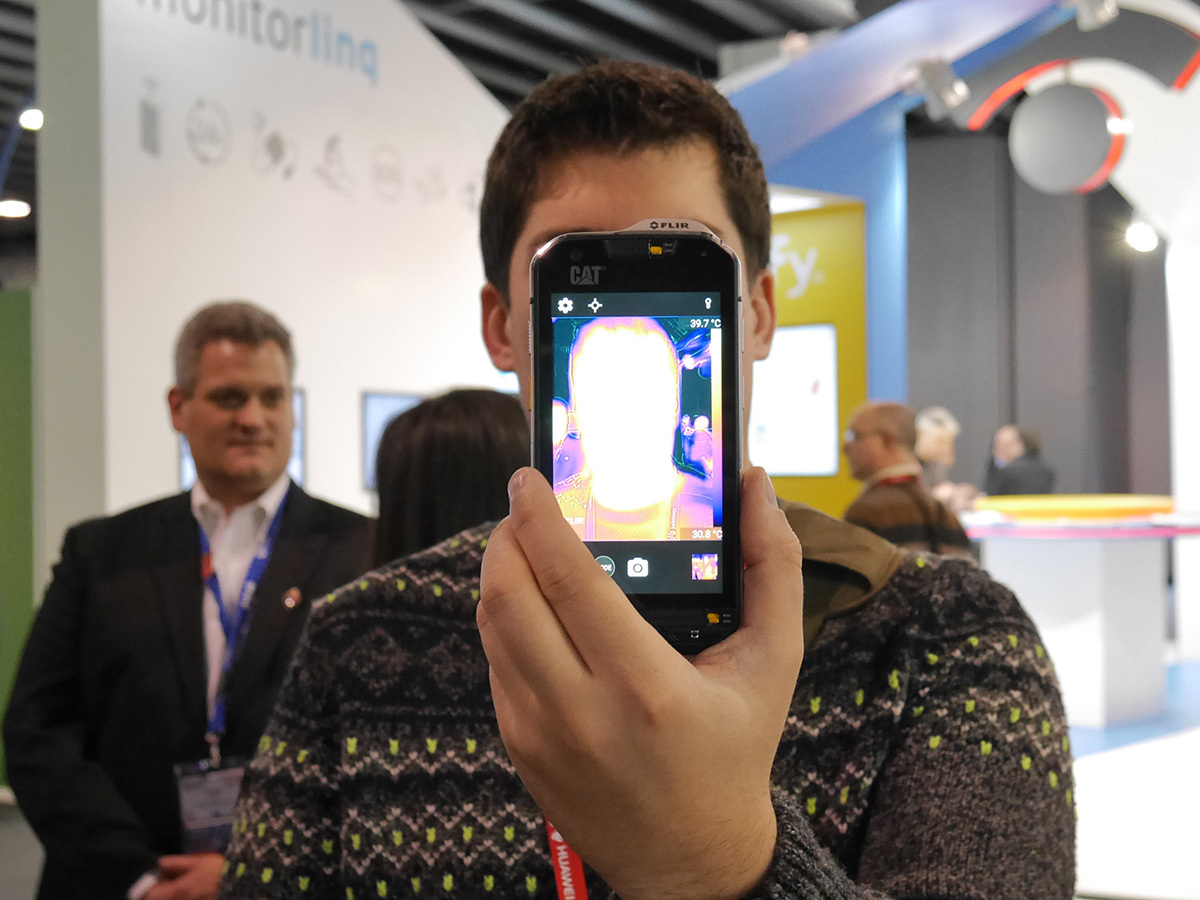 S60
So you're no stranger to getting your hands dirty, and you've pulled on a pair of CAT boots before – but do you have the CAT smartphone to go with them? CAT is out at MWC with the excellent S60 smartphone, a rugged slab of a handset that's built to take any punishment a building site can throw at it, but that's not the whole story. It's the first phone with a FLIR thermal imaging sensor built-in, which means you can instantly check the temperature of anything you point the camera at.
FLIR makes high-end thermal imaging cameras for the pros, but this is the first time it's appeared on a smartphone. The FLIR sensor sits above the regular 13MP camera on the back of the phone, meaning you can overlay a real-world outline over the thermally-imaged image. It has its own app, so you can open the standard Android camera when you're in your down time and flick open FLIR when it's time to get to work. Thermally imaged selfies do look quite trippy though, so it's not all serious business.
The S60 has other heavy duty extras too, like an SOS button on the side in case you have an accident on the job. It can take a dunking down to 2m underwater, or 5m if you flip the tiny protective covers over the microphones, and it'll survive dust and dirt as well. And the S60 also has a thicker-than-normal layer of Gorilla Glass 4 atop the screen, although the 720p resolution is a rare black mark against this otherwise seemingly powerful, worksite-ready option.
ZTE at MWC 2016
Spro Plus
Spro Plus might sound like some over-the-counter pep pills, but it's actually the name ZTE's given to its bizarre new portable projector, which somehow doubles as an Android tablet. The odd combination of smartphone features, mobile hotspot, USB battery booster and pico projector has been around in one form or another for a few years now, but the Spro Plus turns everything up a notch.
It's more tablet-sized than its predecessors, with an 8.4in AMOLED screen on the top for using it as a stand-alone device without having to break out the projection screen. That 2560×1600 resolution panel isn't to be sniffed at either. The Snapdragon 802 or 625 processors should help Android 6 Marshmallow tick along at a steady rate, even with ZTE's new custom skin running on top. It's got a couple of interesting uses, sure, but we'll have to wait until the Spro Plus arrives later in the year (at an unconfirmed price) to see if it manages to tread the line between business and pleasure.
Garmin at MWC 2016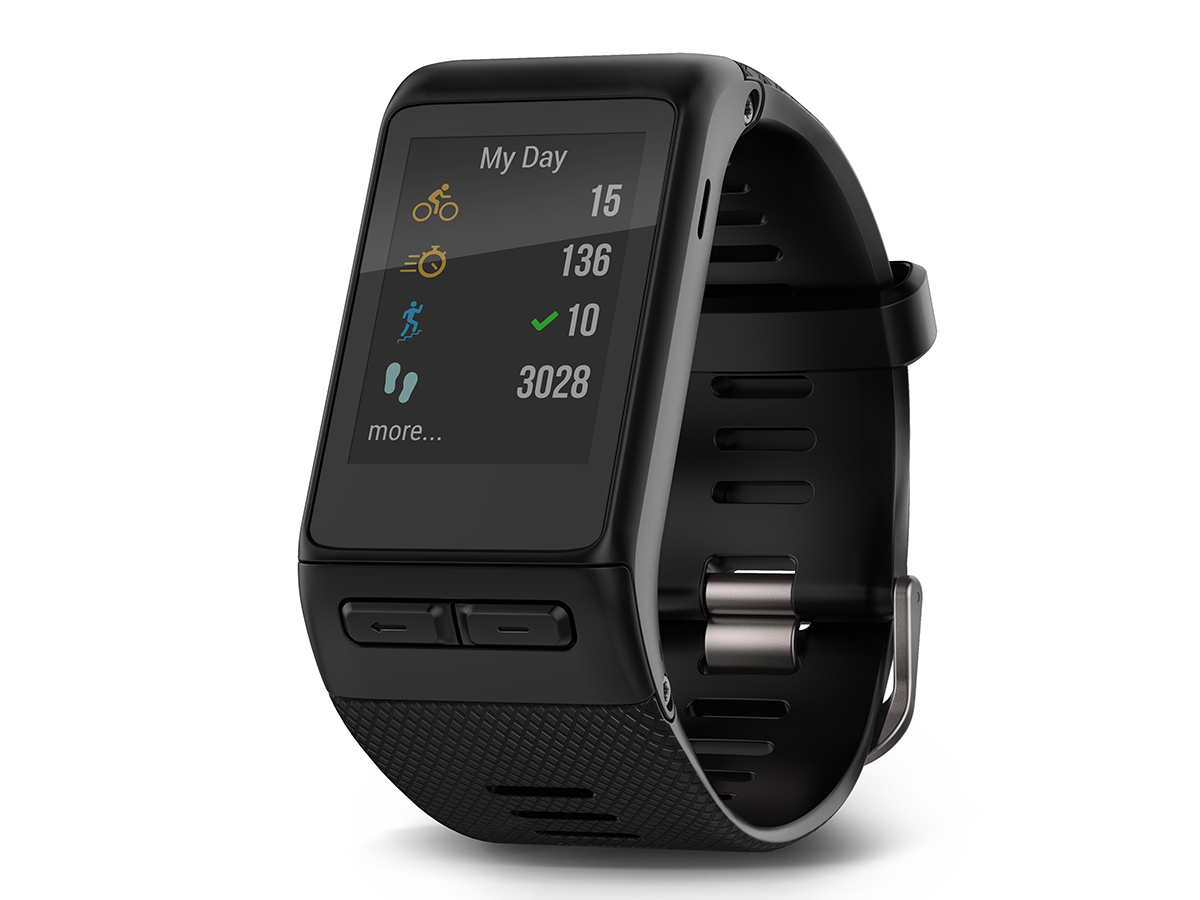 Vivoactive HR
The Vivoactive HR is an evolution of the original Vivoactive, with a brand new look that bridges the gap between smartwatches and sports watches. It's got a sunlight-readable colour touchscreen that you'll be able to customise with watch face designs, widgets and apps. You'll also be able to read notifications from a paired smartphone, but the real benefit will be the extra detail Garmin can squeeze onto your wrist when you're working out.
The integrated sports apps, which cover GPS-enabled running, biking and swimming, look a lot more detailed than other wearables – at least when you want them to be, anyway. Garmin's got simpler layouts too, in case you just want to know your overall pace rather than your split times. Add in golfing, rowing, skiing and snowboarding and you've got a wearable that can tackle plenty of sports.
Vivofit 3
The Vivofit 3 is more for sofa surfers than actual surfers, with automatic activity detection working out what you're doing. It can recognise walking, running, cycling, swimming and eliptical training, with the data plugged into Garmin's Connect app without you having to lift a finger – pretty much the opposite effect a fitness tracker should have, but perfect for anyone looking to get into shape without getting wrapped up in metrics and workout reports.
A backlit display shows calories burned, steps walked and the intensity of your current workout, which could give it an edge over FitBits and JawBones that don't have screens. The whopping one year-long battery life means you can wear it 24/7, and it's waterproof down to 50m so you can take it into the pool as well as the shower.