The best coffee machines in the world – reviewed
Time to trade that jar of muddy granulated instant for a real coffee maker – like one of these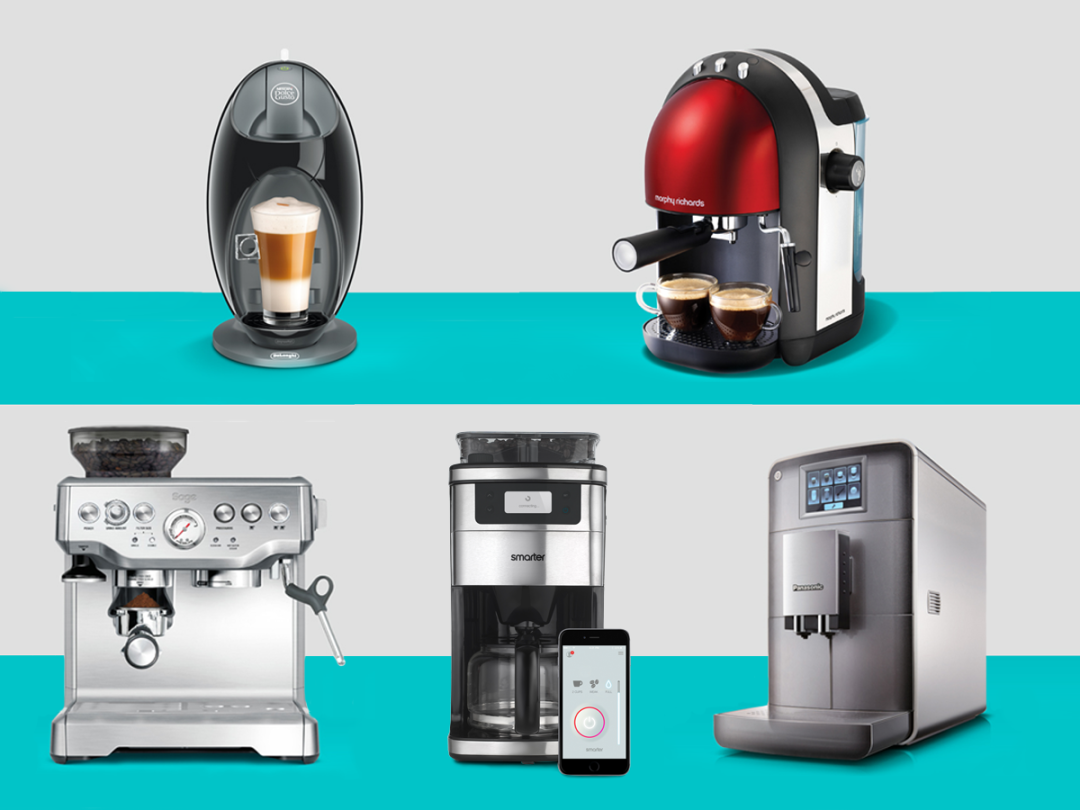 There's no shortage of ways to make coffee.
If you don't have tastebuds or shame, there's instant. Then there are stovetop percolators, cafetieres, manual pour-over makers and the ingenious AeroPress. But if you want consistently good cups of the energising black stuff every morning (and don't want to pay through the nose for it), you're probably going to want to buy a machine.
But there are hundreds of them out there. Some excellent, some terrible, most sitting somewhere in-between. To find out which deserves your hard-earned cash, we've been testing them – and subjecting ourselves to possibly fatal levels of caffeine in the process.
Sage by Heston Blumenthal Barista Express (£550)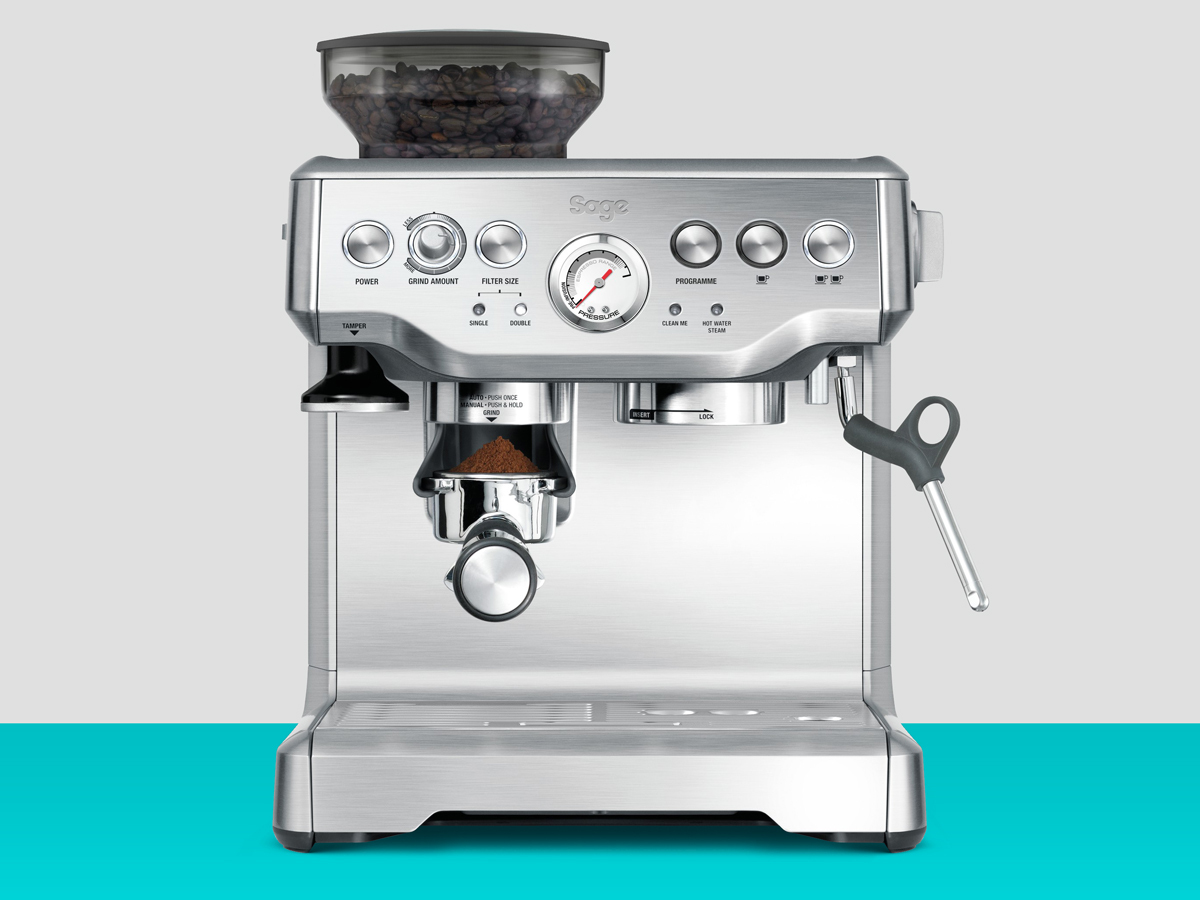 With the look of a shrink-rayed professional espresso machine, the grinning fizzog of shaven-headed culinary chemist Heston Blumenthal on the box and a price tag that puts it out of reach of all but the most well-heeled caffeine fiend, the Barista Express (branded as Breville in the US and Sage in the UK) is clearly aimed at those seeking a major step up in their home-brewed coffee.
It's a lovely looking, all-metal thing, with even accessories like the tamper and milk jug exuding an air of quiet, understated luxury. The portafilter is reassuringly weighty and solid, locking into the group head with a satisfying twist. There are clever little touches you can't see or immediately feel that add to the feeling of quality too: on top is a tray that warms your cups, and the 2l water tank has an integrated, changeable filter.
While not as large as it might appear in photos, the machine will struggle to slide under cupboards on the average British kitchen counter – you'll need to have space above to refill the coffee bean hopper, for one thing.
Yep, the Barista Express isn't just an elegant, well-built espresso machine – it also features a built-in grinder, allowing you to make coffee with beans you've smashed into dust literally seconds earlier. Freshness means a lot in the coffee world, so this is a Big Deal – as is the low-pressure pre-infusion of the grounds before the water is forced through them at higher 50 bar pressure.
And it bears out in the coffee the machine produces: our very first cup was a delicious and gloriously smooth latte with barely a hint of bitterness. The milk steaming wand is excellent too, producing much lighter, airier foam than the (admittedly way, way cheaper) Morphy Richards' model, and there's also a hot water spout for those who want to make an Americano by topping up their espresso.
Its steep price means most won't consider it, but if you have the cash and don't want to ever set foot in a Starbucks or Costa again, Sage's machine should be high on your list.
Tech specs
Water tank size: 2l • Pressure: 15 bar • Milk foaming arm: Yes • Wattage: 1850W • Dimensions: 400 x 330 x 310mm • Weight: 11.3kg
Panasonic NC-ZA1 (£400)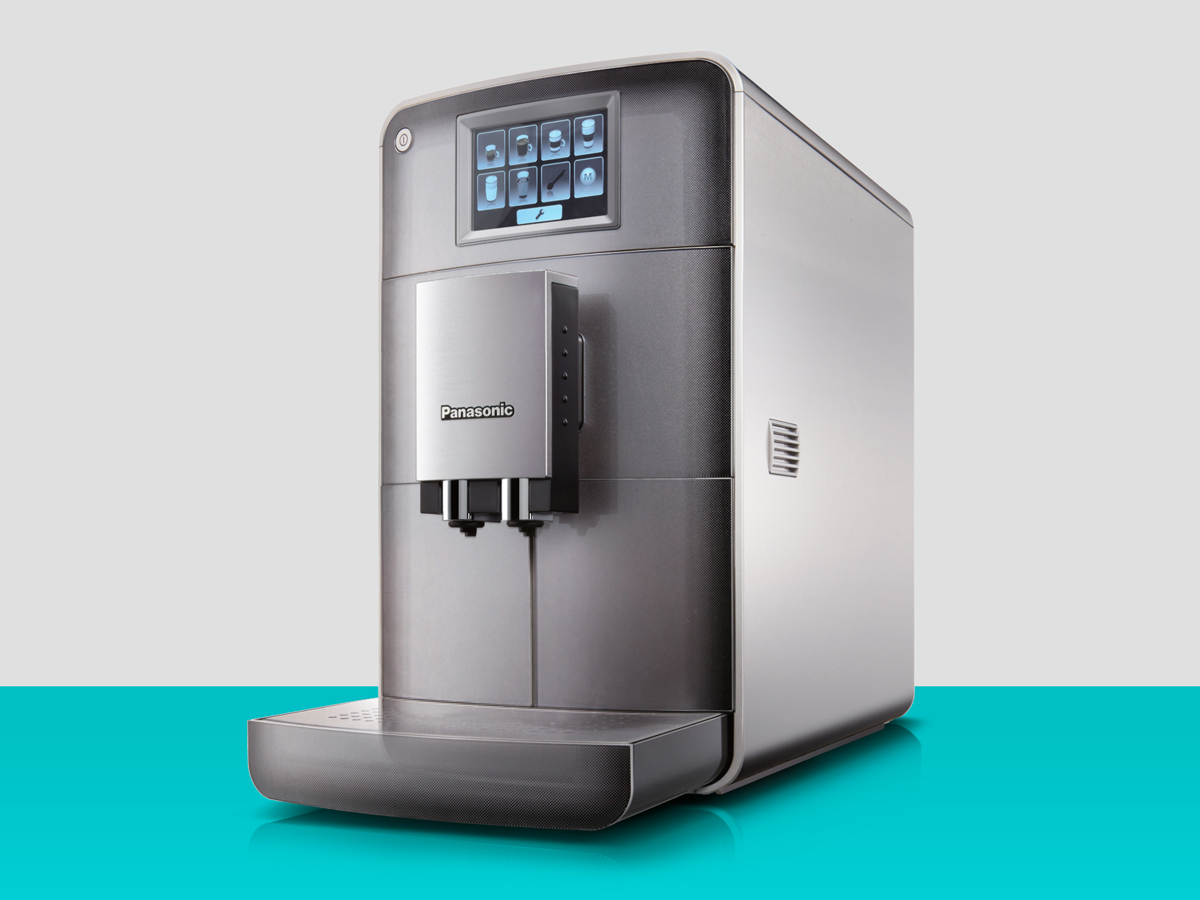 Like the Sage Express, Panasonic's NC-ZA1 is a "bean to cup" espresso machine: it takes whole beans, grinds them and pushes hot water through them at pressure to produce a cup of coffee. That's pretty much where the similarities end, however, because unlike the old-school Express, the NC-ZA1 makes almost the entire process automated – and controllable via touchscreen.
You don't even have to deal with the coffee grounds right away: they just drop into a little box that needs periodic emptying. Like the the 1.4l water tank, this box slides out of the front of the machine, which means you don't need to fumble around at the back or move it away from the wall every few cups of coffee you make. It's a nice touch, especially as the water tank in particular requires regular topping up: every time you switch the machine on, it flushes water through its pipes to keep them clean. It's a bit of a faff, but it has its benefits: the NC-ZA1 makes a surprisingly delicious cup of coffee.
Our first espresso out of the machine was a disappointment: watery and bland. "Clearly, robots can't make good coffee," we muttered. But the second was far, far better: rich, smooth and with an attractive crema on top, it was actually right up there with the more manual, much more expensive Sage.
You can also make milky or foamed coffees, thanks to a tube that can be placed in a milk jug (or Panasonic's own optional "Milktank" accessory). Or just have the machine squirt out hot water for tea-making. You can also tweak the amount of coffee, water and milk, and the temperature before a drink is made, and save up to four of these combinations on the machine as personal favourites.
Cleaning the machine is mostly done via pre-programmed procedures (you'll be prompted by the screen when cleaning is required), although the brewing unit will need to be periodically removed (again, it slides out from the front) and washed.
The touchscreen is a little basic (it's resistive rather than capacitive, so you have to give it a good press to have your touches register), but fulfils its role just fine. And the general design of the machine is quite fetching if you're into futuristic appliances (we prefer the retro look of the Sage machine ourselves).
Considering this is Panasonic's first stab at a coffee machine, it's incredibly impressive. The styling is a bit Marmite and the need to keep flushing it and refilling the water tank a touch annoying, but those things aside the NC-ZA1 is an excellent bean to cup machine.
Stuff says ✭✭✭✭✭
Coffee from the future! This robotic barista is already great, and with a few tweaks Panasonic could hit auto-java perfection
Tech specs
Water tank size: 1.4l • Pressure: 15 bar • Milk foaming arm: Yes • Wattage: 1550W • Dimensions: 410 x 335 x 195mm • Weight: 10.3kg
Jura E8 (£1100)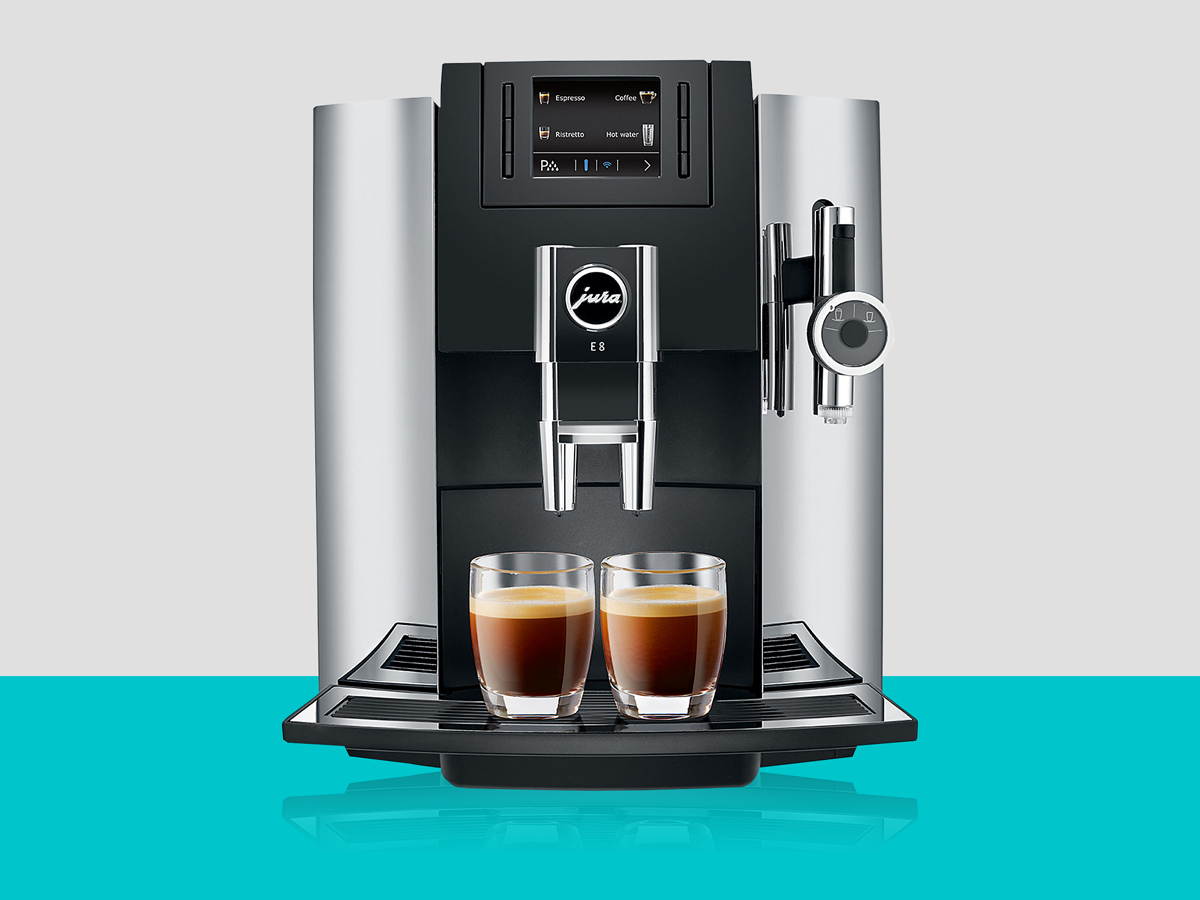 Upgrading to a big-boy's coffee machine is big step in a coffee lover's life.
Time to put away the stove-top espresso pot, the paper filters and drip jug. Even those convenient single-use pods can stay on the supermarket shelf. The right bean-to-cup machine will replace your previous coffee making attempts, and you can sip your latte macchiato safe in the knowledge it took next to no effort to brew.
The JURA E8 is such a machine. One that's fair old investment, sure – it'll pay itself back through use after about two years, assuming you're mainlining at least one Starbucks filter coffee every day. Get the optional Smart Connect Bluetooth dongle, though, and it'll open up a whole world of coffee.
The styling falls somewhere between Apple-esque, all polished metal and screen, and steampunk. It's packing some serious pump action at the front, after all. It makes it perfect for dual-wielding the morning espresso cups.
Setup is way easier than the manual would have you believe – the pathetic printed booklet is by far the weakest link in this coffee production line. Fitting the water filter and the Smart Connect dongle is not explained well at all. You'll find answers to most of your questions online – but probably not on JURA's website. Unofficial YouTube videos proved much more useful.
Actually using the thing is a doddle, too. The screen is bright and colourful, with onboard menus putting several types of coffee just a few buttons away. The coffee itself tastes great, plus it looks like a professionally prepared brew – good crema, beautiful aroma, fine froth (if you like that sort of thing). It's heavenly.
There's a complete set of maintenance modes to keep the machine clean, so while you might be doing it every day, it'll be worth doing properly to keep the taste top-notch.
It's the £45 Smart Connect dongle that separates the E8 from your common-or-garden bean-to-cup machine. Download the JURA Coffee app (for iOS and Android), select your machine and you're good to go.
The options list is practically overflowing, but the app is simple enough. You can tweak recipes and save new presets for your favourite cuppa: length of drink, temperature, amount of milk and froth… If you're not careful you'll quickly become lost as the head barista of your own home.
If your coffee addiction is at the level where every barista in the local Starbucks knows your name and order off by heart, it's time to start thinking about the E8. Yes, the price is stratospheric, but true caffeine-fiends will love it.
STUFF SAYS ✭✭✭✭✭
A stylish and simple to use bean-to-cup automatic coffee machine, made even better with Bluetooth