The best cheap tablets of 2016 – reviewed
The world's awash with affordable tablets. But which is the best? And which should you avoid like week-old sushi?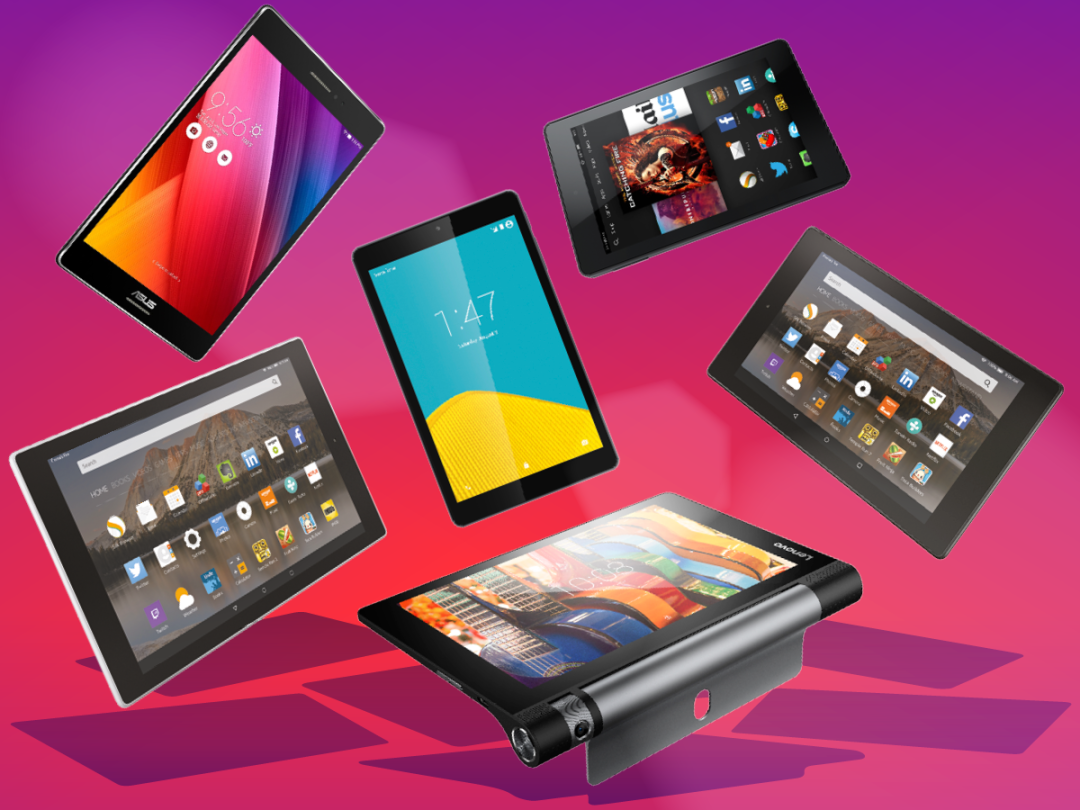 We love the new smaller iPad Pro 9.7, but there's just one problem – it's £500.
Thankfully, there's a huge array of cheap tabs on the market. Pick up the right device and you'll be treated to a great screen, speedy processor and enough storage for a Game of Thrones marathon. While you probably know that Amazon specialises in great value tech, there are plenty of other tech manufacturers making top budget tablets. That's why we've rounded them all up to find the best one available.
So if you're shopping for a tablet on a smaller budget, which one should you go for? Here's Stuff's guide to the best tablets available for under £200. 
Asus ZenPad S 8.0 (£169.99)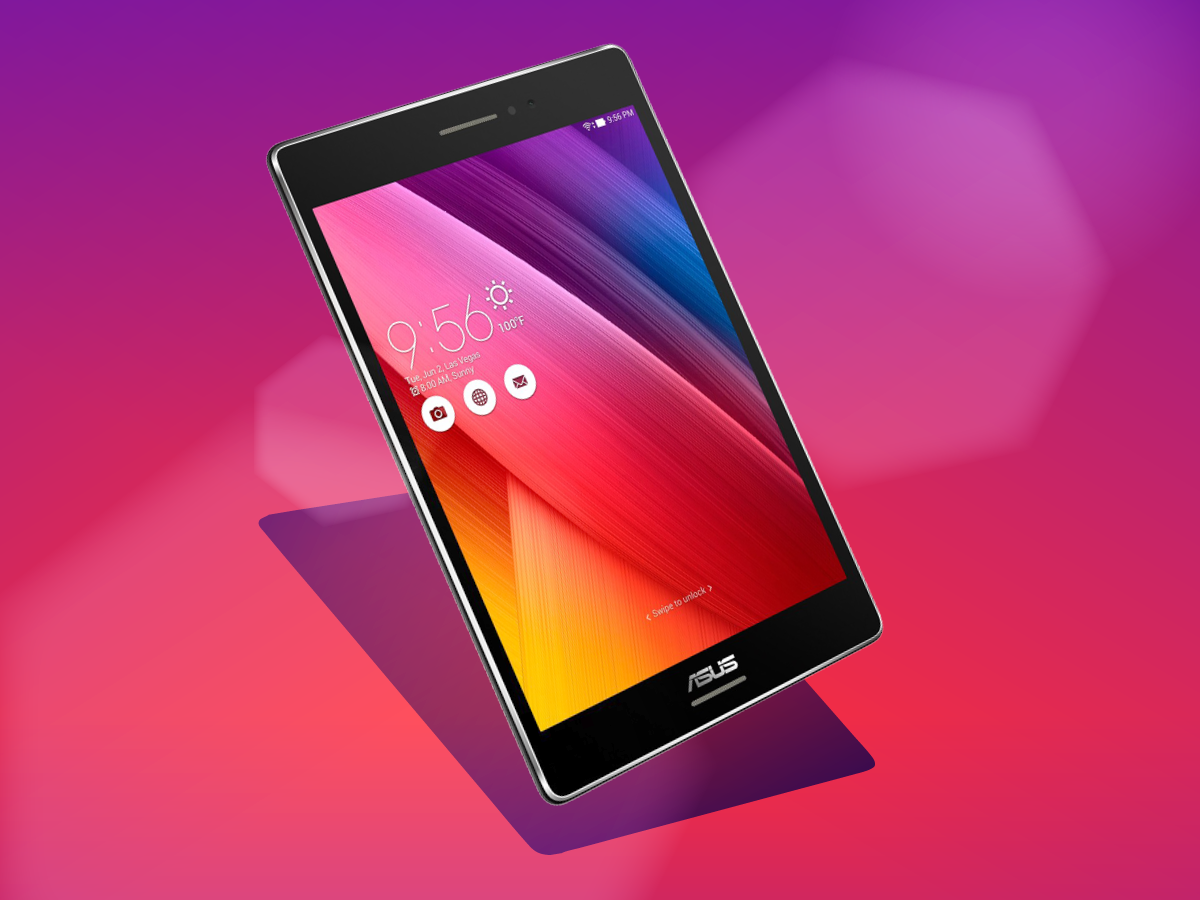 What's the story?
What's going on with budget tablets? Aside from the odd outlier like the now-ancient Nexus 7 (2013) and Tesco Hudl 2 (RIP), loads of manufacturers are still doling out low-power, low-resolution tablets like it's 2011. The Asus ZenPad S 8.0 is one of those tasty outliers.
It's £169.99 but has a iPad Mini-grade sharp screen with vivid colour and good contrast. Getting 2048 x 1536 pixels at this price is a big win. That is one major box ticked.
It has a fast CPU too, an Intel Atom Z3530 that smashes the rival Snapdragon 410 in benchmarks. Intel's tablet CPUs generally offer worse gaming performance than the more common Qualcomm kind, but the ZenPad S 8.0 seems to have power to spare. Most games run just about perfectly, and look cracking thanks to that sharp, colourful display.
It's dead slim and light too. 7.9mm and 316g, this feels like a tablet that want to be taken everywhere. And while battery life doesn't quite match an iPad, that you still get 8 and a half hours of video between charges. Some lower-res tablets last longer, but we'll take the trade off for a much nicer screen, thanks.
Pick up the tab?
Given some of the tablets Samsung and LG trot out close to this price, the Asus ZenPad S 8.0 looks like a real bargain from all angles. Before you get too excited, there are some downsides. Firstly, the software gets a bit annoying. It adds a lot of apps that clutter-up the interface. It's just not as clean as what you get with a Nexus device, for example.
The build isn't quite as nice as it first looks either. It's slim, and has a classy metal plate on the back to make sure it doesn't feel flat-out cheap. However, the buttons on the side feel worryingly spongy a lot of the time, the feel changing depending on how your hold the thing. You wouldn't get that with an Apple device.
The cameras aren't too hot either, but then they rarely are in affordable tablets, are they? You need to put a little bit of effort into the Asus ZenPad S 8.0 when you first get it, but when you consider what some other brands offer you for just £20 less, you have to appreciate its value-soaked style.
Stuff says ✭✭✭✭✩
A top affordable tablet for those who fancy a nice display but aren't willing to pay through the nose for it.
Tech specs
Screen: 8in IPS LCD (2048 x 1536) • Processor: Quad-core Intel Atom • RAM: 2GB • OS: Android 5.1.1 • Storage: 16GB with microSD • Camera: 8MP rear, 5MP front • Dimensions: 203.2 x 134.5x 6.9mm, 317g
Amazon Fire HD 8 (from £89.99)
What's the story?
Amazon's revised Fire HD 8 is a step up from the £50 Fire, with a larger, higher resolution screen, stereo speakers and double the storage. Basically, it's all the tablet you need for watching Prime Video on the move.
It's still a budget tab, though, so that extra resolution tops out at 1280×800. Good enough for 720p video, but it leaves text and images looking a little blurry at any distance other than arm's length. Colours are still punchy, though, and there's no backlight bleed like on last year's model. Adaptive brightness finally makes an appearance too – no manually fiddling every time you step outdoors.
The two tiny speakers on the bottom edge pump out pretty decent stereo sound, so you won't need to reach for a pair of headphones every time you want to watch a TV show. The whole back of the tab is covered in grippy plastic – a sign of just how cheap it is, but at least it isn't a fingerprint magnet.
At 9.2mm thick and 341g, it's small and light enough to use in one hand all day, or sling in a bag and forget it's even there. You'll go for over 11 hours of video playback on a full charge, too – more than enough for a full day out of the house.
Pick up the tab?
Performance hasn't really picked up from last year's model. App load times are a bit all over the place, and games in particular took an age to get back the start screen. Bumping the RAM up to 1.5GB doesn't make a massive difference, as the quad-core CPU has stayed at a lowly 1.3GHz. It's also running the out of date Android 5 OS underneath Amazon's own extensive tweaks, which doesn't help things.
Fire OS completely changes how Google's underlying OS looks and feels, mainly so Amazon's digital stores are plastered over every home screen. It's fine if you're already tied into Amazon's book, music and video stores, but annoying that you can't also install any of Google's official apps.
That means no Gmail, no YouTube and no stock Camera app, although the 5MP snapper on the back is very basic – so don't go expecting great results. Most of our test shots were noisy, and the camera is slow too. Sure, you get HDR, but it doesn't really improve things. The 'HD' camera on the front is only good for basic 720p video calling, too.
Amazon made enough minor changes here to make this year's Fire HD 8 slightly better than the old model – then it slashed the price and made it really worth considering. Yes, you're stuck on Amazon's ecosystem and no, that app you really like probably isn't available, but as a pure media tablet, it's still a great sub-£100 buy.
STUFF SAYS ✭✭✭✭✩
An even lower price, better build and more storage? As budget-friendly as tablets get, even if you're stuck with Amazon's Fire OS.
Tech specs
Screen: 8in IPS LCD (1280 x 800) • Processor: Quad-Core up to 1.3 GHz • RAM: 1.5GB • OS: Fire OS • Storage: 16GB/32GB with microSD • Camera: 5MP rear, VGA front • Dimensions: 214 x 128 x 9.2 mm, 341g
Lenovo Yoga Tab 3 (£129.99)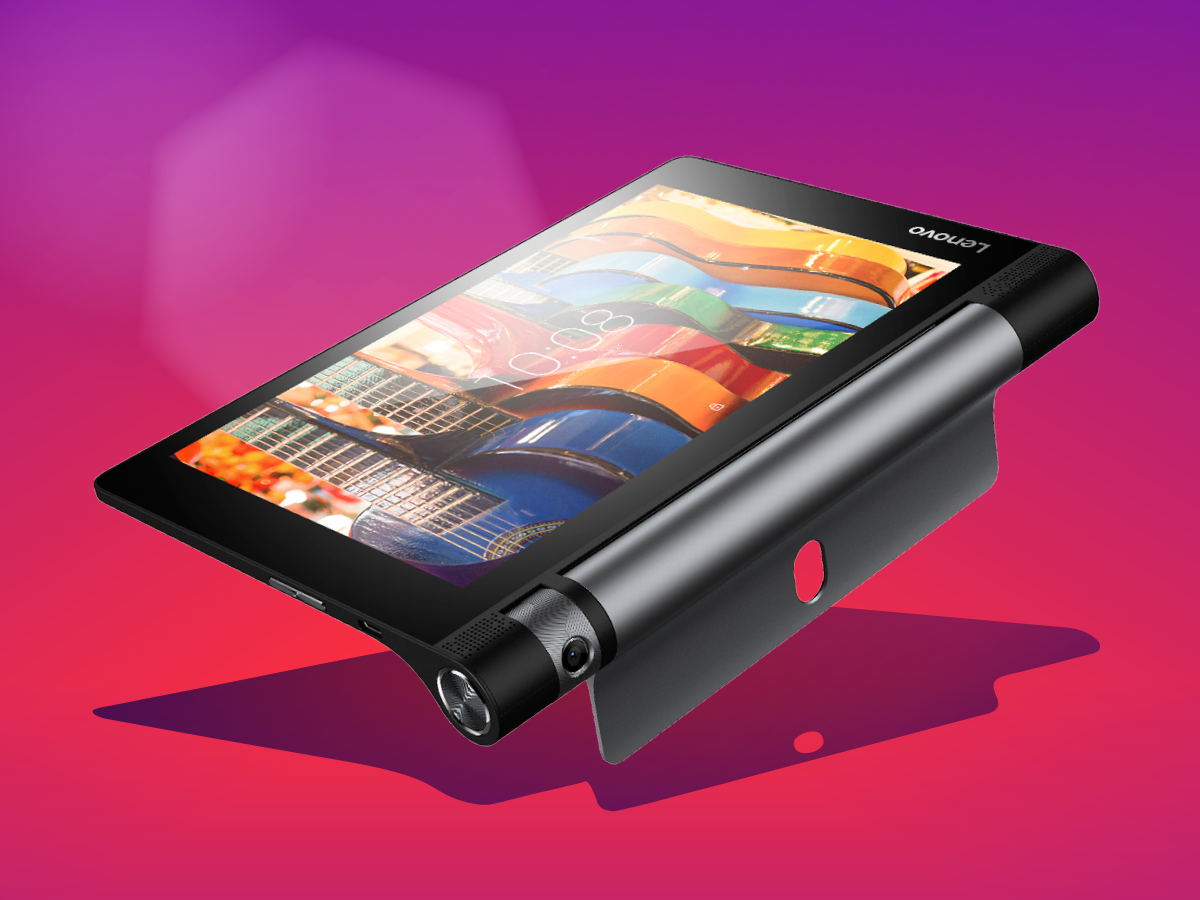 What's the story?
Lenovo has built a reputation for crafting tablets with the entertainment junkie in mind – those that binge on the latest Netflix series or need a companion during a long-haul flight. It features a tubelike structure with a built-in aluminium stand that makes it easy to prop up on those flimsy train tables. Once opened, there's a cutout that means you're able to hang it up too.
There's also a 180-degree rotating camera placed on the tube so there's no need for two separate cameras or settling for a lower resolution. It takes decent pictures but you need fairly bright light for a more focused end result. The tube includes a microphone/headphone slot, with a large circular power button placed on the left hand side; the opposite side boasts a mini USB port and volume control button.
The black frame around the 8-inch screen makes for a glossy finish and although the back is plastic, the textured grey design makes it easy to grip and pleasing on the eyes. The 3.75V battery choice means that the Android tablet has a pretty impressive battery life – looping a film for over 4 hours saw the battery diminish by only 40%, which shows it can definitely keep up with you on those long journeys.
Pick up the tab?
Watching Yann Arthus-Bertrand's documentary HUMAN, the 1280 x 800 pixel screen showcased a bright and focused display. It kept up this focus from a range of angles, with the brightness only diminishing slightly the sharper the angle. Outside, it does lose some of its brightness but at £150, the indoor viewing more than makes up for it. The only problem is with the screens tendency to pick up fingerprints after only a few swipes.
Audio-wise, the Yoga Tab 3 was keen to pick out layers of instrumentation; playing a pop song at full volume, the stereo separation was a welcoming surprise and makes this little tablet perfect for parties if your proper speakers go on the blink.
With a Qualcomm Snapdragon 212 processor, 1GB of RAM and 16GB of eMMC storage, the performance should come across a little bit better than it does. It's fine but does lag a little when using multiple apps or streaming videos in the background.
Copying videos across the the tablet was really quick and downloaded the Injustice: Gods Among Us Superman vs Batman game, it was happy to take on 1.16GB within about 10 minutes. Gameplay itself was good apart from a little lag here and there when action increased.
STUFF SAYS ✭✭✭✭✩
With impressive battery life, the Yoga Tab 3 is perfect for Netflix binges and some extended gameplay – just don't expect it to do much multi-tasking.
Tech specs
Screen: 8in LCD IPS Multi-touch (1280 x 800) • Processor: Qualcomm Snapdragon 212 • RAM: 1GB • OS: Android 5.0 • Storage: 16GB with microSD • Camera: 8MP • Dimensions: 8.26 x 5.74 x 0.28in, 467g
Amazon Fire (£49.99)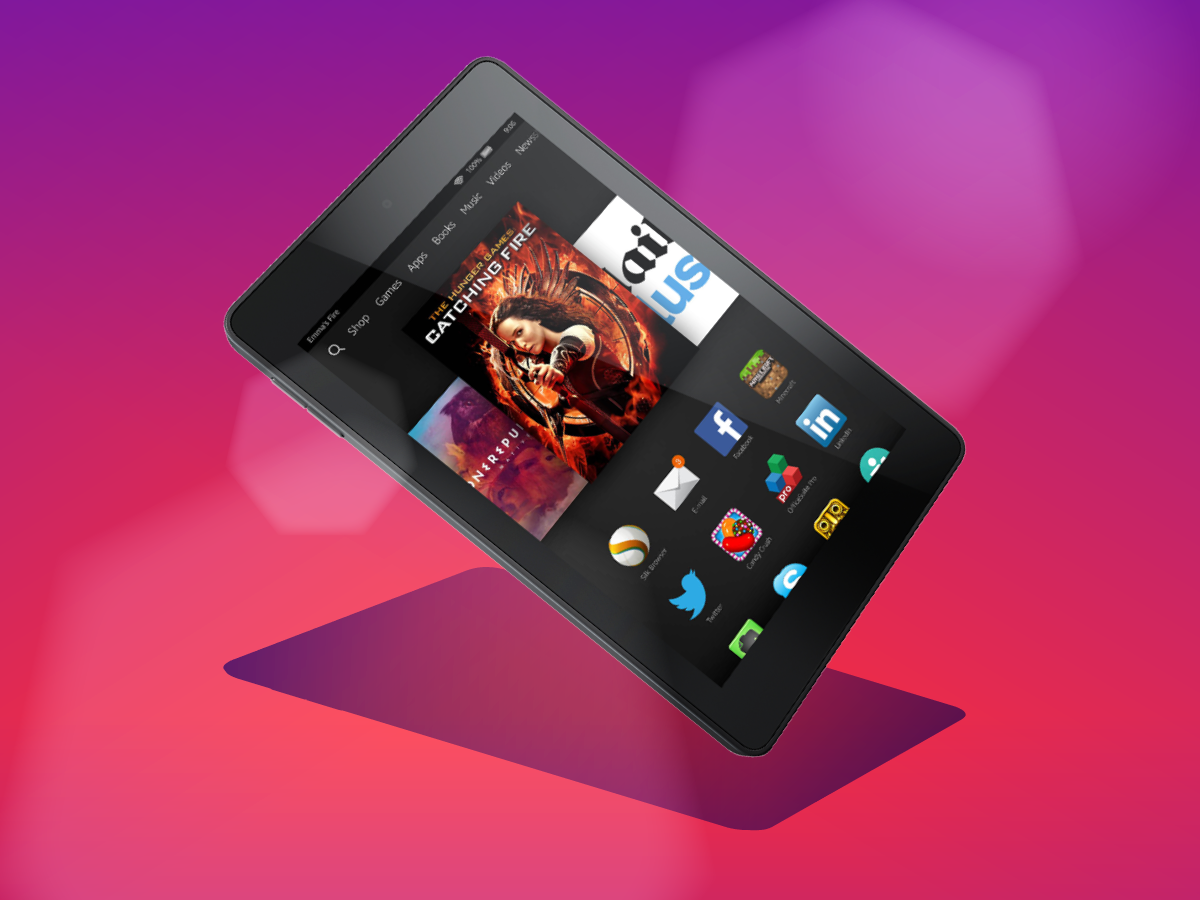 What's the story?
Amazon rarely makes a duff product; Fire Phone aside, its devices are meant to keep customers subscribed to Prime and buying new goods when the fancy takes them. The cheapest and most basic tablet in Amazon's range, the Fire is primarily made for a bit of video here and a spot of Kindle reading there. It's got a sturdy plastic case without too much flex, weighs 313g and feels compact in your hands at 191 x 115 x 10.6 mm.
You can download Amazon Prime content for offline viewing – something that you can't do with Netflix. This is a really handy feature, especially if you increase the Fire tablet's 8GB storage with the help of a MicroSD card.
Pick up the tab?
With a 1024 x 600 resolution spread across 7in, the Fire tablet's IPS display isn't even HD and features only 171 pixels per inch. There's also an impact on colours on the Fire – they often appear as a dim fuzz with different tones blending awkwardly together. Be warned that whites take on a distinctly yellow tint on the Fire too, so ebook backgrounds have a papyrus-like glow.
The Fire HD is potentially better equipped in terms of speed. It has a QuadCore 1.3GHz processor with 1GB of RAM, the same arrangement you'd find on a Nexus 7 from 2012. We managed to brick the Fire while playing Crossy Road. In addition to completely freezing up, the Fire's autorotate mode operates at a dawdling pace and bringing up its virtual keyboard isn't much quicker either.
Although the walled in Fire OS still isn't a patch on iOS or Android, it does now have 300,000 apps to download with plenty of casual gaming favourites; just don't go looking for more worthy indie titles along the lines of Her Story or Horizon Chase. According to our testing, you'll get five and a half hours of video from the Fire, which is good enough. Just don't bother with its 2MP rear-facing camera, OK? It's horribly grainy, even in good lighting conditions.
This tablet is slow and has a dreary screen, but it won't fall over at the drop of the hat and has a good enough battery life to keep the occupants of the backseats of a Volvo entertained all the way to Cornwall.
Stuff says ✭✭✭✩✩
Is it a good tablet? No. Does it need to be? Not really. If you're buying the Fire, then you'll be doing so for its bargain price.
Tech specs
Screen: 7in (1024 x 600) • CPU: QuadCore 1.3GHz • RAM: 1GB • OS: Fire OS • Storage: 8GB/16GB with microSD • Camera: 2MP rear, VGA front • Dimensions: 191 x 115 x 10.6mm, 313g
Amazon Fire HD 10 (from £169.99)
What's the story?
Theoretically, the Fire HD 10 is Amazon's most premium tablet. It starts at £169, creeping up to £209 if you want the 32GB version that doesn't display Amazon ads all the time.
The spec list makes the design sound decent. It's 7.7mm thick and is 5g lighter than an iPad Air 2. However, in person the outer layer is ultra-super-glossy black plastic that feels cheap and collects fingerprint smudges.
A bigger potential problem is practicality. It has a 16:10 aspect tablet with a 10.1in screen. Back in 2011 we saw Android tablets like this all the time. Not anymore, because their sheer size affects portability, partly due to awkward weight distribution.
Pick up the tab?
With a metal skeleton, decent speakers and solid battery life, Amazon Fire HD 10 reaches a certain level of performance in some key areas. It's just a pity that the screen isn't one of them. Spreading 1280 x 800 pixels across 10.1 inches is like stretching pizza dough so thin you can see through it. So stretched you can see between the pixels. Feed the tablet a well-encoded 720p movie and it'll still look sweet, but read Stuff.tv articles on it and the text looks a bit crude. And yes, that's down to the tablet, not us.
Then there's the software. Fire OS is app-discovery-tastic, but if you want a tablet that'll just let you get on with the business of actually using it, the Amazon Fire HD 10 might get on your nerves. You'll be happy with how long the tablet lasts though. Amazon claims it'll last for eight hours, but when playing a locally-stores MP4 movie it lasts for 11.5 hours.
In areas like the speakers and battery life, Amazon seems to have 'pulled an Apple'. However, the cameras feel a bit more like the bog-standard tablet-grade stuff. The front VGA is basically the least you'll see in any brand-name phone or tablet these days. Of course, the Amazon Fire HD 10 will still be better for video chat than a 4.5in phone. You're just not likely to end up wanting to frame any photos you've taken with it.
STUFF SAYS ✭✭✭✩✩
A tablet that mixes the good, the bad and the ugly. But focuses too much on the last two.
Tech specs
Screen: 10.1in 1280 x 800 IPS LCD • Processor: Quad-Core up to 1.5GHz • RAM: 1GB • OS: Fire OS • Storage: 16GB/32GB with microSD • Camera: 5MP rear, HD front • Dimensions: 262 x 159 x 7.7 mm, 432g
Nvidia Shield K1 (£180)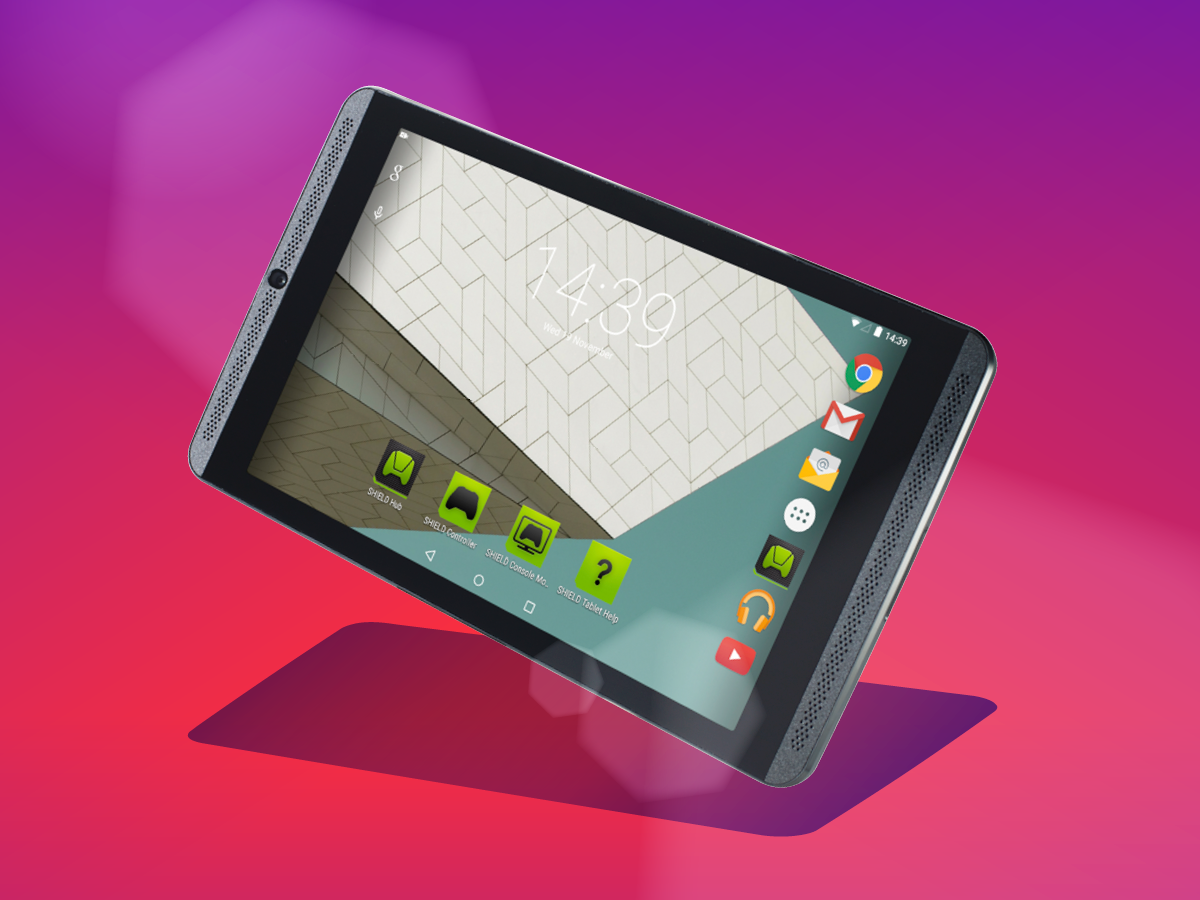 What's the story?
Nvidia's first Shield Tablet had to be recalled because there was a risk the battery would overheat and become a fire hazard. Whoops. Luckily, the PC graphics card maker took the opportunity to update the Shield Tablet to the "K1" edition, keeping all the things that worked on its original while ditching the stuff that didn't, so it could hit a bargain £150 price tag.
So why buy the Nvidia Shield K1 over any of these other bargain tabs? Well, gaming basically – the Shield's Tegra K1 processor will tear through Android games better than anything else in this test, and it's even powerful enough to run console-level titles like Half-Life 2, Borderlands: The Pre Sequel! and Metal Gear Solid: Revengeance. It can also stream games from your local PC if you have an Nvidia graphics card, meaning you can in theory play The Witcher 3 or Fallout 4 in the bath. You can also pay Nvidia £7.49 a month to stream games like Tomb Raider and GRID Autosport via the cloud using GeForce NOW, which is the best game streaming service we've used, performance-wise.
The catch: you'll obviously need a gamepad to enjoy all this. The cheap route is to buy a USB adaptor and use an Xbox 360 controller, but if you do, you're tethered to your device. The slicker option is to spend £50 on Nvidia's own wireless Controller, which uses Wi-Fi Direct for a fast, lag-free gaming experience. That brings the overall cost of the Shield K1 to just a shade under £200, though. And that's one of the problems with the K1; it may cost a mere £150, but it doesn't come with a game controller, a cover or even a charger, although chances are you already have a micro USB cable.
Pick up the tab?
Even if you're not into games though, the K1 is still a great budget tablet. There's a microSD slot to add up to 128GB of extra storage. The 8-inch 1,920 x 1,200 pixel display is sharp and detailed. There's also a mini-HDMI output if you want to output to a TV, punchy front-facing stereo speakers, and Nvidia DirectStylus 2 compatibility if drawing's your thing. Stock Android lovers will also love the way that Nvidia has implemented Google's operating system.
The Shield K1 is mercifully free of the apps and skins that tend to bloat a lot of Android tablets, representing as pure an Android experience as its possible to get aside from Nexus devices. The system software updates also come through thick and fast – not as fast as on official Google devices, but still quickly.
There are obviously some compromises with a device of this price. The battery life is supposed to be 10 hours for general use and five hours for games, although we found eight hours was more realistic when watching video. The screen isn't as bright or contrasty as we'd like. And the buttons on the side of the device are horribly squishy, particularly the power button, meaning it often takes a few goes to wake it up.
Stuff says ✭✭✭✭✩
If you're a gamer then the Shield K1 is the tablet to buy, but even if you're not, it's still a great device at a bargain price.
Tech specs
Screen: 8in (1920 x 1200) • CPU: QuadCore 2.2GHz • RAM: 2GB • OS: Android • Storage: 16GB with microSD • Camera: 5MP rear, 5MP front • Dimensions: 221 x 126 x 9.2mm, 356g