Best smart plugs 2023: Alexa, Google, and Siri powered plugs
From turning your lamp on to upping the ante with energy monitoring, here are the best smart plugs on the market right now
Looking to buy a smart plug? You'll find the best smart plug for you right here. Scroll down, see which ones fit your needs, and enjoy making your traditional tech that little bit smarter. Want to turn your lamp on and off without fumbling for the cord? Or do you want to up the ante with energy monitoring or Siri, Alexa or Google Assistant voice support? Whatever your motivation, you'll find what you need below.
Smart plugs are ideal for bringing smarts to lamps and other non-smart lighting. They're also great for controlling when things like music systems or smart speakers are switched on. Also, smart plugs are great if you need to leave your house for the weekend and switch everything off at the same time. Meet our list of the best smart plugs to choose from.
For more smart home recommendations, check out our guide to the best smart home tech and our roundup of the best mesh Wi-Fi systems.
What's the best smart plug?
We think the Tenda SP9 (check price) is the best smart plug for most people. Requiring no additional hub, fairly priced, and with handy energy monitoring features, it fits the bill for most use cases, with the two-pack making for particularly good value.
Other smart plug recommendations
---
The best smart plugs you can buy today: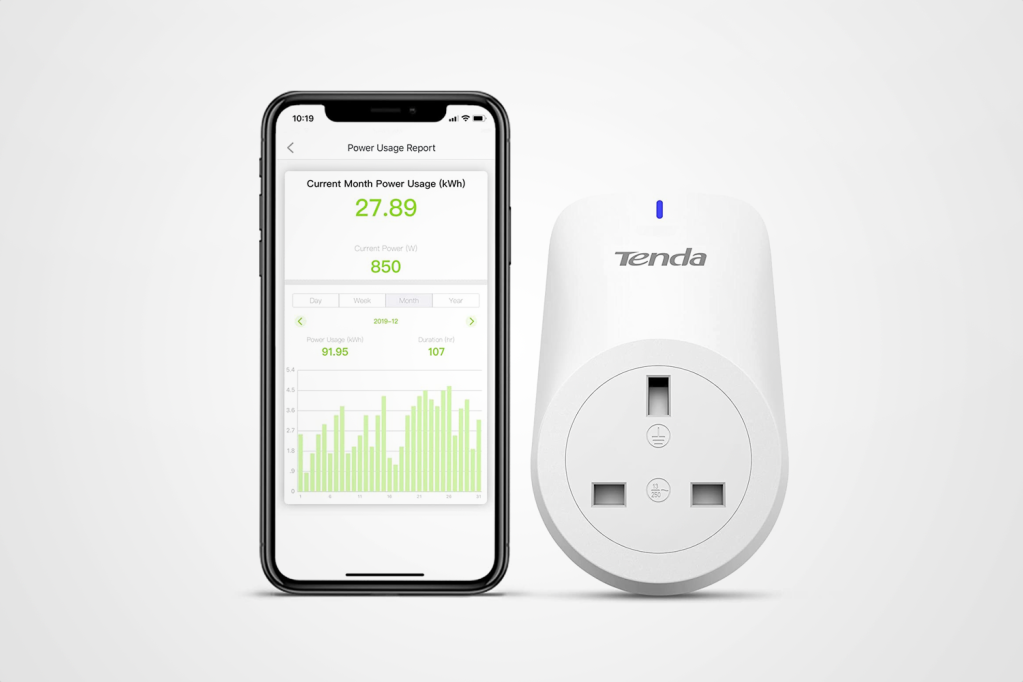 1. Tenda SP9
Stuff Verdict
This affordable smart plug as all the features you could need, from app and voice assistant control to energy monitoring
Pros
Great value for money
All the features you could need
Cons
No the sleekest design
Google and Alexa but not HomeKit
| Tenda SP9 specs | |
| --- | --- |
| Hub required | No |
| Wi-Fi speed | 2.4 GHz only |
| Platforms | Alexa and Google Home |
We think Tenda's SP9 smart plug is one of the better value options currently available. It doesn't have the sleekest or most compact design around, but it supports a max output of 13A and it can handle appliances up to 2990W, making it a versatile bit of kit.
Keeping life simple, it requires no hub. Instead, it relies on a 2.4GHz Wi-Fi network, letting you control it remotely via an app or your voice. Alexa and Google Assistant are also supported, letting you turn off connected devices with a mere voice command.
Impressively for this price point, it also has built-in energy monitoring. This enables you to see how much electricity your connected device is using — we find this particularly handy in these energy-critical times.
---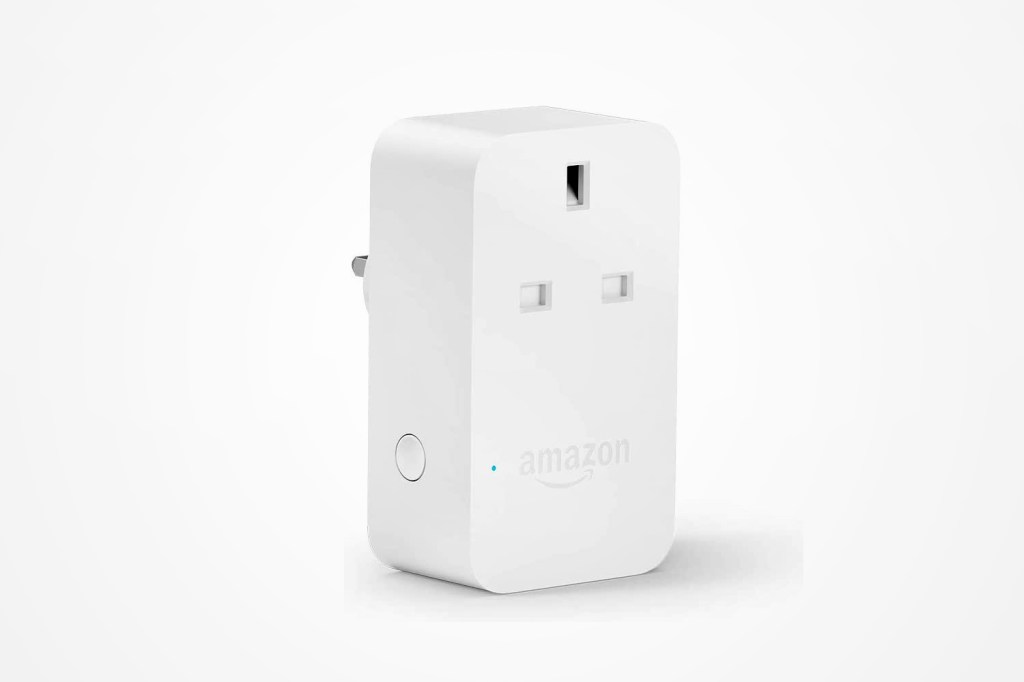 2. Amazon Smart Plug
Stuff Verdict
The best smart plug if your house runs on Amazon Echo devices – these play very nicely with Alexa
Pros
Sleek all wight design
Works perfectly with Alexa
Simple set up
Cons
Only works with Alexa
No energy monitoring
| Amazon Smart Plug specs | |
| --- | --- |
| Hub required | No |
| Wi-Fi speed | 2.4 GHz only |
| Platforms | Alexa |
If you're a fan of Alexa, then it'll come as no surprise to hear that Amazon's Smart Plug is one of the best choices for you. Adding Alexa voice control support to any socket (and device that plugs into it), it's simple to set up, with no extra hub required.
From scheduling lights, to turning on your coffee machines in the morning, we found this is a handy way to add another string to your Echo device's bow.
---
3. Meross WIFI Power Strip
Stuff Verdict
Got a lot of things that need turning off and on remotely? This is the smart plug for you
Pros
Compatible with all platforms
So many outlets
Cons
Physical buttons would be nice
Some connectivity issues
| Meross WIFI Power Strip specs | |
| --- | --- |
| Hub required | No |
| Wi-Fi speed | 2.4 GHz only |
| Platforms | HomeKit, SmartThings, Alexa, Google Home |
If you're after something particularly robust with lots of flexibility, look no further than Meross' smart power strip. It's more than capable of becoming the hub for all of your power and charging needs. It features a whopping six sockets and four USB ports.
From consoles and tablets, to TVs and phones, you will become the master of your charging domain, topping up batteries and providing power with terrifying efficiency.
Better yet, the Meross strip works with Siri, Alexa and Google Assistant. So all voice-controlled bases are covered, while it has built-in surge protection too, for additional peace of mind.
---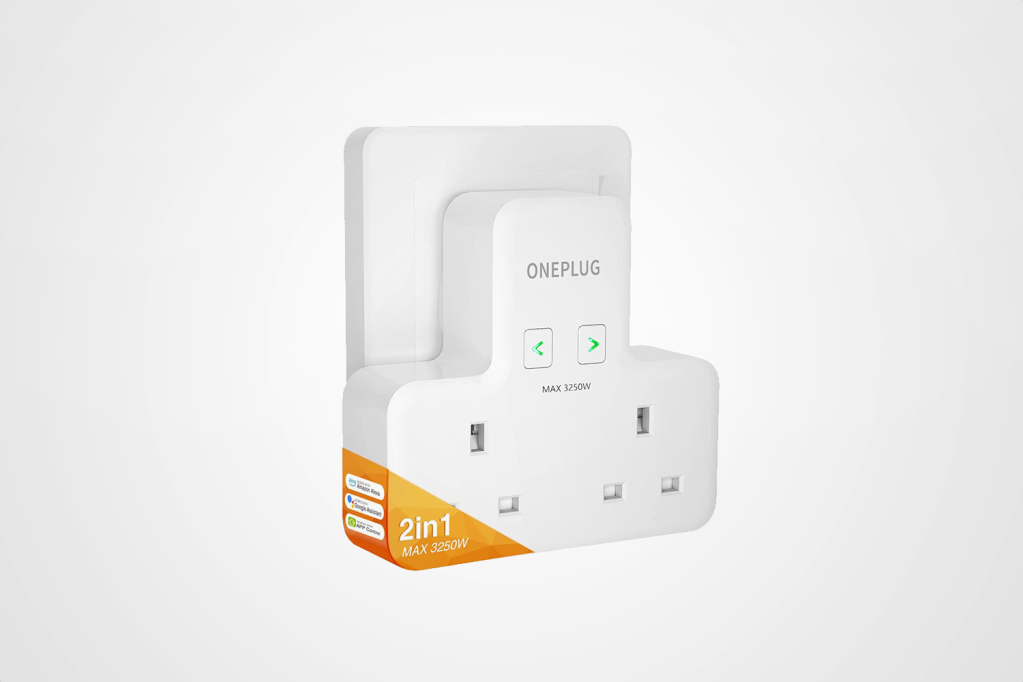 4. Oneplug 2-in-1 Smart Plug
Stuff Verdict
Convert a single dumb socket into two smart sockets with this intelligent plug
Pros
Built-in surge protection
Handy timer function
Cons
Quite bulky
No HomeKit support
| Quick specs | |
| --- | --- |
| Hub required | No |
| Max. output | 2.4 GHz only |
| Platforms | Alexa, Google Home |
Oneplug's 2-in-2 smart plug does exactly what you'd expect. Namely, it converts a single socket into a dual smart socket with minimal fuss.
Using 2.4GHz Wi-Fi (meaning that there's no need for a hub), this unit also has built-in surge protection, along with the ability to independently control the power of two devices at once.
We also like that it features Alexa and Google Assistant support alongside a handy timer function. It's a compact yet versatile dual-power solution.
---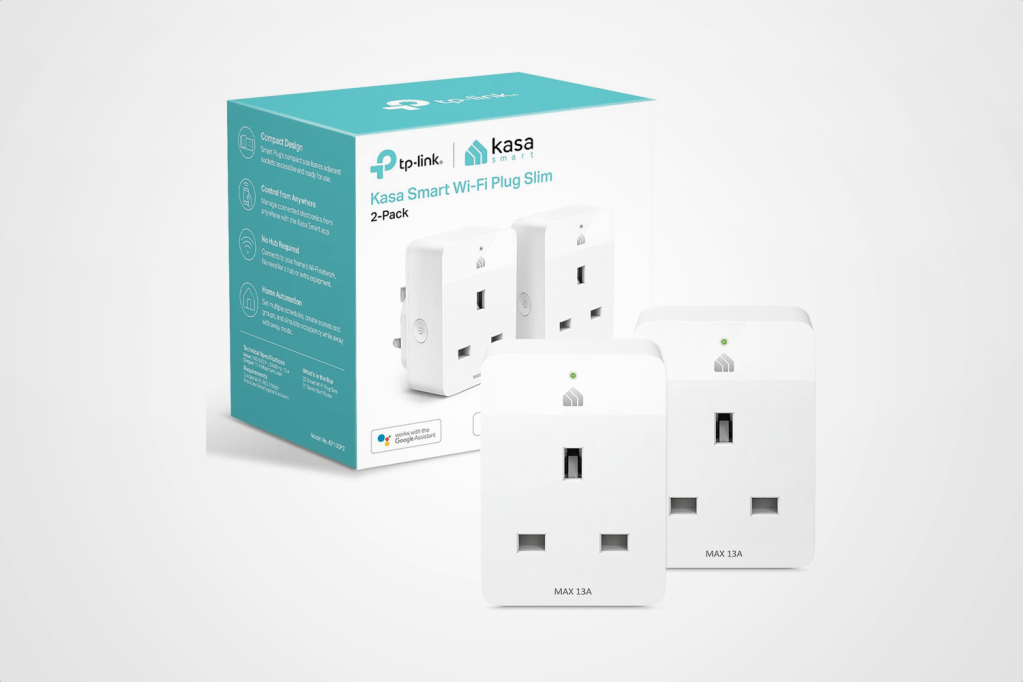 5. TP-Link Kasa Wi-Fi Plug Slim
Stuff Verdict
These dinky smart plugs pack all the features you could ever need
Pros
Scheduling and timer functions
Compact design
| TP-Link Kasa Wi-Fi Plug Slimspecs | |
| --- | --- |
| Hub required | No |
| Max. output | 2.4 GHz |
| Platforms | Google Home, Alexa |
This hubless pair of smart plugs from TP-Link use 2.4GHz Wi-Fi to carry out their duties. Controllable via an app or Alexa/Google Assistant, you can use them to remotely control multiple devices without having to lift a finger.
As with some of the other offerings on our list, the app also has a built-in timer function, letting you create the best schedule to suit your needs. And if that means simulating a raging house party to deter nefarious intruders while you're on holiday, then so be it.
If you fancy even better value, we'd recommend you get a triple-pack for a little extra.
---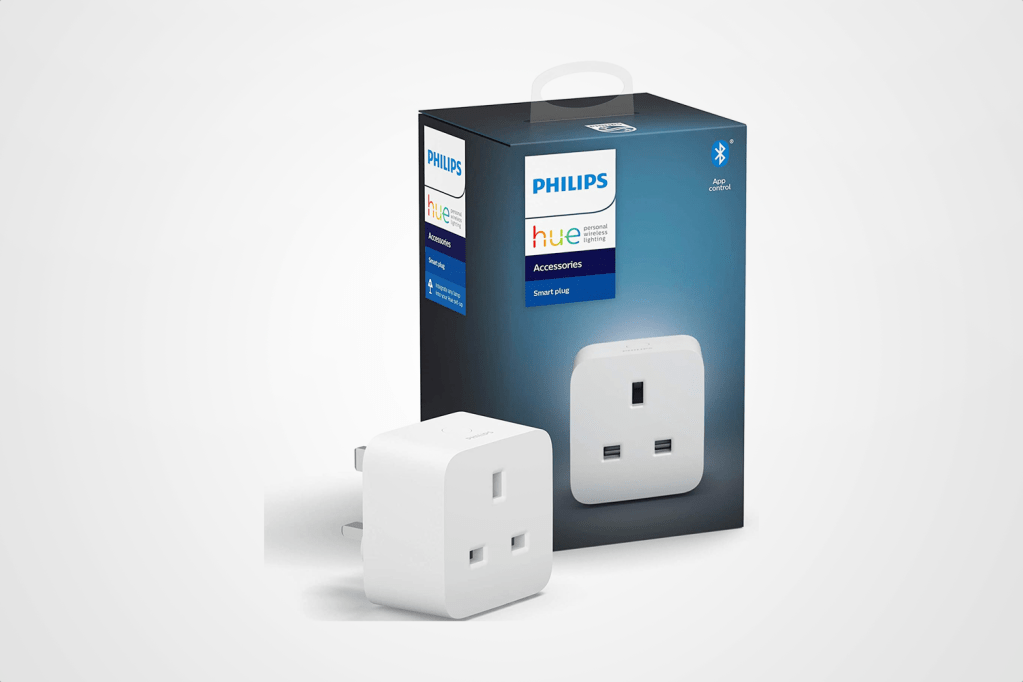 6. Philips Hue Smart Plug with Bluetooth
Stuff Verdict
If you've got a Hue home, and want to control your smart plugs when you're away – this is the plug for you
Pros
Control away from home with Hue Bridge
Super sleek app
Cons
Expensive
You need hub for extra featutes
| Philips Hue Smart Plug specs | |
| --- | --- |
| Hub required | Not required, but extra features unlocked with hub |
| Wi-Fi | Bluetooth |
| Platform | Alexa, HomeKit, Google Home |
If you've already got a Philips Hue setup at home then it makes sense to stick with the brand for all of your smart plug needs, as it'll comfortably slot into your carefully curated ecosystem with minimal fuss.
If you don't have an existing Philips Hue hub, you can still handily control the smart plug via Bluetooth instead. This does mean you'll lose Alexa and Google Assistant functionality, though, so we don't think it's really worth it.
If you're a Hue Household then this makes the most sense, otherwise, you're better off sticking with a cheaper option instead of forking out for the Philips name.
---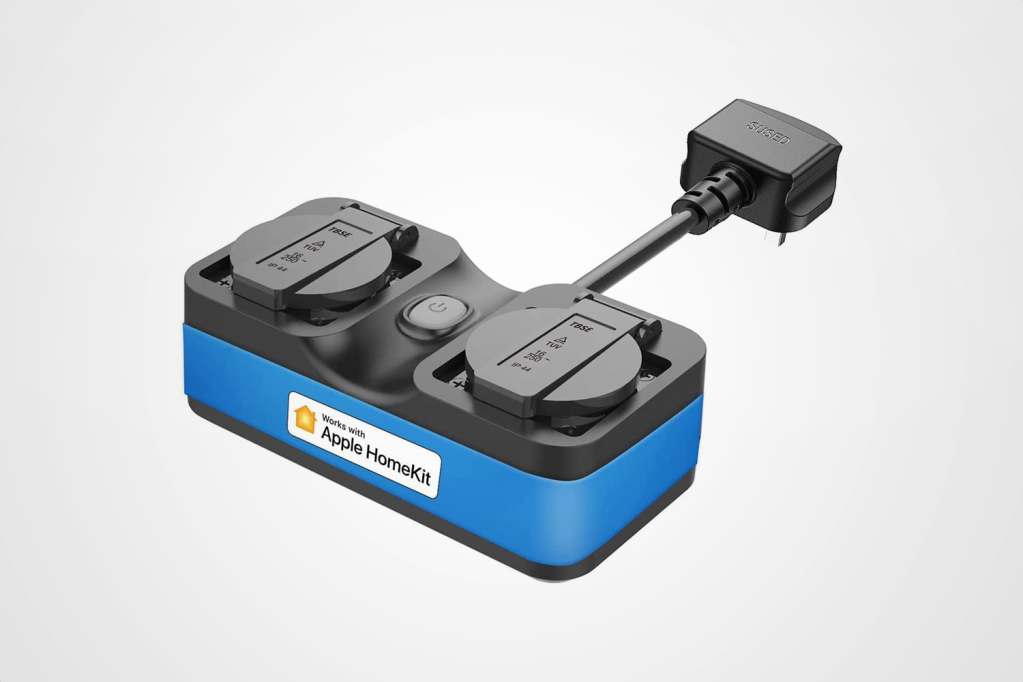 7. Meross Smart Outdoor Wi-Fi Plug
Stuff Verdict
Bring the smarts outside with this weather resistant Wi-Fi plug from Meross
Pros
Weather resistant
IP44 weatherproof housing
Cons
Needs waterproof cover when not in use
Only one button for both plugs
| Meross Smart Outdoor Wi-Fi Plug specs | |
| --- | --- |
| Hub required | No |
| Wi-Fi | 2.4 GHz |
| Platforms | HomeKit, Alexa, Google Assistant, SmartThings |
If you'd like to extend your smart home beyond the walls of your abode, then you'll need a suitable plug capable of shrugging off the odd splash.
This Siri, Alexa, and Google Assistant-compatible dual smart plug is IP44-rated, which means it can handle splashes when not in use, saving you from bringing it inside all the time.
If you plan on having things permanently connected to it, then you'll want to house it in a fully waterproof case/cover for additional peace of mind, letting you enjoy your elaborate koi fountain in peace.
---
How to choose the best smart plug
The first thing you'll want to consider when buying a new smart plug, is how many you'll need. If you're only looking to control/monitor a single device, then a single one will obviously do the trick. If you want to control multiple devices though, it makes more sense to look at multipacks, as they're better value for your money. If all of your devices are in the same room, a multi-smart plug extension lead could also be the best solution for your needs.
Once that's settled, you'll want to consider your existing setup. Do you already have a Philips Hue bridge at home? If so, a Philips smart plug makes the most sense, as it saves you from needing multiple apps. If you have no preference though, then it might be worth opting for a more affordable option that doesn't require a hub.
Extras like energy monitoring features are also worth considering if you want to keep tabs on how much power any particular device is using. You'll have to pay extra for this feature though, so it's only worth it if you think you'll make use of it.
Lastly, it's important to double-check which smart assistants each product is compatible with. The majority of smart plugs work with voice assistants like Google Assistant and Amazon's Alexa, with a few working with Siri as well. Make sure you check the specs, to ensure maximum compatibility.
Now check out Stuff's guide to the best smart bulbs for app-controlled lighting.
How we test the best smart plugs
We've reviewed and tested countless smart plugs over the years, giving us an overview of the very best things to look out for. Where possible, we've included products that we've personally tested ourselves. Elsewhere, we've included products based on their specs and user feedback, and have curated a list of products that should cover most people's needs.
For more information on Stuff's rating and review process, read our page on how we test products.