Battle of the bands: 11 of the best Apple Watch straps
Choosing your next Watch strap needn't be a wristy business...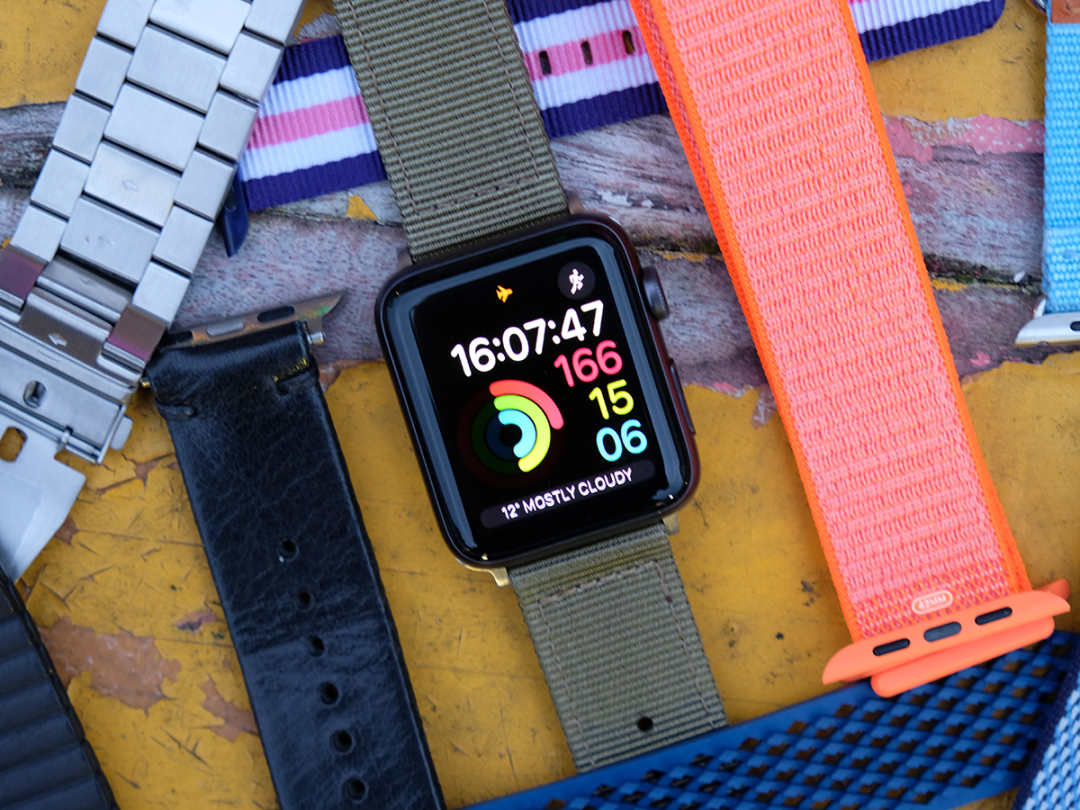 The Apple Watch has so many straps it now needs to take one of those giant wardrobe trunks when it goes on holiday. 
The good news is that, while this puts our collection of six t-shirts to shame, there are now more ways than ever to spruce up your Apple Watch and make it feel like new.
We suspect most Watch owners would struggle to justify spending more on a strap than they did on their smartwatch, so we've limited our list to ones priced at £150 or less.
That doesn't mean they're aren't times you should go for the official Apple band – in our experience, these often remain the best in their respective fields.
But there are also some cracking third party options that either bring something different or can give you a similar look for less. Here's our pick of the best from both worlds… 
Southern Straps Green Nylon ($35)
This tough, military-style nylon strap is one of our favourite third party Watch bands, and it's good value too.
While it initially feels a tad stiff, the strap soon molds around your wrist and is surprisingly comfortable, even after a whole day's wear.
Like all Southern Straps bands, you get the choice of gold, silver or black buckles to match your Apple Watch case too.
Apple Spicy Orange Sport Loop (£49)
Introduced alongside the Watch Series 3, Apple's newest official band is a softer, more wrist-hugging alternative to its rubbery Sport Band.
The hook-and-loop fastener works nicely, letting you make tiny adjustments to get the right fit, which always good for accurate heart-rate readings.
That nylon weave (available in eight different colours) was also light and breathable when we took it out for a run.
The only downside compared to the Sport Band is that it takes a couple of hours to dry out after a swim. Fond of the pool? The Sport Band might be a better bet.
Strapple Crocodilus (€119)
As nice as Apple's Hermès leather straps are, spending over £400 on a strap is, well, a bit ridiculous. Luckily, there are some decent third party leather alternatives out there, if you hunt around.
Strapple's range is among those. It has four options, all made from Italian calfskin leather, with the Crocodilus bringing an embossed pattern that Paul Hogan would no doubt approve of.
While naturally a bit chunkier than the other straps here (it's only available for the 42mm Watch), the high quality stitching means it feels durable enough to last a meeting with a real croc.
Nike Pure Platinum/Black Sport Band (£49)
While the Sport Loop (see above) and older Sport Band have their charms, this is hands-down the best Apple Watch strap for exercise.
It mixes the same comfortable, swim-friendly rubber found on the Sport Band with dozens of sweat-releasing holes to help you avoid clammy wrist syndrome.
Of course, Nike's band isn't exactly subtle in advertising its sporting prowess, so it's worth checking out the Sport Loop if you're after something a bit more versatile.
But for hitting the gym, cycling to work or just pretending you're maintaining that exercise regimen, it's the best band in town.
Noomoon LABB ($53)
Looking for something a bit different? This 42mm-only 'loopless and buckless band' (hence the name) is like a cross between a watch strap and some sticklebricks.
The LABB's hundreds of diamond-shaped holes are a devil to line up and fasten, and it took us quite a while to figure out the technique.
But once locked into place, they do create a strong, comfortable fit and a very clean look.
It's a shame the LABB isn't easier to fit, but we're still fans of the unique design, which you can pick up in five different colours.
Apple Midnight Blue Check Woven Nylon (£49)
There's a reason why Apple's official bands tend to cost more than their third party equivalents – like this nylon strap, they're really high quality and feel like they could last years of daily abuse.
The Woven Nylon brigade are favourite all-round straps, bringing some cracking colours that'll both match your check shirt and swap in nicely for sportier bands on rest days.
Got a favourite pair of jeans? This is your Apple Watch strap equivelent.
Casetify Stainless Steel Mesh (£65)
Casetify's special skill is its customisable watch band tool, which lets you use photos to make personalised bands on its site or in its app (for iOS and Android).
But it also has a wardrobe of reasonably priced stock bands too, including this steel mesh number.
Naturally, it's not quite in the same league as Apple's £149 Milanese Loop, but the magnetic clasp lets you get a snug fit and it's light enough to not feel like a real wrist dominator.
Hoco Stainless Steel Strap (from £40)
With Apple's own Silver Link Bracelet currently unavailable (not to mention ludicrously expensive), you'll need to turn to third parties for a similar look – and this Hoco version is one of the better ones.
Okay, this strap would be a better match for the stainless steel Apple Watch rather than our Space Grey model, and removing links with the bundled tool is a bit of a faff.
But once tweaked, it's a smart, reassuringly weighty alternative to Apple's bracelet at a tenth of the price.
Apple Charcoal Grey Leather Loop (£149)
Sometimes, it's worth shelling out that bit extra for one of Apple's official straps – and this new Leather Loop is one of those occasions.
Along with the Woven Nylon line, it's our favourite of the official straps, and is the one we reach for when reluctantly dressing up anywhere north of 'trainers and hoodie'.
The Charcoal Grey version is a perfect match for the Space Grey Apple Watch, while fiddling with the leather strap's hidden magnets (which are strong enough to keep the fit snug) makes for a handy stress reliever too.
Southern Straps Black Leather ($75)
While we're particularly fond of Southern Straps' Green Nylon band (see first entry in this list), it does also make some smart leather ones at its San Fran studio.
This Black version mixes Italian leather with your choice of black, silver and, unusually, gold clasps, for both 38mm and 42mm Apple Watches.
While lacking the edge stitching seen on more expensive leather straps, it's a decent budget offering if you can't stretch to those from Apple or Strapple.
Casetify Nylon Fabric (£30)
If you don't fancy delving into the world of Casetify's personalised straps, you can still pick up one its strikingly colourful stock offerings instead.
This offering only 'mimics the look and feel of nylon fabric', so isn't quite in the same class as Apple's Woven Nylon range.
But it does also cost about the half the price and brings some much bolder colour options to match your penchant for luminous t-shirts.