Audi Connect hands-on review
Stuff.tv hits the road in the Audi A3 Saloon – and gets hands-on with the latest and greatest version of the Audi Connect infotainment system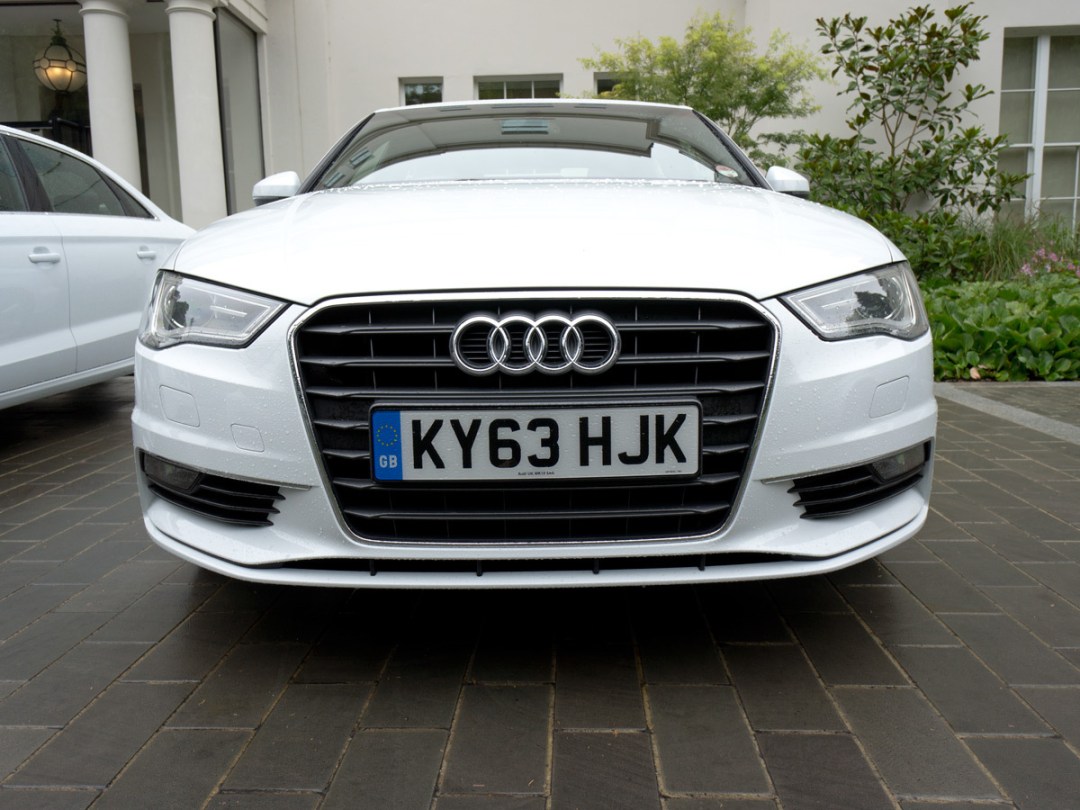 Not that long ago it was considered impressive if a car had electric windows, cup holders and a CD player.
Now in our tech-obsessed age, modern-day motors are becoming a hive of gizmos in a bid to stand out from the herd. Tiredness detection, clever satellite navigation, sensors that can read road signs ─ it's almost the stuff of science fiction.
Car manufacturers aren't just focusing on safety and navigations systems, either. Take Audi, which is aiming to turn your car into a smartphone-style entertainment centre with the latest version of its Audi Connect system for the new Audi A3 Saloon and future models.
So how does Audi's attempt work and is it R&D money well spent? We went for a spin in the A3 Saloon to find out.
Folding display goodness
Stepping into the Audi A3 Saloon, the 7in colour MMI 11mm deep display used to display all infotainment features remains hidden under the dashboard until you turn the ignition. At this point up, it folds out into view in impressively smooth fashion. Q from James Bond would almost certainly be impressed.
The display is large enough to see without hunching over but not so large it looks comical and obscures the view ahead. Although not full HD, everything looks crisp, colours look correct and we never once struggled to see what was going on, even in relatively bright conditions. Sadly, the sun was behind clouds, so we can't speak to how well it'll perform in direct sunlight.
It's worth noting the standard 5.8in QVGA display is of a lower resolution and lacks the 3D mapping capability of its larger cousin. The 7in display comes part of the optional £1,500 Technology package.
Naturally, the system also comes with Bluetooth connectivity so you can link up your smartphone to make and answer calls and digital radio. You'd hope so, for a grand and a half.
Can't touch this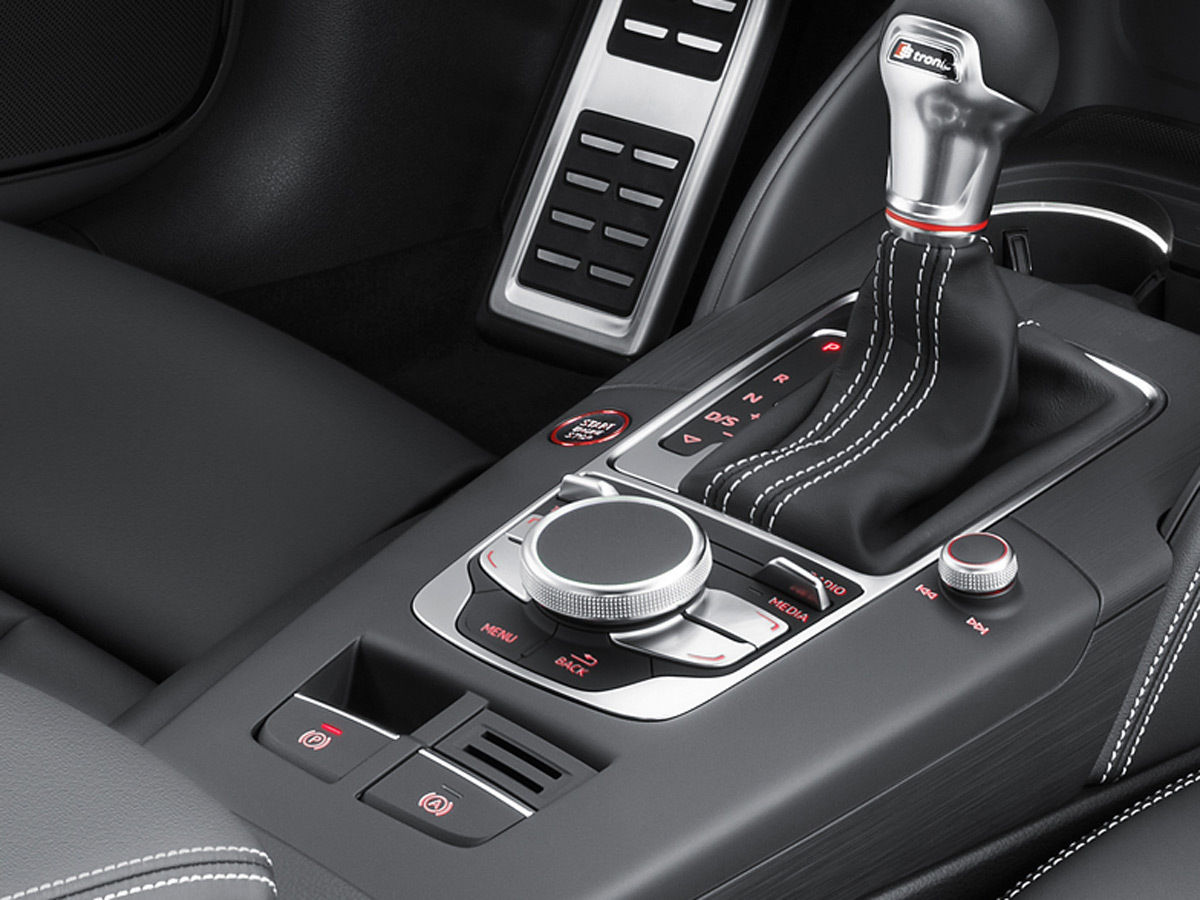 As a newbie to the MMI system for navigating around Audi Connect, it really didn't take long to master how to use it. In the centre of the car is a wheel with a button on top. Beside that is a button that says menu. No prizes for guessing what this does.
Once pressed, a series of icons laid out in a 3D circle (each clearly named) present themselves; you twist the aforementioned wheel to move between them. It's a simple system that lets you jump between one function and another without any thinking, which is reassuring when your eyes need to be on the road ahead.
Next to the menu button is a back button that takes you back out of each function. So easy a monkey could do it.
At first, we did try to press the display as if it was a touchscreen and wondered why Audi had stuck with buttons. However, after using the wheel system all day, it becomes apparent that it's a safer option; memorising the layout is easier than mashing at the screen with your finger.
More complex tasks are handled by pressing two buttons that correspond with what is seen on the right and left of the display. This did take a few minutes to sink in but made a great deal of sense.
4G, baby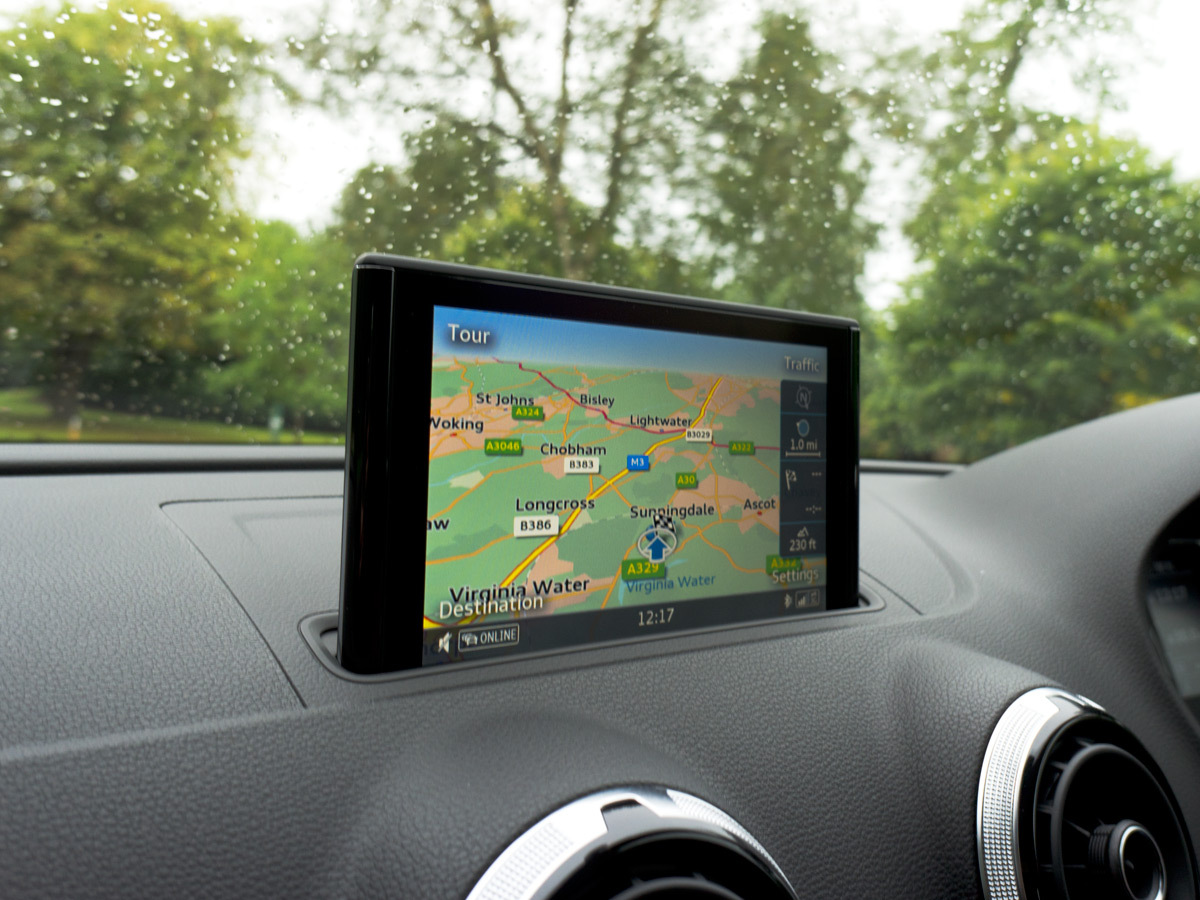 Rather than be content with boring old 3G, the Audi A3 Saloon has a device in the glove box that can accommodate a 4G-enabled SIM-card – making it the world's first car to do so.
Sadly, we were unable to test out the loading speeds afforded by super fast mobile broadband as the test venue was out in the sticks of Ascot. On a mere 3G signal it's not instantly snappy but proved plenty fast enough for our needs.
Usefully, next to the SIM-card slot are two SDXC clots so you can add music to a 10GB flash drive or even a few pictures. This feature, however, is reserved for the aforementioned Technology pack in the A3 Saloon and the new S3/S3 Sportback so you will need to shell out the best part of £1,500 to get it.
A wheely good screen
Fortunately, that extra dosh makes the wheel into a touch control. Rather than type out letters using the control wheel, you can draw a letter on top with your finger for a postcode; Audi Connect will work out what letter it was and put it on screen. In case you need to add a space, you can draw a horizontal line. Clever stuff – and surprisingly accurate in practice.
Features galore
So what exactly can Audi Connect offer you? Well, it has navigation based on Inrix data, so getting from A to B should be a painless process. The benefit of Inrix is that Audi Connect can tell you where the nearest petrol station is and, better still, the price of the fuel. Handily, our petrol A3 Saloon only gave us petrol prices, so no confusion there.
To make life very easy, it only takes an extra press to then navigate to the nearest petrol station – or one with a price per litre you deem acceptable. The navigation will open up and guide you turn by turn to fill up on liquid gold, sparing you those frightening moments when you think you are coasting on fumes.
This same system is applied to all other features. You can look for local events and then see when the event is going on before choosing to navigate to it. There's also flight information, train times, weather forecasts and parking information, with details on exactly how much you will be ripped off, sorry, pay.
Just in case you're worried Audi is asking you to read lots of text, a robotic-sounding woman will read out a news story, event details or whatever else you have on screen, so you can concentrate on driving. This voice works out useful and comical in equal measure because some words and names sound utterly ridiculous when pronounced by her dulcet tones.
Yes, we mentioned news. A spokesperson for Audi tells us that you can customise your news sources using the myAudi website – so in theory you could have the latest Stuff.tv musings read out to you as you commute to and from work. Failing that, there are a number of preset sources to keep you informed about global goings-on.
Last but not least is the Picture Destination function. This allows you to navigate using Google Maps through a StreetView-esque interface – certain buildings appear in 3D, so it's easier to identify where you are.
Cleverly, if you set your home as an address, Audi Connect will only use a picture of your home street, not your actual house (unless you live at the end of a cul-de-sac, in which case, that's unlucky). This is in case your car is stolen and the thief tries to work out where you live. In this scenario, you can also disable the Twitter and Facebook access using the myAudi website, so no worries about them posting "lol I just got my car nicked" on your Twitter feed.
Sociable driver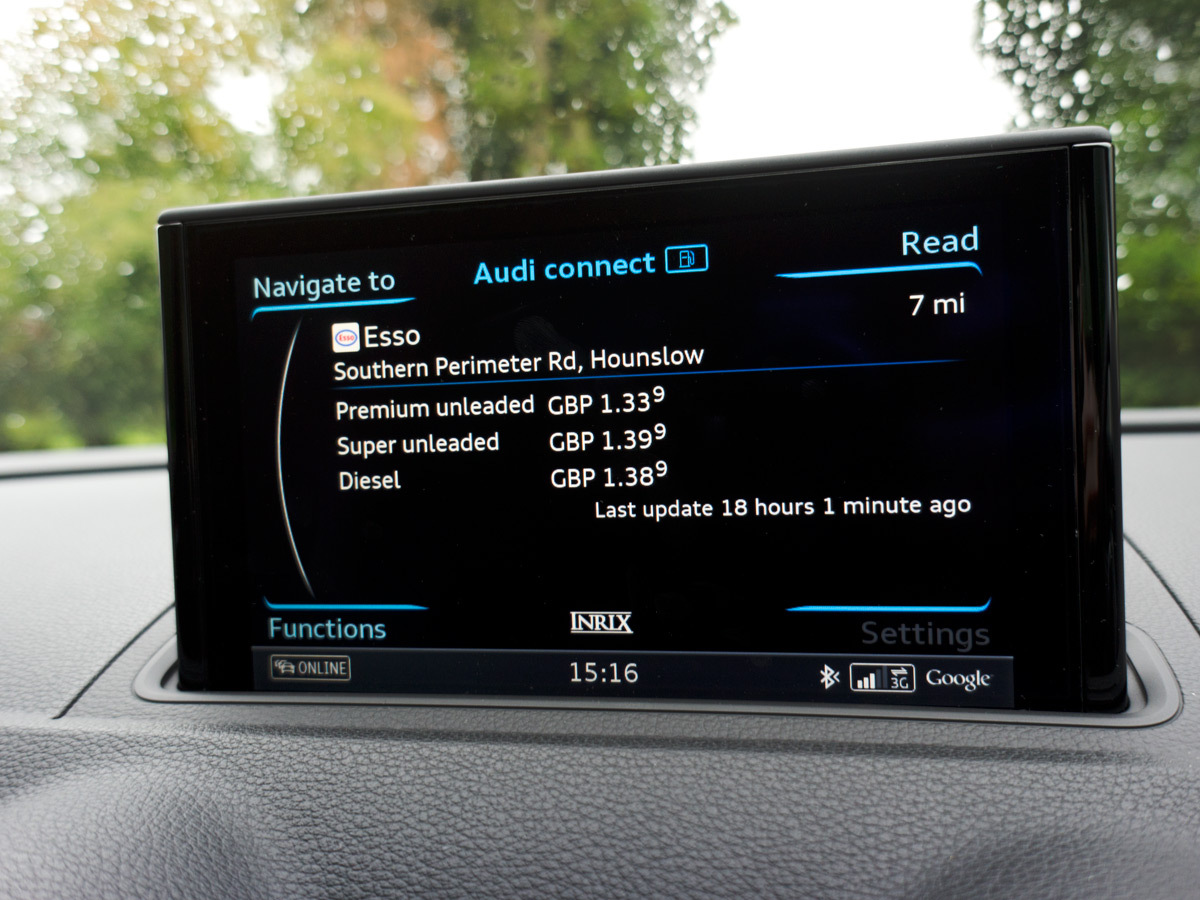 Because you need to register for a myAudi account and provide the VIN number for your vehicle to use Facebook and Twitter services, we can only guess how well it works. But we do know that you can supposedly post updates to either social network while on the move, if that sort of thing floats your boat.
We're not entirely sold on the premise, but if it stops people from checking their smartphone when at the wheel we're all for it. Ultimately, that YouTube cat video everyone keeps talking about can wait until you get home, surely?
Summary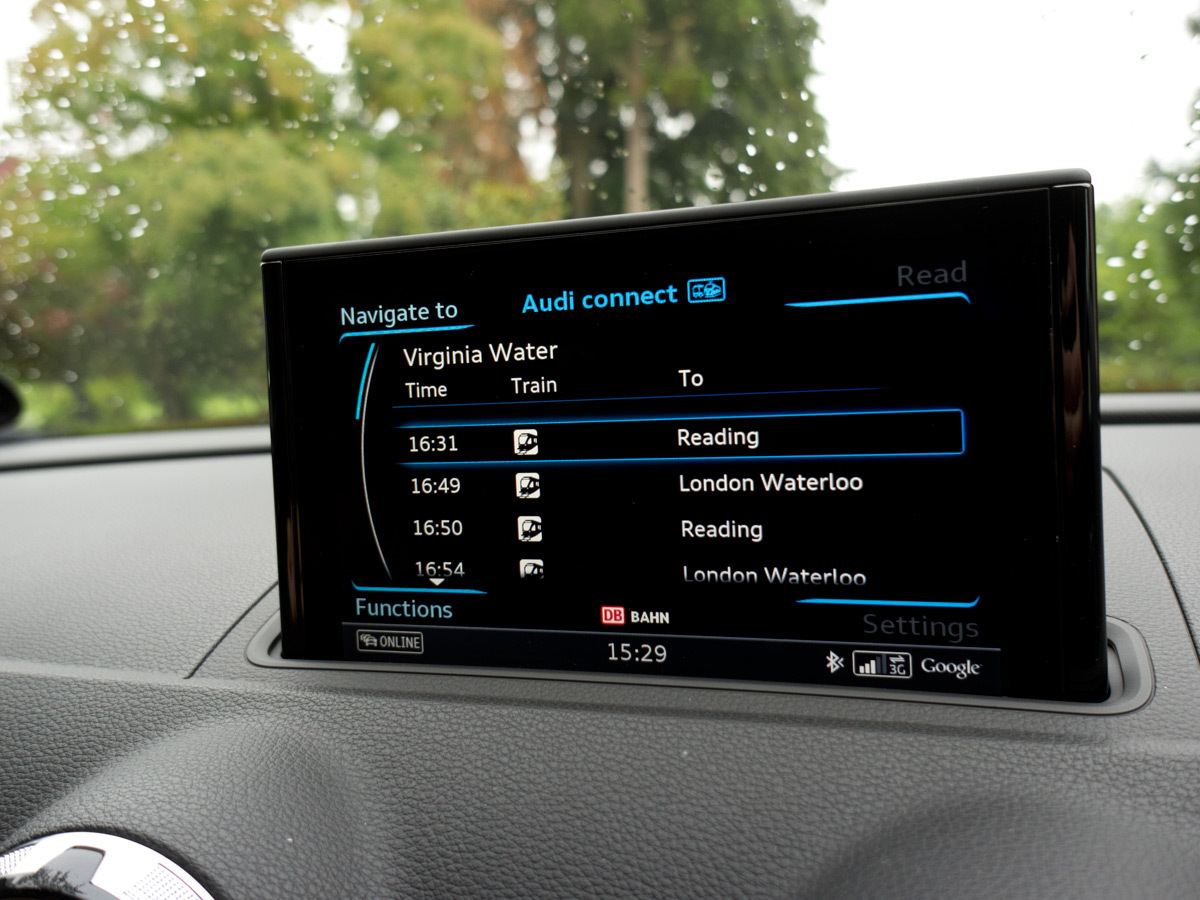 There's always a danger that cars with too much technology can bamboozle drivers and therefore make driving more dangerous, but the Audi A3 Saloon's infotainment system was easy enough to use that our attention remained on the road ahead. Minus the somewhat odd addition of Facebook and Twitter, everything was there to benefit the driver, making it useful for just about anyone behind the wheel.
As to whether you should buy the Audi S3 Saloon or the new Audi S3/Sportback, well, that's for another review…