Apple Watch Series 7 vs Samsung Galaxy Watch 4: which smartwatch should you buy?
How to pick between the flagship tickers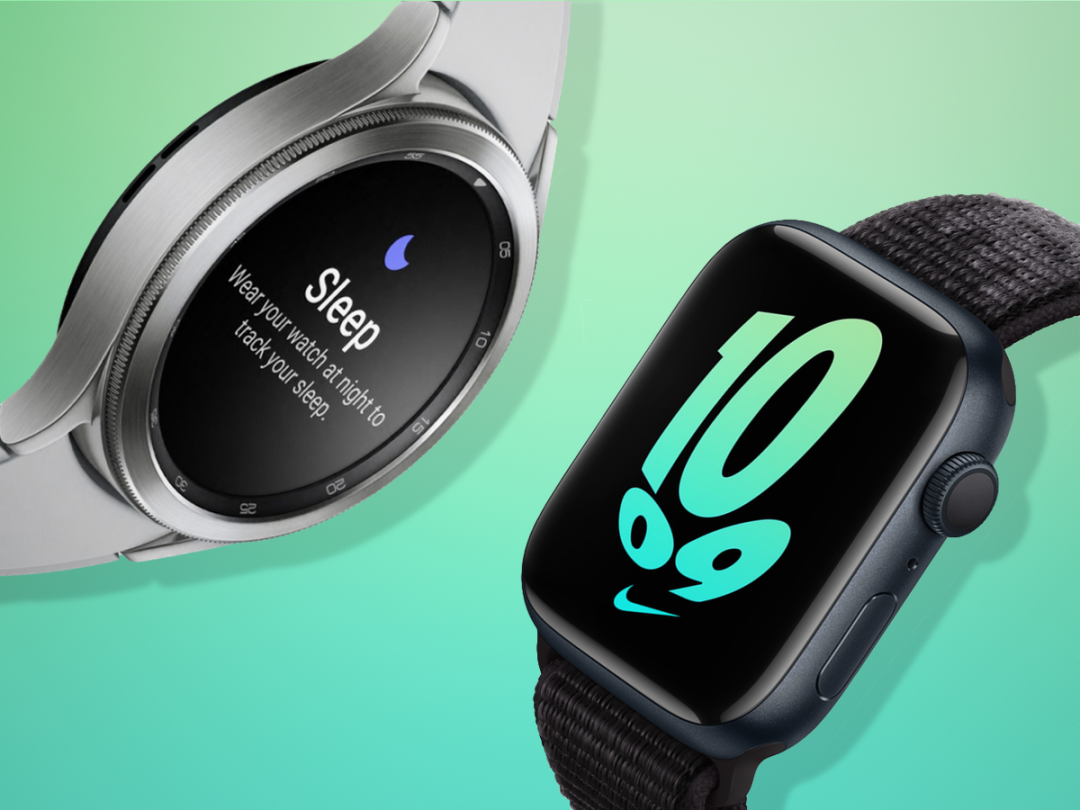 Like Fitbit and fitness trackers, Apple's smartwatch has become synonymous with the genre. Wear just about any connected ticker and Joe Public is duty bound to ask, "is that an Apple Watch?"
But that could change with the arrival of Samsung's latest timepiece. While Apple's Series 7 Watch appears to rest on its laurels by introducing relatively minor tweaks, the Galaxy Watch 4 could finally be the device to bring Samsung wristwear back to the mainstream. Not least because it ditches Tizen for Google's slicker interface.
So we're all set to see a titanic tussle between two nifty tickers. We'll only know the real winner once we've had our hands on both. Until then, predicting a victor means seeing how the specs stack up. So let's dive into the comparison.
Design: two peas, different pods
Side-by-side, you won't struggle to tell the two smartwatches apart. Apple didn't deliver on a rumoured redesign for the Series 7, so there's no flat-panel aluminium chassis. Instead, you get the same rounded square face that's been a hallmark of the series since its inception – albeit with a slimmer bezel and a display that fills more of the facade (see below). The only major change? It's expanded ever so slightly, with variants now measuring in at 41mm and 45mm (up by 1mm from their sixth-gen equivalents).
Things are similarly familiar on Samsung's side. The Galaxy Watch 4 actually ships in two styles: the standard edition and the Classic. The former retains the sportier styling of the Galaxy Watch Active 2, with a streamlined circular shell and the kind of flat chassis that many hoped Apple would adopt. As for the Classic, that picks up from the Galaxy Watch 3 as a more traditional ticker, complete with rotating bezel.
Like the Apple Watch Series 6 before it, the Watch Series 7 will be offered in three metal finishes: titanium, stainless steel or 100% recycled aluminium. The colour options will depend on the finish you pick, with five shades available if you select aluminium – including a new blue hue.
Samsung offers the Galaxy Watch 4 in a wider range of sizes, based on the model you choose. The standard edition is made from Armour Aluminium and comes in two sizes (40mm and 44mm) and four colours: black and silver for both dimensions, with a gold option for the smaller one and green for the larger. The Classic adds further flexibility, arriving in 42mm and 46mm case sizes – although its stainless steel shell can only be configured in silver or black.
Clearly, these rival wristwatches are cut from very different cloth. Apple is sticking with its squarer take on timepieces, while Samsung continues to refine its smartwatch within the confines of more traditional watch design. Both have their merits and it's probably worth inspecting both before deciding which works better for you.
Display: shapes and sizes
With such different designs, it's no surprise that the Apple Watch Series 7 and Samsung Galaxy Watch 4 offer distinct display experiences.
Thanks to a re-engineered OLED panel, the Apple Watch Series 7 features slimmer bezels and a larger display than the Series 6. It's not quite frameless, but it's visually striking and should provide valuable extra space for tapping and swiping. A redesigned crystal profile also makes the display look like it wraps around to meet the edges of the Watch. It's not a major revamp, but it does give the Series 7 a more seamless look.
As above, both versions of the Galaxy Watch 4 feature fully circular screens. There's no notch, but the bezel is visibly thicker than the one on the Apple Watch. This is easier to ignore on the Classic, where the rotating edge matches the case colour. But on the standard Galaxy Watch 4, the black band around the border remains more noticeable than some might like.
Apple is notoriously coy about revealing the gritty details of its devices, but internet investigations reveal that the display diagonal for the Watch Series 7 measures in at around 1.9in (thanks in part to the squarer profile) with a resolution of 396×484 pixels. That compares favourably to the 1.4in display offered by the 44mm and 46mm Galaxy Watch 4 variants (which shrinks to 1.2in on the 42mm and 40mm models), with a resolution of 450×450.
While the Apple Watch objectively wins on display size, that metric shouldn't be divorced from the interface you'll use on each screen – nor from your personal preferences. If you believe a timepiece should be round, the added size of the Apple Watch is a moot point. And until we've physically compared the two devices, it's impossible to say how sharpness stacks up.
Software and apps: closer run thing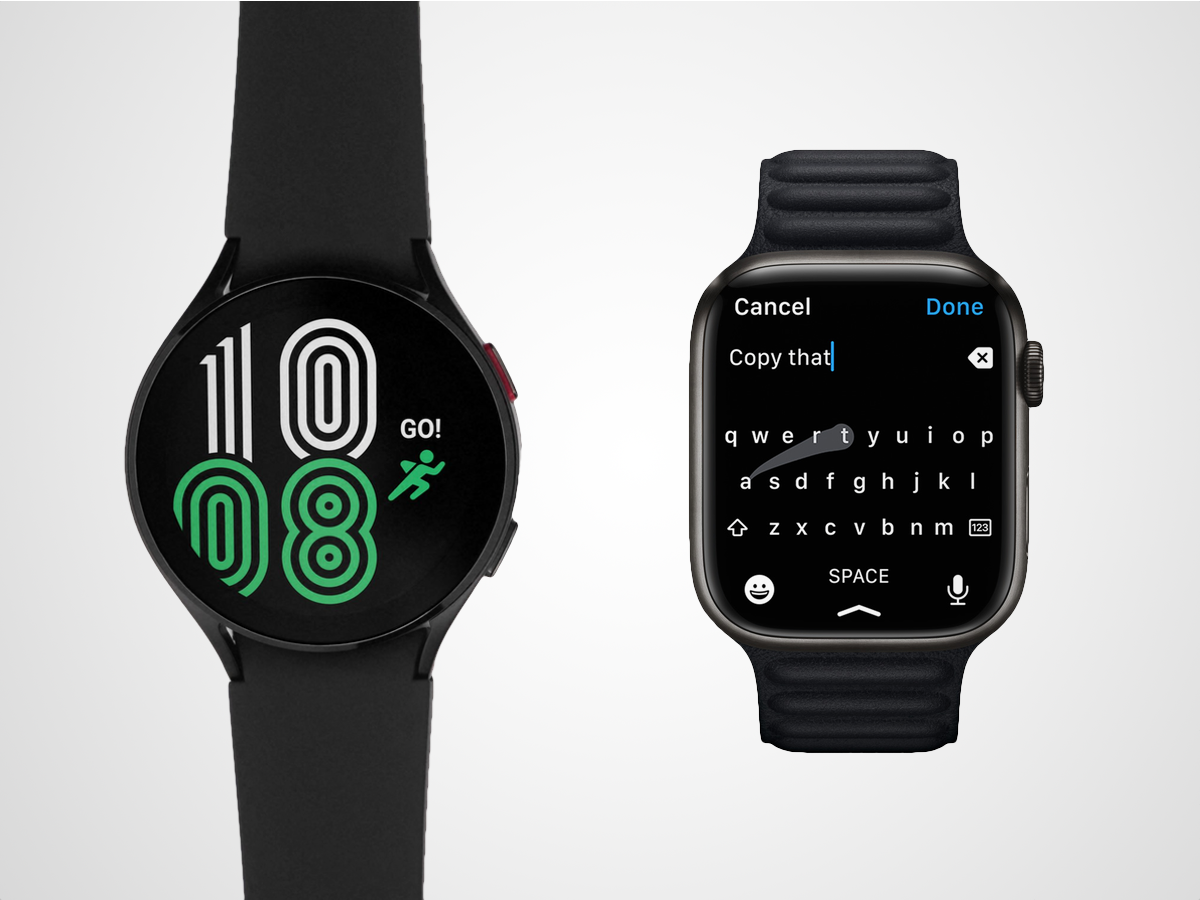 Software is where Samsung has made a serious stride. Every previous Galaxy Watch wearable has run Tizen, but not the Watch 4: built on a revamped Wear OS 3 platform co-developed with Google, it uses the One UI Watch interface. It's designed to create a seamless experience across Samsung devices, with apps and settings syncing across both your smartphone and your smartwatch.
More importantly, the new system's Wear OS underpinnings mean One UI Watch will address one of the key shortcomings of Tizen: apps. The Galaxy Watch 4 supports the Google Play Store, as well as software and services developed by Google – such as Maps – alongside familiar offerings from Samsung, including Bixby, Samsung Pay and SmartThings. If limited app availability was stopping you from strapping on a Samsung, those changes should put the Galaxy Watch 4 right back into contention for a spot on your wrist.
So how will Apple return serve? With watchOS 8. But don't go thinking that everything's changed. The latest update does introduce features specifically for the Series 7: fresh faces which fill the bigger screen, larger font sizes and a new machine-learning keyboard which supports intelligent swipe-to-type inputs. Buttons are bigger too, so fatter fingers should have fewer problems silencing alarms.
WatchOS 8 also adds a few useful updates for smart home control, improved Wallet functionality and an updated Photos app. Otherwise it's all very familiar. That's no bad thing, given how accessible Apple's wearable interface is. But the gap to Samsung is much smaller now than when compared to the Tizen interface toted by previous iterations of the Galaxy Watch.
In reality, which watch works best for you will depend in large part on the smartphone that lives in your pocket. Samsung has designed the Galaxy Watch 4 to work first and foremost with Galaxy smartphones. Likewise, Apple wants you to pair its ticker with an iPhone. So if you already have an allegiance to a mobile maker, your choice is all but made.
Performance & battery life: live long and prosper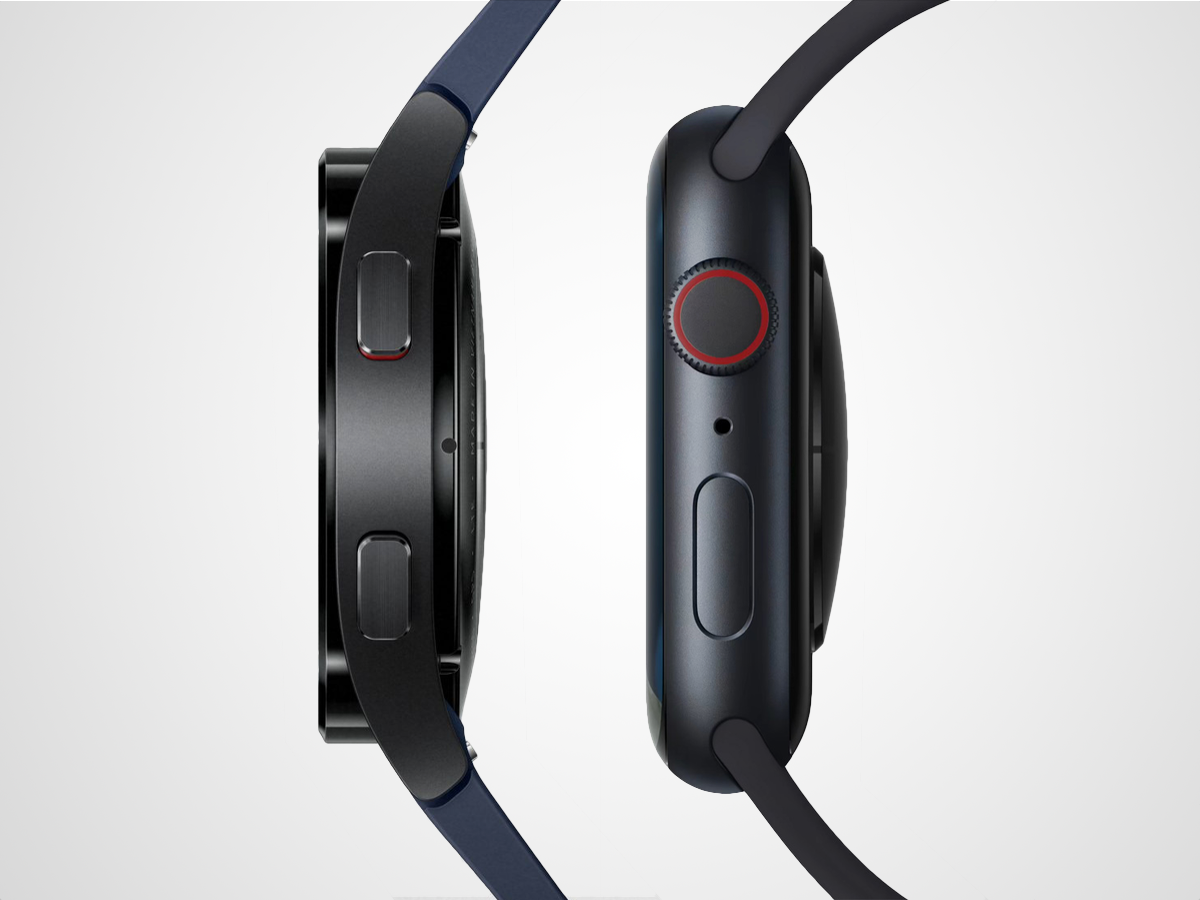 Such are the advancements in processor tech, very few smartwatches are sluggish in 2021. Still, it's reassuring to know that the Galaxy Watch 4 features the first 5nm chip in a Galaxy Watch – and the reported improvements are significant. Samsung reckons the latest generation will be 20% faster than the previous Galaxy Watch. It also claims the GPU will be 10 times quicker, for super slick scrolling, aided by twice the RAM.
How that compares to the Apple Watch Series 7 will require proper hands-on testing. And it's tricky to make predictions, because Apple has been tight-lipped about any chip changes – which suggests that the same (or a very similar) 64-bit dual-core S6 processor still sits at the heart of the Watch. The Series 6 was hardly sluggish, but only a true test will tell which chip is zippier.
Apple hasn't overhauled battery capacity either: the Watch Series 7 still offers a predicted 18 hours of use from a full charge. While that will disappoint everyday users, the addition of faster charging should make a useful difference. The Series 7 will reportedly refill 33% quicker than the Series 6, meaning it should top up to full in around an hour.
That's handy, but – at least on paper – the Galaxy Watch 4 blows the Apple Watch Series 7 out of the water on battery life. The larger variants come equipped with a 361mAh cell which Samsung reckons will be good for up to 40 hours on a single charge. Even if that's an optimistic estimate, it still trumps Apple's timepiece more than twice over. If you're someone who despises daily charging, this could be the dealbreaker.
Health & fitness features: setting the pace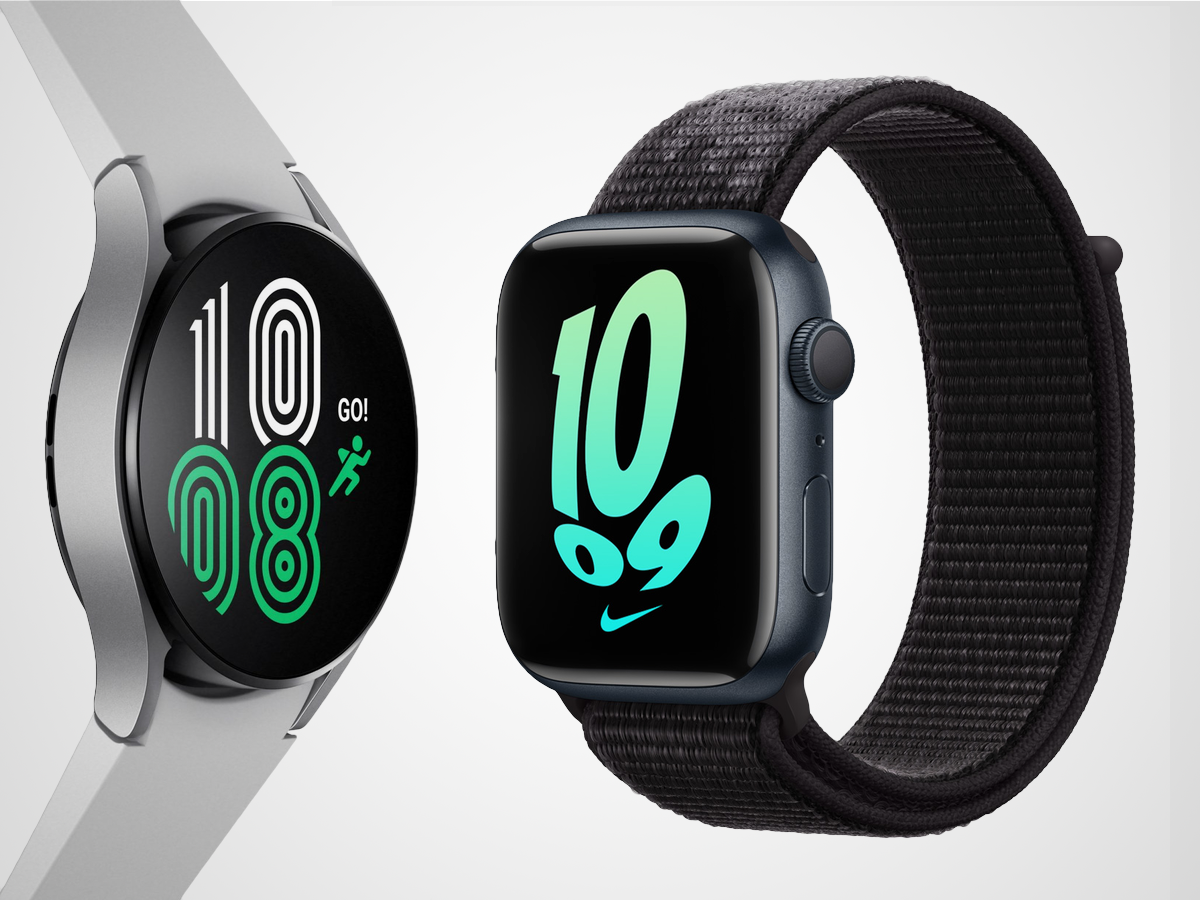 For sporty sorts, the Apple Watch has previously been the ticker of choice to track activities and get in-depth fitness insights. Yet it's Samsung that now appears to lead the pack when it comes to physical health.
Sure, the Apple Watch Series 7 can monitor your blood oxygen, take an ECG at any time (to detect irregular heart rhythms) and deliver in-depth sleep analysis. But so can the Galaxy Watch 4. In fact, the Galaxy goes further by recording your snoring. And both devices are equipped to log your sweaty pursuits, with dedicated workout modes for everything from swimming to sprinting to cycling.
WatchOS 8 does deliver a number of new and improved fitness features for the Apple Watch, including an updated Mindfulness app, automatic bike ride detection (including auto-pause and resume), voice feedback during activities and improved fall detection to better recognise if you've taken a tumble. But not one of these really seems like a game-changer.
Far from simply keeping pace, Samsung appears to have dashed ahead with its new Body Composition Analysis tool, which processes data from the Watch 4's BioActive sensor to measure body fat percentage, skeletal muscle mass, basal metabolic rate and more. All of which should deliver much more meaningful health insights.
The Series 7's main advantage? Access to Apple's Watch-based workout platform, Fitness+. With a paid subscription, this unlocks access to guided sessions across 11 disciplines. But there are any number of alternatives available through the Google Play Store, from Nike Training Club to Peloton, which should work on the Galaxy Watch 4.
Initial verdict: which should you buy?
It's always tricky to pick a winner without trying both devices. But it's even more difficult in this case because, while each smartwatch serves the purpose of tracking your stats, accessing apps and providing smart support from your wrist, they're actually very different propositions.
The Apple Watch Series 7 is a solid update to a proven recipe. It's got a bigger, brighter screen than before and features tweaks in a few key places. And if you're hooked into the Apple ecosystem, it'll only be too happy to talk to your other iDevices.
On the other hand, Samsung's Galaxy Watch 4 brings its timepieces out from the shadow of Tizen and into a world with countless apps. It more closely resembles a traditional ticker, plus it has all the fitness chops to challenge Apple – and goes one-up with Body Composition Analysis. But it's also very clearly made to work best with Samsung hardware, with Android devices coming in second. And you can bet that support for Apple hardware will be a distant third.
Like the Apple Watch Series 6 before it, prices for the Series 7 start at £379. The Galaxy Watch 4 is notably more affordable, with the standard edition starting at £249 and the Classic version at £349 – which adds a further feather to Samsung's cap. Yet cost is only one consideration in this complicated competition. Watch this space to find out how those specs play out in our full reviews – and which watch is really worth your wonga.