Apple iPhone 6s vs Samsung Galaxy S6: the weigh-in
Samsung's flagship is tops now, but can Apple's refined phone assert dominance?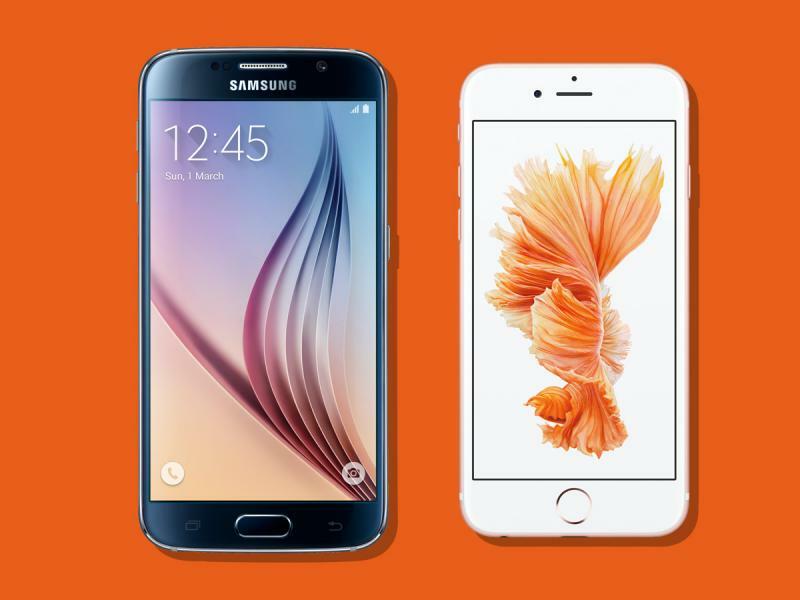 As we write this, the Samsung Galaxy S6 sits in the throne atop our list of the best smartphones in the world right now. Apple's iPhone 6? Well, that's #7.
Given that the iPhone 6s uses last year's model as its primary basis, this fight seems well and over, right? Not so fast: the 6s does implement a variety of big upgrades, including 3D Touch input, enhanced cameras, and better components. Keeping with Apple tradition, it's the model that improves upon its more daring predecessor.
But the Galaxy S6 rules our list for a reason: it's a mighty spectacular phone, through and through, and it's the best overall handset we've used all year long. Still, we can't help but wonder if Apple's latest core phone will put up more of a challenge than the last one. Now that we've had a look at the specs and a hands-on, here's our initial projection of how they stack up. 
Build buddies
Given Samsung's… let's call it, appreciation of Apple's design work, it shouldn't surprise anyone that the Galaxy S6 bears more than a passing resemblance to the iPhone 6. By extension, that means that the iPhone 6s is now very close to the Galaxy S6, as well. Both are large, rounded rectangles with minimal fuss and a button on the bottom. Boom, smartphone.
We'll give a small nod to Samsung on this one, though, as the glass backing of the Galaxy S6 is certainly preferable to the bland metal of the iPhone 6s, and we like the flattened flourishes on the sides. Surely some will love Apple's new Rose Gold option, but given the choice, we'll take the sleek, reflective look of the Galaxy S6.
Winner: Galaxy S6
One sided
This isn't really a fair fight. Look, Apple consistently pumps out great-looking phone screens, and the iPhone 6's 4.7in display was the best yet in terms of contrast and colouring. The iPhone 6s retains the same screen, as far as we can tell, and it's an attractive Retina panel – but it just pushes past 720p resolution.
By comparison, the larger 5.1in display of the Galaxy S6 is a Quad HD screen, and it's an absolute stunner. A Retina display looks fine until you start using a 2K phone, and then you start noticing the pixels you didn't see before on Apple's device. Samsung simply rules the smartphone screen game right now.
Winner: Galaxy S6
Shootout
Samsung's Galaxy S6 camera – also seen in the S6 Edge, Note 5, and S6 Edge+ – is the best overall smartphone shooter we've used, delivering fantastic results even on automatic settings. Other recent Android phones come close (notably the LG G4), but in everyday use, we want Samsung's 16-megapixel back camera at the ready.
But Apple has a real shot here. iPhone cameras have long outperformed their pixel counts, which is why the company could reasonably stick with 8-megapixel cameras while rivals bumped their respective tallies. Now, the iPhone 6s has a 12-megapixel iSight camera, and the photos shown at yesterday's event were truly spectacular. Also, the phone can grab 4K video footage now, which is huge.
The Galaxy S6 camera is so good that we don't expect anything close to a blowout here. But Apple's smart technology could push that 12MP shooter to the top – or at least make things really interesting. (Also, the Live Photos seem super cool. Just saying.)
Winner: Draw
Power struggle
Samsung's Exynos 7420 system-on-a-chip is an absolute app slayer, handling any game or media you can throw at it and crushing benchmarks without breaking a sweat. It's the most powerful Android phone on the market right now, but that's Android. iOS is really a different beast.
Each new iPhone is consistently fast and capable of high-end graphics, and what we've seen of the new A9 chip looks really fantastic – particular with gaming. Add in the long-awaited bump up to 2GB RAM (the Galaxy S6 has 3GB, note) and iOS 9's optimisations, and we expect it'll be speedy and thoroughly impressive, as well.
On the battery front, we found the Galaxy S6 to be a reliable all-day phone with its 2550mAh pack. We don't know yet how big the iPhone 6s battery is, but iOS 9 promises about an hour more of battery life than the iPhone 6, and that was typically a very solid all day device. Both ought to be pretty similar, then.
Winner: Draw
Software showdown
Samsung's TouchWiz skin isn't the ideal way we'd like to experience Android (stock Marshmallow, please), but the version seen on the S6 and other recent devices is such a dramatic improvement over past iterations. It's clean, it's fast, and it's mostly attractive, aside from some dull menus.
Still, we think the iPhone 6s may have the edge here thanks both to iOS 9 and the addition of 3D Touch. iOS 9 refines last year's great OS with fresh visual tweaks – live wallpapers, a new system font – and a focus on speed and stability. But it's 3D Touch that may make Apple's OS even more useful than ever, offering quick access to deeper menus. Also, Siri's proactive perks and between-app search capabilities should make iOS 9 even more of a pleasure to get around.
Winner: iPhone 6s
Initial verdict
Given the iPhone 6s mantra of refinement rather than revolution, we'd be surprised if it ends up taking the top spot on our best smartphones list over the Galaxy S6. Samsung's flagship is a pleasure to use, the screen is absolutely remarkable, the camera is tops on the market, and Android's customisation is ever appealing.
That said, Apple's latest has a lot of things going for it, including 3D Touch capabilities, the upgraded cameras, and various iOS 9 perks, making it seem like a better-rounded device than the iPhone 6. Whether or not that's enough to steal back Samsung's thunder remains to be seen, however.