Apple iPhone 14 vs Samsung Galaxy S22: which is best?
Apple's latest and greatest takes on the most mainstream Android alternative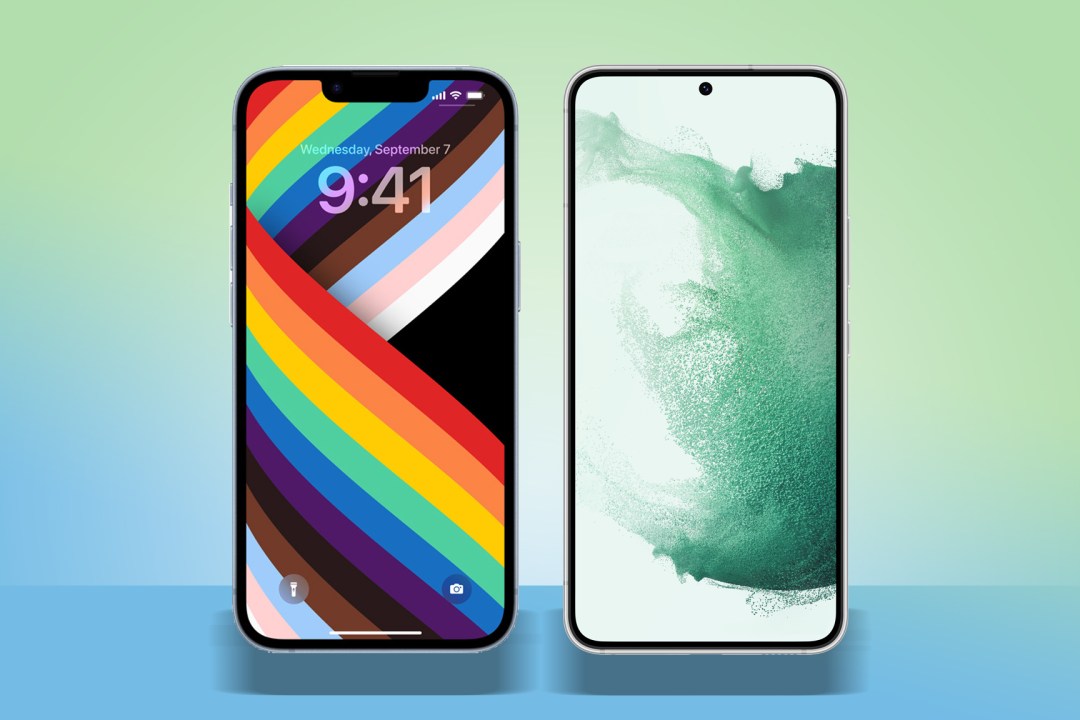 The iPhone 14 is the everyman iPhone. It doesn't command the eye-watering price of the Pro, and has a more palm-friendly display than the Plus, but still packs plenty of new hardware. It's a similar story with the Samsung Galaxy S22: the most mainstream Galaxy is smaller in stature than the S22 Plus, and is a whole lot cheaper than the S22 Ultra.
Choosing between the two, though: that's a tricky prospect. There are plus points on both sides, even before you dive into the age old debate over whether Android or iOS is the best smartphone software.
We've largely stuck to the spec sheets here, seeing how each one stacks up on paper while we work on our full iPhone 14 review. Read on to find out where Apple comes out ahead – and where Samsung stays in the lead.
Apple iPhone 14 vs Samsung Galaxy S22: price & release date
The Apple iPhone 14 went on general sale on the 16th of September. Prices start at £849 for a 128GB handset, climbing to £959 for 256GB, and a sizeable £1179 for 512GB. This year's colours are Blue, Purple, Midnight (black), Starlight (white) and (PRODUCT)RED. The latter contributes to Apple's charitable efforts, including to global COVID relief.
The Samsung Galaxy S22 has been on sale for much longer, with prices starting at £769 for a model with 128GB of storage, and rise to £819 if you want 256GB – although there's no shortage of mobile network offers if you don't mind signing up for a multi-year contract. There are plenty of colour options to choose from, too. Bora Purple, Phantom White, Phantom Black, Green and Pink Gold can be found at all the usual bricks-and-mortar shops and online retailers, while Graphite, Cream, Sky Blue and Violet are currently exclusive to the Samsung web store.
Apple iPhone 14 vs Samsung Galaxy S22: tech specs
Apple iPhone 14
Samsung Galaxy S22
Screen
6.1in, 2532×1170 OLED
6.1in, 2340×1080 AMOLED w/ 120Hz
CPU
Apple A15 Bionic
Samsung Exynos 2200 / Qualcomm Snapdragon 8 Gen 1
Memory
6GB RAM
8GB RAM
Cameras
12MP, f/1.5 w/ dual pixel PDAF, OIS + 12MP, f/2.4 ultrawide rear.
12MP, f/1.9 front
50MP, f/1.8 w/ Dual Pixel PDAF, OIS + 10MP, f/2.4 w/ PDAF, OIS, 3x optical zoom + 12MP, f/2.2 ultrawide.
10MP, f/2.2 front w/ Dual Pixel PDAF
Storage
128/256/512GB
128/256GB
Operating system
iOS 16
Android 12
Battery
3279mAh, 20W wired, 15W MagSafe wireless
3700mAh, 25W wired, 15W wireless charging, reverse charging
Dimensions
147x72x7.8mm, 172g
146×71,7.6mm, 167g
Design: iterative updates
While both Apple and Samsung have played things safe for their latest mainstream phones, not straying too far from what came before, there are a few differences worth highlighting – not least the fact that they look completely different from each other. Gone are the days when Apple would lead and the rest of the phone world would follow. Well, mostly.
The iPhone 14 uses an aluminium frame, sandwiched between two panes of flat glass. The sides are completely flat too, with machined buttons and subtle antenna lines. It's basically a modern take on the design icon that was the iPhone 5. The rear camera bump is square, with two diagonal lenses.
The biggest physical change is the removal of the SIM card slot – at least if you're in America. Apple has gone eSIM only in the US, while the rest of the world still has the option of a physical SIM.
Samsung, meanwhile, has gone for an aluminium frame sandwiched between two panes of flat glass. Wait, didn't we say it wasn't exactly like an iPhone? That's because the S22 has curved sides rather than flat ones, with a hole punch rather than a notch for its front camera and a vertically stacked bump for its rear ones. The glass has a matte finish, while the frame is shiny.
Screen: bright and brighter
Samsung used to have the iPhone licked for screen quality, thanks to its insistence on AMOLED panels and high resolutions. The gap isn't so large any more, with Apple actually taking the lead in terms of outright screen resolution. Both phones have 6.1in panels, with the Galaxy topping out at 2340×1080 and the iPhone reaching 2532×1170.
Both phones use OLED panels, which should deliver perfect blacks and impeccable contrast, but it's the S22 that gets brighter on paper. It'll manage a huge 1300nits peak, compared to the iPhone's (still mighty) 1200nits.
More importantly, the S22 has the benefit of a 120Hz refresh rate. Apple refuses to add fast refresh to its phones, having only done so on its iPad tablet range so far. That means the Samsung will feel smoother when scrolling or swiping through home screen pages.
Cameras: two versus three
It hasn't increased the lens count, or boosted the number of pixels each of its rear cameras uses, but Apple has given the iPhone 14 larger sensors and a new Photonic Engine image processor, which promises much-improved low light photography. You get a main and an ultrawide snapper on the back, plus a new TrueDepth camera up front. The latter has autofocus for sharper selfies.
You can expect image processing to be on par with Apple's other phones, meaning it'll be among the best of any in the phone world. Colour, exposure and contrast handling will likely be the same as last year's model, as that's what iPhone customers are used to.
Samsung has settled on three cameras for its most mainstream flagship, giving it a leg up over the iPhone – at least in terms of versatility. You're looking at a 50MP main snapper with dual pixel PDAF and optical image stabilisation, paired with a 12MP ultrawide and 10MP telephoto (also with OIS) that delivers 3x optical zoom. There's also a 10MP selfie cam up front.
We frequently rank Samsung's phone photos among the best, alongside Google and Apple, across all lighting conditions. The "Galaxy look" does tend to be more vibrant, colourful and with slightly accentuated HDR than its rivals, which some people love – but others find a little heavy handed.
Performance: Bionic brilliance
Apple has been knocking it out of the park with its own-brand silicon, whether we're talking tablets, laptops or phones. The iPhone 14 isn't a massive upgrade over last year's model, with just an extra GPU core setting it apart – but then it wasn't exactly hurting for performance. iOS 16 will surely feel slick at all times, and it should run smoothly even when being hammered by particularly demanding apps.
Depending on where you buy it from, the Galaxy S22 either comes with a home-grown Exynos 2200 CPU or a Qualcomm Snapdragon 8 Gen 1. Both are powerful chips, and both are paired with 8GB of RAM, but it's the international Qualcomm variant that has the edge in terms of performance. Neither are as rapid as the iPhone 14, which dominates in whatever multi-platform benchmark you care to throw at it. That said, the Galaxy S22 is still up there with the fastest Android phones, and is able to run any app or game from the Play Store smoothly.
Battery: size isn't everything
Apple was quick to disclose battery sizes for the newest crop of iPhones, something it hasn't been great on in the past. We know the vanilla 14 uses a modest 3279mAh battery, which should be good for 20 hours of video playback – an hour more than last year's model, according to its maker. It has MagSafe on-board for wireless charging, with 15W speeds being on par with Samsung, but wired charging is a step behind at 20W.
Samsung, meanwhile, is more upfront. The Galaxy S22 has a 3700mAh battery, which is a little on the small side for a 2021/2022 flagship phone, even if it'll comfortably last all day away from the mains. It supports 25W wired fast charging, and 15W wireless charging with powershare.
Initial verdict: close run race
Putting iOS and Android to one side for a moment, there's really not a lot in it between the iPhone 14 and Galaxy S22. Both have premium styling, excellent screens and powerful internals. Both are also modest updates over what came before, which might hamper upgrade appeal.
We do have to give the edge to Samsung in a few places: it has a higher refresh rate screen, dedicated telephoto camera, and larger battery. Performance is absolutely back in Apple's court, but Samsung's handset is the cheaper of the two.
Ultimately we know iOS fans are unlikely to switch to Android, and vice versa. Whichever you choose, you'll be getting a killer smartphone – but on specs alone, it's the Galaxy S22 that stays ahead. Only just.