8 things you need to know about FIFA 18
The football season might be over, but we've already got a first glimpse at the new FIFA
It's not quite squeaky bum time yet but the launch of FIFA 18 is sneaking up like a defensive wall when it notices that the ref has forgotten to deploy his magic spray.
After an afternoon spent playing the game, these are the eight things we reckon you need to know about the latest iteration of EA's annual kick 'em up.
1) It looks amazing
FIFA 17 used the Frostbite engine for the first time and, like a first attempt at playing the trumpet, there was the odd accidental parp. At the second attempt, though, EA is really starting to make sweet music.
FIFA 18 looks incredible, with more realistic lighting effects and a new animation system that means players are less prone to those glitchy, clone-like movements you'd occasionally see when changing direction or jostling with opponents. Associate producer Sam Rivera told Stuff that the step up in fidelity was the gaming equivalent of going from regular HD to 4K.
Player likenesses have been taken up a notch too. There's more life in their eyes and when you pause a replay you'd be forgiven for thinking it was a still from a trailer.
2) Ronaldo runs like Ronaldo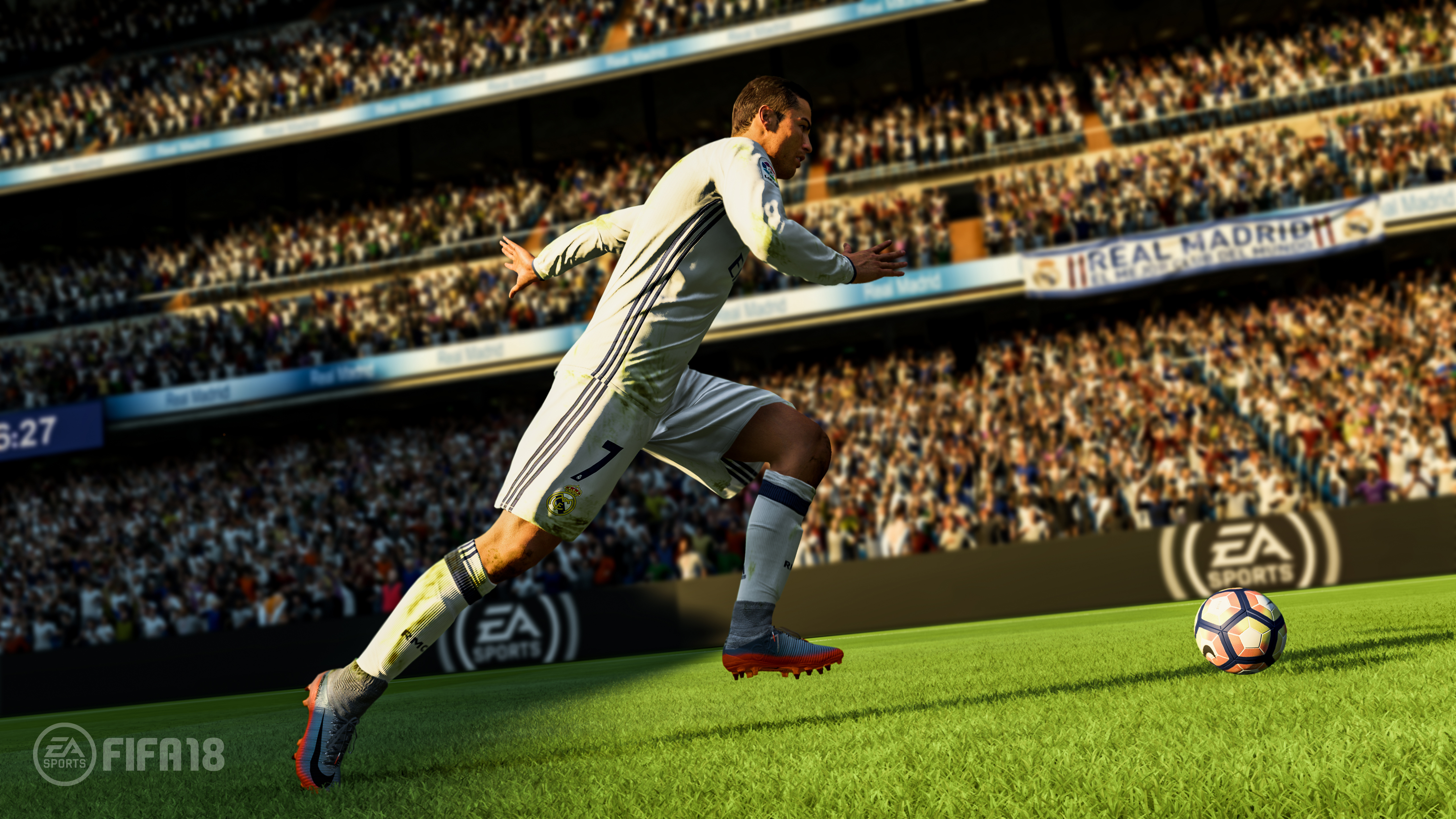 FIFA 18's new animation system also means motion capturing takes a lot less time, so EA sent a team to Madrid to suit up CR7 himself. 50 minutes later and they had enough data to recreate the world's second-best player in all his glory, trademark run, free-kick stance and all. If only that sculptor that made him look like Sloth from The Goonies had been given access to it.
Raheem Sterling and Bayern Munich's Arjen Robben will also get the recognisable run treatment, with a couple more due to be unveiled before launch.
3) The crowds are alive
Not with the sound of music, more likely a few pre-match pints and a pie containing some mystery meat. But FIFA 18's crowds are far more enthusiastic than ever before. Where previously they'd all stand up or sit down in absolute unison, there's now much more spontaneity in the way they behave.
Score a goal and pockets of fans will spill over the seats in front, while others will surge into the aisles to get as close as possible to their heroes. You can even celebrate in amongst your adoring fans if you can work out the correct button combo after scoring (we couldn't).
Go ground-hopping around the world and the crowds will reflect the local football culture, with fans at River Plate's El Monumental beating drums and waving flags for the full 90 minutes.
4) You might actually score from a cross
Crossing the ball in FIFA 17 is usually about as potent as the England team at a major tournament, so EA has lowered the trajectory and added a bit more whip to balls delivered from out wide, the idea being that they won't just hang in the air waiting to be won by whoever can jump the highest.
Still want to take advantage of the human lamppost you've got wearing the number nine shirt? Holding the left bumper will lob in a high ball, while holding the right one (or double tapping the cross button) will keep it close to the turf for those fox-in-the-box types.
5) But penalties are still a nightmare
The penalty system that EA introduced in FIFA 17 was, shall we say, an acquired taste. Without hours of careful practice your spot kicks were more likely to be blazed wide, or dribble past the goalkeeper as he dived extravagantly in the opposite direction, than emphatically find the top corner.
EA is sticking by the much-maligned system for FIFA 18 but associate producer Sam Rivera promised Stuff that it would be "tweaked to make it a bit easier." Here's hoping.
6) Alex Hunter is back
The Journey, FIFA 17's story driven single-player experience, was greeted with a certain amount of scepticism when it was announced but 13.5 million people played this Roy-of-the-Rovers-meets-Hollyoaks mode. That makes it more popular than the finale of series six of Game of Thrones.
As a result, it's back in FIFA 18, with a new six-part installment of Alex Hunter's story that'll take him away from the familiar pitches of the Premier League. EA's holding back most of the details until Gamescom in August but has revealed Cristiano Ronaldo will make an appearance, there'll be other playable characters and you'll be able to have a friend take control of a teammate during matches.
7) Legends aren't just on Xbox anymore
When EA introduced Legends to Ultimate Team mode on FIFA 14, the veteran players were only available if you played on an Xbox. That meant Playstation owners were deprived of adding historic players such as Dennis Bergkamp, Paulo Maldini and, er, Freddie Ljungberg to their squads – but on FIFA 18 they will miss out no more.
Now renamed Icons, the first new addition will be Il Fenômeno, aka Brazilian Ronaldo. While many people now associate him with his lacklustre performance in the final of the '98 World Cup and the less-than-athletic physique he's displayed in recent years, it's the Ronaldo that banged in goals for Barcelona, Real Madrid, Inter and AC Milan that you'll get to name on your team sheet here.
Expect more Icons to be announced at Gamescom.
8) It's out on 29 September
While Stuff spent three hours playing FIFA 18 at a special preview event recently, there are still a few months to go before it'll be ready for public consumption. It's due for release on 29 September, with various eye-wateringly expensive special editions available to pre-order now.