Why these Spigen accessories are must-haves for Tesla owners
Discover Spigen's made-to-fit accessories for Tesla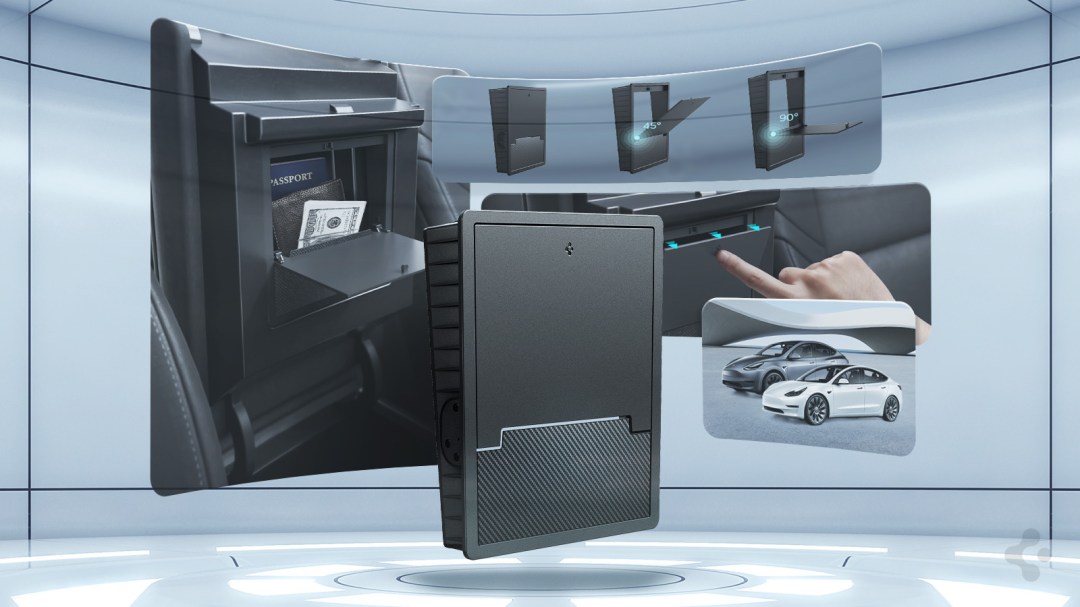 Owning a Tesla means you're interested in high-tech, high-quality, well designed solutions as much as you are in reducing air pollution, and Spigen is the Tesla accessory maker that everyone should know.
Spigen has been taken to heart by many thanks to its high levels of quality, durable protection, and constant innovation of new accessories for the way we live our lives in the modern age. The brand is well known for its cases and chargers for the best mobile phones and earbuds, and it has now turned its attention to the auto industry, creating new accessories for the Tesla Model 3 and Y.
Moving forward, you should keep your eyes peeled in early 2024, Spigen will be extending its auto product coverage for the Tesla Model 3 Highland.
Calling all Tesla owners!
Spigen has always provided excellent durability in its products, with military-drop certified protection that means you can be sure you're getting the best quality available. Its Tesla accessories enhance the functionality of the vehicle, expressing the owner's individuality and style on both the inside and outside. They can improve the driving experience, and contribute to the safety of both the vehicle and its passengers.
Keeping in tune with Tesla's style, Spigen offers robust products that are durable and high-quality as allowing you to personalise the interior of your car, improve the convenience of driving, and utilise the space in a more practical manner.
Click here to discover the full range of Tesla accessories from Spigen
Get organised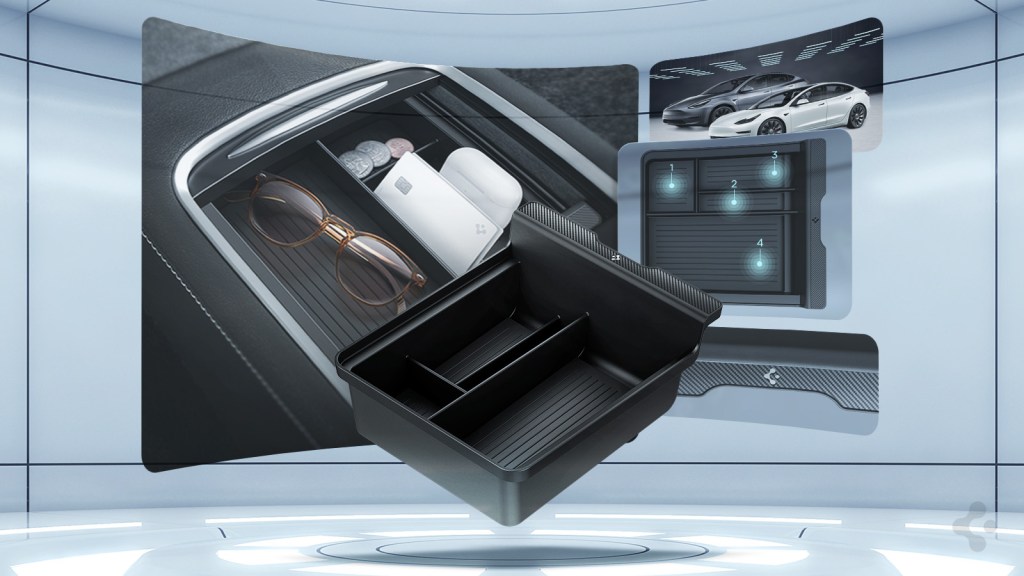 A bestseller in Europe, Spigen's console organiser tray for the Tesla Model 3 or Model Y is made from premium carbon fibre-infused material, giving it plenty of durability and style. It's made to precisely fit the cars, so installation is hassle-free and you can maximise the space available inside the vehicle, meaning a cluttered car will be a thing of the past. Its sleek multi-functional and ergonomic design allows you to cover and uncover a concealed tray, perfect for tech-savvy drivers who don't want to leave their phone or other electronic devices on display.
Click here to discover Spigen Centre Console Organiser Tray
Upgrade your Tesla with Spigen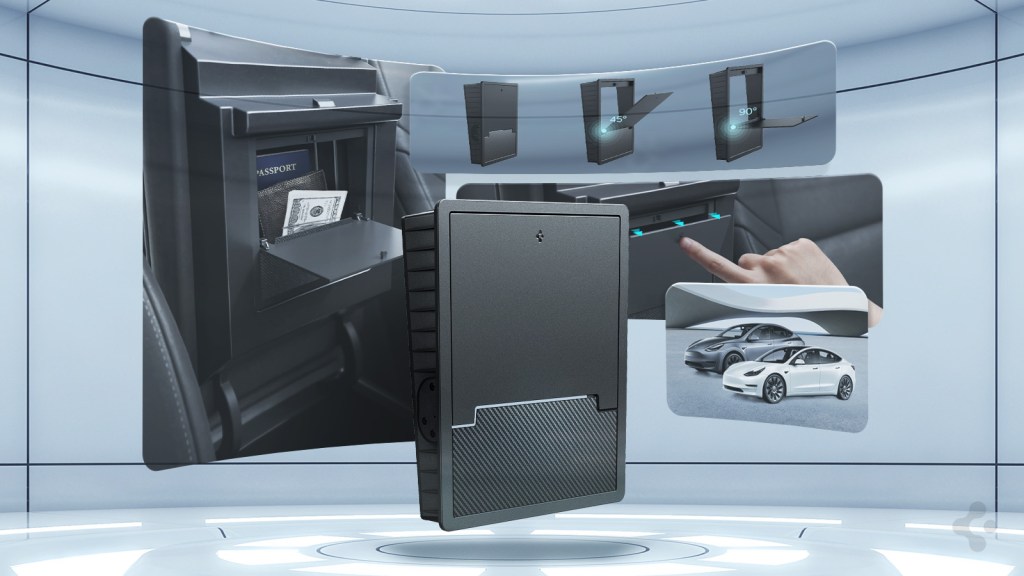 Adding a hidden storage box to your Tesla takes things a step further, giving you more privacy from prying eyes. The box is easily installed below the armrest, and fits precisely in the space. A simple tap to open provides access to the hidden compartment quickly, allowing you to get your phone, keys, documents, or whatever else you want to protect swiftly. The box is ultra-durable, and securely mounted with robust 3M double-sided adhesive.
Click here to discover Spigen Hidden Storage Box
Storage made easy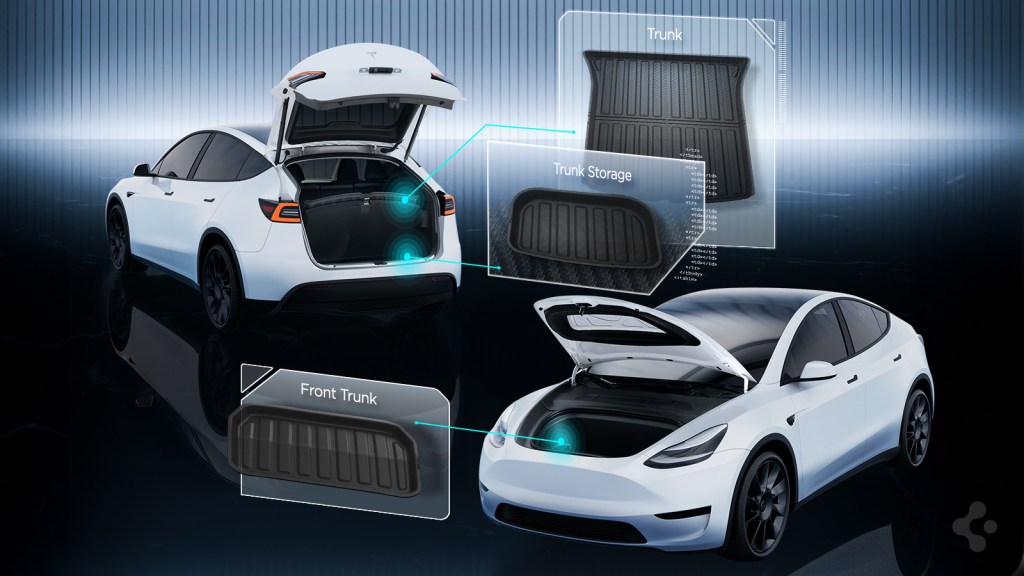 Even the boot of your Tesla can be customised with Spigen accessories, preventing the scuffs and scratches that can build up on the interior with regular use.
Spigen's boot Liner Series is built with durability in mind but is thin and lightweight. Inspired by the bed shape of a pick-up truck, they'll be launched in February. They're designed to be durable and protect the interior finish from getting bumped or grazed, as well as from becoming stained by water, mud and oil. Ideal for campers, the boot Liners are thin and lightweight, so won't take up much space or add to the weight of the load.
The boot Liners are built from Spigen's upgraded XPE material, so they absorb shock too, helping to protect whatever you're transporting. A non-slip dot pattern on the base of the liners means that things won't slip around the boot, even during intense movement on or off road.
What's more, there's more than one available, meaning you can use them in the front boot and boot storage as well as the boot.
Spigen Tesla boot Mats are expected to be available starting in February. 
Keep your wheels spotless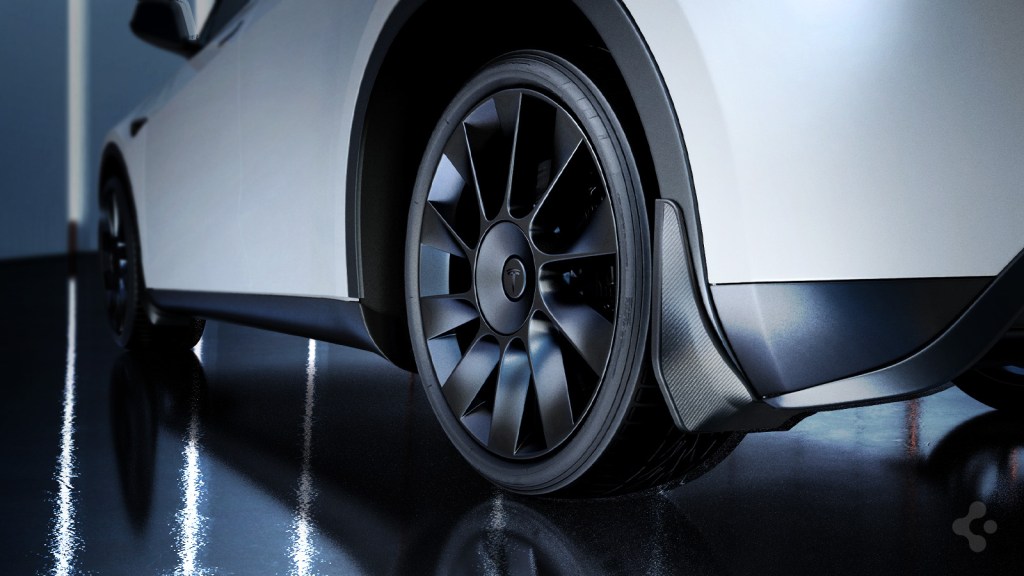 Mud flaps might not be the most glamorous part of owning a Tesla, but Spigen has been thinking about upgrades here too. Keep your wheels pristine no matter how bad the weather with sleek new flaps, designed with carbon fibre detailing, that are easy to install – just tighten the screws and drive away.
Click here to discover Spigen Mud flaps
Interior accessories for your Tesla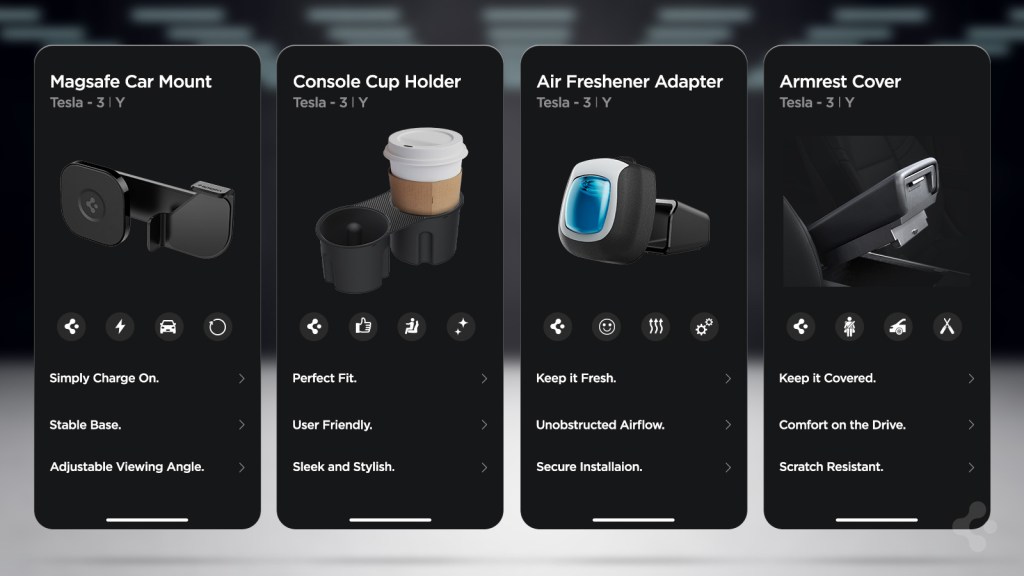 If you're carrying a recent iPhone with you, why not make use of its MagSafe attachment to mount it in your Tesla? With a powerful magnet attached, your phone will never be in danger of falling off when you're driving. Spigen's OneTap 3 MagFit phone mount is designed exclusively for Tesla Model 3, Y, X and S (2021 models). With just a single tap you can have your phone mounted and be ready to drive away.
There's more. Spigen's middle console drinks organiser allows you to carry drinks safely in your Tesla without worrying about spills. They fit up to a 20 Oz (600ml) cup, and have silicone padding to prevent your drinks from rattling in the holders as you drive.
Your Tesla can even smell better with Spigen. The Air Freshener Adapter Shelf is compatible with Febreze and Yankee Candle fresheners, and is designed to optimise airflow, delivering the scent to all areas of the car.
And if it's simple dirt protection you're after, Spigen's Centre Armrest Cover does exactly what you'd expect, protecting a part of the car that's often vulnerable to grime and keeping it showroom fresh. It's soft to the touch and perfectly matches the colour scheme of your Tesla, like it's barely there.
Why choose Spigen?
Spigen is pioneering and innovating with its mobile lifestyle movement, leading the mobile lifestyle industry and modernising and elevating every aspect of your mobile life – including driving.
Modern driving is constantly evolving, with new innovations always on the horizon. You can be sure you're covered to the highest standard in mobile life with Spigen's Tesla auto accessories.