Xgimi MoGo 2 Pro projector review: moveable movies
Let's get this show on the road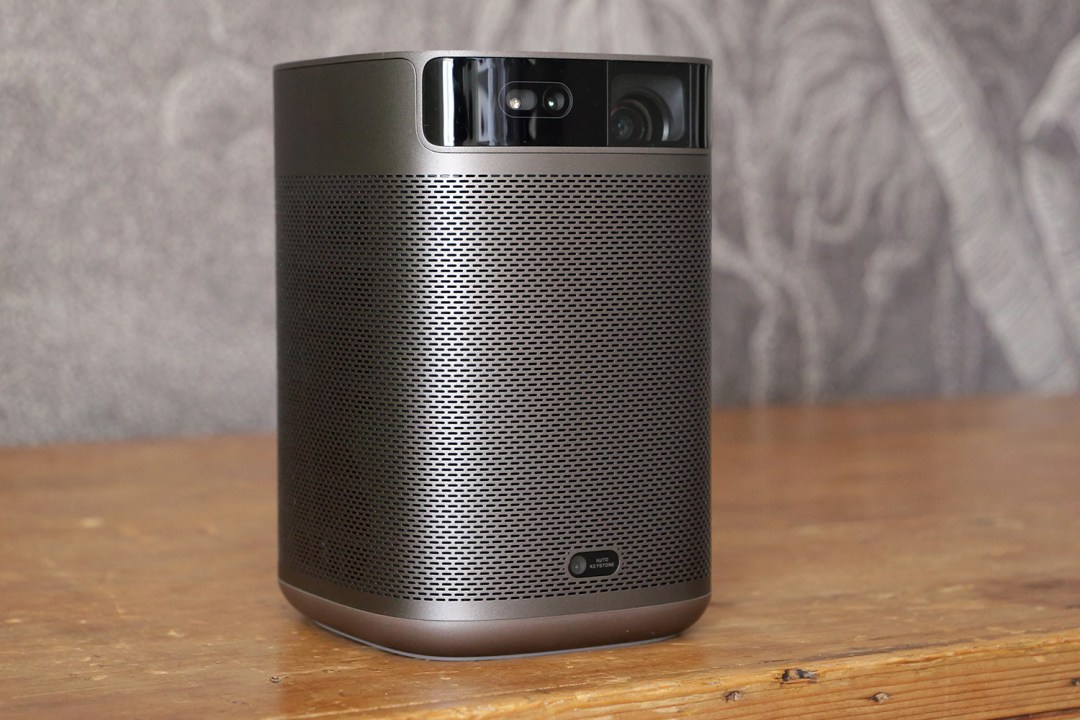 Picture this: warm summer nights spent lounging in your garden or on your roof terrace, drink in hand, popcorn at the ready and your favourite film playing on a big screen in front of you. The Xgimi MoGo 2 Pro wants to make this dream a reality. It's a portable Full HD projector with built-in speakers that can run off battery power, meaning you can take it a lot further than traditional home theatre kit. Running on the Android TV platform means it has access to thousands of apps too, so it's more than just a device to plug your phone or laptop into.
It's a killer concept, but how does this moveable movie feast fare in real-world use? We've spent a few days in the MoGo 2 Pro's company, so can reveal exactly what it's like to live with.
Design: Roll out the barrel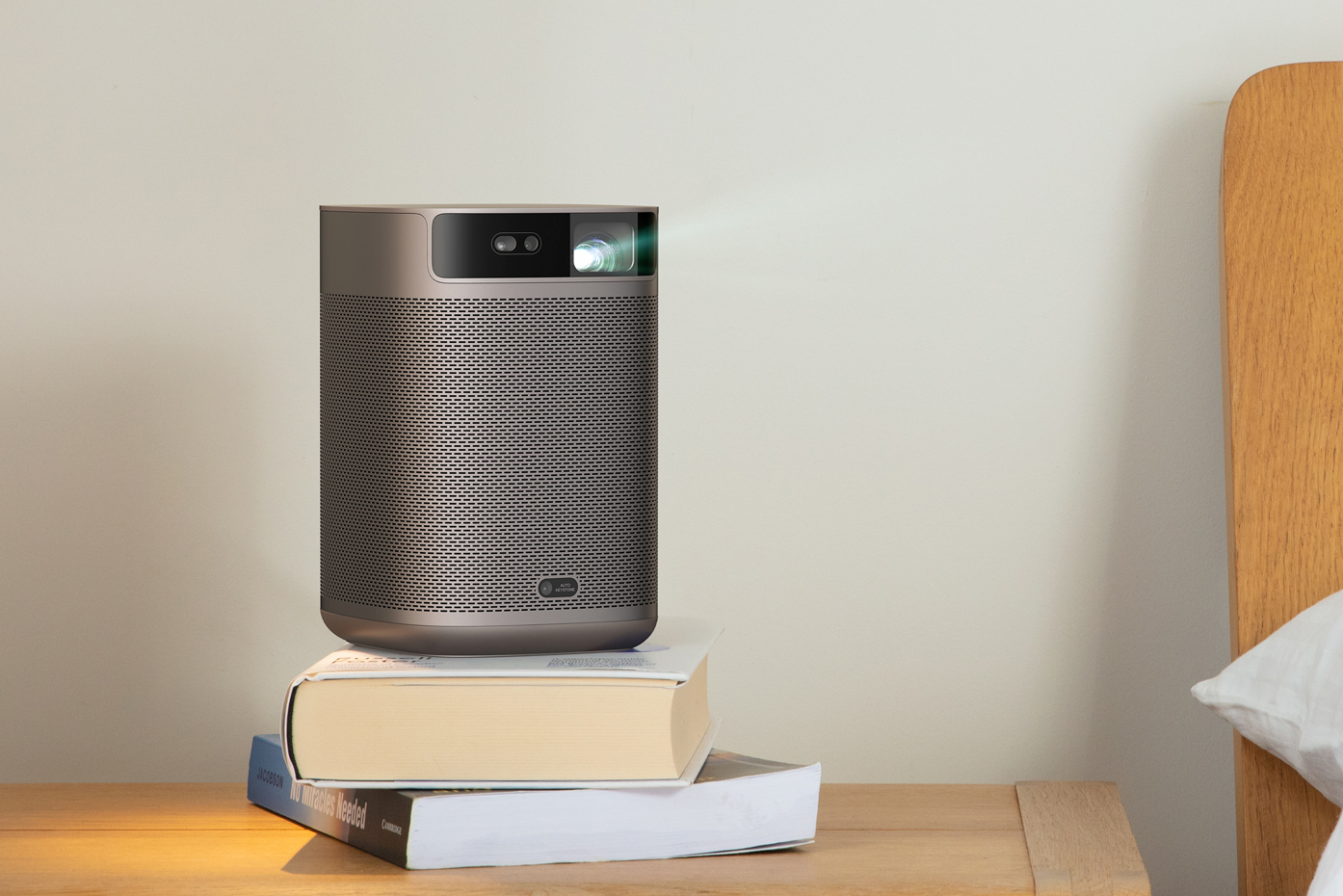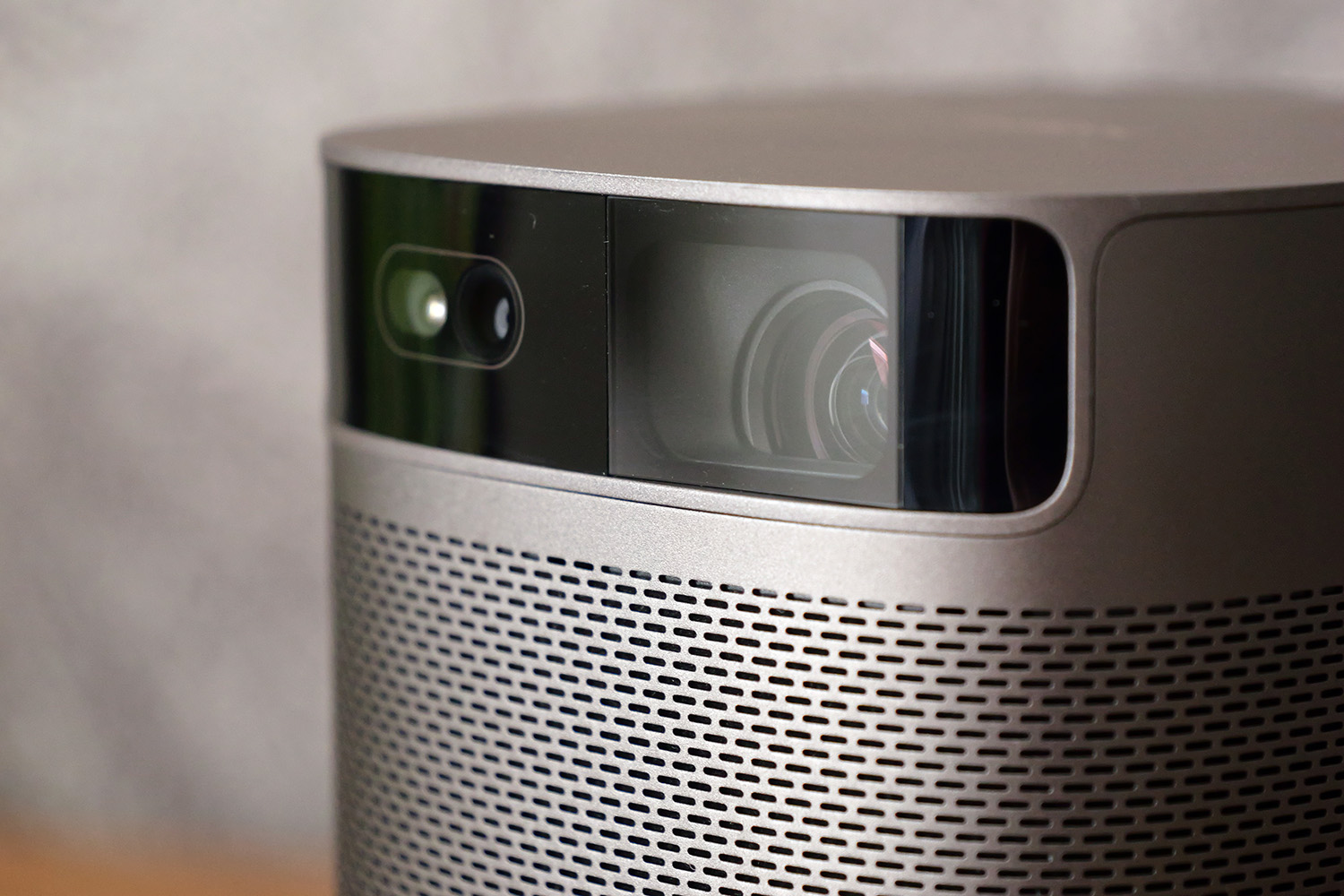 The MoGo 2 Pro isn't squat and flat like most home cinema projectors; in fact, its tall barrel shape has more in common with a smart speaker than a traditional projector. Appropriate, perhaps, because it is a speaker too, and to that end there's a grille stretching around the front and sides of the barrel – all the better to widely 'radiate' sound out in all directions.
The projector is made of solid plastic which feels sturdy enough for life on the road, but you'll want to keep it in some kind of soft protective bag while travelling to ensure you don't scratch up or mark the exterior, particularly around the lens and its cover; Xgimi doesn't provide one in the box, which is a shame, so you'll have to find something suitable yourself.
The projector is fairly lightweight too, weighing in at just over a kilo, so even if you don't want to use it outdoors it's a good travel option for hotel rooms, Airbnbs and the like.
In terms of placement and mounting options, there are really only two: place the MoGo 2 on a flat surface at a suitable height (there's a rubber foot to keep it steady); or bolt it onto something using the standard tripod mount. For ease of setup during the review process, we usually mounted it on a camera tripod and found that it worked well. As we'll see, the projector's features make setup very simple and flexible indeed.
Physical controls are limited to a single on/off button, while wired connectivity consists of an HDMI input (which supports 4K input, even if the projector itself can only create a 1080p image), USB-C port (for power supply), USB-A port (for connecting peripherals) and a 3.5mm headphone jack. It's a lean collection, sure, but given the Bluetooth 5.0 and dual-band Wi-Fi capabilities it feels more than sufficient.
Features: Auto focus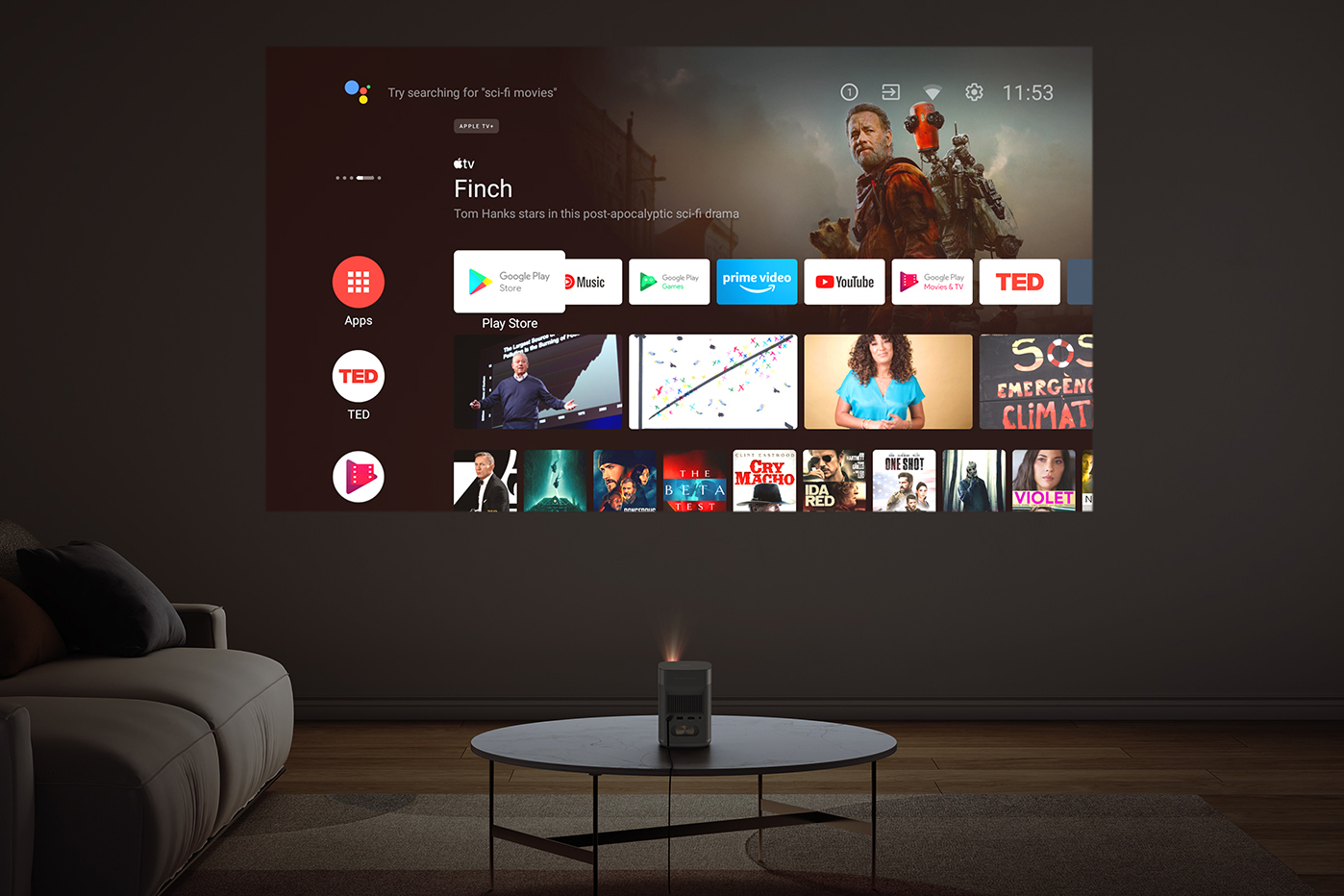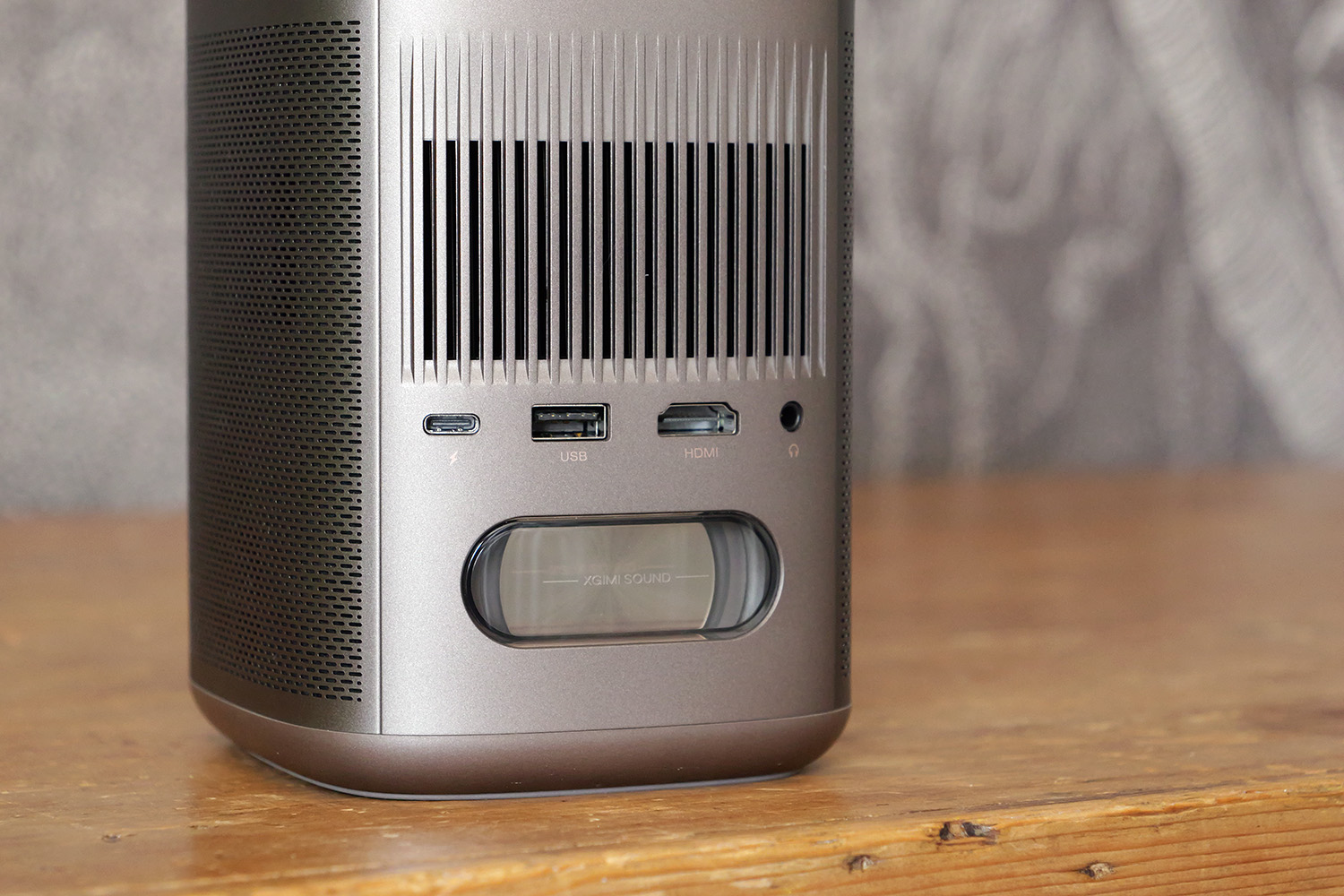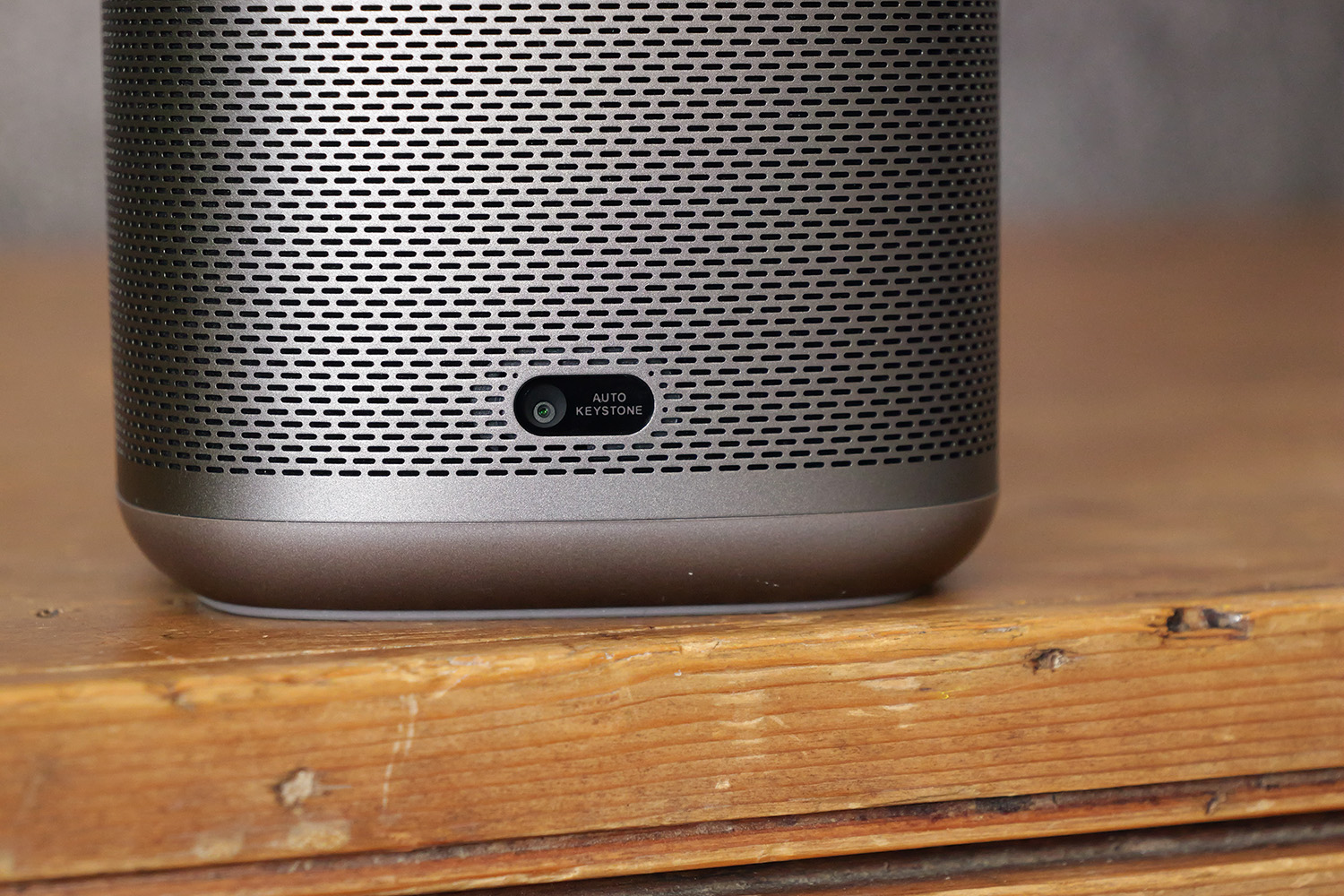 The MoGo 2 Pro is Xgimi's first projector to offer Intelligent Screen Adaption 2.0, an improved version of the company's ISA technology. What this does is essentially automate the image setup process: you place the projector facing a wall or screen, turn it on and ISA 2.0 kicks in to focus the picture, correct its keystone and level, and avoid 'obstacles' such as pictures on the wall. The 2.0 version will even do this 'on the fly', so if you move the projector while watching something it'll detect the change and adapt the picture accordingly.
It's a genuinely impressive feature that makes setup – and getting not just a usable picture but a great one – almost effortless. That's not to say it can work miracles, and it's always better to try and line up the projector and screen/wall as dead-on as you can to achieve the best image quality possible. Another handy feature – and particularly useful for users with kids, we suspect – is Intelligent Eye Protection, which automatically dims the image when someone walks in front of the projector to help avoid eye damage.
The MoGo 2 Pro runs on the Android TV 11.0 smart TV platform, which gives it access to Google Play Store apps, games and video content. In some ways, this works really well: you can just sign into your Google account to access stuff you already own and apps like Prime Video and YouTube work really well. The Netflix app, however, requires a workaround to get running, while Now subscribers don't get an app at all, and will struggle to get their content on-screen without rigging up a laptop or somehow casting it from a mobile device.
This app fussiness is frustrating, but we experienced something even more annoying when following the prompt to update our MoGo 2 Pro's Android TV to the latest version. After downloading, installing and rebooting, the projector wouldn't even load Android TV and the remote control no longer worked. We had to connect a USB keyboard and factory reset the MoGo 2 Pro to get things running again, which obviously isn't ideal as it wiped all our installed apps. Even though everything was working fine by the end, this experience added to a creeping feeling that the projector's software isn't particularly robust, so potential buyers should be aware that they may run into some oddness while using it.
Finally, we should mention that the MoGo 2 Pro supports battery power via its USB-C port, but only from power banks with 65W or more of power output. Get your hands on one of these and you'll be able to use the MoGo 2 Pro pretty much anywhere – as long as you have a suitable surface to project onto.
Picture and performance: Bright and bold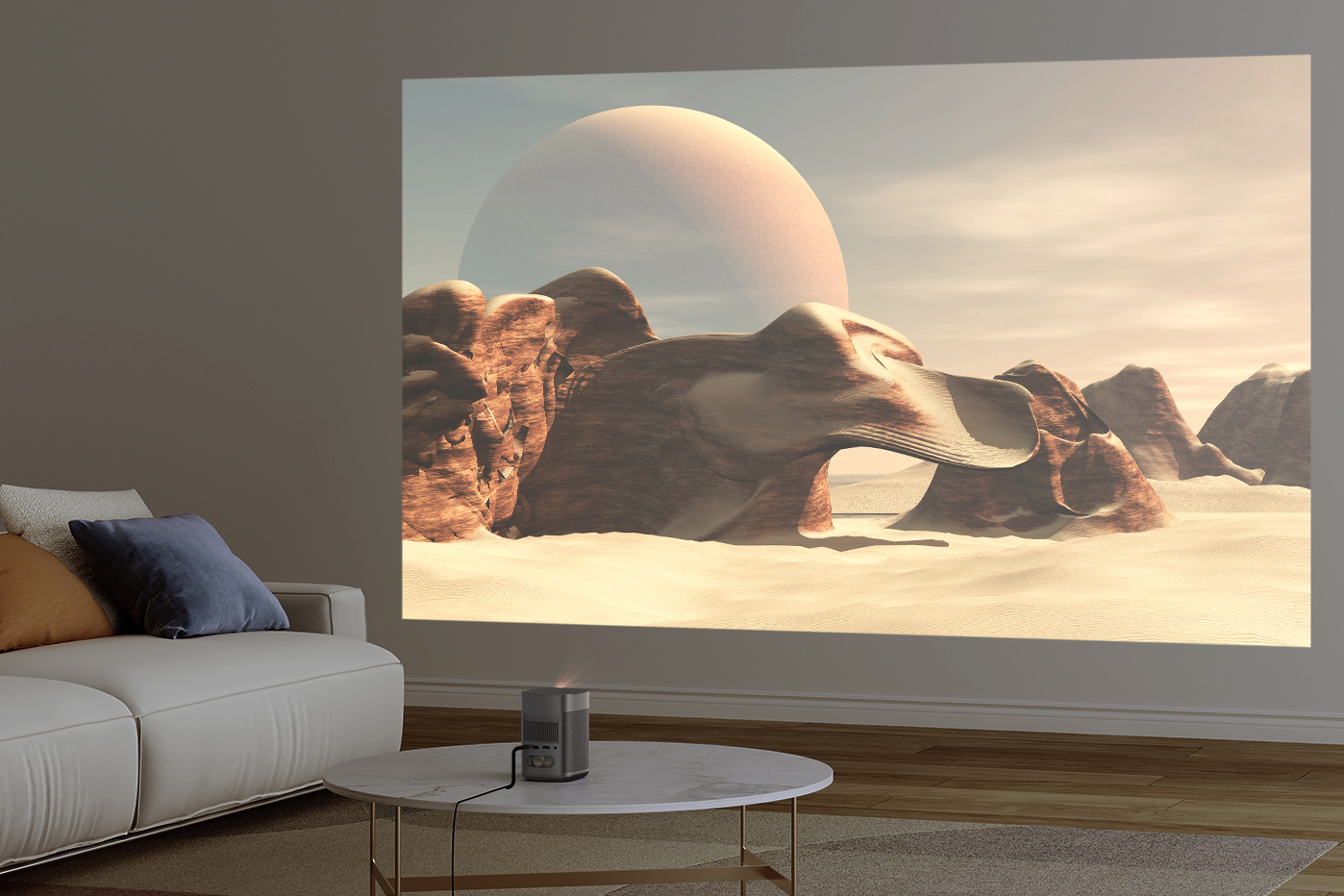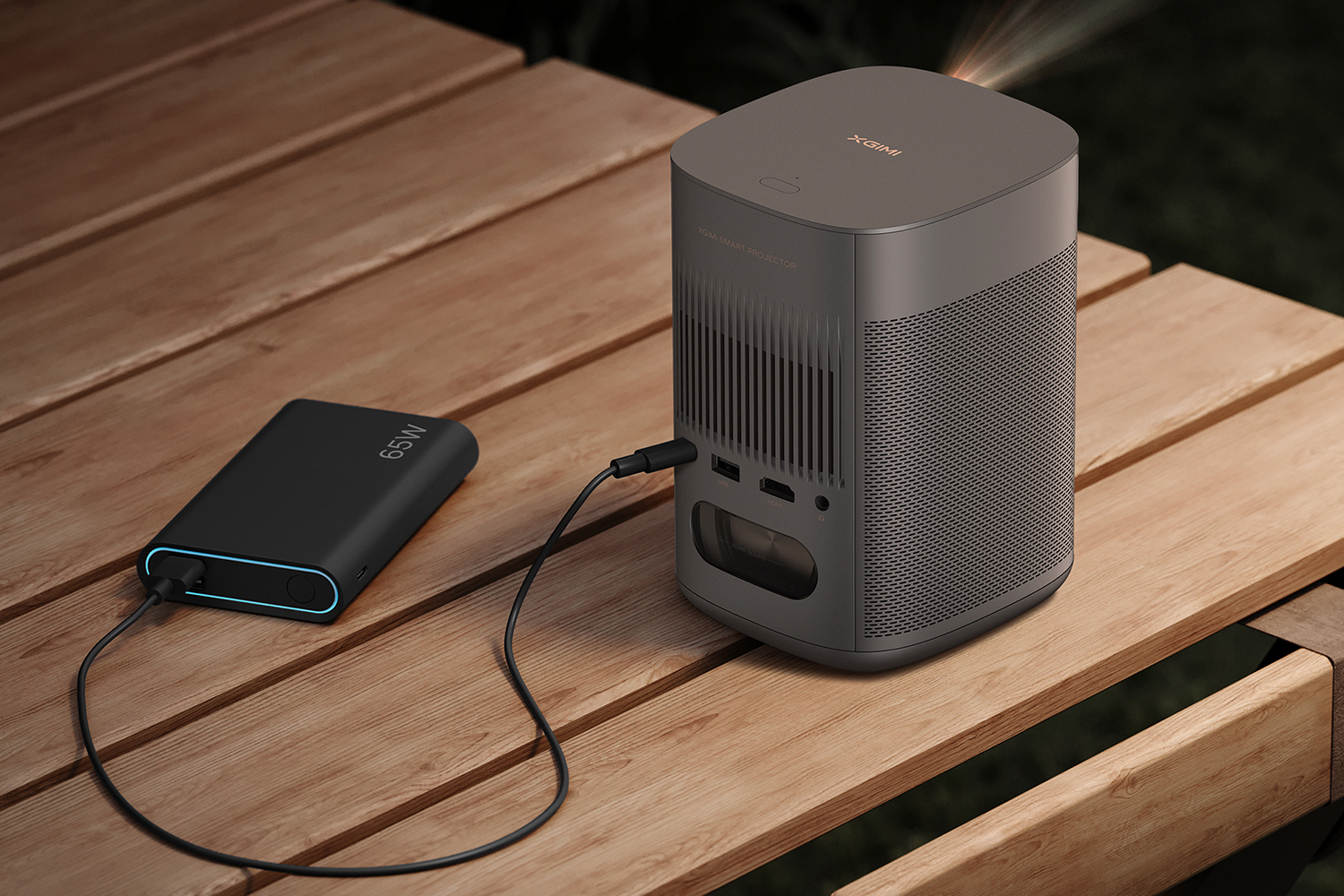 Given its portable nature you might be forgiven for thinking the MoGo 2 Pro would compromise on the performance front, but that doesn't feel like the case. While it still needs a dark (or at least dimly lit) environment to really offer a clear and punchy image, it can still do a job in a well-lit room. Pull down the shutters and it's actually pretty great to watch, though: colours are clean and bright; detail is sharp. We started streaming Hot Fuzz through Prime Video to briefly scope out the picture and sound quality, but it was so engaging that we ended up watching the entire film. This was using a white(ish) wall rather than a proper projector screen too, and in a room with quite a bit of ambient light left in it.
A big part of the engagement we felt came from the audio side of things. Xgimi claims that the MoGo 2 Pro features 'best in class' sound courtesy of its two 8W speakers, and while we can't attest to that (having not listened to all the alternatives in full flow), we can say it's really good considering the size of the projector. Sound seems to radiate in all directions, but dialogue remains clear and there's so genuinely bold 'heft' in the lower end. It's not a patch on a decent sound bar or similar, of course, but for an all-in-one and portable solution it's more than we were expecting.
In terms of UI performance, there's occasionally some lag but in general you can navigate around the menus fairly swiftly.
Xgimi MoGo 2 Pro: verdict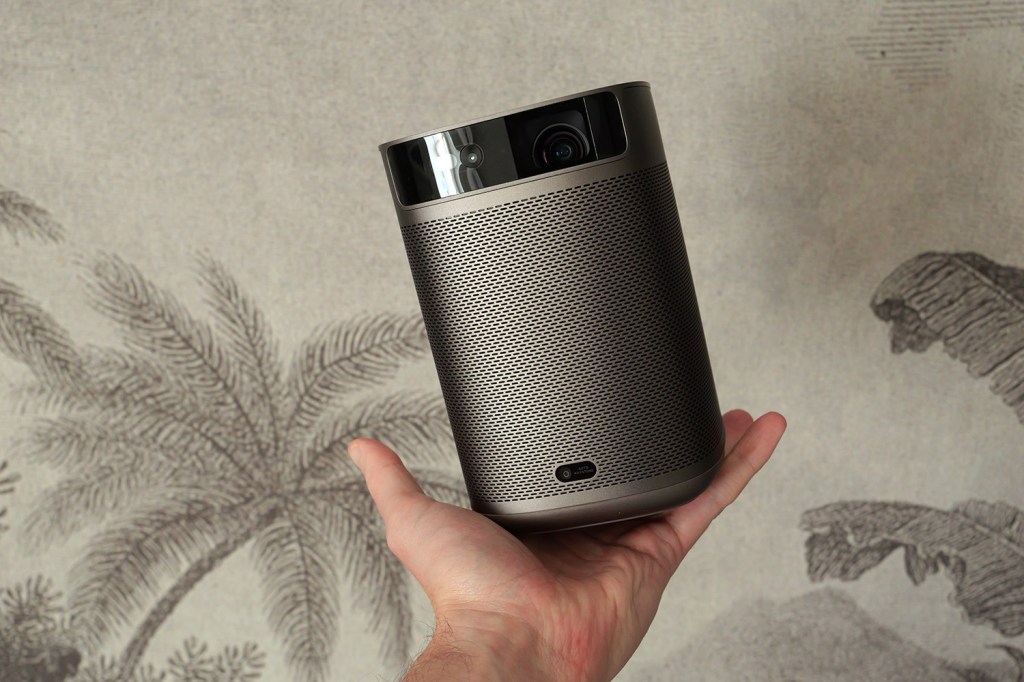 The MoGo 2 Pro isn't perfect, thanks to its slightly limited app access and the occasional feeling of 'jank' that persists as you use it. Even so, it's impossible not to be impressed by what it offers: good all-round image and sound quality in a portable, lightweight form that can run off a power bank and is brilliantly simple to set up.
The asking price isn't bad either, so overall we have no hesitation in recommending it to anyone looking for a flexible and affordable big screen entertainment option.
Stuff Says…
Simple setup, strong performance and impressive portability.
Good Stuff
Idiot-proof screen setup
Perfectly portable
Decent sound and image quality
Bad Stuff
Some big apps unavailable
Slightly janky at times
Xgimi MoGo 2 Pro technical specifications
| | |
| --- | --- |
| Resolution | 1920×1080 |
| Maximum display size | 200in |
| Brightness | 400 ISO lumens |
| HDR formats | HDR10 |
| Smart TV OS | Android TV |
| Storage | 16GB on-board |
| Speakers | 2x 8W |
| Connectivity | HDMI 2.0, USB-C, USB-A, 3.5mm audio output, Wi-Fi, Bluetooth, |
| Dimensions | 161x119x108mm, 1.1kg |