Super Soco TS1200R first ride review
The Tesla of the 50cc moped world? Not quite...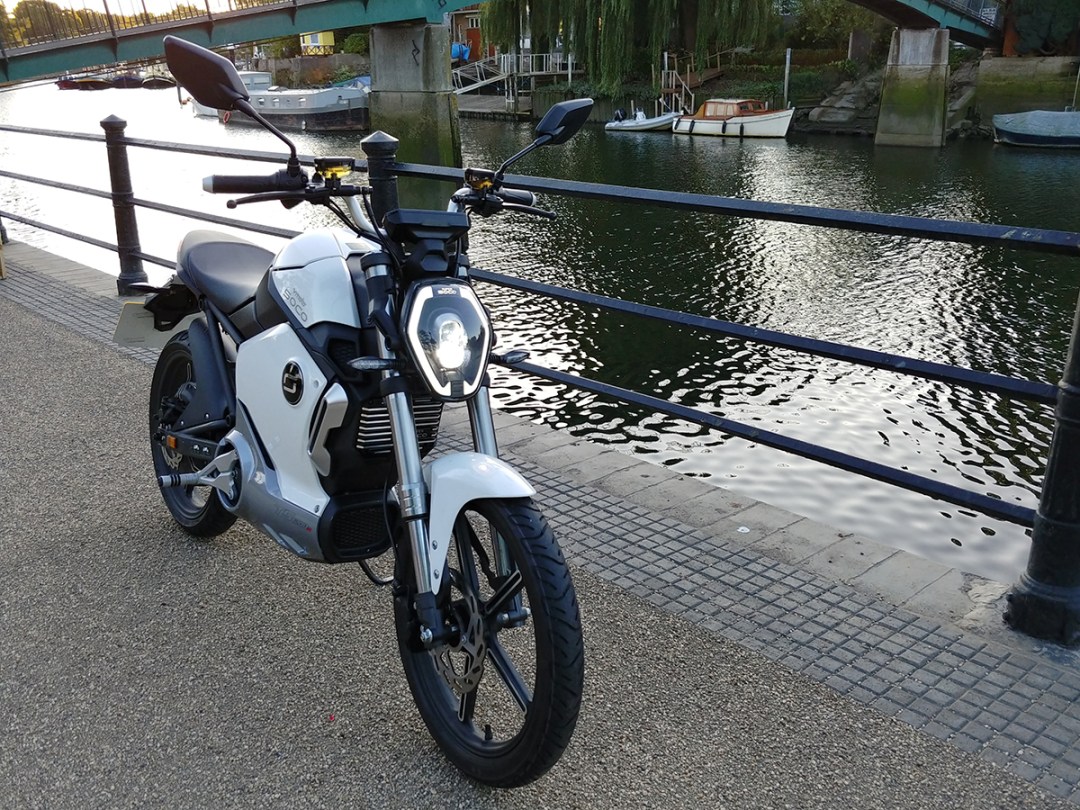 I blame TRON. There was something about those iconic light cycles that piqued my interest in two-wheeled transport – although not the petrol-powered kind.
An electric bike should be the perfect way to commute – you don't have to worry about petrol, won't get as hot and sweaty as you might on a pedal cycle, and can recharge at your boss's expense while you're working. And if Tesla has taught me anything, an electric motor should be pretty nippy, too.
That's why I jumped at the chance to ride Super Soco's TS1200R electric bike, despite not having ridden anything like it before. Giving up part of my weekend to take a CBT course was a small price to pay to ride something from the future, right?
Turns out, there's a lot more to it than that.
DESIGN & BUILD
Mopeds are everywhere in London, and and we're not just talking the ones with Just Eat or Deliveroo top boxes either. But none of them look anything like this.
The Super Soco is more like a traditional bike that you ride, rather than a step-through moped you sit on. Only on a smaller scale than a regular bike, on account of not having a bulky engine to make room for. The wheels are dinky, as well.
I love the angular LED headlamp, and the light-up LCD screen up front screams 21st century, too. The white, Apple-like colour scheme really hammers home the message: don't think of this as a bike – it's a piece of tech.
It looks the part, then, but build quality isn't amazing – Beyond the metal frame, all the body panels and accents are made from plastic. There's a reason Super Soco can sell the bike for £2400.
PERFORMANCE & RIDE
Prod the satisfyingly large power button and the central LCD display flashes into life, showing important info like remaining battery life, motor temperature, and your speed. There's even a cute jingle that plays – it's very MacBook-esque.
Give the throttle a twist and you're on the move – no kickstart or ignition key required. It's quick, too – instant acceleration means you're hitting top speed with much more urgency than a petrol moped, although your top speed is still legally limited to 30mph.
That can be a problem when you're weaving through stationary traffic, but when the roads open up, most drivers tend to go slightly faster (despite what the road signs say) – on a long, single lane road, it doesn't take long for traffic to build up behind you.
My commute crossed a few 40MPH roads too, and it just wasn't fun at all. The bike has three 'gears', with the lower two restricting your acceleration and the highest letting you give it the beans whenever you like – I pretty much used that exclusively, unless I encountered slow-moving traffic that required more precision manoeuvres.
The suspension is pretty stiff, which can get be pretty jarring on your backside if you're on a longer ride.
Crucially, the bike itself is silent. It's tough to make out the high-pitched whine from the motor when you've got a helmet on, and with only two skinny tyres making contact with the tarmac, there's nothing in the way of road noise either.
That means no-one's going to hear you coming, so you're reliant on being seen instead. You've got to adapt your riding style, planting yourself in the center of the road and being extra-careful when filtering through traffic.
CHARGING & ELECTRIC RANGE
Popping open the top of the bike body just takes a twist of the key, but the lock is placed below the seat – it's awkward to get to when you're sat on it, especially when you've got a full face helmet obstructing your peripheral vision.
That's annoying, because it's the only way to access the storage compartment – which barely has room for a smartphone, your wallet and your house keys.
It's here that you'll find the removable battery – which is convenient, seeing how I live in a fourth floor flat and don't own ridiculously long extension leads. Tricky to steal an electric bike without a battery in it, too. Sure, it's heavy, weighing close to 10kg, but it's not so bad that you won't be able to carry it from the car park to your house or office.
Getting the thing out requires another key turn, this time above the battery storage compartment. You've also got to flip a fuse and detach a power cord – it's all very DIY. There's room here for a second battery, effectively doubling your maximum range from 25 to 50 miles, but this means pulling over and swapping the power supply manually.
Also, that estimate is a best case scenario – my 15 mile commute left me with a little under 40% charge remaining, so I'd be wary of attempting more than 20 miles between top-ups.
The sizeable charging adaptor is chunkier than a typical laptop power brick, and will only fit inside the bike if you don't have a second battery installed. If I was using this bike full time, I'd probably want an adaptor at either end of my commute, to save lugging it around.
It took about six hours to charge the battery from empty, which is fine if you'll be riding to and from an office. Not so great for bike couriers and delivery riders, though. The adaptor's cooling fan gets pretty noisy too – definitely keep it in another room when you're trying to sleep.
VERDICT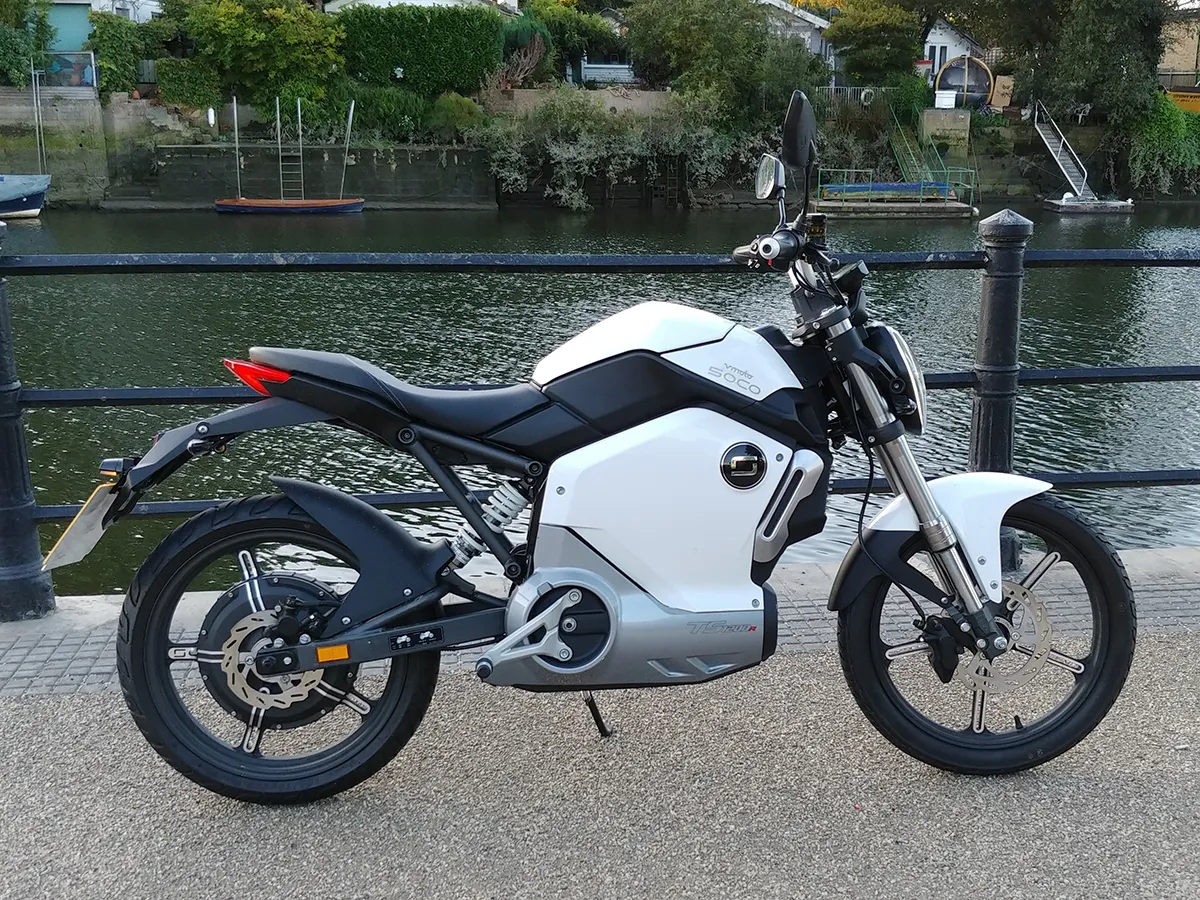 As a first taste of two-wheeled commuting, the Super Soco certainly made an impression. It's fast off the line, easy to recharge, and looks pretty sporty for the equivalent of a 50cc petrol moped.
Electric range is an issue, though – making it unsuitable for anything longer than a weekday commute. You certainly won't be going on any long weekend adventures with one of these. The limited top speed makes it impractical for faster roads, too.
Does an electric motorbike make sense? For me, maybe – my commute is a bit too long to do it on pure pedal power every day (at least in my current state of fitness) and it would only take a year for it to start saving me money versus my regular train journey.
Against a petrol moped though, I'm not sure the maths add up. A moped might only cost you a tenner a month to keep filled with fuel, and they cost significantly less to buy than the Super Soco's £2400 initial outlay. It'll take a lot more riding before the economics make sense.
Then you've got to consider insurance, road tax (electric motorbikes are currently exempt here in the UK, but that may change in the future) and MOT costs. You've also got to hold a valid license, and need proper safety gear for all kinds of weather.
Basically, there's a whole mess of things to think about before you can cut up your train season ticket, or trade in your pedal bike for one of these. It's fun, sure, but until the range issue is solved, it's a commuter convenience rather than a must-buy motor.
Stuff Says…
It's not quite riding the future, and it's not without issues, but it's still a great taster of what electric bikes have to offer
Good Stuff
Feels like riding the future
Sleek looks, modern LCD dials
Rapid acceleration is great fun
Bad Stuff
Just as restrictive as a traditional moped
Will take a long time for initial outlay to outweigh a petrol bike
Most commuters better with an electric pedal bike