Sony Xperia 1 II review
Getting the band back together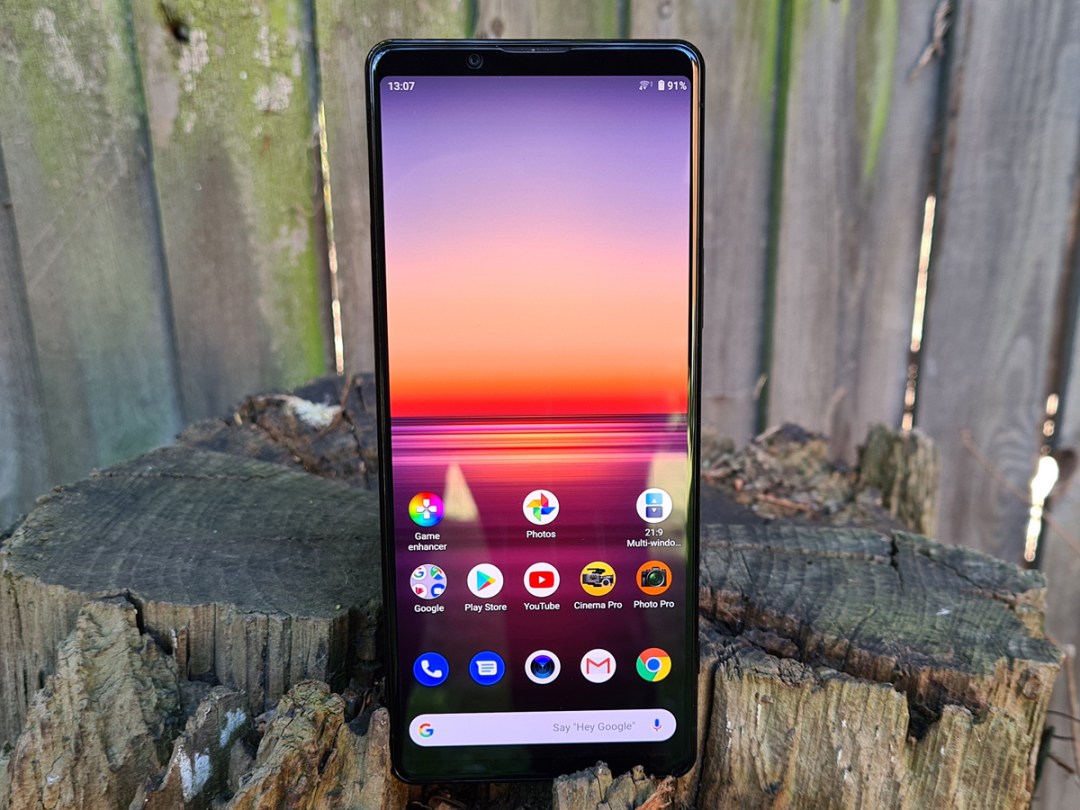 Mark II. You only need to hear the name of Sony's new flagship to know it means business.
Gone are the days when the company's separate divisions would work in isolation. Now the team responsible for the superb Alpha camera line-up is on board to help make this the best smartphone possible. Last year's Xperia 1 already had a helping of Bravia brilliance with its 4K HDR OLED screen.
Now the Xperia 1 II – so-called because that's how the Alpha team names its models – gets super-quick camera hardware that could put some DSLRs to shame. It's a performance heavyweight with the specs to compete with the best, but a premium price could limit its appeal. Time to find out if this is a greatest hits compilation worth seeking out.
DESIGN & FEATURES: STRETCH IT OUT
This lanky monolith of a handset looks an awful lot like the phone it replaces, which shouldn't come as a surprise given the "Mark II" name scheme.
It's still mostly screen up front and mostly glass everywhere else, with a flat-edged metal frame holding the whole thing together. It feels substantial, with Gorilla Glass in place to prevent scrapes and scratches, and both IP65 and IP68 resistance to protect from the elements (one measures water resistance and the other's for dust protection, don'tcha know).
Around back, the camera module has shifted from the middle of the phone to the far left side, but continues to protrude out from the glass slightly. This isn't enough to catch whenever you slip the phone into a pocket, although it's so tall there's every chance your pockets won't be deep enough anyway.
We love Sony's small touches, like the SIM tray that can be removed with a fingernail instead of that useless pin you lose the minute you unbox your phone for the first time, or the physical shutter button at the side – a half-press to focus makes snapping photos far more natural than tapping on a screen.
The side-mounted fingerprint sensor now doubles up as the power button, making for an even more streamlined design than last year's Xperia 1, although the placement isn't quite as convenient for left-handed users. It's super-quick to recognise your digits, though, and more accurate than the in-display scanner you'll find on Samsung's latest.
DISPLAY & SOUND: ZZZ
A helping hand from Sony's Bravia TV division puts the Xperia 1 II front of the class in terms of display tech. You get a 4K resolution OLED panel with HDR support, stretched across 6.5in with a super-tall 21:9 aspect ratio. It doesn't go the hole punch or notch route for its selfie camera, either, so all those pixels are entirely uninterrupted.
It's a killer combination, which might miss out on the silky-smooth high refresh rate you'll find in rival flagships, but otherwise makes video streaming, gaming and photo editing an absolute treat.
Definition is incredible, with more clarity than you'll find on any other phone, and viewing angles are excellent. Contrast is impeccable, as you'd expect from an OLED panel, and colours are precise, with different modes depending on what's on screen. Standard boosts contrast and vibrance for an extra visual punch, while Creator mode opts for professional-grade BT.2020 and 10-bit colour to show content as the director intended. It automatically switches on the fly, so you don't have to remember to toggle it every time you open up Netflix.
The only weak area is brightness, with other OLED phones managing to shine brighter when cranked up to their maximum setting. A lot of streaming video might not be optimised for the 21:9 screen, but if you don't mind a bit of letterboxing whenever you open YouTube, the aspect ratio is perfect for watching movies on the go.
Loads more games support it now, too, and it's a dream for multitasking. A pair of front-facing stereo speakers complete the mini-cinema package, with balanced audio that gets plenty loud without stepping into distortion territory. There's decent separation between mid-range and high-end frequencies for a phone, although bass is understandably lacking, and there's a lot of resonance through the rear of the phone when you crank up the volume.
At least the 3.5mm headphone port makes a return, so there's no need to mess around with dongles. Hi-Res audio support and DSEE upscaling make serious listening a treat, too, even if your library is still mostly low-quality MP3s.
CAMERA: TEAM EFFORT
Last year's Xperia 1 proved three's a charm, and while that's true here as well, it's all change on the hardware front. There's still a trio of 12MP rear snappers, but the main camera gets a wider 24mm lens, the telephoto has jumped to 70mm (up from 52mm) and the wide-angle sensor gets phase-detect autofocus to put it on par with the other two.
All three get an anti-reflective lens coating from long-time Sony collaborator Zeiss. Sony says the combination of focal lengths should keep most photographers happy, based on feedback from Alpha customers. The main sensor is physically bigger now, with larger 1.8um pixels that make it 50% more sensitive to light than the Xperia 1, which bodes well for low-light shooting. But why stick with 12MP when there are 48, 64 and even 108MP phone cameras doing the rounds? It's all about speed.
By not having to churn through too much pixel data, and borrowing some processing knowhow from the uber-high end a9 full-frame camera, the Xperia 1 II can shoot at a speedy 20fps with full autofocus and auto-exposure. It's done by calculating focus and exposure 60 times a second (no other phone is as quick) and using the new 3D iTOF sensor, which locks onto subjects with greater accuracy than a single-point laser autofocus might.
There are also now a whopping 247 autofocus points across 70% of the viewfinder. Sony's RX100 premium compact camera? It only has 68%. This is a phone that makes sure you always capture the moment. It's so quick to lock onto subjects, with none of the hunting we saw from Samsung's Galaxy S20 Ultra earlier this year, and has excellent real-time eye tracking to make sure faces are the focal point of any snapshots.
Pet lovers will be pleased to hear the upgraded eye-tracking now works with animal faces as well as human ones, too. The Xperia 1 II takes pleasingly detailed photos across all three cameras, with the clarity on display in close-ups and macro shots being particularly impressive. Facial features are almost always preserved, and sharpening isn't too aggressive either. The wide-angle and telephoto don't feel like second-class citizens to the main snapper, with little in the way of quality variance between them.
The 8MP selfie sensor up front gets close on the detail front, too. Colours are a lot more restrained and realistic than many rivals, and the automatic mode can sometimes struggle with dynamic range. HDR couldn't rescue a few of our test shots from blown-out skies, while a Galaxy S20 managed just fine, and had punchier colours to boot – even if they weren't exactly true-to-life.
Scene detection generally does a decent job in low light, largely besting its rivals in terms of realistic white balance. That said, noise levels creep up quicker here than they might on a larger sensor using pixel-binning.
There may not be a dedicated night mode, but serious photographers will love the new Photo Pro app. It follows on from last year's Cinema Pro with the kind of settings, modes and features you'd find on a Sony Alpha camera. There's more fine-grain control here than you'll get on any other smartphone, at least out of the box.
PERFORMANCE: G WHIZZ
With a Qualcomm Snapdragon 865 and 8GB of RAM behind the scenes, the Xperia 1 II is easily among the fastest of today's flagship phones. You won't spot any slowdown when launching apps, multitasking or swapping between camera modes (something last year's Xperia 1 could sometimes trip over), and the near-stock user interface is entirely stutter-free.
It's also Sony's first 5G phone, so you can expect blazing-fast data speeds once your area gets upgraded, and you splash out on the right data plan. It's still early days for the tech, but with one of these in your pocket you'll be ready when your local transmitter gets switched on.
Gaming on the 21:9 screen is an absolute treat, with consistently smooth frame rates even in the most demanding titles. The wide aspect ratio also gives you a real leg up over rivals rocking 16:9 smartphones – you can spot enemy soldiers in Call of Duty Mobile a lot sooner. A Game Enhancer toolkit puts shortcuts like screenshots, the ability to mute notifications, and screen recording just a swipe away, and a neat power control system lets you keep gaming while recharging, without sending processor temperatures skyrocketing. You'll struggle to fill the 256GB of on-board storage with apps, games and media, but if you somehow manage it there's a microSD card slot for adding extra space.
BATTERY LIFE: BIGGER AND BETTER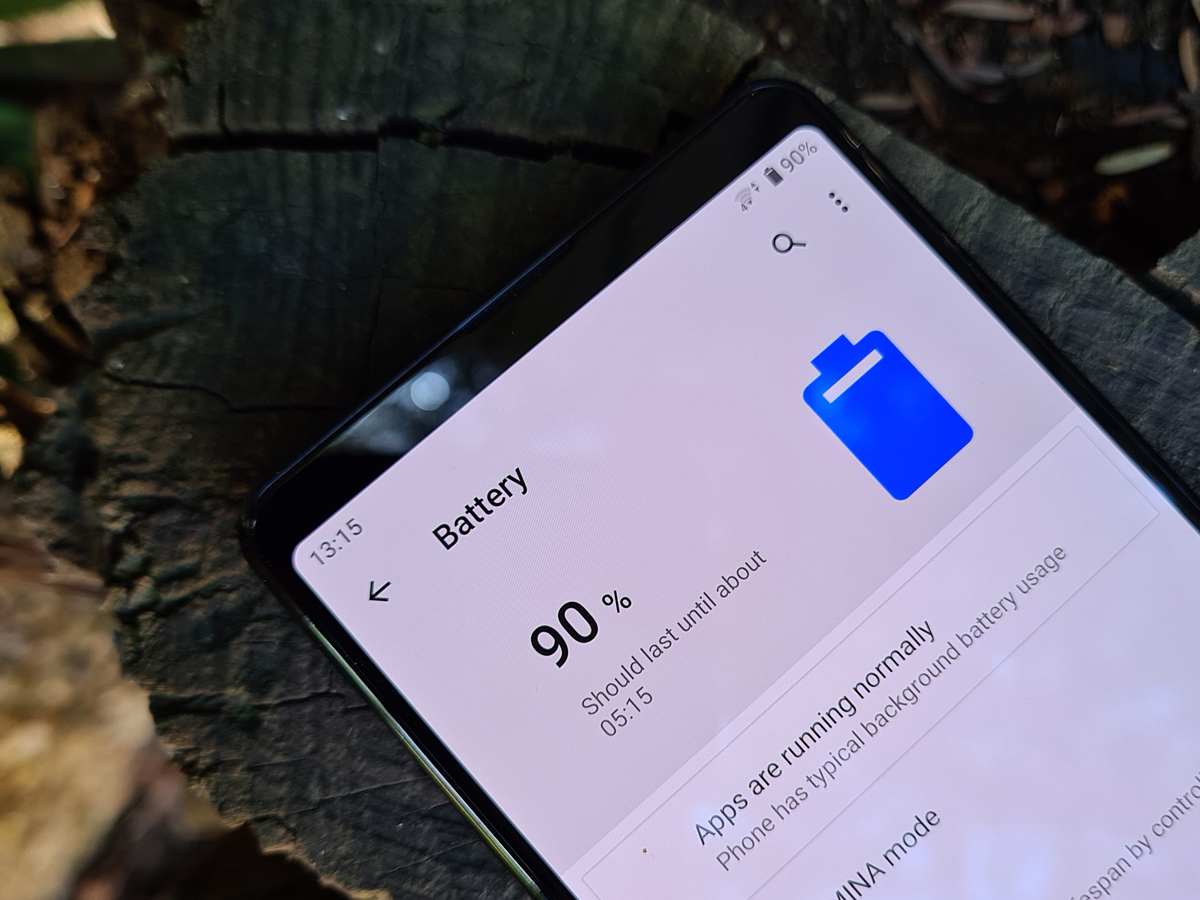 Like lots of Sony phones, last year's Xperia 1 lasted much longer than its meagre 3300mAh battery capacity would suggest. But that doesn't mean there's not room for improvement.
The Xperia 1 II gets a heftier 4000mAh cell, along with the same software wizardry and smart charging management that keeps it juiced for longer than you'd think, given the powerhouse hardware it has to run.
Used on the daily, we comfortably lasted from breakfast to bedtime without needing to top up, even with plenty of music streaming, social media scrolling and camera snapping. Of course, YMMV if you're recording 4K videos, watchingHDR movies or having regular gaming marathons, but fast charging will get you refilled from empty to 50% in half an hour. Even better, Sony has brought back wireless charging, so you don't even need to mess around with USB cables.
OS & SOFTWARE: SEEING SENSE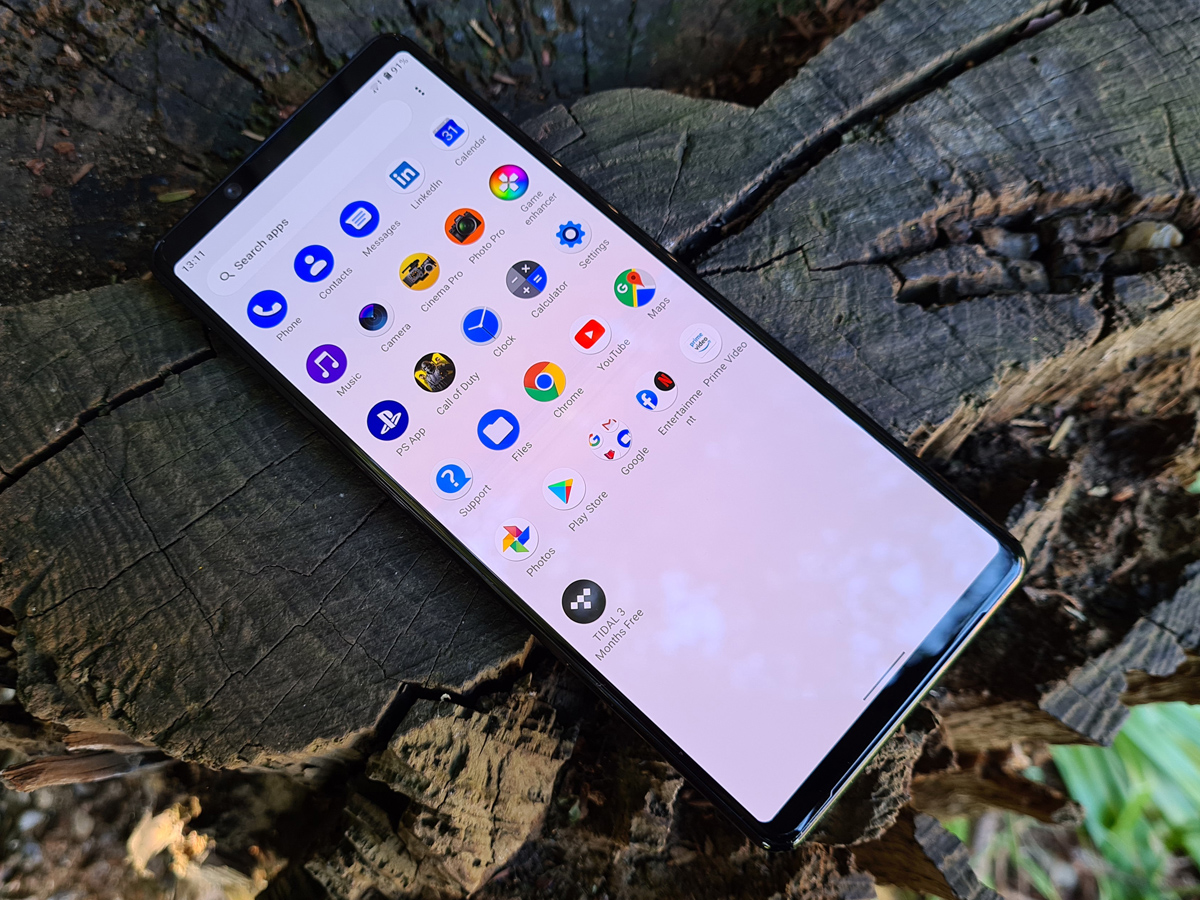 The Xperia 1 II is Android 10 done right. Google's standard interface is largely untouched, with the familiar selection of default apps and only a handful of preloaded Sony ones. Google assistant is just a swipe away, and you have the choice of onscreen buttons or gesture navigation.
You don't need elastic thumbs to reach the top of the screen, either, with Sony's Side Sense gestures making a return. Double tap the edge of the screen and a drawer appears, full of apps, shortcuts and tools, saving you a two-handed trip to the navigation bar.
A swipe down goes back one screen, while a swipe up launches split-view multitasking. That last one is so much slicker than the standard Android way of doing things, we wish more phones could do it, and the 21:9 screen ratio means nothing ever feels squashed when running two apps at once.
Just remember the sensors are built into the screen, not the side of the phone – it's a system that works best on curved displays, though it's easy enough to get right here once you remember where to press.
Sony Xperia 1 II verdict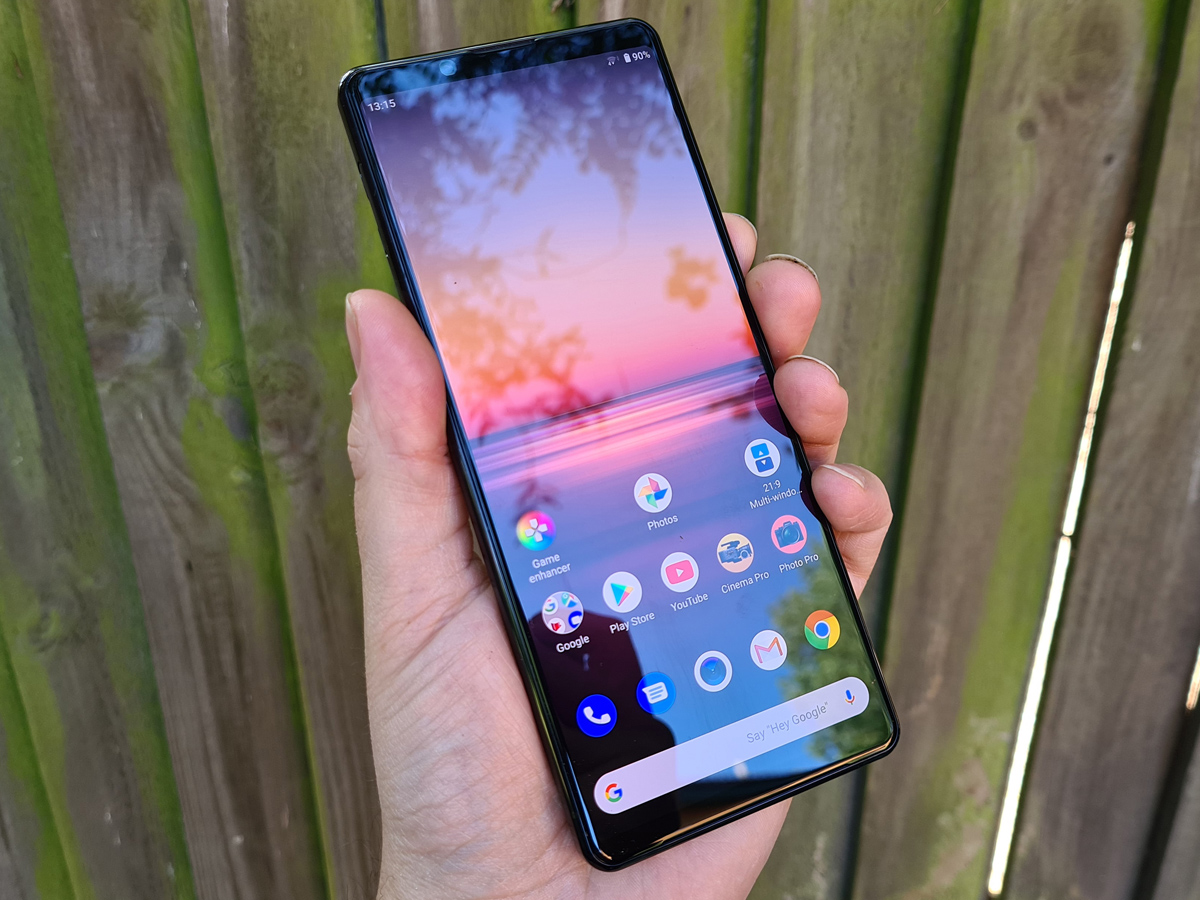 The Xperia 1 II is Sony at its best. Borrowing tech and expertise from the company's other divisions has helped create a truly capable flagship phone – albeit one with more niche appeal than its major rivals.
Gamers, spec junkies and film fans will all find something to like here, while photographers will appreciate just how close a phone can get to matching a dedicated camera for speed and flexibility. It even brings back fan favourites missing from the Xperia 1, like wireless charging and the headphone jack.
A 4K HDR display and DSLR-sourced camera smarts don't come cheap, of course. Mainstream alternatives like the Samsung Galaxy S20+ cost a lot less, compete closely in terms of performance, and have it beat for camera image quality in certain scenarios.
However, opt for a pre-order and you'll bag a free pair of WH-1000XM3 noise cancellers and a three month Tidal subscription, while some network deals undercut a top spec Galaxy or iPhone by as much as £20.
If your most-used Android apps are Lightroom and Premiere Rush, you won't find another phone that better caters to your skills out of the box.
Tech specs
| | |
| --- | --- |
| SCREEN | 6.5in, 3840×1644 OLED w/ 21:9 aspect ratio, HDR BT.2020 |
| CPU | Qualcomm Snapdragon 865 octa-core |
| MEMORY | 8GB RAM |
| CAMERA | 3x12MP rear (f/1.7, 24mm wide, f/2.4, 70mm telephoto, f/2.2, 16mm ultrawide) w/ dual-pixel PDAF, optical image stabilisation, LED flash. 0.3MP TOF depth-sensor. 8MP, f/2.0, 24mm front |
| STORAGE | 256GB on-board, microSD expansion |
| OPERATING SYSTEM | Android 10 |
| BATTERY | 4000mAh non-removable |
| DIMENSIONS | 165x71x7.6mm, 181g |
Stuff Says…
Combines a cinephile-grade display with camera smarts taken straight from Sony's Alpha division to great effect. Outright image quality might not be the best, but this feature-packed flagship is still one of the most photographer-friendly handsets around
Good Stuff
4K HDR that fits in your pocket
Pro-level stills and video recording apps
5G and CPU grunt to match the best phones
Bad Stuff
Size can be hard to handle, even with software help
Photos more muted than rivals when shooting in Auto
Pricey