Sony VAIO VGN-TZ11MN review
Sony knows a thing or two about making tiny computers, but does the entry-level model in its new TZ range have the pedigree of its predecessors?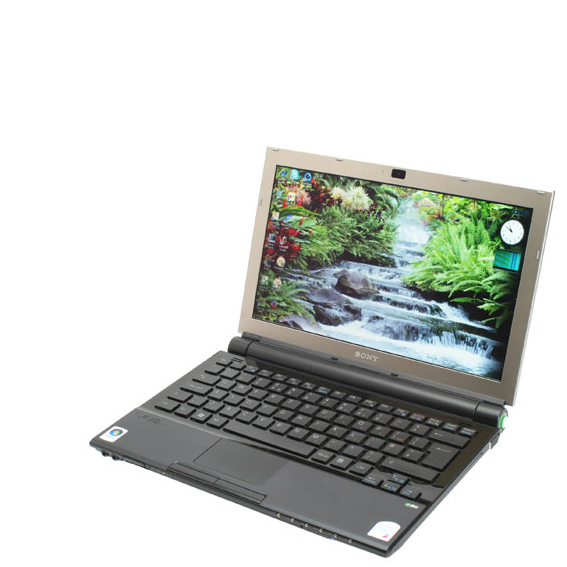 The TZ11MN is the starting model in Sony's latest and, hopefully, greatest line of ultraportable laptops, aimed squarely at the business user with plenty of money to spend on ultra-miniaturised technology, but no compulsion for building biceps. It's not supposed to be a media or games machine but it needs to work seamlessly with office and communications tasks, so those aesthetics won't mean a thing if performance is weak. Thankfully, it's anything but.
Out of the box
The first thing you notice when you remove the TZ11MN from its packaging is just how ridiculously small and light it is. As you paw its slightly coarse carbon composite construction you'll note the many ports and connections Sony has managed to squeeze into it.
Before opening the hair's-width screen, you'll rub your finger along the chromed media buttons adorning its front. Next you'll be confronted by the ZX Spectrum-esque keyboard – very cool and surprisingly ergonomic in use.
Finally, you'll press the green, glowing power button on the right-hand end of the hinge and be blown away by the quality of the 11.1in screen: its LED backlighting and X-Black coating make for one of the crispest, brightest and colourful displays we've ever seen.
The light fantastic?
In the grand scheme of things this is not a powerful laptop computer, especially at the price: it packs a low-voltage processor, memory is a perfunctory 1GB (expandable to 2GB) and graphics are of the built-in, memory-sharing Intel type. Vista rates the TZ11 as a two out of ten in the performance stakes and none of the stats top 4.5.
However, when running Vista it's slick as an Exxon shipping route, even with the Aero visual effects turned on. Opening documents and browsing websites occurs without incident and 720p HD video plays without dropping frames – it's easily the match of any ultraportable we've seen.
Past Sony ultraportables have had stunning battery lives and Sony claims that the TZ11 will operate for up to nine hours on a single charge. Our sample's standard battery kept HD WMV video looping for three and a half hours with Wi-Fi enabled, so we'd expect it to go for more like five with normal use and much longer with an extended battery pack. That's pretty incredible for any laptop.
Burn, baby, burn
Another noteworthy feature is the built-in DVD burner drive. While some ultraportables, such as Asus' U1F, eschew optical storage in favour of portability, Sony's managed to squeeze a drive in with almost no impact on the laptop's footprint. It's mighty impressive.
Unfortunately the Instant On feature wasn't working on our prototype sample. This supposedly allows the TZ11 to spin DVDs and CDs without first booting up: perfect for entertainment on the go. Sony has even included those aforementioned media buttons to provide this instant access, so we look forward to seeing a sample with this feature enabled.
Some Stuffers were concerned about the thickness of the screen. Sony assures us that the carbon backing is tough, but if you're a clumsy sort it'd be sensible to don the kid gloves (or face a hefty repair bill).
All in all, though, our experience of using the TZ11 was resoundingly positive. If you want a no-compromise portable computer that you'll barely even realise you're carrying, this is the one to get.
Related reviews