Sony PlayStation VR 2 review: eyes on the prize
Next-gen console VR arrives with a bang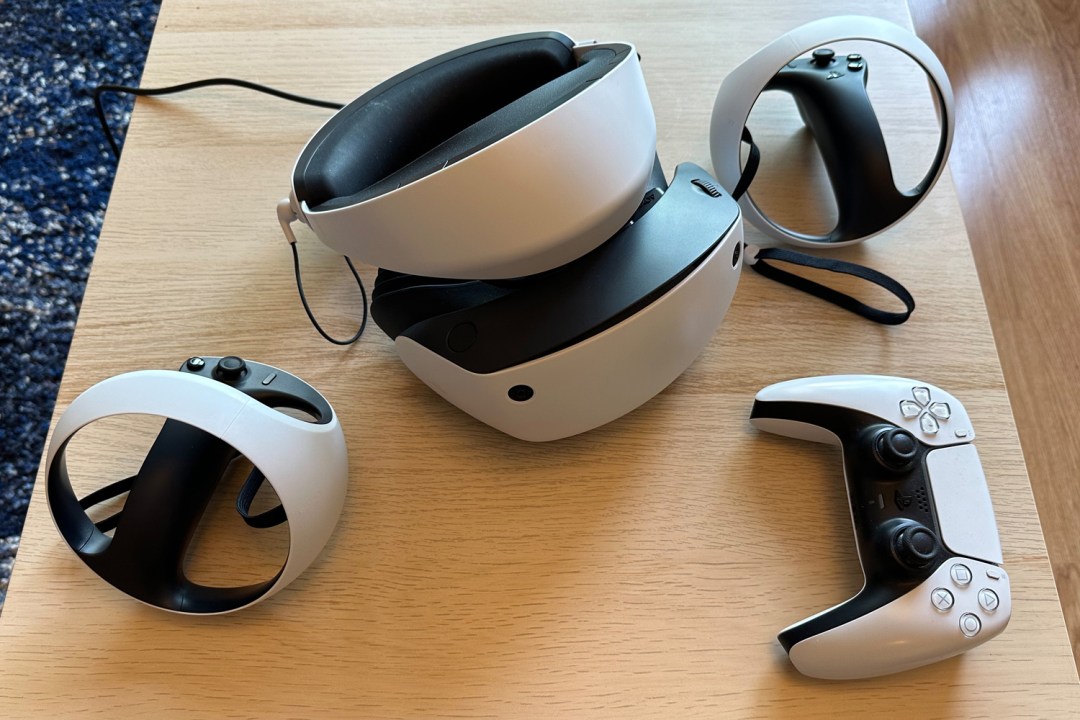 The original PlayStation VR might have shifted a respectable number of units, but it failed to take virtual reality mainstream. Zuckerberg and co. have done a better job of that, and while we'd still opt for a gig in a sweaty pub over the creepy metaverse equivalent, Meta's enormously successful Quest 2 remains the most accessible way to enjoy high-end VR. That hasn't deterred Sony, though. The PlayStation VR 2 is (almost) here, arriving on very much the wrong side of Christmas for a cool £530 – more than the until very recently still hard-to-buy PS5 that you need to play games on it.
PC VR enthusiasts could reasonably argue this actually positions the second-gen PSVR headset in the more affordable price bracket once you start looking at the spec sheet. But just as you're starting to see it that way, bam: none of your original PSVR games will work on the new hardware. Sorry.
Sony says more than 100 new ones are in development, but remove Horizon Call of the Mountain and VR updates to Gran Turismo 7 and Resident Evil Village from the launch lineup, and you're mostly looking at upgraded ports of games already available on cheaper hardware.
It might sound like we're digging a headset-shaped hole in the ground before PS VR 2 even hits shelves, but that's not the case. Despite the slightly awkward entrance, there's no doubt this a generational leap forward. An improved design, sharper visuals, much better controllers, 3D audio and eye tracking that changes the way you interact with games make us very excited about what's to come.
Sony is clearly in VR for the long run, but should you hand over your cash right now?
Design: The white stuff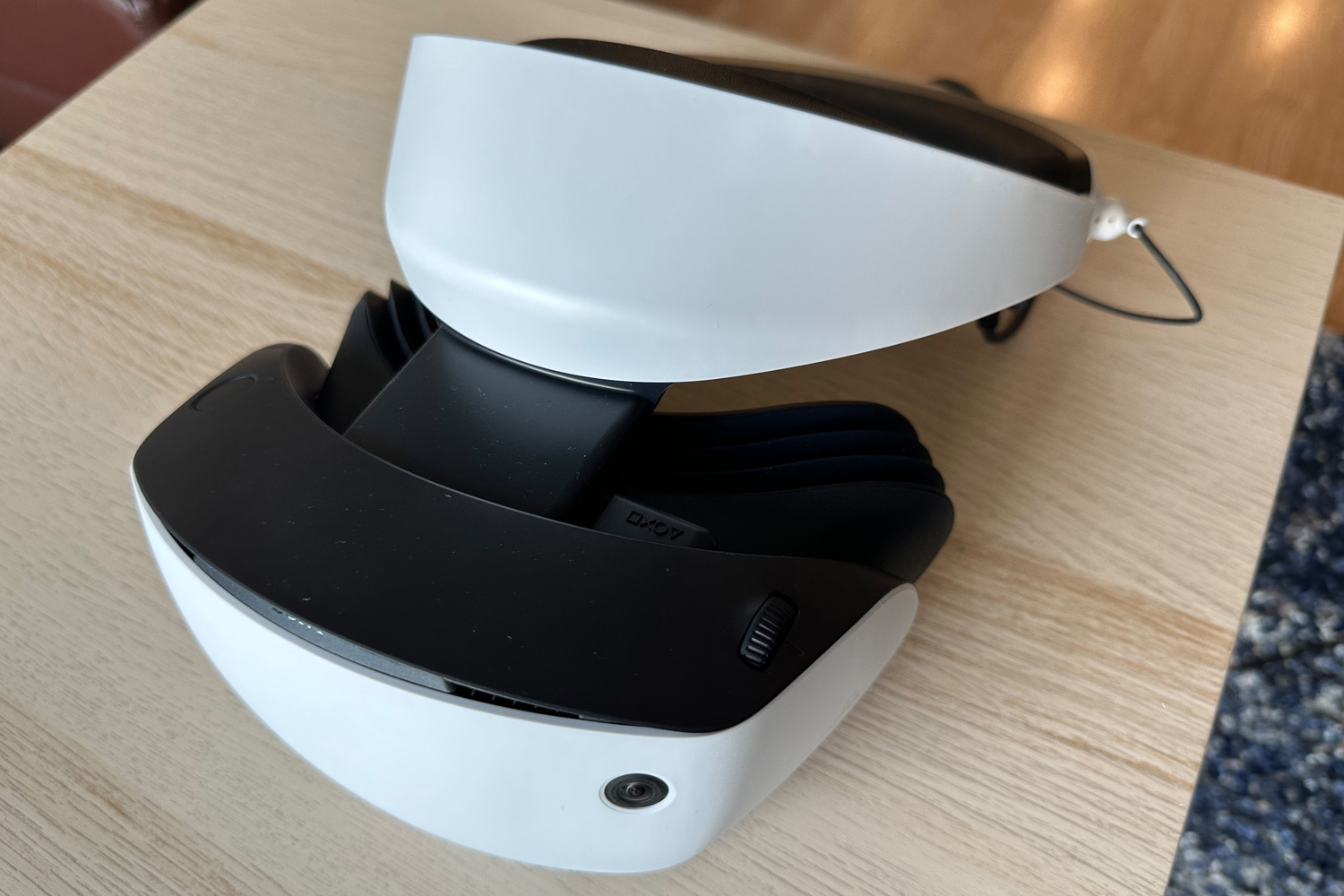 The original PlayStation VR had a very distinctive look, and its sequel is no different. Sony has gone all-in on the white and black colourway of the PS5 again here, which not everyone is going to like, but we've grown fond of this PlayStation generation's eye-catching styling.
You can't help notice the headset's weight, or lack of it. At around 560g, PS VR 2 is roughly 40g lighter than its predecessor, and while the Quest 2 is lighter still, all of its weight being at the front means you feel every gram on your nose. PS VR 2 distributes its weight more evenly around your head, which makes it mostly very comfortable to wear. Where the Quest 2 sort of clamps to your face, the PS VR 2 feels airier. That's not to say that you'll ever forget that it's there, but as VR headsets go, this is one of the more pleasant ones to strap to your mush.
As with the first PS VR, to put the headset on you press a button on the top of the visor to pull it out, and another on the back of the halo-esque headband as you extend it over your head. Once you've pulled the headband down there's a little dial to tighten it, which automatically loosens when you remove the headset. You seemingly can't do this while you're wearing it, though, so if it's too tight you'll have to remove it and start again. We're not convinced that the headset perfectly fits our head shape, but there's enough flexibility that most people will find a solid fit.
The rubbery accordion-like light shield does a great job of blocking out light and doesn't press too hard against your face. The head support is also nice and soft, so as long your stomach can hack it, you'll be able to live inside this thing pretty comfortably. And thanks to the new vent on the visor, you shouldn't be steaming up either. We were left with some red lines on our face after extended sessions, but this is par for the course with VR, and they disappear pretty quickly.
There's a new dial on the top of the visor for IPD adjustment, and on the back of the headband there's a 3.5mm jack for attaching headphones, a pair of which are included. The PS VR 2 doesn't have built-in audio, so you need headphones of some description. The PS5's Pulse 3D Wireless headset not only works (and really shows off the benefits of 3D sound), but we've noticed it also helps hold it in place. Things can get a bit warm, but for full immersion a pair of over-ears is what you'll want.
Next to that headphone jack is the PS VR 2's now one and only cable, which attaches to your PS5 via USB-C. You can't remove it, and there's no denying that even a single lead is very noticeable when you're used to the all-in one wireless experience of something like the Quest 2 or Pico 4, but that's how your headset leverages the power of the PS5, and it's something you just have to accept. It also means you don't have to worry about the headset's battery dying in the middle of a game of Pistol Whip.
The original PS VR needed a separate camera for tracking, but for PS VR 2 gets Sony has decided to get with the times and adopt inside-out tracking, handled by four built-in cameras that you can see on the front of the visor. What you won't see is the IR camera inside used for tracking your eyes, and a motor that subtly vibrates on your head during games.
Flip the headset upside down and you'll find two buttons: one for power, and the other a function button which activates "See-Through" view, Sony's take on the passthrough feature that headsets such as the Quest 2 have made standard.
Controllers: Talking Sense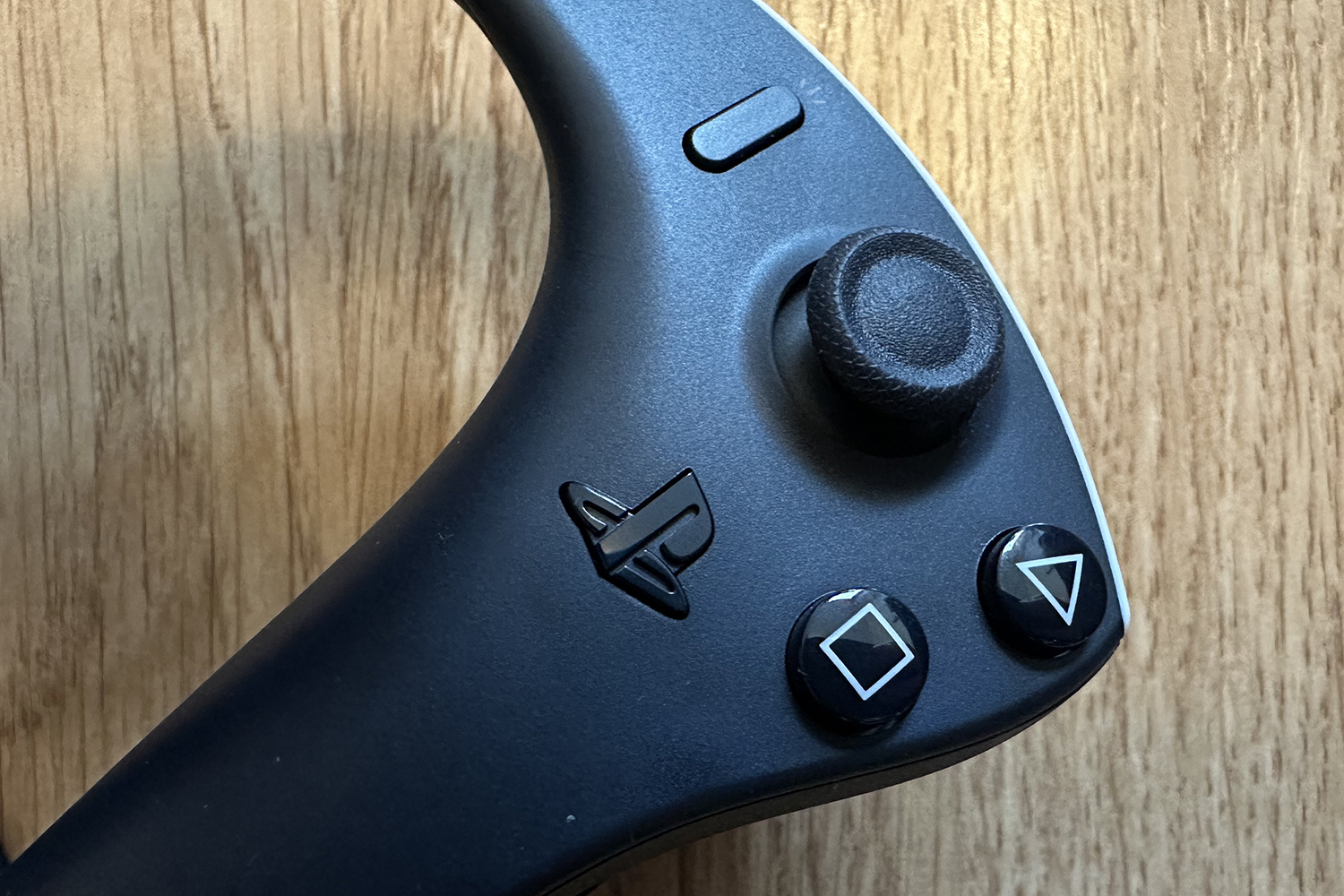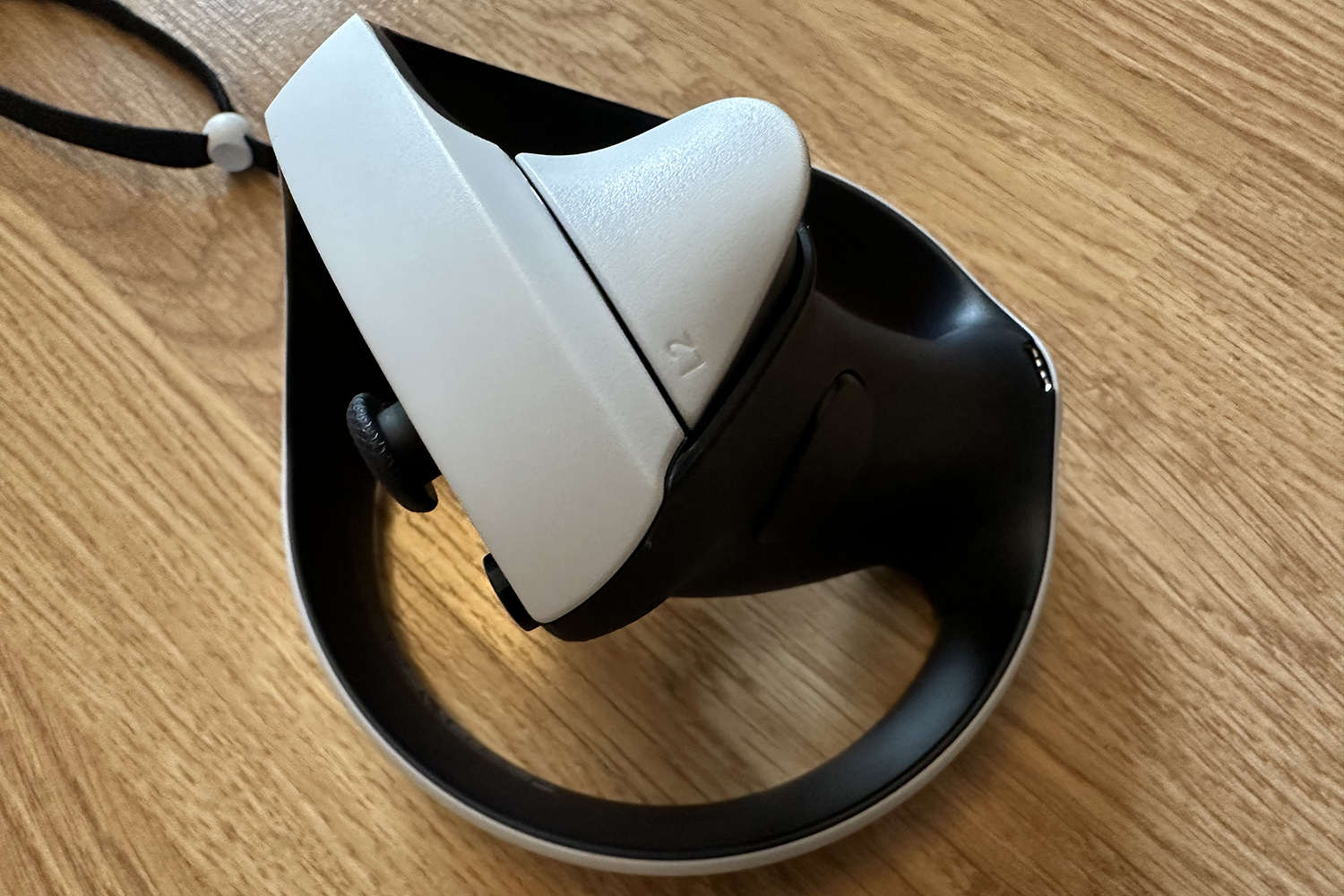 While the PS VR 2 headset has a lot in common with its predecessor, its controllers have been entirely redesigned. Gone are the Move controllers that wouldn't have looked out of place at a rave, replaced by the decidedly more grown-up Sense controllers. Think a DualSense snapped in half, with a tracking ring that wraps over the top of your wrists.
Each controller has its own analogue stick, two face buttons, a trigger and an L1/R1 button on the side of the grips. Both offer finger touch detection, plus the same adaptive trigger tech and haptic feedback that impressed us so much on the DualSense.
If VR is about immersion, its these features that elevate the Sense controllers above the competition, and because they're trying to imitate realism, you don't always notice what they're doing. You simply feel like you're pulling back the string on a bow, or gripping a rock face for dear life, instead of simulating it.
The sticks and face buttons feel a bit small and don't feel quite as good to press as the regular PlayStation buttons, though. It also takes a while to figure out which button is which, but otherwise we have nothing but praise for these next-gen controllers so far. They fit our hands perfectly and are light enough to hold for hours without fatigue kicking in.
Setup: One and done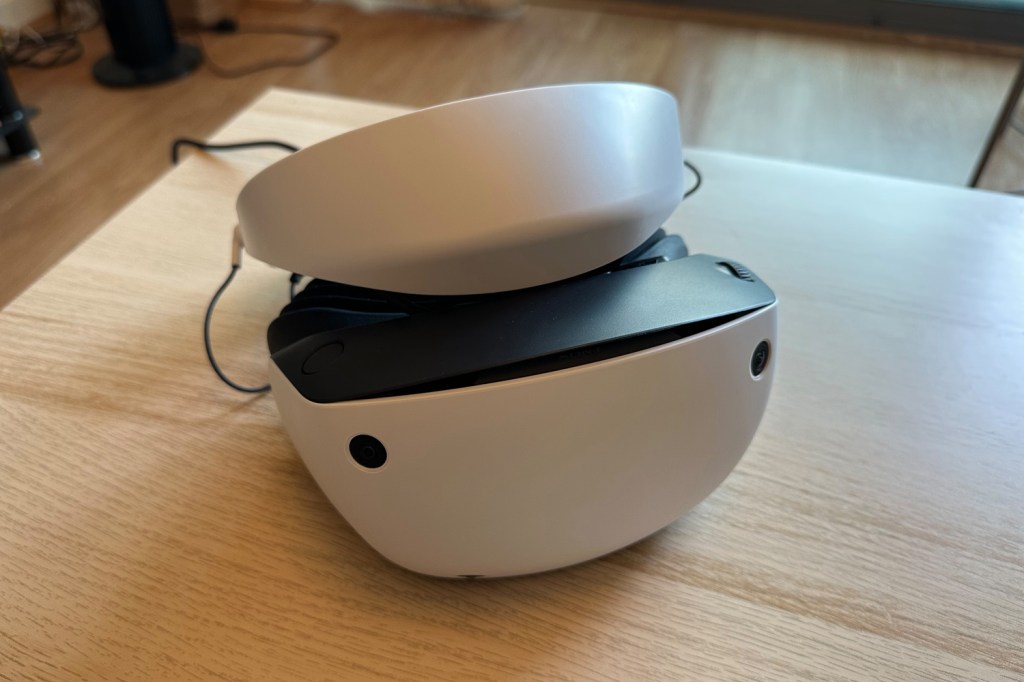 A major moan about the original PlayStation VR, and one that has only got louder in the pick-up-and-play Meta Quest 2 era, was that it took as long to set the thing up as it did to play a game. A comical tangle of cables (so many that we were too scared to rifle through the draw the old system now lives in to count them all up), the chunky Processor Unit and an external PlayStation Camera all had to be plugged into the right places before you could assume your virtual role as Batman, a rally car driver or intrepid deep sea diver, and after a while, the faff just started to put us off.
Mercifully, the PS VR 2 massively streamlines this setup process. There's now just one cable to worry about. Plug it into your PS5's USB-C port and you're good to go. After getting used to the wireless VR experience offered by the Meat Quest 2, which has remained our go-to VR headset since launch, we were always going to return to tethering with a bit of reluctance, but it's still a huge improvement on the PS VR. The included cable is 4.5m long, so as long as you're not playing in the ballroom of a castle it should be plenty long enough.
The first time you connect you'll be asked to set a few things up using your console's regular DualSense controller, before turning on the Sense controllers and pairing them to the system. It takes a few minutes to calibrate the headset and set up features like eye tracking, but we were playing a game within 10 minutes of unboxing. Setting your IPD is also important, which you can do by observing an on-screen animated face that shows you exactly how central your eyes are in relation to the lenses, making it easy to correct for the best visibility.
If you've used a Quest 2 or PC VR headset, you'll be familiar with outlining your designated playspace. Activating See-Through View lets you see your real body and surroundings while wearing the headset, and you use the Sense Controllers to draw a line around the space, with the L2 and R2 triggers letting you expand or reduce the area you can move around in. You'll need 2m x 2m for the headset to accept it as a safe roomscale environment, and if you're about to breach the perimeter a virtual wall appears to warn you. Seated games require 1m x 1m of space.
Once you've set up your play area boundary those settings will be saved until you change to a different setting. You can quickly modify your play area by tapping the PS buttons and heading into quick settings, which is the first option you'll see. After the initial setup you don't technically need to be in front of the TV to play games, but given that under the TV is where your PS5 probably lives, you won't be able to go far.
Unlike a lot of its rivals, the PS VR 2 doesn't have a snazzy virtual home screen or UI. You're just looking at a blown up version of your PS5's familiar Home Screen, save for a few more floaty menu tabs. It means you don't have to get used to navigating a load of confusing new menus, but you could also argue that it's a bit boring. Maybe it's time for Sony to resurrect PlayStation Home.
Performance: All in the eyes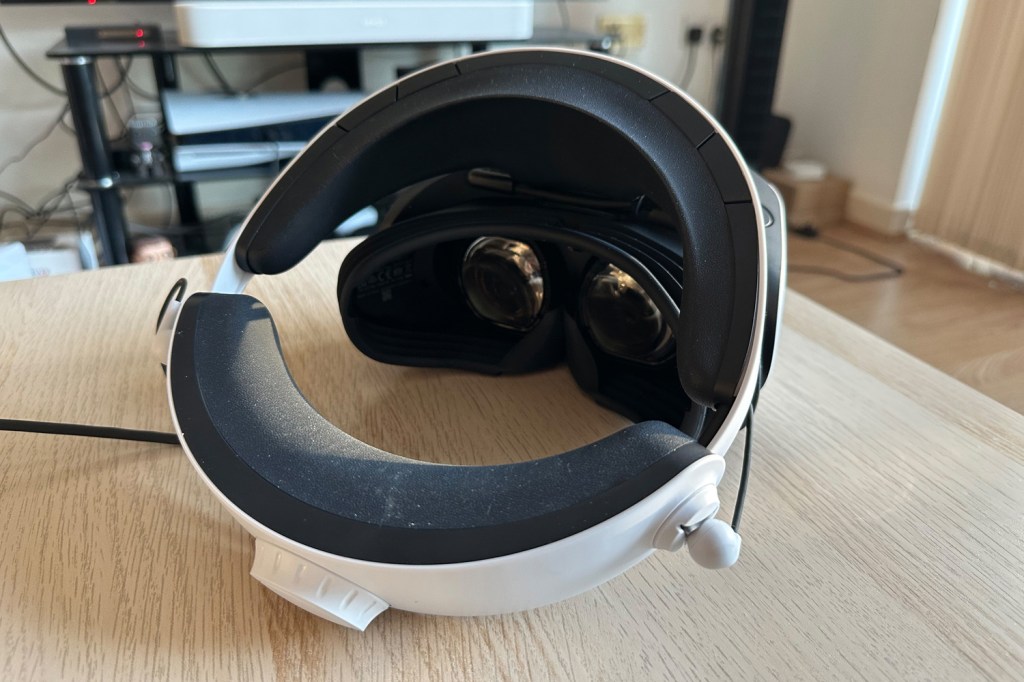 Like the original PS VR, this second generation model has OLED displays, only here resolution has been significantly increased from 980×1080 to 2000×2040 per eye – meaning it can render a 4K HDR image. Refresh rate remains at 90Hz/120Hz, but the field of view is slightly wider at 110 degrees. It's not game-changing, but does make a difference. While the tracking method is different this time round, PS VR 2 remains a 6DOF headset, which essentially means it can track your whole body as you move around a virtual environment.
Like before, there are two play types. You can either play non-VR games or stream content on an adjustable virtual cinema screen in Cinematic Mode, or play 360-degree games built for VR. Content in cinematic mode maxes out at 1080p HDR, at either 24Hz/60Hz or 120Hz; if you were hoping to play God of War Ragnarok on a jumbo screen while your better half catches up on Corrie, you'll have to accept a more PS4 Pro-like experience.
Improvements over the original PS VR are immediately obvious. The new hardware uses foveated rendering, made possible by the eye tracking tech, which dedicates more processing power to the area of the display you're looking at, while reducing the picture quality of whatever's in your peripheral vision. Initially we found it a bit jarring, a bit like when you get too much artificial bokeh on a photo, and would intentionally try to give parts of the image the side-eye to see how blurry they looked in comparison.
But the benefits are clear when you start admiring the delicate details of your high-res bow in Horizon Call of the Mountain, the stunning showpiece launch title for the hardware. The game is impeccably smooth in motion too, and when you marry what's happening on screen with the haptic vibrations of the controller and headset (the latter tapping gently at your head during big moments, rather than whacking it), you've got a truly next-gen PS VR experience. It's often hard to tell exactly how much of a difference HDR is making, but Call of the Mountain absolutely pops with rich colour.
Tracking accuracy was an issue with the first PS VR, but we've encountered very few problems here. Occasionally the headset will struggle when waving your hands directly in front of the cameras at close distance, but otherwise it's been smooth sailing. Granted, most of what we've played so far has been either seated or stationary, so we've not given the headset a Superhot-style workout, but the inside-out cameras are a big upgrade. We've been impressed with how accurate the eye tracking has been, too. Not many games we've played so far have done much with it in-game, but even just navigating menus in Horizon with our gaze alone feels more intuitive.
As for the dreaded screen door effect, which has been a talking point with consumer VR headsets since we started testing them, it is still somewhat visible here, but only if you're really looking for it. We found the persistent blur on fast-moving characters or objects as you follow with your head more distracting.
We found the persistent blur on fast-moving characters or objects as you follow with your head more distracting. There's also a pretty small sweet spot to get the best possible image from the lenses. If you're slightly off that, everything looks noticeably worse, and we spent too much time adjusting the headset to make sure everything was as clear as it could be. Tightening the headset slightly more than you'd like can help with that, but we'd rather not have to do that.
We're not glasses wearers so unfortunately can't speak to the experience there, but Sony has definitely made a point of saying that the headset has been designed to comfortably accommodate everyone.
The Sense controllers are awesome additions to the PS VR experience, with the adaptive triggers in particular making weapons like the bow in Horizon feel so much more real in your hands. Sony didn't tell us exactly how long they're supposed to last in its lengthy FAQ published a week or two ago, but expect to be charging them every three to four hours. This would be dreadful battery life on a standard wireless controller, but as our VR sessions tend to be a lot shorter than regular TV gaming, it hasn't bothered us too much.
Game library: Beyond the Horizon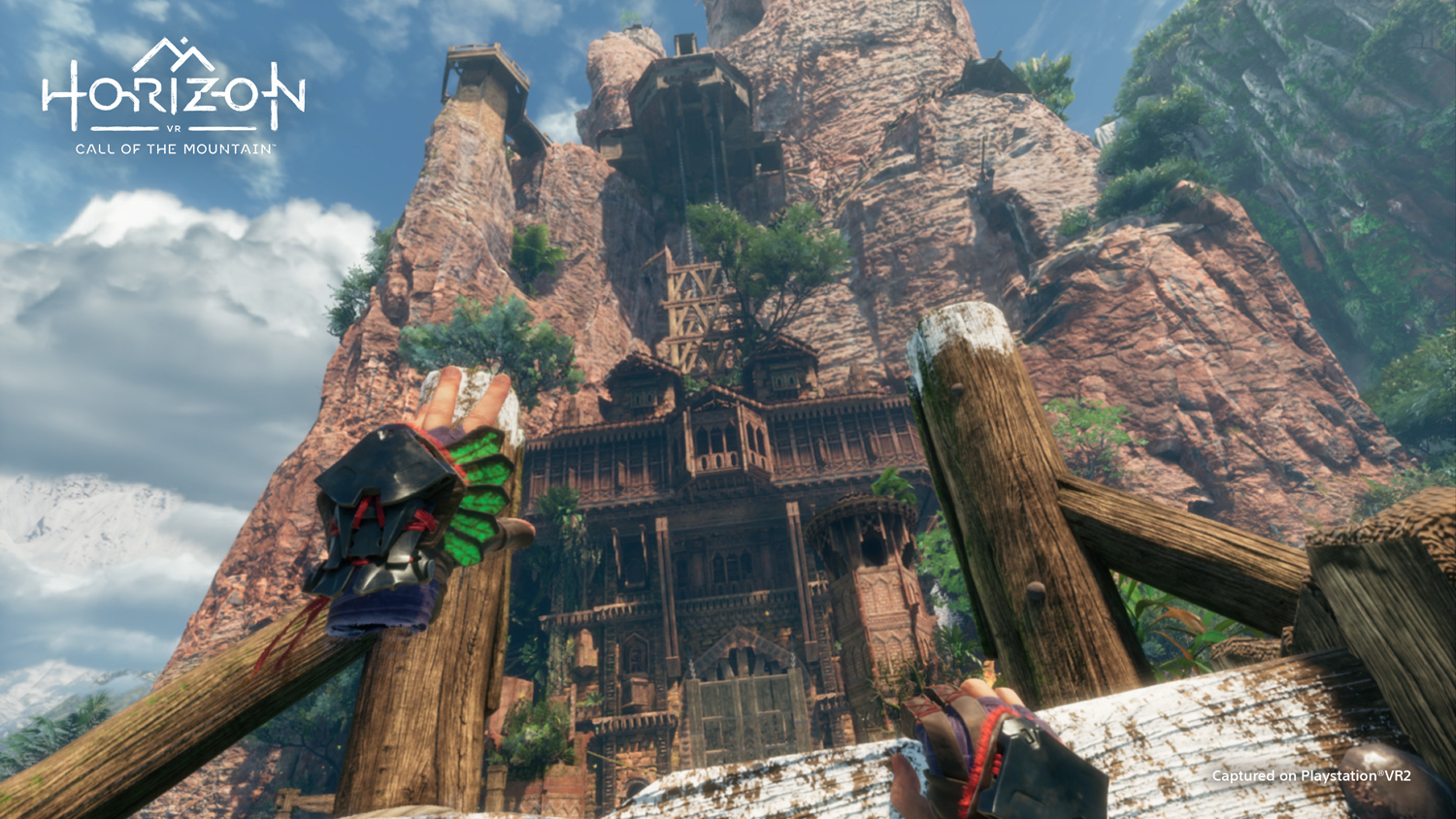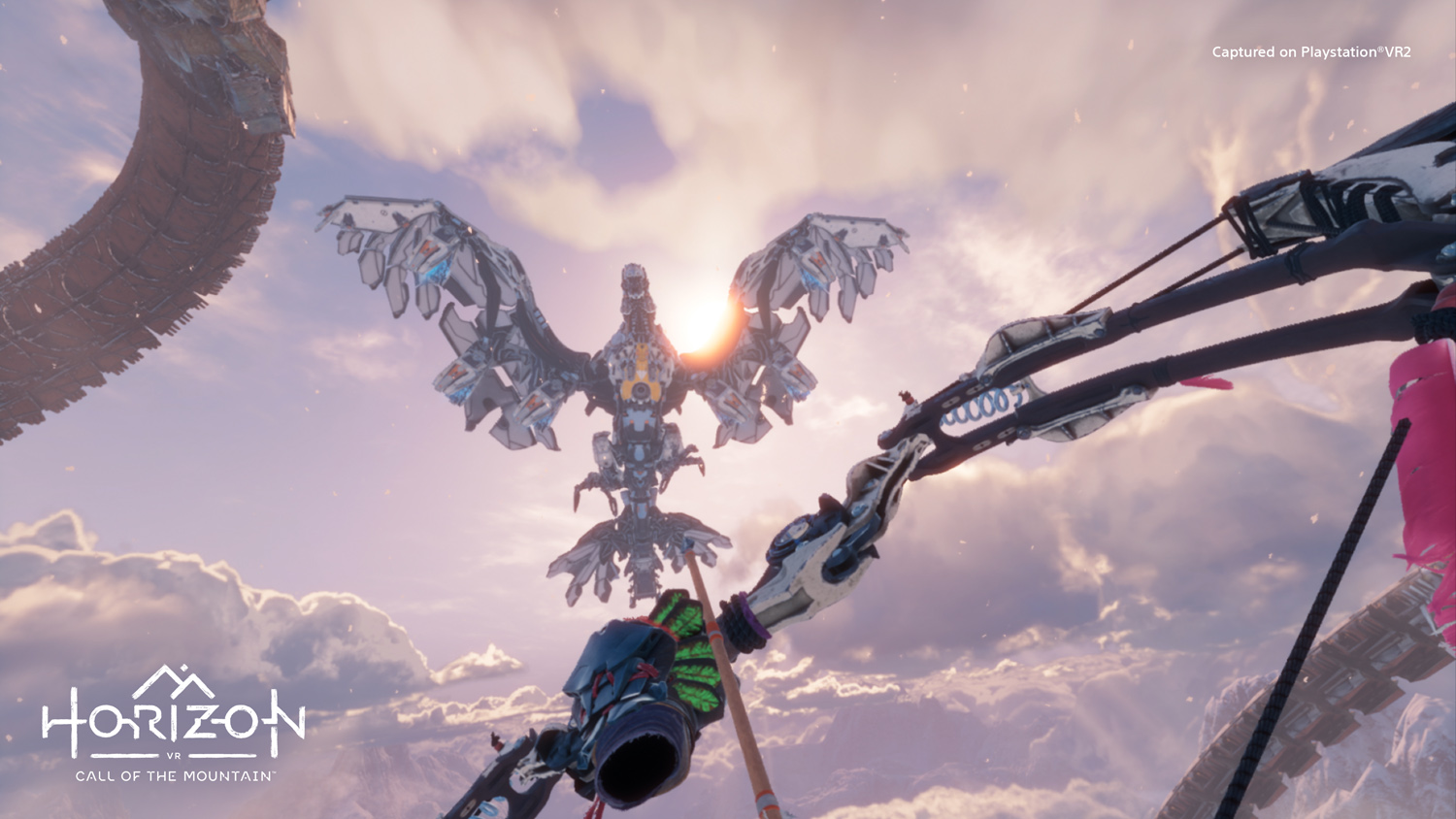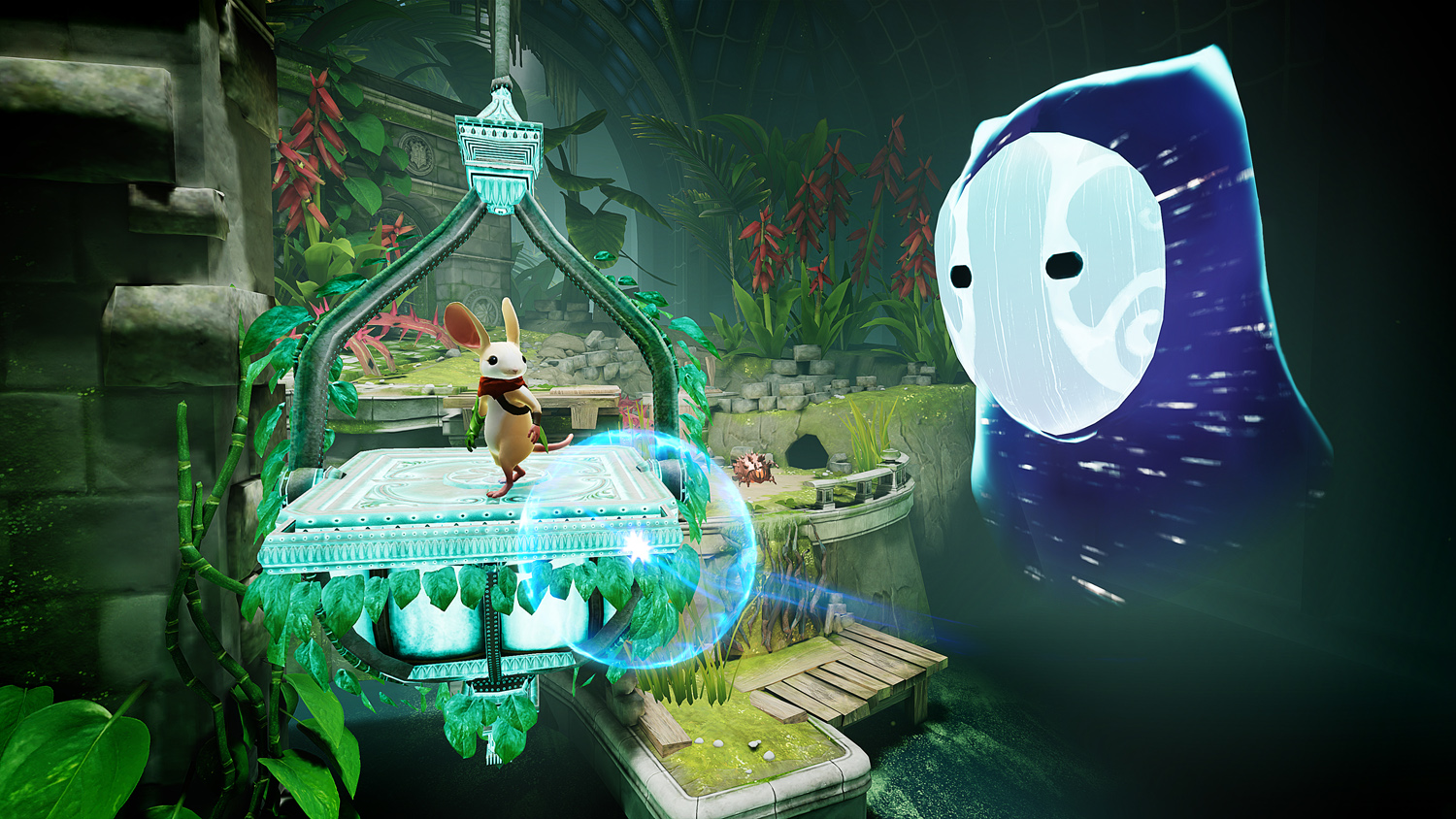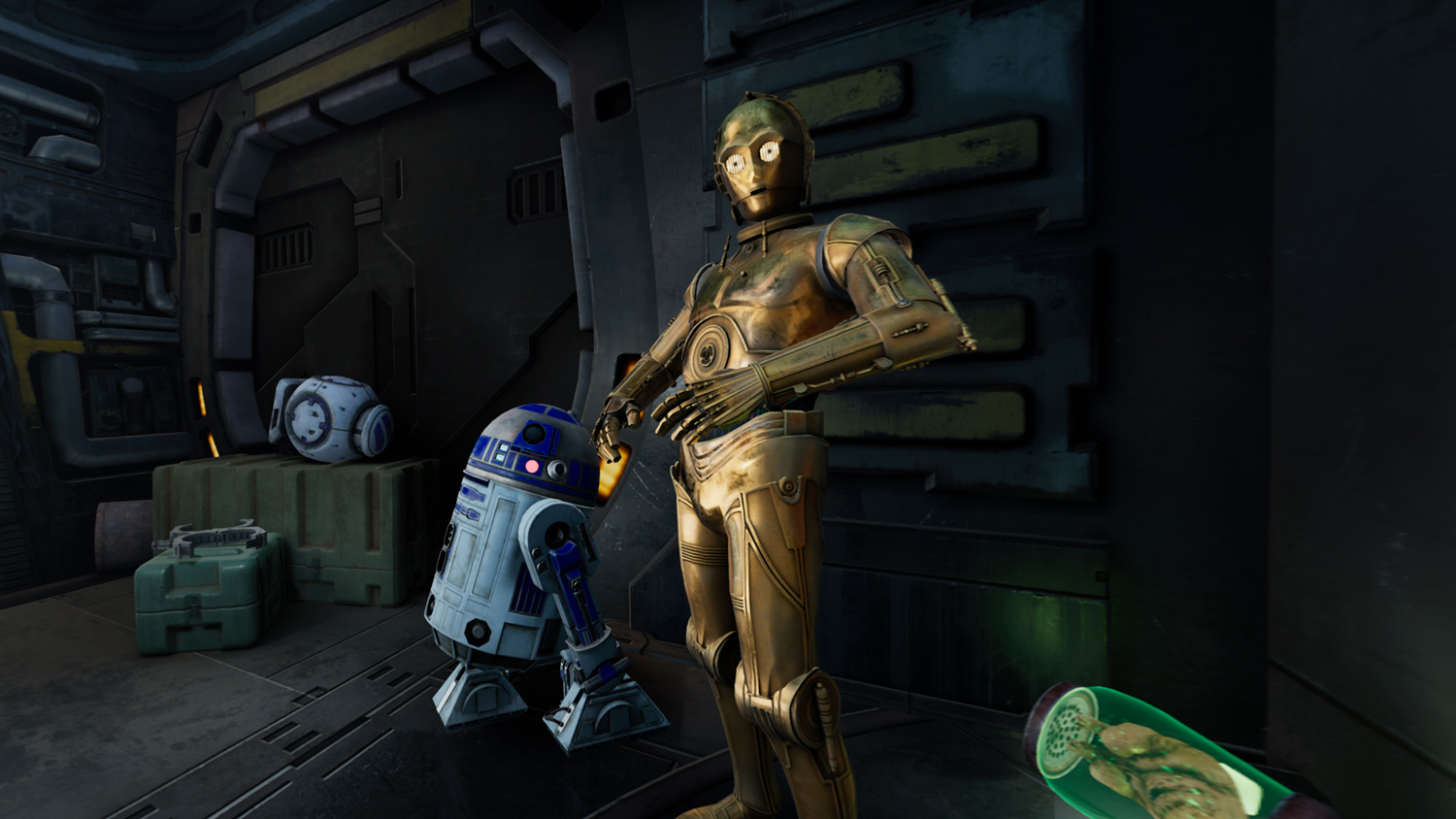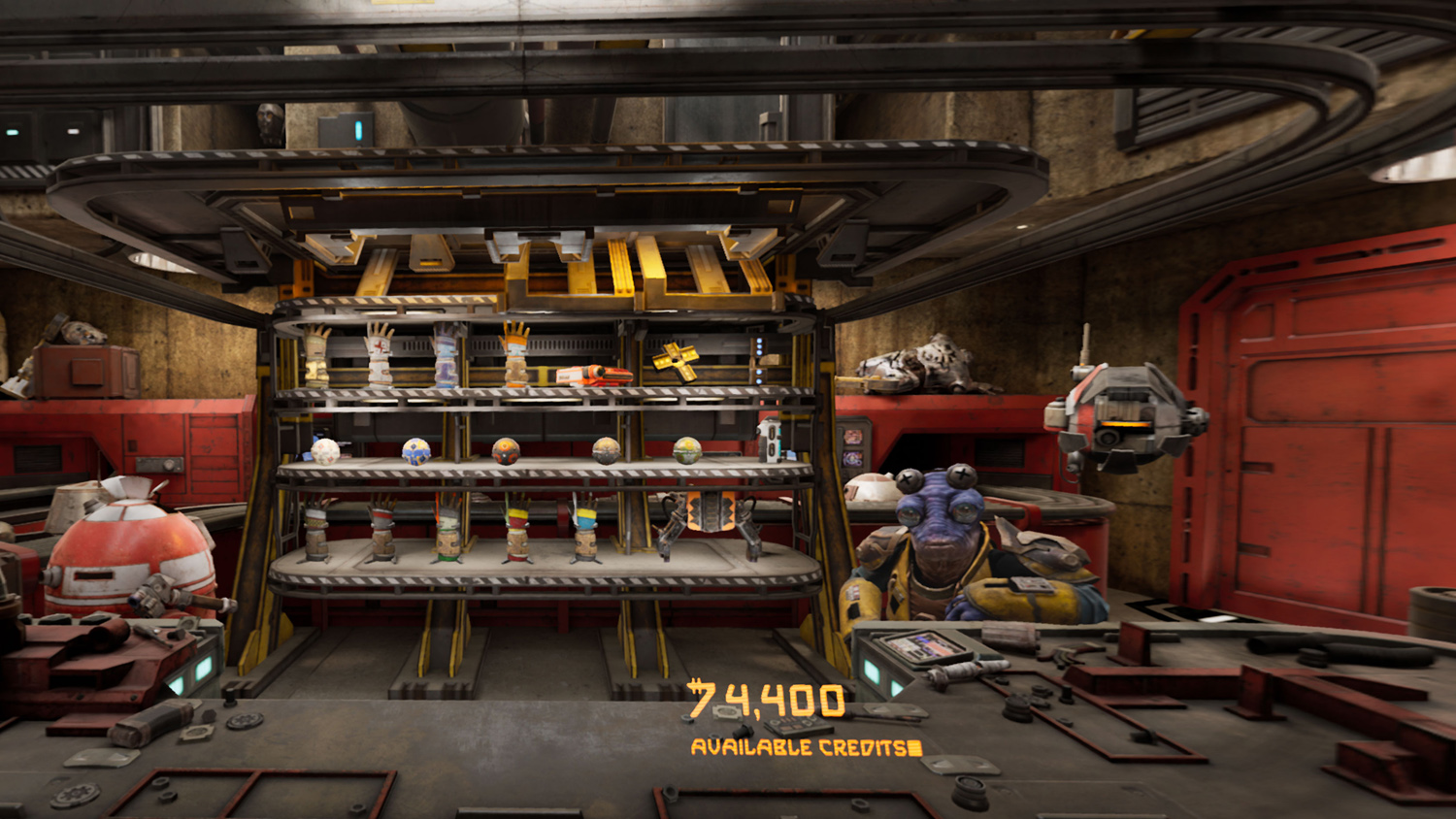 The PS VR 2's spec sheet might be impressive, but like any gaming system, it will live or die on its library games. Horizon Call of the Mountain is the perfect title to show off the new hardware; it's a brand new entry in one of PlayStation's biggest modern franchises that was built from the ground up as a virtual reality experience. The opening five minutes – essentially a Jurassic Park boat ride that replaces real dinosaurs with the Horizon series' robotic equivalent – are simply breathtaking.
Whether you're scaling huge rock faces, pinging arrows at a vicious Walker, gasping in awe at a Tallneck taking an afternoon stroll, or simply leaning in too close when you're talking to a character in the game to see how they react (it's funny, try it), Call of the Mountain is an incredibly immersive 6-8 hour romp that should be the first game you play. The scale is incredible and the world constantly rewards you for interacting with it. We're also happy to see extensive comfort settings and a grounded combat system that never overwhelms, even if the motion sickness-dodging gesture movement controls make us feel more like a clown than a badass robo dinosaur hunter.
VR updates to games such as Resident Evil Village and Gran Turismo 7 will also help shift units, but otherwise the majority of the PS VR 2 launch lineup is made up of ports of games that we've already had our fill of on other headsets. What The Bat? is a hilarious and endlessly inventive roomscale game that anyone can enjoy, but it's the same game we've already played on the Quest 2. Moss and its excellent sequel are two of the most charming VR games we've played, but we've already played them, and while we'll take any excuse to play Tetris Effect again – the PS VR 2 version allows you to trigger the Zone by opening and closing your eyes, which is admittedly very cool – we played it to death on the first PS VR.
If the PS VR 2 is your first VR headset, then you'll find enough games in the launch batch to blow your mind for months. But you can play most of these games already on the much cheaper Meta Quest 2, and if PS VR 2 is going to be a hit then it's going to need a lot more Horizon Call of the Mountain, and fairly quickly, especially because it's unlikely that games ported over from other hardware are going to make full use of the PlayStation headset's unique features.
VR games remain expensive investments, despite their typically shorter runtimes, and if Sony could roll a decent number of PS VR 2 titles into its pricier PS Plus tiers, that would not only boost the value proposition of those services, but also make the high price of the headset easier to swallow.
It's also a huge shame you can't load up your old PS VR games on the new system. Some existing VR games are getting free PS VR 2 updates, but games like the wonderful Astro Bot Rescue Mission are (for now at least) locked to the old PS VR, a headset we'd really struggle to return to now. We appreciate that full backwards compatibility wouldn't be that easy to pull off, but those with a big PS VR library that is effectively dead to the new hardware can feel rightly miffed.
Sony PlayStation VR2 verdict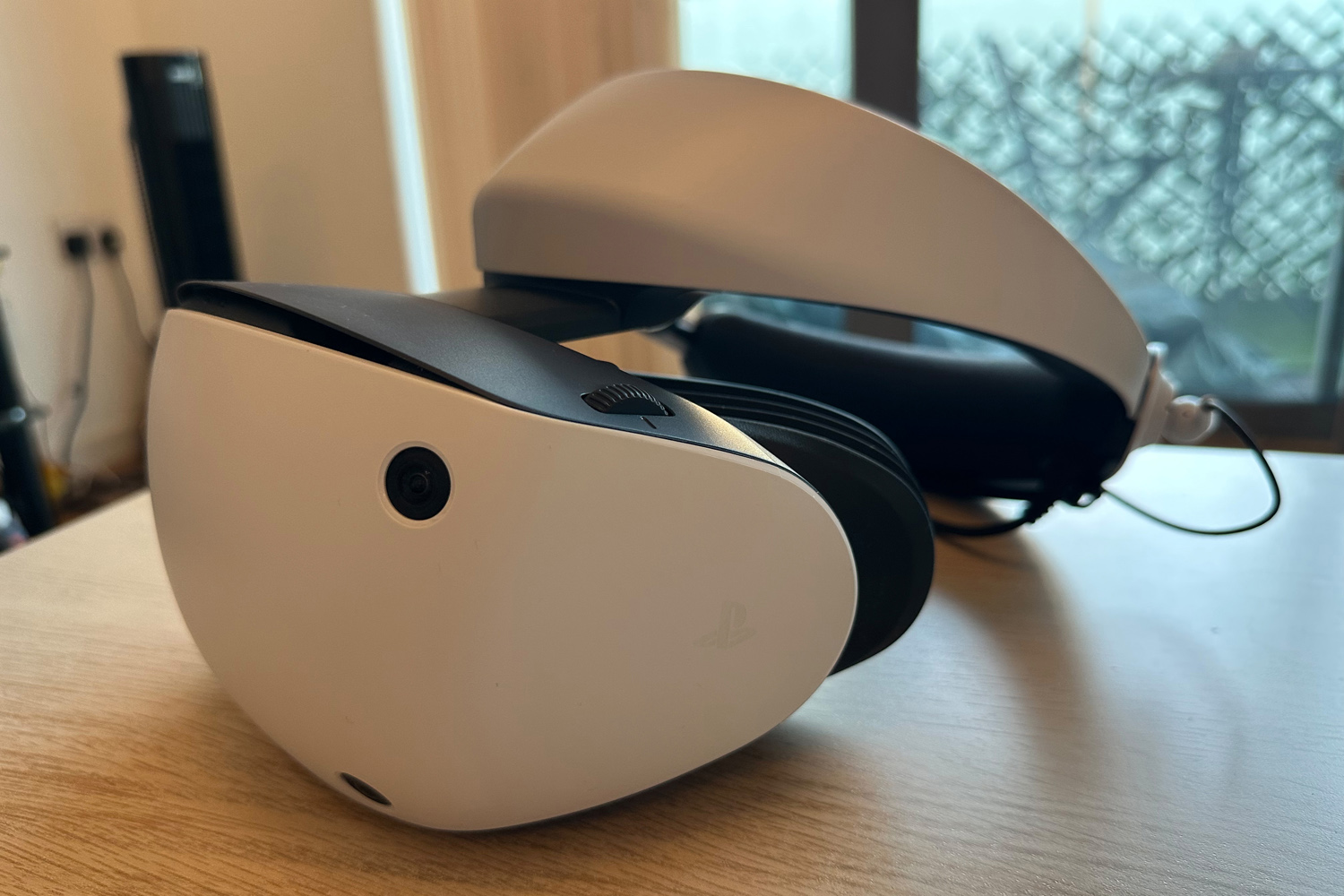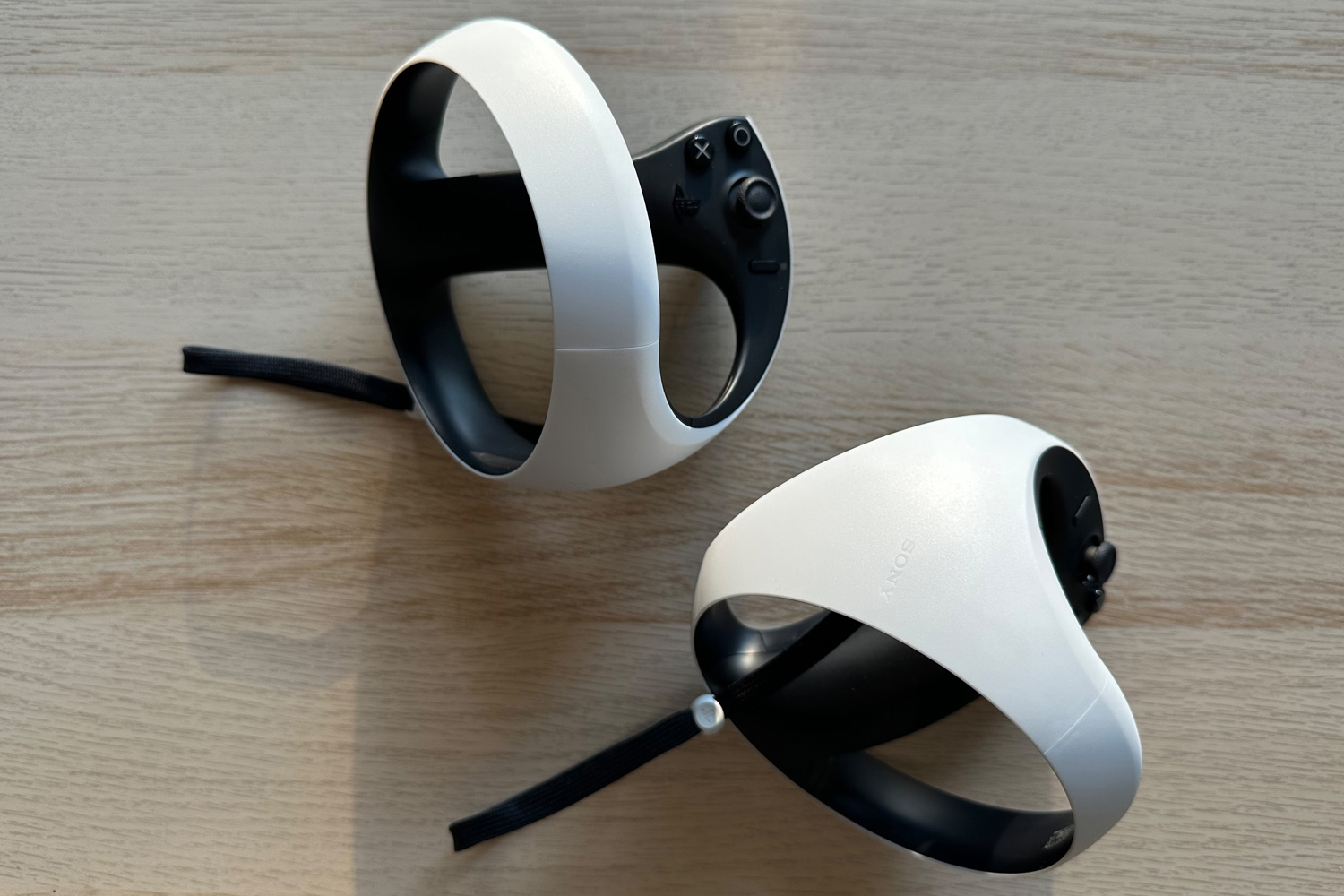 PS VR 2 is an improvement on the original PS VR in every way that matters. It's lighter, far easier to set up, and the new haptic controllers are really great. Games look much sharper while maintaining buttery smooth frame rates, and futuristic eye tracking allows for features like foveated rendering that when properly utilised should help big-budget titles look and perform better.
Our experience with the headset hasn't been technically flawless, with some quite distracting blurriness visible when turning our heads. Occasionally in-game text can look blurry too, but this is usually fixed with a bit of headset repositioning.
There's no getting away from it though: the vast majority of PS VR 2 games you can play right now can already be played on the Quest 2, and wirelessly at that. Horizon Call of the Mountain has impressed us, even if it's not doing anything particularly new, and we're excited to experience Gran Turismo 7 in VR, but the PS VR 2 will need a lot more games like these if it's going to justify its high price and become a must-have add-on to your PS5.
If you're already a VR convert, there's a lot to be excited about with Sony's latest addition to the space, and the PS VR2 could easily become the best place to play, even with that pesky cable. But right now, you're betting on potential, and pricey potential at that.
Stuff Says…
A big improvement over the original PS VR, but the hardware needs a library of games that make the most of it, and it doesn't have that…yet
Good Stuff
Only one cable compared to the original PS VR's many
Reliable tracking
Much improved controllers
Bright and colourful OLED display
Bad Stuff
Visuals can easily look off if the headset isn't positioned exactly right
Poor battery life on controllers
Very few games you can't play on cheaper hardware
Sony PS VR 2 technical specifications
| | |
| --- | --- |
| Display | 2000×2040 OLED per eye, 90/120Hz |
| Optics | 110°, with inter-pupilary distance adjustment |
| Tracking | Inside-out via 4x cameras, eye tracking via IR |
| Sensors | three-axis gyroscope, three-axis accelerometer, IR proximity sensor |
| Controllers | 2x Sense controllers w/ three-axis gyroscope + three-axis accelerometer, finger touch detection, IR LED, haptic feedback, adaptive triggers |
| Connectivity | USB-C, Bluetooth 5.1 |
| Weight | 560g (headset) |