Sony A7R review
Full-frame sensor, tank-like build and lightning autofocus makes Sony's pro-friendly camera mighty tempting – even at this eye-watering price
It wasn't so long ago that squeezing a full-frame digital sensor into a full-size DSLR was considered a notable feat – but with the A7R, Sony has stuffed one into a palm-sized E-mount camera half the weight of most DSLRs.
With a £1,700 price tag (and that's before you buy any lenses), the A7R is pitched squarely at the prosumer market. But as we found out, this 36MP camera performs so well it may well have you going to the bank manager cap-in-hand for a loan.
Built to last
The A7R may be small and (relatively) lightweight, but it's tough as hell. The magnesium-constructed body is weather-sealed to prevent moisture and dust getting inside, and the dials, buttons and chunky grip are as solid as you'll find on a consumer camera.
That big bulge up on top houses one of the finest electronic viewfinders we've ever clapped an eye to. Large, lag-free and boasting a resolution so high that you almost feel it's an optical viewfinder and not essentially a live video feed, the OLED EVF shows you exactly how the image you're about take will end up looking: bokeh, exposure adjustments, depth of field are all previewed as you change settings.
The 3in rear screen is also worthy of a mention. We rarely used it for composing shots (the EVF is so good, you see), but its tilting mechanism means it comes in useful at those times when it's not convenient to hold the A7R up to your eye: when shooting with it high above your head or low to the ground, for instance.
A is for Accessories
Alongside any E-mount lens (and, with Sony's adapter, full-size A-mount lenses too), you can equip the A7R with a wide range of accessories. The Multi Interface Shoe is compatible with various flashes, an IR light (for night vision video) and even Sony's XLR-K1M pro-level microphone, which hooks up to the camera via XLR connectors. If you want to shoot broadcast-quality footage on the A7R, the gear is all there.
Superb images
We can't remember the last time we used a camera this small that delivered images as stunning as the A7R's. The top class lens Sony sent us to use with it – a £700 Carl Zeiss 35mm F2.8 prime – played a considerable role in that, but the glorious full-frame sensor and Sony's noise-reduction and image-processing technology were just as important.
The huge physical size of the 36.4MP sensor helps immensely, as it's capable of capturing a lot of light even with fast shutter speeds. And there's excellent noise suppression, even at high ISO sensitivities, to help reduce unwanted graininess. That means shooting without flash in low light conditions is not only possible but delivers fantastic results: sharp, clean-looking pictures with little sign of noise.
In brighter conditions, photos are even better. Because of the large sensor, there's a scale to these images that few DSLRs can touch, and it's also very easy to achieve a narrow depth of field, blurring the background or foreground of shots while keeping your subject in sharp focus.
READ MORE: Stuff's Guide to Photography: What is bokeh – and how do I get it?
Video star
These traits extend to the A7R's video footage, which looks utterly glorious – almost Hollywood-esque in its smoothness. You can capture in AVCHD or MP4 at 60fps or cinema-like 24fps, in 1080p quality (there's no 4K option, although the upcoming A7s will allow that). And despite the range of external microphones offered by Sony, the built-in stereo mics do an acceptable job of capturing sound for general shooting purposes.
READ MORE: Sony's new Alpha A7s gets 4K video output
Sony A7R tech specs
Sensor – 36.4MP full-frame CMOS
ISO range – 100-25600
Lens – E-mount system
Viewfinder – 2,359,296-dot OLED
Screen – 3in, 921,600-dot LCD
Connectivity – Micro USB, Micro HDMI, Multi Interface Shoe, Wi-Fi, NFC
Dimensions – 126.9 x 94.4 x 48.2mm
Weight – 465g (body only)
Usability and connectivity
The aforementioned chunky grip and buttons make the A7R comfy and secure in your hands, despite its small size, and the sheer amount of controls dotted around the body mean manual shooters can easily adjust settings on the fly. Thankfully there's no need to go fully manual, and Sony's automatic modes are, as ever, scarily clever at determining what kind of thing you're shooting and what the settings need to be.
The autofocus here is devilishly quick and accurate. Sony has even given it the ability to recognise the pupils in subject's eyes and focus on them, which keep faces sharp when shooting with a short depth of field.
One possible criticism: there's no optical image stabilisation inside the body – many of Sony's lenses do however come with it equipped. We didn't find it an issue with the fast F2.8 lens, but it could conceivably hamper performance with slower lenses.
The camera also comes with Wi-Fi and NFC, which allow you to connect to a smartphone or tablet. Personally, we find this a little pointless – transferring large images via Wi-Fi to a phone is far slower and fiddlier than it needs to be to become "a thing", and transferring them to PC is much easier by cable or memory card. But some might get some use out of Sony's PlayMemories app, which allows remote viewing and remote control of the shutter.
READ MORE: Stuff's Guide to Photography: why you need a prime lens, and how to buy one
Sony A7R verdict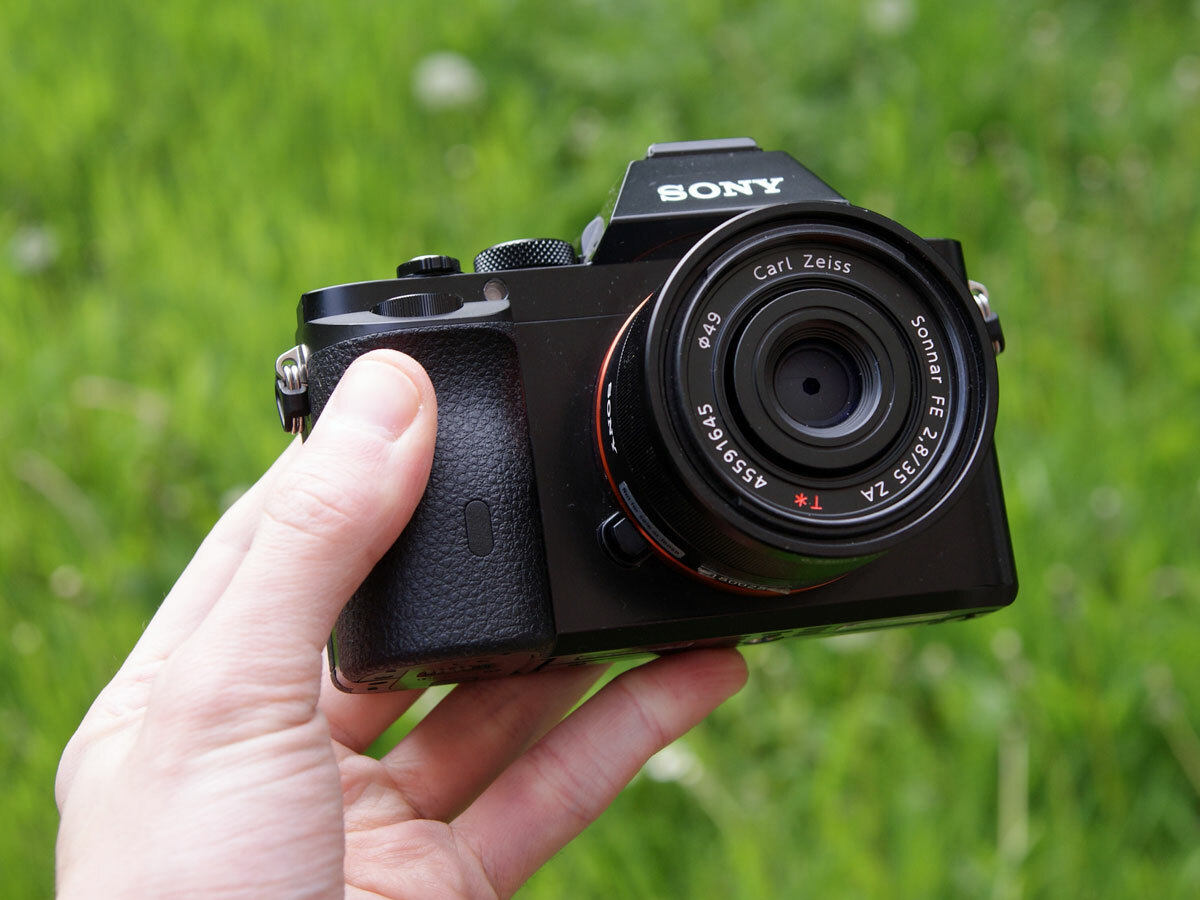 We love this camera and were less than keen on giving it back to Sony after our two-week review period. It's compact and lightweight but delivers results that outstrip pretty much any other compact system camera on the market.
The downside is that that ability costs you a truly hefty wedge of cash, and unless you're already a Sony E-mount user you'll need to buy good lenses on top of the initial £1,700 outlay. Your wallet might weep, but your photo album will sing.
READ MORE: The 10 Best System Cameras in the World right now
Stuff Says…
Fantastic ability and design come together to make a truly stellar mirrorless camera – with a price tag to match
Good Stuff
Huge full-frame sensor
Superb image quality
Lightning autofocus speed
Excellent viewfinder
Rock-solid build
Bad Stuff
The price hurts
No in-body image stabilisation