Songkick Concerts review
Music site Songkick's app is free but it's going to cost you a lot of money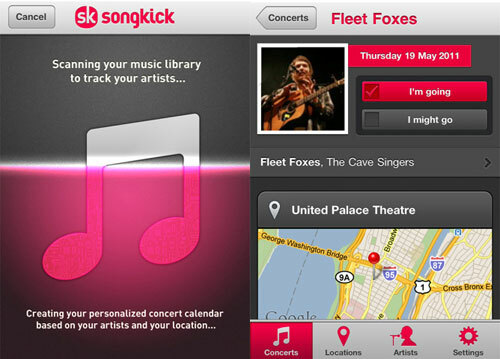 Now available on both iPhone and Android, music site Songkick's app might be free but it's going to cost you a lot of money. It scans your music library then tells you which bands in your collection have gigs coming up near you, helpfully including festivals they're playing too. 
Handy push notifications also alert you to new gigs so you don't need to trawl obscure music blogs every night in the hope of being the first to know when Nick Cave's back in town or er, The Saturdays are next playing your local dive. 
Click through for ticket info for the gig and related upcoming events and if you're really feeling the Songkick vibe, you can tick the "I'm going" or "I might go" boxes. We never do that because we believe mystery isn't quite dead yet but the choice is yours. 
With Songkick's new Detour service – which lets you vote for bands to come play your town (London for now) – nailing its first success, we hope the Songkick Concerts app swallows up this crowd-funding gigs project too. For now, it's pretty damn essential on its own.