Skullcandy PLYR review: game on again
Street Fighter-themed gaming headset kicks bass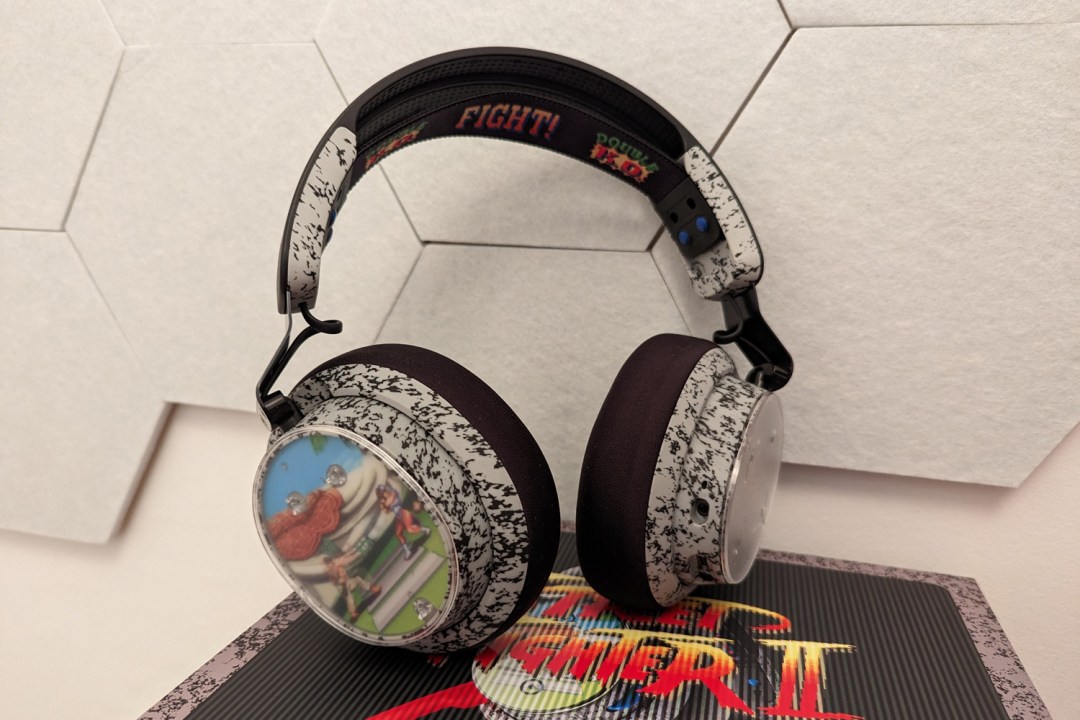 It's been a while since Skullcandy last had gamers firmly in its sights, so the American audio brand has made sure the PLYR turns heads. And not just with a sensible price. This multi-platform wireless headset has some seriously distinctive styling – and that's just if you go for the standard model.
The limited-edition Skullcandy X Street Fighter version tested here, complete with retro graphics and sound cues ripped from Street Fighter II, is properly in-yer-face. And we love it. The centrepiece of Skullcandy's new gaming line-up, which also includes the SLYR and SLYR Pro wired headsets, is a proper love letter to a fighting game classic.
But beyond looks, has Skullcandy delivered a knockout punch?
Design & build: Fight for your right to arty
With a mix of translucent plastic, blue and pink trim, and colourful digital camo effects on the headband and ear cups, the regular PLYR is an eye-catching headset – but it has nothing on the Skullcandy X Street Fighter edition.
Here, the outer plastic has been given the same marble effect finish you'd find on an original Street Fighter II arcade cabinet, and the ski goggle-style adjustable headband is adorned with "Fight!" and "Double KO!" graphics. Holographic designs on the ear cups show a blinking "insert coin" on one side, and Street Fighter mainstay Ryu chucking a fireball on the other. The tiny wrecked saloon on the eye-catching red boom mic is a fun easter egg from the Crush the Car bonus stage. It can be detached when you're not gaming.
The cups swivel and pivot for a comfy fit, and the memory foam pads avoid putting too much pressure on your head. They're just fine for glasses-wearers, and the breathable fabric won't leave your ears a sweaty mess after a long gaming session either. They're not especially heavy at 315g, and despite the largely plastic build they avoid feeling cheap.
Features & battery life: multi-disciplined
The PLYR hooks up over 3.5mm or USB to PCs, consoles and handhelds, with Bluetooth on board for pairing to a smartphone. Skullcandy will also sell you a dedicated wireless receiver for PC and PS5 that promises to slash latency, but we didn't have one to test for this review, so can't say whether it's a worthwhile investment at £25. We'd grumble about one not being in the box, but it does help keep the price of the headset down.
Pairing over Bluetooth reveals more Street Fighter easter eggs, with the intro music playing when entering pairing mode, and an announcer shouting "perfect!" once your device is connected. It even says "You win!" When you plug in the boom mic and "You lose!" When you tug it out. There's also a second mic built into the ear cup, which is handy for taking calls when away from your desk – if you're bold enough to rock a pair in public.
Power and volume controls are built into the left ear, next to the headphone and USB-C ports. Prodding the outside of the ear cup will play and pause your music, with a double-tap skipping tracks (but a triple-tap not going back to the previous one). You can also mute the mic here, or turn on side-tone to hear a bit more of your own voice while gaming. That pretty much does away with any need for in-line volume controls on the USB and 3.5mm cables, which are rubber coated and flat to cut down on cable chatter.
Pushing in the volume wheel swaps between a handful of EQ presets, including a custom one you can set up through Skullcandy's Skull-HQ software on a PC. It's Windows-only right now, though, but the Skullcandy smartphone companion app does a similar job. You can update firmware, tweak the game/chat mix, and create a custom listening profile through it, as well as track a misplaced headset with baked-in Tile tech.
Battery life is very respectable, lasting up to 24 hours between charges when used wirelessly at sensible volume levels. We didn't quite reach that figure, but there's still enough juice here to last for a weekend of gaming. It can also be your go-to headset for music during the day and still have charge left when you swap the work laptop for the gaming PC.
Sound quality: fight music
Skullcandy has a reputation for head-smacking bass, but the PLYR's 50mm dynamic drivers are refreshingly balanced out of the box. As a pair of gaming headphones there's still plenty of low-end rumble when you want it, but they don't drown out the rest of the frequency range.
There's enough detail to pick out footsteps and other sound queues without having to crank then volume to ridiculous levels, but it avoids distorting if you choose to do that anyway. The EQ presets are calibrated for different game genres, with the RPG setting giving music and dialogue more prominence in the mix. The FPS mode delivers impactful gunshots and breaking glass.
The Supreme Sound audio tuning does lean towards a crisper top-end though, which highlights sibilant sounds on podcasts and can make some music genres come across a little sharp. This is no audiophile headset, but plenty of gamers will be happy to jam out to their Spotify playlists with it.
The microphone is also ideal for in-game comms, with other players having no trouble understanding us even in heated moments.
Skullcandy PLYR verdict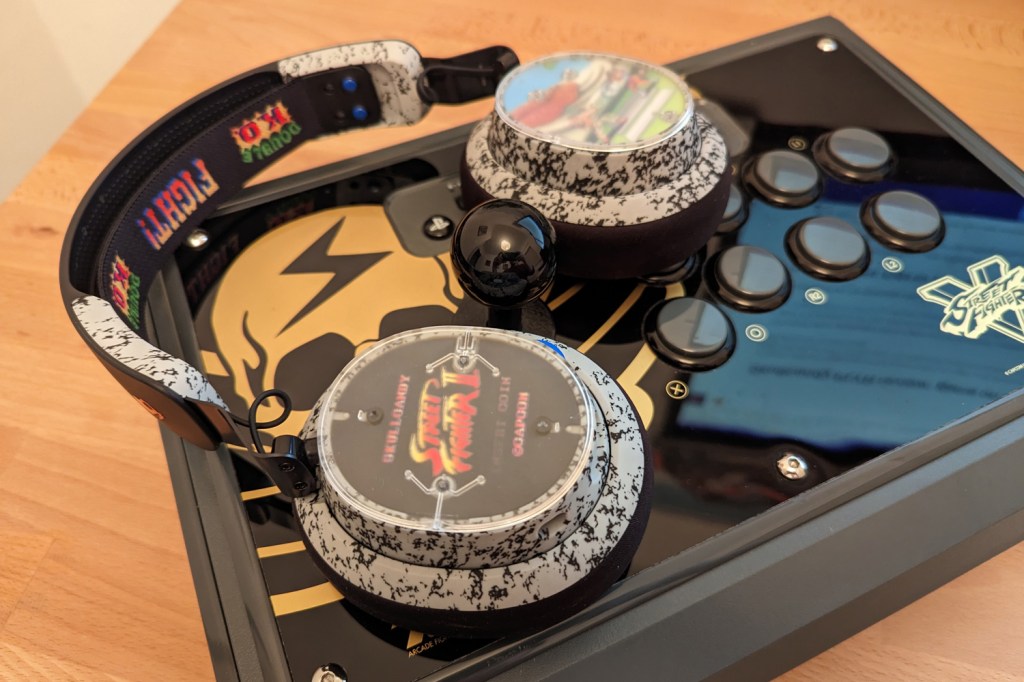 However you feel about its polarising design, the Skullcandy PLYR is a surprisingly well-equipped headset for the money. PC, Xbox, PlayStation and Nintendo gamers are all catered for with cables, and Bluetooth makes it that much more multi-purpose than the gamer-specific rivals that cost a similar amount.
A Razer Barracuda has more subtle styling, but it'll set you back £160. Which is what you'll have to pay for the Skullcandy X Street Fighter edition, as it carries a £30 premium over the standard PLYR. That might only be easy to justify if you're a fighting game connoisseur and are sold on the styling.
And if you're just looking for a do-it-all headset? Either embrace the PLYR's over-the-top looks, or save your cash for something a little more restrained.
Stuff Says…
A multi-platform headset with style appeal – for some. Not the most feature-packed for the cash, but fans of the looks will still be swayed
Good Stuff
Special edition styling stuffed with easter eggs
Sound is on the money
Reasonably priced
Bad Stuff
Wireless transmitter an optional extra
Looks won't be for everyone
Skullcandy PLYR technical specifications
| | |
| --- | --- |
| Drivers | 50mm dynamic |
| Active noise cancellation | No |
| Connectivity | USB-C, Bluetooth, 2.4Ghz wireless (optional) |
| Bluetooth version | Bluetooth 5.2 |
| Codecs supported | SBC |
| Battery | Up to 24 hours |
| Weight | 315g |