Sega Astro City Mini V review: blast from the past
A tiny cab full of classic vertical shooters! But is it a perfect shot or does it fire blanks?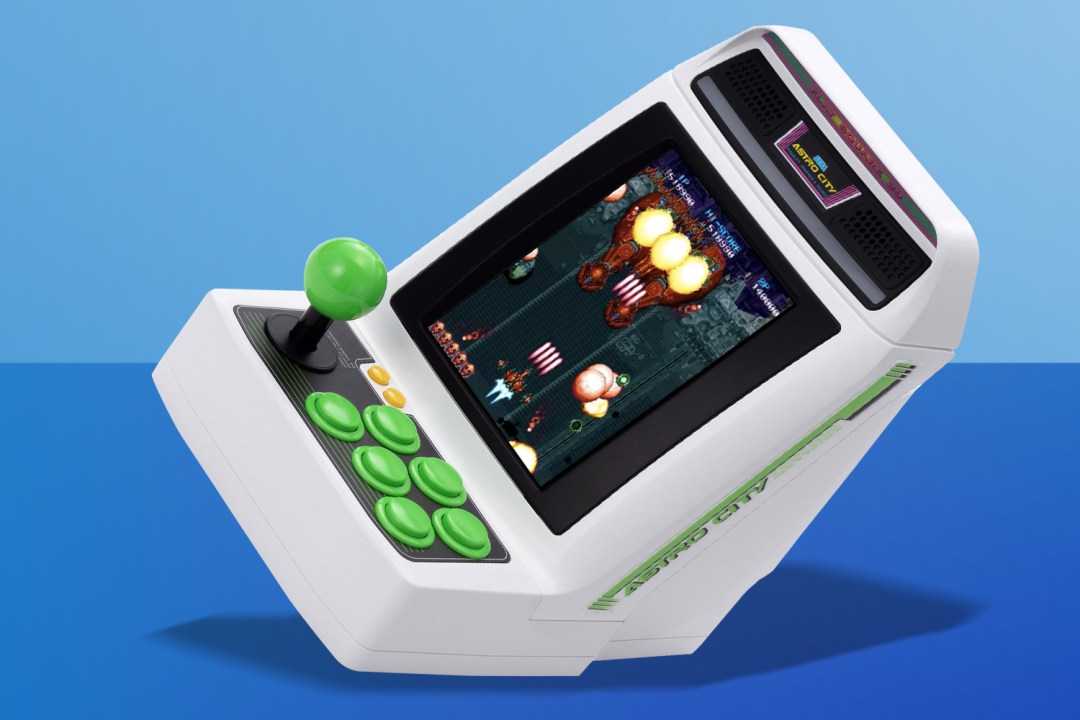 Don't worry – you haven't missed four previous Sega Astro City Mini consoles. The 'V' in Sega Astro City Mini V stands for vertical. The original Sega Astro City Mini included a wide range of 37 Sega titles in landscape. This follow-up focuses on vertically oriented arcade games – 23 in all.
But in an increasingly crowded mini arcade cabs and consoles market – already packed with everything from Taito's Egret II Mini to authentic Quarter Arcades – does the Astro City Mini V do enough to stand out?
Let's take a look in our Sega Astro City Mini V review.
Game on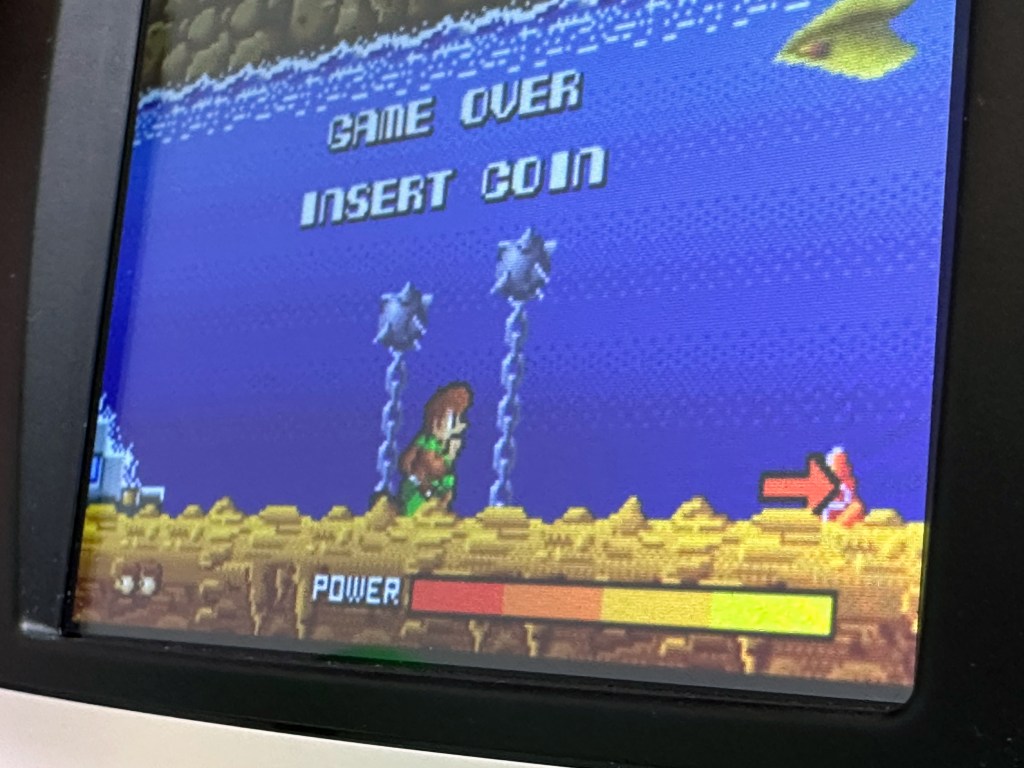 Like most mini cabs and consoles, the Astro City Mini V isn't designed to be extensible. But whereas Sega's Mega Drive Mini and Astro City Mini offered a mix of popular classics and deep cuts, a quick glance at the V's roster suggests its cuts are notably deeper:
The full line-up is: Action Fighter, Armed Police Batrider, Batsugun, Battle Bakraid Unlimited Version, Cosmo Police Galivan, Desert Breaker, Dogyuun, Fire Shark, Grind Stormer, Gunbird, Kingdom Grandprix, Moon Cresta, Out Zone, Raiden, Samurai Aces, Sonic Wings, Strikers 1945, Super Zaxxon, Terra Cresta, Truxton, Truxton II, Wrestle War, Zaxxon.
Most of those titles are vertical shooters. Many are obscure. But quite a few are nigh-on impossible to come by legally. So the value proposition here will in part be defined by whether you're a big fan of shooters – and fancy playing some crammed into a tiny arcade cab.
Fortunately, if you enjoy zig-zagging through bullet hell, many of the titles here hold up, from the ancient Moon Cresta through to standouts Armed Police Batrider and Battle Bakraid. A smidgeon of variety lurks in the form of pioneering isometric blaster Zaxxon and entertaining top-down Commando-like shooters Out Zone and Desert Breaker. Lip service is paid to other genres, but those games are forgettable – a miserable wrestling game; a finicky Spy Hunter wannabe – bar fun platform shooter Galivan.
Play time
So how do things fare when you fire the unit up? Let's dig in…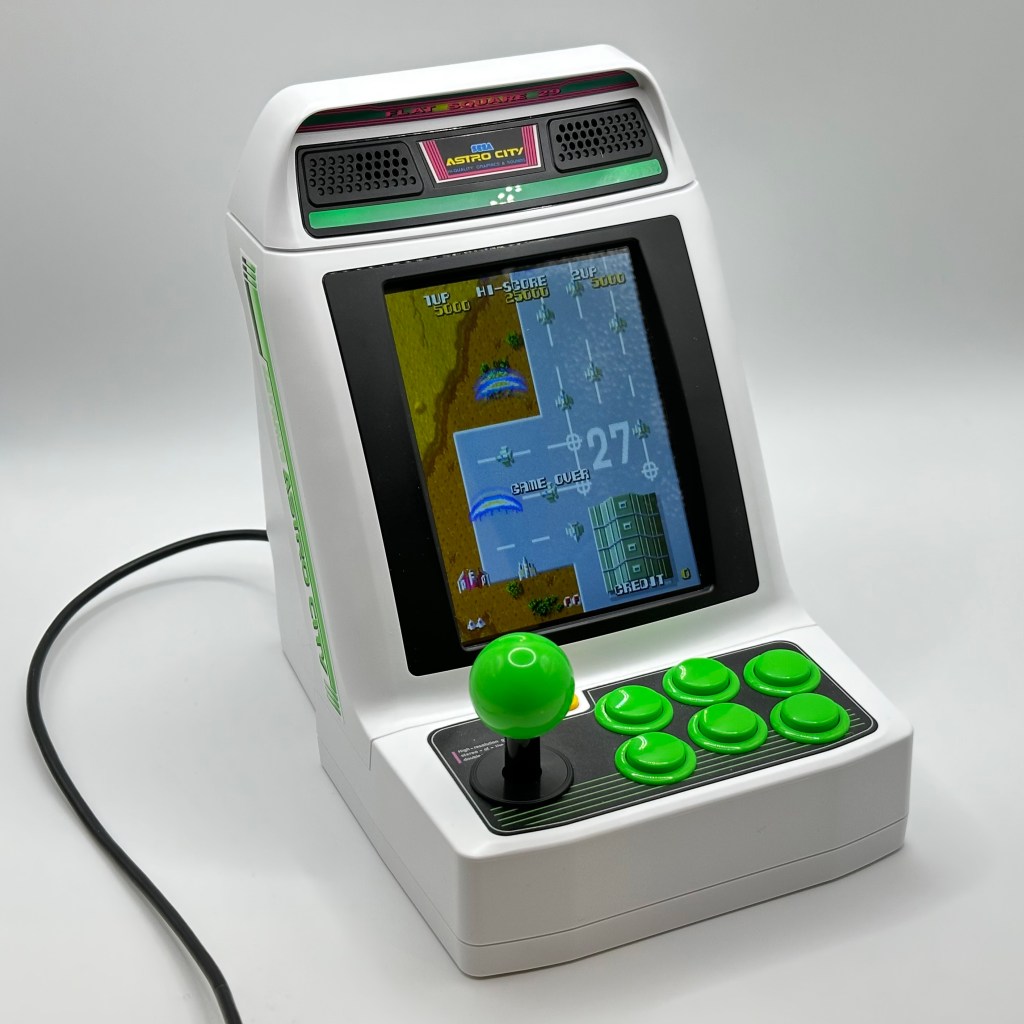 A bit of all white: The white plastic cab is a 1:6 miniaturised take on the 1993 Astro City cab. It lacks the visual appeal of a device with classic arcade game artwork – unless you've a thing for generic cabinets. However, it does have a mix of retro appeal and quite modern design smarts that looks good on a desktop. But be mindful it has no battery – nor a plug in the box. You'll need to connect its micro USB cable to a power source to play.
Screen time: The 4.6in display is sharp and bright – good for an LCD, although not a patch on a modern smartphone when it comes to searing your retinas. You can apply filters to the game image: 'None' adds a subtle blur and is the best option; two disappointing 'Arcade' settings add scanlines and make everything too dark; and 'Sharpen' goes for a clean image that sometimes causes shimmering issues, due to a lack of integer scaling.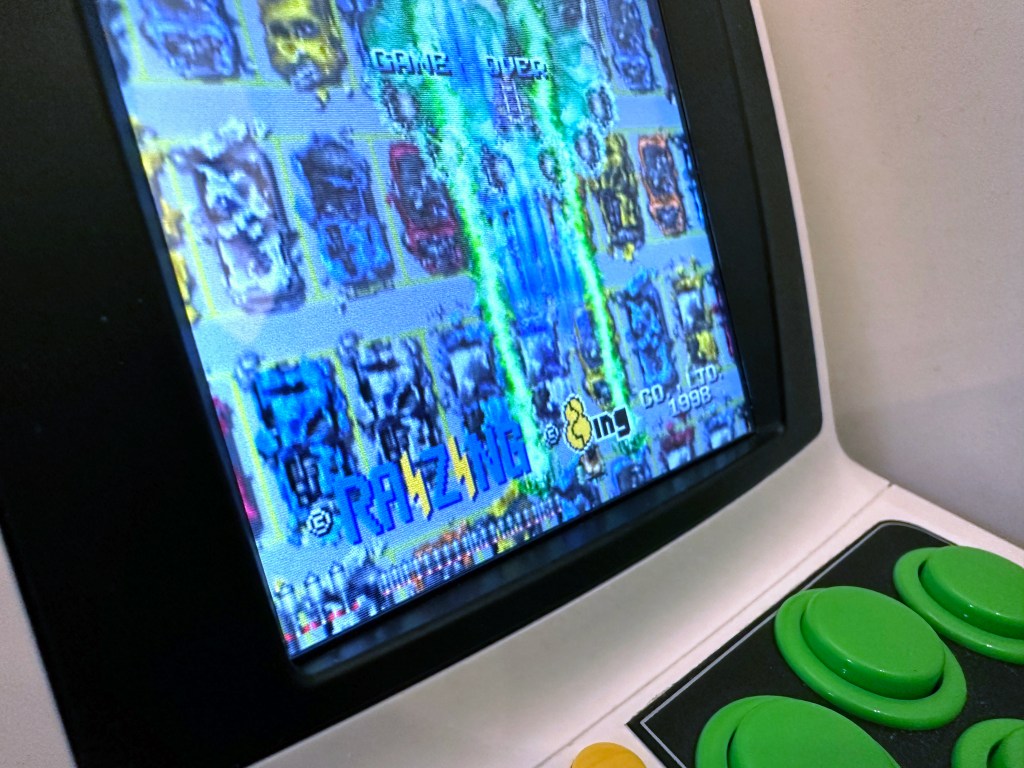 Stick to your guns: The six face buttons are nicely clicky. The joystick feels solid. But the latter's quite long travel combined with emulation issues means the V can feel a bit stodgy – something that's very apparent when trying the games on other systems, where the response is instant. The lag doesn't ruin the experience, but it isn't ideal for games that often require immediate reactions. Fortunately, the unit's rubber feet keeps it mostly still if you yank the stick around to compensate.
Slots of fun: Wisely, each game allows you to save two states, which goes some way to countering performance issues. Also, the newer titles let you pump in an endless number of virtual coins for continues – although purists might balk at such brazen 'cheating'. It's worth exploring the menus for other niceties too, such as the fun cycling attract mode.
Plug and pray: If your ageing eyes can't deal with bullet hell on a small screen, the V has 720p HDMI out. However, this feels a bit pointless on a standard telly – unless you've a rotating display – given the vertical aspect. It's also worth noting that while the V has two USB ports, it wouldn't recognise any of our controllers. First-party gamepads are available for about $40/£35. Bundling one with the unit itself would have been nice.
Sega Astro City Mini V verdict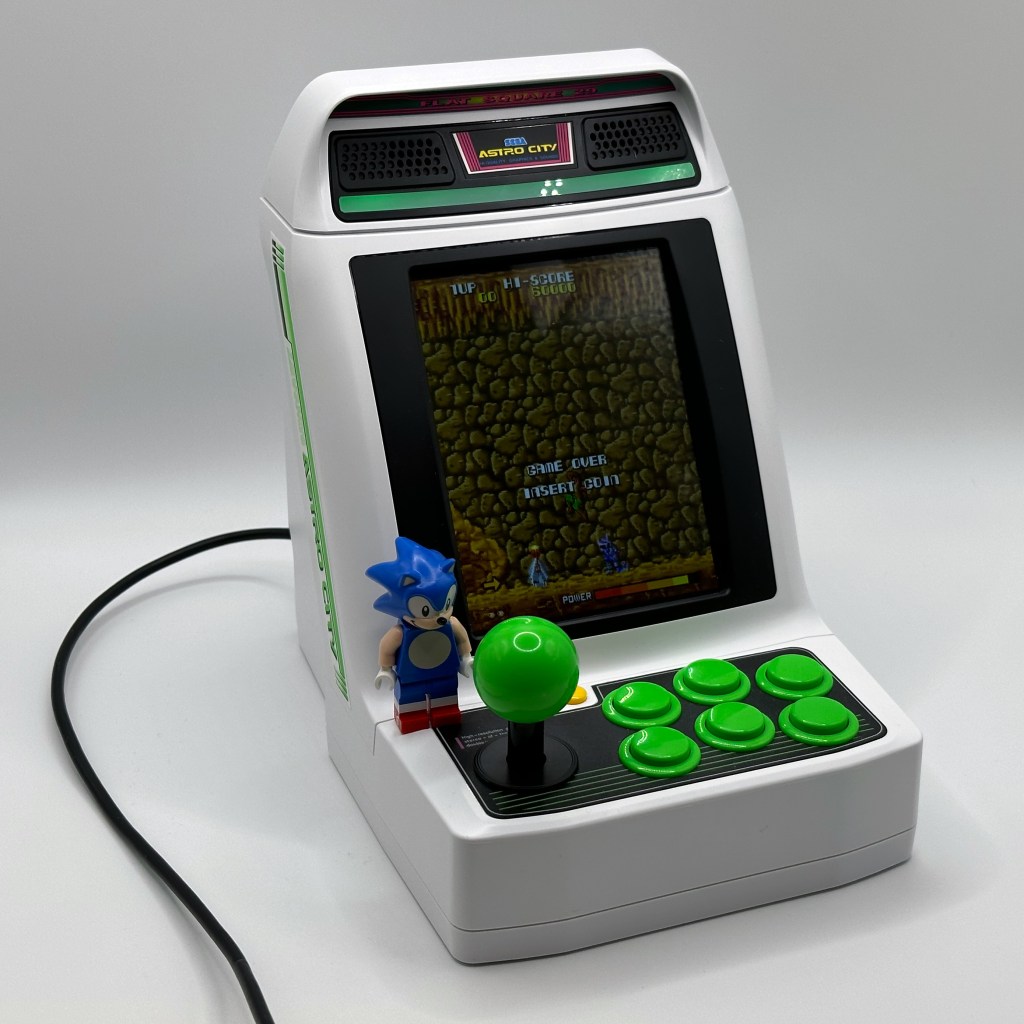 There's a lot to like about the Astro City Mini V. The compact, solid unit looks smart and doesn't take up acres of space. The screen is good, and even if the games selection is quite niche, Sega deserves praise for not reheating the usual suspects yet again.
But there are niggles. Over and above those mentioned, the speaker is weedy, the lack of US or European ROM options is odd in games that mix Japanese and English on-screen, and the need to return to the main menu to adjust brightness and volume irks.
Regardless, the V is fun to play on. But one final snag means it misses a stronger recommendation: the price. At £229.99 in the UK, it's just too much, with the imperfect emulation and narrow games selection, even when you consider the rarity of some included titles. Compared to Taito's Egret II Mini, available for $200/£170 at the time of writing, it feels overpriced. In the US, the unit's been out for a while, for a more palatable $159.99. If you live there, are a fan of shooters and can deal with the lag, maybe add another half star to our rating.
Stuff Says…
A fun and compact retro-gaming unit for fans of vertical shooters, but at this price the package needed to be closer to perfection than it is.
Good Stuff
Bundles rare and otherwise pricey games
Solid and compact design
Cycling attract mode is a great idea
Bad Stuff
Imperfect emulation
Weedy audio
Expensive in the UK
Sega Astro City Mini V tech specs
| | |
| --- | --- |
| Dimensions | 170(h) x 130(w) x 175mm, 620g |
| Connectivity | Micro-USB power, USB-A controllers, headphones, 720p HDMI out |
| Screen | 4.6in 698x930px |