Sanyo Xacti VPC-HD2 review
Our favourite HD palm 'corder returns in a new shade, promising better results and sharper pictures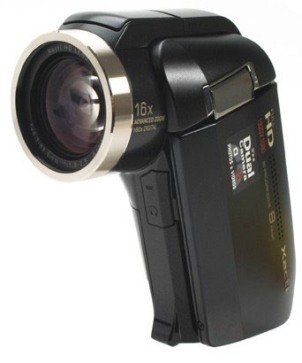 We were astounded, nay overwhelmed, when Sanyo's first hi-def pocket camcorder-cum-camera, the HD1, landed at Stuff Towers, showing off its 10x zoom and proclaiming itself to be the world's first solid-state HD 'corder.
We were less impressed by its near total picture breakdown whenever asked to film in the shadows, but overall we were still bowled over by a hi-def cam we could happily hide in a loose skin fold.
So it was with some expectation that we received the HD2 – already in love with the form factor but hoping for an improvement in the output.
Everything changes but you
On the outside, it's almost as though nothing has changed. Fondle the two models in a darkened room and you'd be hard pushed to tell the difference. Only the shade has altered, from metallic grey-silver to a bluey graphite body.
Otherwise, it's the same pistol-grip body evolved from Xactis of yore. Having all the main controls on the back means it's easy for lefties to handle, though anyone without the dexterity of an Indian carpet-weaver may find that navigating with the fiddly five-way joystick is a ham-fisted lesson in patience.
The still camera performance has been upped to a more respectable 7MP and we were pleased to note that the muddy OLED screen with its flat contrast had been tossed asunder, to be replaced by a more conventional same-size LCD – all for £300 less than the original launched for last year.
In the dock
Getting video off the HD2 is easier than ever. The bundled dock now comes with HDMI for piping it straight to an HD-ready screen. There's also a USB cable but we found it easier to leave the dock tethered to the TV and just to pop the SD card into a card reader for dragging and dropping the QuickTime-friendly MP4s onto our hard drive for editing.
It's SDHC compatible, so there are no problems using high-capacity cards. An 8GB SD is good for around three hours of 1280×720 pixel footage at 30fps. There isn't a card in the box so factor that into the cost.
The darkness
But the HD1's fatal flaw was its low-light performance. Sanyo reckons it's boosted that by 75 per cent on this new model, whatever that means. We'd have to say that it's better, but still not there yet. The camera does noticeably 'gain up' to brighten the picture and the 'high sensitivity' mode helps, but at the same time the picture quality takes a gradual slide. Start shooting in a really gloomy corner and it could be a camera phone you're filming on.
Move outside and this baby is in its element. The colours are well matched and it exposes perfectly. Some of the finer detail has been sorted out too, with fewer jagged edges. Just watch out for the inevitable camera wobble when holding such a tiny device.
Sound from the built-in mic is good too, with decent wind-noise reduction. Pros can also now plug in an external mic to improve things further.
Two-in-one
Unlike most camcorders, the HD2's stills ability isn't an afterthought. It's just as simple to take snaps – even while still filming – but watch out for the noticeable shutter-lag. With 7mp, a pop-up flash and a 10x optical zoom it's a seriously well-specced cam but the results are pretty average. Still, it's good to have on board, and is one less gadget to carry if you're packing light.
Which is what the HD2 is really all about. Sure there are better cameras and better HD shooters out there but none of them are as small as this. In other words, it may not be perfect, but we're smitten all the same.