Samsung UE43AU71000 review
Small screen, big picture
Everyone gets excited about flagship TVs and the technology they use. That's understandable. But let's face it: when we go shopping for a new television, very few of us are looking for a flagship model.
Most of us do our shopping in the mainstream, where the prices are – what's the word? – realistic. Samsung seems to understand this better than a few of its nominal rivals: its mid-range tellies tend to be almost as thoughtful as its flagship models, and – on a pound-for-pound basis – perform equally well.
Which brings us to the Samsung AU7100 range. We tested the 43in version, the smallest and most affordable of the lot. And Samsung has shown before that small can be beautiful…
Design and build: getting what you pay for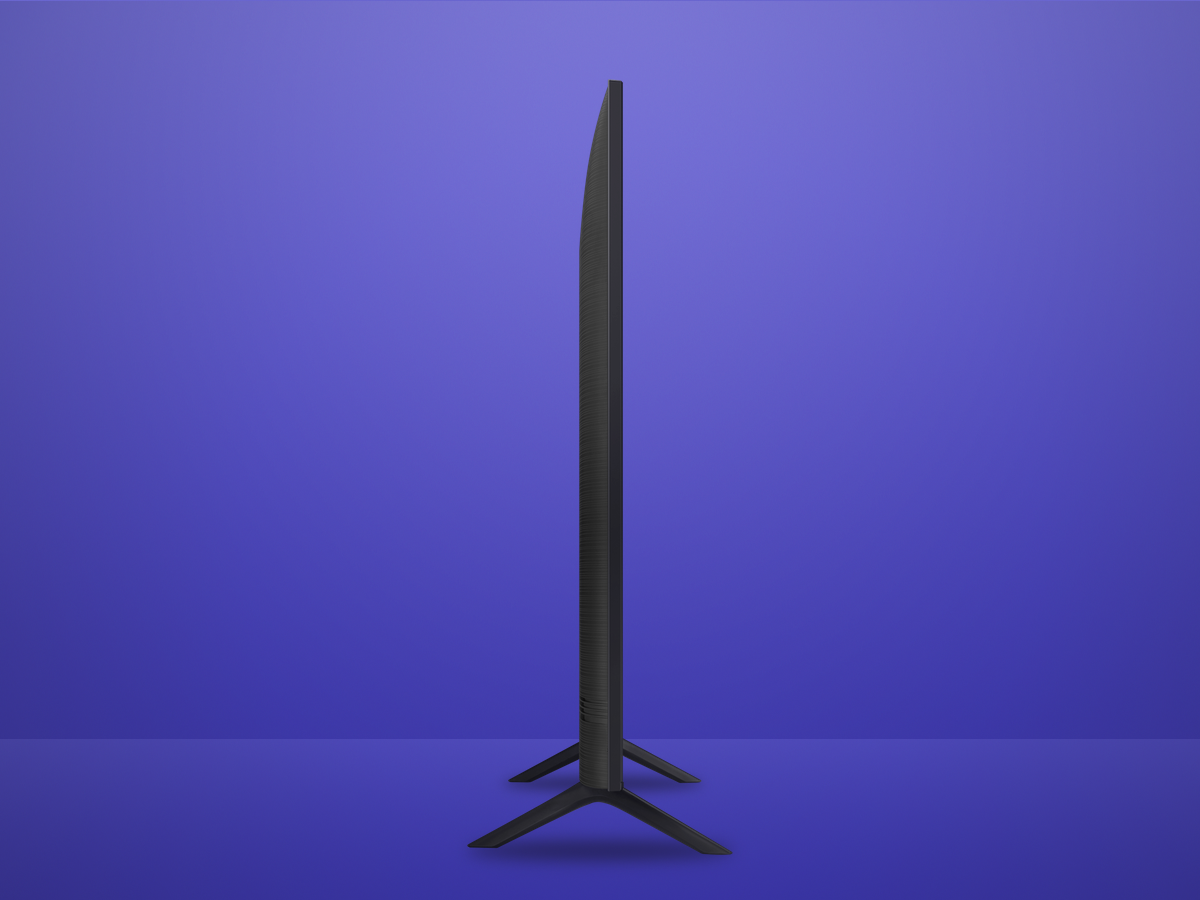 Because this range is one of Samsung's real volume sellers – or, at least, it's meant to be – the AU7100 is available in a whole load of screen sizes. As well as this 43in version, there are alternatives sized at 50in, 55in, 58in, 65in, 70in, 75in and 85in. But aside from the obvious differences in dimensions, they're all designed and built in exactly the same way.
As far as build quality goes, you're on admirably safe ground here. We can't remember the last time we saw a Samsung TV which seemed poorly constructed. Sure, it may not be built from the most indulgent materials – the plastic boomerang feet, in particular, don't feel anything special – but the AU7100 is flawlessly finished and built to last.
And as befits a television that's intended to sell at a very competitive price, not much by way of 'design' has happened here. Samsung will tell you the AU7100 is 'bezel-less', but that's not true. The bezels are pretty minimal, though, which is nice. Plus the feet leave enough space below the bottom of the screen to accommodate a soundbar, which is prudent.
It's worth noting that the feet are quite a way apart, so if you're not wall-hanging your new TV (and given its chassis depth of almost 6cm, it's not the most wall-hangable screen around), you should make sure the surface you plan to stand it on is wide enough.
Features: got what you need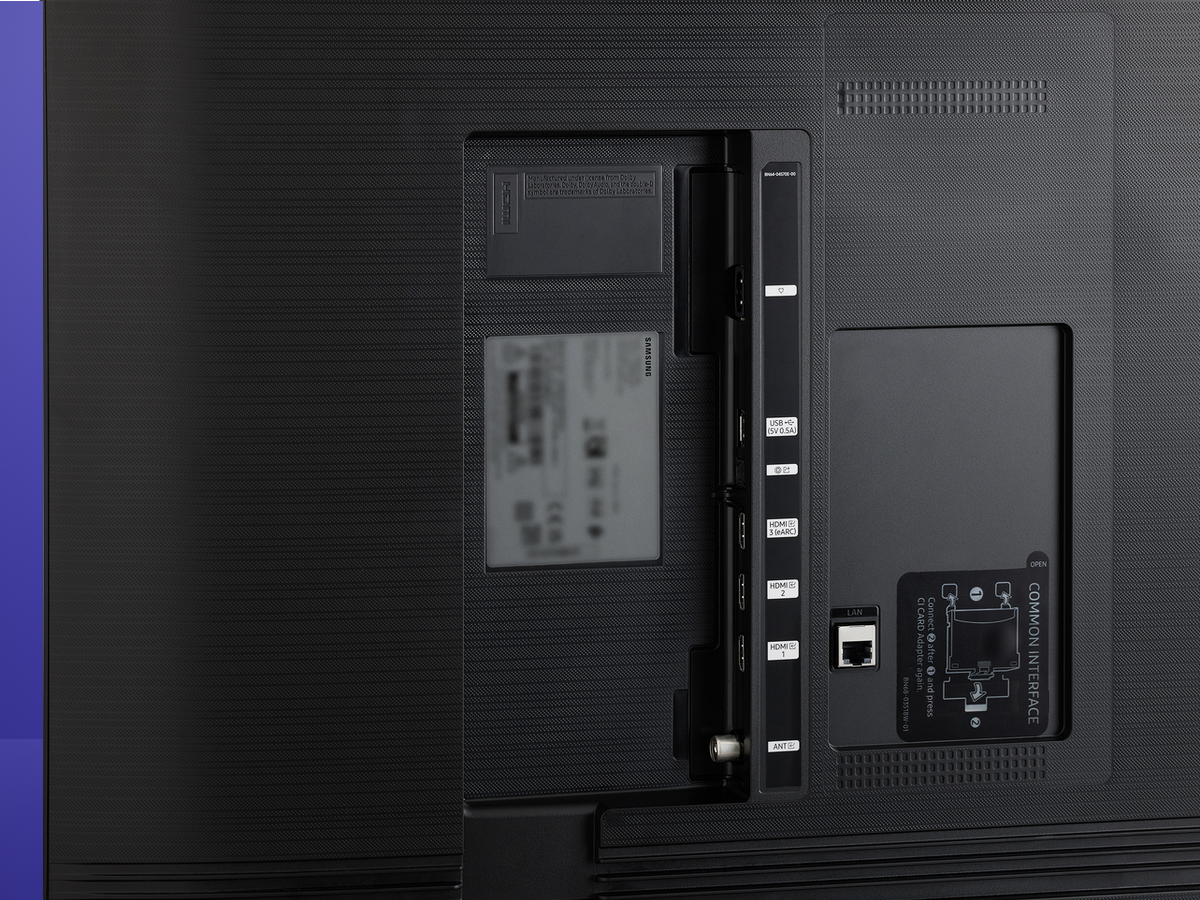 It's fair to say the AU7100 isn't exactly groaning under the weight of its spec sheet – but it's hardly been sold short either.
Three HDMI inputs should be enough for all but port-hungry power users, plus all three include the Auto Low Latency Mode aspect of HDMI 2.1 specification – though we'd expect committed next-gen gamers to need a bit more than that.
There's an Ethernet socket, a USB input, a CI card slot and an RF aerial binding post – and that's your lot for physical inputs. Outputs run to a digital optical socket, while one of the HDMIs is eARC-enabled – meaning one cable can carry higher quality audio to a soundbar or AV receiver. Bluetooth 4.2 and dual-band Wi-Fi take care of wireless connectivity.
No matter how you get your content on board, it's displayed on a 4K LCD/LED panel with edge-positioned backlighting. The AU7100 is part of Samsung's 'Crystal UHD' range, and it's fitted with the company's 'Crystal Processor 4K' chip – which means, like all Samsung TVs, it's good with every HDR standard except Dolby Vision. Everyone but Samsung, it seems, loves Dolby Vision.
Interface: push the button(s)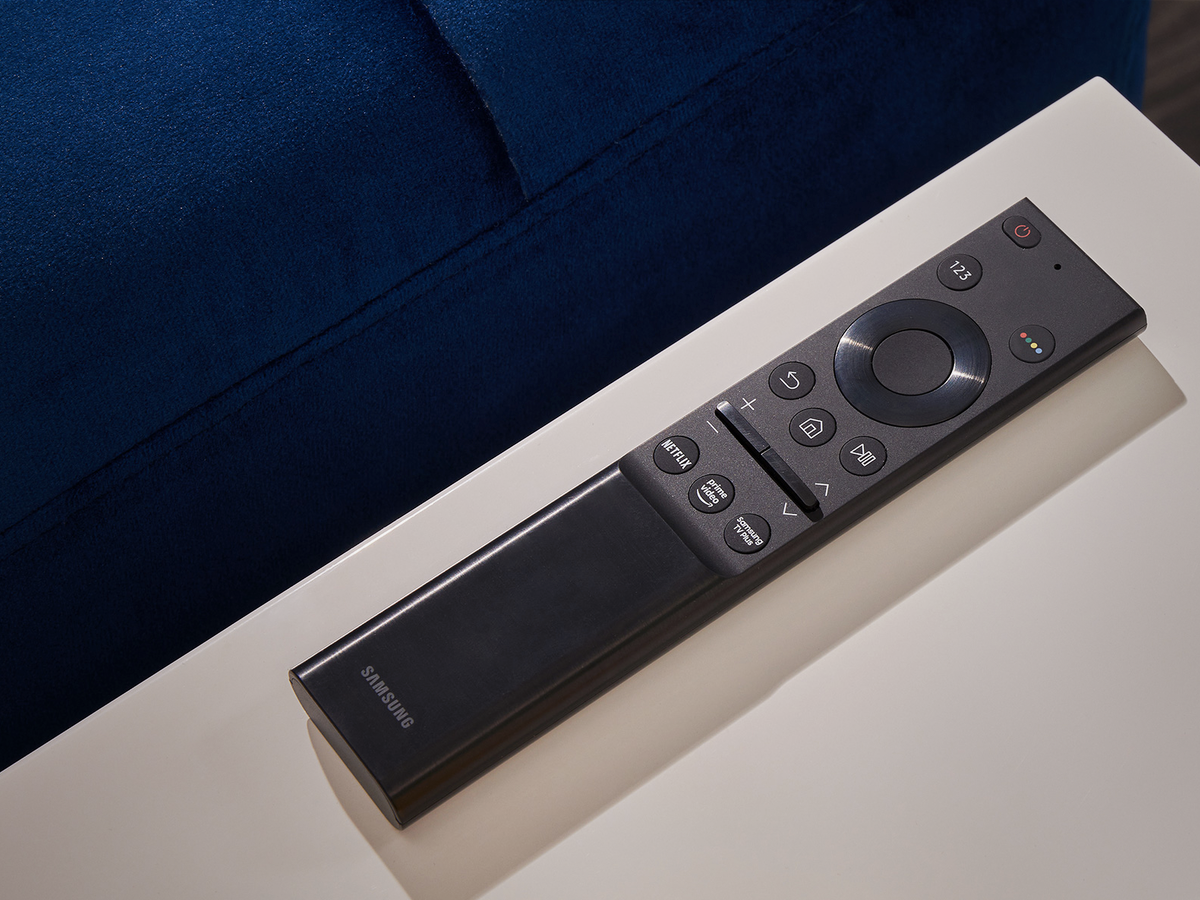 'Above and beyond' isn't something you automatically associated with an aggressively affordable television, yet Samsung ships the AU7100 with not one but two remote controls. Why? To give you the choice between a fairly cheap-feeling, full-function job with a million tiny buttons – or a nicer 'just the essentials' alternative with a manageable number of options.
There's no voice control integrated into the device, but put the AU7100 on a common network and it can be controlled via an Amazon Alexa or Google Assistant smart speaker. The company's clean, stable 'Smart Things' control app is available too, and it covers pretty much everything you might reasonably expect.
No matter how you choose to control the AU7100, though, you'll be in charge of a slightly stripped-back version of the Tizen-based system that's proved so very usable and successful over the years. These days you're hard-pushed to find a proper TV that doesn't have a half-decent user interface, but Samsung's still remains one of the most accomplished around.
Picture quality: full-scale performance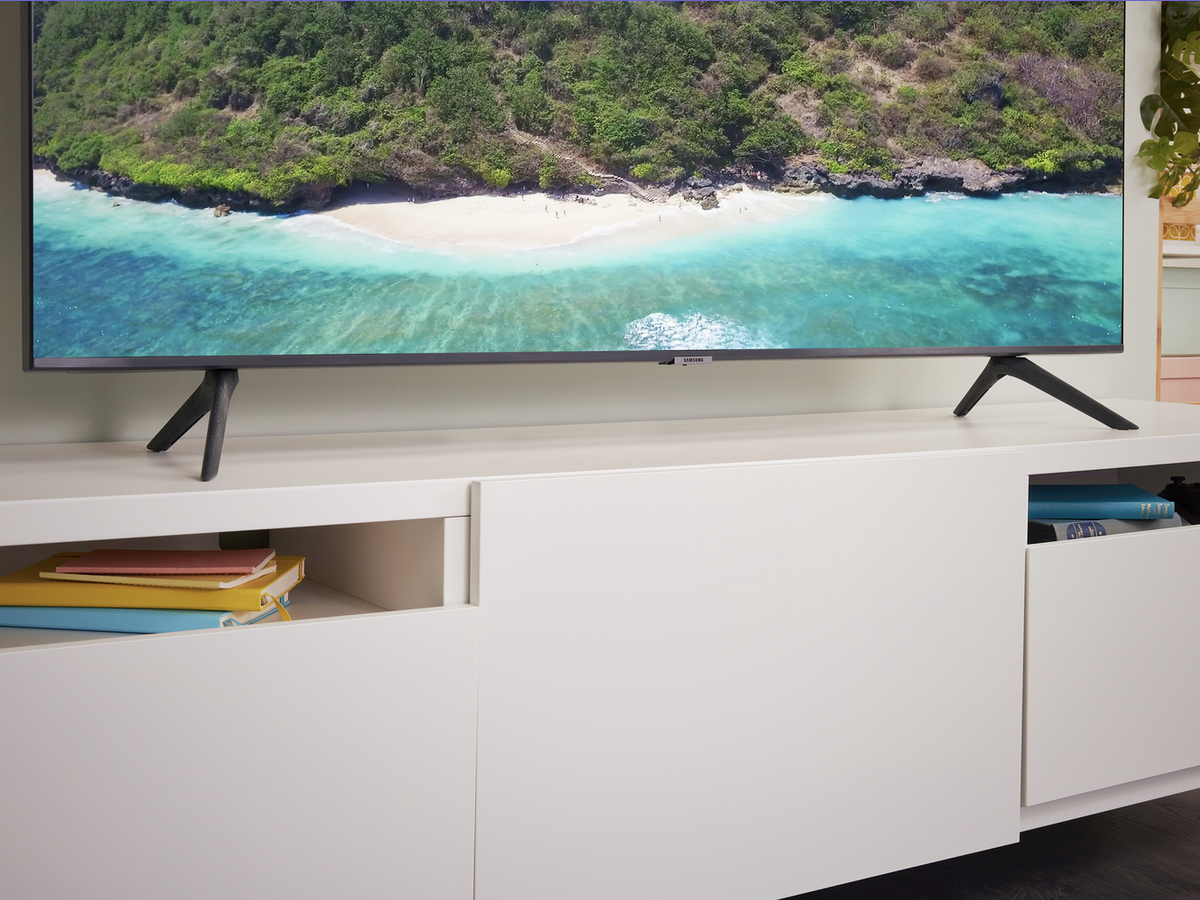 There are inescapable shortcomings where picture performance is concerned. But they're predictable, relatively minor and trifling compared to what the UE43AU7100 gets right.
Unsurprisingly, the screen does its best work when offered native 4K content to work with. Ideally, that's 4K content with some HDR10+ dynamic metadata involved – either a UHD Blu-ray disc or a stream from Amazon Prime Video, because (as we've established) Netflix is keener on Dolby Vision than Samsung is.
So it's down to a 4K HDR10+ Blu-ray disc of Sam Mendes' 1917 to allow the AU7100 to give the best possible account of itself. And within reason, it's a very agreeable account indeed.
Detail levels are impressive. It doesn't matter if the Samsung is describing the textures of a uniform or the complexion of the person wearing it: you're given a full picture of even the finer details, which really helps the perceived realism of the images. The AU7100 also manages to invest black tones with plenty of information, even though it struggles to generate true black (instead settling for extremely deep grey).
This is true at the opposite end, too. The AU7100 is by no means an especially bright screen, but the white tones it delivers are well differentiated and carry a lot of detail – which means they're decently nuanced and contrast well with the black tones. Plus the colour palette that's available between these two extremes is extensive: they can pop when required but, thanks to the wide-ranging variation in tone and shade that's available, they're capable of real subtlety and nuance too.
Picture quality is equally encouraging elsewhere. Motion is confidently handled (the Samsung's logical setup menus help here), edge definition is smooth and convincing, while picture noise is minimised even in the darkest, most unchanging scenes.
So if you intend to exist on a diet of 4K content, there's very little to grumble about. And that's also largely true if you ask the Samsung to upscale 1080p content. Sure, some of the finest detail disappears, edges can be a little less positive and insight into black tones decreases noticeably, but in broad terms it's a strong performance which results in very watchable images.
Go below Full HD, though, and the AU7100 throws in the towel. Images become simultaneously edgy and overly smooth, while picture noise is impossible to ignore. On-screen movement looks unnatural, and depth of field falls away too. If you like to binge on daytime TV, you can find equally affordable alternatives to the AU7100 that won't be so judgemental.
Sound quality: quiet at the back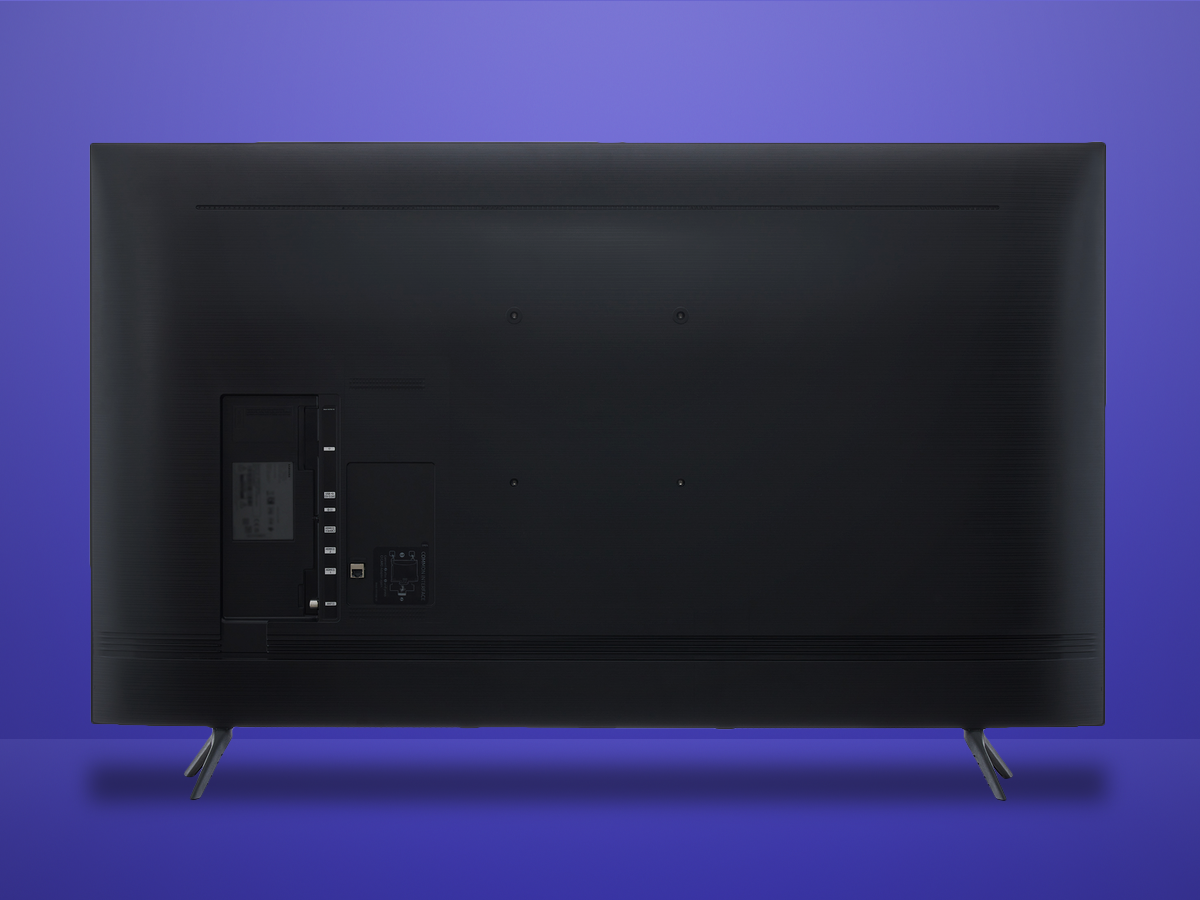 You don't have to be any kind of prophet to guess a TV like this isn't going to rock your world where audio performance is concerned. Admittedly, the Samsung's pair of full-range drivers and 20W power mean it has a little more potency than some potential competitors – and in practice, the sound it makes isn't actively offensive.
In fact, it's actually pretty distinct, pushing the midrange forward in an effort to ensure dialogue is intelligible. But there's simply no low-end presence. If you want to hear each and every one of those 20W, the top of the frequency range can get over-confident.
The AU7100 has 'Q Symphony Lite' compatibility – so when you inevitably decide to buy a soundbar to accompany your TV, be sure to investigate Samsung's 'Q Symphony' range. These allow the television's speakers to join in with, rather than be shut down by, the soundbar – and bigger, chunkier sound should be the result.
Samsung AU7100 verdict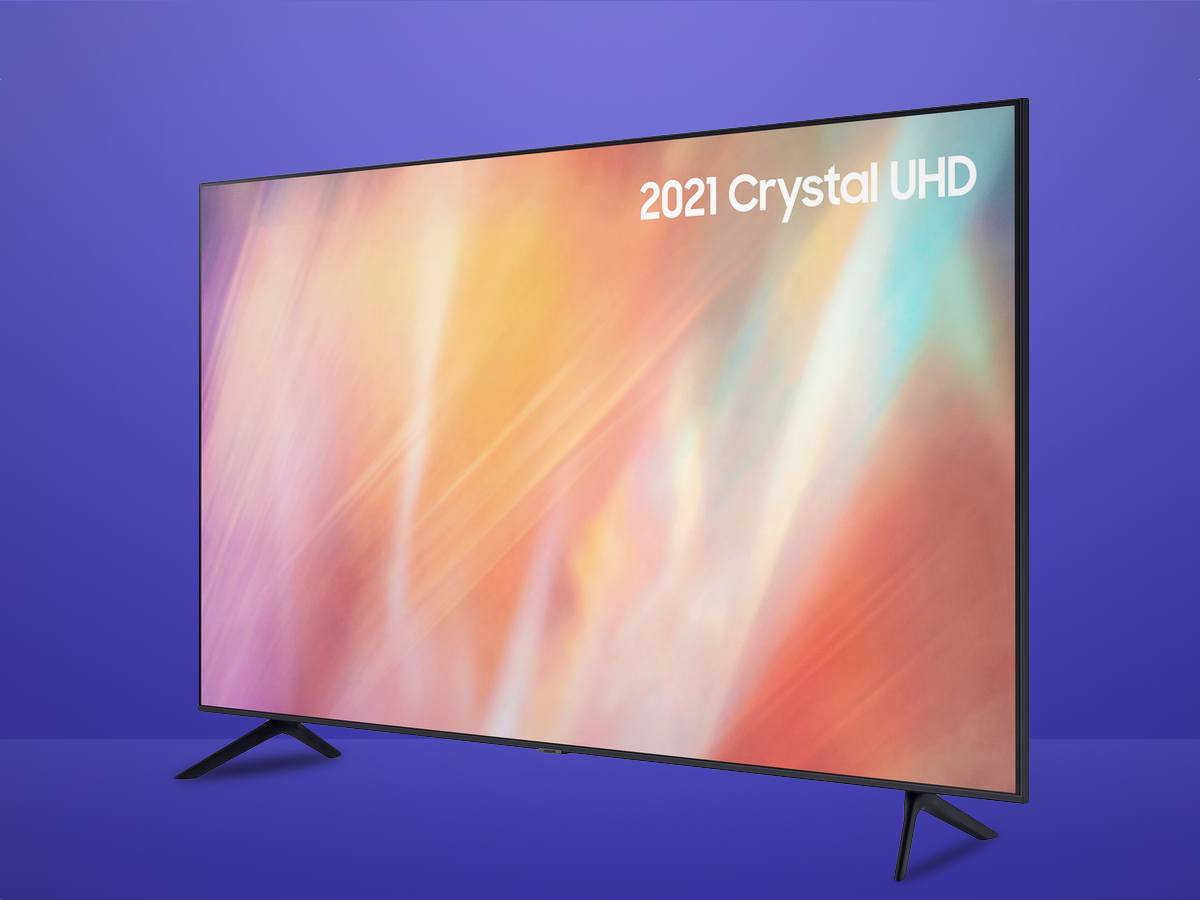 It's important to keep your expectations realistic when you're shopping for an entry-level TV. Happily, the Samsung AU7100 doesn't require you to be too realistic.
With detailed, vibrant images, a solid build and a slick interface, the AU7100 represents excellent value – especially if you opt for the 43in version.
As long as you don't watch lots of vintage content – and you're not expecting the quality of the sound to match the quality of the pictures – this is one of the best 'real world' TVs around.
Tech specs
| | |
| --- | --- |
| Screen size | 43in |
| Resolution | 3840×2160 |
| HDR | HLG, HDR10+ |
| Inputs | 3x HDMI, CI, USB, RF, Ethernet, Wi-Fi, Bluetooth 4.2 |
| Audio power | 20W |
| Dimensaions | 559x964x60mm |
| Weight | 8.1kg |
Stuff Says…
An almost ideal compromise between performance and price
Good Stuff
Accomplished 4K images
Predictably impressive smart TV interface
Almost too many control options
Bad Stuff
No Dolby Vision HDR
Upscaling has its limits
Sounds humdrum