Samsung QE55QN85A review
Picture performance excellence with sound so-so
So far, Mini LED television technology has a 100% record with us – we've tested one example and we loved it.
That was Samsung's flagship (and predictably expensive) QN95A screen, though. For round two we're looking at a far more affordable implementation of the tech Samsung's marketing department insists on calling 'NeoQLED' – so can a TV at a much more 'real world' price keep the Mini LED flag flying?
Design and build: hanging around
The principle here is exactly the same as with Samsung's more expensive Mini LED screens. Much smaller, and far more numerous, LEDs backlight the LCD panel – this 55in screen has over 500 individual dimming zones. So we can reasonably expect much better controlled and better targeted backlighting, which should in turn provide deeper blacks and better contrasts.
Apart from picture performance, an advantage of the Mini LED configuration is where depth of chassis is concerned. The QN85A is just 27mm deep – and that's a consistent depth, too, with none of your OLED TV-style swelling where all the electronic bits'n'bobs are housed. So you can hang your Samsung on the wall and it will look a treat. The slim bezel only adds to the QN85A's minimalist allure.
If you decide against wall-hanging, though, the Samsung is supplied with a hefty central foot on which it stands. Quite apart from offering robust support, it's a worthwhile arrangement for a couple of reasons: it means you don't need an especially wide surface on which to stand your TV, and it leaves plenty of room below the bottom of the screen for a soundbar.
As far as build quality goes, you won't be staggered to learn that it's excellent. Like every worthwhile TV brand, Samsung screws its screens together properly – and the QE55QN85A feels built to last.
Features: almost everything = not quite enough
First and foremost, this is a 4K HDR TV – but, it's important to remember, it's a Samsung. That means it goes without Dolby Vision HDR, which is no less irritating here than on any other Samsung TV. Absence sometimes makes the heart grow fonder, but in this instance it just makes the heart bloody annoyed.
Still, in every other respect the QN85A is specified to satisfy. It has four HDMI inputs, one of which covers off every worthwhile aspect of the HDMI 2.1 specification that's so important to next-gen games console owners. Another is eARC enabled, so soundbar compatibility is guaranteed. Other physical inputs include an Ethernet socket, three USB inputs and aerial posts for the Samsung's twin TV tuners. As far as wireless connectivity goes, Bluetooth 5.2 and dual-band wi-fi should suffice.
The whole show is run by Samsung's Neo Quantum Processor 4K – it incorporates complex AI-based machine learning algorithms in an effort to scale suboptimal content up to a convincing 4K picture quality standard. Naturally there are plenty of racy-sounding features connected to the power of the QN85A's processing – our special favourite is the element that's designed to minimise blur and enhance motion clarity. With no apparent sense of hyperbole, Samsung calls this 'Motion Xcelerator Turbo+' – which, we can all agree, is about the most dynamic-sounding collection of words ever assembled.
In terms of audio, the QN85A features four speaker drivers (two at the top of the frame, two at the bottom) powered by a total of 60 watts. This is the latest deployment of Samsung's 'Object Tracking Sound' that intends to – hey! – let sound track the on-screen movement of objects. The company's website goes as far as claiming 'realistic 3D sound'. We shall see – or, more accurately, hear.
Interface: get your own way
Control freaks, rejoice: you're spoiled for choice when it comes to bossing the Samsung around. Voice control is yours – not Siri, obviously, but Amazon Alexa Google Assistant or (for the profoundly obtuse) Bixby are available. Or there's the company's Smart Things control app – it's stable, straightforward and almost as useful as it thinks it is. Or you can choose between two supplied remote control handsets: one is a full-on controller with way too many buttons and a rather nasty, plasticky feel, while the other is a much more tactile and upmarket alternative with fewer buttons and solar recharging.
No matter the method you choose, though, you'll be in charge of one of the best operating systems available on a TV anywhere. Samsung's Tizen smart TV interface has always been a model of common sense, simple navigation and ample choice – and it's the same story here. No Freeview Play is a mild demerit, but with every UK TV catch-up service plus a stack of streaming service apps available, you'll never be short of anything to watch. Even if (*climbs on soapbox again*) Netflix and Apple TV – just for example – aren't available with Dolby Vision HDR.
Picture quality: power in the darkness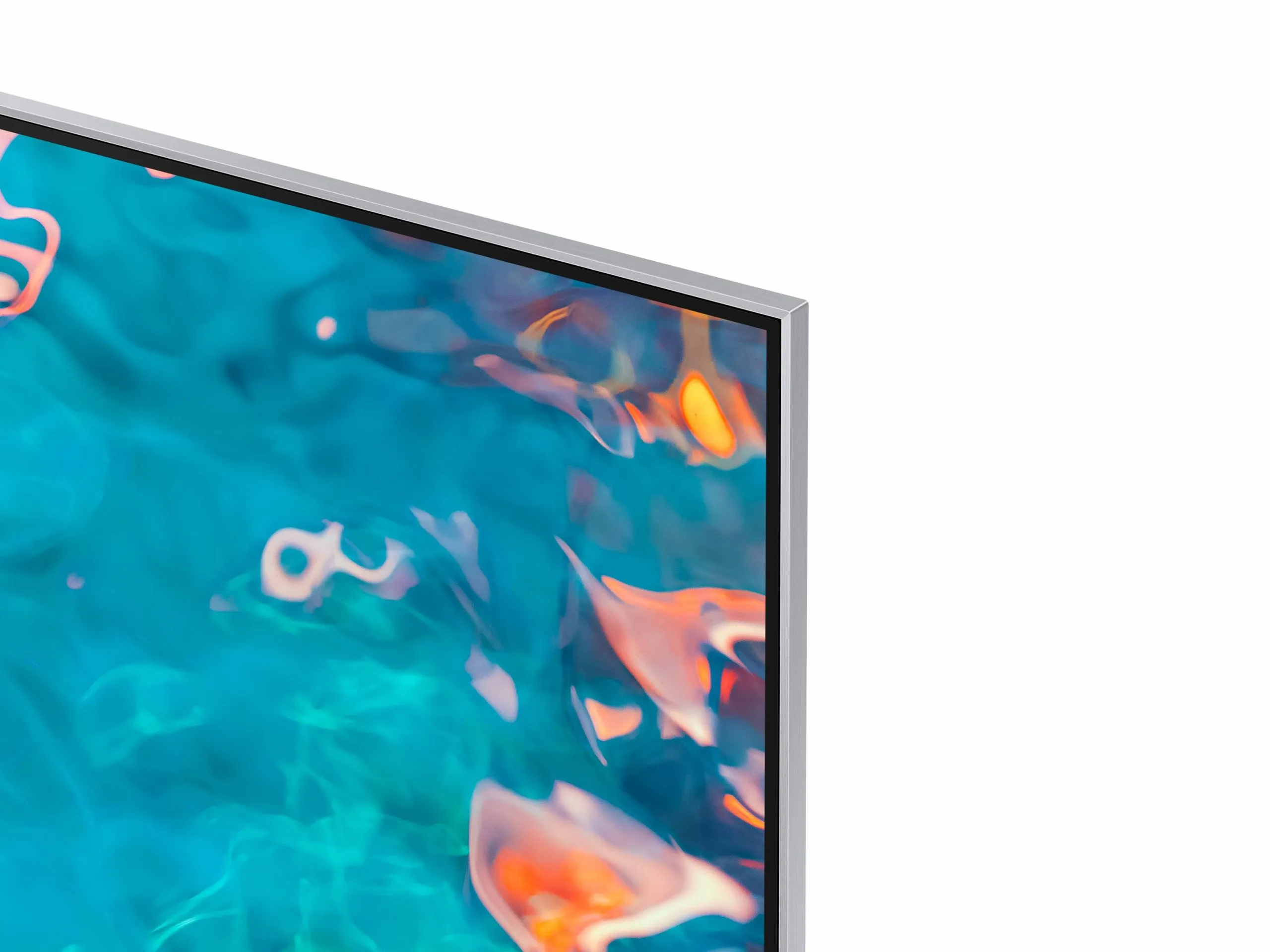 Get some high-quality content up and running – a 4K HDR10+ Blu-ray of American Gangster in this instance – and it's the brightness and clarity of the Samsung's contrasts that's the most immediately impressive thing about it.
At 1500 nits, the QN85A doesn't have the peak brightness of its more expensive QN95A sibling – but this is impressive peak brightness nevertheless, and the Samsung makes every one of those nits count. Its white tones are clean, detailed and varied, and when combined with the deep, equally clean and equally varied black tones the QN85A can generate, contrasts are stark and convincing. Because this is only the second Mini LED screen we've seen up close, we're still knocked out by the depth of its black tones and its control of backlighting – though we're bound to become blase about it sooner rather than later.
In every other respect, too, the native 4K picture quality is deeply satisfying. There doesn't seem to be a colour in existence the Samsung doesn't know about, it draws edges with a very steady hand, and can generate impressive depth of field when the content demands it. Skin-tones and -textures are utterly convincing too – the QN85A seems able to make the minutiae of complexions completely apparent. Only the very occasional suggestion of hesitancy when the screen is filled by the most testing and complex motion sounds a remotely false note.
It's equally enjoyable where games are concerned, too. The starkness of the contrasts, the eye-popping variation of the colour palette and the solidity of the overall image – even if it's in constant flux – all make for an absorbing experience. Sub-10ms response times don't do any harm, either.
All of this stuff generally translates to 1080p content – there's the inevitable softening of overall image quality, naturally, and not quite the conviction to skin-tones, but the Samsung proves an adept upscaler from this position. All the strong work it does with colours and contrasts is still in evidence, and while the motion sickness is a little more pronounced it's not problematic.
It's when you step down again, and give the Samsung some properly vintage content to deal with – we haven't been able to move for highlights of Euro '96 lately, for example – that the QN85A turns its nose up. It seems to be a bridge too far for the Samsung, and the images that result are soft, noisy and indistinct. Motion gets smeary, colours degrade to uniformity and even those lovely black tones lose a lot of positivity. So the lesson is: don't buy a QE55QN85A if you're a heavy fan of elderly TV programmes.
Sound quality: audio ennui
On the plus side, the QN85A is a quite distinct, direct listen and it stays that way even at significant volume. Plenty of TVs can harden their sound quite unpleasantly when you turn the volume up, but the Samsung swerves that kind of behaviour. It's quite open, too, and while the nation that sound tracks on-screen motion in any meaningful way is fanciful, it's a more composed listen than any number of alternative designs we could mention.
That's not the same as being enjoyable, though. The Samsung is a strangely airy, skinny listen, with little in the way of heft or dynamic variation.
So not for the first time, we find ourselves recommending a soundbar if you want the sound your TV makes to do some justice to the images it serves up. The QN85A is compatible with Samsung's 'Q Symphony' range of soundbars (which allow the screen's audio system to augment the soundbar, rather than be overridden by it), so that's as good a place as any to start. Just be sure to start.
Samsung QE55QN85A verdict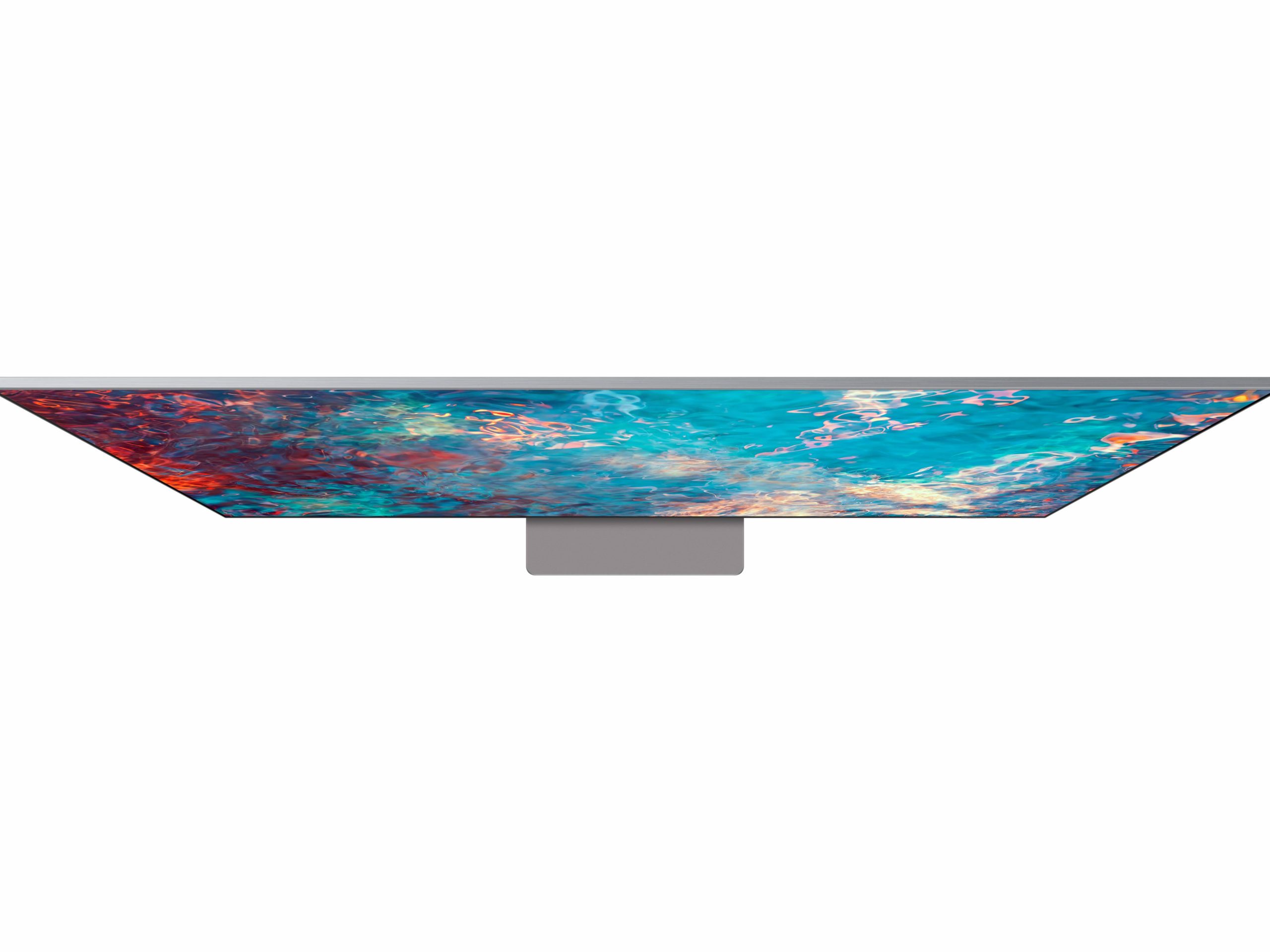 So Samsung's 'Neo QLED' interpretation of Mini LED technology is two for two. The QE55QN85A may not be an authentically cheap TV, but it's a sight more affordable than the QN95A we tested recently – and yet it has virtually all of the picture performance positives of that more expensive alternative.
Plus it should leave you a few quid spare for a soundbar.
Tech specs
| | |
| --- | --- |
| Screen size (in) | 55 |
| Resolution | 3840 x 2160 |
| HDR | HLG, HDR10+ |
| Inputs | HDMI x 4; USB x 3; Ethernet; Terrestrial tuner; 2 x satellite tuner; Bluetooth; CI slot |
| Audio power (w) | 60 |
| Dimensions (hwd, mm) | 706 x 1227 x 27 |
| Weight (kg) | 17.7 |