Samsung Omnia 7 i8700 review
Is the Omnia 7's awesome AMOLED screen enough to out dazzle rival Windows Phone 7 smartphones?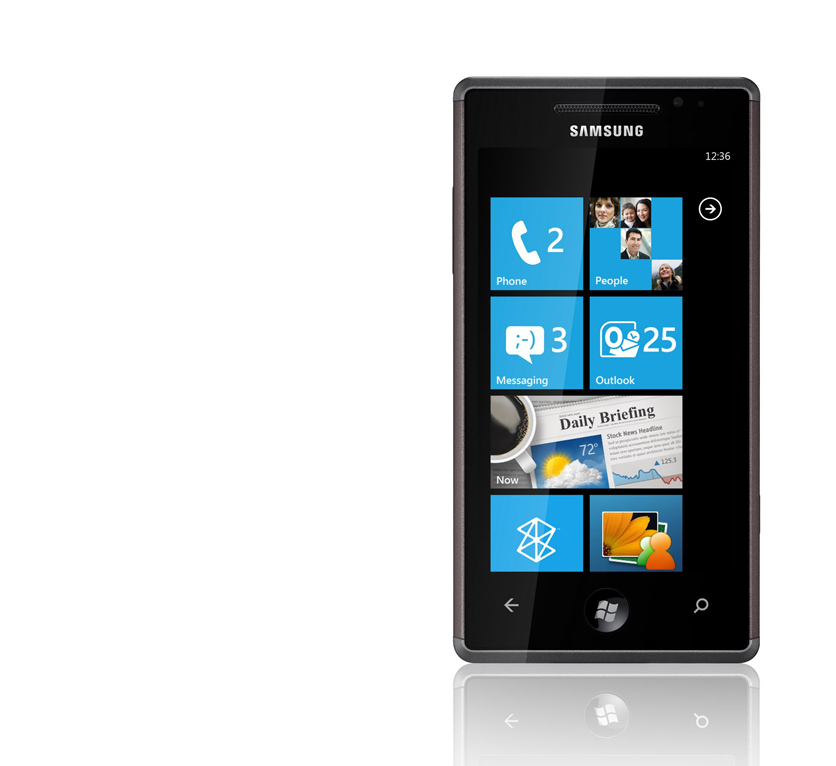 Despite Microsoft's meticulous design and feature protocol, the first glut of Window Phone 7 handsets each have their own individual talents. The HTC HD7's monster screen is geared for video watching, the 8MP-touting HTC Mozart is the snapper's choice while the LG Optimus 7 sports some inventive apps. Finally, the Samsung Omnia 7 stands out from its stablemates with a sizeable, 4in retina-popping AMOLED screen.
Sleek at 11mm, weighing 138g and flaunting a durable metal rear battery cover, this Samsung smartie sets a nice balance between quality heft and pocket-friendly poundage. Its rigid lines are also a welcome counterpoint to its curvier WP7 rivals, although the sliding USB port flap cheapens the build quality while the gently concaved home button is outrageously aped from the iPhone.
Super screen
Even with the same 480×800 pixel resolution as the HD7, the Omnia 7's 4in Super AMOLED screen is far superior. OK, it doesn't boast the detail of the Apple iPhone 4's display but its rich and vivid colouring is striking. Also, with no backlight technology it saves on the battery, too. Use the phone features liberally and it might even work into the next day.
The more we use the Windows Phone 7 interface, the more we like it. It plays out the same across all WP7 smartphones with no room for the manufacturer's to create their own skins. But at least you know what you're getting, and its large tiled customisable start screen and centralised hubs are intuitive and lucid to use.
Of course, the new WP7 OS is not without niggles: there's no true multi-tasking for easy switching between apps or support for Flash 10.1 video when web browsing for starters. And with only around 3,500 apps to download from the MarketPlace it's seriously trailing behind rival OS' for choice. But with Microsoft heavily backing developers, we're expecting this to increase and fast.
Not 'appy
Like HTC and LG, Samsung has created its own app download 'Zone' and embedded a few apps on the handset. Unfortunately, the apps out of the box aren't as compelling as its rivals with Now, a weather, news and stock web feed, and Photo Sharing for uploading snaps to Facebook, Flickr, MySpace, Photobucket and Picasa (and all at once if so desired) a little to generic to excite.
Another bugbear with WP7 is the transferring of your multimedia content onto the handset. When connected to your PC via a USB cable it doesn't appear as a USB mass storage device for drag and dropping files. Instead you have to rely on the stylish but less intuitive and sluggish Zune desktop software for synching music, photos and videos. Wireless synchronisation is an option but like the other WP7 handsets it was easy to set-up but stubborn to execute.
Creative camera
The Omnia 7 easily boasts the best camera options on any WP7 handset so far with a host of photo mods to tweak. Saturation, sharpness, contrast and exposure can all be adjusted while the ISO 800 setting proved effective in low light when not using the erratic LED flash.
Like most camera phones, the 5MP optics captures pleasing photos in good lighting conditions, struggling with over exposure and glare if you don't position the phone correctly. The HD video recording produces stronger results although it's not completely immune to stutter and digital blocking.
The Samsung is a fine smartphone with the most gorgeous screen of any WP7 handset. But where does it fit in the current WP7 hierarchy? For our money, the HTC HD7 is still the handset of choice but if its size is an issue then the Omnia 7 certainly vies with the HTC Mozart for your attention.