Samsung Gear S3 Classic review
You spin me right round, baby, right round…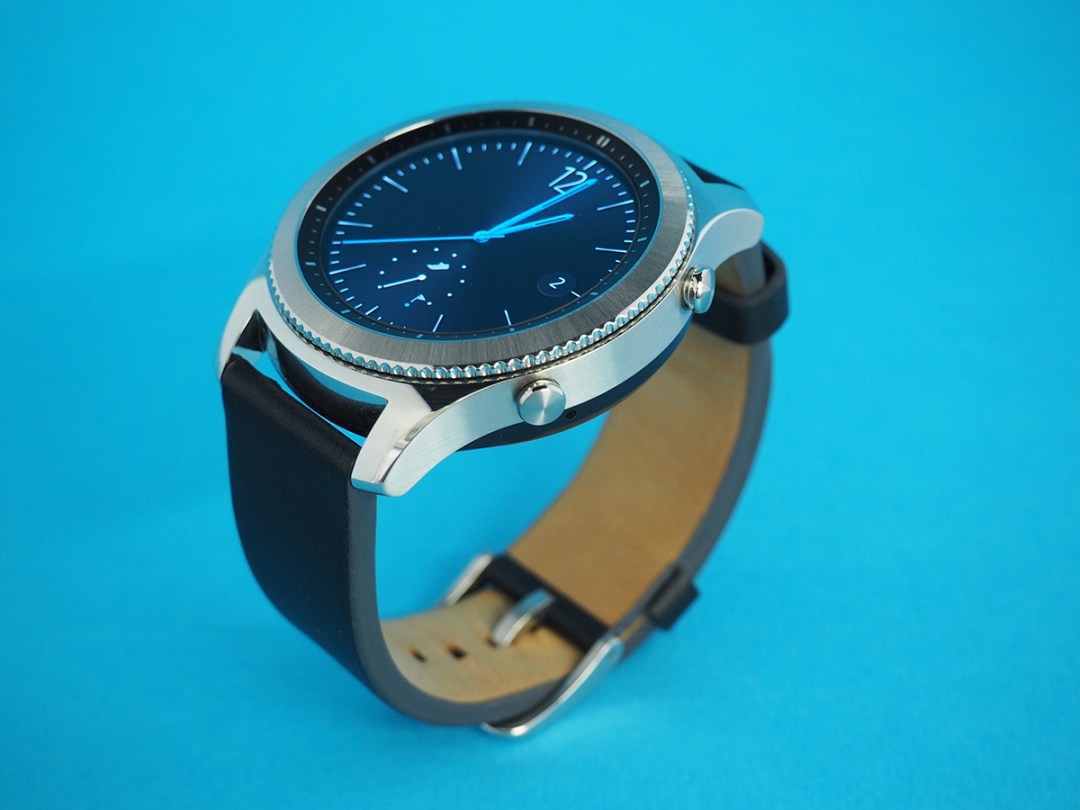 Up to now, you've had a choice. There are smartwatches, and then there are a smart looking watches.
Samsung's Gear S3 manages to do both.
Forget square screens and clever crowns – this has a fully round display, funky rotating bezel and circular-centric OS that actually makes sense in a smartwatch.
In fact, it's everything that made us big fans of last year's Gear S2, only without the plastic fantastic design. This metal marvel might be the first Android-friendly smartwatch to truly deserve a spot on your wrist.
Here's why I'm not letting one leave my arm without a fight.
SAMSUNG GEAR S3 DESIGN: WHEEL OF FORTUNE
The S3 is a fair bit bigger than the S2, which itself looked a little portly on smaller wrists. That means the S3 looks positively massive unless you're rocking arms like tree trunks.
I'm a big fan of chunky watches, so it didn't really bother me – especially as it still sits flush to your wrist enough to slip under a shirt cuff. Still, subtle it ain't.
The leather strap and stainless steel finish on this Classic version give it a real touch of class, albeit from a distance. Get up close and that overly shiny metal won't out-bling a quality Omega or Tag analogue watch.
It's plastic underneath, too, so you might be surprised just how light it is once you've got one on your wrist. OK, so it's not going to blow away in the wind, but it looks meatier than it actually is.
The bundled leather strap has quick-release pins, so you don't need to dig out a screwdriver when you fancy a new look. It'll take any 22mm band, too. That's pretty handy, as the standard strap doesn't feel all that premium – it's already showing signs of wear and I've only had it for a week.
SAMSUNG GEAR S3 DISPLAY: FACE THE MUSIC
The gorgeous 1.3in circular OLED screen goes a long way to letting the S3 blend into the background, rather than demand attention like a lot of smartwatches.
First off, it doesn't kick out any light when the screen is showing pure black, so it's subtle as you like when you aren't looking at it. The ambient mode shows the time and updates once a minute, but that's it.
Flick your wrist, though, and the whole thing lights up bright enough to read even on the sunniest of afternoons. Animations become silky smooth, and depending on your choice of watch face, useful info like steps walked, remaining battery or your current heart rate instantly update.
It all looks super sharp, too. 360×360 might not sound like a massive resolution, but it's easily enough when strapped to your wrist. Text looks crisp and there's loads of room for graphics and pictures, too.
Of course, OLED means super-vibrant colours too – which makes all the difference when you actually do want all that sweet, sweet attention.
SAMSUNG GEAR S3 SOFTWARE: GIVE ME A TIZEN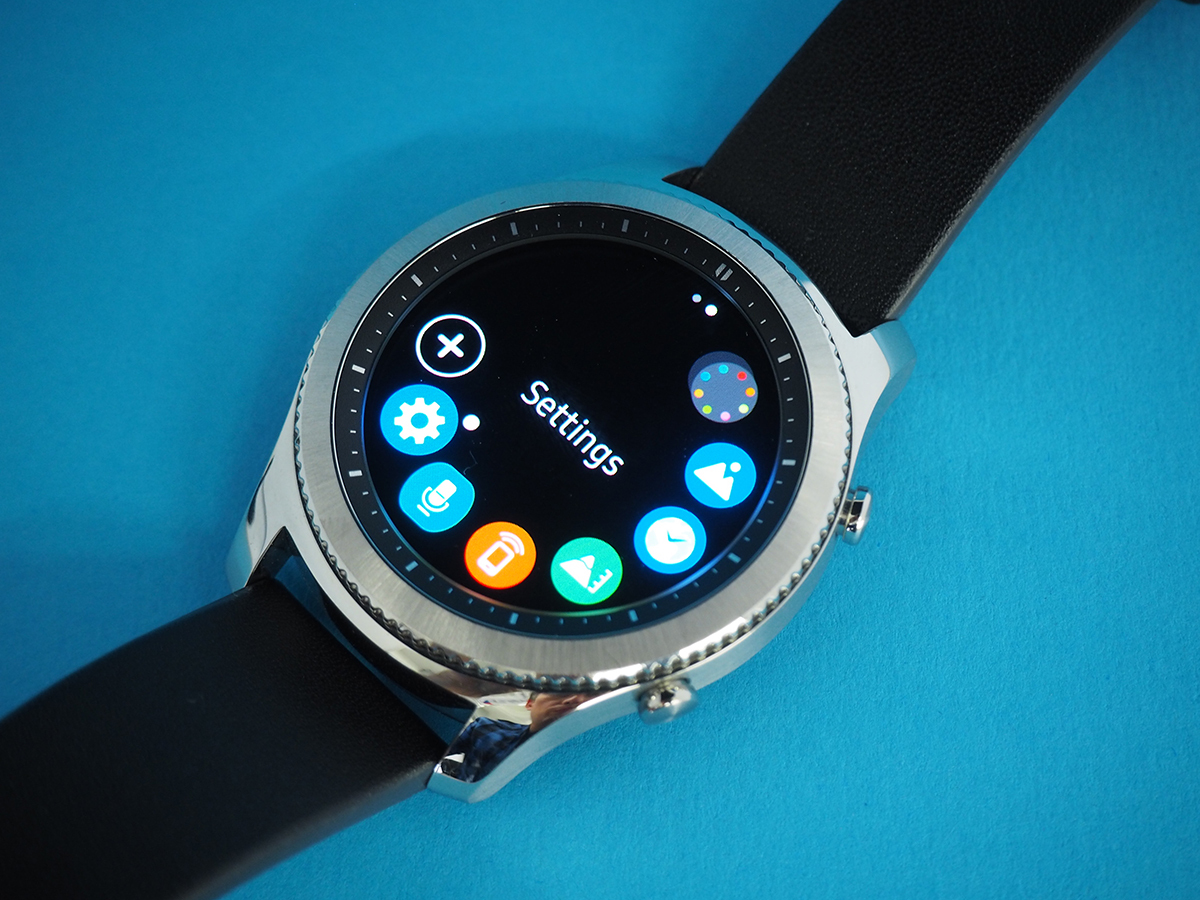 Circular screens aren't much cop if the software running underneath doesn't actually make sense in the round. That's not a problem here, thanks to Samsung's Tizen OS.
It's built from the ground up to sit nicely on a circular screen, and has a sweet spinning bezel to back it up. Give it a whirl and you'll quickly scroll through widgets and menus, instead of swiping in all directions.
Menus revolve around the hours of the clock, so you're never left puzzled as to where a particular app or setting is buried. There's a reassuring click every time you twist the bezel, and the two digital crown buttons feel pretty firm too.
It's really slick, even if things haven't changed all that much from last year's Gear S2. That includes the customisable watch faces, which all feel overly familiar. They don't give you a huge amount of at-a-glance information, either – good job there are plenty of third party faces available to download, then.
The whole thing feels super-snappy and responsive, too thanks to a faster CPU.
Right now, the only weak link is software support. Android Wear might not be quite so slick, but it's definitely got more apps – apart from a few big names like Uber, Bloomberg and ESPN, Samsung still doesn't have much in the way of dedicated Watch apps.
It's the one area Tizen still lags behind Android Wear, but if a few more brands get on board, Google should be watching its back.
SAMSUNG GEAR S3 FITNESS: FIGHTING FIT
It might not look it, but the Gear S3 Classic is pretty tough. You can't take it swimming, admittedly, but it'll shrug off a rain shower with IP68 water resistance.
An Altimeter and barometer add more fitness-focused tracking like stairs climbed, or for or weather reporting while you're in the wilderness, I guess. There's even a speedometer for cycling.
It's got a heart rate monitor and GPS on-board, making it one of the most comprehensive sports smartwatches out there. It'll recognise anything more than a gentle walk and automatically record it in Samsung's S Health fitness diary, so you can track your progress over time. It'll count star jumps, crunches and sit-ups, too – no button presses required.
S Health might be one more thing to install (if you're not already using a Samsung phone, that is) but it plays nicely with all kinds of third party apps, like Strava, MyFitnessPal and RunKeeper.
There's no excuse not to get fit with one of these on your wrist. It's accurate, and (swimming aside) does just as good a job at tracking your exercise as an Apple Watch.
SAMSUNG GEAR S3 CONNECTIVITY: WIRELESS WONDER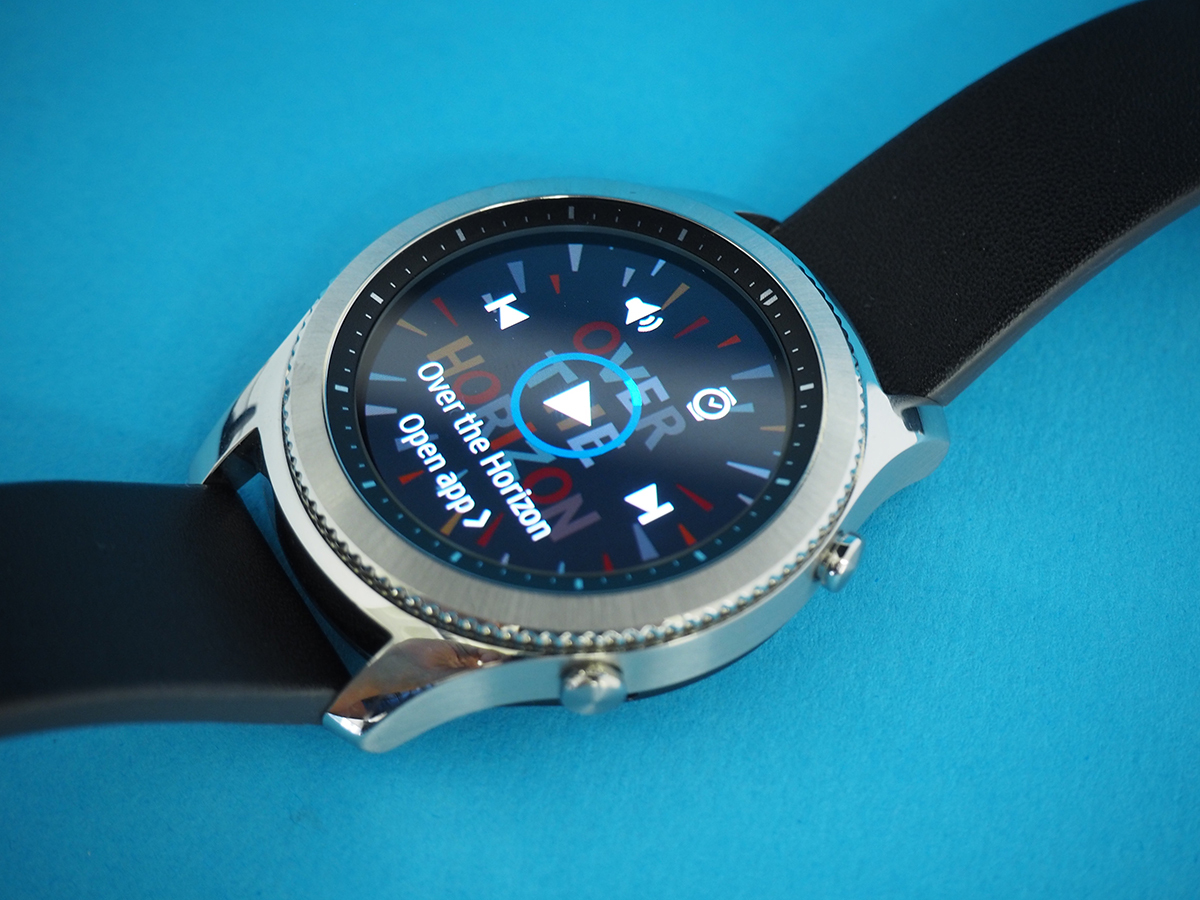 NFC, Bluetooth, Wi-Fi, contactless payments – it's amazing quite how Samsung squeezed it all inside. The Gear S3 really isn't wanting for any kind of connectivity.
That Bluetooth connection isn't just for hooking up to your phone, either. It'll pair directly to your wireless headphones, and with 4GB of storage on-board, you'll be able to head out on a run or workout without having to bring your phone along too.
The built-in speaker and mic can be used for taking hands-free calls, and you can play music straight from the watch too – just don't expect top quality from such a tiny driver.
SAMSUNG GEAR S3 MOBILE PAYMENTS: WHERE'S MY WALLET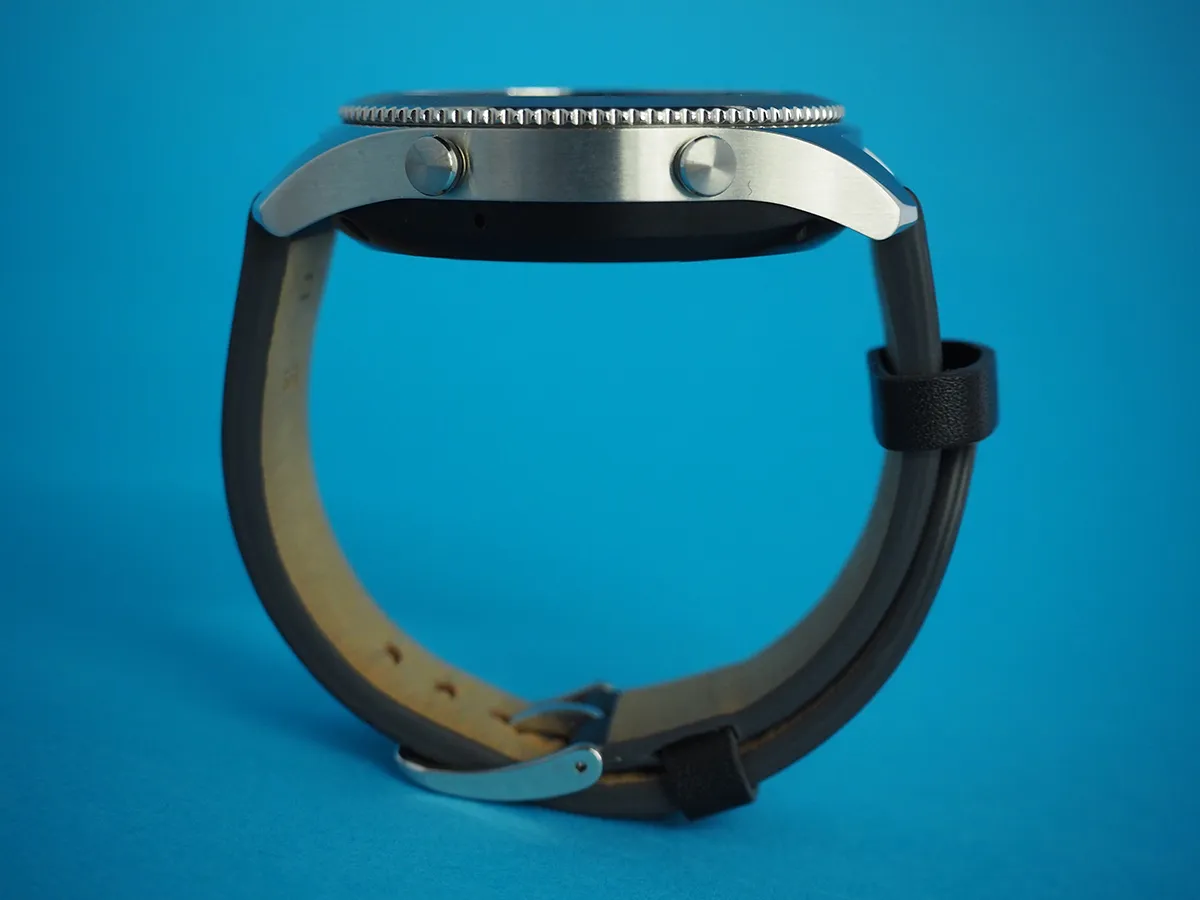 With Google still dragging its heels over Android Pay on Android Wear watches, the Gear S3 is ahead of the curve.
It plays nicely with Samsung Pay, Samsung's own-brand payment system that'll work with most contactless payment terminals around the world – once countries get it and a firmware update adds support for it, anyway.
At the time of writing, I still didn't have access to it on a non-Samsung phone, but apparently the upgrade is on the way. The UK is still waiting for official switch-on, too.
When it shows up, you'll have to hold down the top button to activate, but then you can safely leave your wallet at home. Unless you're running low on battery, anyway.
//SAMSUNG GEAR S3 BATTERY LIFE: DAYS GO BY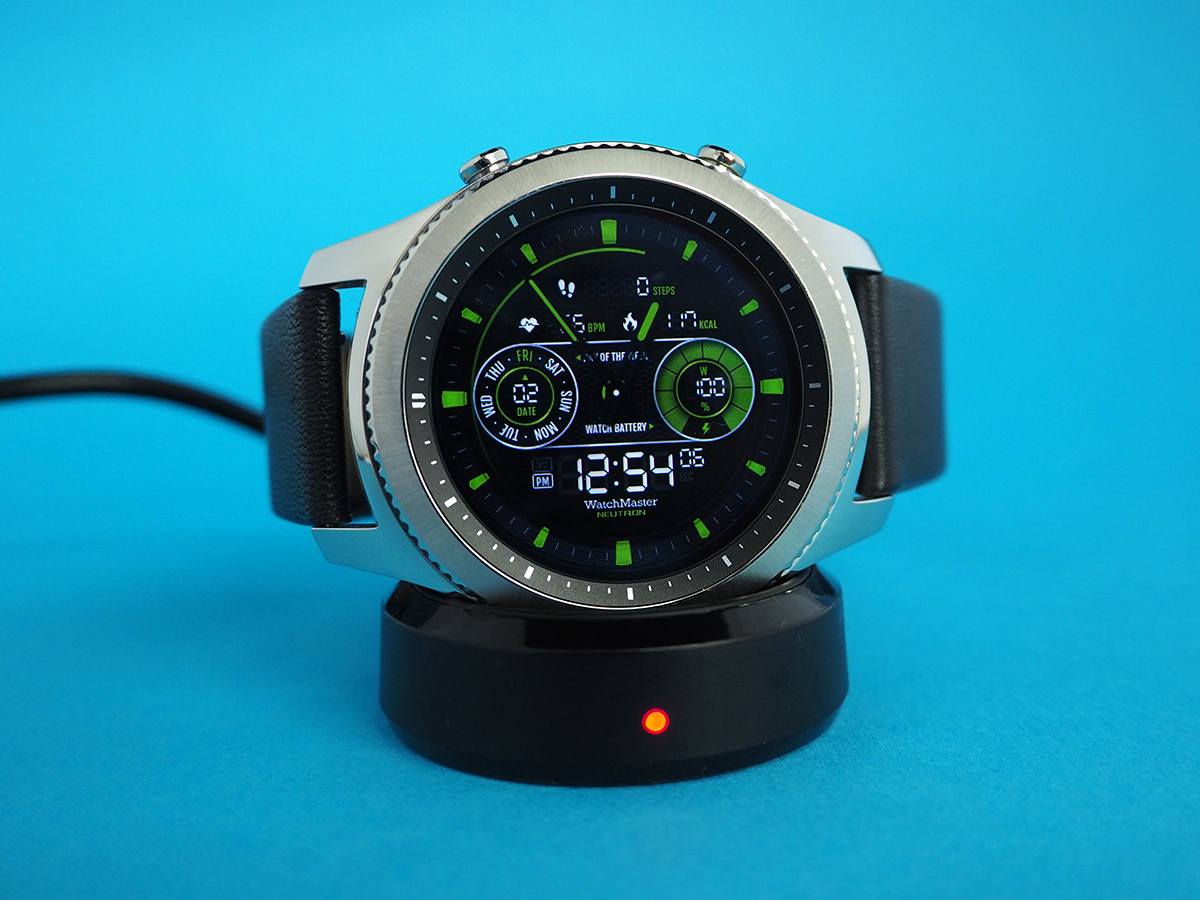 The bigger watch face means there's extra room underneath for a bigger battery – even with all those extra sensors crammed inside as well.
Samsung reckons you'll get up to three days on a single charge, but I got closer to two. That was with a GPS-tracking workout session each day, mind – keep those more advanced sensors switched off and you'll squeeze out some extra uptime.
The wireless charging dock hasn't changed all that much from the Gear S2, and it still takes a few hours to fully recharge the watch. It's long enough that you won't be back up to 100% if you dock it before a morning shower – but even a half-hour top-up should get you through to home time.
You can get more time between charges if you toggle off NFC and raise-to-wake, so the screen only turns on when you tap the screen or one of the buttons. Honestly though, it's worth having to charge more regularly to have the time just a flick of the wrist away.
Samsung Gear S3 Verdict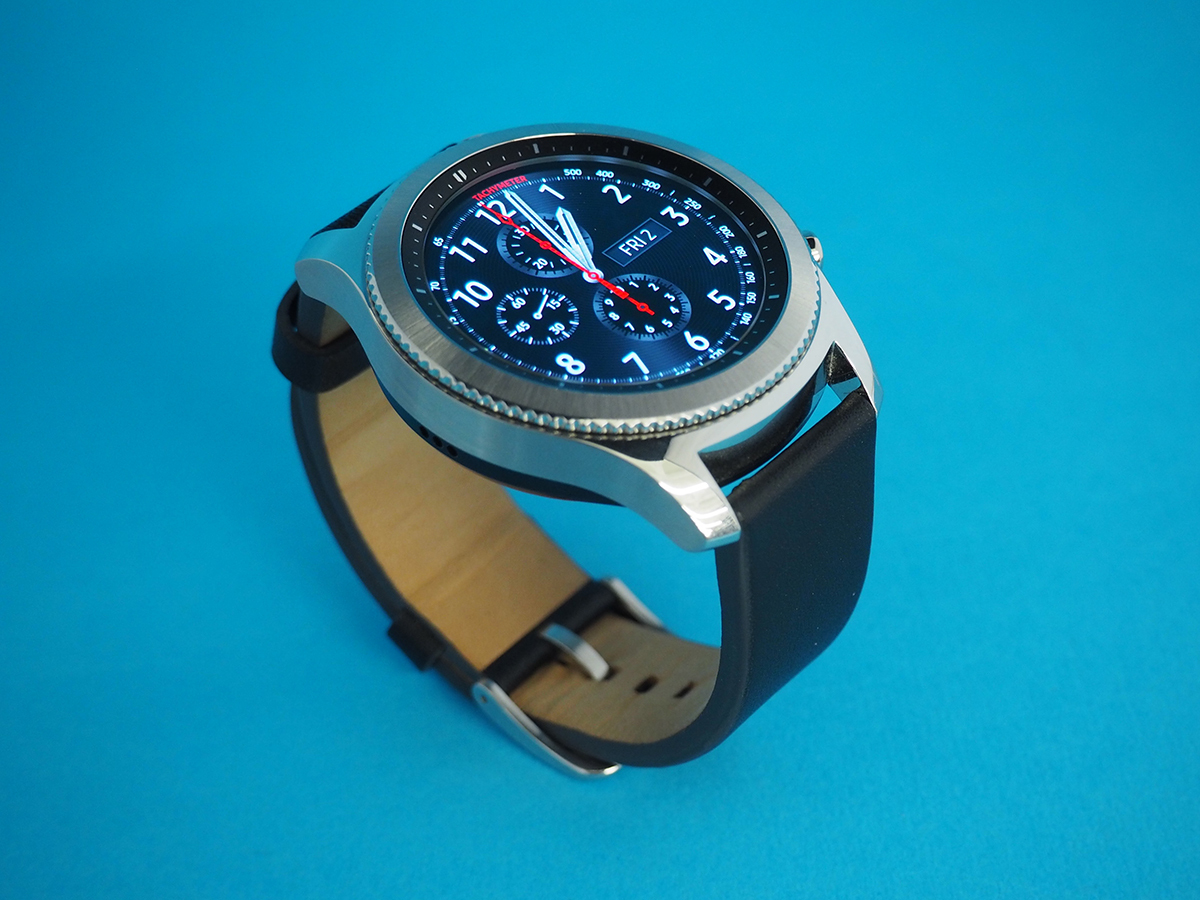 The Gear S2 was a fantastic wearable OS trapped in a naff plastic case. The S3 Classic finally sets it free, with a drool-worthy design that you won't be ashamed to wear.
The Classic opts for premium materials like metal and leather, easily making it one of the best-looking smartwatches out there for Android fans, and narrowly slots in behind the Apple Watch when it comes to feature-packed hardware.
If you can put up with Samsung's software, and lack of big-name apps, it's a real winner, and if you're not interested in taking one swimming, it's probably got a tiny edge over an Apple Watch too. When Samsung Pay arrives in the UK, it might just be the full package.
Even as it stands now, though? This is probably the most well-rounded smartwatch around. And not just because of that circular screen.
Buy the Gear S3 Classic smartwatch here from Samsung
Tech specs
| | |
| --- | --- |
| SCREEN | 1.3in, 360×360 circular OLED |
| SENSORS | ccelerometer, gyroscope, barometer, heart rate monitor, ambient light sensor, GPS |
| CONNECTIVITY | Wi-Fi, NFC, Bluetooth 4.2 |
| STORAGE | 4GB on-board |
| BATTERY | 380mAh |
| DIMENSIONS | 46x49x12.9mm, 59g (without band) |
Stuff Says…
A few more apps and Samsung might beat Android Wear at its own game – this is a superb smartwatch, if not quite the best just yet
Good Stuff
Superb styling
Fantastic fitness features
Smart software that makes sense on your wrist
Bad Stuff
Lack of apps at launch
Not swim proof like an Apple Watch
Bit on the big side