Samsung Galaxy Tab S2 9.7 review
Samsung's latest flagship tablet is a top Android all-rounder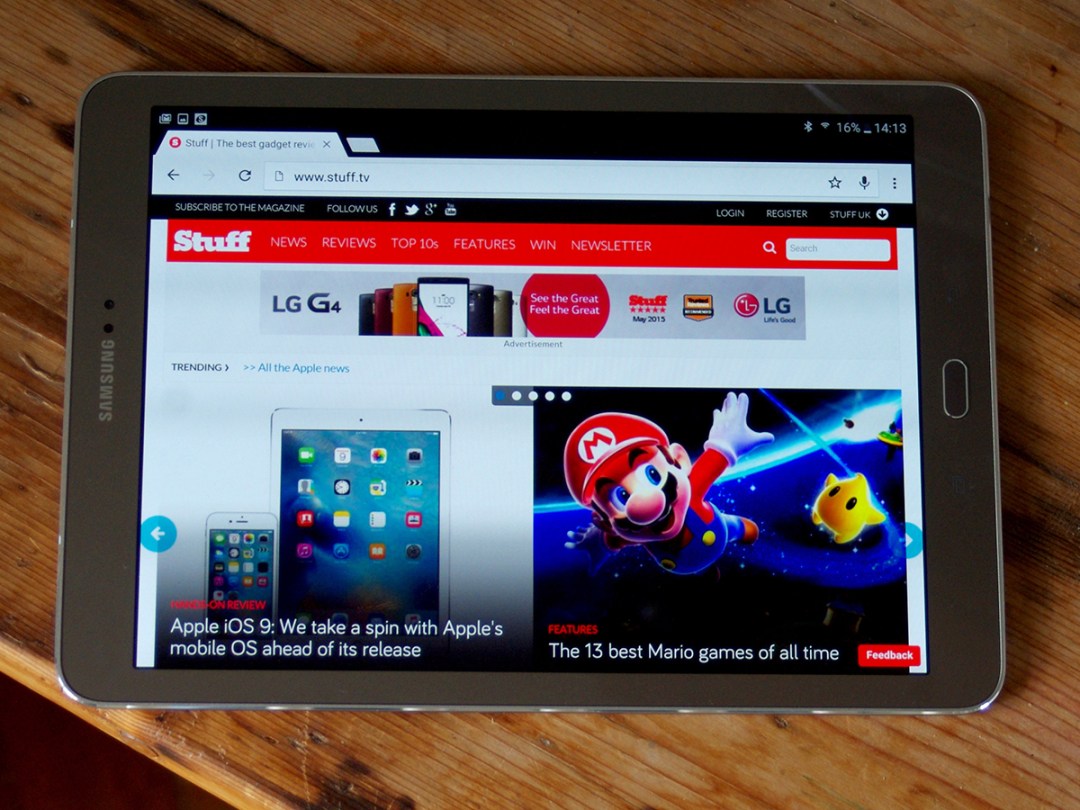 Timing's everything. For years Samsung's tablets seemed to struggle with a lack of focus, with too many ranges, too many gimmicky features and too many weird faux-leather finishes.
Last year, though, everything came together in the Galaxy Tab S 10.5: a beautiful big-screen tablet with a fantastic OLED display that was the best big-screen Android tablet on the planet. Tragically, it launched just as 10-inch Android tablets were falling out of favour even faster than The X Factor. Luckily, there's no talk of bringing back Louis Walsh here.
Instead, Samsung has followed up with an 9.7-inch tablet that in some ways is a downgrade on the old model but, in others, more of a crowd-pleaser.
Ample screen space in 4:3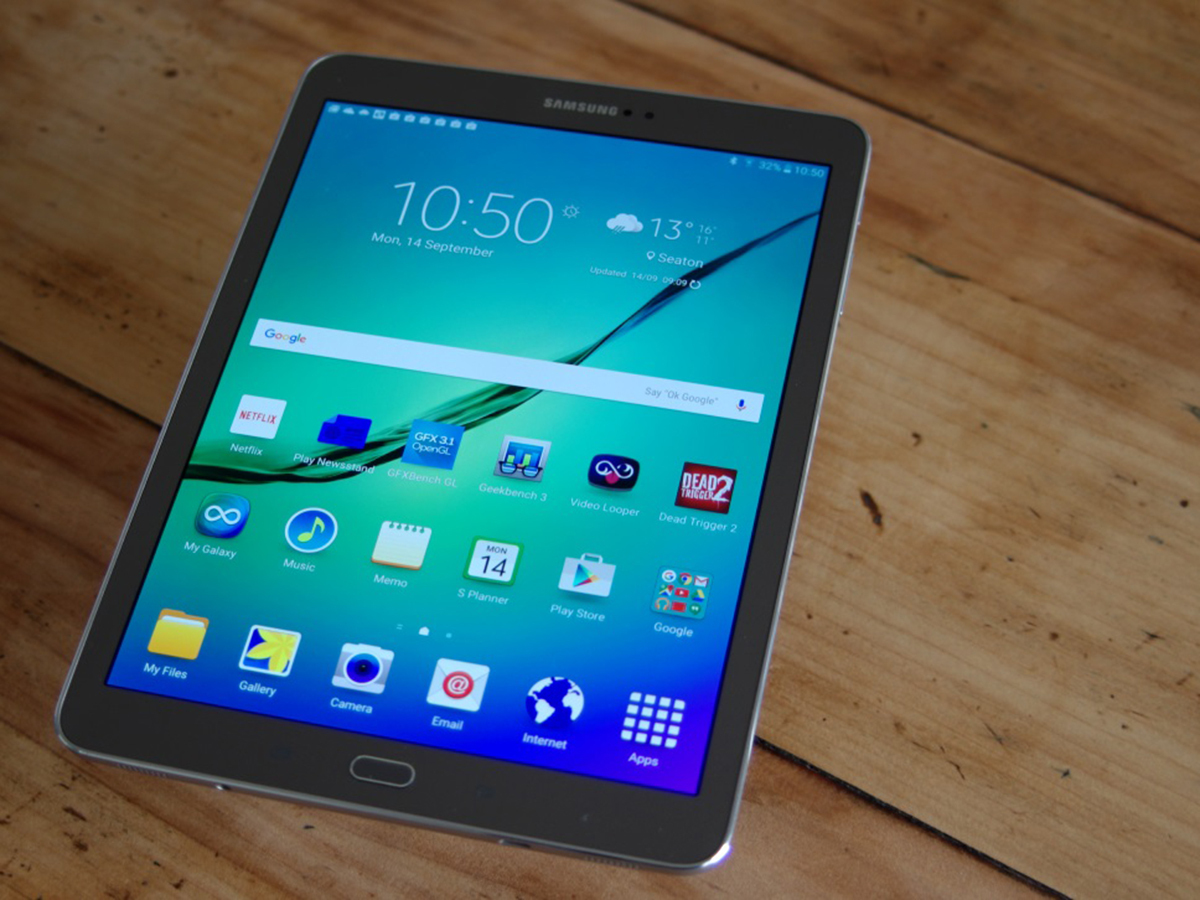 Google's Nexus 9 led the way and now everyone is following: the 10.1-inch, 16:9 widescreen tablet is out, and iPad-style 9.7-inch, 4:3 aspect ratio slates are in. It's not hard to understand why.
While the old 10-inchers were brilliant for watching movies, they weren't so great format for browsing the Web and other everyday tablet tasks. Hold one in portrait mode, and your view is too long and thin. Hold one in landscape and you have a poorly-balanced tablet where you're always scrolling downwards. Who wants that?
The 4:3 ratio Tab S2 just works better. There's ample screen space for browsing and reading, but in a form that's easier to handle. Samsung claims that this is the thinnest and lightest metal-framed tablet of its class, and at just 5.6mm thick and 398g in weight it's 0.5mm slimmer and 39g lighter than the iPad Air 2. It's also 2.1mm thinner and only 9g heavier than Sony's ultra-light Xperia Z4 Tablet.
Although the Tab S2 looks like it's a dainty little thing, try twisting the screen or bending its corners and you'll find it's made of sterner stuff. True, only the tablet's frame is made of metal, but the plastic on its back has a convincingly metallic finish and doesn't feel cheap or nasty.
Best of all, the Tab S2 is beautifully balanced. It's perfect for some me time, lying on the sofa, bingeing The Walking Dead and Game of Thrones. Now do us a favour and pass the popcorn.
Smaller screen, fewer pixels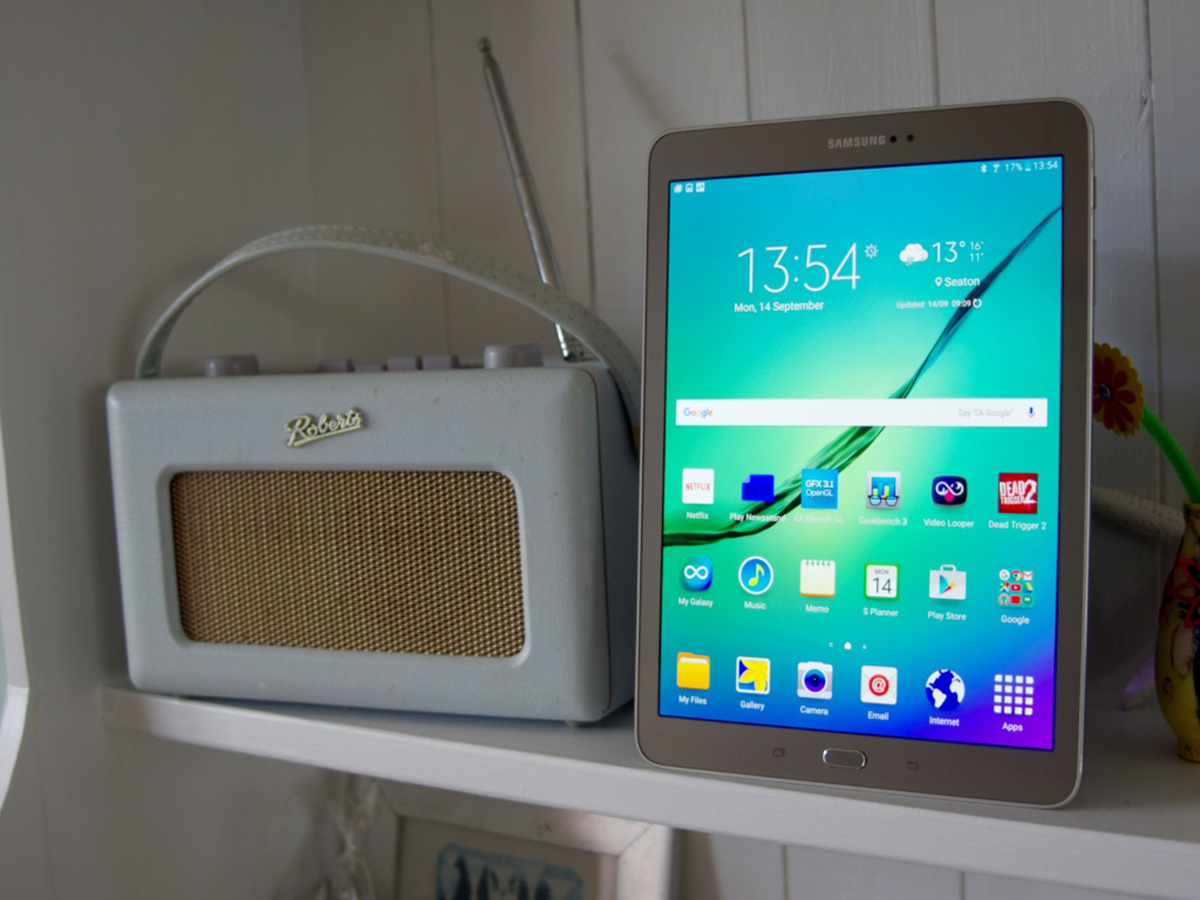 Last year's Galaxy Tab S bought us a 10.1-inch OLED screen with a 2,560 x 1,600 resolution, giving us one of the best displays of any slate. This both the S2's size and pixel count have dropped, bringing us down to an iPad Air 2 matching 2,048 x 1,536, and from 264ppi instead of 288ppi.
Is this a problem? No. The Tab S2's screen doesn't smack you in the face with its sharpness like the old Tab S, but by any other standards it's beautifully crisp and clear, with the kind of ludicrous brightness levels and hyper-vibrant colours we've come to expect from Samsung's OLED tech. Keep the rather conservative auto-brightness off and you can reach eye-searing levels, bright enough for outdoor reading on a sunny day. Even notched down the contrast is incredible, with OLED's signature deep blacks and vibrant colours.
These won't be to everyone's taste. OLED colours tend towards the boisterous anyway, but the Tab S2's Adaptive display mode seems to accentuate this, in the name of matching contrast and colour balance to the current light conditions.
Luckily, switching to the slightly less zingy AMOLED cinema, AMOLED photo or Basic modes will easily tone things down without compromising picture quality. If only there was something similar you could do about the sound. Tinny, congested and prone to distortion at high volumes, the Tab S2 almost begs to have some headphones plugged in.
A straightforward Samsung UI. Praise be!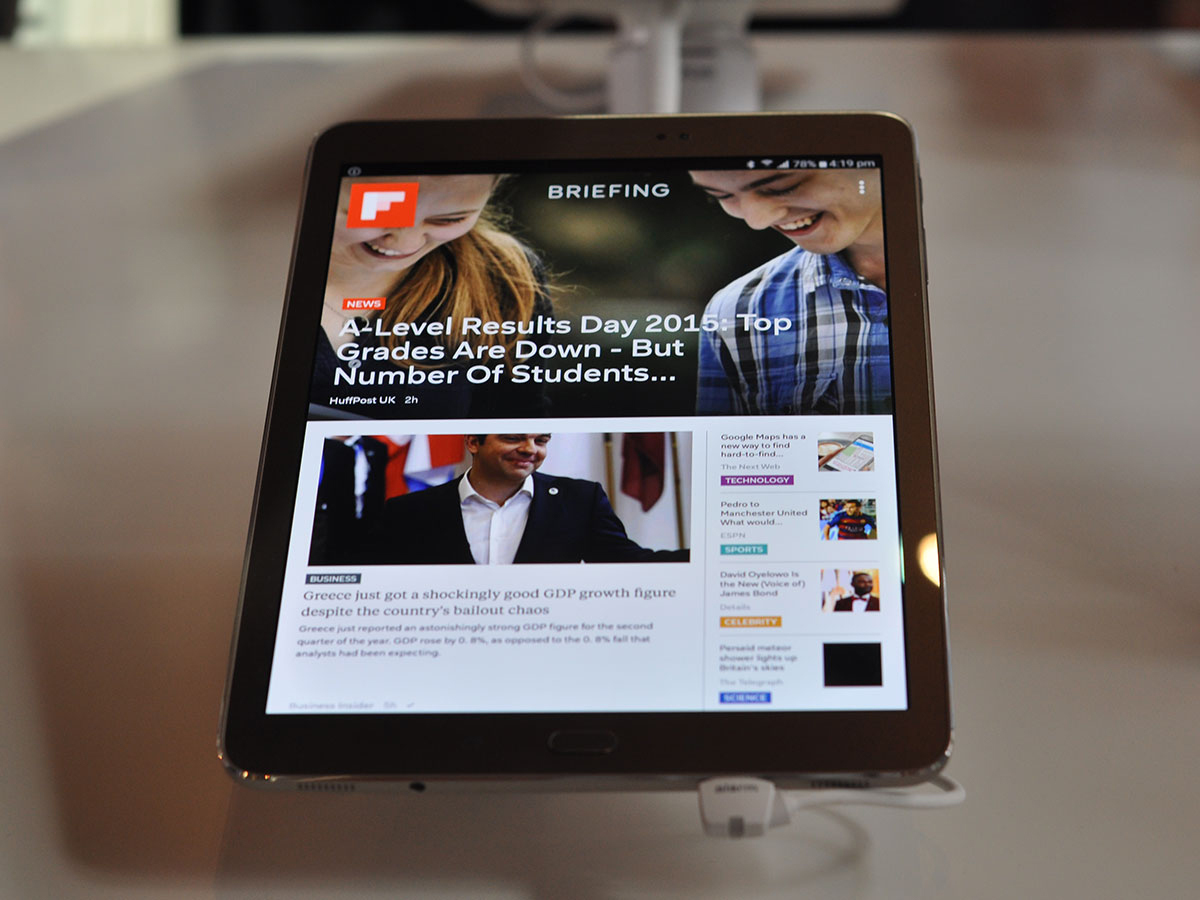 Samsung has never been one to leave Android alone when the UI could be 'improved' but this time the 'improvements' to Android 5.0.2 Lollipop are neither too numerous or too radical. As always Samsung's apps have been pushed to the tablet's foreground while Google's are left to lurk around in the background. If, like us, you're more of a Gmail, Chrome and Google Calendar fan, then it's easy enough to kick Sammy's own efforts to the curb.
Despite this, the Tab S2 UI is actually pretty straightforward, with by default two home screens of apps and widgets and a Flipboard briefing page if you swipe all the way left. What's more, while Samsung has installed the odd bit of bloatware, it's made most of the bundled apps optional gift downloads, and pre-installed Microsoft's Office apps. This is a device that can get things done. Hear that iPad Pro?
The most useful enhancement is Pop-up Window, which allows you to run two apps in a split-screen view, then switch positions, maximise and minimise or drag content from one to the other at a tap of the round button on the dividing line. It's simple and flexible, but has two downsides.
Firstly, it only works on specific apps, so you can't, say, have Microsoft Word and Chrome open at the same time. Secondly, the view isn't always so useful, particularly with the tablet in landscape mode. Apps like Gmail, clearly designed to occupy the whole screen, just don't work when crammed in half the space.
As fast as a Galaxy S6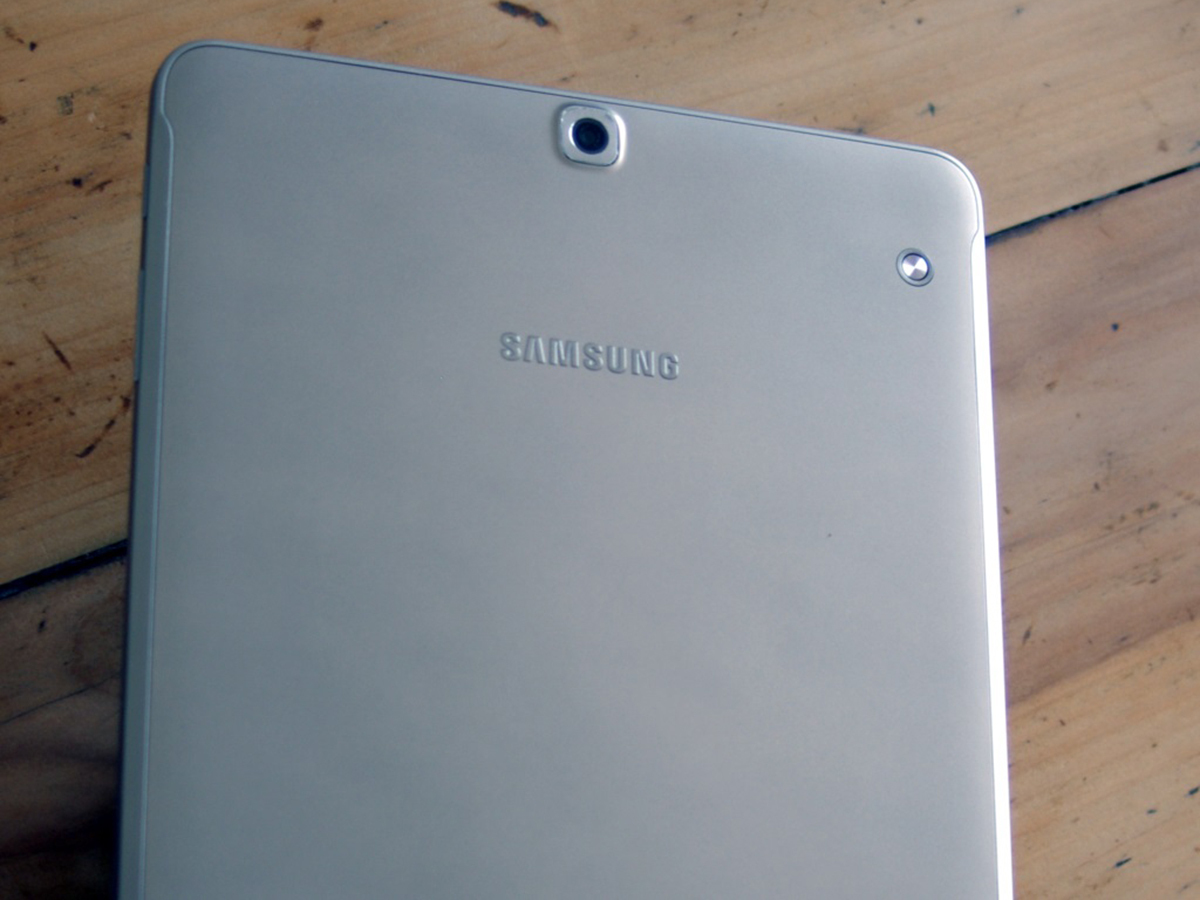 To help with all this multitasking the Tab S2 features an eight-core Exynos 5433 processor with 3GB of RAM. As with Samsung's Galaxy S6 phones, four of the Exynos cores are high-performance jobs running at 1.9GHz while the other four are low-power efforts running at 1.3GHz. The idea is that these will help the S2 balance the demands of heavy-duty games and apps with those of battery life.
In use, the Tab S2 certainly feels snappy, launching apps and flicking between them without a pause and coping easily with complex, video-heavy websites. In the Geekbench 3 benchtest it gets a single-core score of 1255 and a multi-core score of 4337, putting it ahead not just of last year's model, but the Xperia Tablet Z4, the Nexus 9 and roughly anything else. Basically, this is as fast as tablets get.
Sure, the Exynos doesn't have the raw 3D horsepower of the NVIDIA Tegra K1, but the Tab S2 still makes a speedy handheld games machine. Dead Trigger 2, Asphalt 8 and the rather glamorous hack-and-slasher Bloody and Glory: Immortals, all run perfectly smoothly with detail settings turn to max.
A smaller battery that's still built to last
That kind of behaviour will quickly drain the Tab S2's battery, another thing that's been downgraded from the original Tab S from 7900mAh to 5,870mAh to the first one's. As with the screen, though, this doesn't seem to be a problem.
We left 1080p HD video running with Wi-Fi on and email accounts left to sync and the Tab S2 still kept going for 12 hours and 27 minutes, actually outlasting the older model by 9 minutes – not to mention the iPad Air 2 and Nexus 9. Generally speaking, the Tab S2 will comfortably get you through a day's use and then some.
What's more, unlike some Android tablets it doesn't seem to lose much charge overnight – just 1% here or there. The Xperia Z4, with its 6000mAh, 17-hour battery will give you slightly longer, but the Tab S2 gives you more than enough power to be getting on with.
Surprisingly good snapper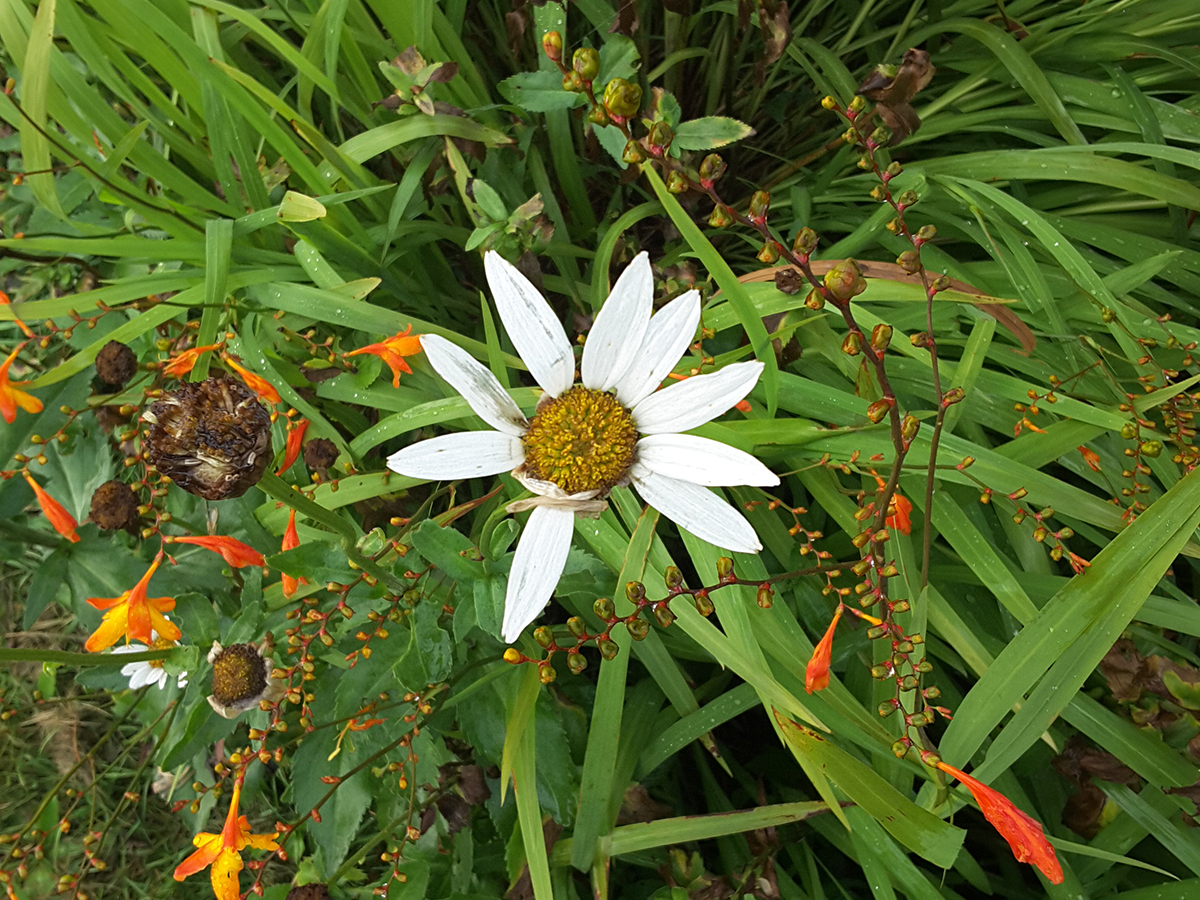 We all know what you only use a tablet as a camera because you a) haven't got your smartphone handy or b) you really love to wind your fellow concert-goers up.
This aside, the Samsung's snappers are surprisingly good. The 8MP rear camera produces pretty crisp stills with big, bold colours outdoors and manages to get nice, well-exposed shots indoors. Pixel peepers might point to a tendency to over-exposed and a slightly loose focus, but then pixel peepers ought to save their objections for a worthy target.
Video is good enough and smooth enough for basic YouTube and Facebook duties too. Meanwhile, the 2.1Mp front-facing camera – the one you use for video chat – does a surprisingly good job of giving a clear picture of your lined and weary-looking fizzog without ramping up the noise. Whether this is a good or bad thing is up to you. We could use a little more soft focus.
Keyboard anyone?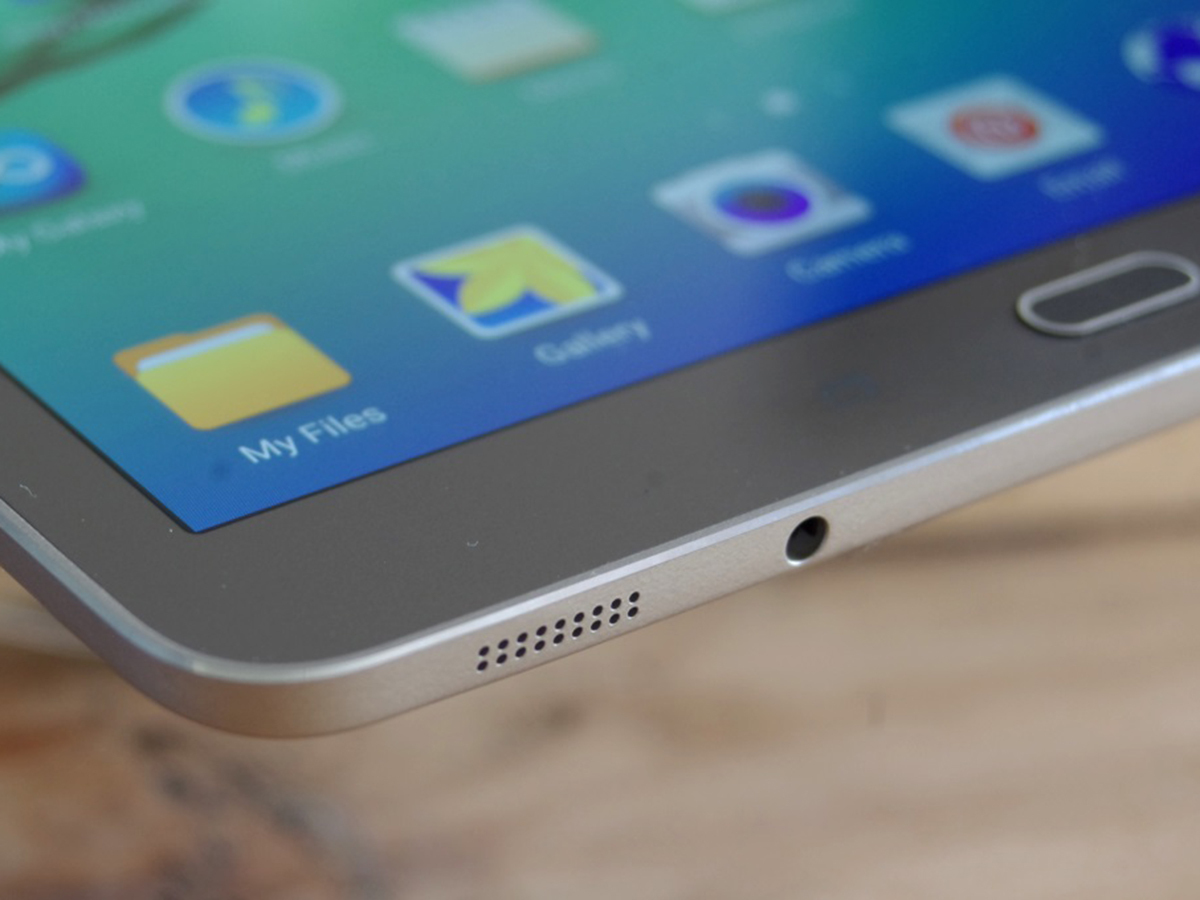 The Tab S2 has all the extra stuff you'd expect from a high-end tablet, including dual-band 802.11ac Wi-Fi, GPS and GLONASS location sensors, Wi-Fi direct screen mirroring and Bluetooth 4.1.
It also has some features you can't take for granted, including a micro SD card slot to take the 32 to 64GB of internal storage up by up to 128GB. Like the original Tab S, it features a fingerprint scanner in the home button for easy access. As always, your mileage will vary, and we found this particular scanner quite sensitive to variations in the angle of your thumb or thinner as you hold it on or swipe it down across the button.
If you're eagle-eyed, you might notice two weird little round buttons on the left-hand side of the back. These turn out to be connectors for an optional £110 keyboard cover, allowing the Tab S2 – like the Xperia Z4 Tablet and Nexus 9 before it – to moonlight as a kind of Android laptop. If you want a tablet for work, you're better off getting a Surface.
Samsung Galaxy Tab S2 verdict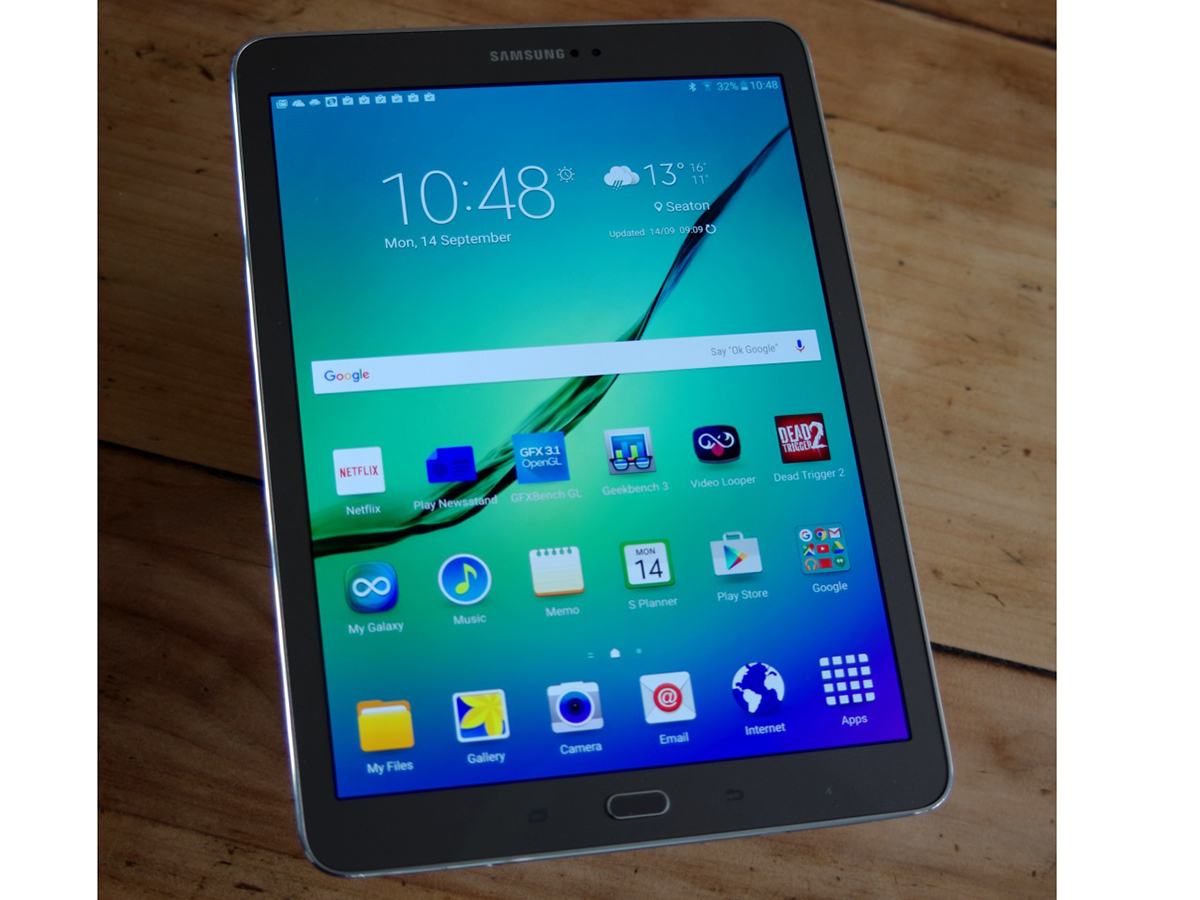 Samsung hasn't just crafted a worthy successor to the Galaxy Tab S, but one of the best big-screen tablets out there. It's thin, light, gorgeous-looking and well-balanced, and while the screen has fewer pixels than its predecessor's it's still fantastic with a more practical aspect ratio.
Battery life is impressive and performance is equally top-notch. The Tab S2 is a superb tablet for everyday use on the sofa, but one that has the stamina and speed to cover just about anything you need. It reminds you why big-screen tablets still make sense: because they're great for consuming content, but can still handle serious tasks as well.
If that's important to you, then you really have two Android choices. Sony's Xperia Z4 Tablet has its own brilliant screen, solid performance and great battery life, but the 10.1-inch 16:9 screen never feels quite right in the hand, and it's £100 more expensive too. This should give the Samsung the edge, but then the Xperia Z4 comes with its clip-on keyboard bundled in, and when that's attached the 16:9 screen makes more sense.
So if you're after a tablet that can double as an Android laptop, the Xperia Z4 slips ahead. But if you're looking for a versatile, big-screen Android tablet first-and-foremost, then stop right here. With a design that's built for the hand rather than the desktop, the Tab S2 is the one to buy.
Buy the Samsung Galaxy Tab S2 9.7 here from Samsung
Tech specs
| | |
| --- | --- |
| Screen | 9.7in 2,048 x 1,536 |
| Processor | Exynos 5433 Octa-core (4×1.9GHz, 4×1.3GHz) |
| RAM | 3GB |
| Battery | 5870mAh |
| Camera | 8MP rear (1080p video), 2.1MP front |
| Dimensions | 169 x237.3 x 5.6mm |
| Weight | 389g |
| Memory | 32GB/64GB (expandable with up to 128GB microSD) |