Samsung Galaxy S6 review
(UPDATED WITH HANDS-ON VIDEO) Samsung answers its critics with the new flagship Galaxy S6. The playing field has truly been levelled...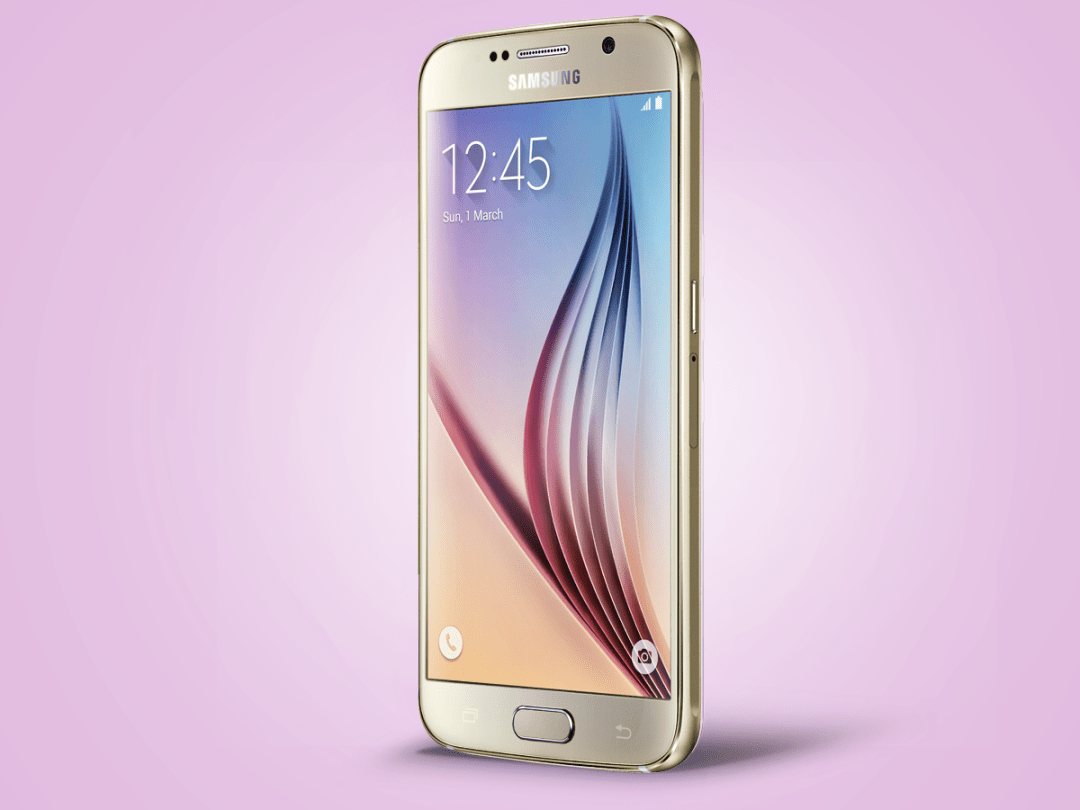 Samsung has a job to do here. While by no means a sales flop, there's a feeling that the company lost its way somewhat with the Galaxy S5. That it just wasn't a flagship worthy of the company bearing the standard for Android in the war against Apple.
The S6, then, is an opportunity to bounce back – and Samsung hasn't squandered it.
Just about every criticism levelled at the S5 has been fixed, and while it might not cause your friends to go quite as enviously green as the Galaxy S6 Edge, the vanilla S6 has 99.9% of the substance, just skimming off that top layer of flashy panache.
The people who said Samsung had lost its mojo were wrong.
Heart of Glass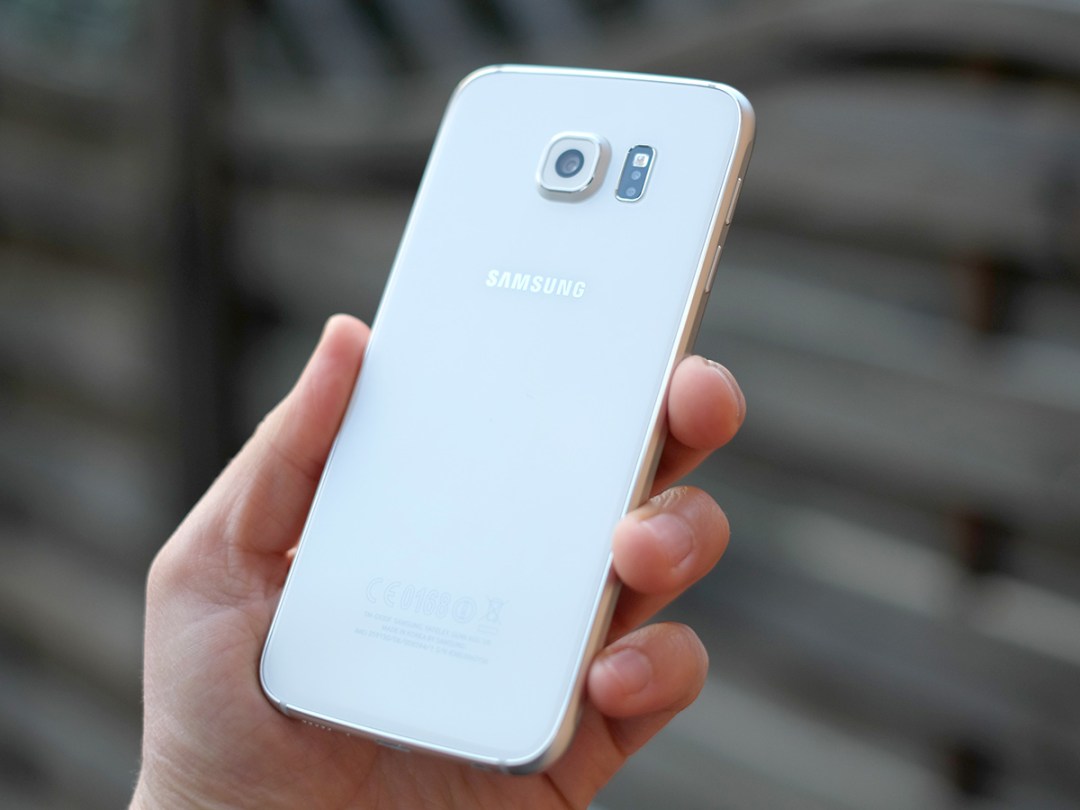 For years we've been complaining about Samsung's plastic phones. The Galaxy S5 and its predecessors, all the way back to the Galaxy S in 2010, were plastic. In the old days it was fine, but we got tired of paying £500 for phones that felt, well, cheap.
All that has changed. There is practically no plastic on the Samsung Galaxy S6. Its front and back are super-tough Gorilla Glass 4, its sides aluminium.
The Sony Xperia Z3 has a similar glass 'n' metal style, but the Galaxy S6's curves are softer and the handset itself less wide. There's a hint of boxiness to it, but at just 6.8mm thick it's not going to be too much of a handful for most adults out there.
It feels great. And switching between it and the Note 4 just proves that Samsung should really have given up on its dream of leather effect plastic phones a lot earlier.
Memory Loss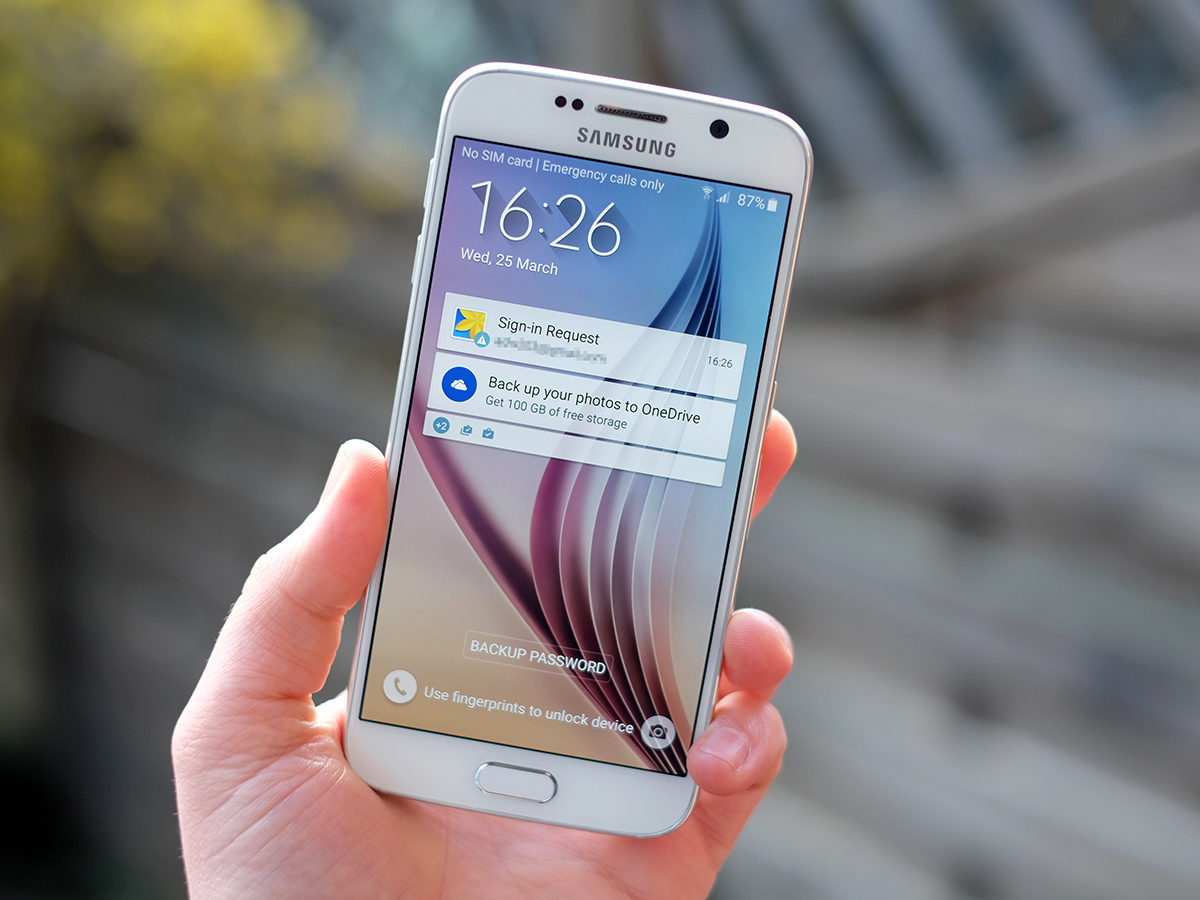 The Samsung Galaxy S6 feels more high-end, more expensive than any phone Samsung made last year. It's a unibody mobile too, meaning you can't rip off the back panel to get hold of the battery.
We're fine with that, but Samsung has also removed the memory card slot. It has presumably noticed that Apple makes more than a few quid upselling people to 128GB iPhones and want a piece of the action. Why would you otherwise when a 64GB microSD card cost about £20 these days?
Some people are sure to be annoyed, but then plenty will be happy with the entry-level 32GB Galaxy S6 anyway. On contract, the upgrade to the 64GB model will cost you an extra £5 a month, and there's even a 128GB model out there for those happy to spend a small fortune on a phone. It's set to cost around £800.
It's disappointing when this is so clearly a money-making exercise, and it means that if you're after a flagship Android phone with upgradeable memory you'll want to instead look at the HTC One M9 or LG G4.
But other than that, the Samsung Galaxy S6 hardware is excellent. As usual, it's jam-packed with features including an IR transmitter, NFC, apt-X support and Wi-Fi ac. There's even a barometer inside.
The Thumb-Lover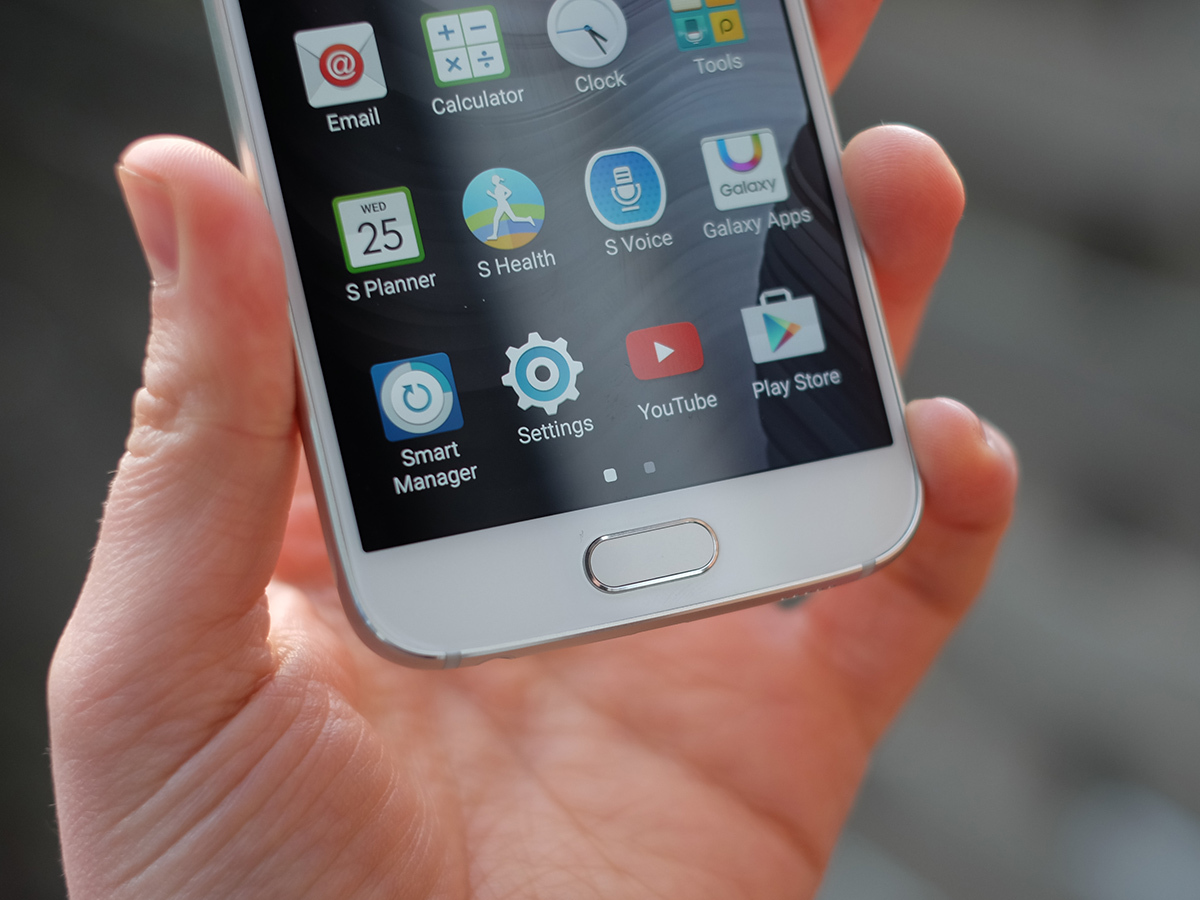 Not everyone cares about these extras, but the basics are good too. The power button sits right under your thumb, and, finally, Samsung has aced its fingerprint scanner hardware.
As with the Samsung Galaxy S5, it sits under the main Home button. But now, instead of having to swipe a finger across it, you just place a finger on it, just like the iPhone 6 Touch ID sensor. It works just as well, too, if perhaps a fraction of a second slower.
It's miles better than the scanner on the Galaxy Note 4 and Galaxy S5, either way. If it doesn't work, it's invariably your fault.
Oh my OLED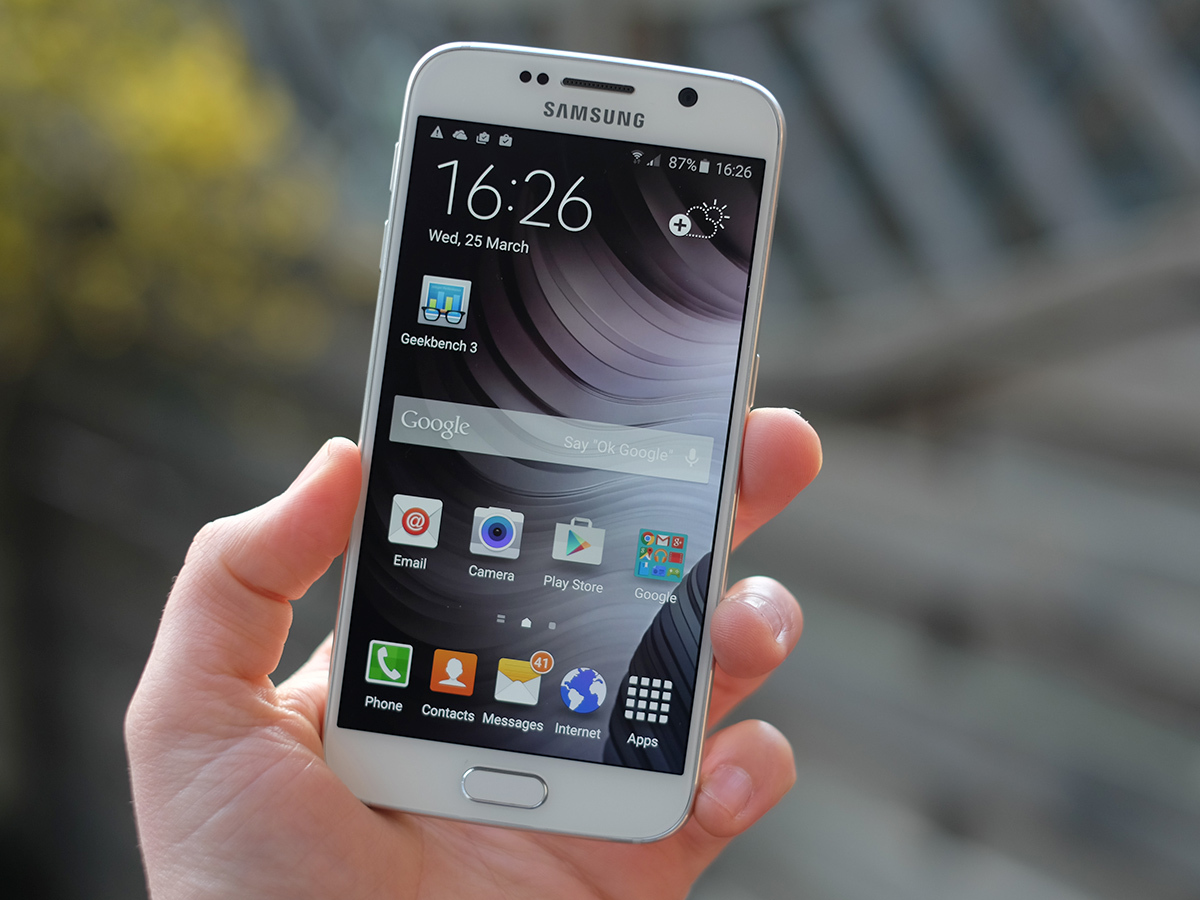 There's also a big shift in screen tech. As with the LG G3, the Samsung Galaxy S6 makes the leap up to QHD screen resolution. Stretched across 5.1 inches that gets you pixel density of 577ppi. Pretty amazing, right?
Unless your eyes are far, far better than ours, it's physically impossible to discern the pixels. Think you can? You're probably an eagle.
Funnily enough, though, the screen isn't actually one of the Samsung Galaxy S6's most obvious improvements. But only because the Samsung Galaxy S5 already has a corker of a display.
Both use Super AMOLED screens getting you flawless contrast and deep blacks regardless of whether you're outside or frantically sending a text in the cinema before the trailers start. It's the sort of screen that makes you wonder: where do we go from here? Well, there are still reflections and we bet there are a few more curved screens like the S6 Edge's and LG G Flex 2's somewhere on the horizon. But this is quite the achievement already.
You can also choose whether to have your colours super-vivid or more accurate and natural. This is nothing new, being a Samsung staple, but is still a great feature anyway.
Tasting Lollipop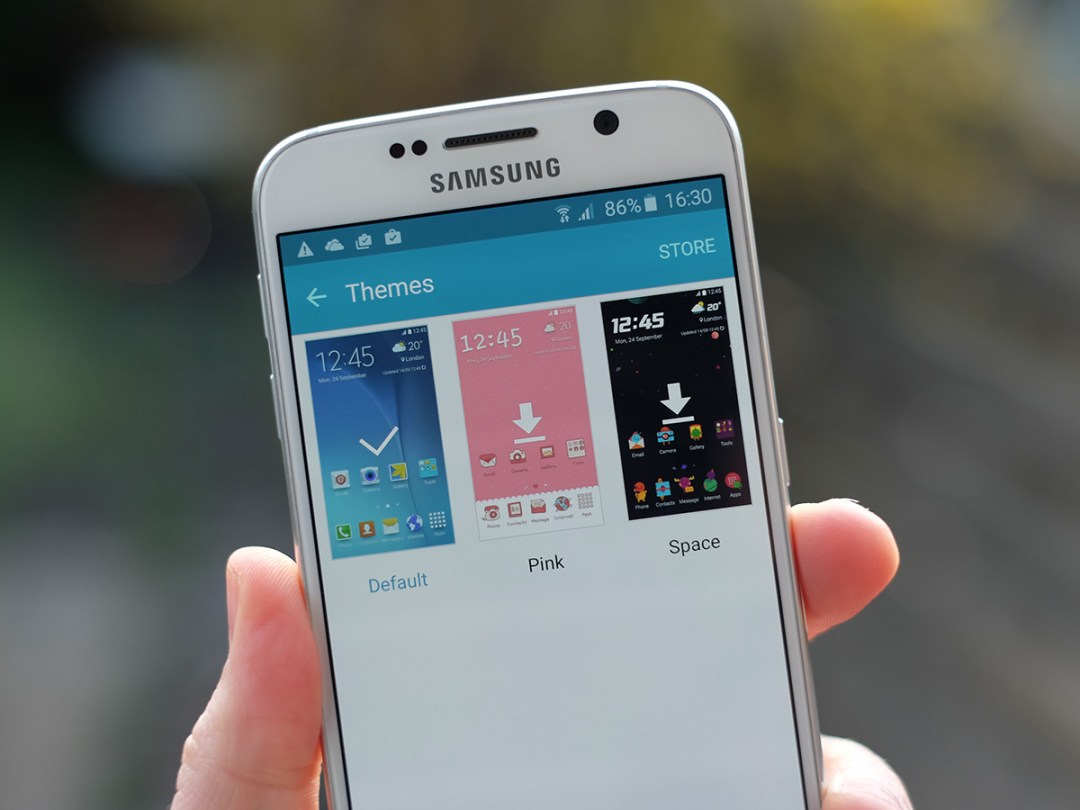 At first the software seems familiar too, but there's plenty of new stuff as well. The Galaxy S6 runs Android 5.0 and has the latest version of Samsung's custom UI.
What's new? Well much like vanilla Android 5.0, everything moves a little differently. There's a parallax effect for the wallpapers when you tilt the phone and all the animations have a bit more inertia to them.
It makes the Samsung Galaxy S6 feel a bit more organic, and in comparison older phones such as the Galaxy Note 4 seem a bit stiff and business-like. It's a good change.
Just like the HTC One M9, the Samsung Galaxy S6 has also adopted themes. These change things such as the icons, wallpapers, widgets and system font. It's a full facelift.
However, right now we don't think the themes available are much cop. There's a bunch you can download online, but none of them are remotely subtle enough. The Samsung Galaxy S6 could really take a few pointers from the HTC One M9 here, which can automatically create a theme around any picture you choose.
Other than that, though, the software is pretty solid. The Samsung TouchWiz lag of old seems to have pretty much disappeared, making the Galaxy S6 a joy to use. There were a couple of moments where the phone outright paused for a few seconds, but this seems like an early-software glitch rather than a standard performance problem.
Exynos vs Snapdragon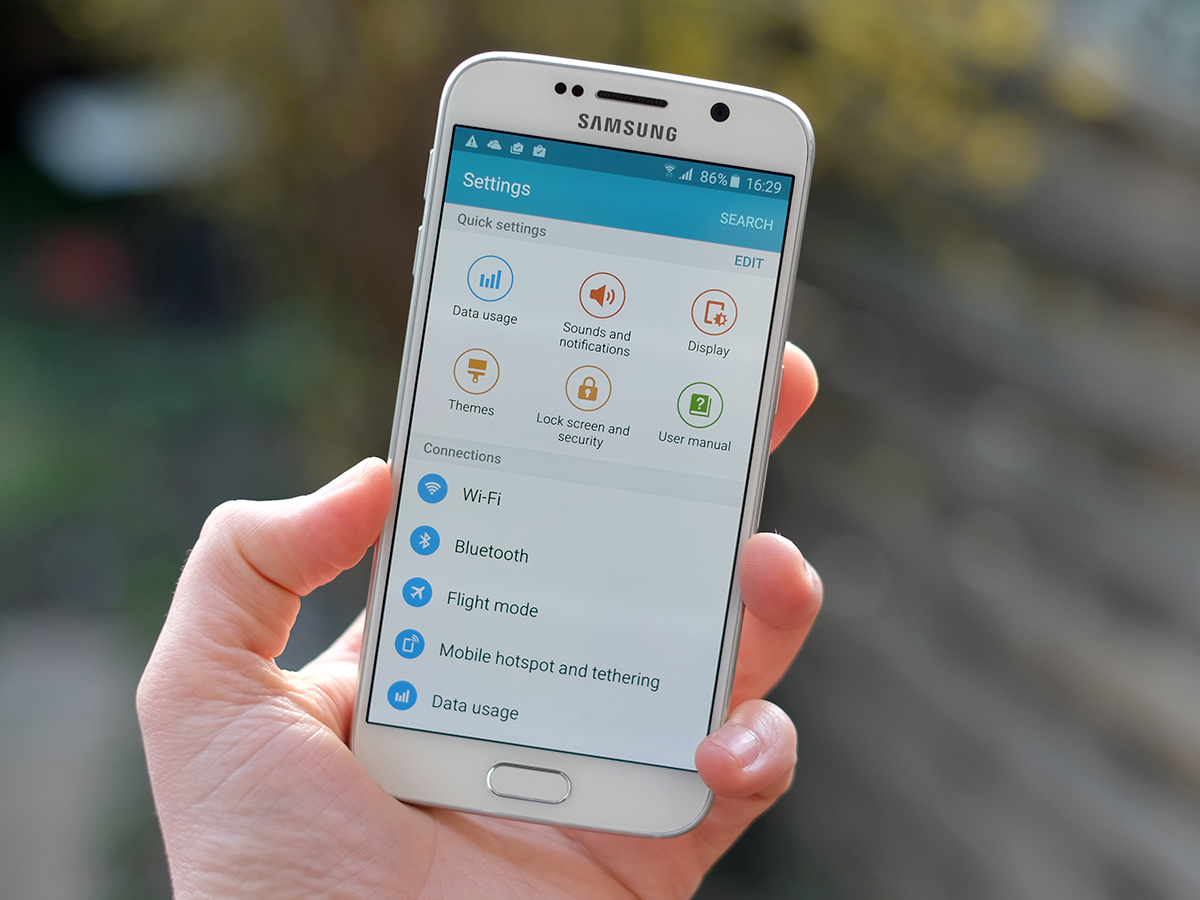 The sheer processor power can't hurt, either. As of March 2015, the Samsung Galaxy S6 has the most powerful phone processor we've tried. Samsung has broken away from the pack this year, using its own Exynos 7420 CPU rather than a Qualcomm Snapdragon chip like the HTC One M9's.
We had heard that the top dog Snapdragon 810 CPU's being prone to overheating was the reason, but the Exynos also seems to be a good deal more powerful. This isn't the sort of thing you're going to notice every day, but Samsung has really done amazing work here.
Our Geekbench 3 scores suggest the Galaxy S6 is a massive 20% more powerful than rival flagships such as the HTC One M9. It scores upwards of 5200 points, where you'll top out at about 4400 points from a Snapdragon 810 CPU – at least from our testing so far. This is incredible power, outdoing some laptops.
We're also pretty impressed with how hot it gets. Or to be more precise, how hot it doesn't get. Sure, it gets a bit warm when put under pressure for a while, but nothing like what some people experience with the Sony Xperia Z3, another metal and glass phone. It seems to get warmest when charging, which Samsung has turbo-charged for 2015.
How does it keep its cool? I have to get a little bit geeky to explain it. The Galaxy S6's Exynos 7420 CPU has transistors that are 14nm across, while the rival Snapdragon uses a 20nm process. Smaller transistors are the grey matter cells of a CPU, and smaller ones mean greater efficiency, and less energy wasted as heat.
We're not quite sure how Samsung has soldiered so far ahead, but it really seems to have done so – and it could prove a huge advantage through this phone generation.
Pounding the juice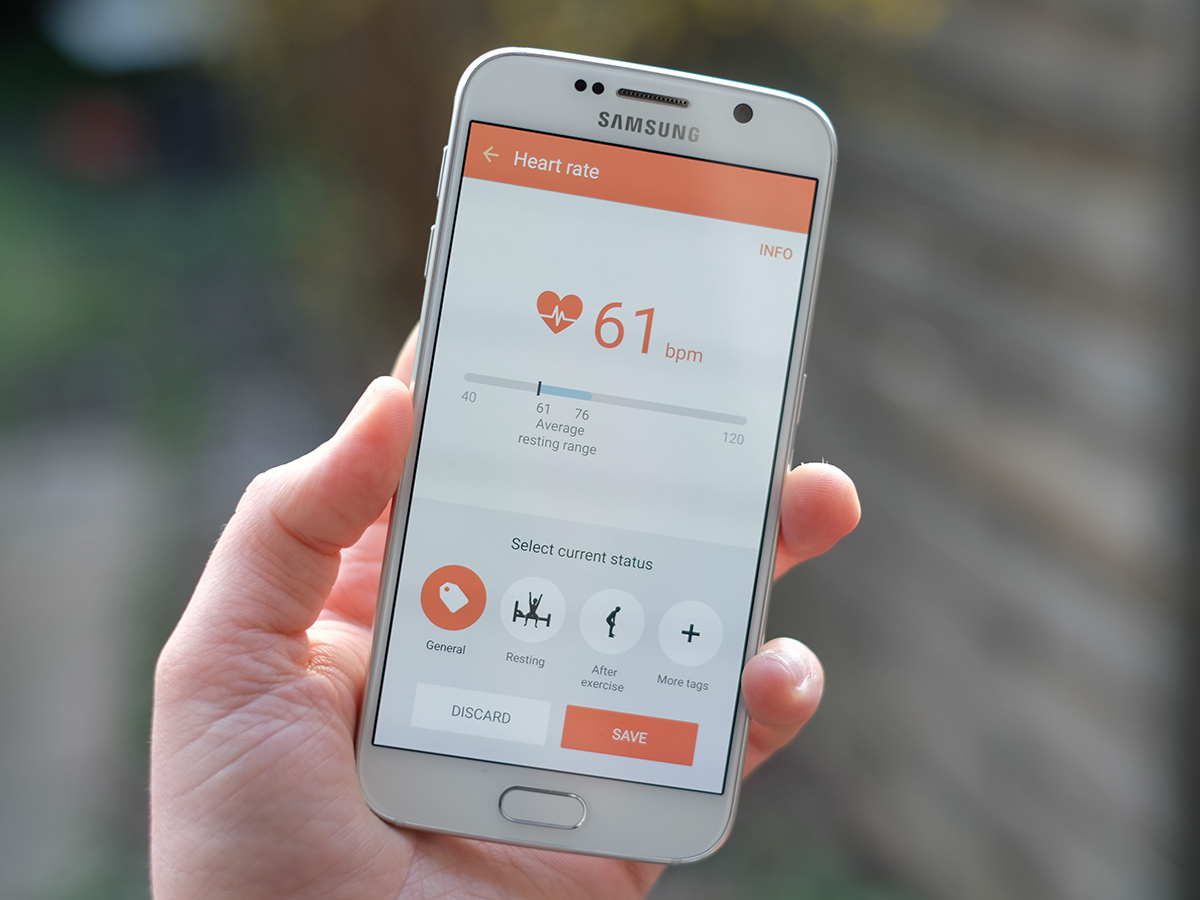 This super-advanced processor also works wonders on battery life. The Samsung Galaxy S6 has a 2,550mAh battery, which really isn't that large for a phone with a QHD 5.1-inch screen. However, stamina is pretty fantastic regardless.
We got 14 hours of video off a charge and the phone should last a good day and a half without much effort. It seems to last a shade longer than the S6 Edge even, despite having a slightly smaller battery. We'd have loved to see a Samsung Galaxy S6 with the same advanced CPU and a 3000mAh battery as the Edge, but perhaps Samsung decided that would be overkill.
Samsung has amped-up the charger too, though, getting you a faster recharge than the Galaxy S5. It's now insanely fast, getting to 70 per cent in about 30 minutes. Earlier we said the S6 gets hottest when charging. This is why.
Show me the megapixels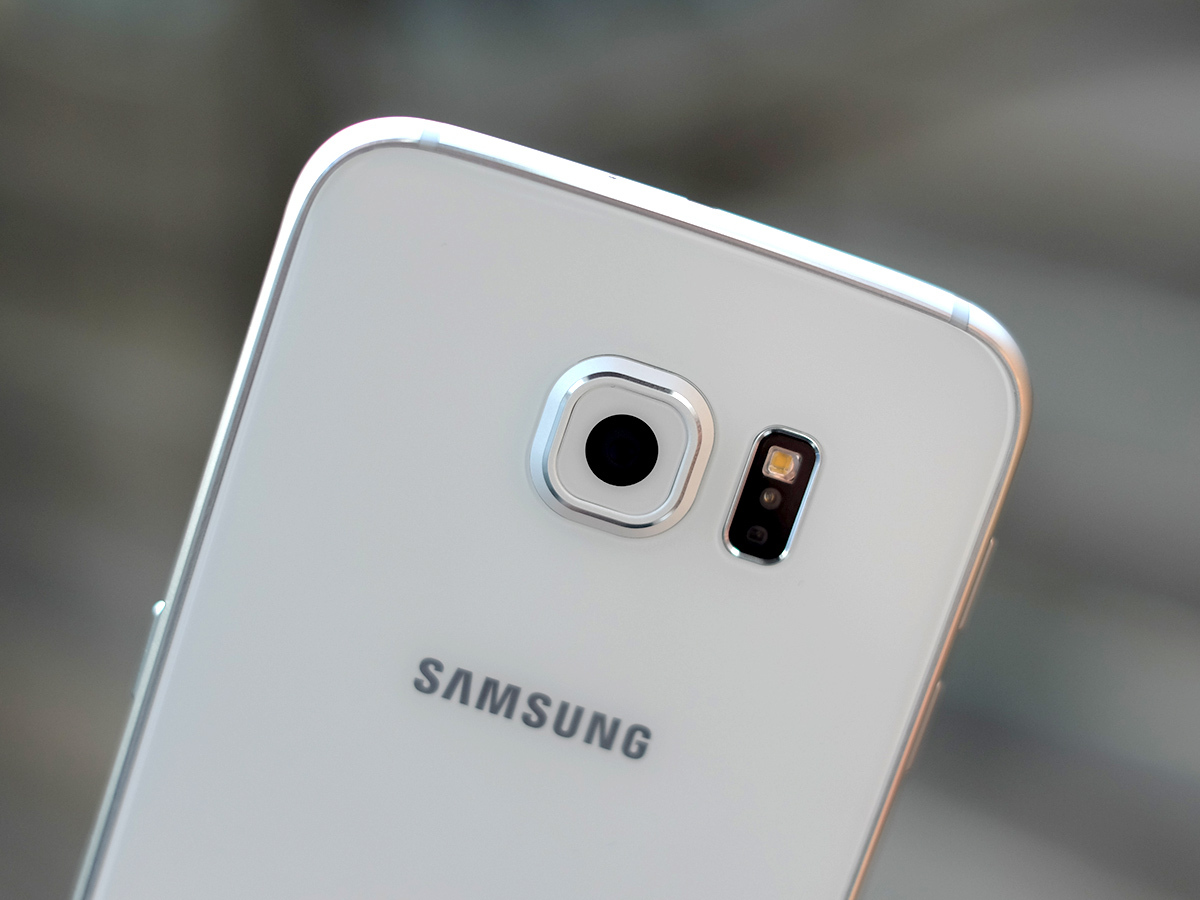 Efficiency is the name of the game with the camera, too. Where HTC has bumped-up the One M9's camera resolution to a whopping 20 megapixels, the S6 sticks with 16 – the same as the Note 4.
But it's a fantastic camera, with an improvement far greater than those conservative-sounding numbers might suggest. The sensor hasn't had an upgrade it seems, and it has OIS just like the latest Note, but the lens is all-new.
And it's a super-fast f/1.9 lens. Plenty of phones have lenses around the f/2.0 mark (the smaller the number, the faster the lens), but the recent Note 4 is slower, with f/2.2 aperture. Its no great surprise, then, that the low-light performance of the Galaxy S6 is way better. Night shots are far clearer and brighter, while your average indoors shot will be that much less noisy and better-defined.
Add in the great detail you get with a 16-megapixel sensor in good lighting and great dynamic range and you have a true photographic winner. Samsung has become an archduke of HDR photos in recent years, and it offers an extra option in the Galaxy S6. As well as turning HDR on and off, you can set it to 'Auto'.
What this does is to get you a dynamic range boost where needed, but not to the same extent as a full HDR shot.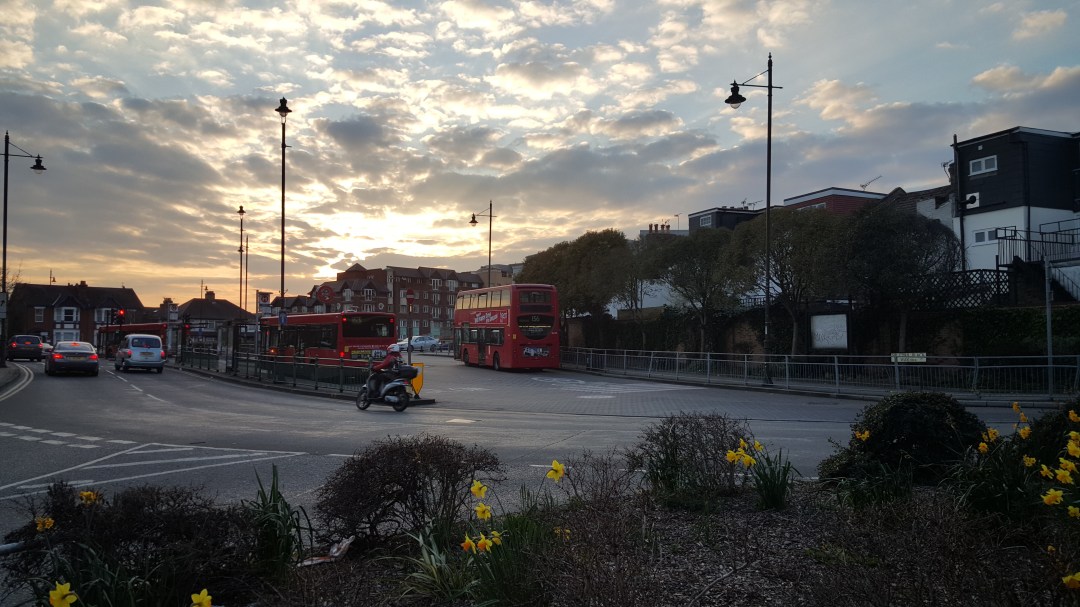 The Samsung Galaxy S6's camera performance is so darn good that you can use HDR all the time if you like. It shoots them at the sort of speed most good phones shoot normal photos at, while without HDR engaged you can shoot almost as fast as your finger can tap. This is in good lighting: things slow down a little at night, but not all that much. It's way faster than the Galaxy S5 in any conditions.
That faster sensor allows you to get great natural arty effects too, with a fairly shallow depth of field blurring out the background nicely when shooting close-up subjects. You just don't get this with a lesser phone camera.
We even like the camera app well enough too. It puts the HDR switch by your left thumb (our most-used button) along with a couple of other essentials, while the shutter and mode selection is on the right side. It's fairly plain-looking, just as it should be.
New for this year, you also get a Pro mode. This lets you manually select focus, ISO and a few other things. It's perfect for getting those ultra close-up macro shots without fighting with the autofocus (which is pretty good itself).
Is this the camera that has it all? We think so. It may not have the largest camera sensor around — it's not a Nokia Lumia 1020 — but high-quality components work together with smart software and a super-fast camera processor to make something that is incredibly fun and quick to use. This is one of the best phone cameras, ever. And it's a lot more reliable than the HTC One M9's.
The selfie cam isn't too bad either. It has a 5-megapixel sensor, which is rapidly becoming the norm. It's pretty good at managing brightness so that your shots don't look too dull indoors. However, detail does take a dive in lower lighting. For selfies, the HTC One M9's UltraPixel camera is better.
A Sound Suggestion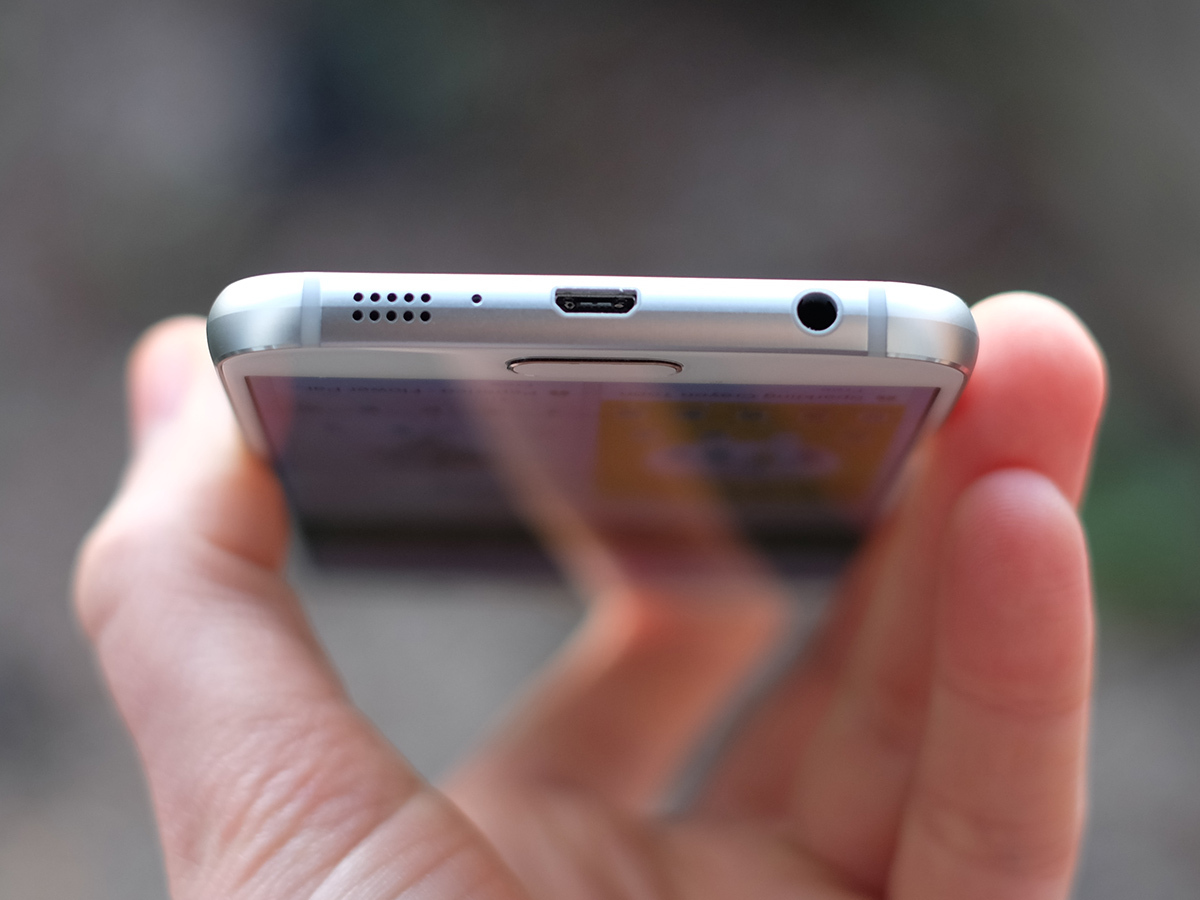 Does HTC still have the speaker victory too? Well, we're actually surprised at how much effort Samsung has put into its Galaxy S6's internal speaker this year.
After putting fairly piddly little speakers on the bottom of its phones for ages, Samsung has moved the Galaxy S6's speaker down to the bottom edge, and put it on steroids. It's loud and it has a far meatier sound than previous Galaxy phones.
There's much more mid-range warmth, and even a bit of bassy thwack too. Up against the HTC One M9, the Samsung Galaxy S6 is actually a fair bit louder, but HTC still has the edge for sound quality. It's a bit more refined, where the S6's driver sounds like it's really being pushed to its limits. The BoomSound brothers (HTC's speakers) still rule, but Samsung has made up a lot of ground here.
Samsung Galaxy S6 Verdict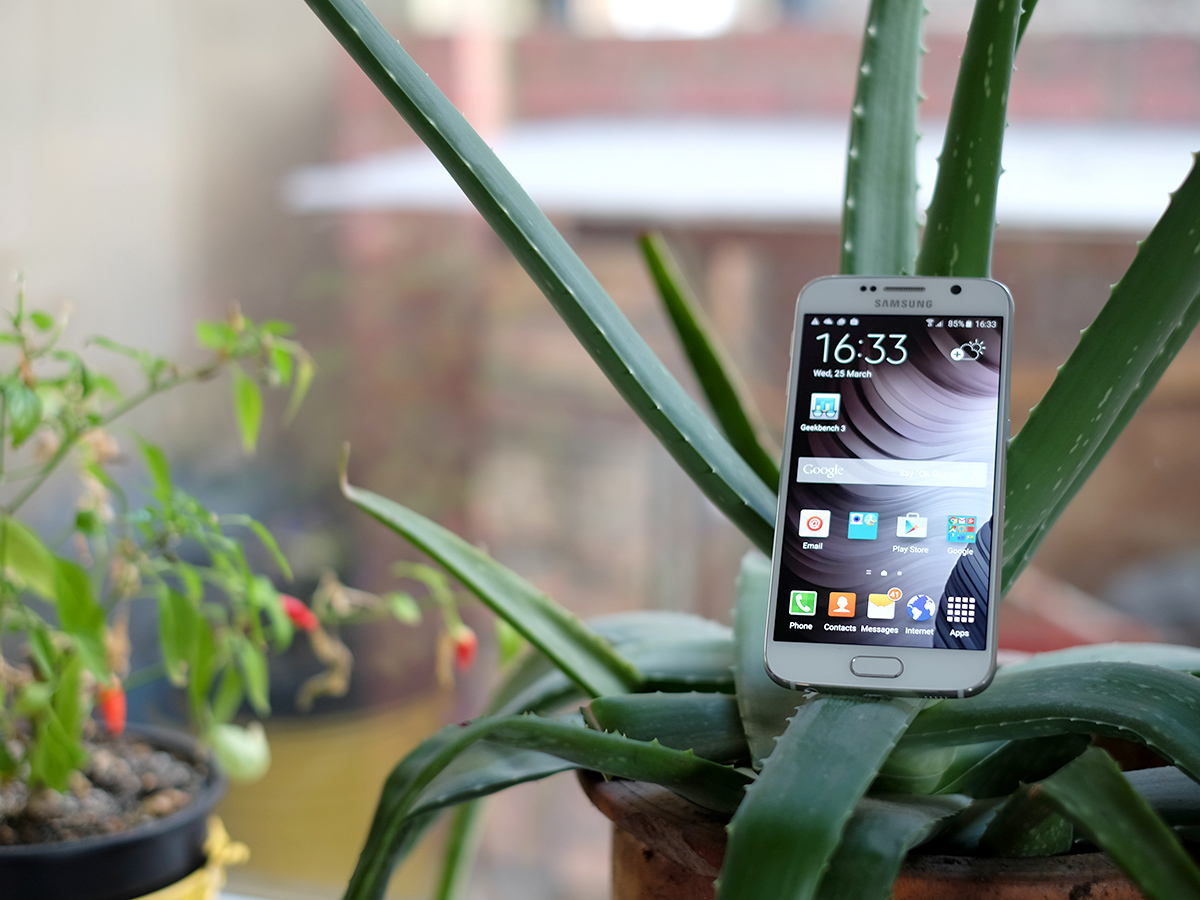 The Samsung Galaxy S6 is a king among phones. Far from being a desperate attempt to get us all to hand over £500 or more yet again, it's a smart upgrade that fixes not just things that were amiss in the Galaxy S5, but things that have plagued Samsung phones for years.
It's a new era for Samsung phones. We just wish it wasn't starting without a microSD slot, because serious media fans will have to fork out £800 for the big daddy 128GB version.
That's bound to put off a certain section of phone buyers, and for handling, ergonomics and speaker quality, the HTC One M9 still wins, but only just.
And in the more important areas of camera performance, screen tech and raw power, the Galaxy S6 tramples its rival. If you're feeling really flush and want to show off, the S6 Edge is that bit snazzier, but otherwise the 'flat' Galaxy S6 is the best phone in the world right now – and it's hard to imagine a rival matching it any time soon.
Tech specs
| | |
| --- | --- |
| Operating System | Android 5.0 with TouchWiz |
| Screen | 5.1-inch Super AMOLED with 2560×1440 (577ppi) |
| Processor | Octa-core Exynos 7420 @ 1.5GHz |
| RAM | 3GB LPDDR4 |
| Storage | 32/64/128GB (no microSD) |
| Cameras | 16MP with single-LED flash rear, 5MP front |
| Connectivity | Wi-Fi ac, IR, NFC, Bluetooth 4.1, apt-X |
| Battery | 2550mAh |
| Dimensions | 143.4 x 70.5 x 6.8 mm |
| Weight | 138g |
Stuff Says…
Samsung has proven its critics wrong – the Galaxy S6 is the new benchmark for flagship phones
Good Stuff
Great camera
Super-powered processor
Beefy speaker
Excellent screen
Bad Stuff
Lame interface themes
No memory card slot