Samsung Galaxy A54 hands-on review: S23 lite
Familiar styling, only at a more palatable price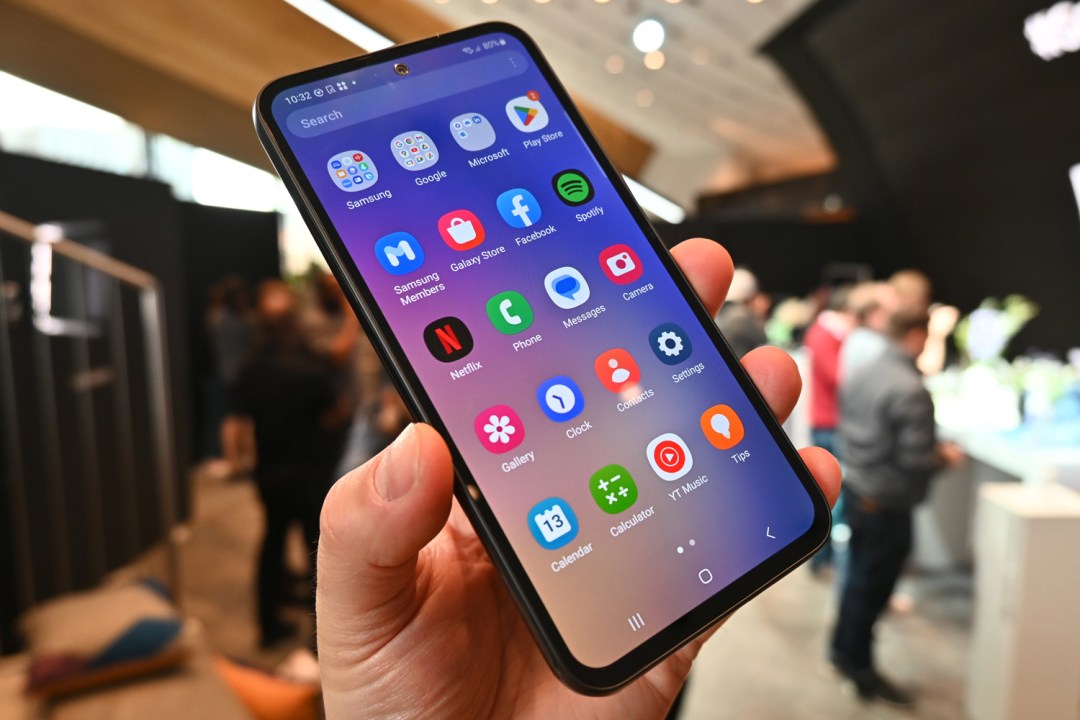 So you're longing for an all-new Samsung smartphone, but don't fancy shelling out for a top-tier handset like the Galaxy S23? That's where the A-Series comes in. They're some of Sammy's most popular handsets, regularly appearing in best mid-range phones lists, and now there are two new versions vying for your cash. The Samsung Galaxy A54 is the highlight, bringing a refined design and big battery at sensible money.
It was revealed alongside the Galaxy A34, an even more affordable alternative with a few hardware changes but built very much in the same mould. We gave both a go at Samsung's London experience store ahead of launch to see if they have a strong family resemblance – or if they're more like that distant cousin you don't speak about during reunions.
Design & build: keep it in the family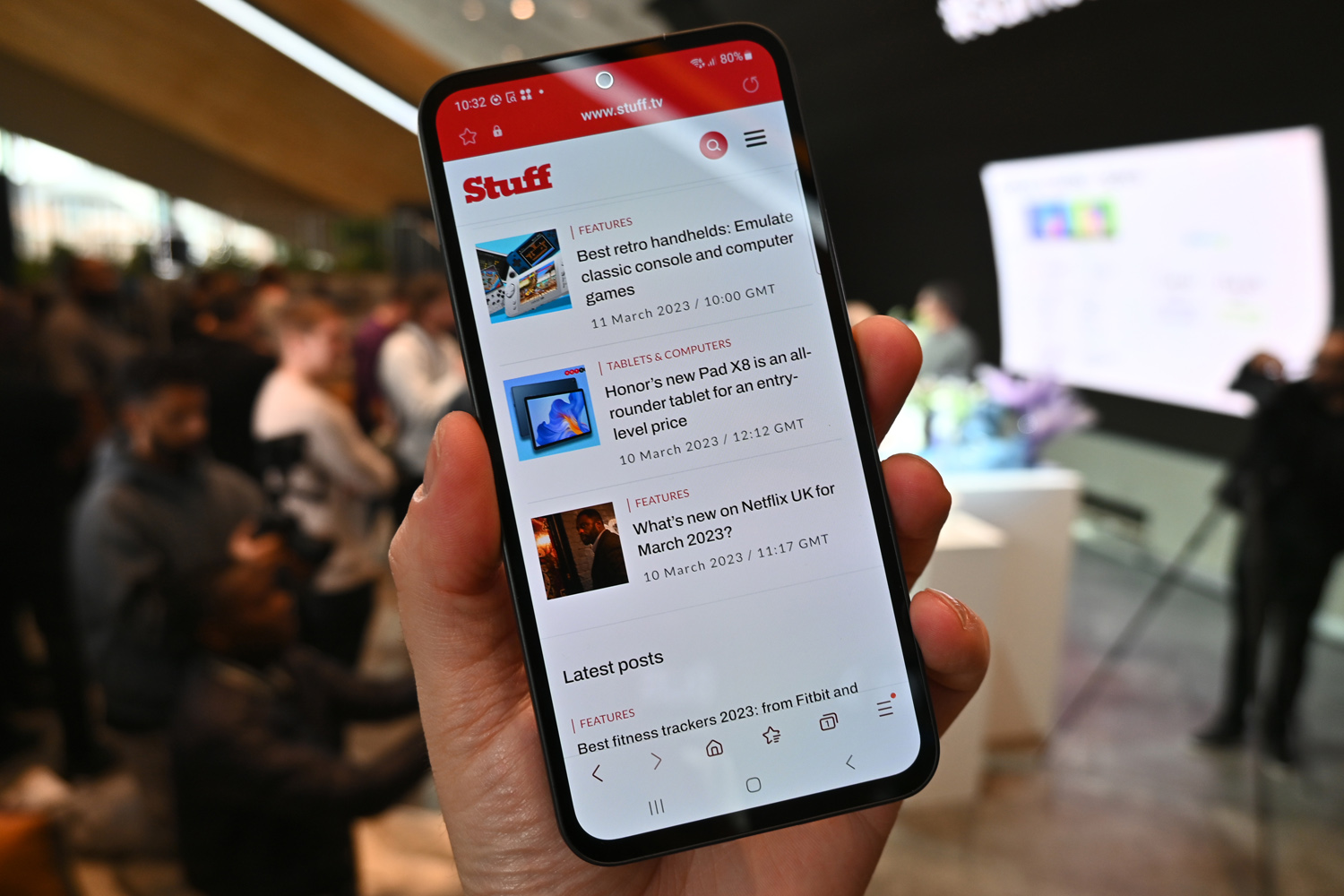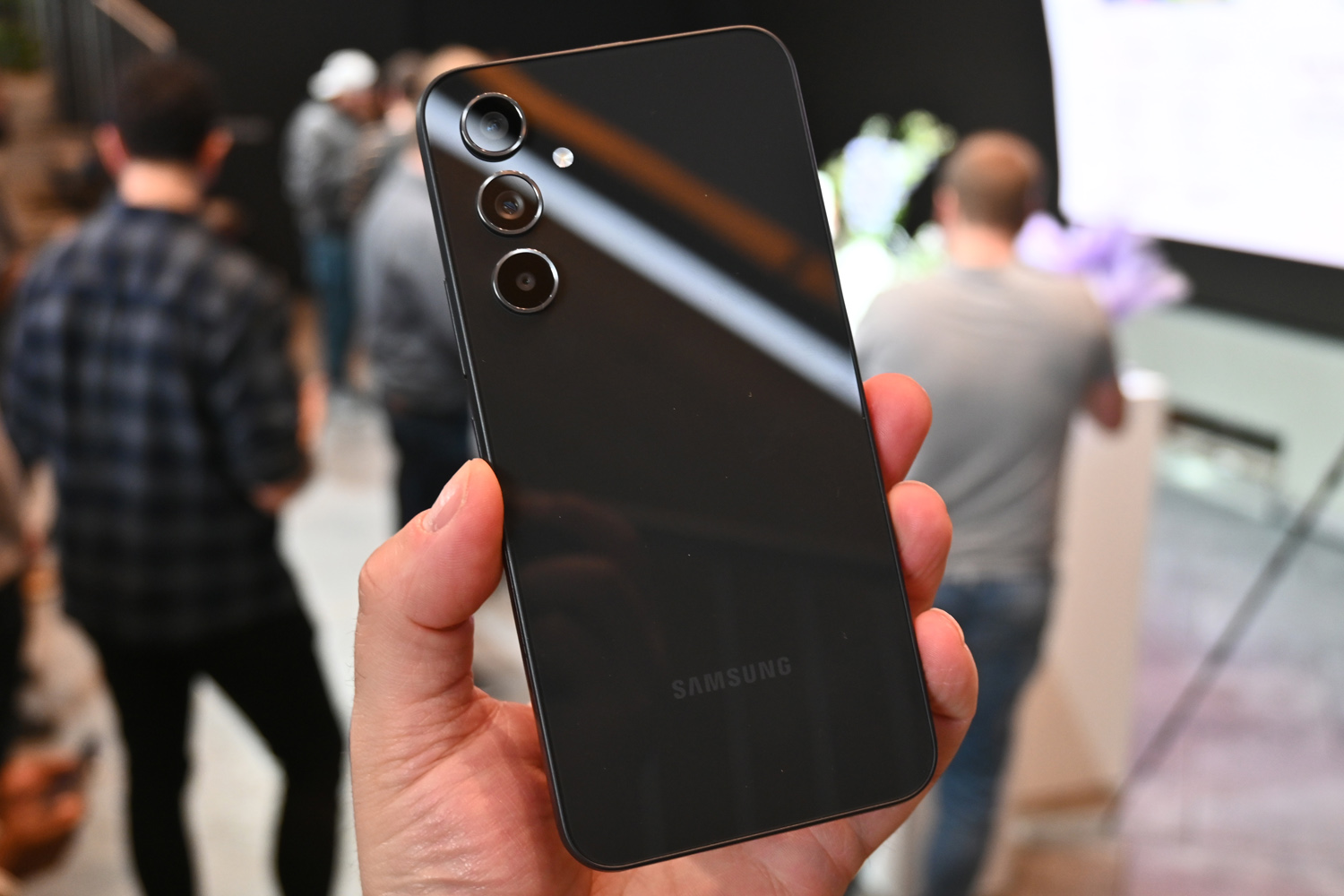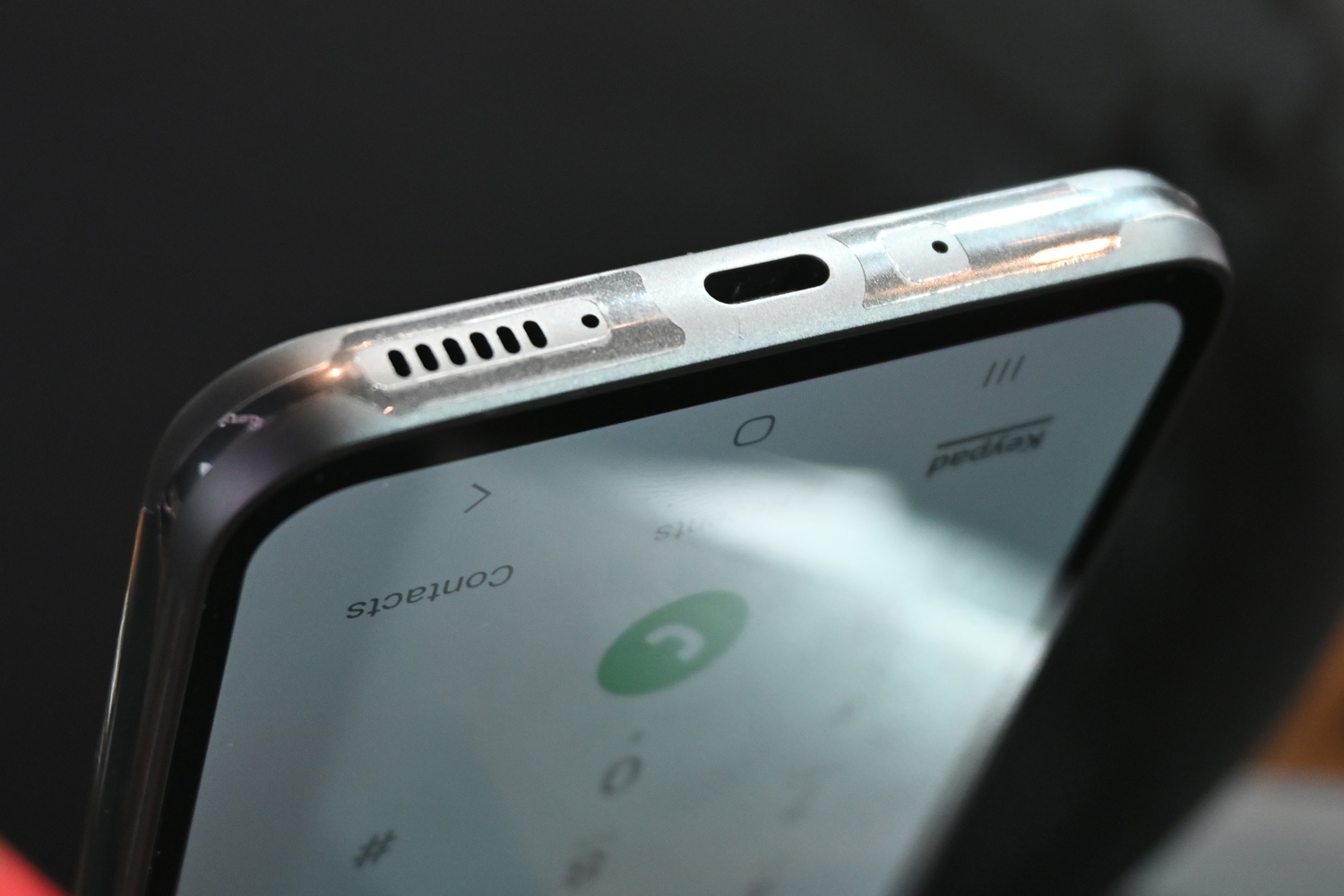 Yes, that definitely is the new Galaxy A54 in the above photos, and not a Galaxy S23. Looks similar, right? It's a little thicker, and with chunkier display bezels, but otherwise the design is basically carried over piecemeal, with flat glass set into a metal frame. Even the trio of bare camera lenses, stacked in a vertical line, make an appearance at the rear.
There's also an in-display fingerprint sensor, Gorilla Glass protection and an IP rating, although it uses Gorilla Glass 5 instead of the newer Victus 2, and tops out at IP67 rather than the Galaxy S23's tougher IP68.
It still feels suitably premium, even if the materials used aren't quite up to the same standard, and the glossy, reflective rear glass isn't nearly as good at hiding fingerprints as the phone it's styled on. A handful of pastel-ish colour options aren't a precise match for the S23, so are a good way to tell the two phones apart.
At 6.4in it's comfortable enough to hold one-handed, even if you've got diminutive digits. The power and volume keys are sensibly spaced apart on the right side of the phone, and the speaker sits in a familiar spot on the bottom edge.
Samsung Galaxy A34: the cheaper alternative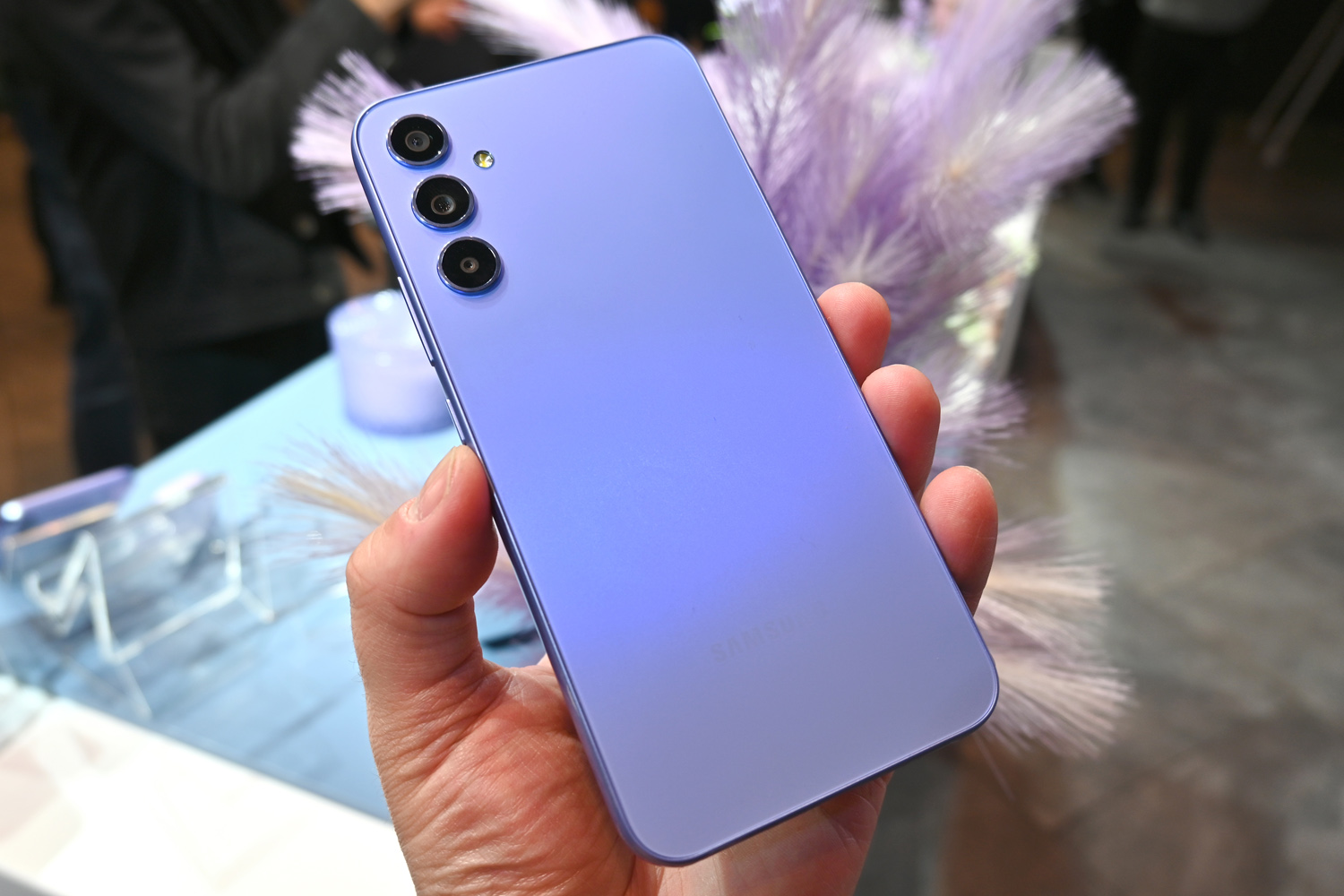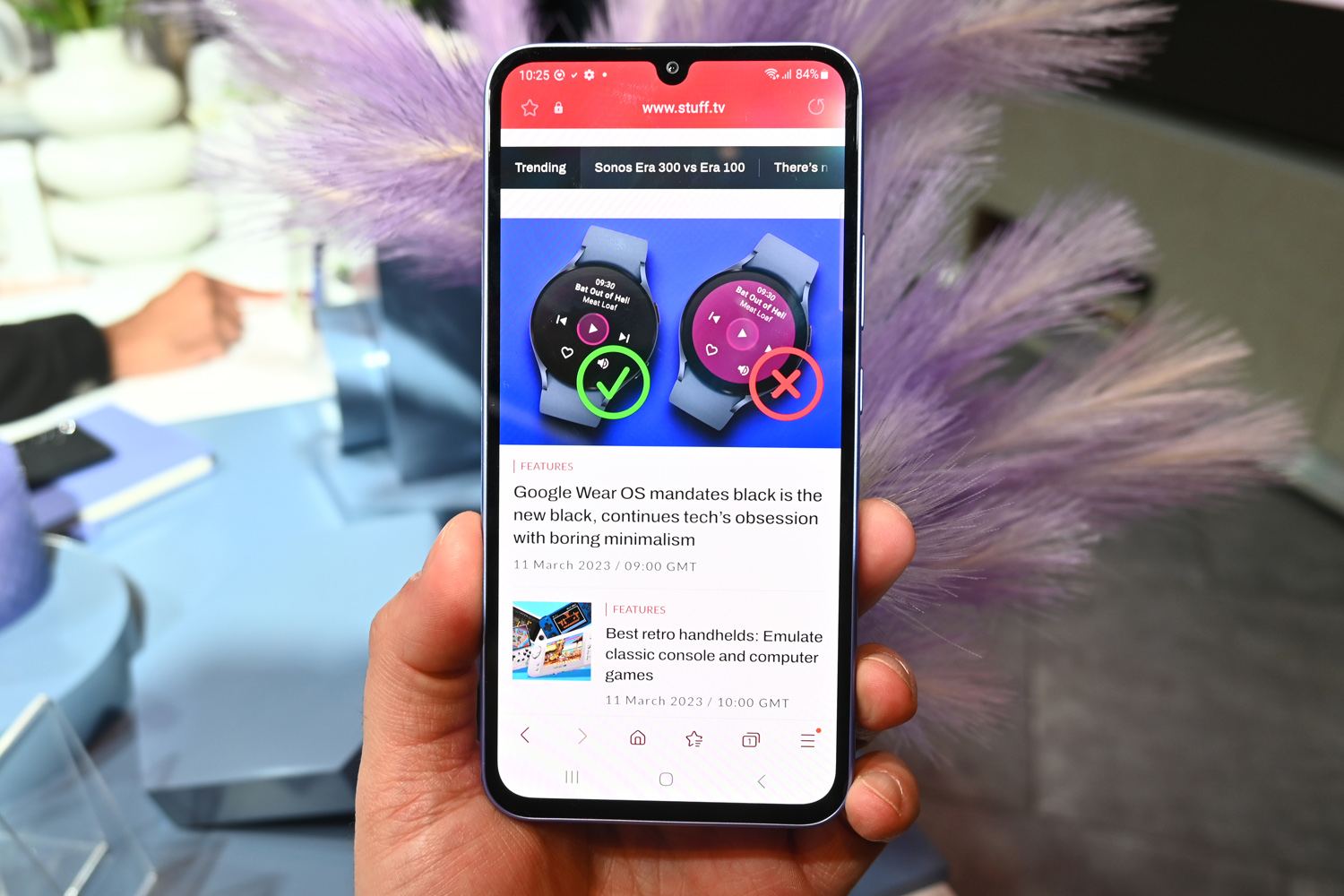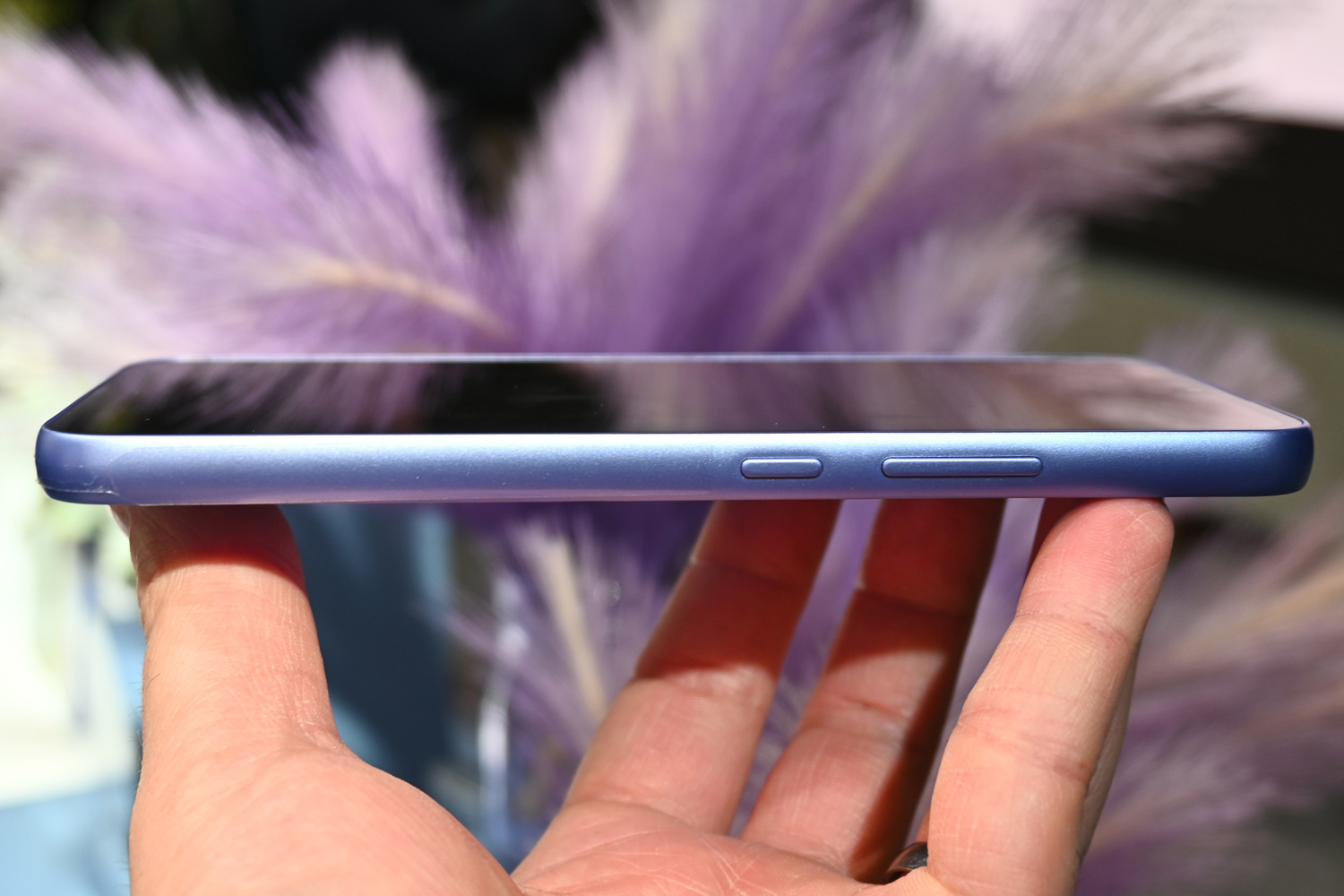 With a paltry 0.2in difference in screen size, there's very little to physically separate the Galaxy A34 from its more expensive stablemate. The only indicator is the teardrop-style notch for the front-facing camera; the Galaxy A54 gets a punch-hole cam instead.
Otherwise it's physically identical, complete with thee rear camera lenses, right-mounted power and volume keys, and a USB-C port at the bottom alongside a speaker grille. There's no 3.5mm headphone port, just like last year's Galaxy A33.
You can have one in the same four colours as the A54: Awesome Graphite, Awesome Silver, Awesome Lime and Awesome Violet. Because the A in the name seemingly had to stand for something, so awesome it is.
Screen & sound: brighter is better
Whether you go for the smaller phone or prefer a larger display, you'll be getting the same 2400×1080 screen resolution, which looked decently crisp during our hands-on session. Even small text was perfectly legible, and photos show plenty of resolved detail, as you'd expect from any Full HD+ phone.
The Galaxy A34's AMOLED panel now has the same 120Hz refresh rate as its bigger brother, which gives it an edge over the Google Pixel 6a and its 90Hz panel. Both promise a peak 1000 nits brightness when stepping outside, which should mean visibility is never an issue. There aren't too many mid-rangers that can claim the same, with many topping out at a dimmer 800 nits.
We certainly had no trouble seeing what was onscreen, even under bright studio lights, and an HDR trailer for The Flash popped with bright colours alongside deep and dark shadows.
With volume kept to a minimum in order to avoid irritating the assembled group of journalists, we can't pass judgment on the stereo speakers – but can guarantee you'll want a pair of earphones for any critical listening.
Cameras: three of a kind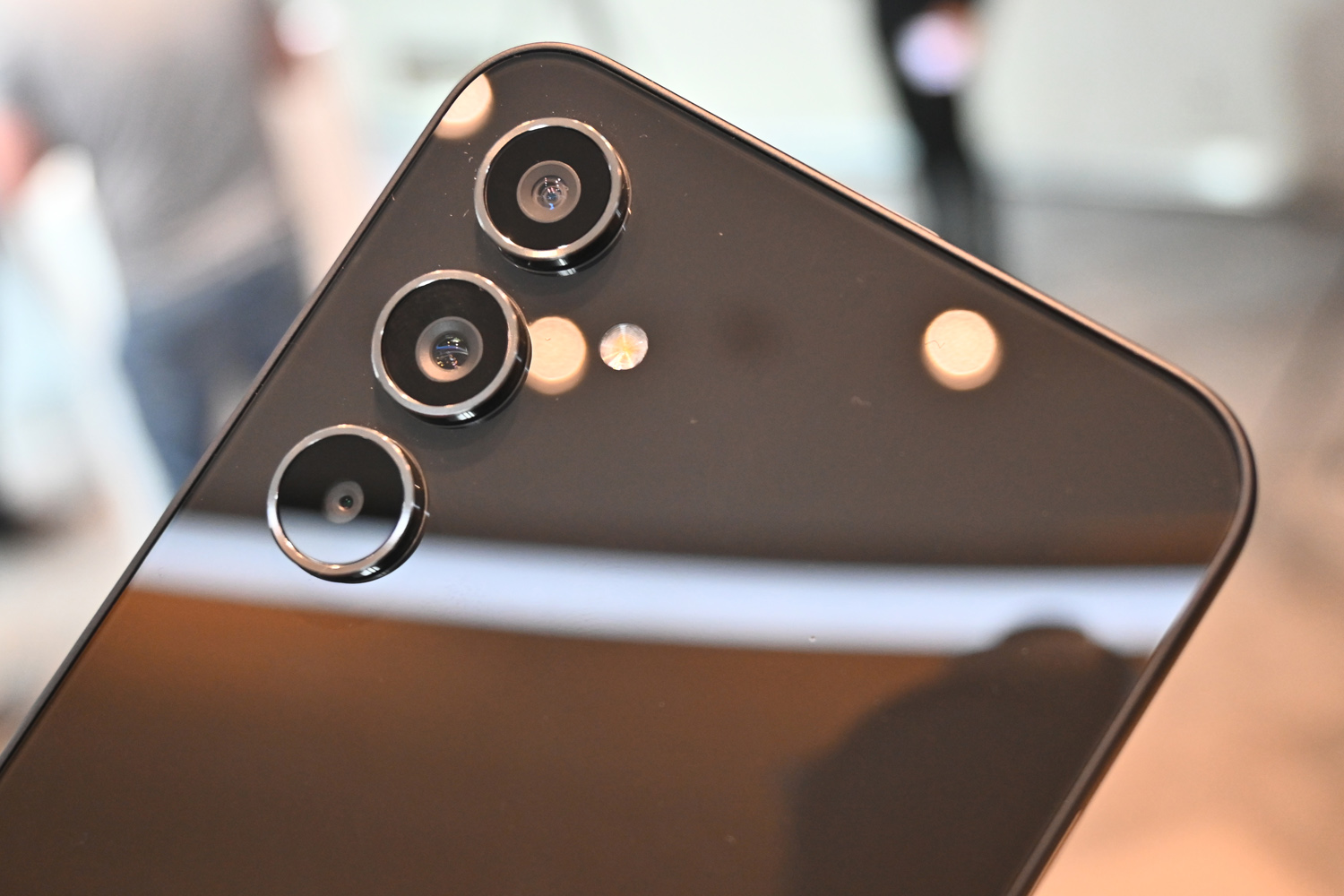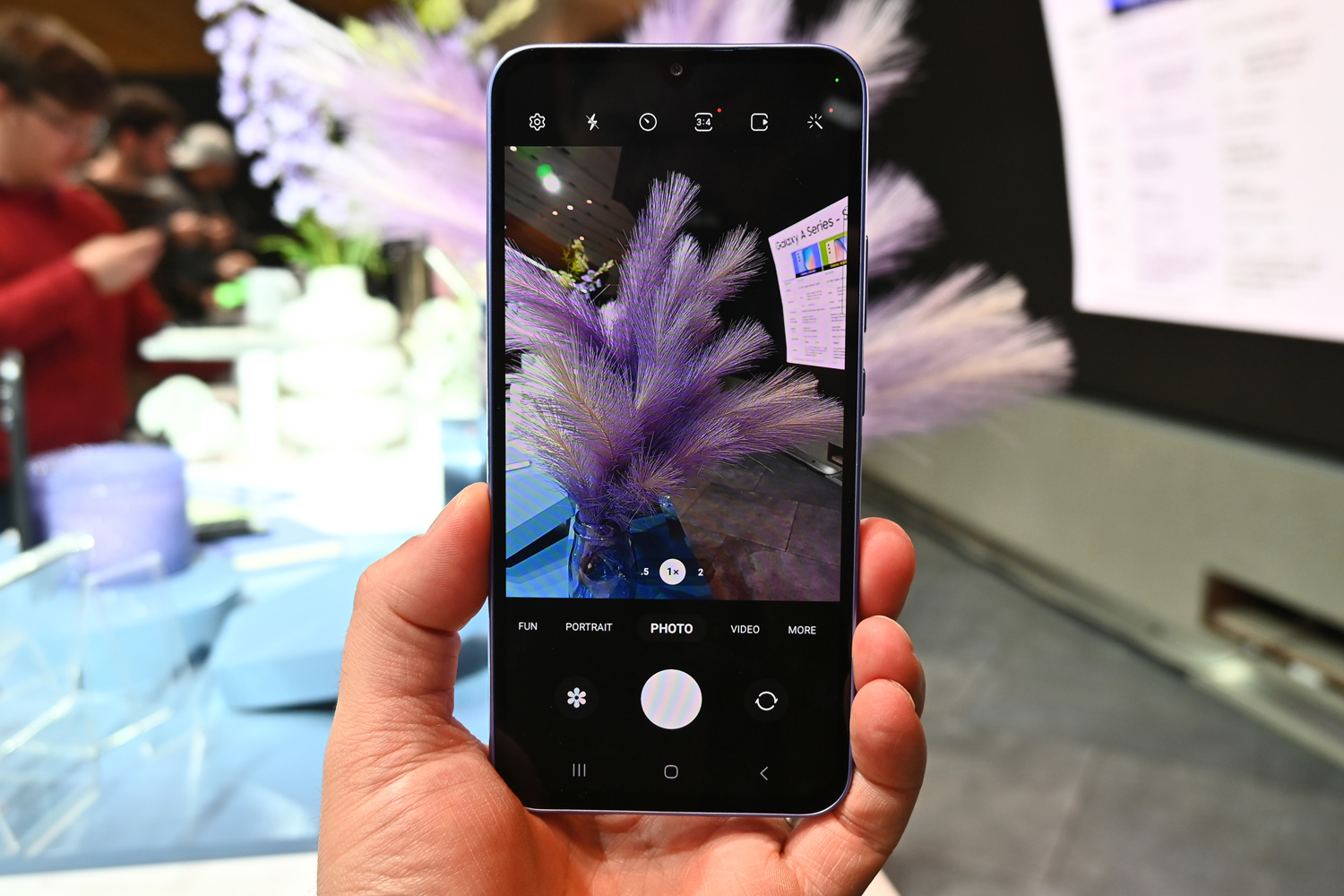 Both phones have three rear camera lenses: one wide-angle, one ultrawide, and a macro. Phone photographers would appear to be better served by the Galaxy A54, which has higher pixel counts for its main and ultrawide: 50MP and 12MP respectively, vs 48MP and 8MP in the A34. Both use a 5MP sensor for macro shots.
The A54's sensors are physically larger than the ones seen on the outgoing A53, and they have larger pixels to boot, which should make all the difference in low light. An auto night mode now kicks in when the ambient light sensor detects a lack of sunshine, and optical image stabilisation has been optimised to cut down on camera shake too.
We weren't able to take our test snaps away with us for analysis, and were confined to a demo area with bright overhead lighting, so can't judge how each device copes at night or outdoors. The camera app felt speedy enough to focus and save each shot, if not up to the same rapid standard as the S23 series.
You can expect the same sort of image processing, though, meaning vibrant and dynamic shots that lean a little towards unnatural, compared to anything Apple or Google will produce. Going purely by what we could see onscreen, the main camera seemed to capture plenty of detail, but how it stacks up to similarly-priced rivals will have to wait until a full review.
Performance & software: pick your processor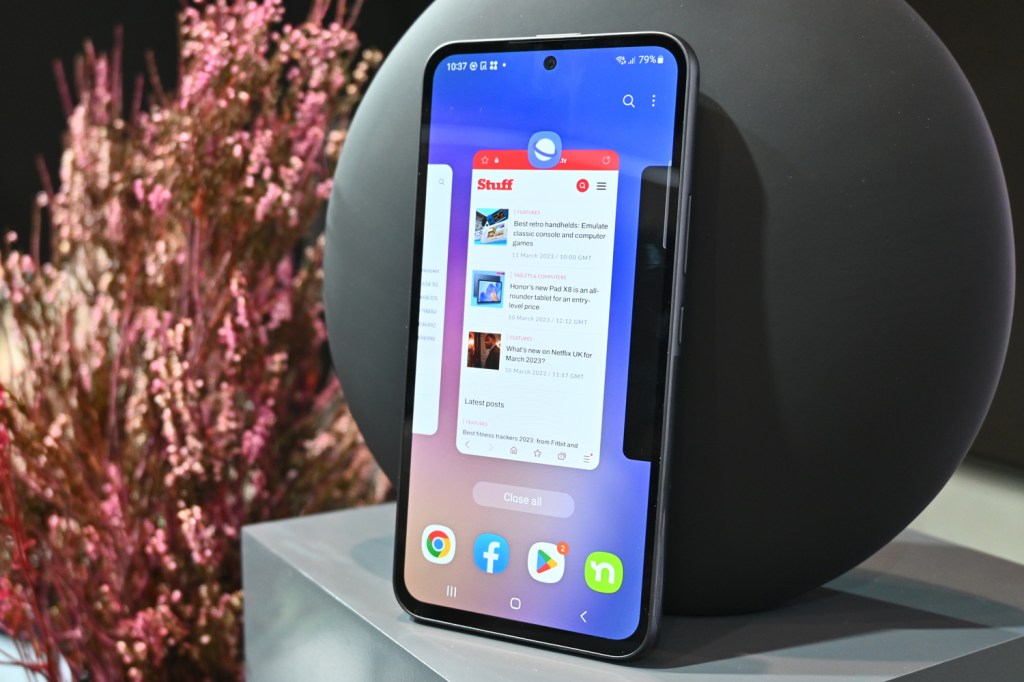 Internal hardware is where the two phones differ the most. While the Galaxy A54 gets one of Samsung's home-grown Exynos 1380 CPUs paired to 8GB of RAM, the A34 uses a MediaTek Dimensity 1080 chip, which isn't quite as beefy when it comes to performance. It'll also come with 6GB of RAM if you go for the 128GB storage option; that amount gets boosted to 8GB if you step up to the (more expensive) 256GB model.
Neither phone is going to trouble true flagships when it comes to benchmark leaderboards, or even how snappy Android feels in day-to-day use. Apps still load reasonably quickly, however, and we could multitask without needing to constantly reload each subsequent app. That's partly down to a virtual RAM option, which pools part of the on-board storage to use as additional memory.
Performance seemed on par for the cash, though we'll need to wait for a full review to see if a Tensor-equipped Google Pixel 6a or Qualcomm-powered Nothing Phone 1 would be the better buy for gamers.
Either way you're looking at Android 13 out of the box, with Samsung's OneUI slathered on top. It's about as fully-featured as Android installs get, with lots of customisation options and shortcut features. There were a handful of apps installed on our demo devices, but it's unclear if they're pre-installed by default, or were added by Samsung's reps before we got there.
Both phones have 5000mAh batteries and support 25W wired charging, with Samsung promising at least two days of life between top-ups (depending on how much gaming, or other demanding tasks, you'll be doing). There's no wireless charging here; Samsung had to keep a few goodies for the full-fat Galaxy S23, after all.
Samsung Galaxy A54 and A34 initial verdict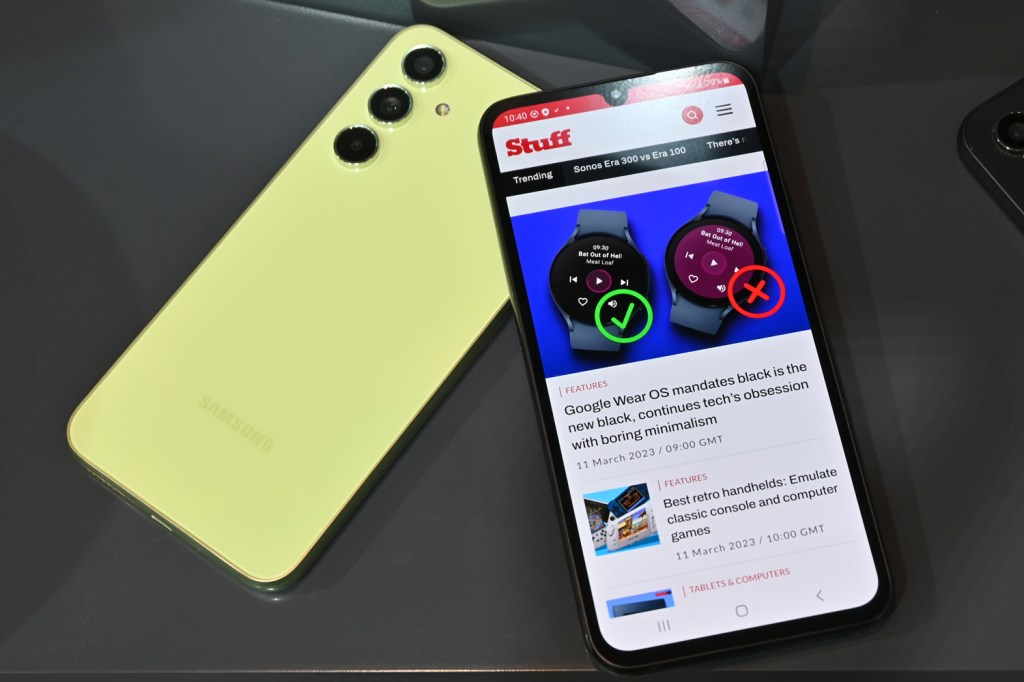 On first inspection, the Galaxy A34 and A54 get closer than ever to distilling the essence of Samsung's flagship phones into much more affordable packages. They've got punchy displays, big batteries and designs you've got to pay very close attention to in order to tell you aren't looking at a Galaxy S23.
Water resistance, in-display fingerprint sensors and the latest version of Samsung's OneUI interface are all welcome inclusions for the cash, and expandable storage is something you won't even find on a top-tier Galaxy nowadays. The Galaxy A34's higher display refresh rate now makes it a more direct rival to the Google Pixel 6a, and the Galaxy A54's performance advantage should carry more gamer appeal.
Each comes at a premium compared to mid-range models from rival brands, but they look like cost-effective upgrades for Samsung fans.
Samsung Galaxy A54 technical specifications
Screen
6.4in, 2400×1080 AMOLED w/ 120Hz
CPU
Samsung Exynos 1080
Memory
6/8GB
Cameras
50MP, f/1.8 w/ OIS + 12MP, f/2.2 ultrawide + 5MP, f/2.4 macro rear
32MP front
Storage
128/256GB, plus microSD
Operating system
Android 13 w/ OneUI
Battery
5000mAh w/ 25W wired charging
Dimensions
158xx77x8.2mm, 202g