Samsung Galaxy A5 (2017) review
Most of the bits you love from Samsung's Galaxy range, but for half the price. What's not to like?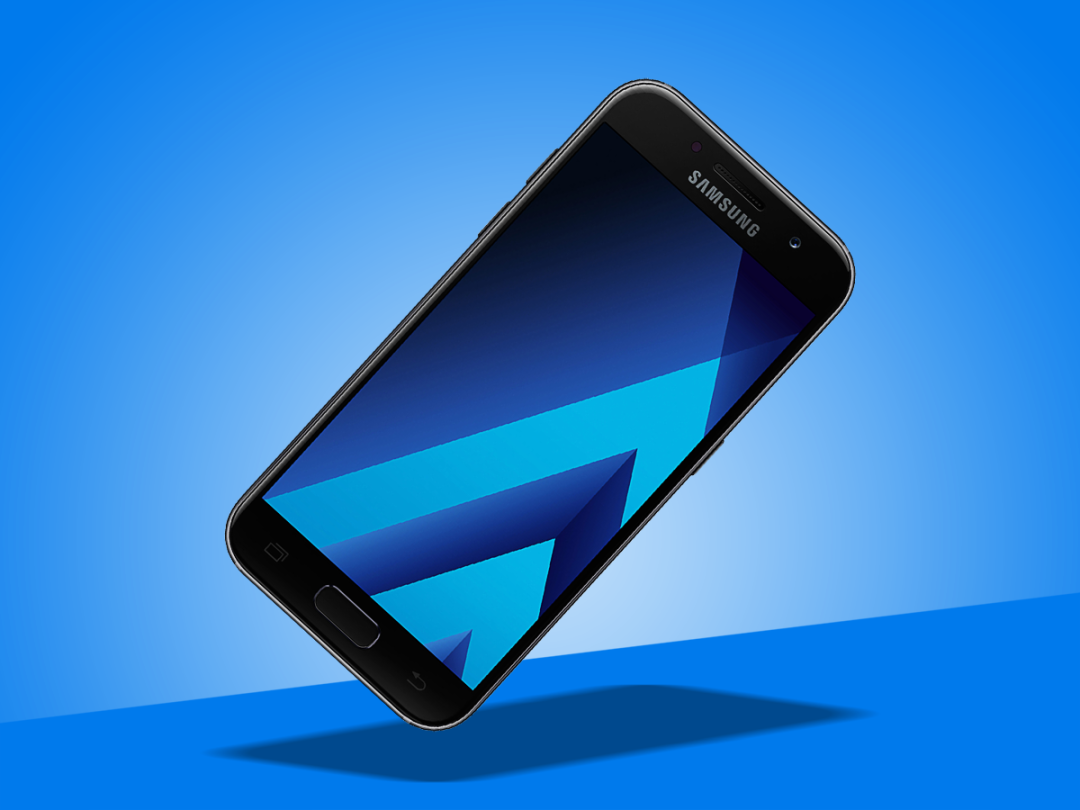 There's so much to love about the Galaxy S7 – it was easily one of our favourite phones of last year. 
The one thing we weren't so keen on, though, was the price. If you want flagship features, you've got to pay flagship money. Or do you? The Galaxy A5 is making me think that might not be true after all. 
Here's a phone that costs half the price of its bigger, better brother, but keeps most of the bits we liked about it. That includes the signature Samsung design, plenty of performance, and handy little extras like water resistance to boot.
The price is right, too – making this the first Samsung mid-ranger in quite some time that's really deserving of your cash.
Samsung Galaxy A5 design
From the front, you'd have a hard time picking the Galaxy A5 from a line-up of Galaxy S7 phones – it might cost almost half the price, but it looks almost identical.
Flip it over and you can spot where Samsung has made savings, though. The glossy black finish is a magnet for fingerprints – the pink, blue and gold versions might fare better, but I haven't fondled them to test the theory.
Still, you don't spend a lot of time staring at the back of your phone, do you? From the front, it's a real looker.
In the hand, the Galaxy A5 feels reassuringly weighty, and that 5.2in panel is pretty much perfect for a mid-range phone. It helps keep the bezels to a minimum, and means you can reach every bit of the screen without having to stretch out your digits. There's no notification LED, though – something you get on the more expensive S7.
The metal frame stamps home the "premium" feel, and the whole thing is IP68 water-resistant too – not bad at all for a mid-range phone. You'll be able to give it a dunking without too much worry.
You get the same physical home button as the Galaxy S7, which again doubles as a fingerprint sensor. It's quick, yes, but not as lightning fast as more recent Huawei handsets. It's flanked by light-up Recents and Back keys, reversed from the typical Android layout as we've come to expect from Samsung.
With a headphone jack and USB-C port at the bottom (making the A5 the only on-sale Samsung phone to have one at the time of writing, now that the Galaxy Note has been retired early), the speaker has been bumped to the right edge.
It's an odd move, but means you won't accidentally block it with your mitts and muffle the sound. Audio quality isn't all that great, admittedly, but it gets the job done for YouTube clips.
Samsung Galaxy A5 display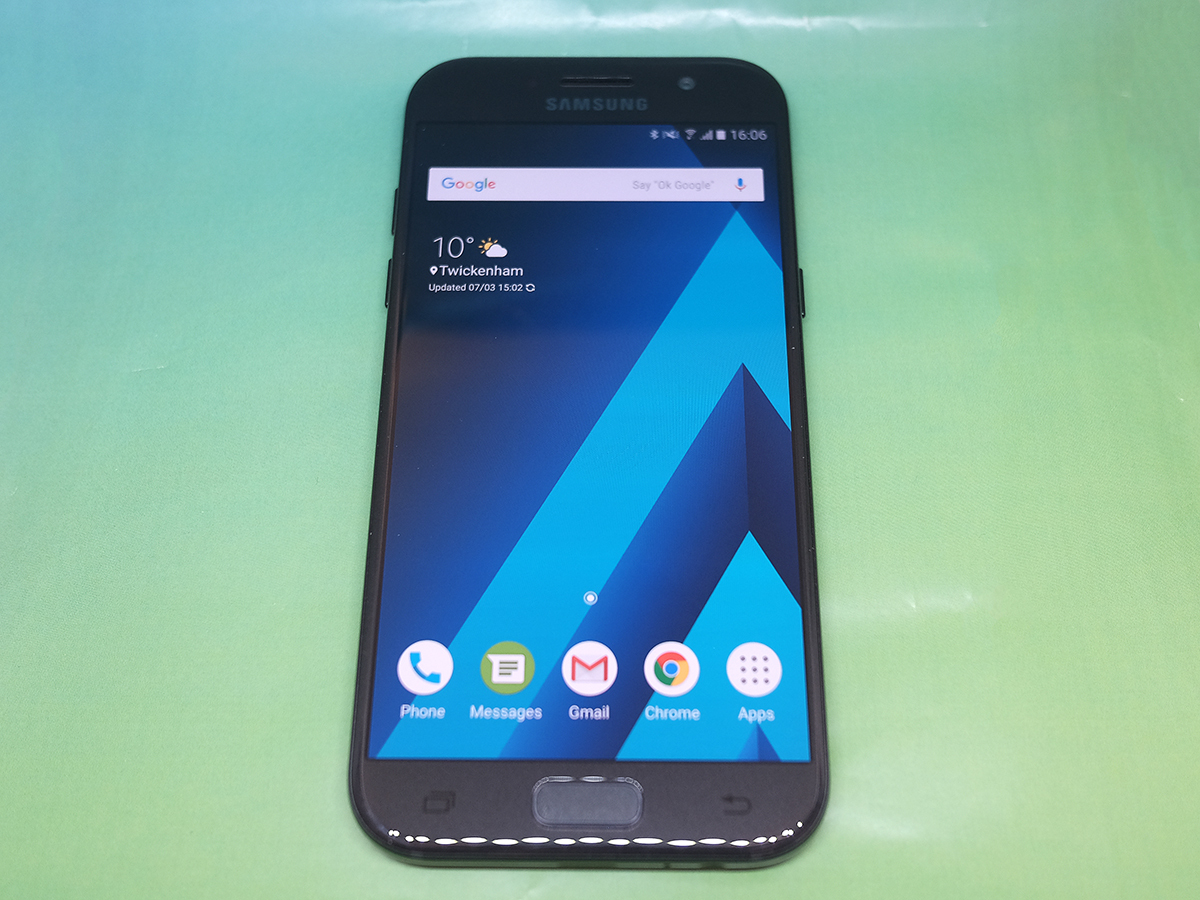 My favourite part of the Galaxy A5? The screen, hands down.
AMOLED displays are usually the domain of expensive flagships, so it's great to see one here. It has the punchy colours, incredible contrast and deep blacks you'd expect from the tech, only you haven't paid through the nose to get it.
There are none of the overly vibrant reds and greens of years past, with images looking a lot more natural here. You can tweak the levels manually through the Display settings menu if you like, but it looks very good right out of the box.
AMOLED also means you get Samsung's power-sipping always-on display, which puts notifications and the time onscreen even when the phone is in standby. That should save you unlocking your phone every few minutes just to check whether that new email or Whatsapp message needs your immediate attention.
The 1080p resolution feels about right for the money, and should keep battery life in check by not pushing the CPU too hard. Text is easy to read, and you won't notice individual pixels from arms' length.
There's just enough brightness to see what's on-screen clearly when you're outside, too, with excellent viewing angles. There's a handy blue light filter for when the sun goes down, too. These sleep-friendly modes are becoming more common, but the sunset to sunrise scheduling seen here makes it a whole lot more useful.
Samsung Galaxy A5 software
Take the time to find them and you'll uncover plenty more tiny tweaks that make Samsung's take on Android Marshmallow an absolute pleasure to use.
Split screen lets you work on two apps at once, DPI scaling lets you squeeze more text onscreen at once, and even Touchwiz isn't the chore to live with it once was. The newer, simpler look has been ported across from the Galaxy Note 7, along with a Settings menu that's a lot easier to navigate now.
There aren't anywhere near as many bundled apps as I've seen on older Samsung phones, and the ones that have stuck around look a lot more like Google's own versions now, so you don't feel like you're missing out as much.
The one genuinely useful app is Software Folder, a locked location that holds passwords, documents and photos you don't want anyone else to see.
Marshmallow isn't the most up to date version of Android, of course. It's a shame you don't get Nougat out of the box, but at least Samsung has promised to deliver it before the end of the summer.
Samsung Galaxy A5 performance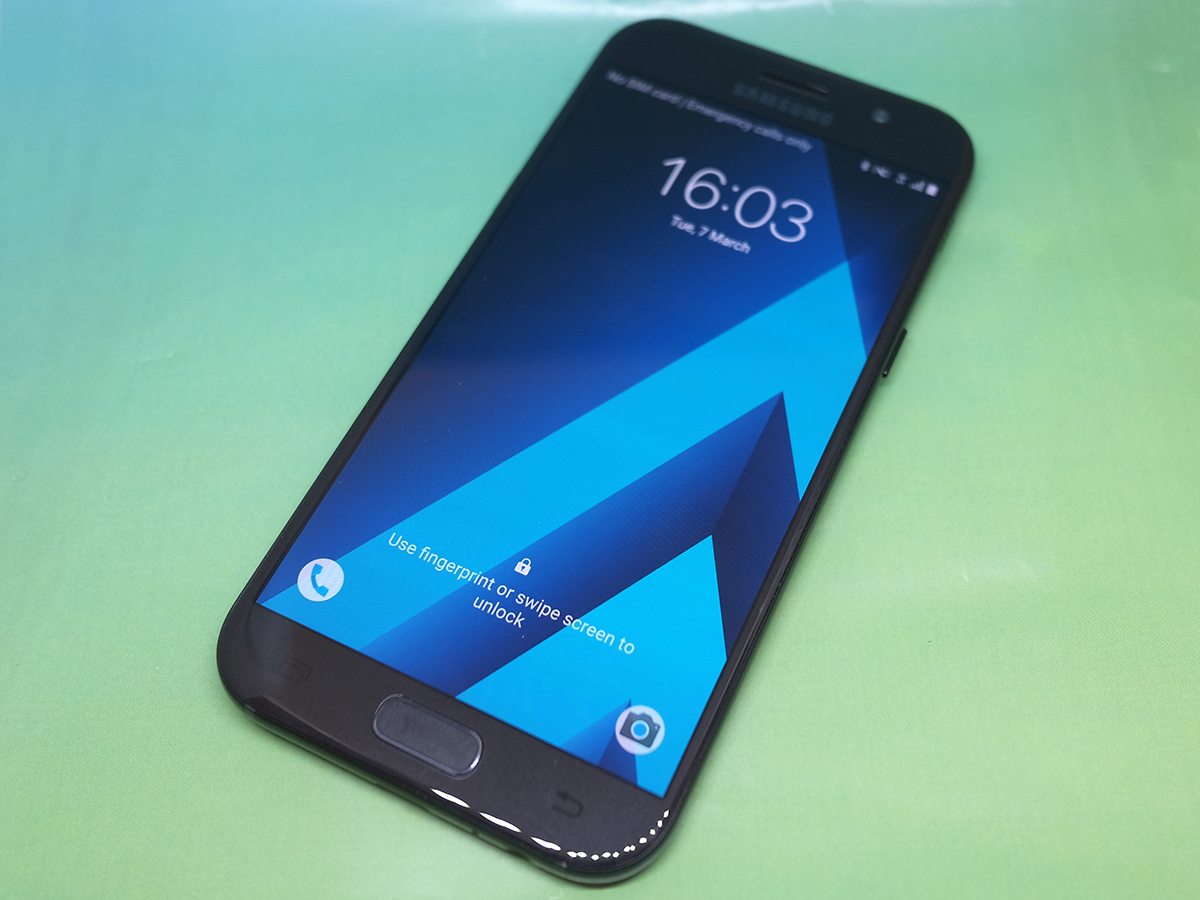 Inside, one of Samsung's own Exynos 7880 octa-core CPUs handles all the heavy lifting. It's not as fast as the Snapdragon 821 currently doing the rounds in the OnePlus 3T and Google Pixel, but it's certainly no slouch.
I didn't notice any lag or stutter when swiping through home screens, and apps load very quickly too. Video and image-heavy websites would sometimes be a stumbling block, but you won't be left wanting for more power when scrolling through your Twitter feed or posting photos to Facebook. 3GB of RAM is plenty for multitasking between a handful of apps, too.
There's enough gaming power to play almost everything in the Google Play store, thanks to the Mali-T830 GPU. You'll have to dial down the details to medium on the most intensive titles, but simpler stuff like Candy Crush will be no trouble at all.
There's ample room for games and apps, too. You get 32GB out of the box, with around 18GB actually usable, but you can always add more. The microSD card slot will recognise 256GB cards. Finally, battery life doesn't disappoint. You'll easily get through an entire day on a full charge, with the 3000mAh cell having enough oomph to keep going until the next lunchtime if you keep your Instagram addiction in check.
The AMOLED screen tech and 1080p resolution helps, meaning you can almost binge-watch an entire 10-episode season of the latest Netflix must-see and still have enough juice to get you to a plug socket.
There's even an Adaptive Fast Charging plug in the box, which can get you from 0-80% in an hour. Leave it plugged in for 90mins and you'll be fully topped up. Most mid-rangers wouldn't include a fast charging adapter, so it's great to get one here.
Samsung Galaxy A5 camera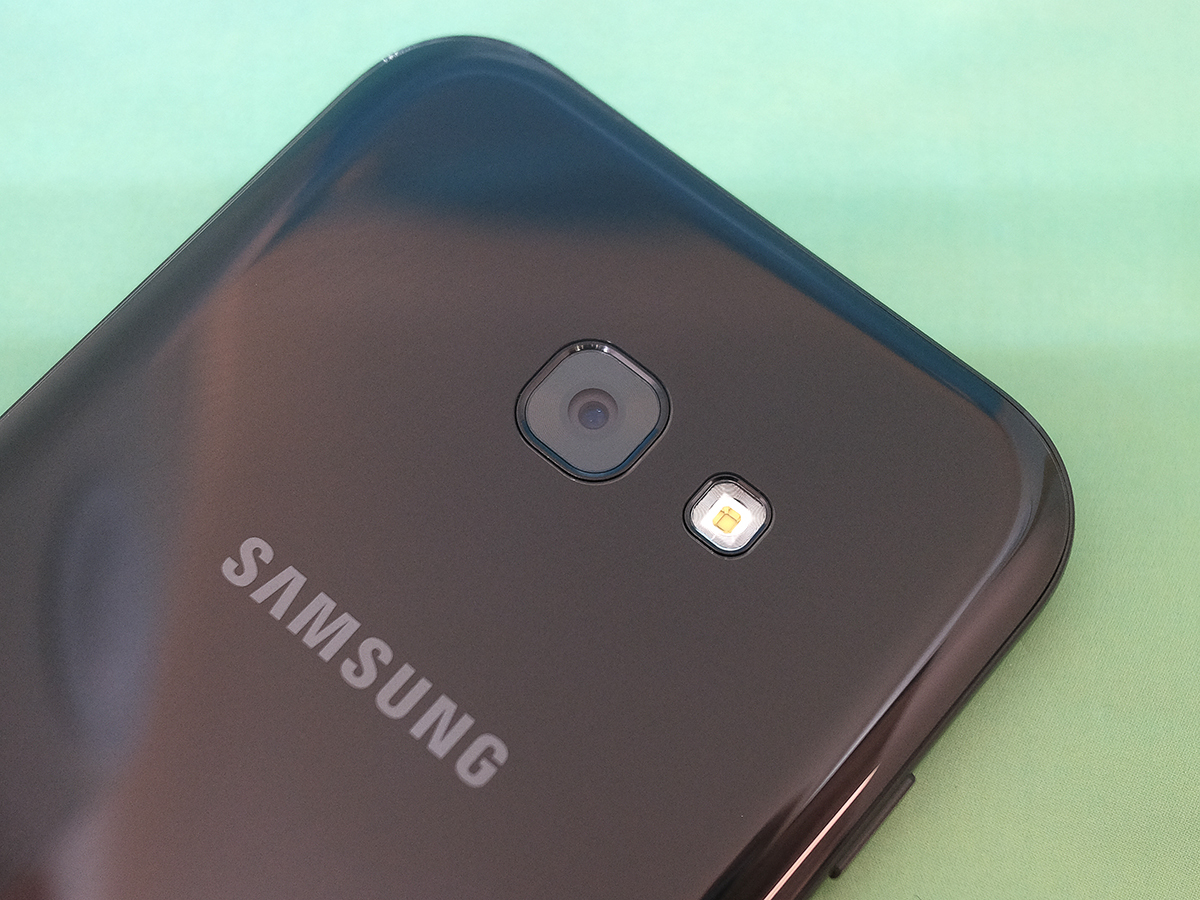 Up to this point, the Galaxy A5 has done most things very well – so naturally, you're expecting the camera to be a bit of a stinker. Think again: it's actually pretty decent – as long as you feed it enough light.
The 16MP rear snapper doesn't have optical image stabilisation, and without phase detect autofocus it's not especially fast in low light, but during the day, it feels perfectly responsive – actually punching above its weight for a mid-range phone.
It captures clear, colourful photos in Auto mode, with reasonably fast focusing and Samsung's typically excellent image processing. The f/1.9 aperture helps here, getting as much light onto the sensor as possible, and a dedicated HDR mode helps even more – even if there's no auto HDR here, so you've got to remember to switch it on every time.
At night, though, expect a lot of image noise and grain. The single LED flash helps, but can't rescue anything more than a few feet away from the lens. This is true indoors as well, with detail dropping and images appearing washed out while it struggles for light.
Video is only average, too, managing 1080p at 30fps. There's no 4K recording here, and with no OIS my clips looked quite shaky. Sound quality isn't the best, either.
With no autofocus on the front-facing camera, quick-snap selfies can be a bit trial-and-error, but the 16MP sensor and f/1.9 aperture otherwise get the job done.
Samsung Galaxy A5 verdict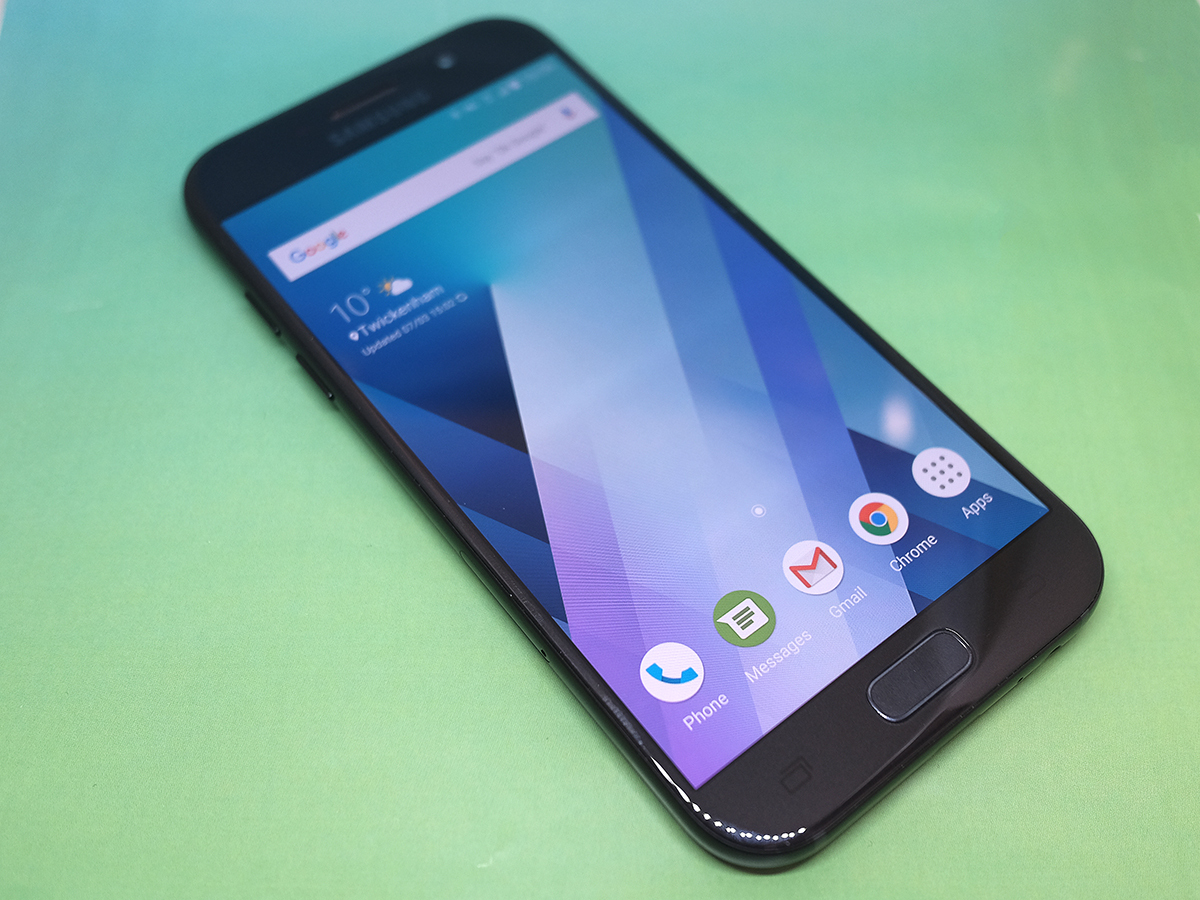 The A series used to be the runt of Samsung's Galaxy litter, but things have turned around massively for 2017.
The Galaxy A5 is a great-looking, great-performing mid-ranger, with plenty of features you'd normally have to pay the big bucks for. Water resistance and USB Type-C really do make the difference, even if camera quality might not be quite up to scratch for the cash.
At £370 it's in good company, though. A OnePlus 3T will only set you back slightly more, and last year's flagships are rapidly dropping in price as this year's replacements begin to arrive.
If you'd rather stick with Samsung's familiar flavour of Android, though, it's a great buy.
Buy the Galaxy A5 SIM free and unlocked here from Samsung
Tech specs
| | |
| --- | --- |
| SCREEN | 5.2in 1080p AMOLED |
| CPU | 1.9GHz Samsung Exynos 7880 Octa |
| MEMORY | 3GB RAM |
| CAMERA | 16MP f/1.9 with autofocus, LED flash |
| STORAGE | 32GB internal, microSD expansion |
| OPERATING SYSTEM | Android 6.0.1 Marshmallow |
| BATTERY | 3000mAh non-removable |
| DIMENSIONS | 146x71x7.9mm, 157 g |
Stuff Says…
Takes most of the features we loved in the Galaxy S7, but distills them down into a much more affordable handset. Specs might lag behind the OnePluses of the world, but design is on point.
Good Stuff
Flagship features like water resistance, AMOLED screen
Decent performance and battery life
Killer design
Bad Stuff
Outdated Android
Beaten on specs by cheaper rivals
Camera only works well in good light