Samsung Duo Cam VPD-60501 review
The Duo Cam is two cameras melded together; one for movies and the other for stills, with mixed results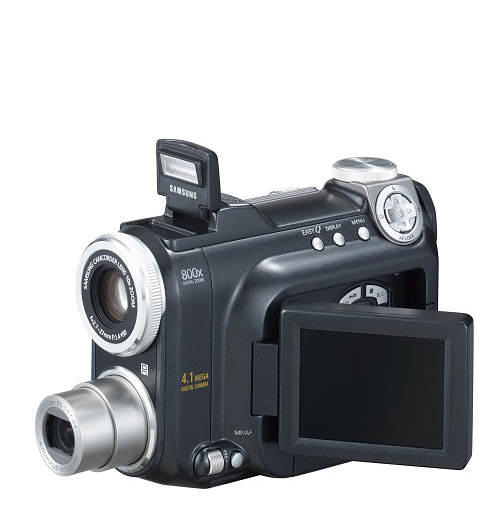 The Duo Cam looks like an old-fashioned movie camera with a selection of lenses on the front for different focal lengths (zooms hadn't been invented then). On the Samsung, though, one lens is for movie capture, the other is for stills.
While other makers are working out how to get movie cameras to take good stills, and vice versa, Samsung has sidestepped the problem. It might be just a single unit but the Duo Cam contains two separate imaging systems. Think of a MiniDV camcorder with a 3x zoom, 5-megapixel digital camera slung underneath. Apart from the casing, all they share is the LCD and the battery power.
On the movie side, you get an 800,000pixel 1/6in CCD, which yields the kind of image quality you'd get from any budget MiniDV camcorder. The lens is a decent 10x optical zoom but, while there is an image stabiliser for steadying long-range shots, it's digital rather than built into the lens, so it's not quite the real McCoy. You do get a night-scene mode for ultra-low-light shooting, though.
The still camera is based around a 5megapixel 1/1.8in CCD with a 3x optical zoom. As well as an idiot-proof point-and-shoot mode, you get aperture-priority, shutter-priority and a manual control tool. It's pretty sophisticated, and the still quality's good, but there is some magenta fringing.
The Duo Cam feels like a Stone Age solution to a Space Age problem. The movie quality's not that good for a £600+ camcorder, the still quality's not that good for a £600+ camera, and its only merit is that you get both options in one box.