Realme 8 Pro review
Is a 108MP camera and brash branding enough to win you over?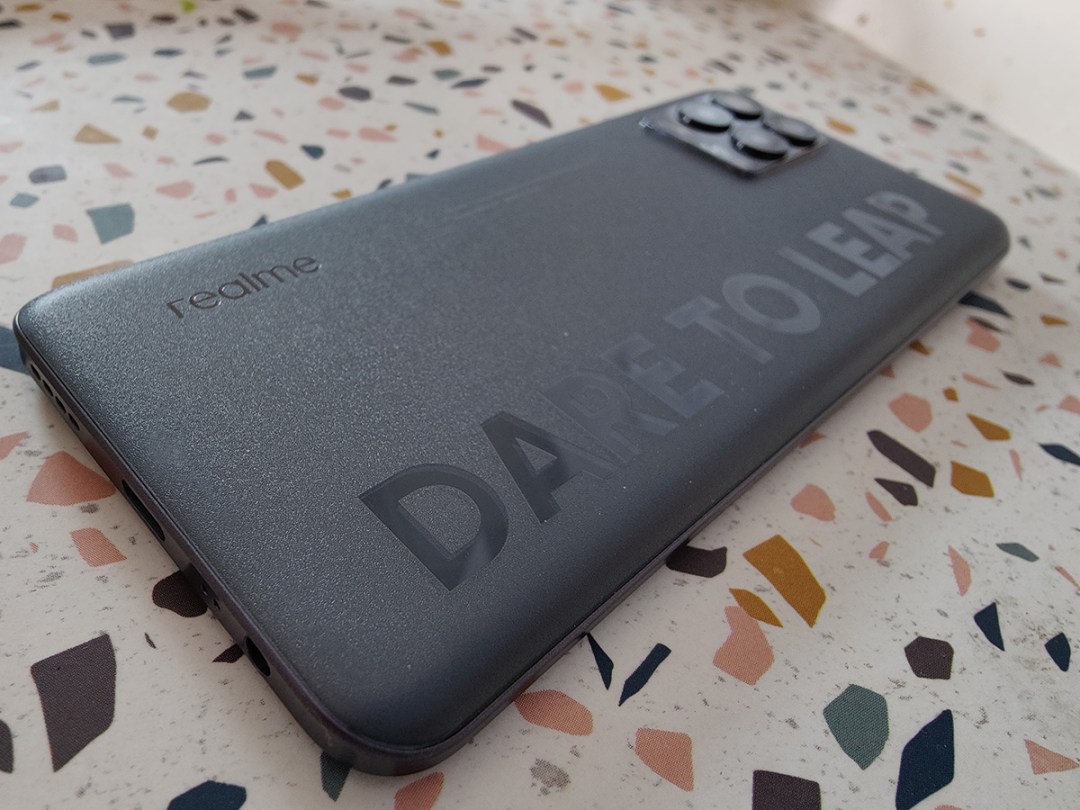 We remember the days where spending less than £300 on a smartphone would effectively leave you with a glorified potato with some electronics shoved into it for appearance's sake. Thankfully, times have changed.
Today, cheaper handsets are more than capable of meeting most people's needs, while managing to look stylish in the process. Enter the Realme 8 Pro — the latest mid-range smartphone to cross our desks.
With a wallet-friendly RRP of £279 it's looking to seduce you with a pixel-packed 108MP camera, fast charging, and motivational slogans (more on that in a sec). With all that in mind, does it deliver? Let's find out.
Design and build: Light and lit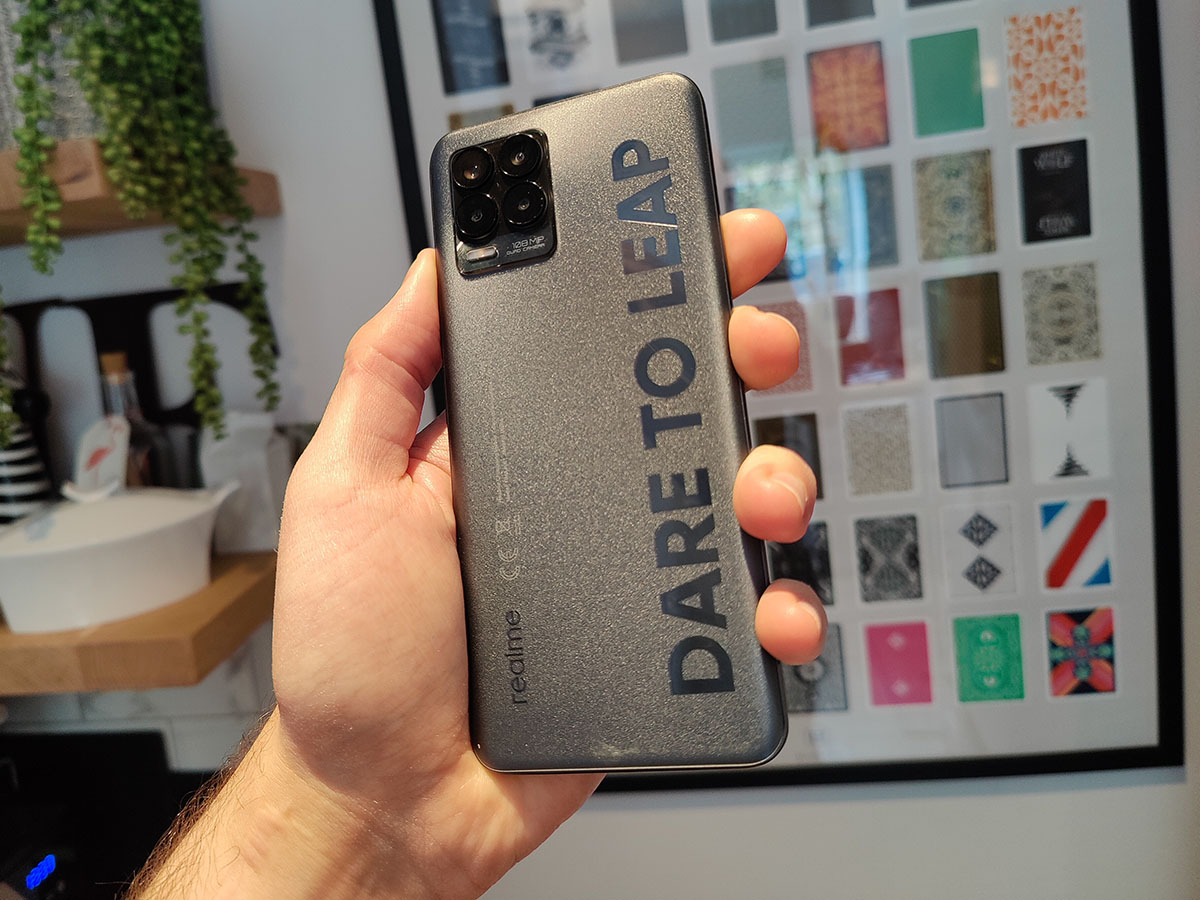 From the front the 8 Pro looks like any other smartphone. Slab of glass, rounded corners, pinhole camera cutout, you know the drill. Flip it around though, and things get a little noisier.
The words DARE TO LEAP are embossed down the side in a rather large font. It's impossible to miss, and, in our opinion, a little unnecessary. Maybe it's because we're not down with the lit TikTok generation (we had to Google what 'drip' meant the other day), but it reminds us of stamping SUPREME on every conceivable object and calling it fashion. Rant over.
It's not the end of the world by any means, especially if you're rocking a case, and the textured plastic back is pleasant to look at and hold. Sure, glass is more premium, but there's something to be said for not having to worry about scratches and smashes. The plastic, while helping keep the price down, also makes for an incredibly light device. At 176g, you'd be forgiven for forgetting the 8 Pro is even in your pocket. The square camera module, complete with rounded corners, looks rather smart too.
Display: Bright, sharp, punchy
The 8 Pro has a generously-sized 6.4in Full HD AMOLED display. While it lacks the QHD resolution found on most flagships, we can't really argue at this price, especially as you're unlikely to truly notice a difference in regular use. The fact that it's an AMOLED affair earns it major brownie points too, as it serves up punchy colours and deep blacks.
While its 1000 nits brightness rating isn't the highest around (the Samsung Galaxy S21 Ultra reaches 1500 nits, for comparison), it still holds up to viewing in bright sunlight. The pinhole camera on the top left is about as unobtrusive as that style of selfie cam can get, and comes in handy for facial recognition unlocking, which is fast and reliable. If you'd rather not have your mug scanned then there's also a zippy in-display fingerprint scanner, which has yet to let us down.
Camera: A decent, if mixed bag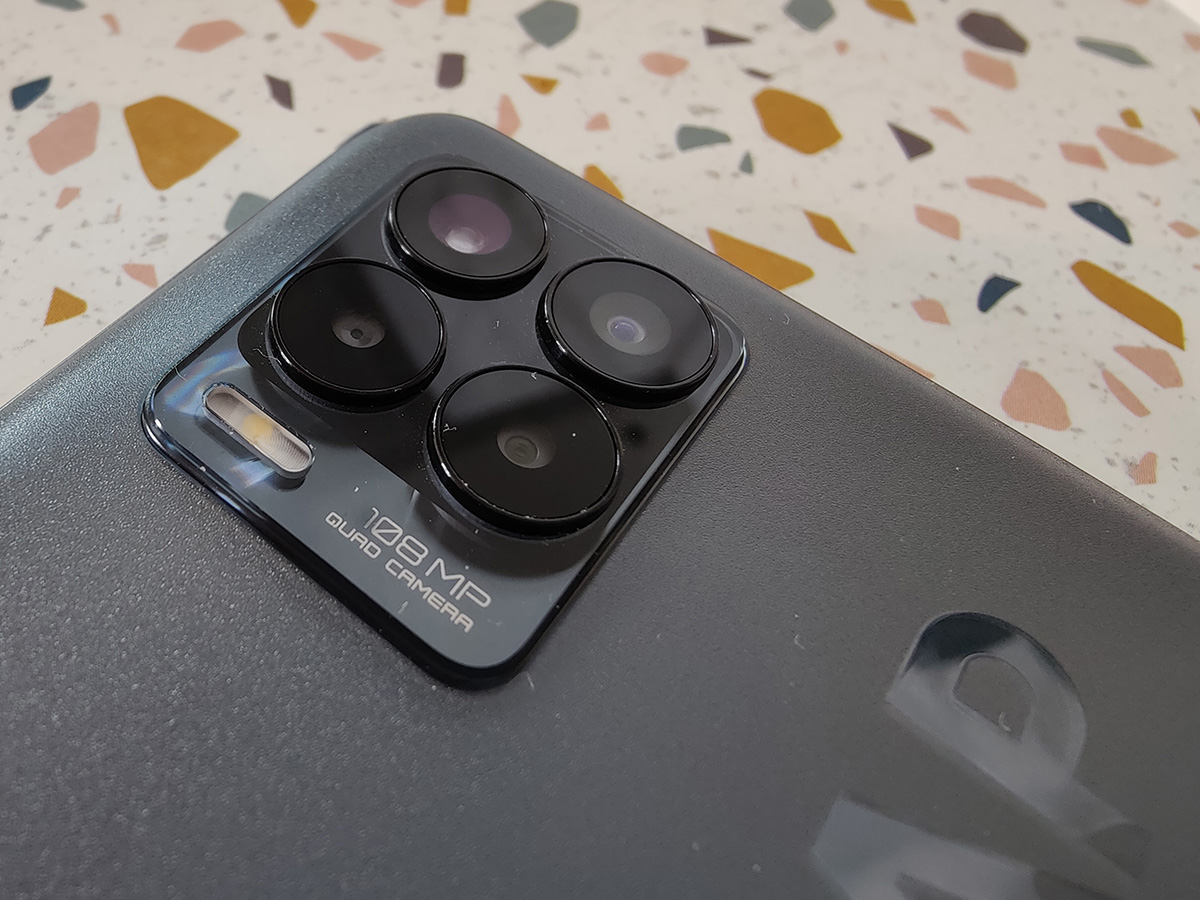 The Realme 8 Pro has a multi-camera setup consisting of a 108MP camera, an 8MP ultra-wide camera, a 2MP black and white portrait camera, and a 2MP macro camera.
The 108MP affair is clearly the one grabbing the headlines, especially as this is now likely to be the cheapest phone in the world to offer this resolution. Made possible by Samsung's 1/1.52in sensor, the 8 Pro is capable of snapping 12,000 x 9,000 shots to create snaps that are around 35MB each (compared to around 6MB for regular shots).
In well-lit conditions these 108MP shots offer plenty of detail — more than enough to comfortably use them as, say, a desktop wallpaper for a 4K monitor. Sure, it's a niche use case, but then again, so is the very act of snapping a 108MP shot. Most of us don't print at large scales, if at all, and our photos tend to live on our smartphones and on social media, none of which take advantage of such high resolutions.
While there's detail aplenty, it's worth noting that the 8 Pro can struggle with balancing light and dark areas in 108MP mode as there's no HDR option available. Taking a 108MP shot of our garden while focusing on capturing details in the plants, for example, ends up blowing out the sky a fair bit.
We much preferred the standard smaller resolution shots with HDR enabled, which retain better balance between light and dark areas across the board. As a result, we'd reserve the 108MP shots for specific scenes that are suitable, and that actually need to be shared or used at a larger scale.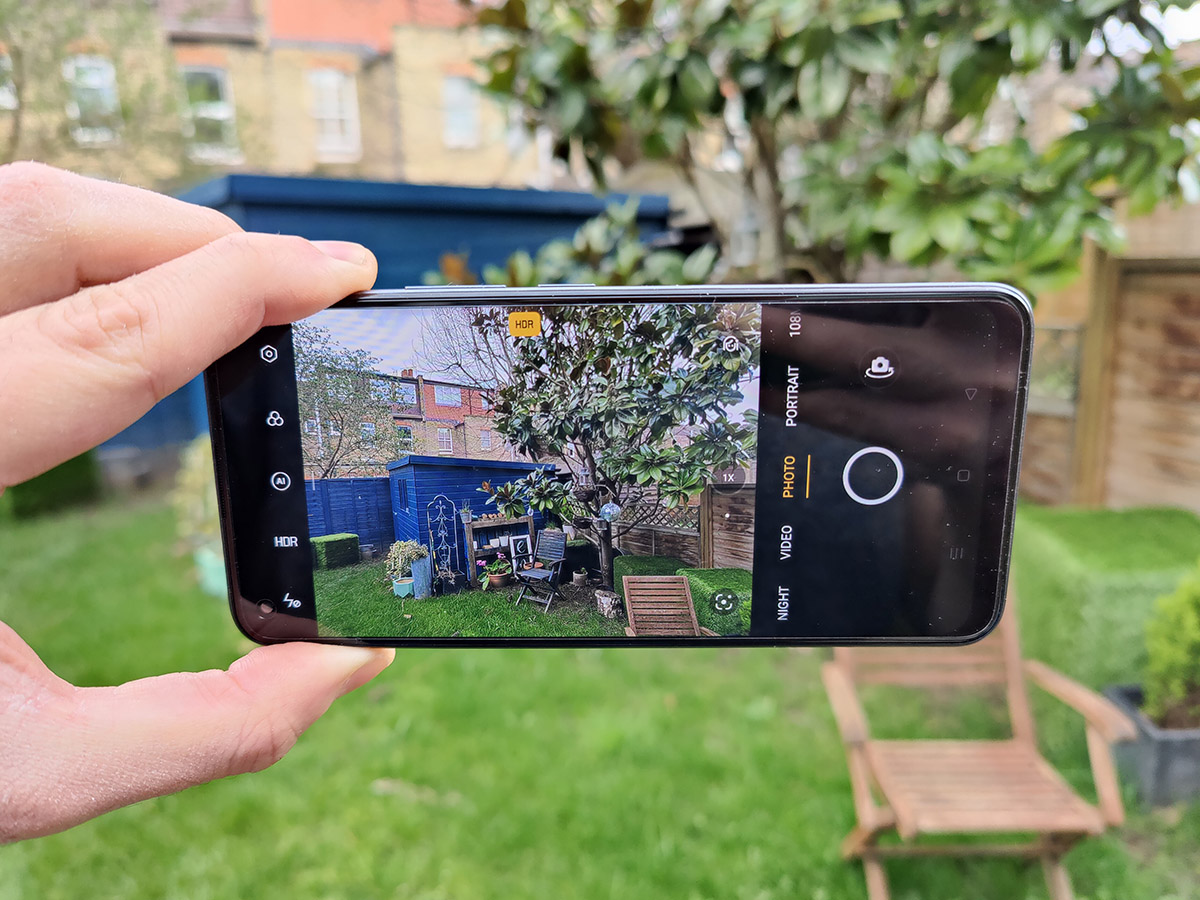 On the plus side, that 108MP sensor is also used in a rather clever way to produce the results of 3x optical zoom with some software wizardry. The 8 Pro has an in-sensor zoom feature which essentially uses the 12 megapixels mapped within a zoomed part of a scene to generate an image.
The results are comparable to 3x optical zoom shots, while saving the cost of including an actual optical zoom lens. It's not completely perfect — we noticed that whites are cranked up a little too high with some ghosting around the edges — but for zooming in while retaining detail, the results are decent, and more than good enough to use and share.
One other thing worth mentioning is that we absolutely recommend turning off the built-in AI. It cranks the saturation up to an insane degree, making natural landscapes resemble an acid trip on an alien planet. Avoid.
When the sun sets, things get a little worse for wear. While the dedicated Night mode does a decent job of bringing out more objects and making them visible in darker conditions, there's a noticeable loss of finer details, especially in areas such as grass, where things blur together.
That being said, we hardly expect the 8 Pro to take on the photographic might of handsets like the OnePlus 9 Pro which cost more than double the price; it's still a respectable effort. If you must take shots in very low light with the 8 Pro then you'll see what's there — it just won't be as detailed as the very best efforts from other expensive flagships.
One thing you can't escape though, is the time it takes to process Night shots after each one is taken, presumably due to the 8 Pro's less-speedy innards.
Things take a positive turn on the selfie front, with plenty of detail and decent background blur effects to be found. The 8 Pro also has some fun features like AI Mixed Portrait, which let you interject your selfies with other videos for some interesting creative effects, with zero skill needed on your end.
The 2MP macro camera is surprisingly decent too, bringing out finer details at close range. How often you'll actually use it depends on you, of course, but if you tend to get up close and personal with subjects, you won't be disappointed. Lastly, if you're a keen videographer, you might want to look elsewhere.
While the 8 Pro is capable of 4K recording and 1080p/60fps with stabilisation, videos are a little choppy and juddery, and not the smoothest experience.
Power and battery life: Surprisingly good
We approached the 8 Pro's performance with cautious optimism, given its mid-range Snapdragon 720G processor. While it handles everything Android 11 throws at it with ease, it also surprisingly meets the challenge of demanding mobile games too.
Asphalt 9 and Call of Duty Mobile posed no problems at all, and gameplay remains smooth and stutter-free throughout. Phones at this price can struggle with meeting the demands of newer games, so this is a big boon for the 8 Pro.
The good news continues on the battery front too. With reasonably heavy use (in our case, Spotify, lots of WhatsApp messaging, emails and an unhealthy amount of Reddit browsing), the 8 Pro's 4,500mAh battery comfortably lasted us a day. With light use you could stretch that by an extra half day, or potentially more if you're being particularly frugal.
None of that really matters though, because its 50W SuperDart Charge feature means that you can use the included charger to charge it to 100 percent from empty in around 47 minutes, or around 50 percent in just 17 minutes.
These charging speeds are normally reserved for more expensive phones such as the likes of OnePlus' flagships, and are a total game changer. Instead of faffing around with charging your phone at night, you can pop it on in the morning or during the day for a speedy top up, and be on your merry way.
Realme 8 Pro verdict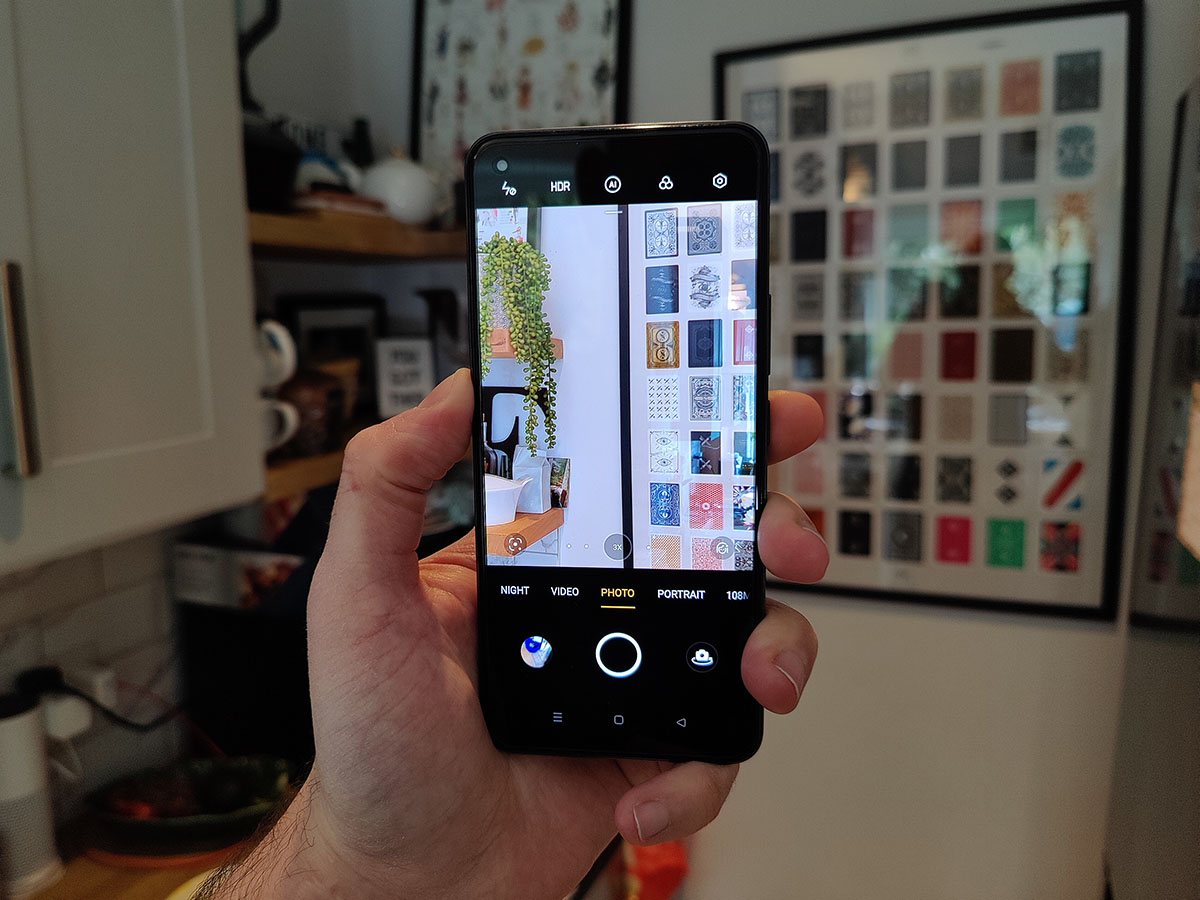 The Realme 8 Pro isn't perfect, and it's not trying to be. At this price, you know some corners are going to be cut. There's no premium glass build, and no world-class camera results, and that's okay.
What it does offer is plenty of bang for your buck. It's well put together, despite its plastic rear, with a punchy screen, enough power to breeze through the latest games, and a camera that produces good shots, given the right settings. While the 108MP camera is a bit niche, it's used in a clever way, and could pave the way for future innovation.
If you're after a budget handset that feels good and performs well, the 8 Pro should comfortably make your shortlist.
Stuff Says…
A budget smartphone that offers plenty of bang for your hard-earned buck
Good Stuff
Strong build
Punchy screen
Powerful enough for AAA games
Super-fast charging
Bad Stuff
108MP shots are niche
Night shots could be better
Rear slogan isn't very subtle