Project CARS 2 review
Hyper-realistic, packed with options and an absolute blast to drive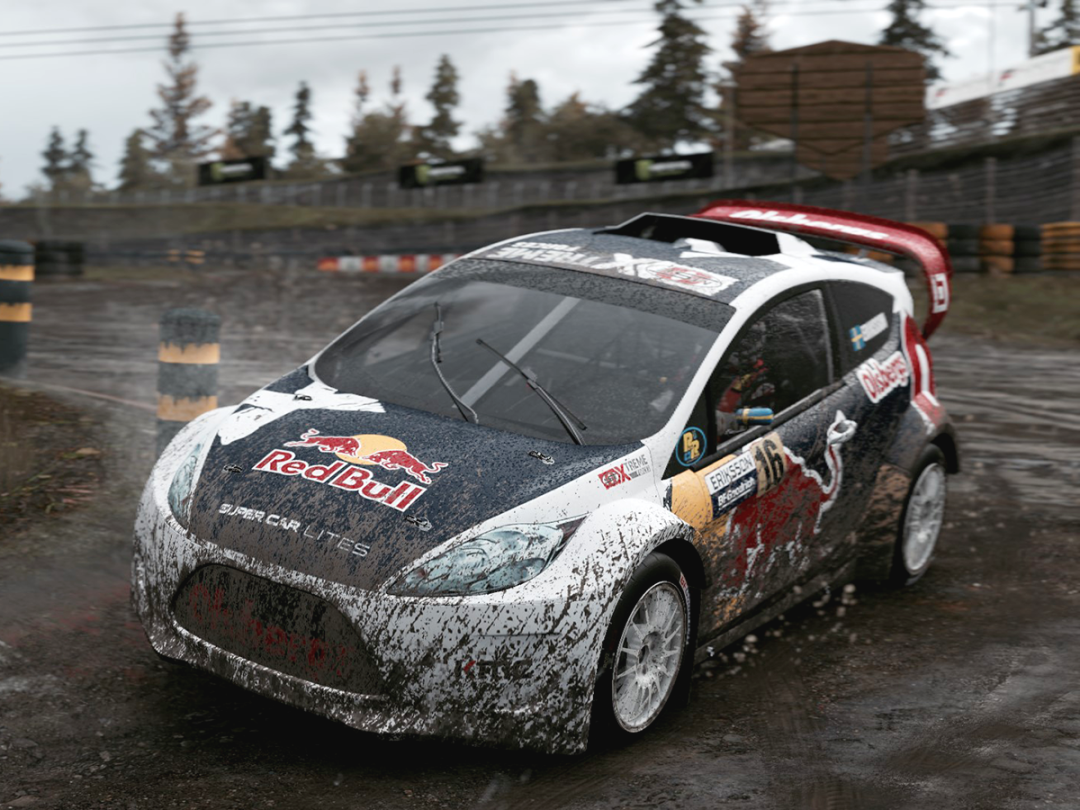 It's a great time to be alive if you love racing games.
As blockbusters Forza Motorsport 7 and Gran Turismo Sport prepare to burst into the world, Project CARS 2 provides a different kind of ride; this game offers up an authentic and immersive sandbox experience that Microsoft and Sony's offerings simply can't achieve with their crowd-pleasing remits.
How? Well for starters it allows you to race all of your dream cars in any situation without hours of leveling up. But while you can thrash around for five laps with all the aids on if them's yer kicks, the real juice is in the immersion. You can, if you're a certain way inclined for example, recreate from start to finish the entire Indianapolis 500 that Fernando Alonso nearly won, with every greasy pit stop in-between.
You see, PCARS2 is aimed squarely at racing nerds, reaching deep into its expanded tree of petrol-forged disciplines to create a dedicated but surprisingly accessible game that borders on sim, but all the while injecting fun into your synapses. The original Project CARS had similar ambitions, but was flawed by psychotic AI, a moody tyre model and more glitches than a Southern Trains schedule. So we donned the race suit to find out if Slightly Mad Studios have nailed it on the second lap.
Options and modes: Bigger is better
The first thing you notice about PCARS2 is its sheer size. SMS has definitely addressed one of the biggest criticisms about the original and gone to town on licensing, adding Ferrari, Porsche, Honda, Nissan and Jaguar to the list of 180+ cars. While this may still be way shy of the 700-plus vehicles you get in Forza Motorsport 7, this selection feels handpicked, offering period treasures such as the stunning Porsche 935 Le Mans challenger and modern monsters like Mad Mike Whiddett's Mazda MX-5 Rad Bull drifter car.
The same is true of the track roster: there are more than 60 venues spanning some 130 layouts; you won't find this kind of choice anywhere else in console-land. All the classics are there, and with a lovely twist you can now experience the daunting original Spa-Francorchamps or the extremely fast Silverstone track that Keke Rosberg lapped at an average speed of 160mph in 1985, right in front of yours' truly. It's like getting in a time machine and living through moments you dreamed about as a kid.
SMS has also expanded the range of disciplines; ice racing, rallycross and drifting join the improved multiclass endurance, single-seater and point-to-point styles from the original.
Like a massive DVD collection, there's sometimes too much choice and you don't know what to play first. But an improved and cleaner interface helps simplify things, and there's also a nice touch in the 'pre-sets' menu that allows you to choose your style of genre – say tin-tops or IndyCar – then just get straight on with the kind of racing you love.
Computer AI: Artfully Intelligent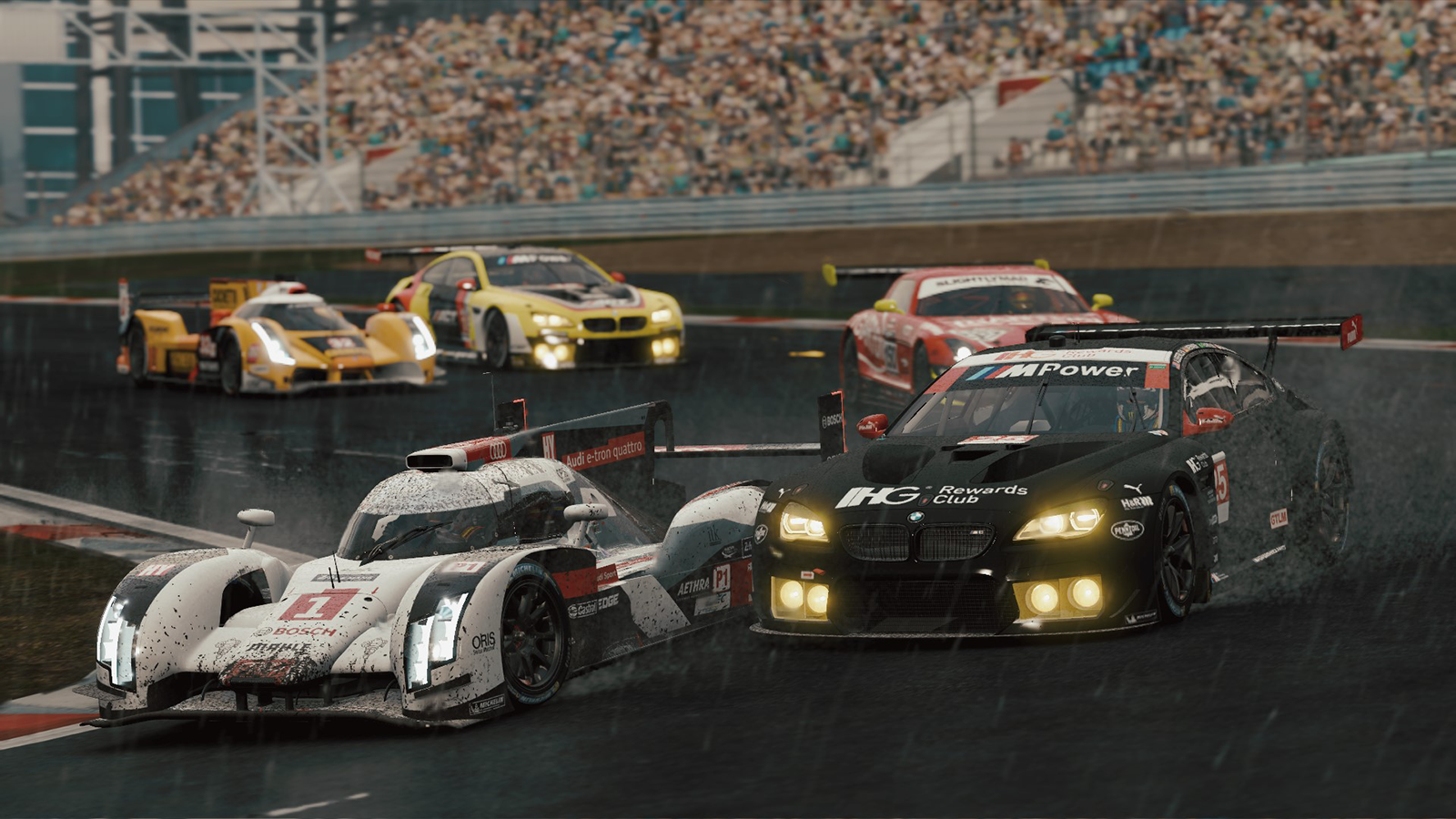 The racing is considerably more rewarding, too. Where the AI in the first game was positively Mad Maxian, it can now be managed in two ways: by performance and aggression. This is a stroke of genius and we found it much easier to play nicely with the other cars as a result.
And there's more. The NPCs will now go out of their way not to damage their cars and they also fatigue as a race matures. This adds another element to the racing, and makes it unlike any other racer we've played.
PCARS 2 is not perfect though. As with the first game you do sometimes see glitches with the AI, with cars driving into each other at Turn 1 for instance. That'd never happen in a real race. Well unless you're racing Sebastian Vettel.
Qualifying sessions, while essential, are also a bit of a pain to complete. There's no option to accelerate time once you've recorded a time, just a 'skip to the end' button – which means you can put in a really fast lap which leaves you comfortably ahead of the pack, only to end the session and find that the entire field has now goes 3 seconds faster and dumped you to the back of the grid. Until this is fixed, then, you'll have to hang around to the end or set an arbitrary starting position…
Still, when the game is singing along, you feel like you're really racing these guys, and all the realism really adds weight to the scaled-up career. This takes you through every discipline on offer: there are six tiers to climb, and you have to earn access to the last three levels of each. Inside these tiers awaits manufacturer contracts where you're rewarded with demo cars, historic races and other goodies – what's not to like about that?
Handling: Gripping stuff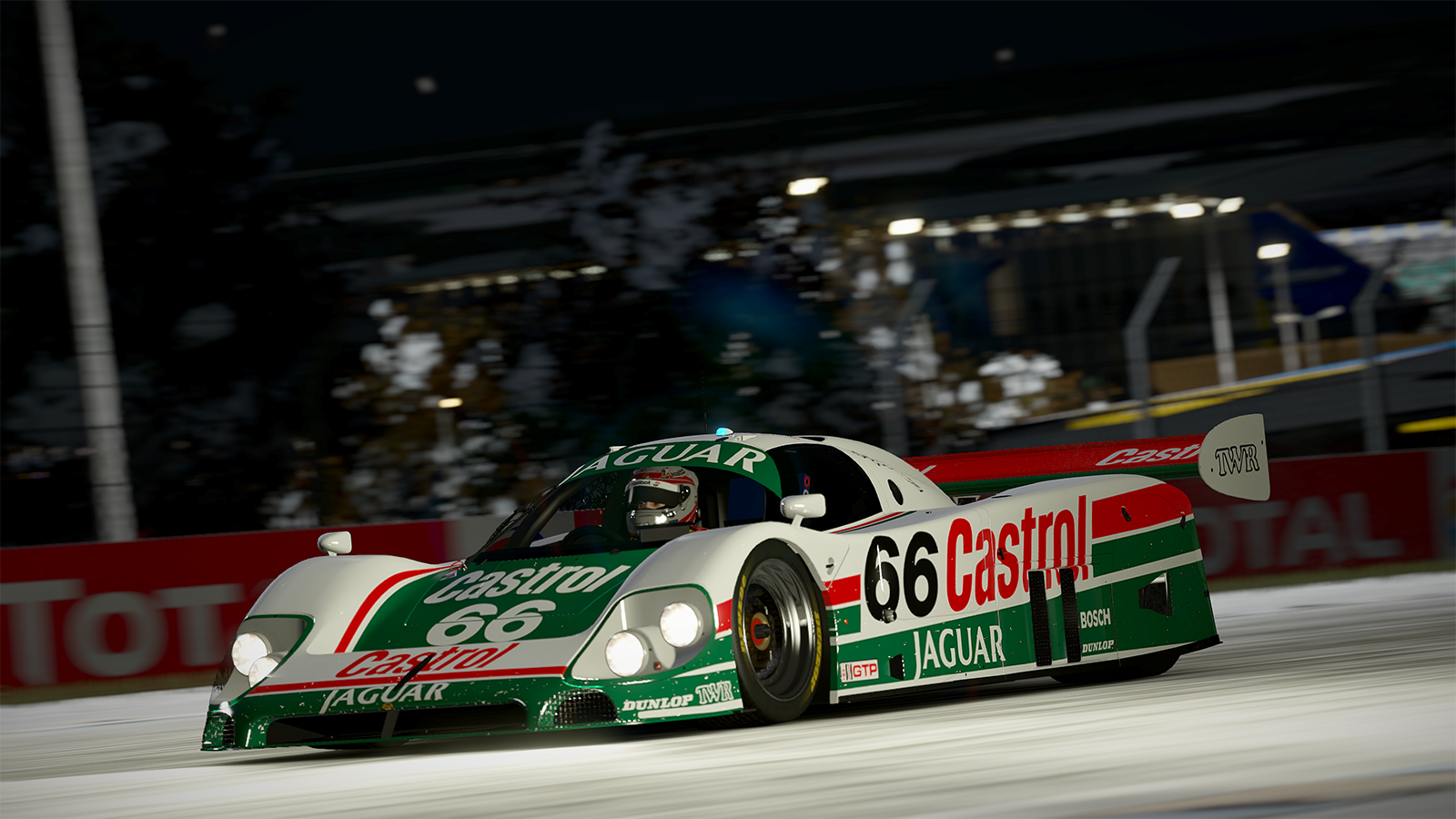 And now on to the really important stuff: the handling is exceptional, at least with a steering wheel (I used a Logitech 920 on the Xbox One and PC preview builds). The messaging and steering tension really allow you to place the car just so on the track, and with three different levels of feel from Informative to Raw.
The track imperfections are really well done, too – for instance the bump on the entry to the first corner at Knockhill will really throw the car off-centre, making you think about your approach; all very real.
Again, though, it's not without flaws. We found we had to work hard to find an XBox d-pad setting that worked well and though it's better than the original game, the cars still don't feel connected to the road as we're used to with other games.
That being said, SMS' new Livetrack 3.0 system really turns the experience up to 11 with its evolving track system. Having previously mastered dynamic weather and daylight, PCARS2 also boasts dynamic track conditions and all four seasons.
Yes you can drive a Lamborghini around Long Beach in the snow if you want to, but for real kicks try searching out a dry line on a damp-but-warming track and marvel at the detail as the puddles shrink lap after lap until eventually there's enough adhesion to switch to slicks.
Like all aspects of PCARS 2, it really makes you think about your racing.
Car set-up: Let's get physical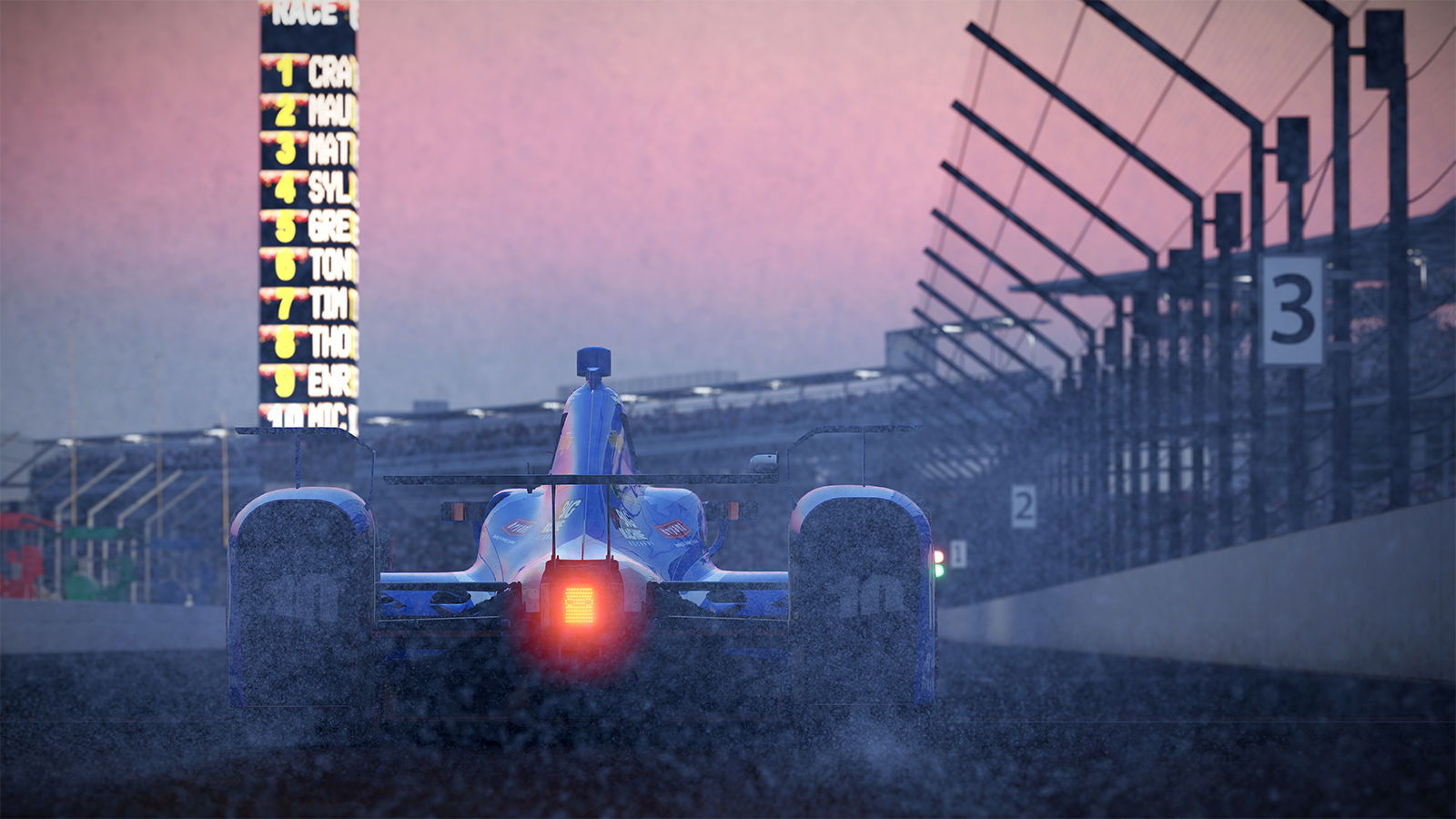 Real racing drivers don't set-up their own cars, unless they're skint – and here, finally, garage management has gone all realistic. The game includes a race engineer who asks you pertinent questions with multiple choice responses to help you improve the handling of your car – and it really does change the physics. SMS has put massive amounts of work into those physics, too, which given the ice driving option and the introduction of mud-slinging rallycross seems sensible.
When you get sideways you can feel the tyres biting, and it means that a mistake doesn't necessarily mean end-of-lap – though the game does expect you to do the work and will punish you for sheer lunacy. SMS's Rip Grip system calculates the slip angle of the tyres and simulates adhesion as cars drift, and similarly the 'Bite' coding ensures that when you load-up the downforce on those cars with the really big wings, you feel the car's ability to dart into corners, or compress through places like Spa's flat-out Eau Rouge. Mega.
Virtual reality: It's a kind of magic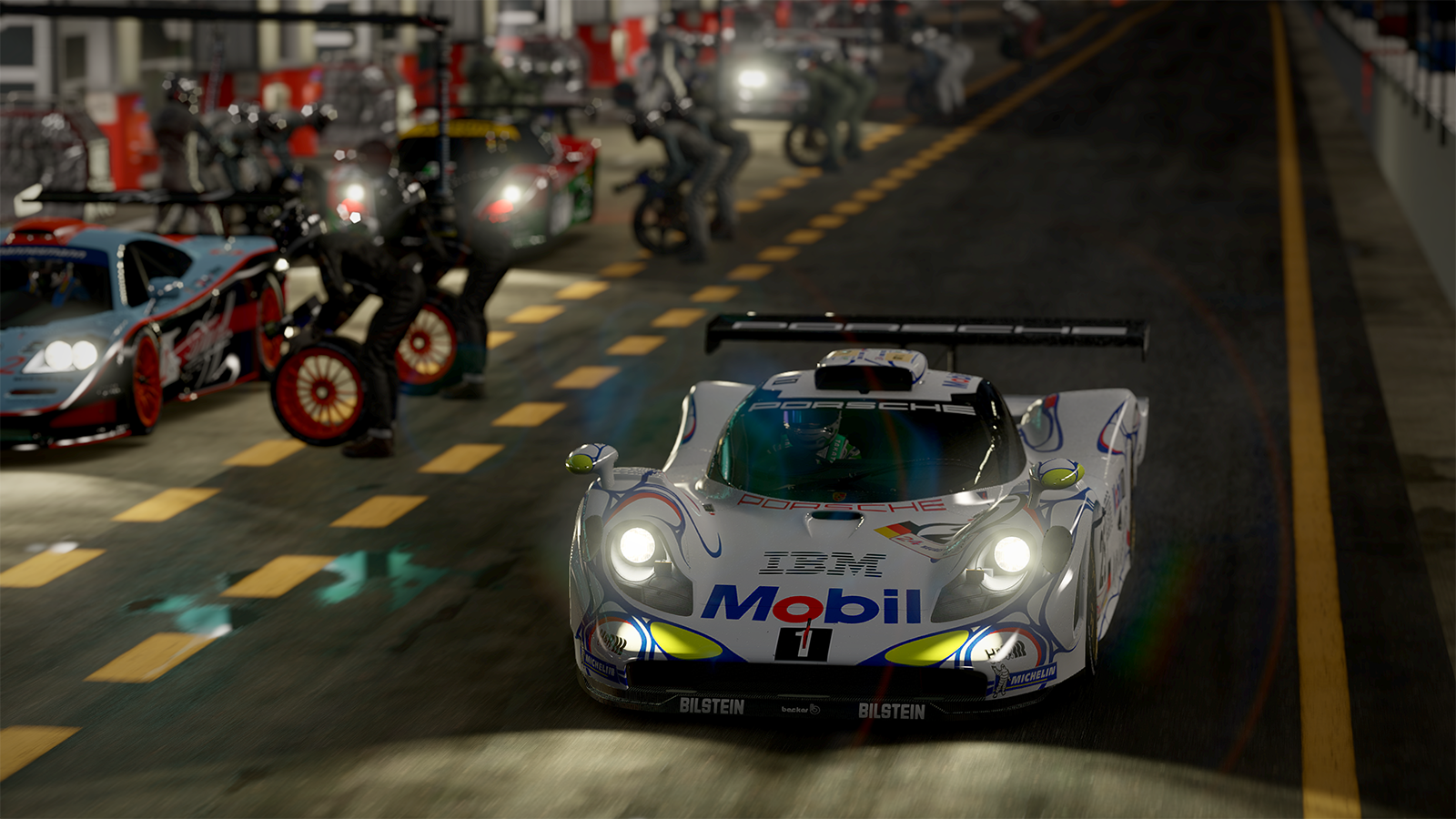 You take amazing graphics for granted in racing games, but they are deceptively strong in this one. What's more, PCARS2 on a VR setup is even more magical.
I used an Oculus Rift (you can also play it on HTC Vive) via a PC with a GeForce GTX 1080 graphics card, because it's a juicy beast. But it's well worth saving up the pennies for… because this is how racing games should be played.
There is frankly no genre better suited to the experience, because all the touch points are visible and it's easy to trick the mind that it's your gloved hands gripping the steering wheel. Looking around the cockpit just leaves you flummoxed with childlike excitement and as a former wannabe racer, the whole experience felt overwhelmingly familiar.
The best thing for me is that the depth of perception changes the game completely. You know where your rivals are around you and you can plan your apexes by vision. I've lost hours to this already. PCARS pioneered this technology but it feels far more powerful in the sequel, and this is possibly due to upgraded multi-directional 3D sound that enhances the experience and firmly locks you inside the immersion.
Online play: E-sporting prowess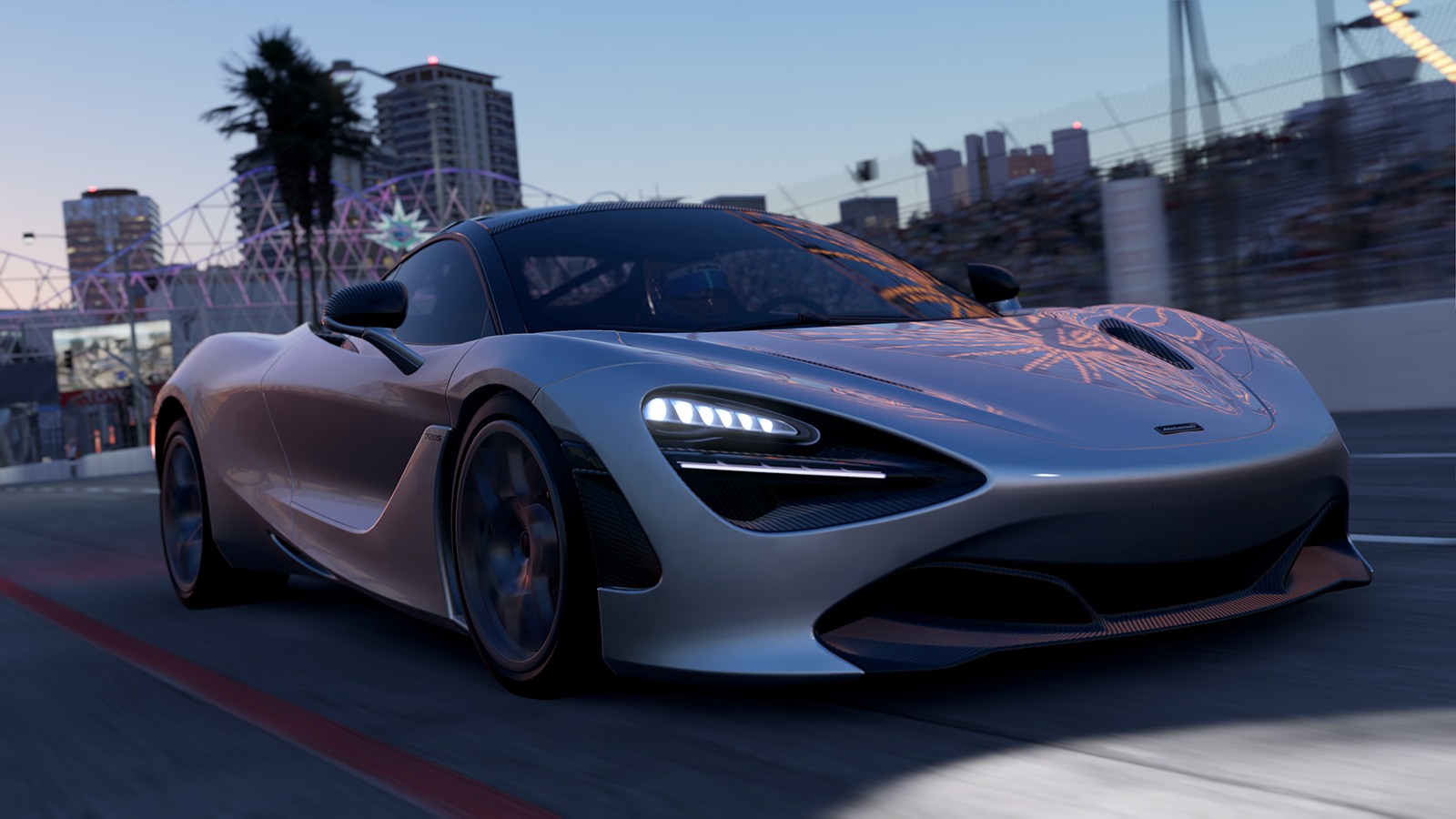 Racing online has always been a bit of a two-shop stop. There are those rooms where everybody wants to race, and then there are those sessions where everybody is a brake for somebody else. Funnily enough the latter are always populated by idiots.
SMS is aiming to reduce this first-corner tomfoolery by introducing a Competitive Racing License, which will grant you both a scalable safety rating – to measure how often you crash, cut corners, game jump etc – and a competitive rating to ensure you're placed in a room of comparable performance.
Sony is planning something similar for GT Sport and it's a laudable addition. I was unable to try it out on the preview codes, but one has to wonder how it will work, given the challenges the FIFA and PES series have had with online game balancing…
These are all things SMS will have to focus heavily on in the post-launch bug extermination phase of PCARS2's life, particularly since e-sports is something the game wants you to get enthusiastic about through its in-game streams and online competitions.
Project CARS 2 verdict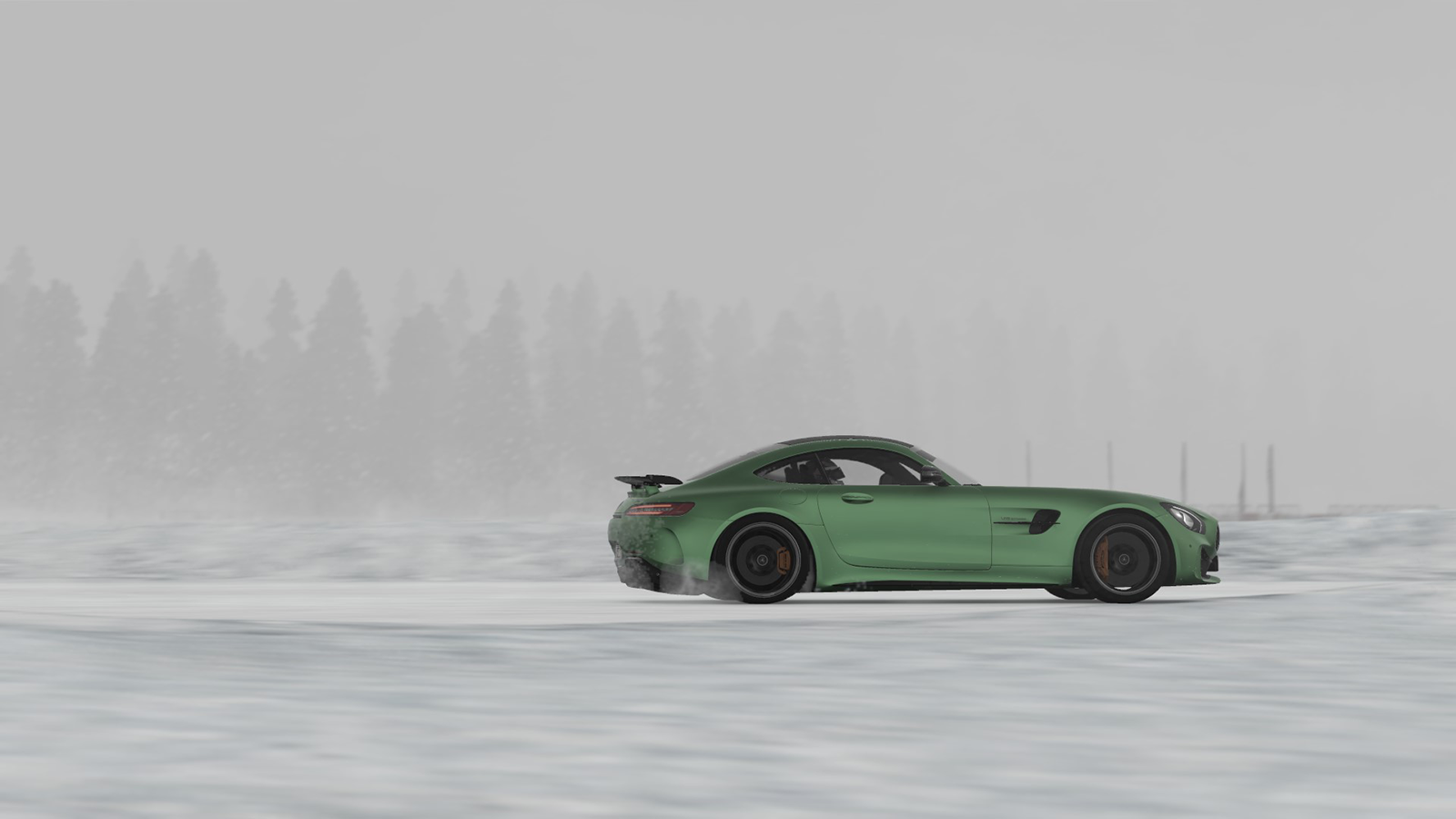 Come the end of the year, all the chat in the racing games world will no doubt be about Forza Motorsport 7 vs Gran Turismo Sport. That's a shame, because Project CARS 2 deserves to be included in the debate too.
An unashamed tribute to all that is glorious about ludicrously overpowered racing cars and the people that drive them, it's a racing sandbox of epic proportions, a motorsport time machine the likes of which the console world has never seen.
Sure, it's still a little rough around the edges, much as its predecessor was before it, and as a result it doesn't feel as polished as some of its rivals. But that aside, it's quite possibly the most involving racing game I've played (and I've played many, many of them), so if SMS can fix the bugs and tidy it up over the next few months, it has the potential to be a truly great game.
Stuff Says…
If you can live with its lack of polish and occasional bugs, PCARS2 is as good a racing game as you'll ever play
Good Stuff
Incredibly immersive, especially in VR
Quality of car and track lists
The amazing 'always-on' track evolution system
Bad Stuff
A bit glitchy to be going up against Forza and GT Sport
Controller handling still a little loose
Daunting for non-petrolheads